When you realize how easy it is to make a patriotic charcuterie board that looks amazing, it will become your go-to party fare for all special red, white, and blue events.
Charcuterie trays are fun to serve at a party right now because the trend just keeps growing. Its such a beautiful way to present food. Everyone loves a good charcuterie!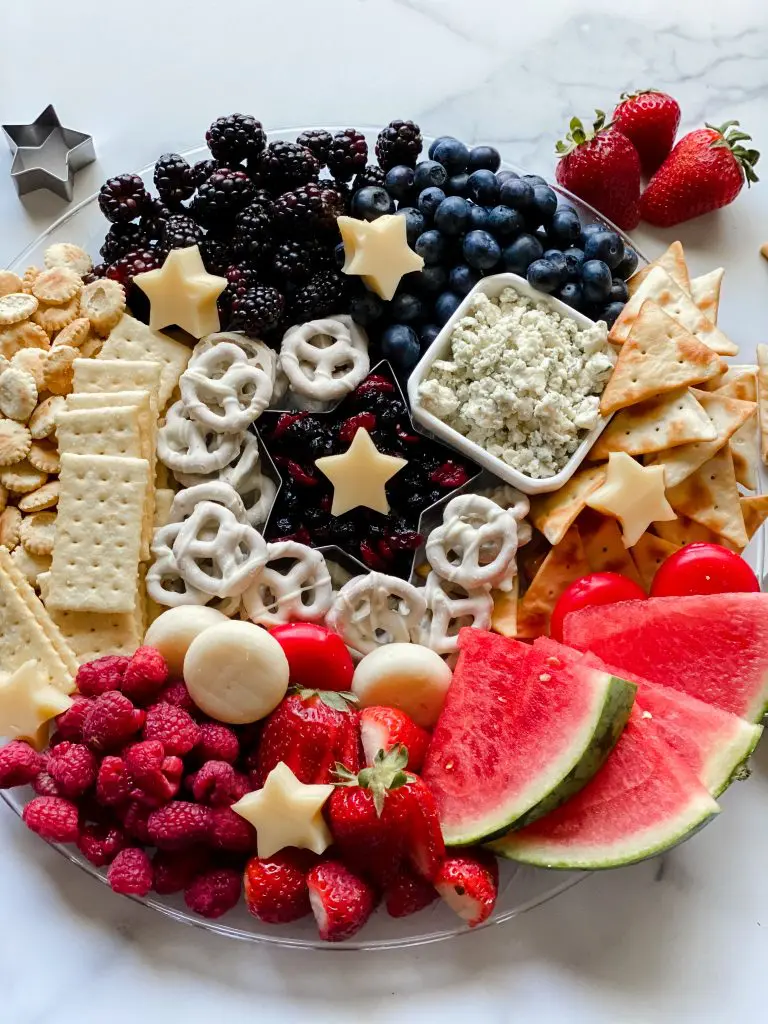 What Is A Charcuterie Board?
Charcuterie platters are a fun new trend and an old trick at the same time. In the beginning, charcuterie (a French term) only referred to cooked meat and it was a method of preserving and serving meats before refrigeration.
Today, a charcuterie board can have any number of things served on a tray. Our patriotic charcuterie board includes cheese, fruit, and more.
How do you pronounce charcuterie?
In the U.S. the word is generally pronounced shar-KOO-tər-ee, but variations in pronunciation exist. You can listen to the official French pronunciation here.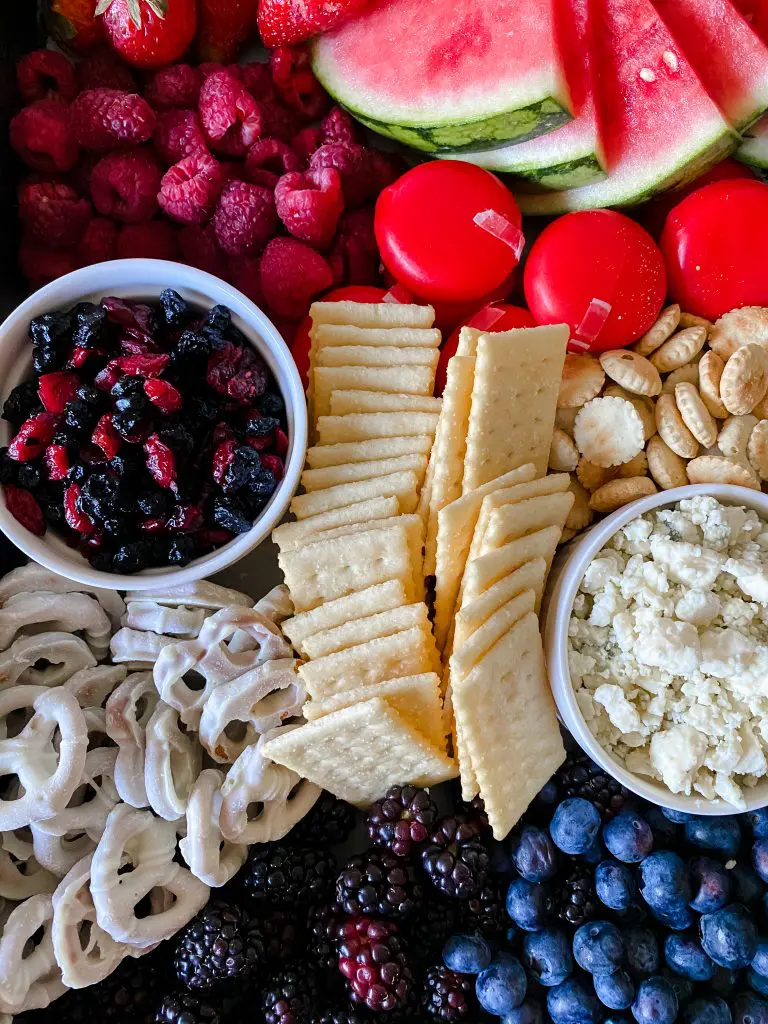 What to Put on a Charcuterie Board?
This is a great question, and the answer is pretty much any finger food you enjoy. The idea is to cover a wooden tray in a variety of finger foods for guests to put on their plates.
Charcuterie boards allow guests to pick and choose what they'd like to eat at a party. Many times, charcuterie boards are artfully arranged for a beautiful presentation of food. However, you can also keep it simple and straightforward.
No need to get too fancy, because the taste is what matters most. Here are some ideas for what to put on a charcuterie board.
Cold cuts
Summer Sausage
Sliced Hard Salamis
Grapes
Strawberries
Cheese (sliced, cubed, or cut with a cookie cutter)
Crackers
How To Make a Patriotic Charcuterie Board
Of course, the obvious answer, if you live in the United States, is to use red, white, and blue ingredients. But we wanted to go a step further and actually give you very specific instructions for this gorgeous patriotic charcuterie board.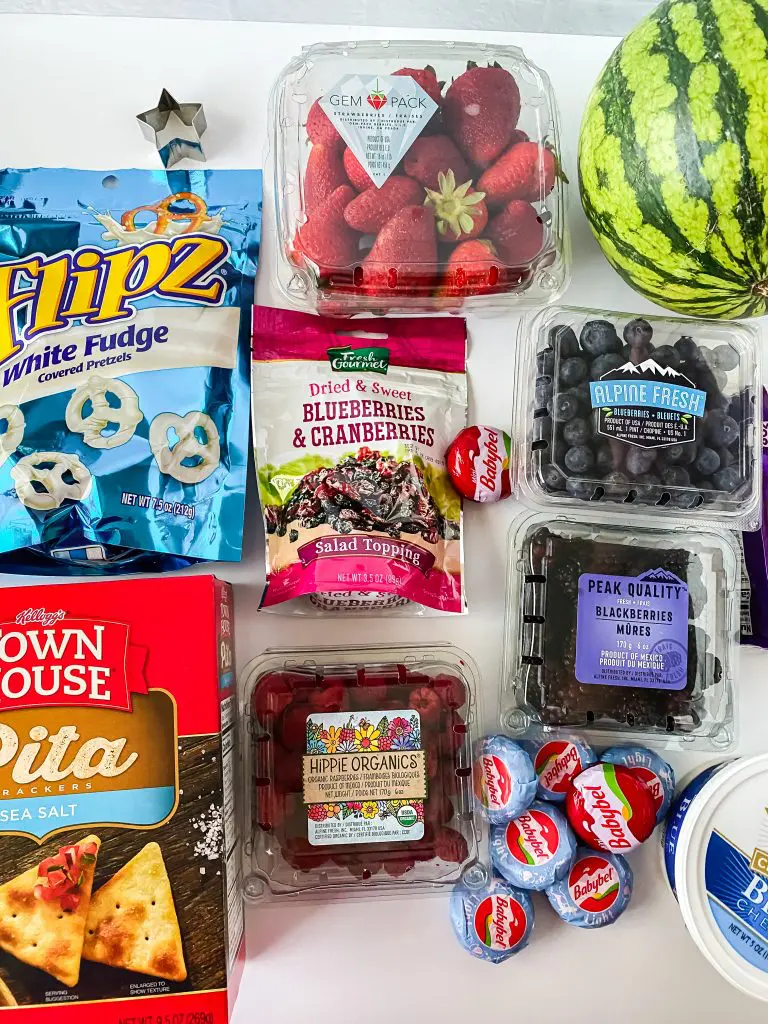 Ingredients for your Patriotic Charcuterie Board
1 Block any white cheese. We made ours with Swiss cheese, but you could literally use any white cheese you like. Havarti would be especially good, provolone would be a nice mild choice.
Blue cheese crumbles. A fun mix of blue and white on the board.
1 pack of Babybell cheese or string cheese. You can leave the packaging on or take it off – your choice.
1 small watermelon.
Strawberries, one pint.
Blueberries, one pint.
Blackberries, one pint.
Raspberries, one pint.
Dried blueberries and cranberries.
Oyster and soup crackers. Goldfish crackers are a fun addition.
Club crackers or pita chips.
White chocolate-covered pretzels. Store-bought or homemade will both work. We went with store-bought for this because it is so much easier and convenient.
Directions for Laying Out Your Charcuterie Board
Everyone has a different tray to work with, so before beginning your board, look at the layout of it. How much space do you have to present the items?
Lay down large star cookie cutters or ramekins and then prepare to build around them.
Rinse and slice your fruits.
Slice the block cheese in half length-wise and then cut out star shapes using small star cookie cutters.
Keep the other ingredients to use as fillers.
We recommend a red, white, and blue color scheme but add anything you like that fits the theme.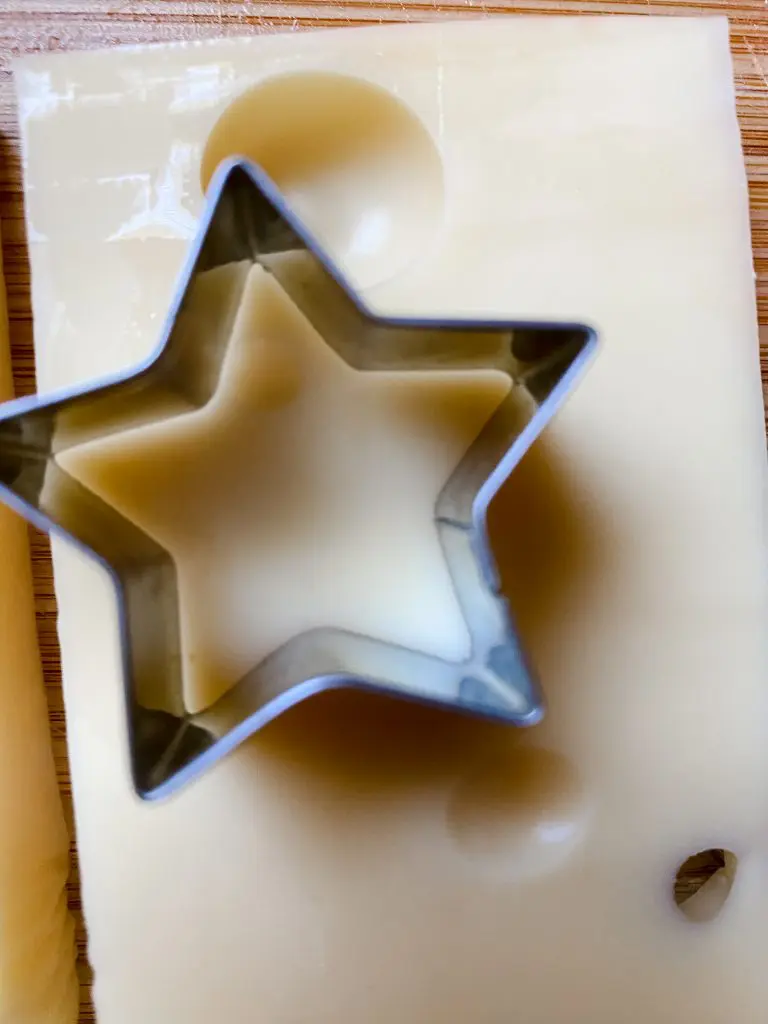 Tips and Tricks for the Perfect Patriotic Charcuterie Board
To keep the crackers from getting soggy due to the fruit build bridges. Using Babybell cheese to raise up and separate the crackers works really well.
Chocolate covered pretzels are another great barrier to block moisture and the pretzels won't get soggy
due to the chocolate coating.
You can use almost anything to create a charcuterie board: rectangle trays, a lazy Susan with or without the dishes that came with it. A large plastic tray. A large cutting board. Whatever you use just make sure it's sturdy enough to handle the weight of a fully-loaded board. We've linked to some simple and some gorgeous options in the equipment section.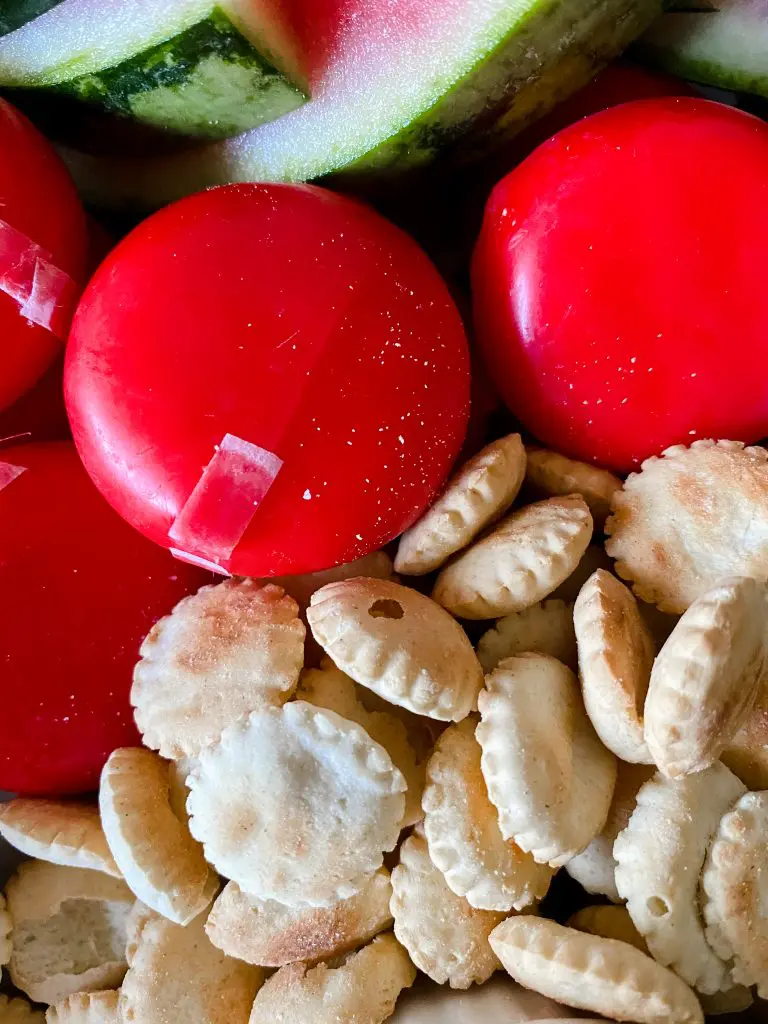 Equipment for a Lovely Charcuterie Board
Frequently Asked Questions
Can I make my patriotic charcuterie board ahead of time?
It doesn't take any time at all to put together a charcuterie board, but if you want to cut special shapes from your cheese you might want to do that ahead of time for sure. You can even layout the board ahead of time, but since this is a fruit-heavy patriotic charcuterie board, We would definitely not add the crackers until the last minute to avoid soggy mush.
How long can charcuterie sit out?
The answer to this question depends on what kinds of food are on your grazing board. If you have mayonnaise-based dips on your board, you'll want to put them back in the fridge fairly soon. If you have cheese and fruit, those can stay out for an extended period of time (the length of a party) and not go bad.
Can charcuterie be frozen?
Again, this depends on the ingredients on your board. Most fruit can be frozen, but with varying consequences. Bananas and apples will turn brown when frozen for instance. Meats can certainly be frozen. Cheeses may or may not develop an unsightly texture after being frozen. In any case, if you must freeze your charcuterie board for any reason make sure to use air-tight containers and remove as much air as possible.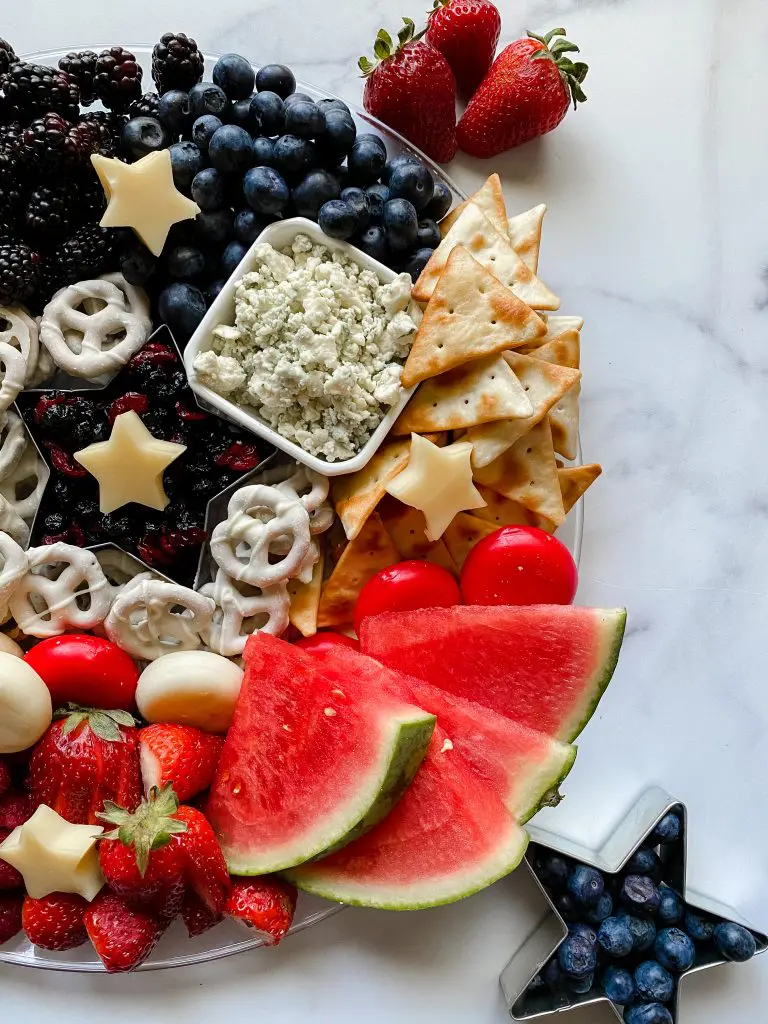 How to Store Charcuterie Ingredients
If you have leftovers, you can certainly put the different ingredients into quality plastic zipper bags and keep everything refrigerated to pull out and snack on later. If you want to get everything rinsed and sliced ahead of time, you can put each item in a separate zipper bag until you are ready to make your charcuterie tray.
More Ideas for Charcuterie Ingredients
If you enjoyed the Patriotic Charcuterie Board, just look at these Red, White, and Blue recipes!