Perfectly moist with a delightful crumb, this Peanut Butter Banana Muffins recipe is fast, easy, and delicious. It's an uncommon muffin you won't find in a box mix and our from-scratch recipe hits all the right high notes for a muffin you'll come back to time and time again.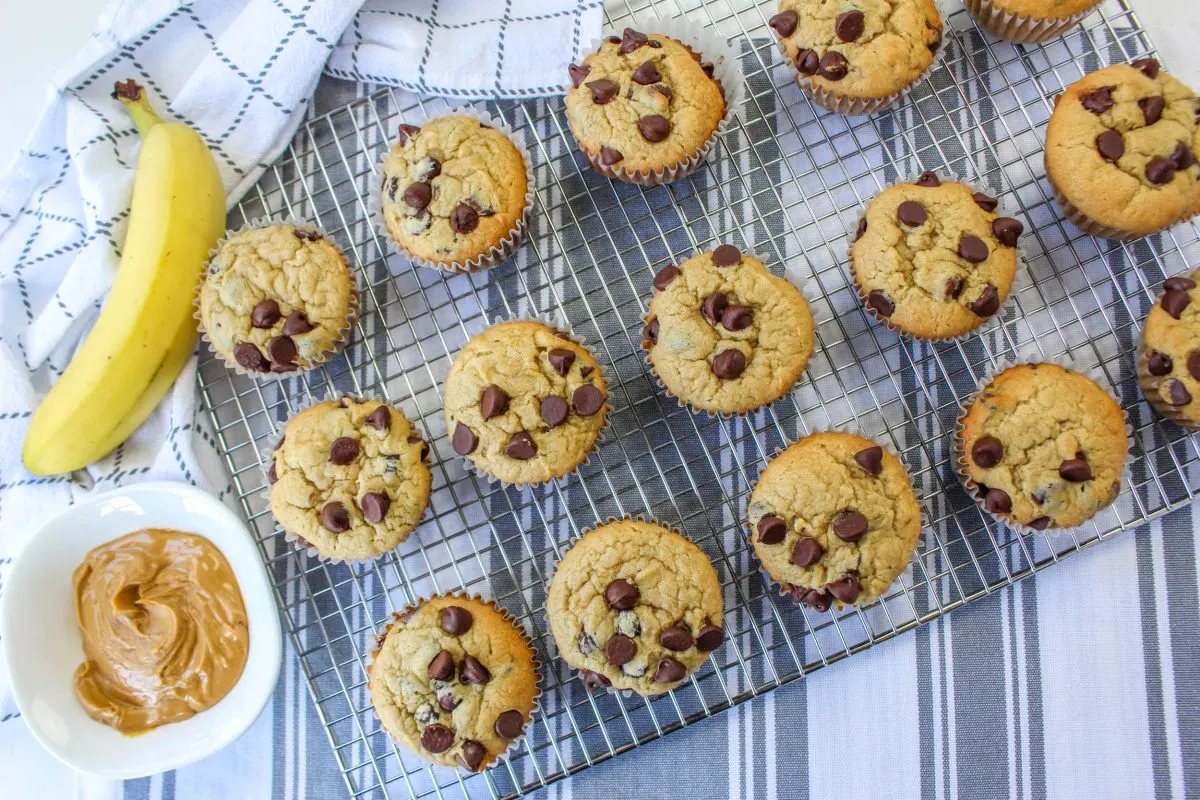 Chunky Monkey Muffins are a popular after school snack, a reasonable quick breakfast on the way out the door, and a fun addition to a fancy brunch. A little protein, some vitamins, and sweetness from the chocolate chips round out the value of adding banana peanut butter muffins to your day.
Why You'll Love Our Peanut Butter Banana Muffins Recipe
Unique. When you don't want the same-old muffins any more, this recipe takes you outside the box and delivers a classic flavor combination you weren't expecting to see here.
Nutritious. These breakfast muffins have lots of great nutritious value to fuel your day, including protein!
Delicious. You'll love the flavors of our muffin recipe and the perfection of the texture makes these muffins amazing.
Elvis approved. You may have seen these muffins referred to as Chunky Monkey Muffins.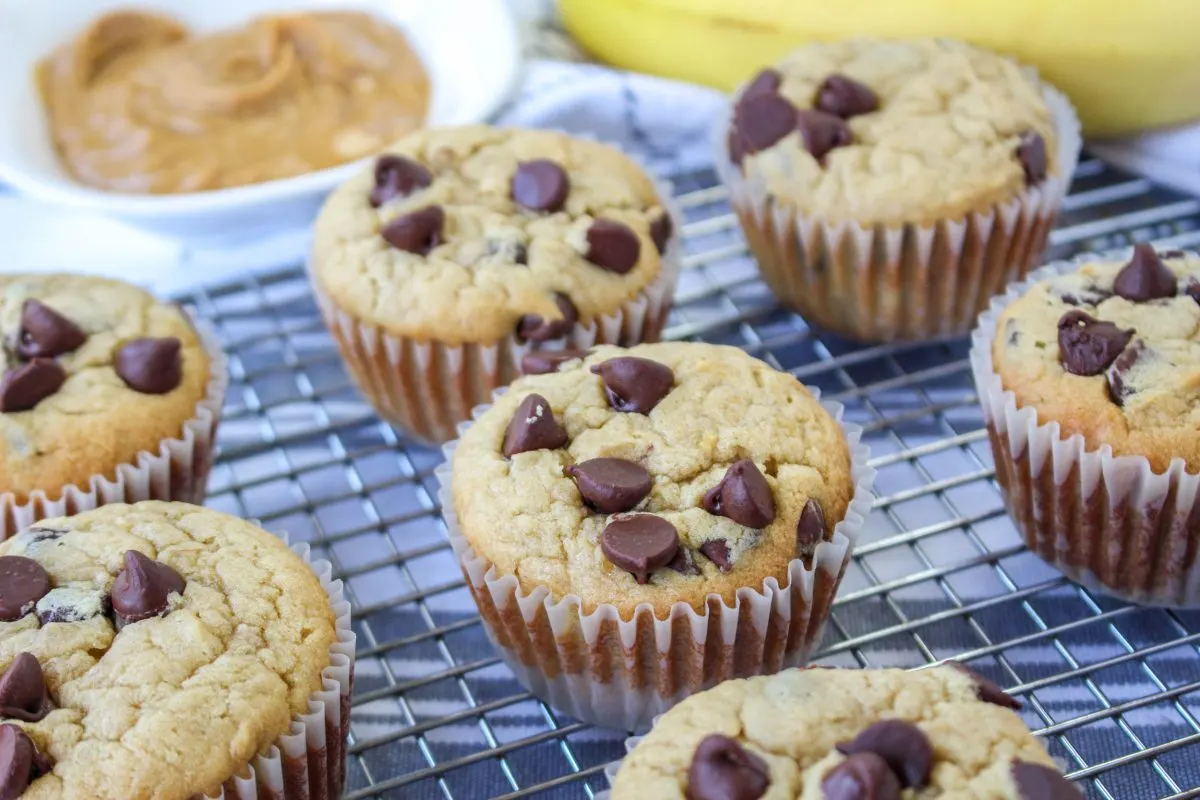 Equipment Needed
Hostess At Heart participates in affiliate programs. As an Amazon Associate, I earn a commission from qualifying purchases. Please refer to my disclosure page for more information about these affiliate programs.
Muffin Pan. You will need two for this recipe unless you bake and re-use the same pan.
Cupcake Liners. I like to get aluminum liners that don't require extra cooking spray if I can find them.
Ingredients you'll need for this recipe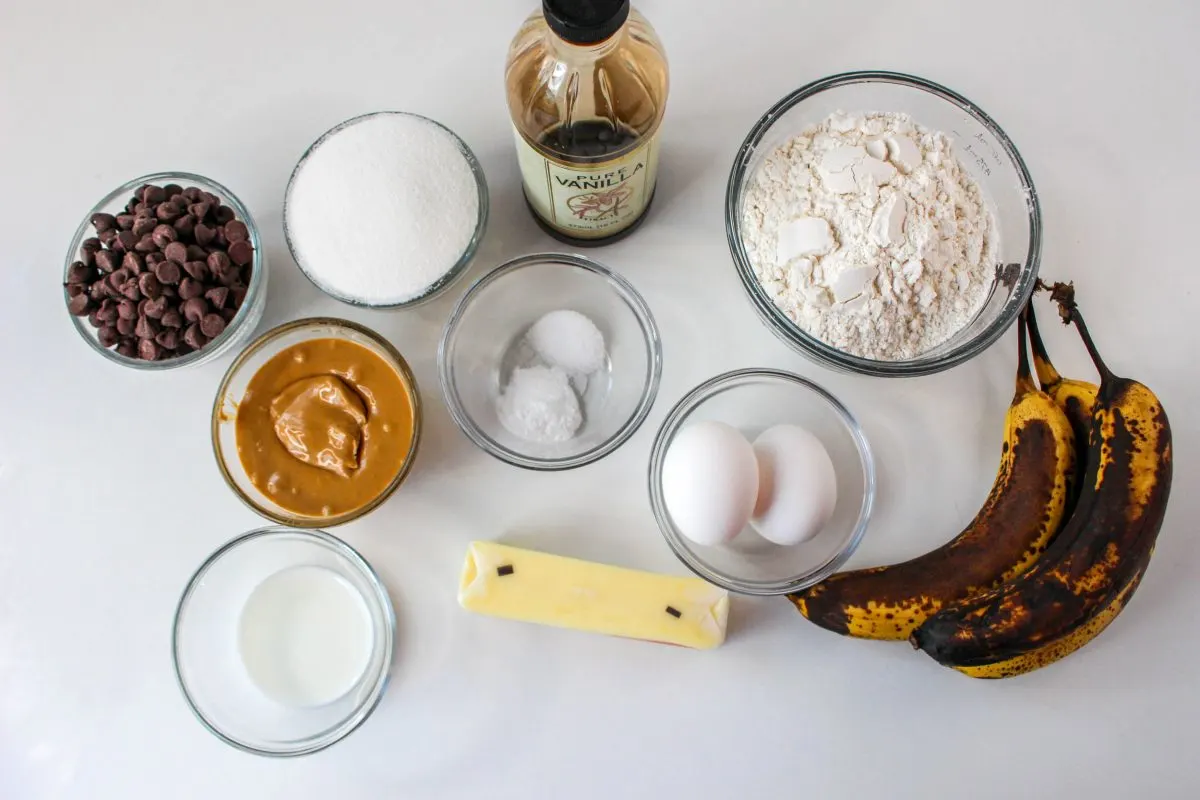 All-Purpose Flour. A one-for-one gluten-free flour will work for this recipe if needed.
Baking Soda. If your baking soda is older than six months, it may not give the muffins rise as it should. Replace it frequently.
Salt.
Unsalted Butter. A non-dairy butter substitute will work, but may change the texture slightly.
Creamy Peanut Butter. Do not use chunky peanut butter.
Sugar.
Eggs. The eggs and butter need to be at room temperature. Eggs can be placed in warm water for five minutes to get to room temperature.
Milk. Whole milk will increase the moisture content in the muffins but you can use any type of milk you wish.
Bananas. Good ripe bananas add so much flavor to this recipe. Do not use green bananas. They should have at least a few specks.
Chocolate chips. Dark, semi-sweet, or milk chocolate chips will all work.
How To Make Peanut Butter Banana Muffins
Please note, that the printable recipe card has ingredient quantities, complete instructions, and nutritional information. The following is a quick overview of the recipe.
Step One. Get everything ready to make chunky monkey muffins.
Preheat your oven. Line two muffin pans with cupcake liners. Find all ingredients. If you haven't set things out to get them to room temperature, do that now and wait a little bit before proceeding.
Step Two. Mix the banana peanut butter muffins.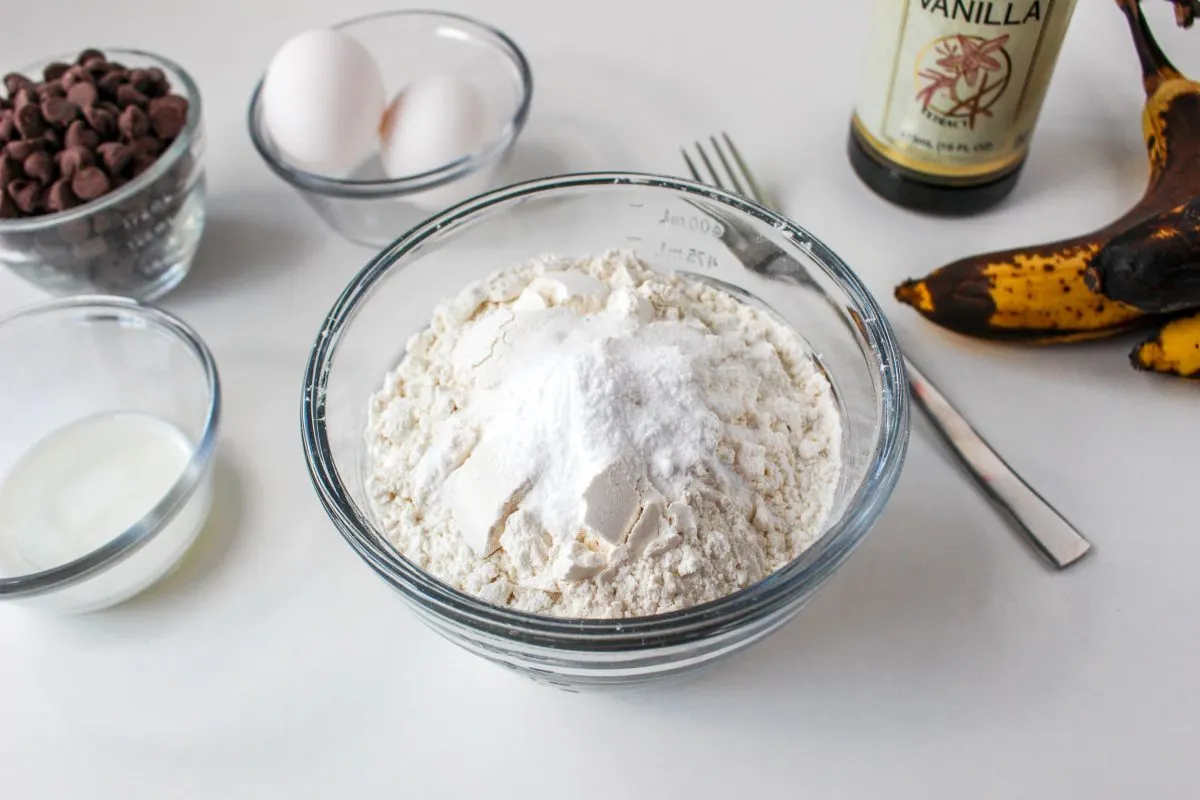 Mix the dry ingredients first in a large bowl.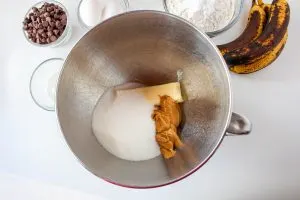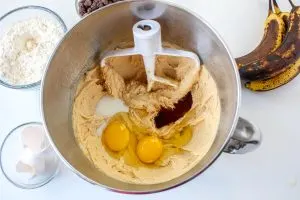 In a separate bowl, combine the peanut butter, sugar, and butter. Add eggs, vanilla, milk, and bananas to the wet mixture and beat.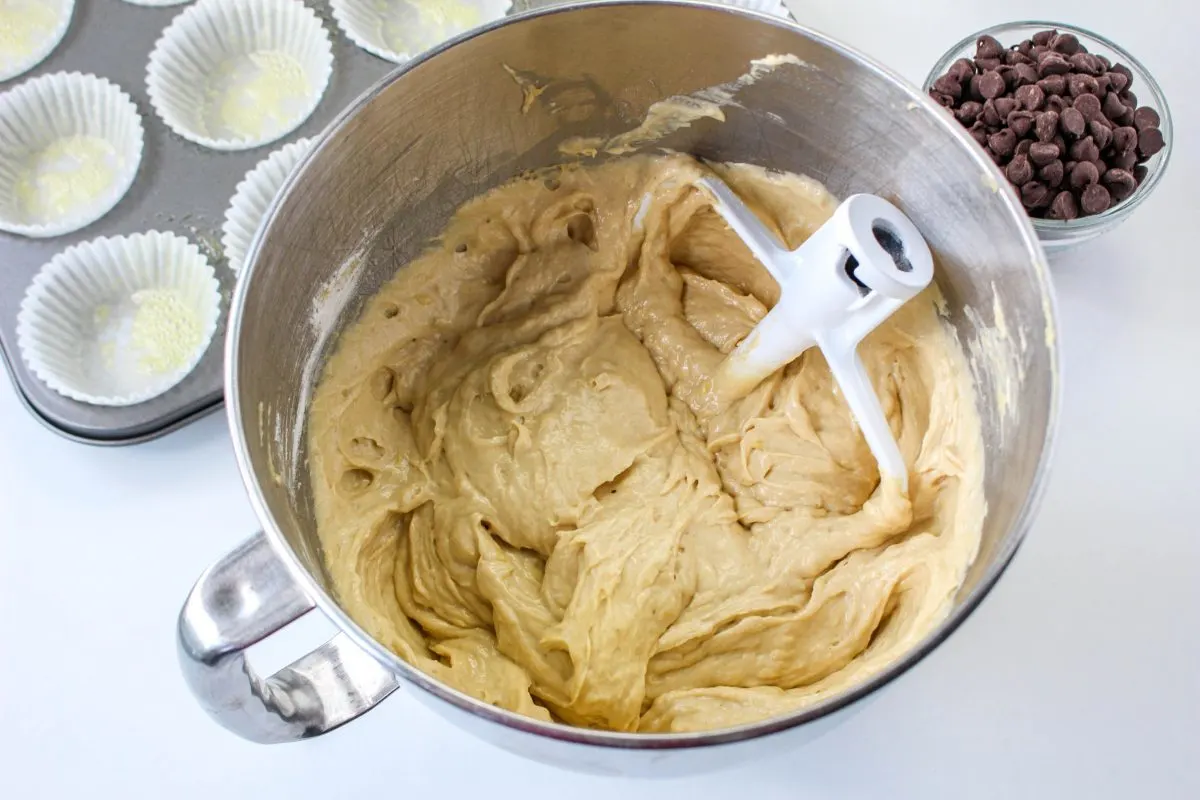 Combine the dry ingredients with the wet ingredients.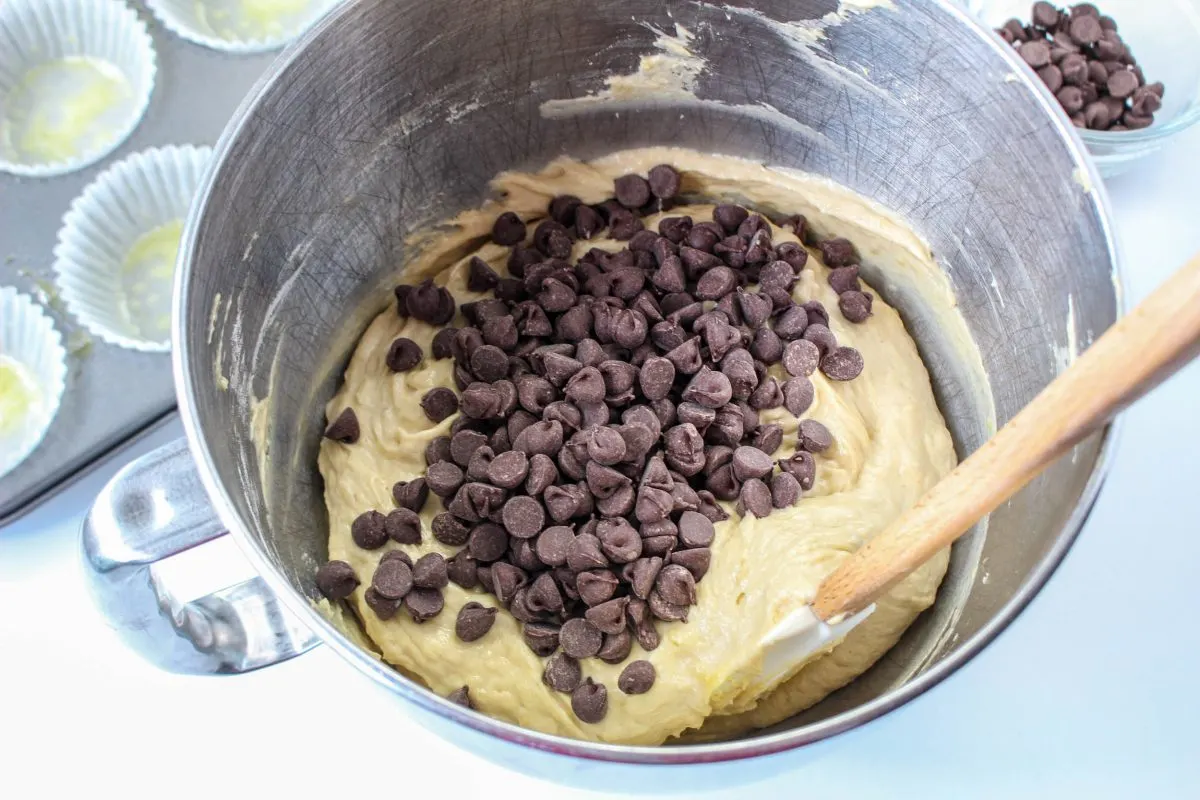 Stir in the chocolate chips.
Step Three. Bake the Peanut Butter Banana Chocolate Chip Muffins.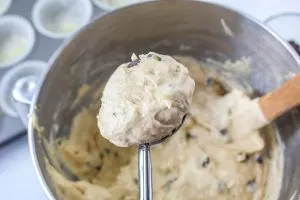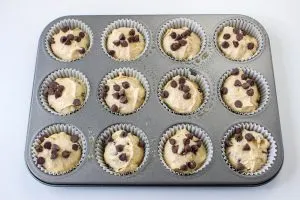 Fill each muffin tin 3/4 full. Bake the muffins for roughly 16 minutes. Cool the muffins completely.
Frequently Asked Questions
What makes a muffin light and fluffy?
Not overmixing. Using ingredients at room temperature and mixing the wet ingredients and dry ingredients together separately will help prevent overmixing.
What makes peanut butter banana muffins moist?
The fat from the peanut butter and butter assure that this muffin recipe is moist.
How do I know when my bananas are ripe enough?
Bananas should have at the very least brown specks on the peeling. I like them very speckled but not black.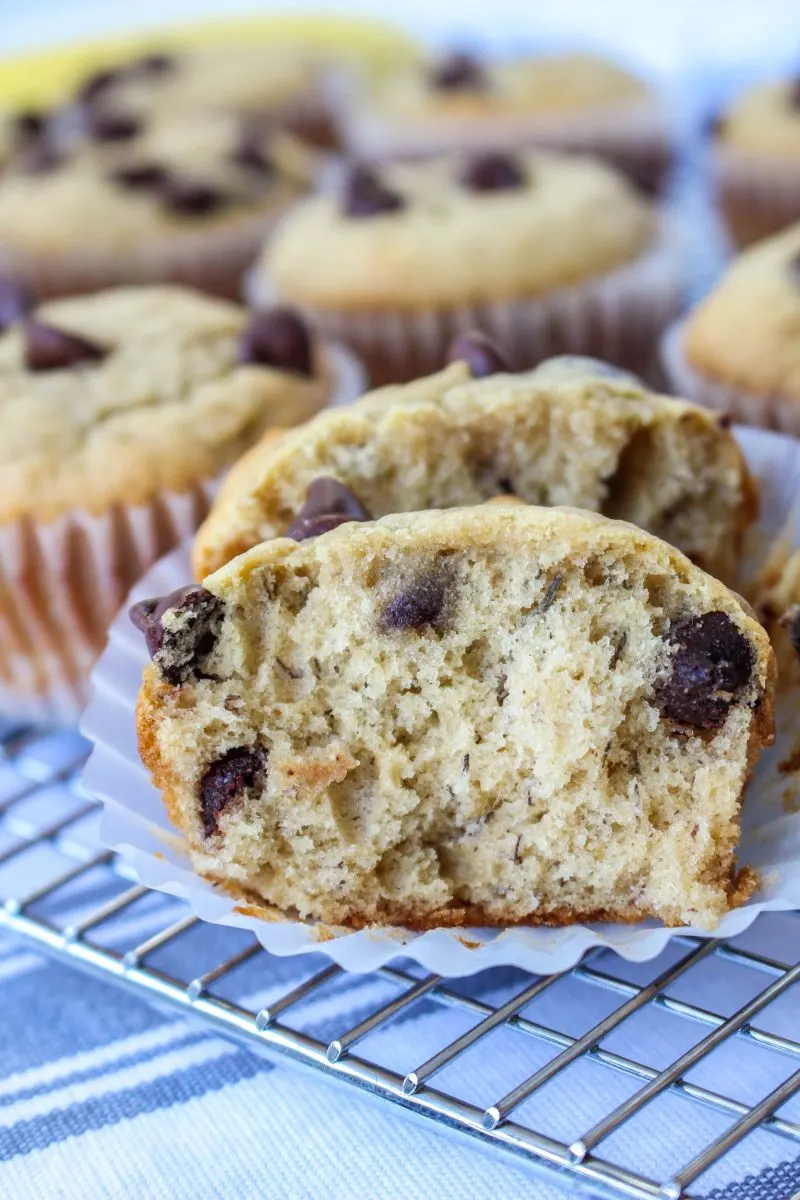 How To Reheat & Store Peanut Butter Banana Muffins
Best way to store Peanut Butter Banana Chocolate Chip Muffins
Peanut Butter Banana Muffins are best stored in an airtight container at room temperature. Do not place them in a container until they are 100% cooled.
Can I freeze Banana Peanut Butter Muffins
Yes. Make ahead and freeze these muffins at the beginning of the month, then enjoy grab-and-go breakfast or lunchbox content all month long!
How to reheat Chunky Monkey Muffins
Ten seconds in the microwave is enough to refresh the crumb of the oven and get it hot enough for a pat of butter. Thirty seconds or so in the microwave will reheat these muffins from frozen.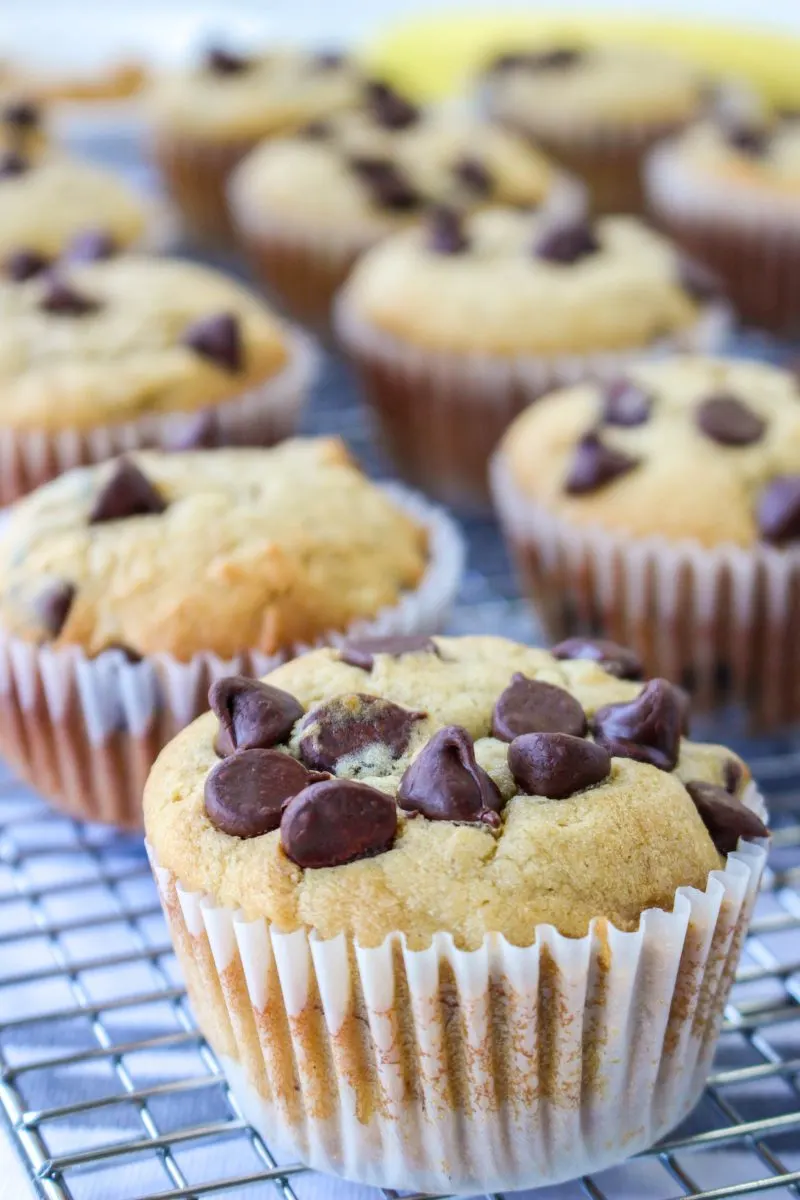 Tips for the Perfect Peanut Butter Banana Muffins
Keep ripe bananas in the freezer. I leave the peel on and just put them in a freezer-safe reclosable bag.
Spritz the cupcake liner with non-stick cooking spray or grease the muffin pan.
Let the muffins cool in the liner for 10 minutes before removing them.
The moisture from the muffin will assure that the paper is easily removed.
Mash the bananas first so they are creamy and not in too big of chunks. Mashing them makes blending them with the other ingredients easier.
Top the unbaked muffins with more chocolate chips. Everyone wants the muffin with the most chocolate chips right?
If you enjoyed this recipe check these out!
I hope you enjoyed this delicious recipe as much as we do. Drop me a comment below, and don't forget to give it a star rating. ⭐⭐⭐⭐⭐. Your comments and ratings help others decide if this recipe is for them too.
Pin this amazing recipe!