Looking for an easy and delicious vanilla cake recipe for birthdays and special events? Look no further! This homemade recipe produces a moist crumb and fluffy texture that is sure to impress your guests. Give it a try and see for yourself why it will become your go-to cake recipe.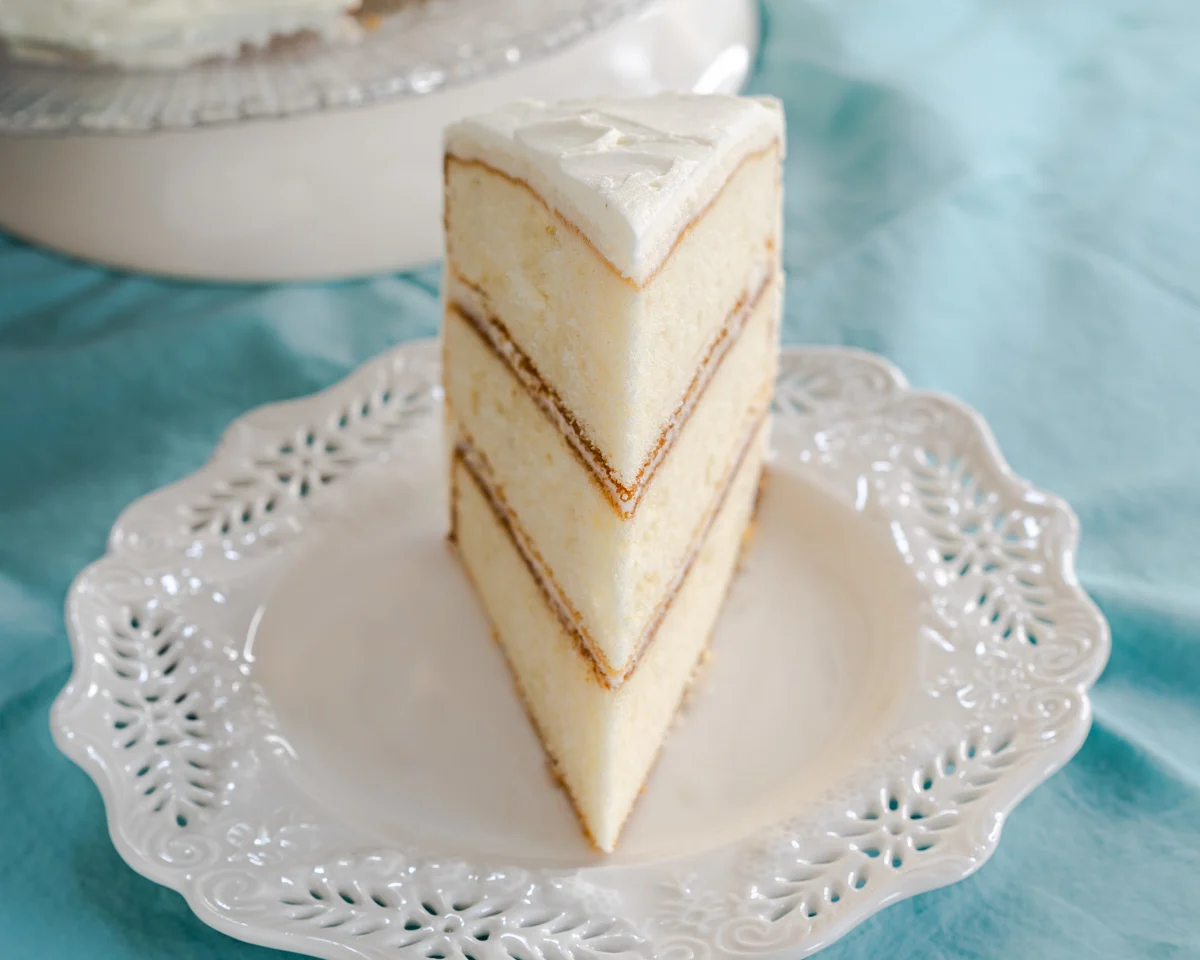 The recipe will remind you of Grandma's cake and can be changed in so many different ways it stays new and fresh.
Why You'll Love Our Recipe for Vanilla Cake
Go-to recipe. Once you make this classic cake the first time you will never want to buy a box mix again.
Versatile. Change up the cake with different flavorings, fillings, frostings, and decorations! It is endlessly versatile.
Light and Fluffy. As long as you whip air into the butter, the texture of this cake is divine. It's exactly what everyone wants in a homemade cake.
Make ahead. Need it tomorrow or the day after? No problem. Frosting the cake keeps it from drying out and it will keep for several days, saving you time on the big day!
Ingredients and Substitutions For Our Easy Vanilla Cake Recipe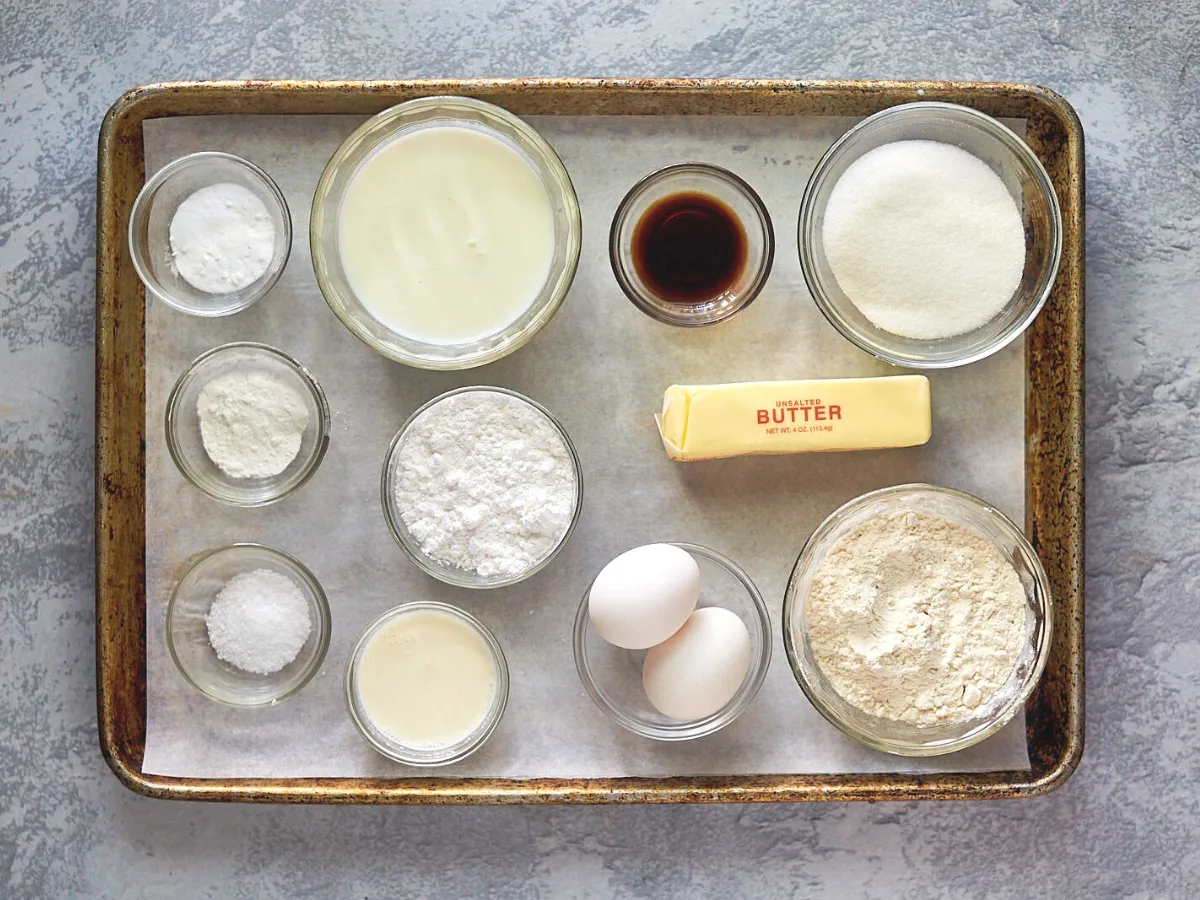 Vanilla Cake Ingredients
Cake Flour. If you don't have any, you can make your own cake flour with these instructions.
Salt.
Baking Powder.
Baking Soda.
Unsalted Butter. Butter is best for flavor and texture, but you can use a non-dairy butter substitute if needed. If you use salted butter cut the salt to 1/2 teaspoon.
Sugar.
Eggs.
Egg Whites.
Buttermilk. Make your own! It's simple and saves you a trip to the store.
Vanilla Buttercream Ingredients
Unsalted Butter. If you need truly white frosting, you can use shortening instead. Butter has better flavor but will make a slightly off-white frosting.
Powdered Sugar. Lately, I've noticed you can't always find this at the grocery store. Did you know you can make your own using a food processor in about five minutes? Just pulse regular sugar and you will get powdered sugar.
Whole Milk. The extra fat in whole milk makes a better frosting. You can also use heavy whipping cream or lower fat milk, non-dairy milk, or even water if needed. Alternatives can change the consistency of the frosting based on the varying fat content.
Vanilla Extract. Good quality vanilla does have better flavor. You can get colorless vanilla extract for a pure white cake. I didn't use it for this cake.
Salt. Sometimes people think that adding salt to frosting is strange or unnecessary but it actually enhances the sweetness and the flavor considerably. Don't skip it. Did you know 1/8 teaspoon is just a pinch?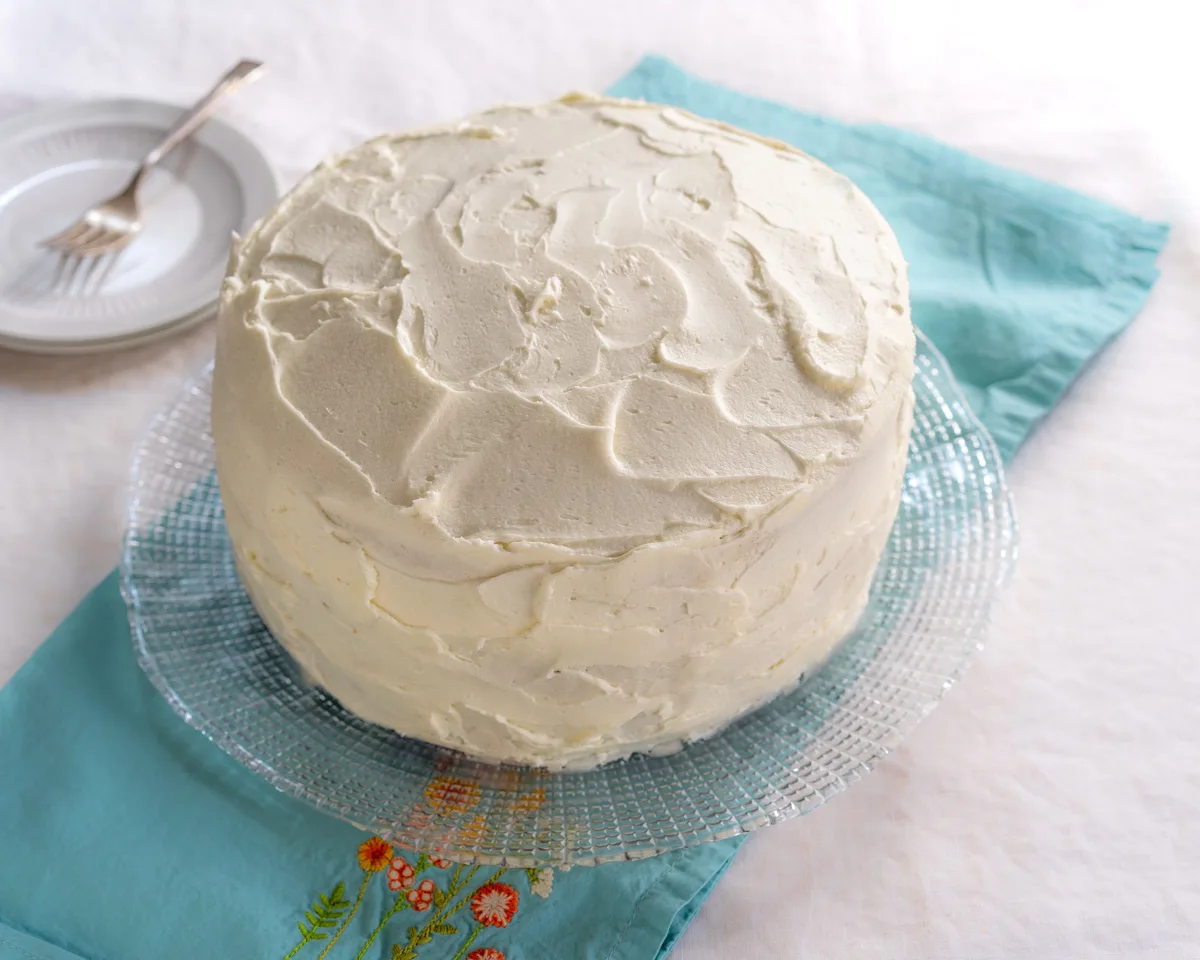 Tools You'll Need For The Easy Vanilla Cake Recipe
Hostess At Heart participates in affiliate programs. As an Amazon Associate, I earn a commission from qualifying purchases. Please refer to my disclosure page for more information about these affiliate programs.
Hand Mixer or Stand Mixer
Mixing Bowl
Cake Pan
How To Make This Easy Vanilla Cake Recipe
Step 1: Get Everything Ready for Our Easy Vanilla Cake Recipe
Preheat the oven to 350ºF. Grease three round 9" cake pans, line the bottoms with parchment paper, then grease the parchment paper. Pull out all of the ingredients and make buttermilk if you don't have it on hand.
Step 2: Mix the Dry Ingredients.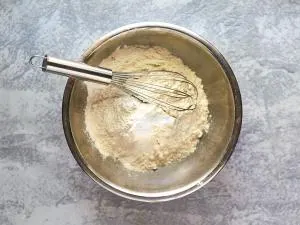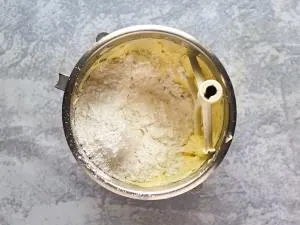 Whisk the cake flour, salt, baking powder, and baking soda together. Set aside.
Step 3: Mix the Wet Ingredients.
Start by creaming the butter and sugar until smooth and creamy. Then add the eggs, egg whites, and vanilla. Do not add the buttermilk yet.
Step 4: Combine the Dry and Wet Ingredients.
Step 5: Add the buttermilk.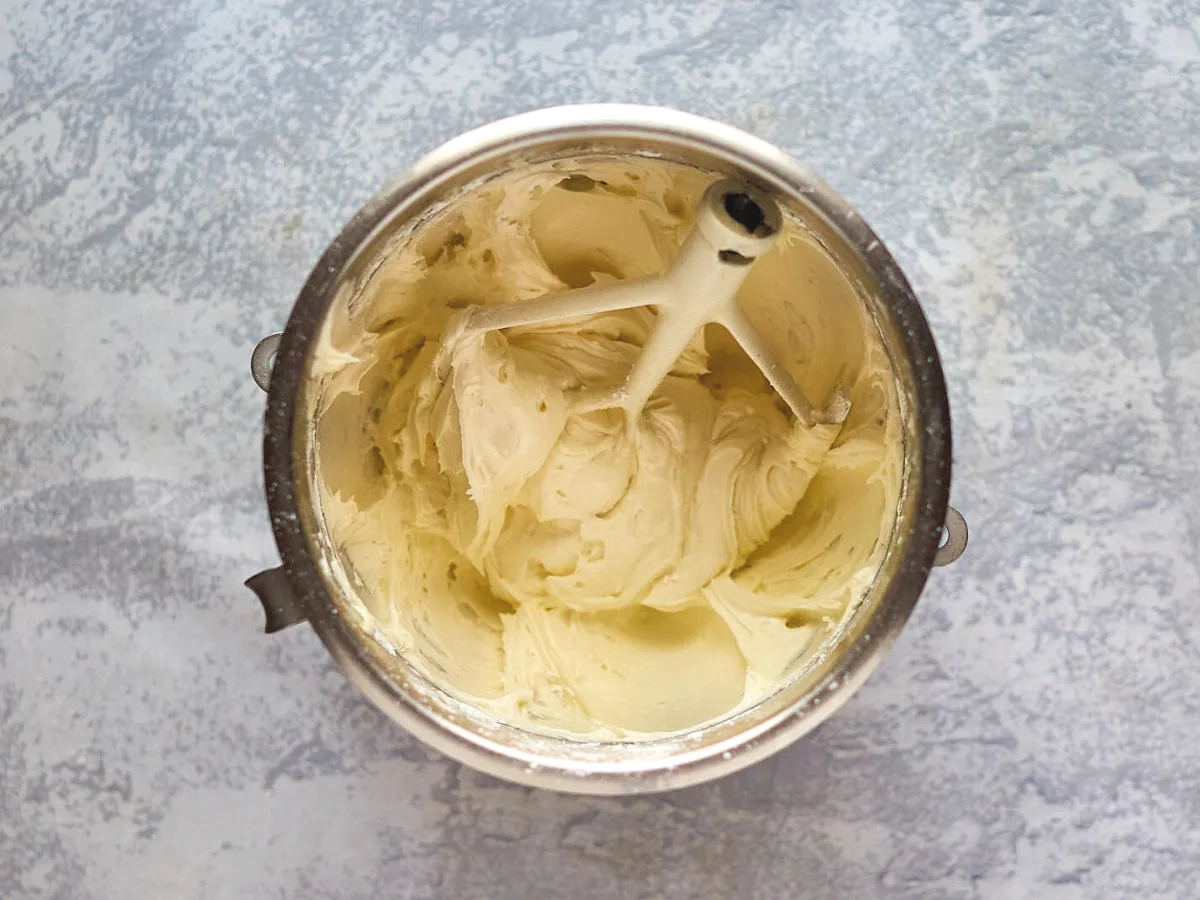 With the mixer still running on low, pour in the buttermilk and mix just until combined. Do not overbeat. The batter will be thick.
Step 6: Bake your Homemade Vanilla Cake.
Pour batter evenly into cake pans. Bake for around 25-30 minutes. Cool completely in the pans set on a wire rack. The cakes must be completely cool before frosting and assembling.
Step 7: Make the Buttercream Frosting.
Mix the butter on high with an electric mixer until light and fluffy. Turn the mixer on low and spoon in the powdered sugar and salt. Continue mixing adding the vanilla extract and milk. Turn the mixer on medium-high and mix until smooth. Add additional powdered sugar if the frosting is too thin or add milk if the frosting is too thick.
Note: The recipe for the buttercream frosting is for a 2 layer cake. For a 3 layer cake, I recommend that you make at least 25% more.
Step 8: Assemble the Easy Vanilla Cake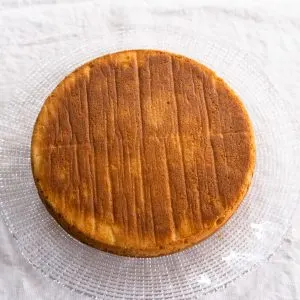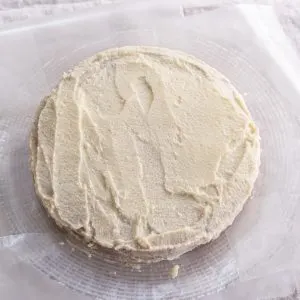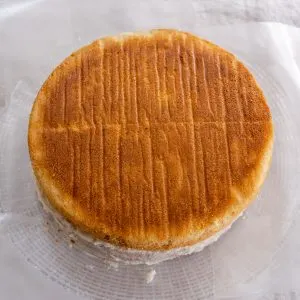 Popular Variations & Additions
Make it a Vanilla Sheet Cake Recipe by simply baking it in a sheet pan. It will bake in as little as fifteen minutes.
Bake the cake in two 9″ rounds and fill the center with lemon curd, raspberry jam, strawberry jam, or your favorite.
Decorate our easy vanilla cake for special occasions. Add food coloring or sprinkles to make a colorful cake. A few sprinkles and you have the perfect birthday cake.
How To Reheat & Store Vanilla Cake Recipe from Scratch
Best Way To Store This Recipe for Vanilla Cake
A frosted cake should be stored at room temperature with a cake dome so that it has a small amount of air movement to keep the frosting from getting weepy but enough protection from the air movement to prevent it from drying out. If you are concerned about the buttercream frosting, you can refrigerate your leftovers, but there is some debate over whether or not this is necessary.
Can I Freeze Vanilla Cake?
Yes! Simply freeze a single slice or an entire cake in an airtight container for up to three months. Thaw single slices in the microwave for twenty to thirty seconds. Thaw an entire cake at room temperature for at least a few hours. You can freeze the cake with or without frosting!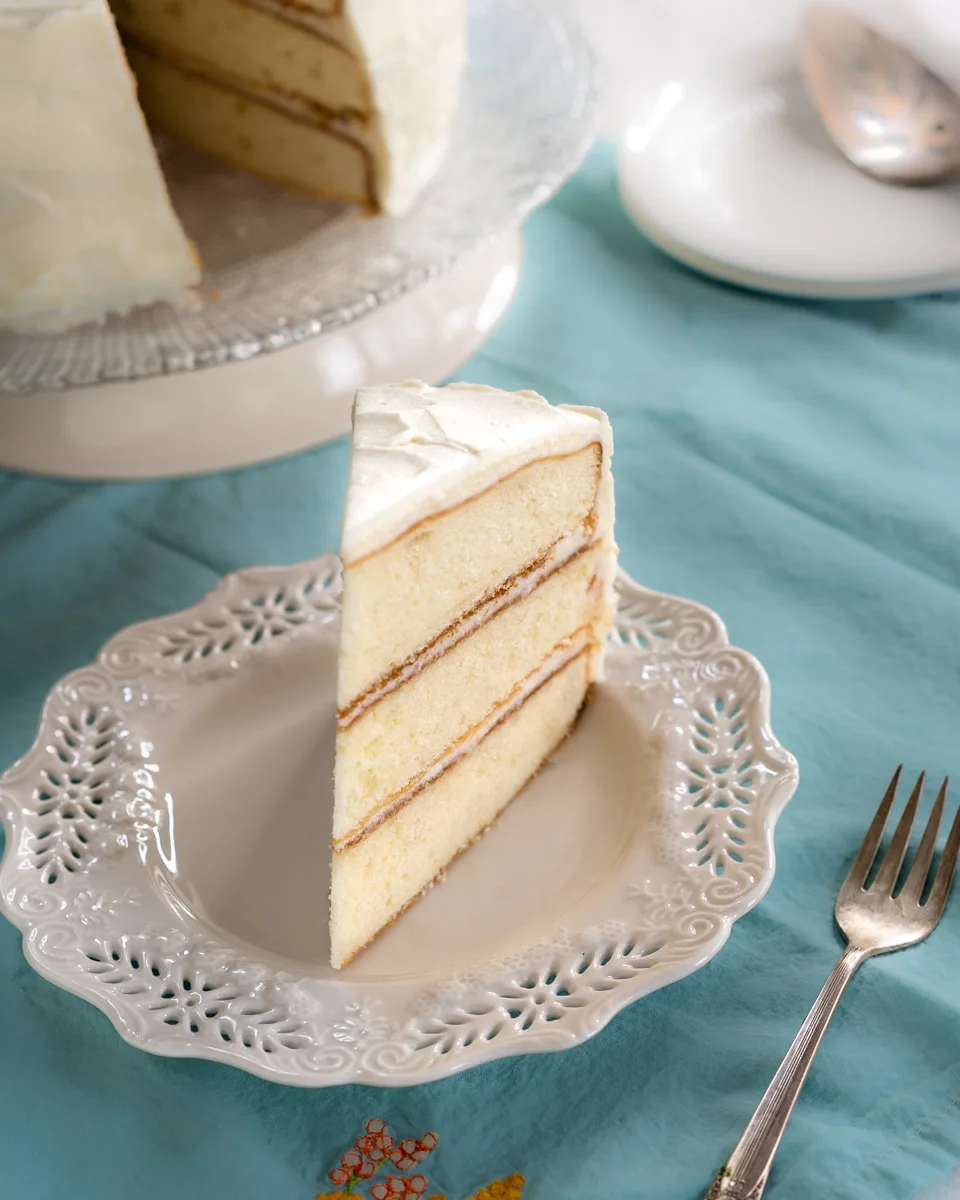 Recipe for Vanilla Cake FAQs
Is Vanilla Cake and White Cake the same thing?
No, white cakes only use egg whites whereas vanilla cakes use whole eggs and vanilla flavoring.
What makes a cake moist and fluffy?
Beat the sugar and butter together until fluffy (3-5 minutes or until light and fluffy). The butter will trap air that will create a light fluffy crumb.
Why does this cake recipe use cake flour?
Cake flour has a lower protein content, creating a lighter, fluffier texture. You can substitute with all-purpose flour but it will impact the texture. If you don't have cake flour, you can make your own!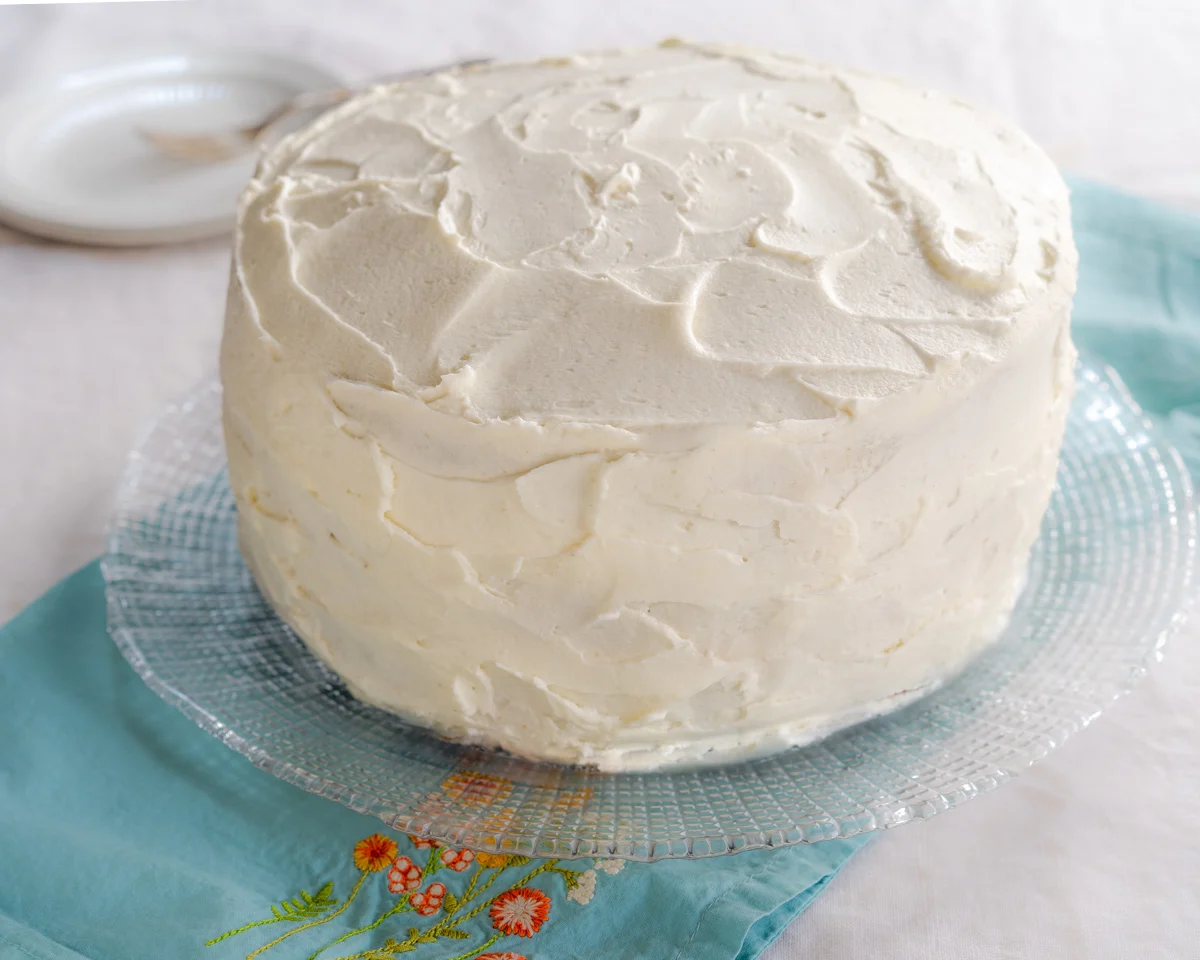 Tips for the Perfect Easy Vanilla Cake Recipe
Don't overbeat. It will remove the fluffiness everyone wants from a vanilla cake.
If using curd or jam, be careful you don't add too much filling between layers. The weight of the top cake will press the filling down even more and cause it to seep over the edges into the frosting. Instead, use less filling than you think you need and spread it out to within an inch of the edges of the layer but no further.
Lightly tap the cake pans once filled with the batter to remove large air bubbles. Some air bubbles are normal, however.
Don't overbake the cake. Start checking the cake at the minimum baking time. When a toothpick inserted into the center of the cake comes out clean or with just a couple of small crumbs, it's done.
Level out the layers before stacking them otherwise your cake will have a domed effect and can crack down the center. It will also make it difficult to get.
I use an electric mixer to mix up my cake recipes. However, this recipe can be mixed by hand in a large bowl and a whisk.
If you loved our Easy Vanilla Cake Recipe Check These Out:
If you tried this delicious recipe, don't forget to rate it and leave me a comment telling me what you think. I love hearing from you!
Pin It Now