Perfect every time, our Vanilla Muffins recipe makes a soft and tender muffin so delicious that it doesn't need a thing. Elevate a simple meal with the simplicity of this Vanilla muffin.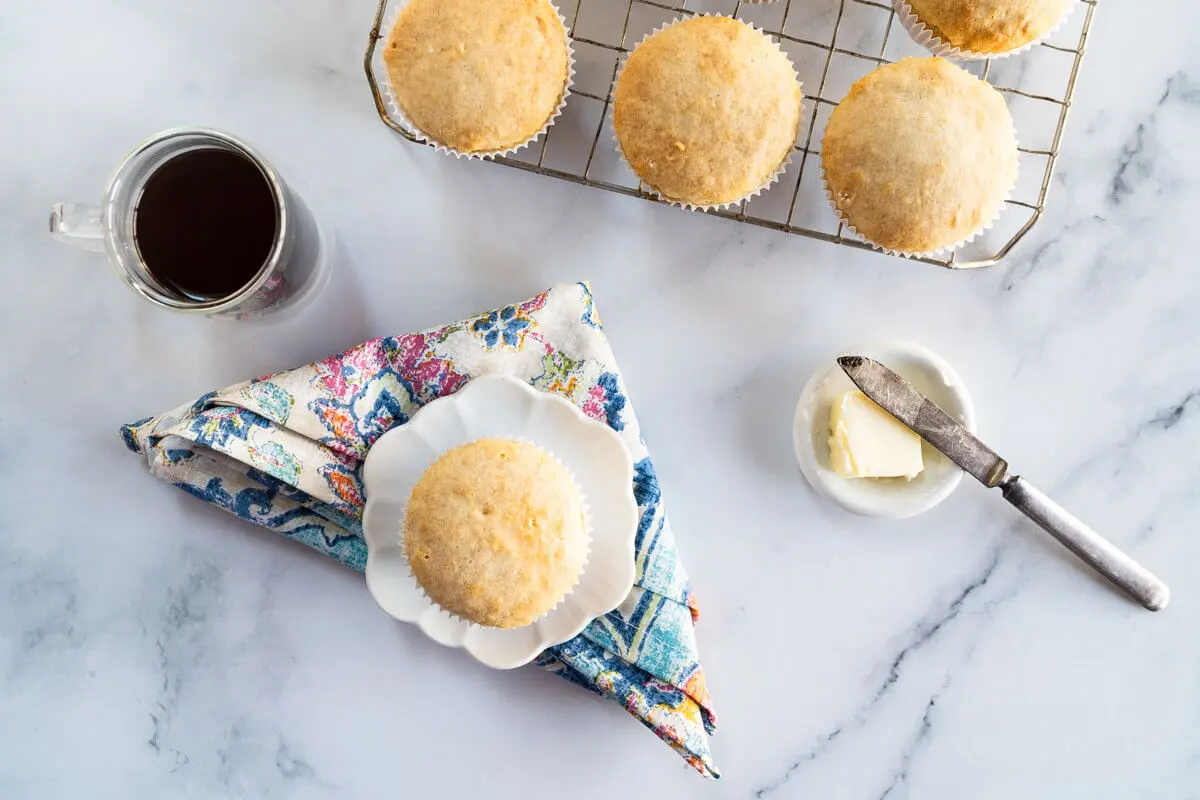 These simple muffins have just a slight sweetness from the vanilla without so much that they taste artificial. They're so good that they don't need streusel or a glaze to enhance them. I'm sharing how to make them perfect so they're perfect for your family.
There's nothing that smells like fresh muffins baking in the oven unless they're Vanilla Muffins. The essence fills the kitchen leaving you drooling in anticipation.
When I was young(er), we called vanilla "plain". As an adult, I realize that the true flavor of good vanilla rivals any other flavor and that there isn't anything "plain" about it.
While these Vanilla Muffins are quick, easy, and simple to make, it took me 4 tries to get this vanilla muffin recipe up to the standards of what we expect of any good muffin. Let me share with you what worked and why as well as what didn't.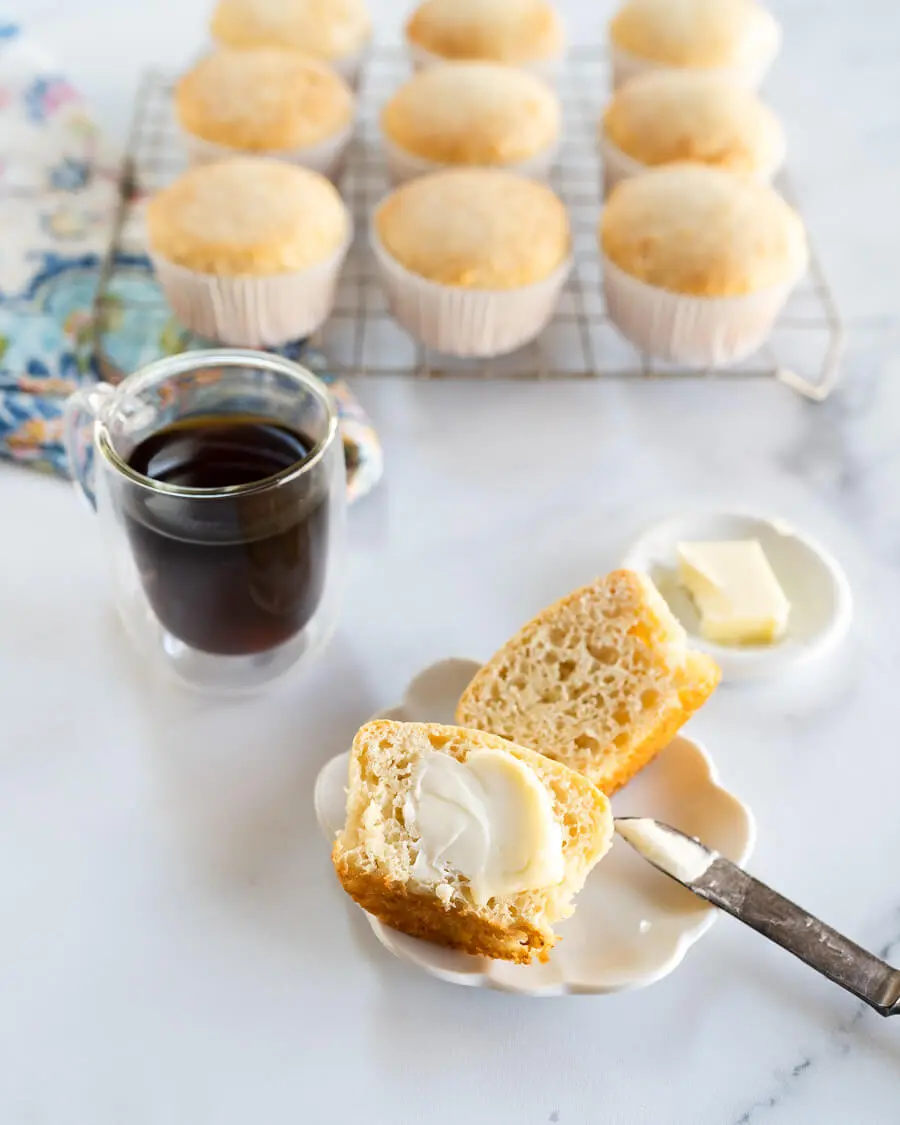 Ingredients
This easy Vanilla Muffins recipe uses simple ingredients that you probably already have so whipping up a batch is quick and easy.
Flour – We used all-purpose flour.
Baking powder and Baking soda – Leaveners that help your muffins rise as well as determine how soft or crispy your bakery is.
Egg – We always use large eggs for consistency in our baking
Buttermilk – Buttermilk helps create a moist, tender softness to these vanilla muffins.
Sugar – white granulated sugar
Vanilla – Usually you can use imitation vanilla extract in baking. However, we used a quality pure vanilla for this recipe.
Vegetable oil – any neutral oil or even melted butter works. Oil provides a moist tenderness to this muffin. We find that they release from the muffin papers easier too.
Salt – We use fine sea salt in all of our baking recipes. We find it dissolves easier reducing the chance of having a pocket of salt in the finished muffin.
How to make Vanilla Muffins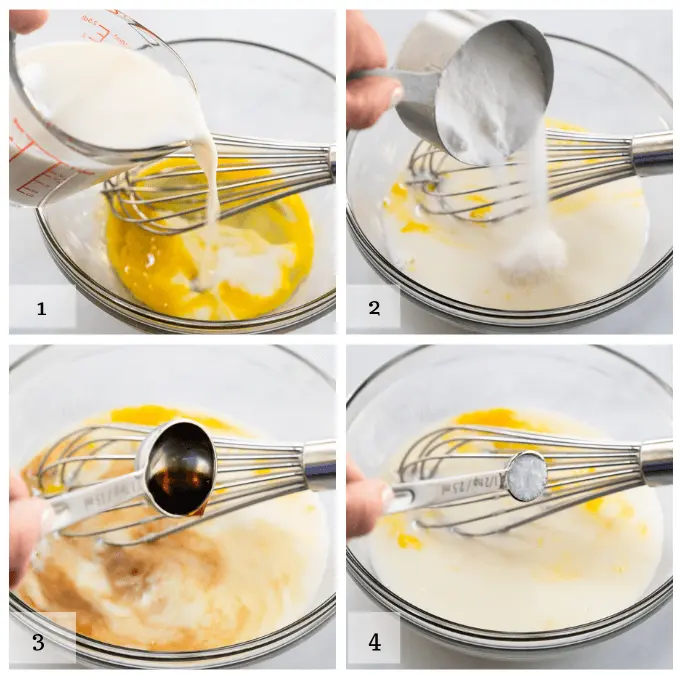 In a large bowl add a beaten egg, buttermilk, sugar, vanilla, vegetable oil, and salt.

We add the sugar and salt with the wet ingredients because we find it distributes and dissolves better.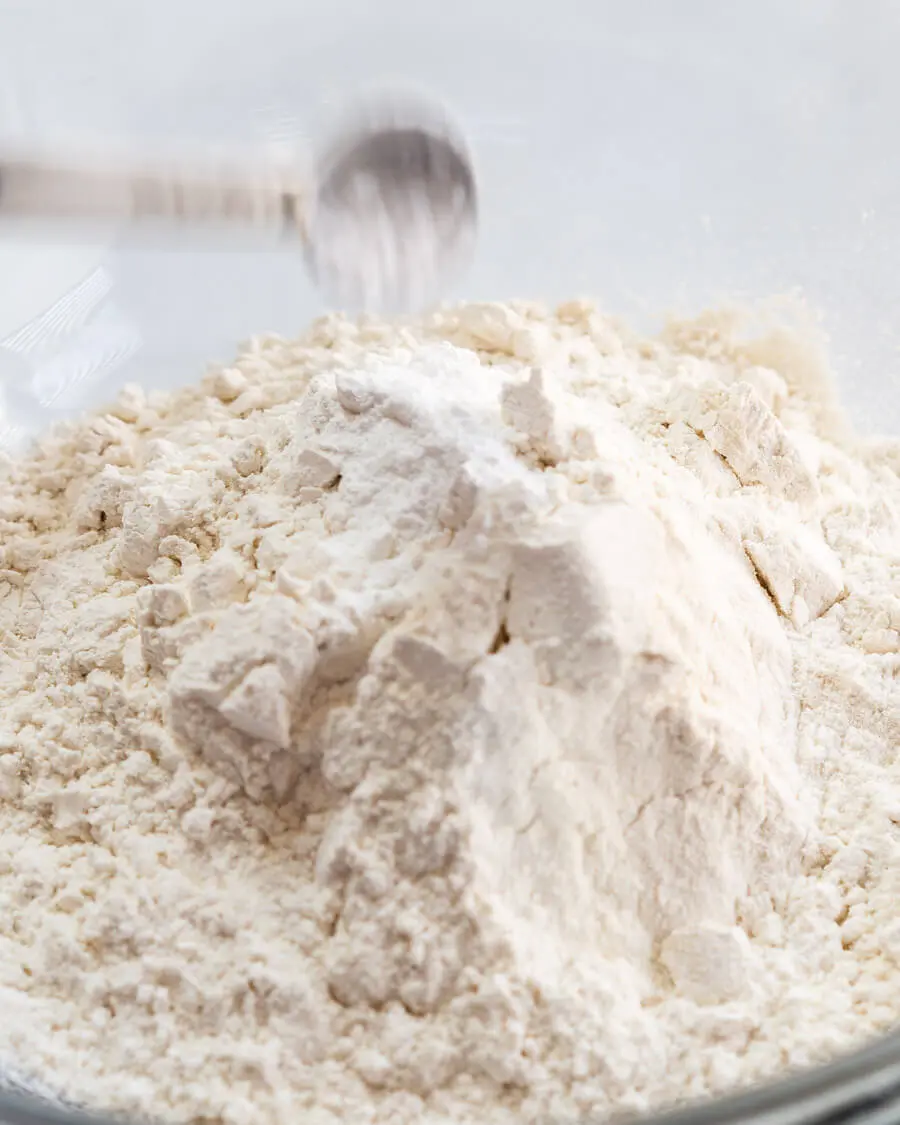 In a medium-sized bowl whisk the flour, baking powder, and baking soda together.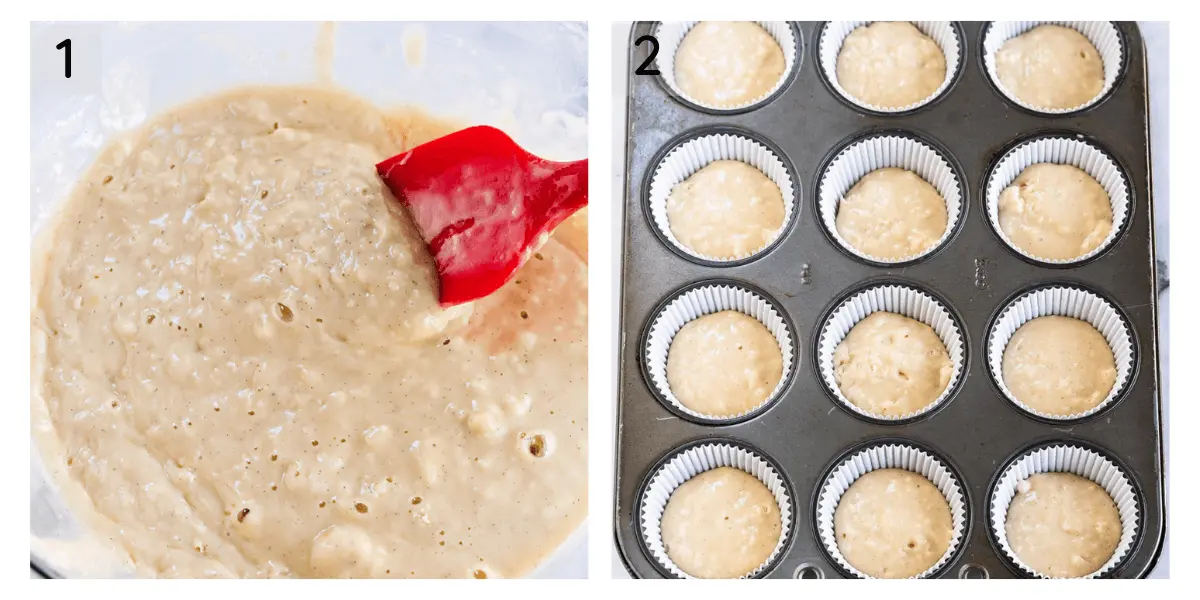 Add the dry ingredients to the wet ingredients. Stir until just combined. The batter will be thick.

Don't overmix. That will result in a tough muffin.

Fill a lined muffin tin 2/3 full.

Don't be tempted to overfill the tin.
How to make the perfect Vanilla Muffins recipe at home.
Do you remember that we said it took us 4 tries to get this muffin right? Let us tell you a little bit about our previous attempts, what didn't work, and what we did to correct it.
Muffins are not cupcakes and treating them the same is what lead us to our less than best results. Here are the biggest differences.
| | | |
| --- | --- | --- |
| Difference | Muffin | Cupcake |
| Flavor | Sweet or Savory | Sweet |
| Topping | None, streusel, glaze | Frosting |
| Crumb | Denser | Light, Soft |
| Served | Breakfast, with meal | Dessert |
Attempt 1 – We used an incorrect balance in the baking soda and baking powder. The muffins were fluffy but very gummy.
Attempt 2 – We corrected our leaveners but used milk and no oil along with two eggs. Our muffins were dry and stuck to the paper liners. We could distinctly taste the egg as well. Not something that was desirable in our opinion.
Attempt 3 – We substituted buttermilk for the milk and added the oil.
My muffins came out of the oven beautifully domed even though some were filled a bit too full and baked over the side and then…. within about 10 seconds, they collapsed.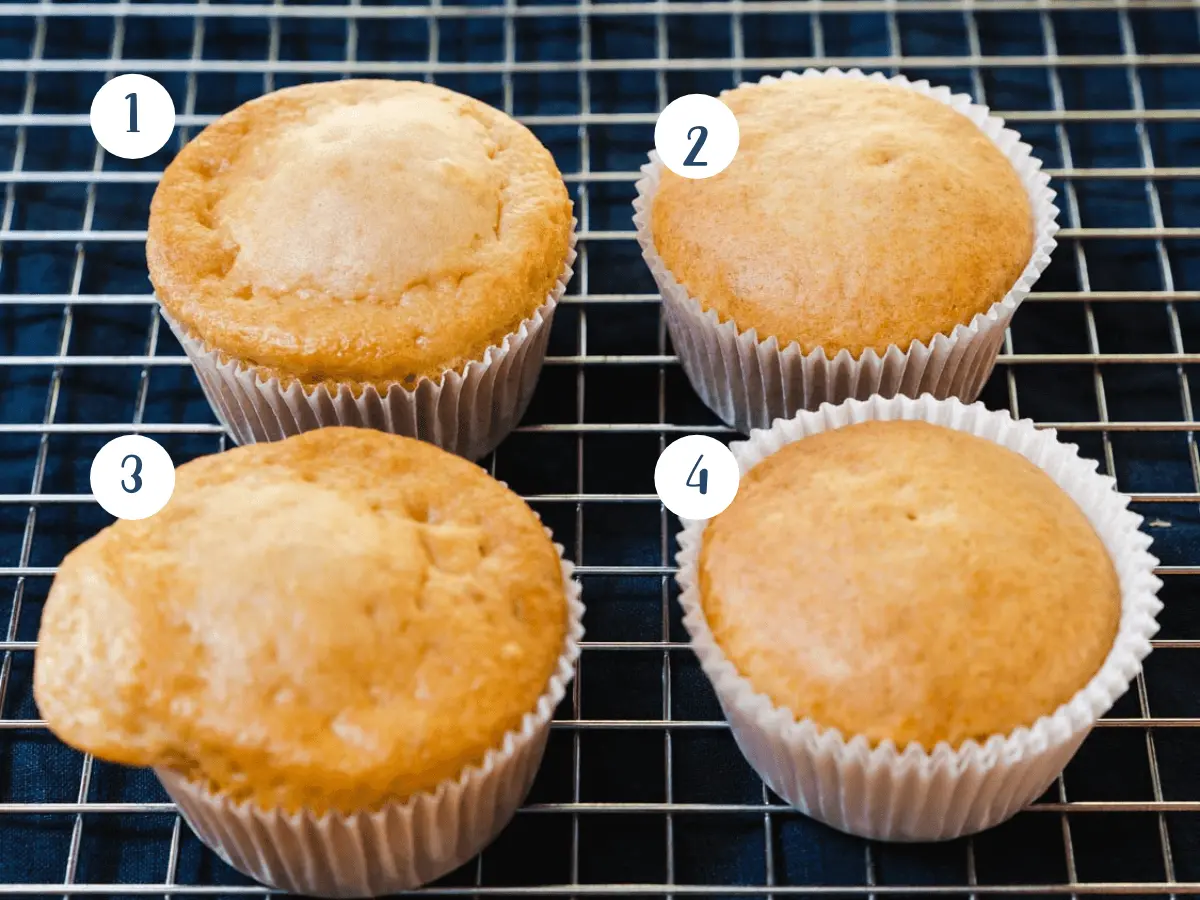 The example above shows 1. collapsed muffin 3. an overfilled muffin 2. and 4. are properly filled muffins and baked at the correct temperature.
Successful Attempt #4 – We knew the leaveners were active so determined that the oven wasn't hot enough. The oven needed to be hot enough so the muffins cook quickly enough to develop structure.

We also added MORE VANILLA, increasing it from one tablespoon to 4 teaspoons.
Please also note that if you allow your muffins to cool slightly, the papers will remove completely. Removing the papers from hot muffins may not release cleanly. It's totally understandable if you can't wait, however!
We increased our oven temperature from 350°F to 400°F and filled our muffin tins only 2/3 full using a 2-tablespoon scoop.
Are your leaveners active?
To test baking soda, add a couple ounces of vinegar to 1/2 teaspoon baking soda. If it fizzes, it's active.
To test baking powder, add 1/2 teaspoon to about 1/4 cup of warm water. If it fizzes, it's active.
Vanilla Muffin Recipe Variations
Vanilla Muffins are deliciously simple as is. However, experimentation is always fun. Here are a few ideas to make them your own.
Add up to 1/2 cup of chopped nuts.
Chocolate chips would be delicious in this muffin recipe.
Jam swirled into the batter would be delicious. I wouldn't add more than 1/4 cup, however.
Top the muffin with a simple glaze once it's cooled.
Dust the top with powdered sugar once it's cooled.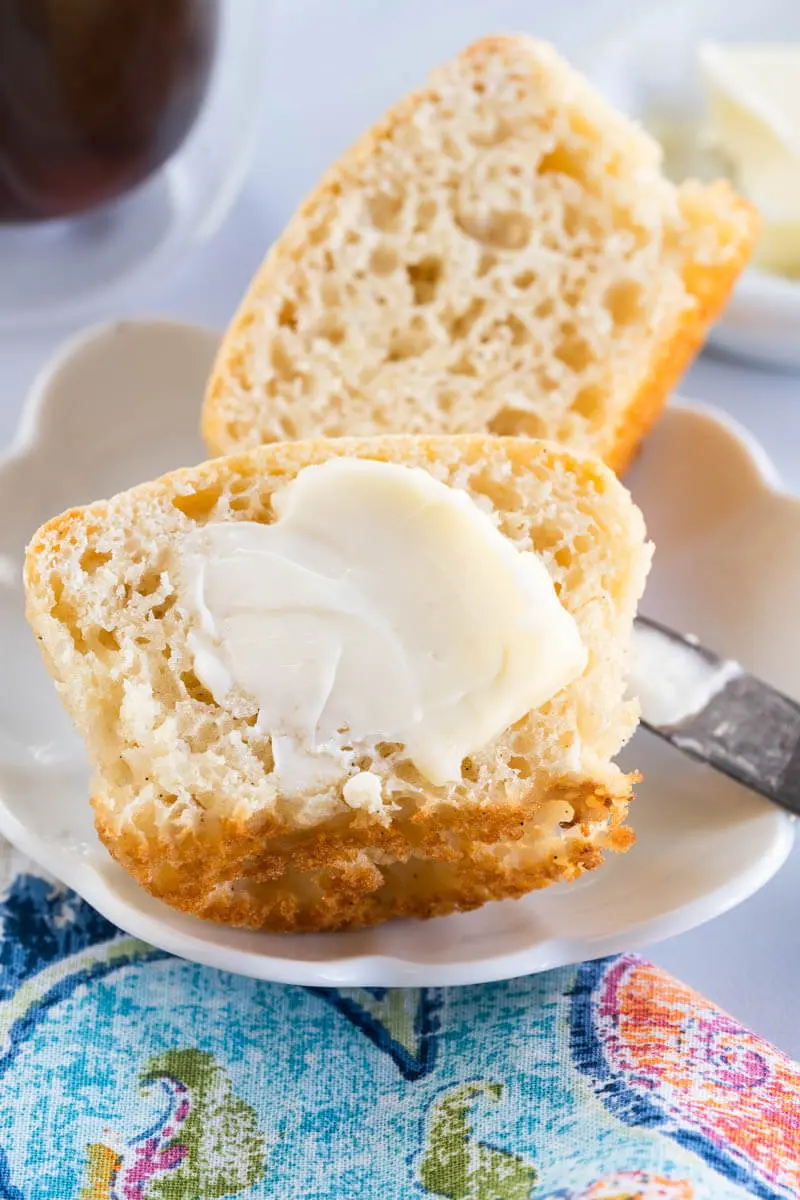 If you love muffins here are a few more recipes you may like
How we serve our easy Vanilla Muffins
We believe that they have a perfect balance just like our Vanilla Cake. These muffins will go with a cup of coffee or with a bowl of soup. They can be the standalone star or a great accompaniment to your meal.
They have a soft vanilla essence that has a slight sweetness but is not as sweet as a cupcake. In our opinion that makes them perfect for breakfast or with a savory cup of soup. Here are a few more ideas.
I hope you enjoyed this delicious recipe as much as we do. Drop me a comment below, and don't forget to give it a star rating. ⭐⭐⭐⭐⭐. Your comments and ratings help others decide if this recipe is for them too.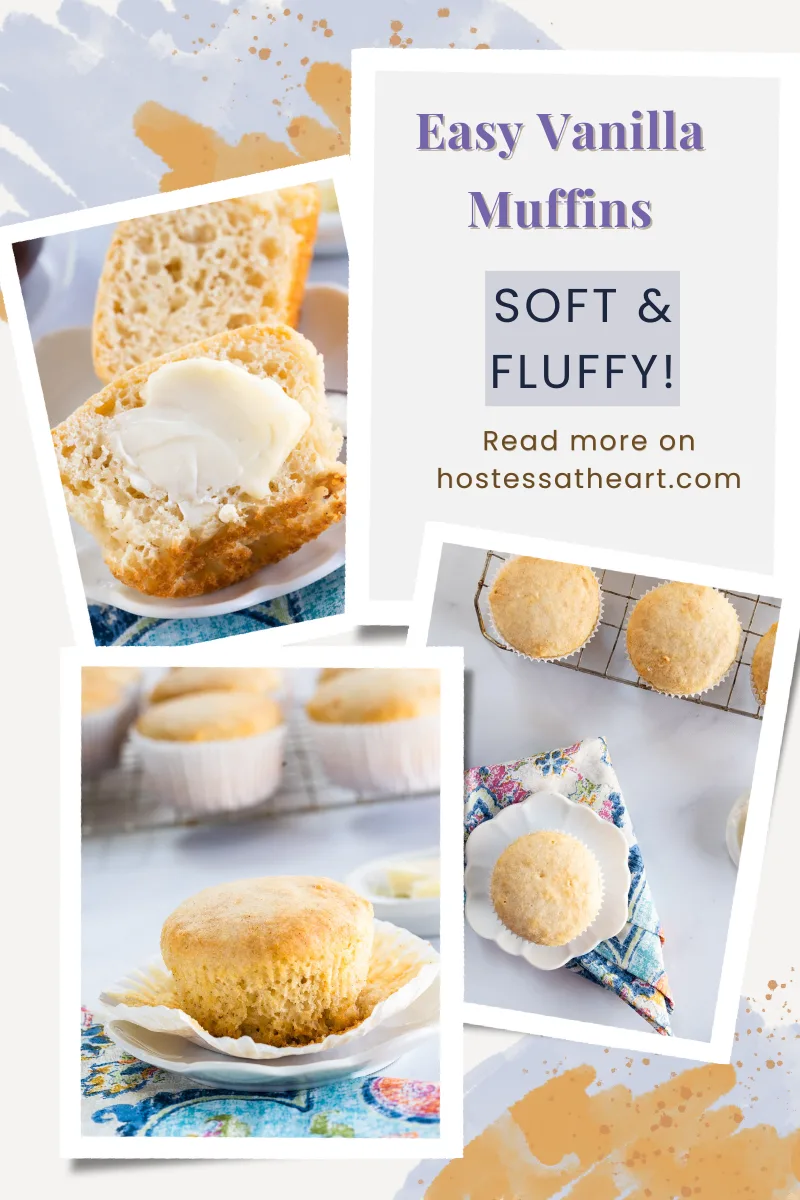 Our most popular recipes!