This Pumpkin Spice Muffins Recipe is soft and tender and loaded with warm spices. Make up a homemade batch of these easy pumpkin muffins and snuggle up with a book and your favorite sweater.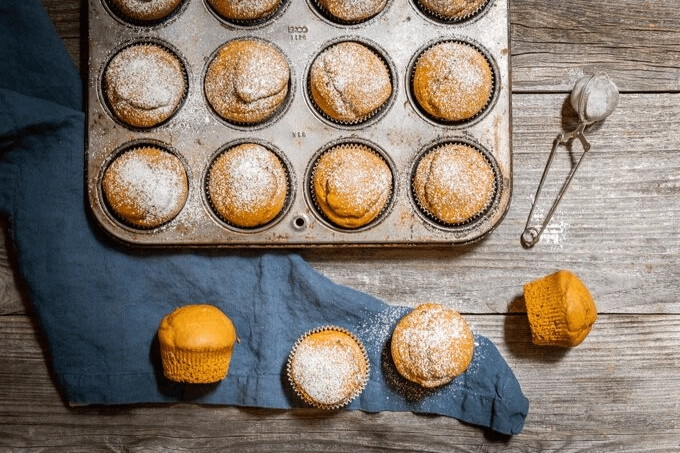 Once fall starts knocking on our door I can't get enough fall-inspired food. Soups, chili, apples, and pumpkin is what I crave. This Pumpkin Spice Muffins recipe is the definition of warm fall spices.
Pumpkin Spice Muffin Recipe Ingredients and Options:
Flour – I use a combination of all-purpose (APF) and whole wheat. You can use all all-purpose flour but I like the slight nuttiness the whole wheat adds. It also adds a sturdier texture. If you want a real fluffy muffin use just all-purpose flour.
Sugar – I used a combination of white and brown sugar. I love the warm molasses flavor that brown sugar adds. Dark is my go-to but light works as well. If I were to use just one sugar it would be brown sugar.
Milk – I used skim milk. You could use a full-fat version or a milk alternative for a vegetarian pumpkin spice muffin.
Pumpkin – I used canned pureed pumpkin. Please don't use canned pumpkin pie filling. I explain the reasons why below.
Baking powder and baking soda – These ingredients are what makes your pumpkin spice muffins fluffy. They're best if less than 6 months old.
Eggs – I use large eggs
Vanilla – Pure vanilla extract provide the best flavor in these muffins.
Cream Cheese – Adds a rich flavor to these homemade muffins and blends all of the spices together. I used full fat but lower fat would be fine. I don't recommend fat-free for this recipe.
Spices – Cinnamon, Nutmeg, salt, and Cloves. You could replace some or all of these spices with an equal amount of pumpkin pie spice.
Powdered Sugar – This sugar is also called confectioners sugar.
Note: You can add chocolate chips, raisins, or nuts to this spice pumpkin muffin for a delicious variation.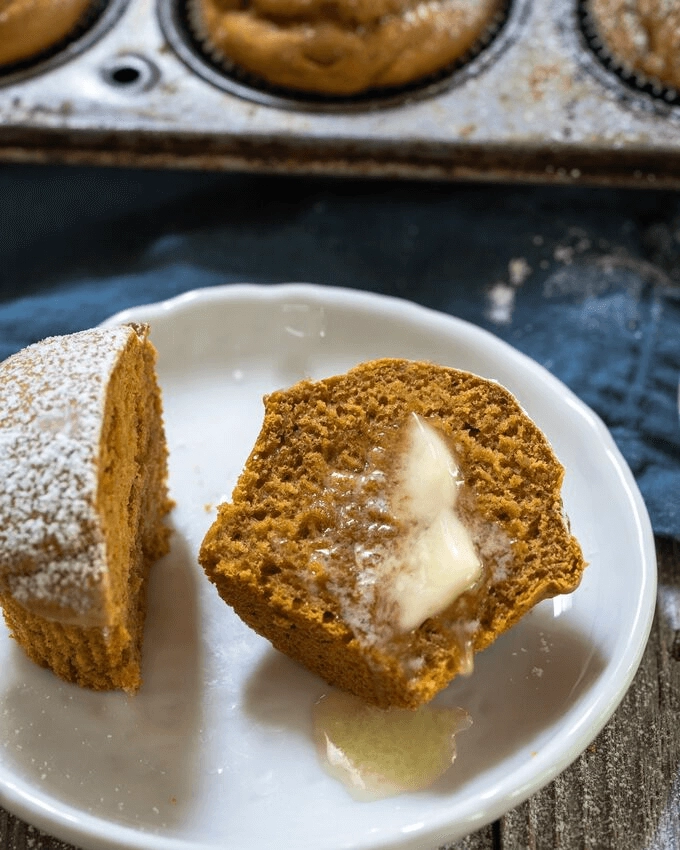 What's the difference between Pumpkin Puree and Pumpkin Pie filling?
Pumpkin puree is just pumpkin that has been cooked and pureed. Pumpkin Pie filling contains spices and sugar. I used pumpkin puree in this pumpkin spice muffin recipe and calculated the amount of spice and sugar that we believe is amazing in this Pumpkin Muffins recipe.
Make sure you read the ingredients on the can before buying it. Some pumpkin puree brands list squash in their ingredients. The USDA has standards for grades of canned pumpkin.
How to make this Recipe for Pumpkin Muffins
This pumpkin muffin recipe makes 16 regular sized muffins. It's also perfect for mini pumpkin spice muffins.
Preheat the oven and line the muffin pan of your choice with cupcake liners or lightly grease the pan. You can also use a non-stick cooking spray.
In the bowl of an electric mixer, add the cream cheese, white sugar, and brown sugar. Mix on medium-high until light and fluffy, about 3 minutes.
Add the eggs one at a time, beating after each addition. Add pumpkin, vanilla extract, and milk. Mix together until blended, about 2 minutes.
In another bowl mix the flours, baking powder, baking soda, cinnamon, cloves, nutmeg, and salt. Whisk to combine.
With the mixer on low, spoon the dry ingredients into the pumpkin mixture just until combined.
Fill the muffin cups 3/4 full and bake for 16 to 18 minutes. Turn the pan in the oven halfway through baking. Muffins are done when a toothpick inserted into the center comes out clean.
Turn your homemade muffins out on a cooling rack. When cool, dust with powdered sugar.
Pumpkin Muffin Tips and Notes
Use room temperature ingredients. Set out cream cheese, milk, and eggs. This will allow the ingredients to blend together and become fluffy when mixed.
Don't overmix the ingredients. Blend until just combined. Overmixing creates a dense, tough muffin.
Use a cookie scoop to dip out the batter which will make each muffin the same size.
The powdered sugar should be added after the spice pumpkin muffins have completely cooled. Otherwise, it disappears from the moisture that escapes as the pumpkin muffins cool.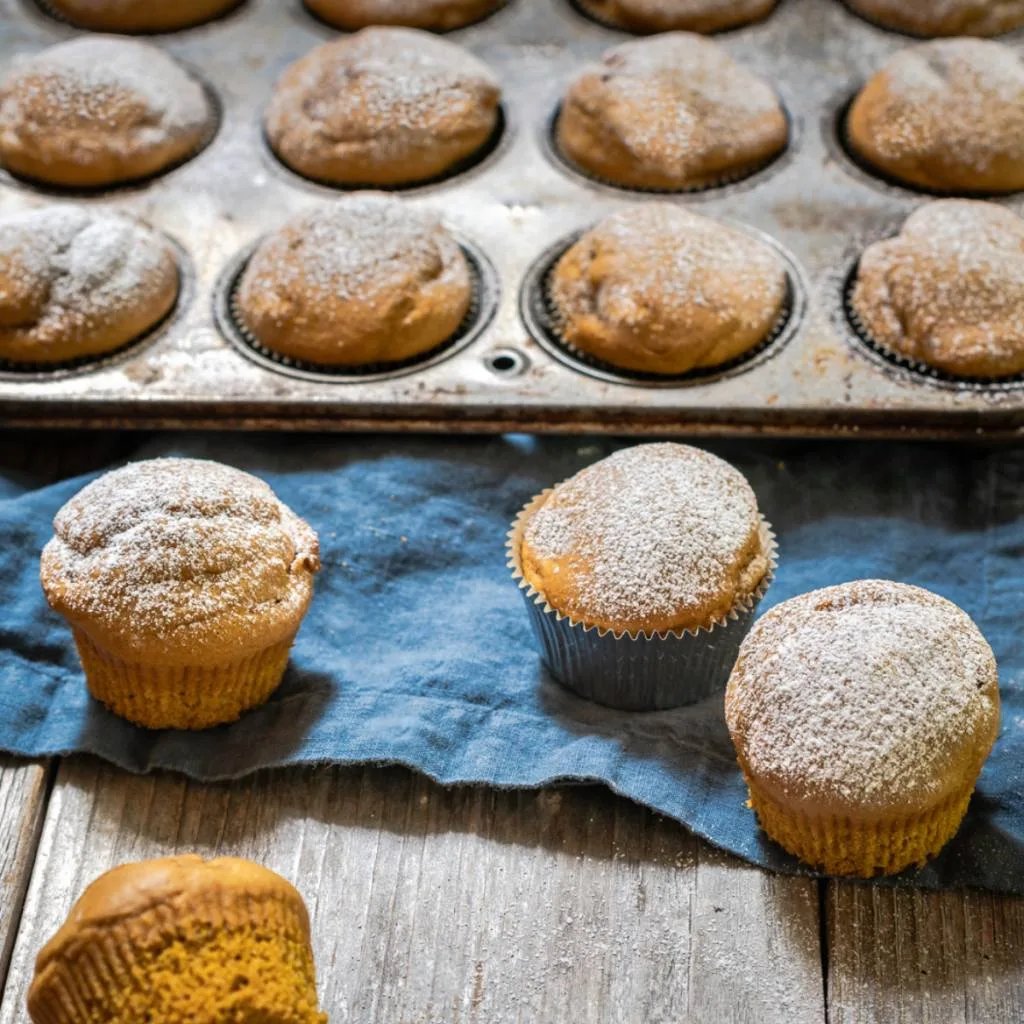 How to Store and Reheat
Pumpkin muffins can be baked and then frozen in an air-tight container for up to 3 months. Do not dust the tops if you're freezing them. Or re-dust them once thawed.
You do not need to refrigerate these easy pumpkin muffins. Store in an air-tight container at room temperature for 2 to 3 days.
Spiced Pumpkin Muffins can be warmed in the microwave for 15 to 20 seconds.
Topping for Pumpkin Spice Muffins
We lightly dusted our spiced pumpkin muffins with powdered sugar for a simple homemade look that added a touch of sweetness. You can leave them plain or use the suggestions below.
Frost or glaze with a Vanilla Bean or Cream Cheese icing.
Top with a Cinnamon Streusel Topping
Add rolled oats to the top before baking. I think it shows that these Pumpkin Muffins are from scratch.
Dust the top with a mixture of cinnamon and sugar
Spice Pumpkin Muffin FAQs
Why are my pumpkin muffins so dense?
Dense muffins are usually caused by adding too much baking soda or baking powder. Follow this recipe and your pumpkin muffins should be lite and tender.
What makes a muffin moist?
Many recipes keep muffins moist by adding a ton of butter and oil. These muffins rely on the fat in the cream cheese and the milk to keep them moist.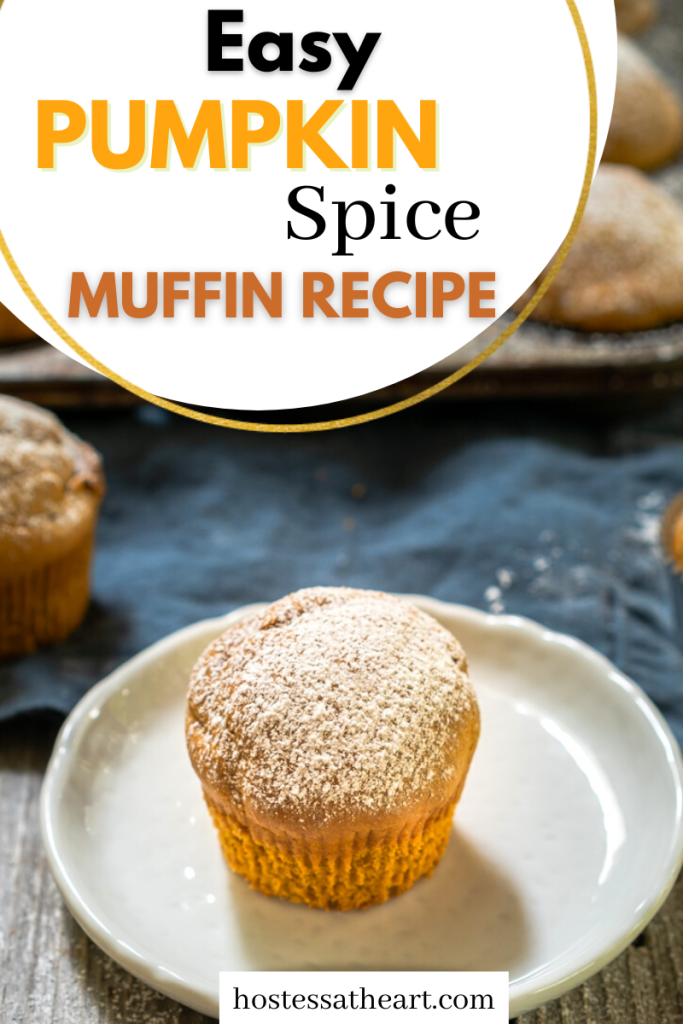 Here are some of our other favorite pumpkin recipes!
Don't forget to stop back and let me know how your Pumpkin Spice Muffins turned out!
When I was developing this recipe, I really thought I would use "pumpkin spice" as I did in that amazing Pumpkin Apple Bread with Streusel Topping. However, This pumpkin spice muffins recipe just begged for more cinnamon.
Give them a try and tell me what you think!
This Pumpkin Spice Muffin post was originally released in 2019 so it was time for an update. Detailed instructions, tips, and FAQs have been added to improve our readers' experience. No changes were made to the recipe.