Pumpkin Apple Bread with Streusel topping is sweet, tender, and delicious. This quick spiced pumpkin bread is loaded with chunks of apple and warm pumpkin pie spices.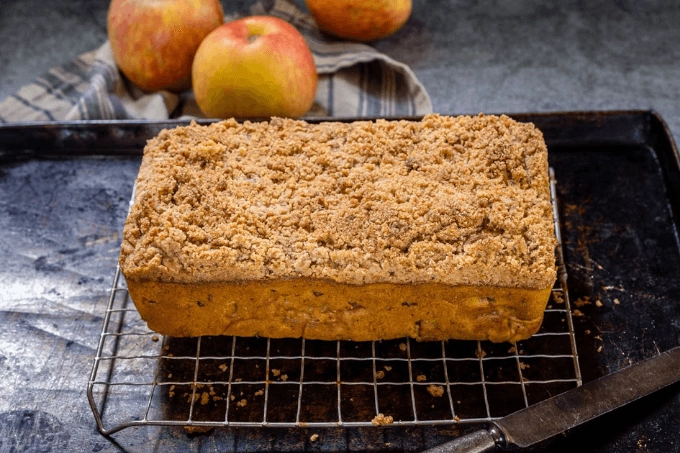 Pumpkin Apple Bread with Streusel Topping is perfect with a bowl of soup at lunch or a great breakfast treat with a cup of coffee.
This pumpkin apple bread recipe is the perfect loaf to make when you crave those beautiful pumpkin spices.
I've been on a real quick bread kick lately. I love making a quick bread and like serving it with a savory meal, a sweet snack, or just enjoying a slice for breakfast.
I've made this Pumpkin Apple Streusel Bread a couple of times. The first time I used 2 cups of diced apples and boy was it delicious.
However, there was so much moisture in the bread that it didn't have the delicate crumb that I enjoy.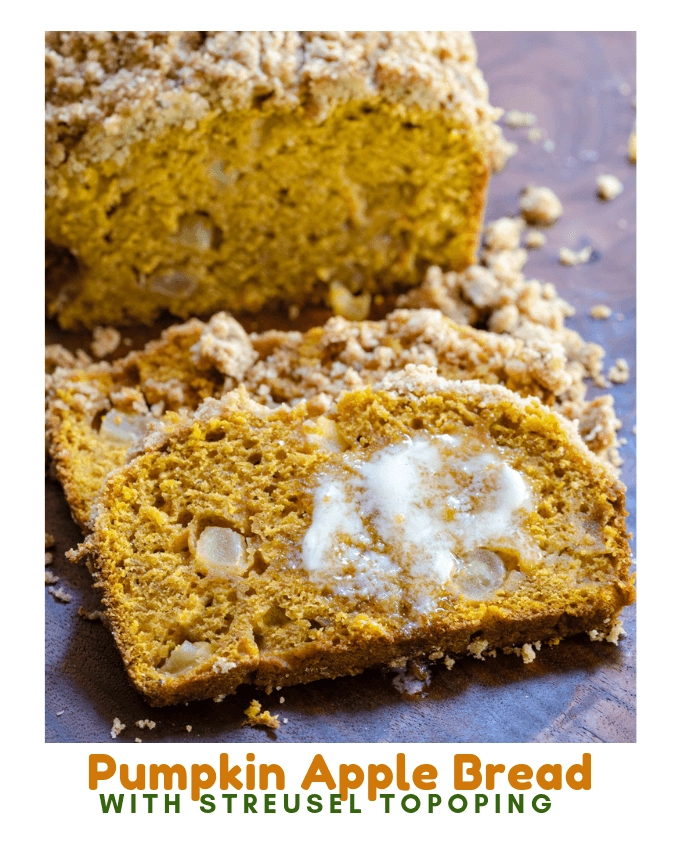 Another win for this bread is the addition of apple juice. I used a 100% pure apple juice with no sugar added variety not only to keep this bread moist and tender but also to add additional apple flavor.
The pumpkin is a very forward flavor compared to the apple. Using the apple juice was a good choice for balancing out this apple pumpkin recipe.
What is a quick bread?
I call this a quick bread because it doesn't require any yeast or rising time. Once you start making quick bread, it's easy to make variations that you enjoy. I used pumpkin pie spice and fresh apples in this delicious Pumpkin Apple bread version.
Other quick bread recipes that I love!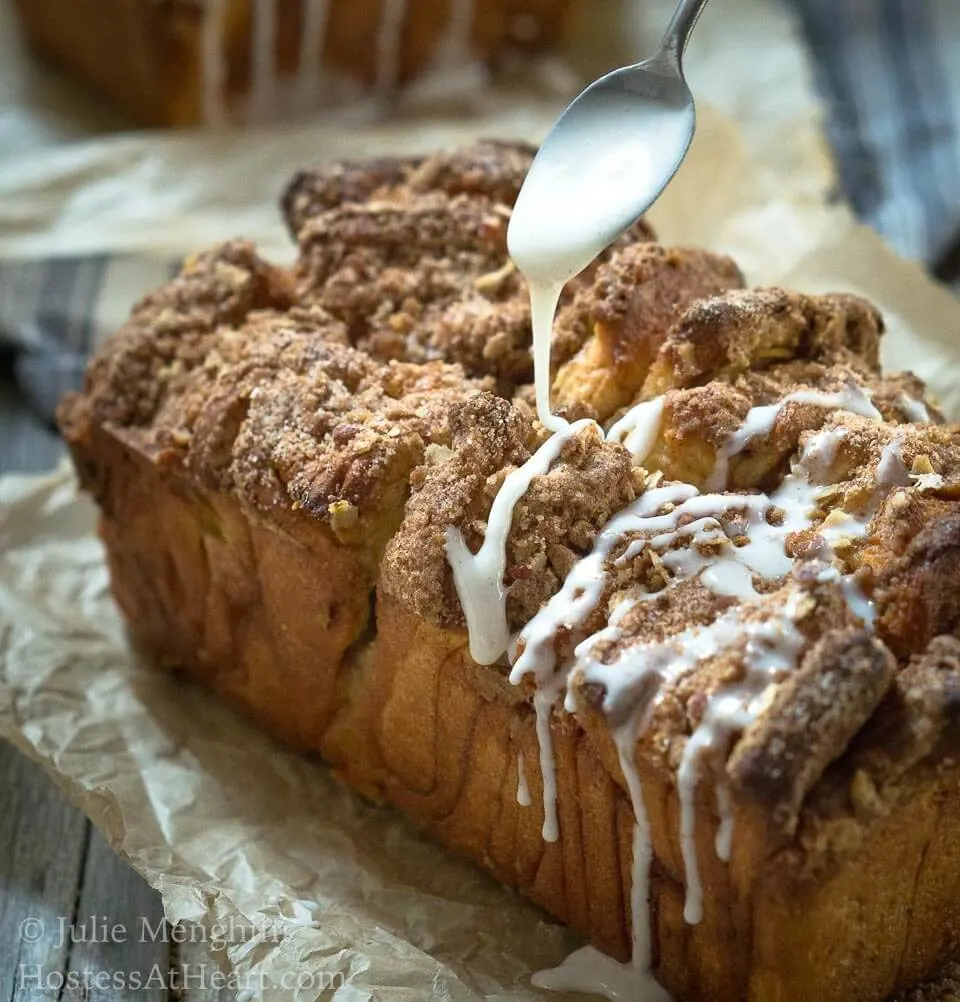 We LOVE baking bread! You can find all of our bread recipes here!
What is pumpkin spice?
Pumpkin pie spice is a blend of cinnamon, cloves, nutmeg, and ginger. I like using blends like this because the ingredients are already calculated for you. Why not use one blend instead of figuring out four?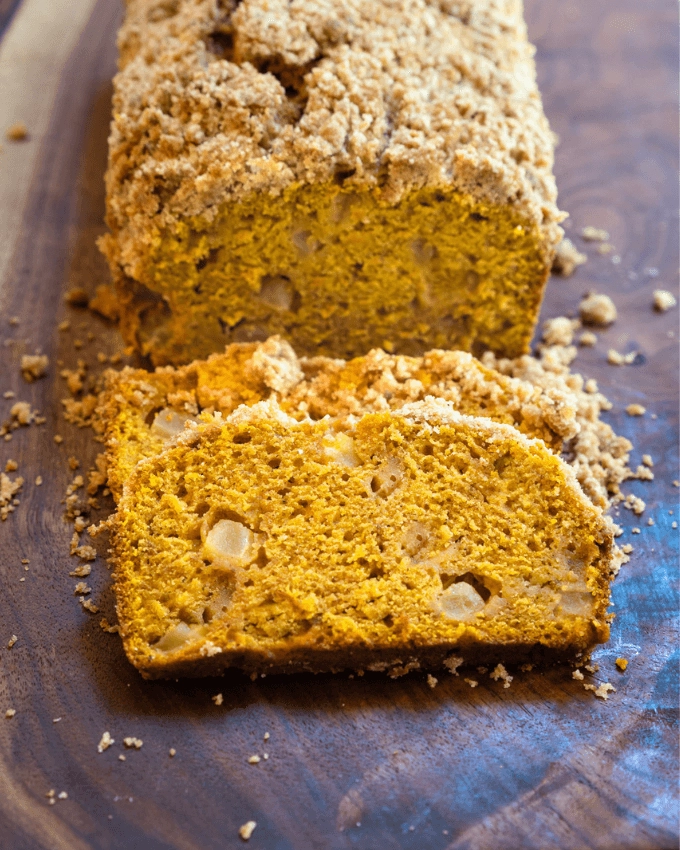 What's the difference between pumpkin puree and pumpkin pie filling?
Pumpkin puree is just pumpkin that has been cooked and pureed. Pumpkin Pie filling contains spices and sugar. I used pumpkin puree in this recipe and calculated the amount of spice and sugar that we believe is amazing in this pumpkin apple bread with streusel topping.
Make sure you read the ingredients on the can before buying it. Some pumpkin puree brands list squash in their ingredients. The USDA has standards for grades of canned pumpkin.
Can pumpkin pie filling be substituted for pumpkin puree?
NO! That being said, it would bake up just fine but you'll be duplicating sugars and additional spices. I'm not even guessing what that would taste like.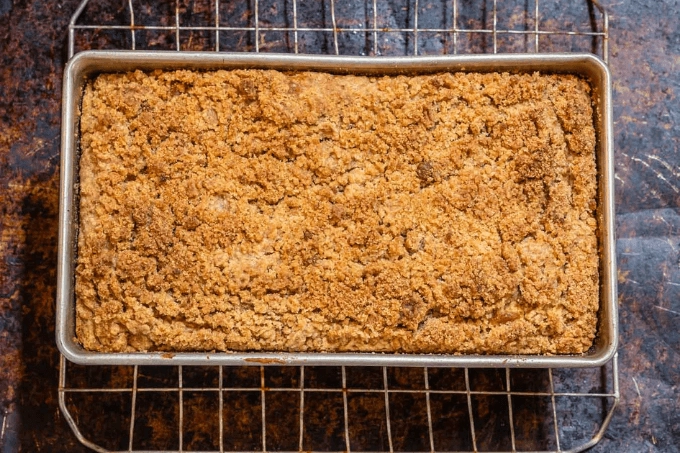 I've never used homemade pumpkin puree in this recipe. I've been told once you make your own, you'll never buy again.
Well, I made my own and wasn't overly impressed. Also, I love the convenience of using canned. Lazy baker right?
One thing that does impress me is the way this pumpkin apple streusel bread came out. It's tender, delicious, and tastes like a fall day loaded with warm pumpkin pie spice.
It's quick enough to whip up in a jiffy. I hope you'll give it a try and let me know what you think.
Tips for the Perfect Pumpkin quick bread
Don't add too much fresh apple to this loaf. That will add too much moisture.
Don't overwork the streusel ingredients. We use a wire pastry cutter. That keeps the cold butter from blending into the topping too much. Keeping the pieces in tack is what creates that crunch texture.
Let the loaf cool in the pan over a cooling rack instead of popping the bread out of the pan right away. That will help it firm up.
Wait for the loaf to cool before you cut it to get the perfect slice.
We store our homemade quick bread on a plate and cover them with foil. Storing a quick bread in a plastic bag will create condensation and make it mushy. It will not last as long either.
This bread can be frozen in an airtight container for up to 3 months.
A few items you may need to make the perfect Pumpkin Apple Bread Recipe!
Loaf Pans – I find that both halves of the squash will usually fit in a loaf pan. I like that these pans are a little bit bigger. I use them for meatloaf and bread recipes too!
Wire Pastry Cutter – I like the wire so much better than the blade cutters. I find the texture to be so much more of what I'm looking for than what I get with the blade cutters.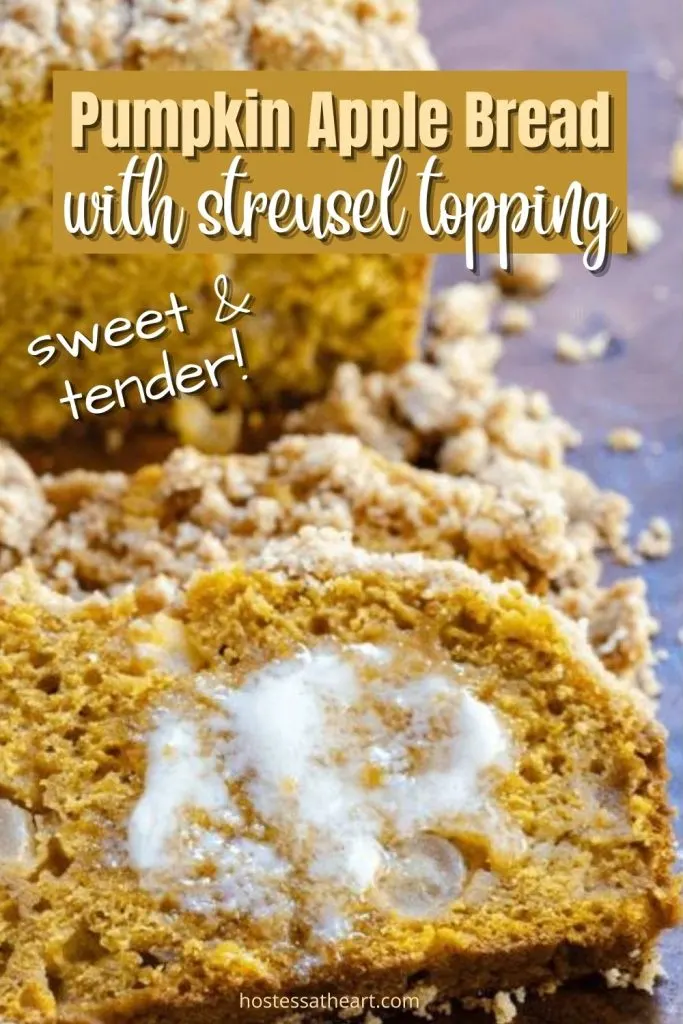 Don't forget to pin this recipe to your favorite board!
We all need more sweet pumpkin recipes. Here are some great ones!