Streusel Peach Bread combines sweet fresh peaches with warm spices, and the streusel topping adds a delectable crunch to this easy quick bread recipe.
THIS POST HAS BEEN UPGRADED FROM 8/24/17 TO IMPROVE READER EXPERIENCE.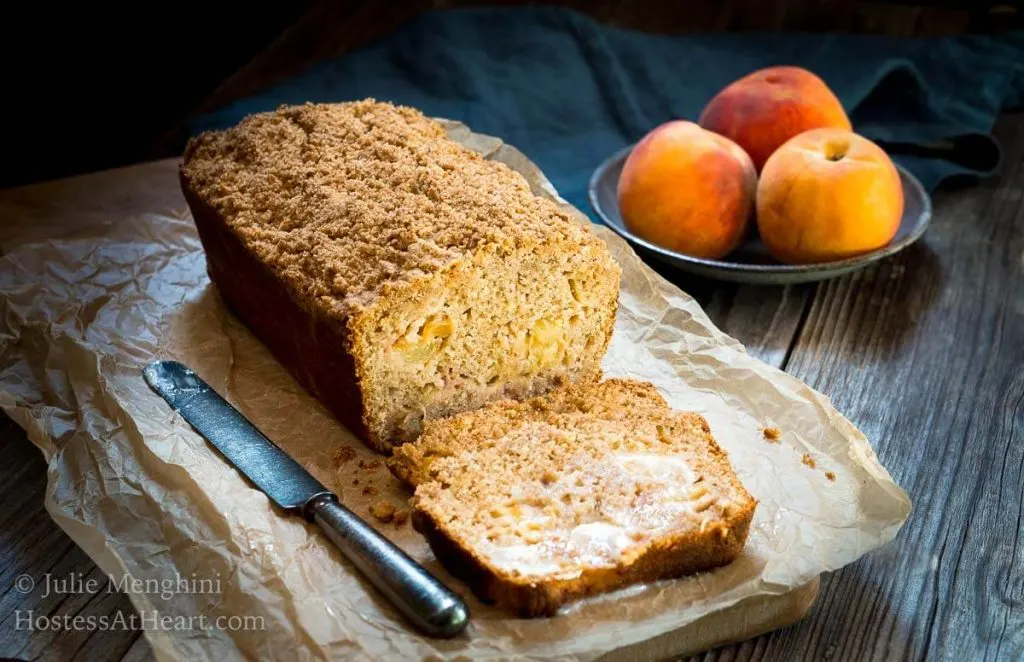 Streusel Peach Bread is all about the peaches. This loaded quick bread is sweet and warm with cinnamon spice.
It's also soft and tender and since it's a quick bread so it can be on your table in no time.
We grew up eating peaches every summer, but I never had Colorado peaches. That is until I ordered some through a local charity. I had to get a whole lug at a time which required us to get creative really fast.
Last year John and I were in Colorado just as they were being harvested. It's a good thing we drove so I could bring plenty of those beauties back.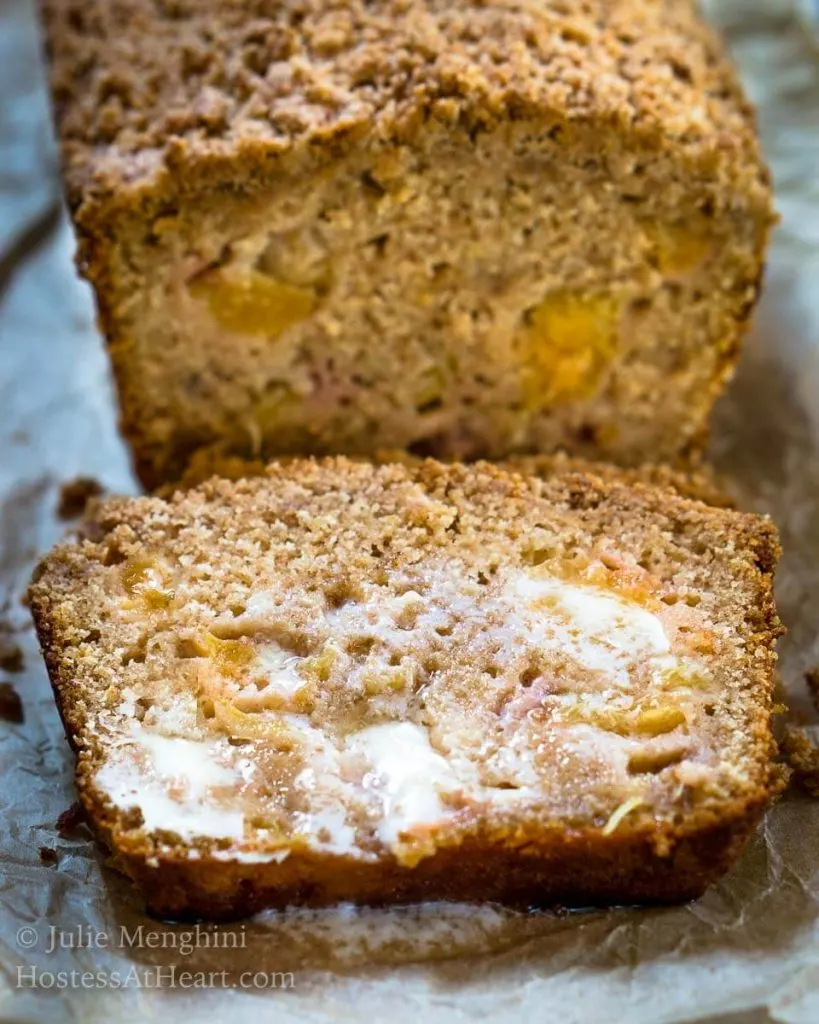 They are so large and juicy that one peach yielded a full cup. When they're ripe they just fall off the pit and are so good to eat plain or in baked goods.
We had really wanted to make peach streusel bread for the longest time. My only regret is that we didn't make Peach Streusel Bread sooner.
It's warm from all of the cinnamon and brown sugar, and adding two cups of fresh peaches makes it tender and almost fall-apart moist.
The crunchy streusel topping elevates the whole thing into rockstar status in my opinion with a delectable crunch.
What is "Quick Bread"
It doesn't mean quick as in fast. Quick bread uses leavening agents other than yeast such as baking soda and baking powder in the recipe.
That being said, quick peach bread is faster than bread that requires yeast as a leavening agent because there is no need to wait for it to rise.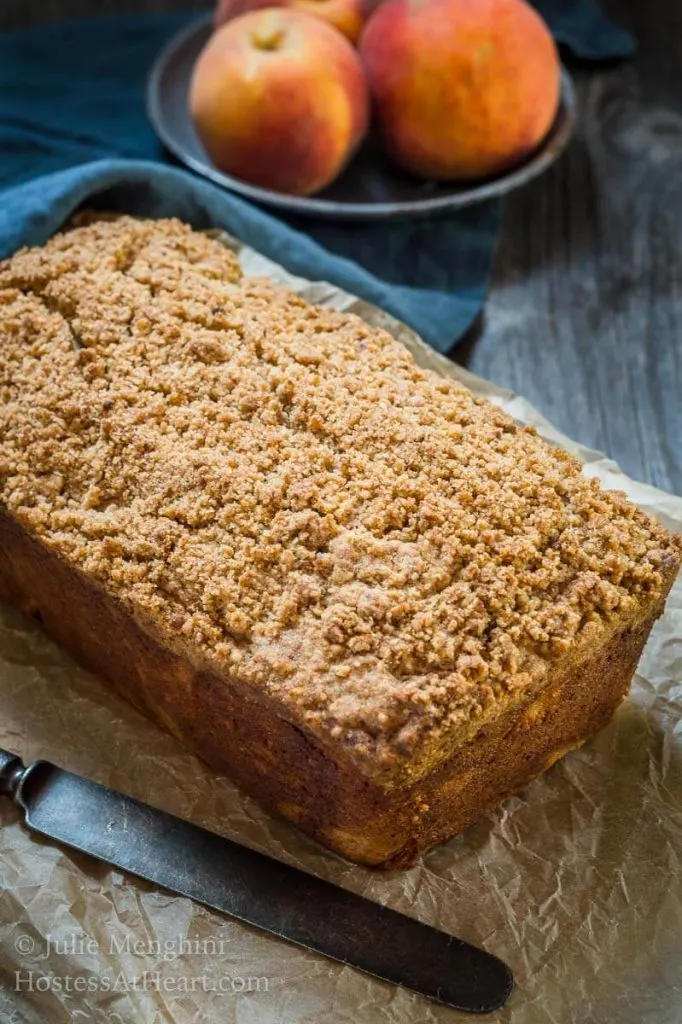 Can you freeze Peach Bread?
Peach bread freezes well. We recommend wrapping it in plastic wrap and then placing it in an air-tight container.
To thaw, we leave it at room temperature for a few hours or place it wrapped in the refrigerator overnight.
Do I have to use Colorado peaches?
No, you do not! Classic yellow peaches found in most grocery stores are delicious and what peach purists crave!
When we can't get to Colorado I'm usually lucky enough to find some at one of our farmer's markets. I picked up what I thought was plenty….twice!
Do I have to use fresh peaches in this Quick Peach Bread?
No, you do not! Frozen peaches can be used by removing any ice crystals and thawing them completely. Drain off any excess moisture and dot them with a paper towel if necessary.
We haven't used canned peaches in this peach bread but don't recommend it. They are softer and hold more liquid.
You want your peaches to maintain their shape the way fresh or frozen peaches do. And, we wouldn't want any additional moisture in this bread. It might make it mushy.
Pin

this amazing recipe to your favorite board!
Removing peach skins:
Fill a saucepan large enough to immerse 2 large peaches, with water. Bring to a boil. Bubbles will reach the top.
Using a slotted spoon, lower two peaches at a time into the boiling water for 30 seconds.
Immediately remove the peaches from the boiling water and submerge them in a large bowl filled with ice water for 10 seconds.
Skins should slide right off.
Repeat by bringing the water up to a boil again for each group of peaches.
What you may need to make your Peach Streusel bread:
Loaf Pan – I like this pan for my quick bread recipes. They're a little larger and I like the shape of my finished loaf.
Wire Pastry Cutter – I like the wire so much better than the blade cutters. I find the texture to be so much more of what I'm looking for than what I get with the blade cutters.
If you like this Peach Bread Recipe here are a few more you may enjoy
If you like this recipe, we would appreciate your comment and a 5-star ⭐️⭐️⭐️⭐️⭐️ review!
I just love this peach bread recipe, especially peach streusel bread! How about you? Do you have a favorite? Leave me a comment below! I love getting ideas from you!
Peach Streusel Bread is the perfect side to a cup of 13 Bean Soup or our Oven Baked Blackened Salmon.