Orange-Pecan Streusel Coffee Cake is a sweet quick bread that is stuffed and topped with a warm cinnamon brown sugar streusel. It's great with a cup of coffee at breakfast or complements a savory dish at dinner.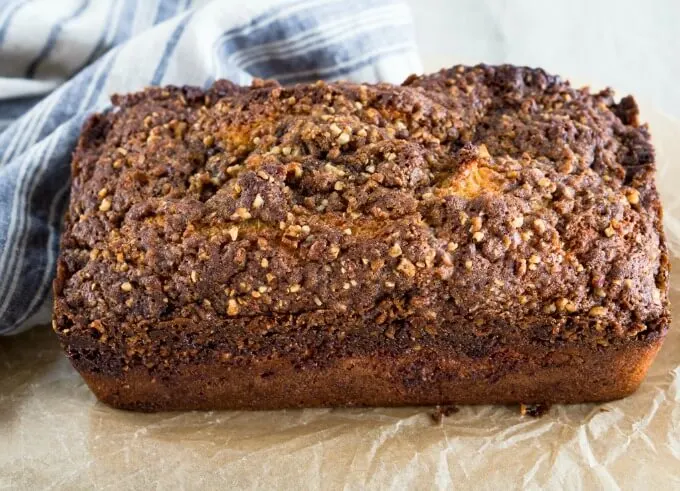 Orange-Pecan Streusel Coffee Cake isn't just any coffee cake! I don't know what it is about streusel topping. I love it.
Nebraska temperatures are supposed to be in the 40s this time of year. However, we can't even get to 30 and have been dumped on with snow for the last two weekends. This weekend will be the third storm in a row.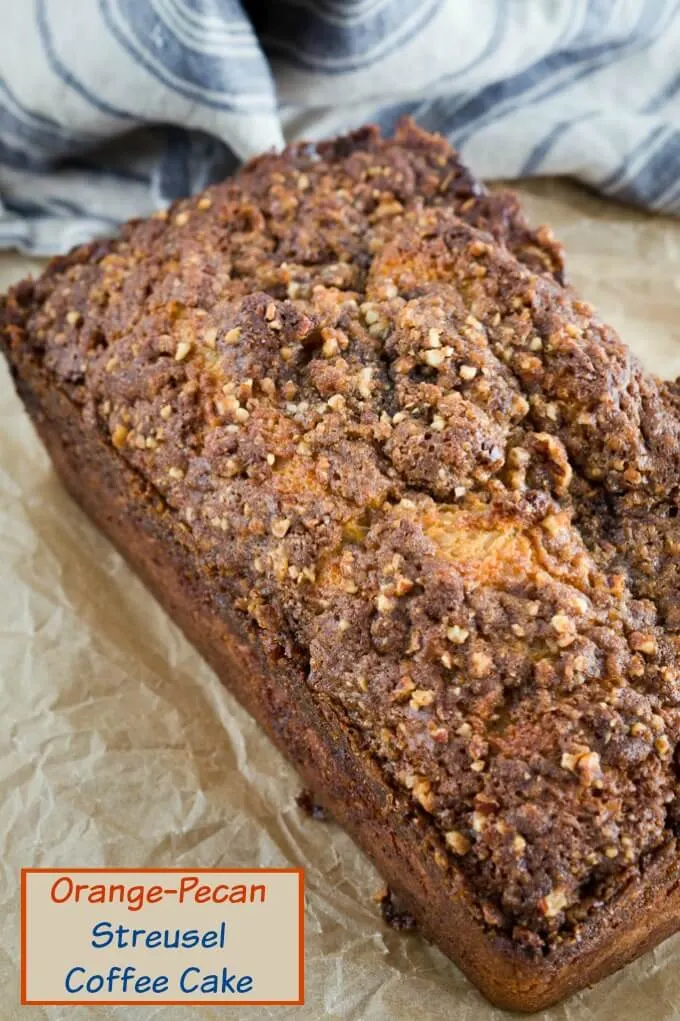 That calls for kitchen time. I'm a happy girl if I can stay inside and cook some comfort food like my Down-Home Chili recipe or Easy Instant Pot Chicken and Rice recipe.
When I have comfort food on the brain I like baking a sweet treat to go with my meal. A lot of the time it's muffins so it wasn't unusual when my brain instantly went to warm cinnamon streusel muffins and morphed from there.
Is there such a thing as recipe ADD? Within about 5 minutes my muffins turned to bread adding orange as well. And skidded to a halt once I landed on this Orange Streusel Coffee Cake.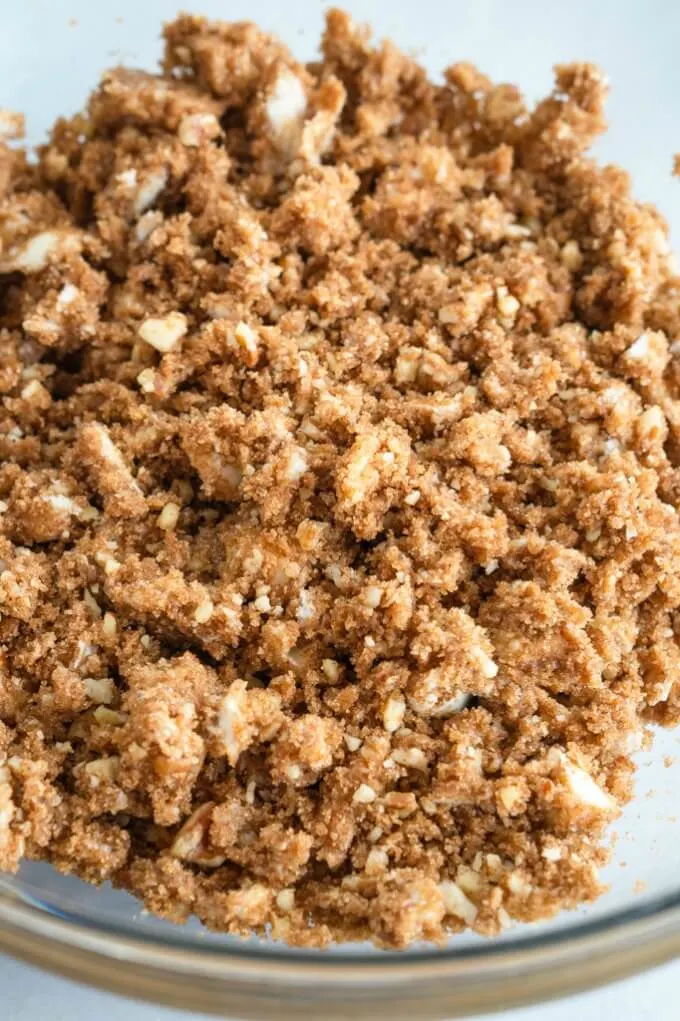 Tips for making perfect streusel
When I make streusel the first thing I do is dice up the butter and put it in the refrigerator until I'm ready for it. I want to keep it cold.
Don't over-work the butter into the streusel. You want pea-sized pieces of butter throughout your streusel.
Sprinkle the streusel onto your batter. Don't press it into the bakery.
Don't skimp! It's delicious!
Why is it called coffee cake? Coffee cake is cake intended to be eaten with or flavored with coffee, Coffee Cake can have more than one layer, contain nuts or have an icing. Wikipedia
How did coffee cake get its' name? The first coffee cakes are thought to have originated in Germany. These were more like sweetbreads than cakes. It wasn't until 1879 that the term "coffee cake" became a common term.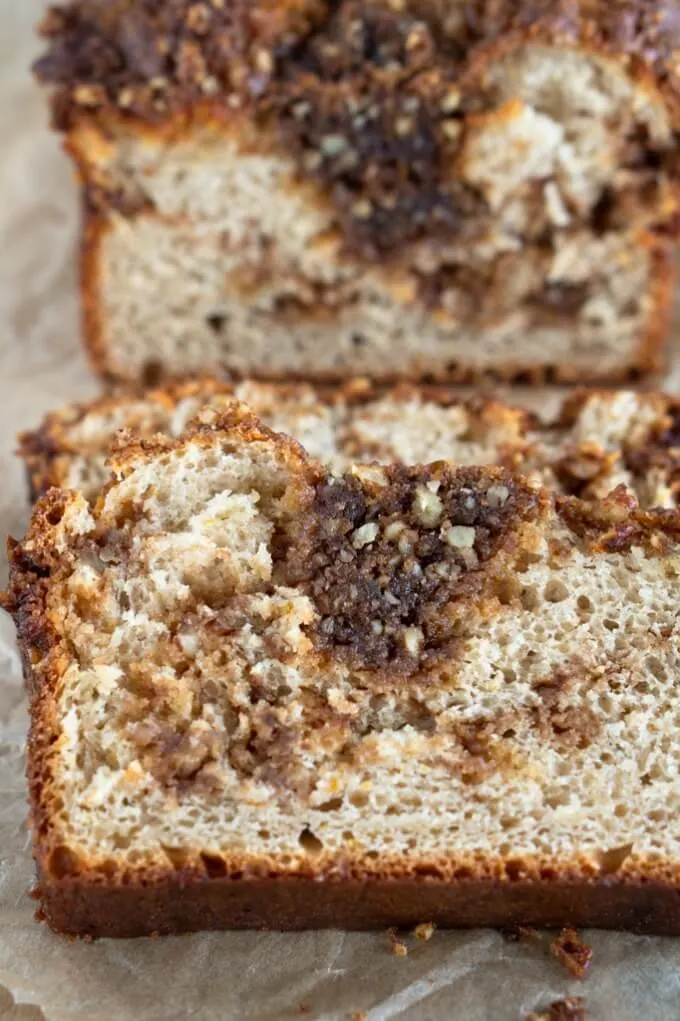 Coffee cake can be whatever you want it to be! Here are some amazing examples!
You may need:
Loaf Pan – I use these pans for meat loaf, bread and of course coffee cakes. Nothing sticks and mine have lasted for years.
Pastry Blender – I like the blender with the round wire instead of the rectangular cutters. They do a great job make streusel or pie crust.
Don't forget to save this recipe to your favorite Pinterest board for easy reference!
Our most popular recipes!
A final note. If you're a batter tester you're not going to notice a strong orange flavor. However, it is smoothly present in the baked coffee cake.
You know what a bread lover I am and here are a few more recipes that we can't live without!