Chocolate Caramel Baileys Mini Cheesecakes are so creamy and luscious. They're perfect for casual or fancy entertaining but there isn't anything fancy about putting them together!
This delicious recipe was first published on 7/10/17 and has been updated to improve the reader experience.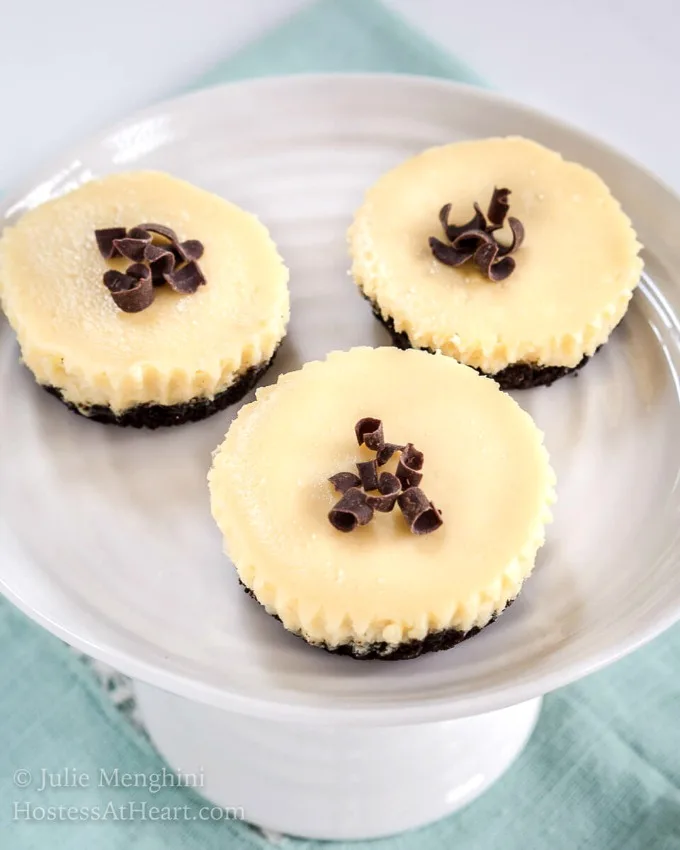 We love to entertain, and we've thrown a few formal gatherings and a lot of casual ones. These Decadent Chocolate Caramel Baileys Mini Cheesecakes are perfect for any gathering. I love individual servings that let guests help themselves to as much as they want!
I'm usually a fairly organized person. I like having everything in its place, and I get just a little too excited creating spreadsheets and organizational documents. I can actually spend more times organizing a task than actually doing it. So when I originally made this recipe, I had it on my "Google Calendar" to post before St. Patricks Day. It would have been perfect except for the fact that I couldn't find where I'd put the dang recipe. I write all of my recipes down as I make them in a spiral notebook. That way if I don't like how something goes together, I can make notes on how to change it.
After believing that it was gone forever, it finally turned up in the wrong notebook. I was so happy to bring these mini chocolate cheesecakes to you that I didn't want to wait until next St. Patricks day to do so.
These little cheesecakes are the perfect St. Patricks dessert. Another favorite of mine are White Chocolate Irish Cream Cupcakes. They're adorable and delicious!
These mini cheesecakes are so creamy. Their size just makes them a little more special since everyone can have one of their very own. They are also so easy to transport to your next gathering by leaving them in a muffin pan.
Tips for making mini cheesecakes
Don't over process the cookies. Use a pulse and stop when crumb resembles sand.
Any flavored cookie will do. Change chocolate for vanilla, lemon or even gingersnaps.
Set cheesecakes on a level surface while chilling.
You can buy chocolate shavings or use a vegetable peeler and run it down a chocolate bar.
The tools you may need
12-cup Non-Stick Muffin Pan – I have 3 of these pans so I can fill one while another is baking. It reduces precious time when I don't have to wait for a pan to cool in order to use it.
Cuisinart 9-cup Food Processor – This beast handles the toughest of jobs. It grinds, mixes, chops, and shreds. I couldn't live without it!
Cupcake carrier will keep your cake from drying out at home or allow you to transport your goodies. It will also hold cake!
If you like this recipe I'd appreciate it if you would comment and leave a 5-star rating.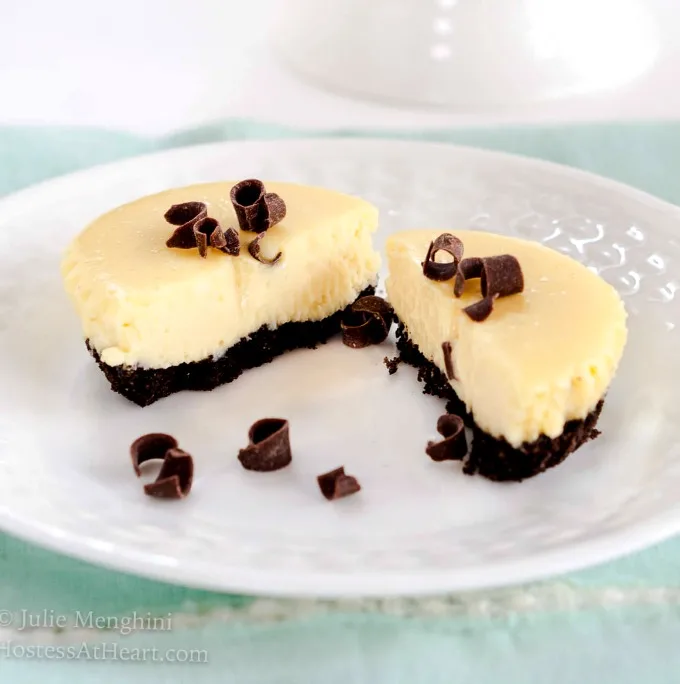 If you love cheesecake desserts as much as we do here are a few keepers for you!
Most of the recipes that I have from my mom are written on the back of envelopes or bank deposit slips and usually in fading pencil. I'm not sure where my OC organization tendencies come from but I know where my daughter, the school teacher, got hers!