Savor the irresistible aroma of freshly baked bread with this easy English Muffin Bread Recipe! Our recipe for English Muffin Bread delivers all the nooks and crannies you love, perfect for toasting and slathering with butter.
English Muffin Bread recipe guarantees that your family can rise and shine with homemade goodness. If you need to get those lazy bones out of bed, the aroma of fresh baking bread like homemade cinnamon rolls, gooey caramel rolls, or these blueberry donuts will have them running for your table.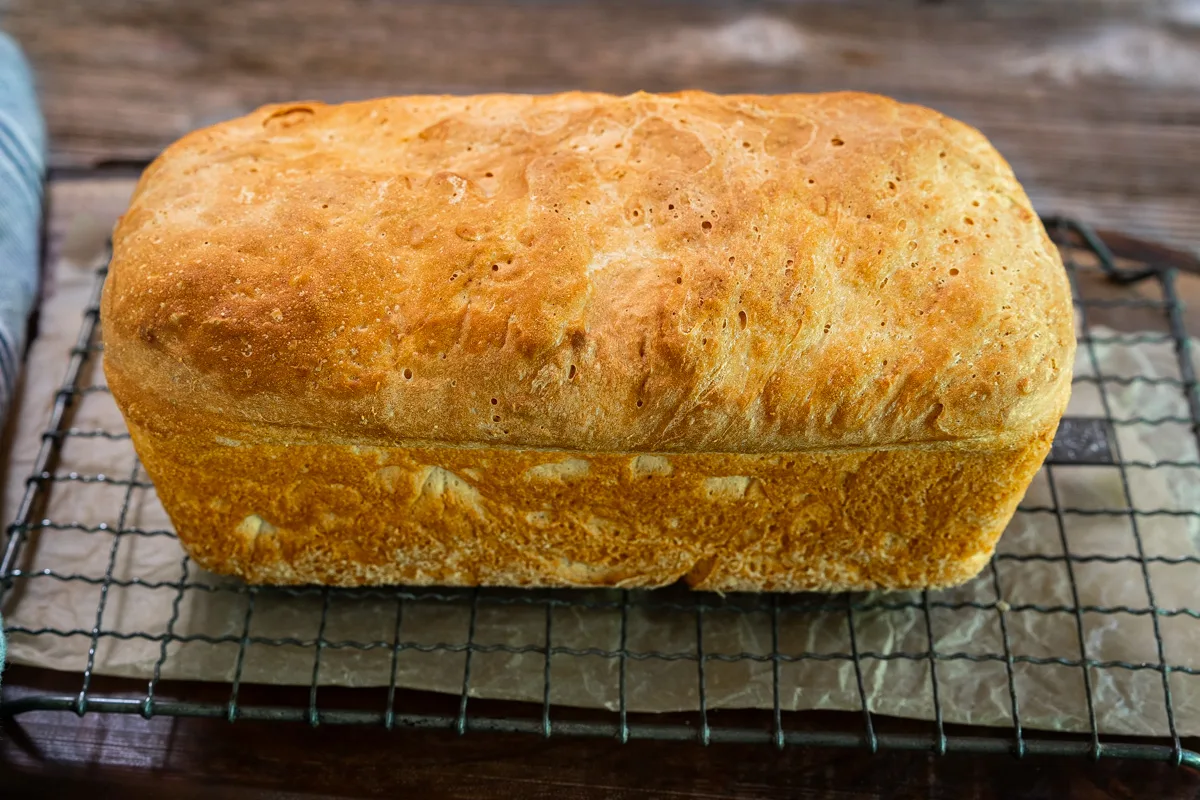 In this post about English Muffin Bread, I'll share with you an easy no-knead recipe that brings the magic of English muffins to your own kitchen in less than 2 hours, start to finish. You'll learn how to create a loaf with tantalizing nooks and crannies, perfect for toasting and slathering with your favorite spreads. I've got tips and variations, ensuring your homemade bread turns out golden and delicious.
What is English Muffin Bread?
Muffin Bread is a delightful twist on traditional bread recipes! Its magic lies in capturing the essence of English Muffins—those signature nooks and crannies—while offering the convenience of a loaf. Toast it, slather it with butter, and enjoy the perfect balance of softness and texture. It's like having a batch of muffins in a single slice, making breakfast a breeze! English Muffin Toasting Bread combines the best of both worlds, giving you homemade goodness with a unique touch.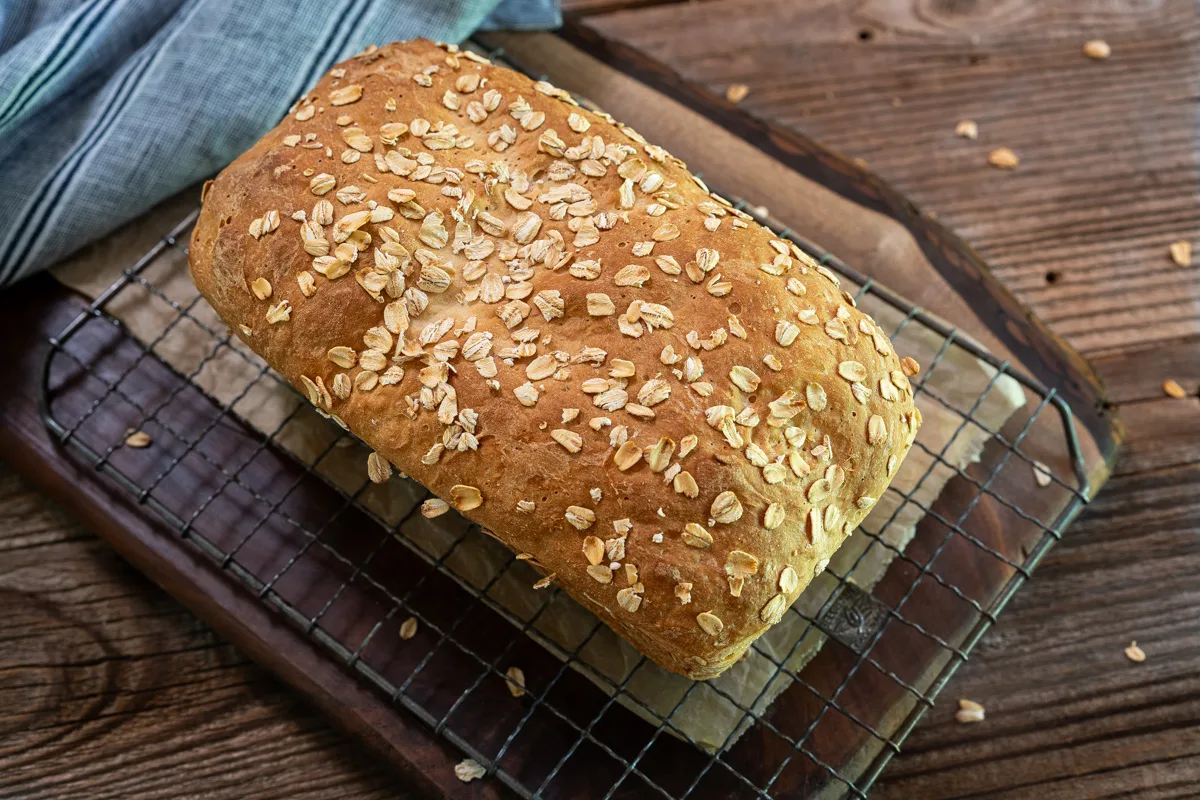 Why I Love English Muffin Loaf Bread
Texture. English Muffin Bread loaf has a chewy texture with a soft tender crumb.
Shape. Unlike most bread recipes that are shaped into traditional loaves or rolls, homemade English Muffin Bread is typically baked in loaf pans, resulting in a squared-off shape. This shape makes it perfect for slicing.
No Kneading. Compared to many bread recipes that require extensive kneading to develop gluten, Easy English Muffin Bread requires no kneading.
Quick and easy. Only one 45-minute rise makes this bread so much faster to make than traditional yeast bread. You can make this entire recipe in under 2 hours!
Please note, that the printable recipe card has ingredient quantities, complete instructions, and nutritional information. The following is a quick overview of the recipe.
No-Knead English Muffin Bread Ingredients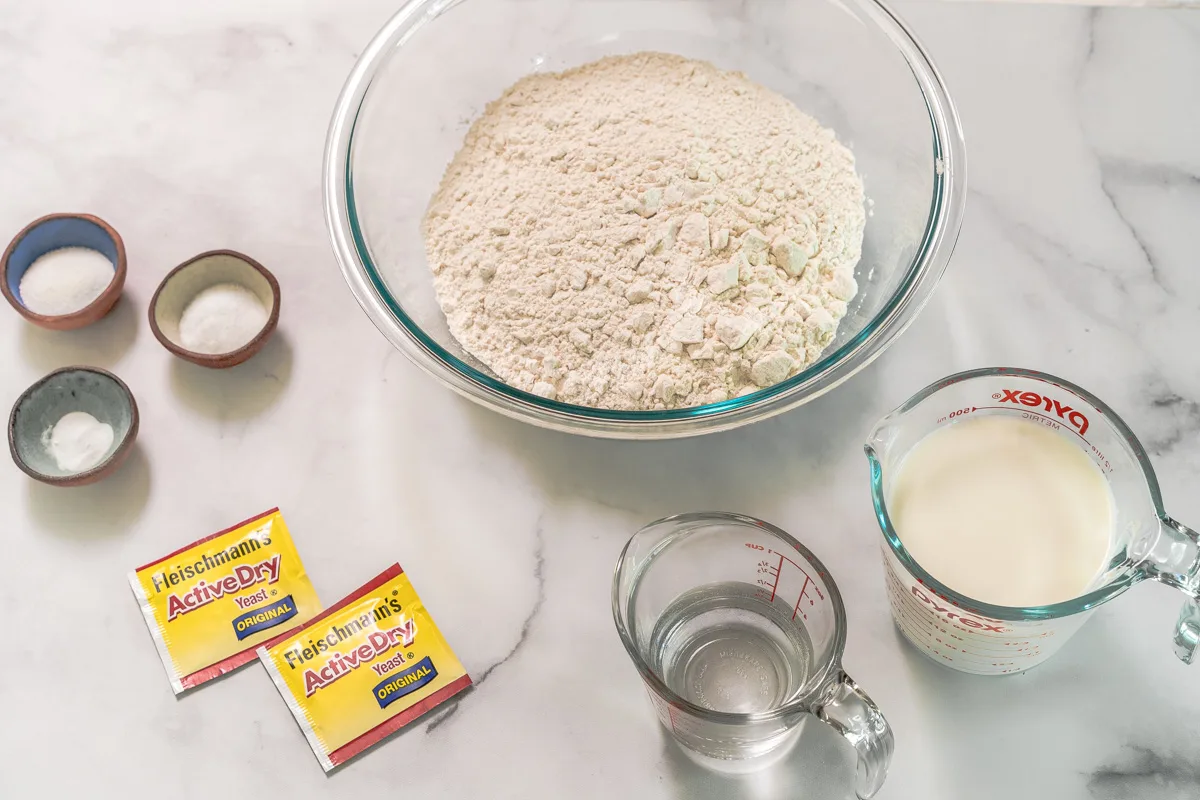 All-purpose flour.
Active dry Yeast. We used Active dry yeast, not Instant or Rapid dry yeast. If yeast confuses you, take a look at our baking techniques post.
White granulated sugar. Feeds the yeast to help it to become active.
Salt. I use fine sea salt in my bread recipes because I like the way it easily dissolves, leaving less of a chance of biting into a pocket of salt. You can use any salt such as Kosher or table salt.
Baking soda. Will help make this bread rise.
Warm milk. Keeping the ingredients warm (120 to 130 degrees F) will aid the bread in rising. Cold ingredients will slow the process.
Warm water. Any water that you drink can be used to bake with. Again, 120 to 130 degrees F.
Cornmeal. Fine or medium-coarse grind. Traditional English Muffin Toasting Bread uses cornmeal in the bottom of the prepared pan and over the top of the loaf. I'll share alternatives to this down below.
How to Make English Muffin Bread Recipe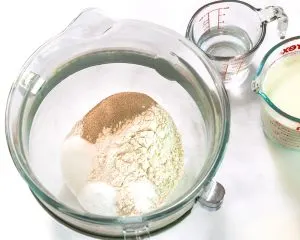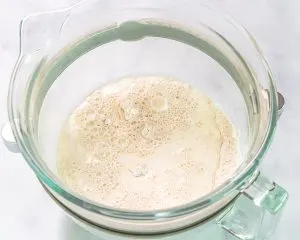 One. In the bowl of an electric stand mixer, combine the flour, yeast, sugar, salt, and baking soda. Mix on low to stir together. Add the warm milk and water and beat on low for 30 seconds. Scrape down the sides as needed. Mix in the remaining flour (the batter will be thick and sticky).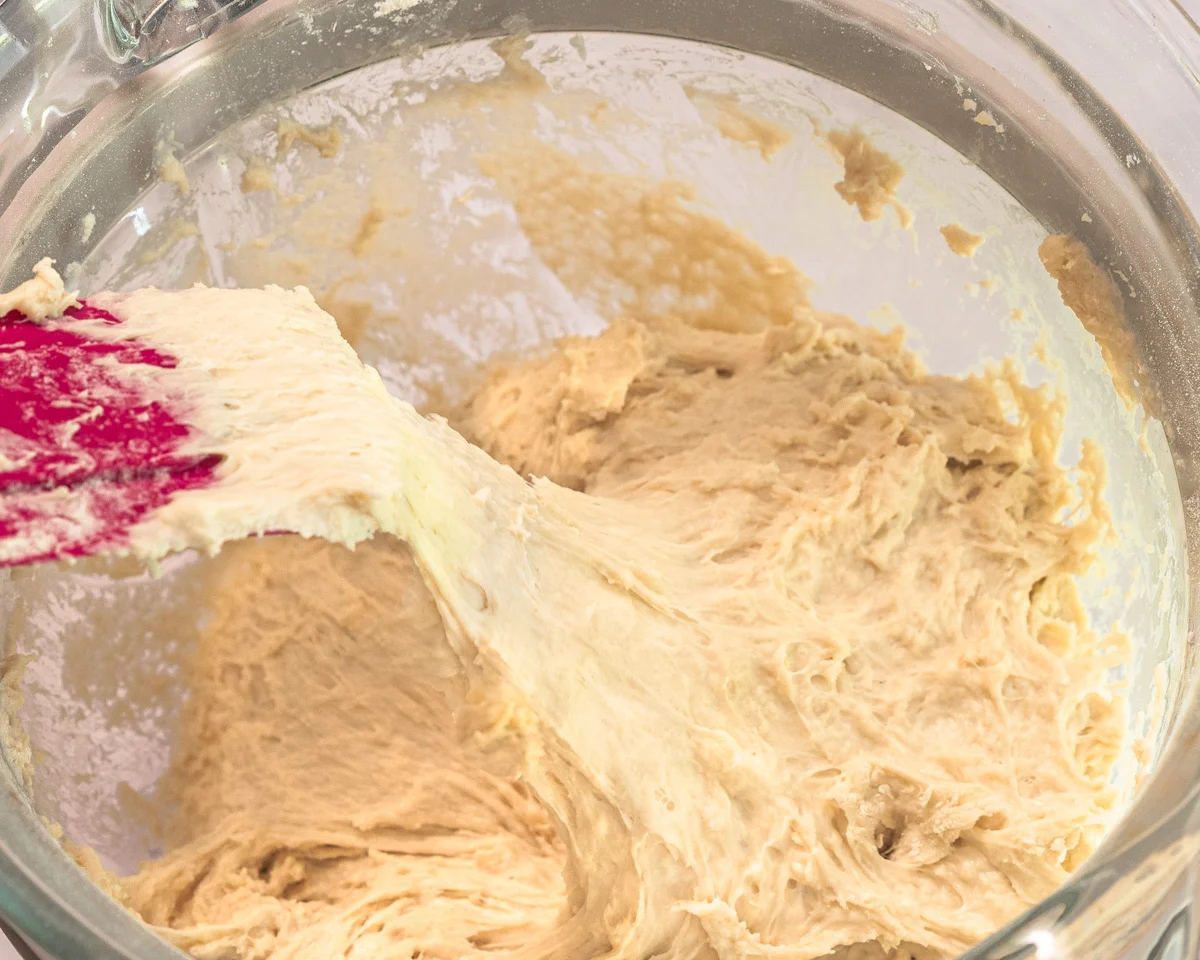 Two. Preheat the oven and prepare the loaf pans. They need to be greased and dusted with cornmeal or flour.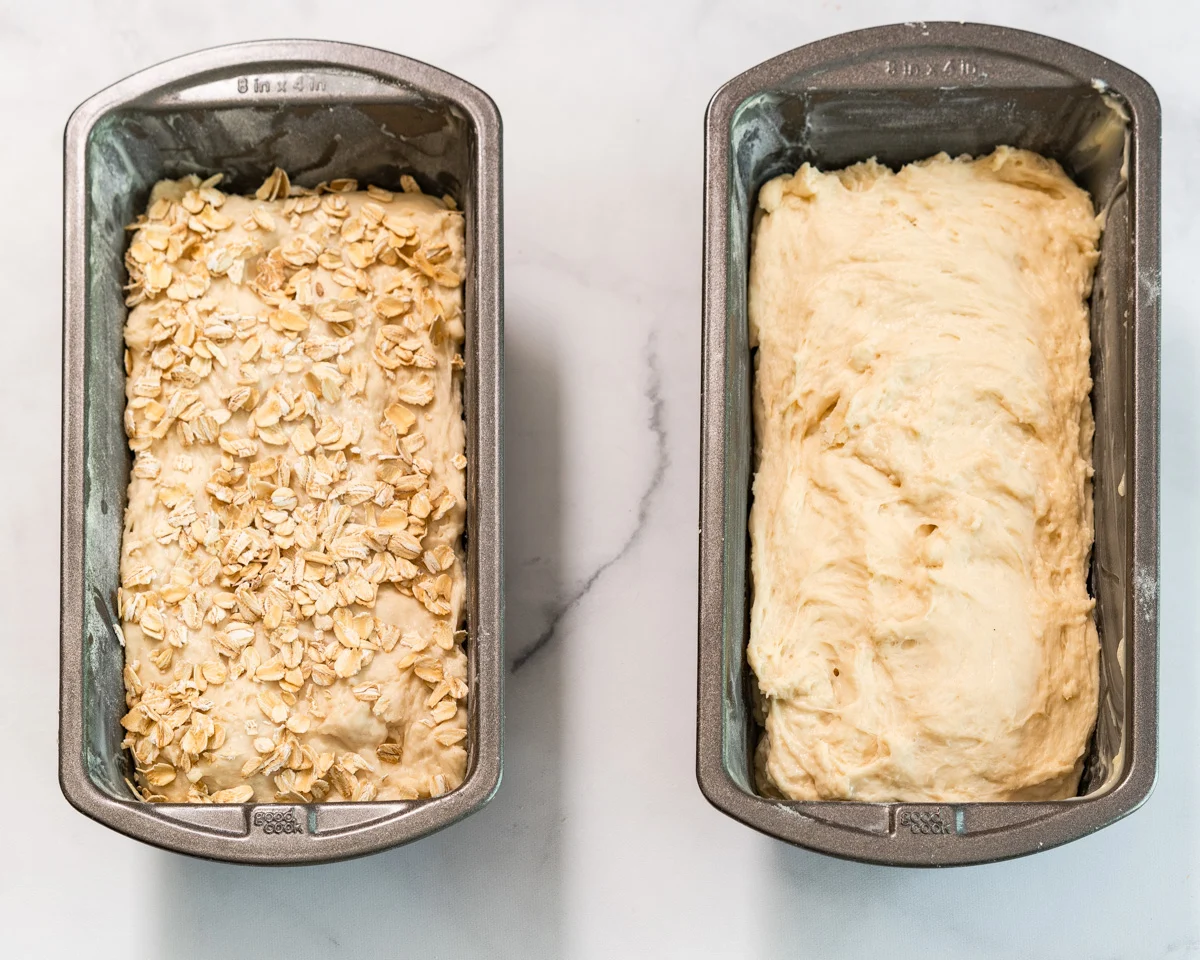 Three. Spoon the batter into two loaf pans and sprinkle the top of each loaf with cornmeal. Cover and let rise in a warm place until doubled, about 45 minutes. Once risen, the pan will feel light. Be careful that you don't deflate it.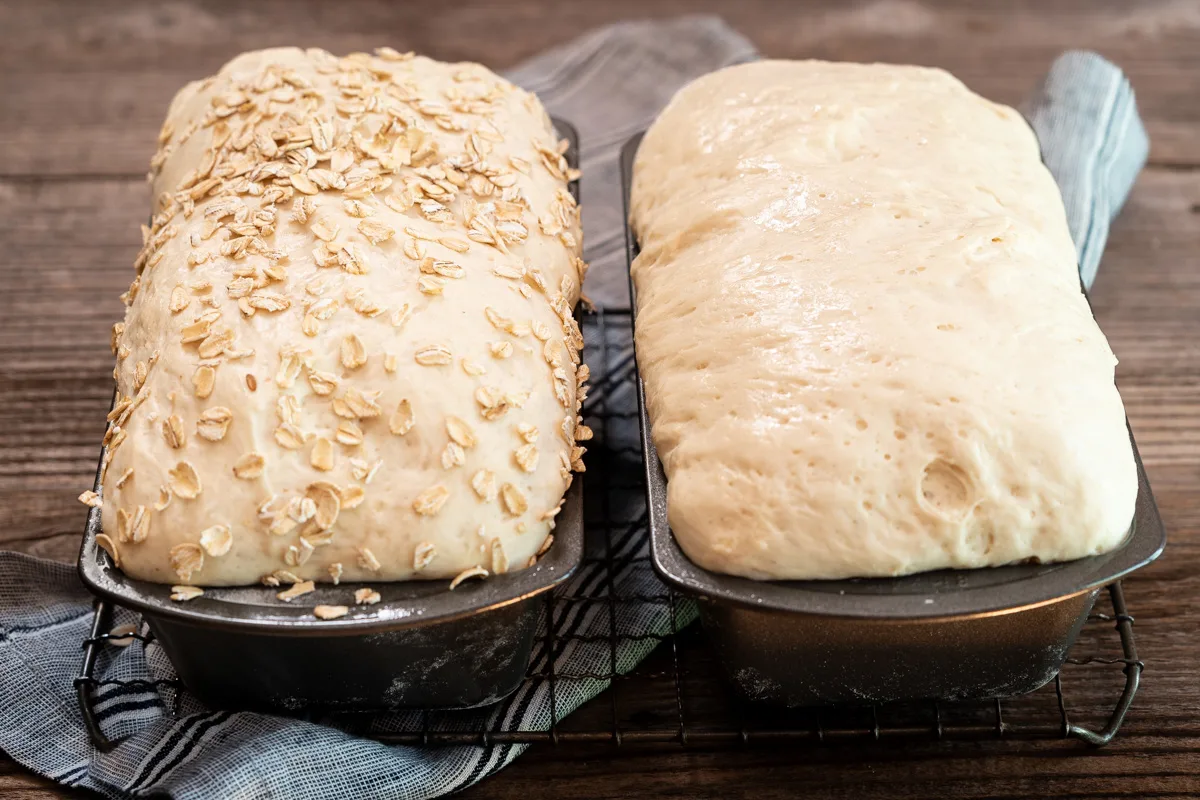 Four. Let bake for 25 to 35 minutes or until golden brown. Remove loaves from the pans immediately and allow them to cool completely on a wire cooking rack.
Note: The loaves of bread do not rise in the oven so it's important to let the bread rise before it's baked. As you can see in the photo above and below, any shape or bubbles or other characteristics of the risen loaves of dough will show the baked loaves.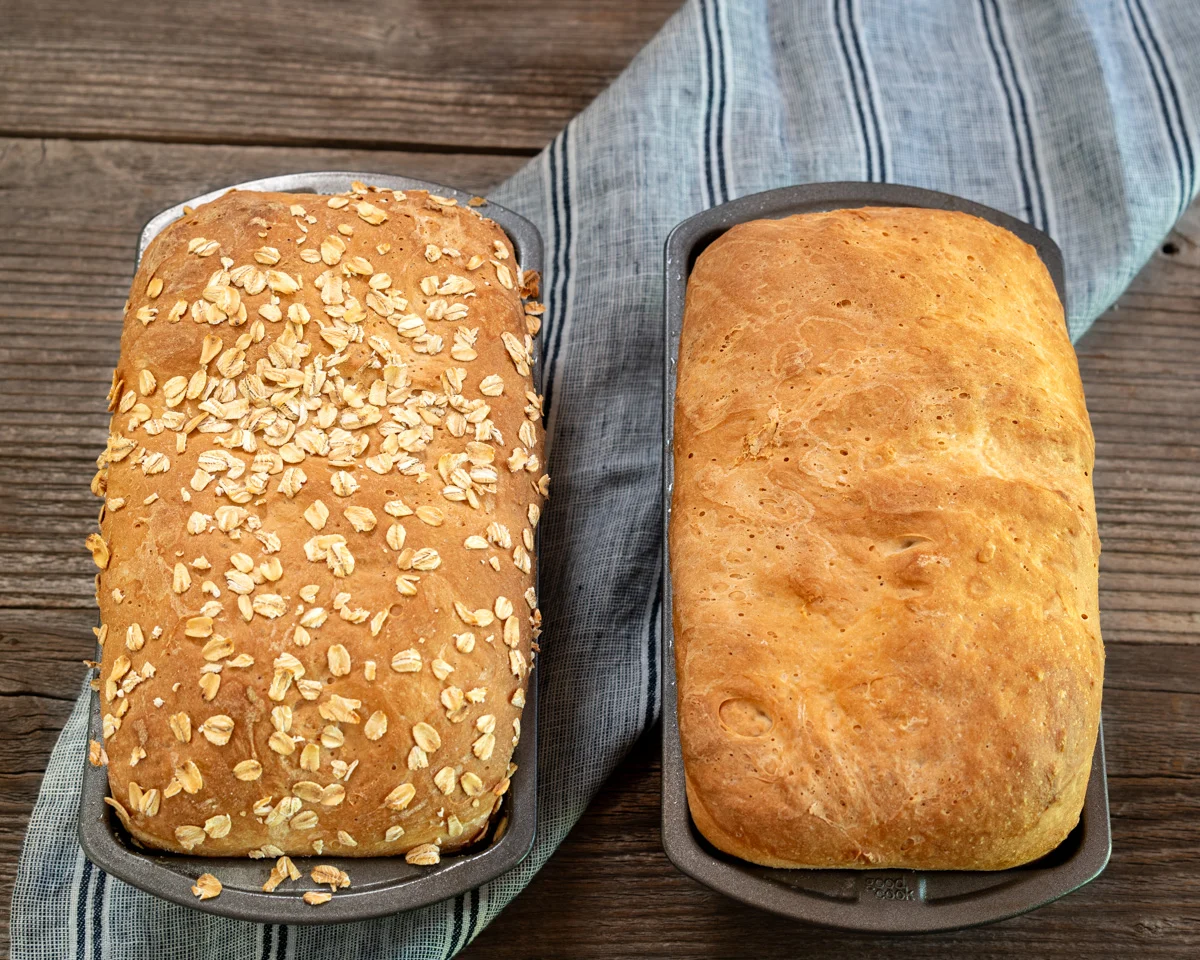 Serving Suggestions
Breakfast. Delicious French toast or a toasted breakfast sandwich with a slice of the English Muffin Bread, toasted and layered with scrambled eggs, crispy bacon or ham, and your favorite cheese. Don't forget just toasting it and slathering it with honey butter or sprinkling it with cinnamon and sugar which is my kiddo's favorite way to eat toast.
Lunch and Dinner. Panini or Grilled Sandwiches with slices of your favorite ingredients like deli meats, cheeses, vegetables, and spreads. Bread pizzas by splitting the English Muffin Loaf Bread into halves and top each half with pizza sauce, cheese, and your desired toppings and bake until melted and bubbly.
Appetizers using broiled slices topped with Bruschetta.
Leftovers. Croutons and Bread Crumbs. Nothing beats homemade croutons and bread crumbs.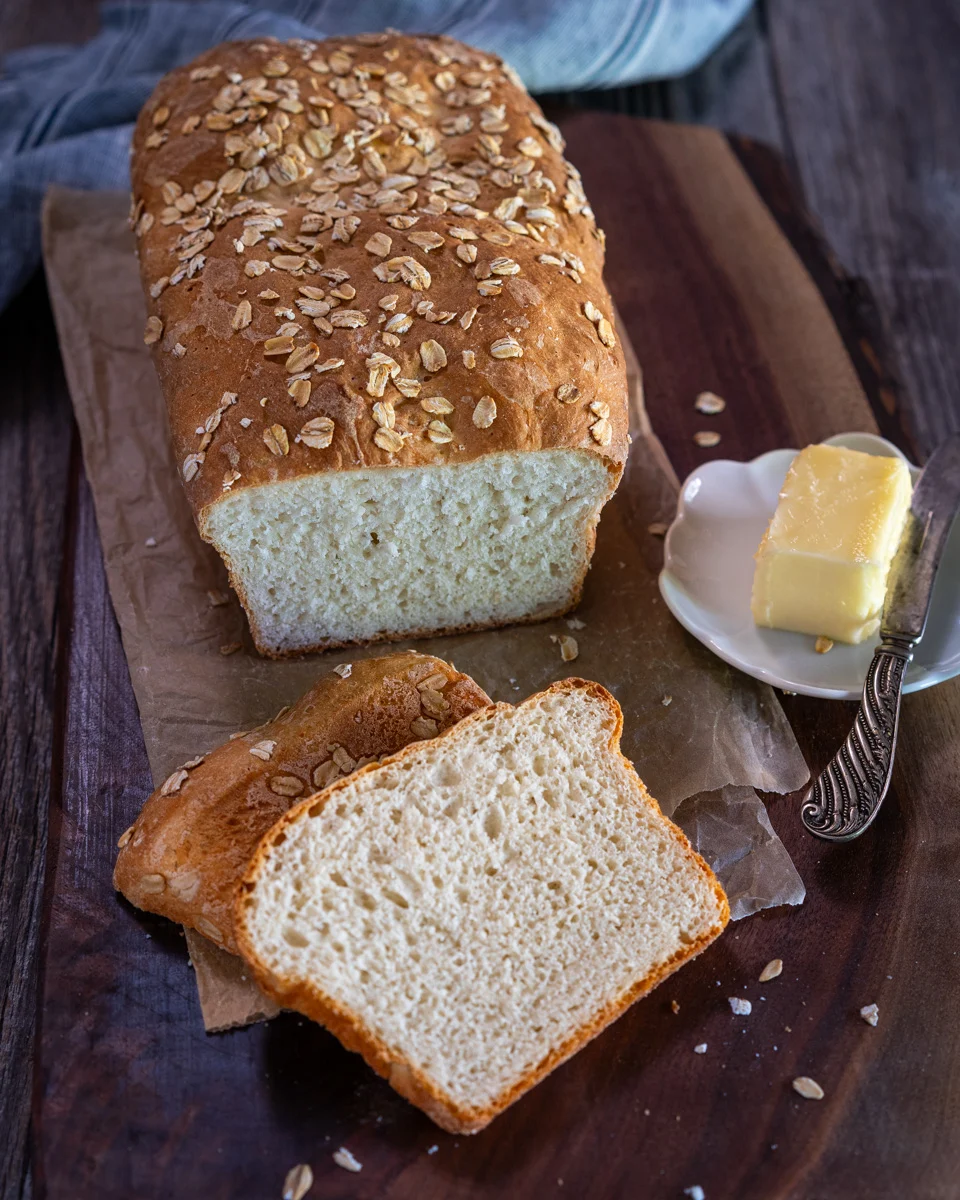 FAQ's
How many servings does this English Muffin Loaf Bread recipe yield?
This recipe yields 2 loaves of English Muffin Bread. The number of slices depends on how thick you like your slices. I usually get 10 to 12 slices per loaf.
Do I have to use cornmeal?
No. Cornmeal is traditionally used to keep English Muffins from sticking to the pan or griddle. The first time I made this bread I added cornmeal to the prepared pan and also sprinkled it over the top. This time I left the top of the bread without the cornmeal for one loaf and added oats to the other.
How long does the bread stay fresh?
The bread should stay fresh for 2-3 days when stored in an airtight container at room temperature. Even after 3 days, it tastes amazing, especially as toast.
Can I freeze the bread for later use?
Yes, you can freeze the English Muffin Bread once it has cooled completely. Just make sure to wrap it tightly in plastic wrap or place it in a freezer bag before freezing. I usually freeze the 2nd loaf as soon as it cools and once thawed, it tastes freshly baked.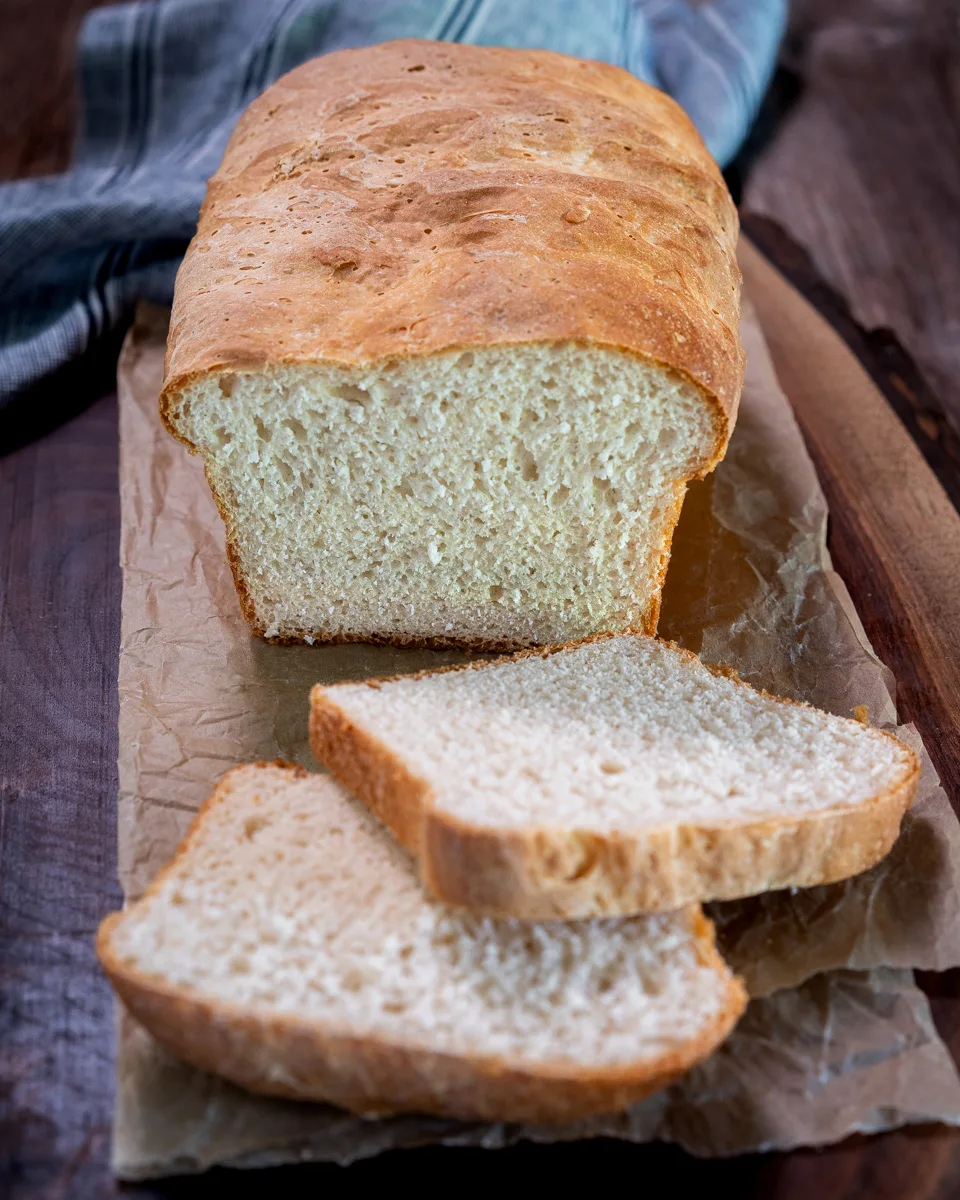 Variations and Substitutions
There are several variations you can make to a loaf of English Muffin Bread. This easy recipe is perfect for experimenting with. Here are a few ideas to get you started:
Whole Wheat: Replace a portion of the all-purpose flour with whole wheat flour to create a heartier and nuttier version of English Muffin Bread.
Herbs and Spices: Add dried herbs and spices to the dough for additional flavor. My favorites include dried oregano, thyme, rosemary, garlic powder, or onion powder.
Cheese: Add grated cheese into the dough such as Cheddar, Parmesan, or a combination of your favorite cheeses. The cheese will melt and create pockets of gooey goodness throughout the bread.
Sweet Variations: If you prefer a sweeter version, you can add a touch of honey, maple syrup, or sugar to the dough. Dried fruits, such as raisins or dried cranberries, and a sprinkle of cinnamon or nutmeg would make a delicious loaf of breakfast bread.
Seeds and nuts: Before baking, brush the top of the dough with a beaten egg and sprinkle it with a combination of seeds such as sesame, poppy, or flax seeds. This will add delicious flavor and a chunk to the crust. You can add seeds and chopped nuts to the dough for even more flavor.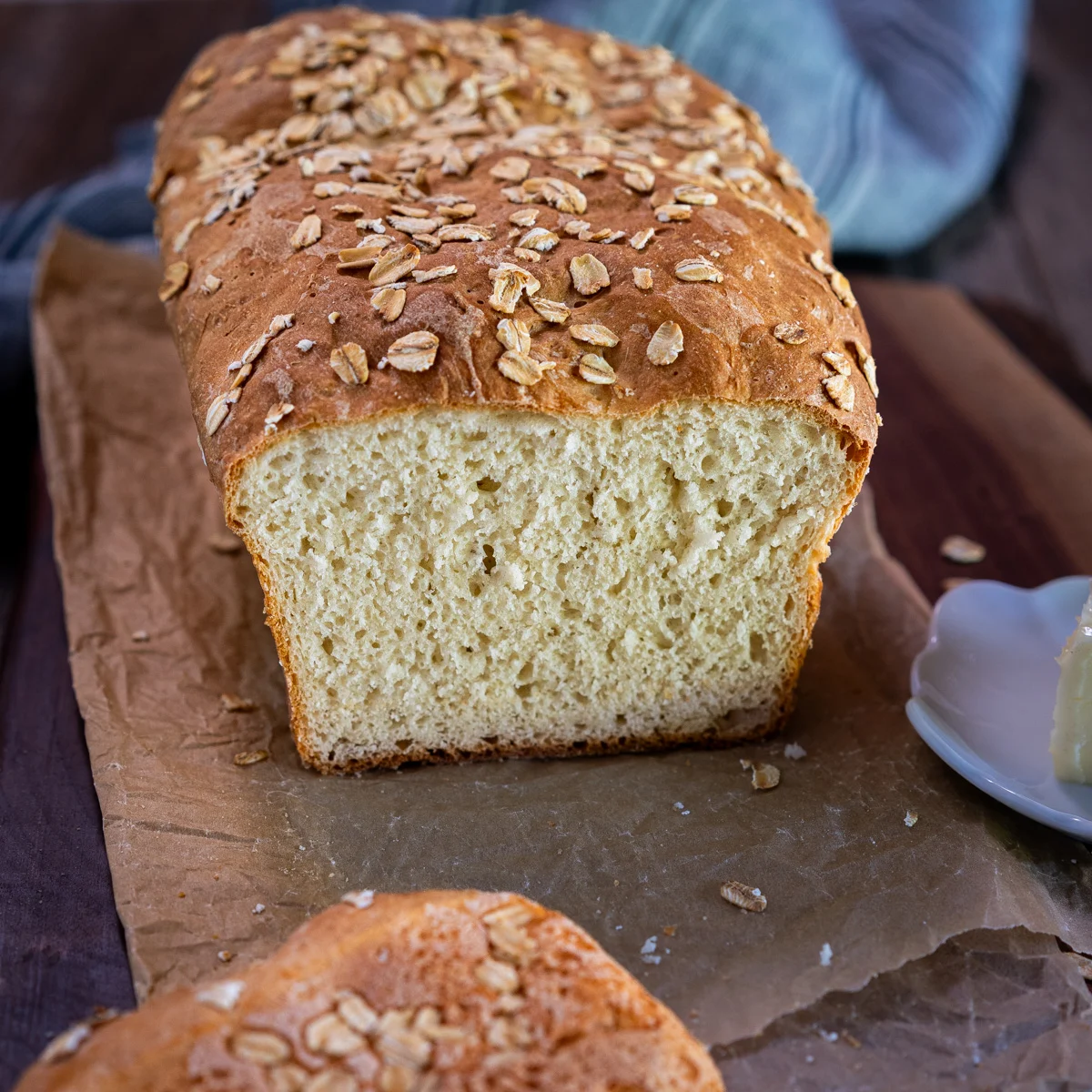 Hostess Tips and Tricks
Activate the yeast. Make sure that the yeast is fresh and active. Check the expiration date on the yeast packages. Also, make sure the milk and water are warmed to the correct temperature, about 120 degrees F. Too hot and you'll kill your yeast. Too cold will make your yeast activation sluggish.
Use a stand mixer. English Muffin Bread dough is sticky so I find it's easier to mix with an electric stand mixer fitted with either the paddle or dough hook attachment. This will help you get a smooth well-mixed dough too.
Handle the sticky dough with wet fingertips. When working with the sticky dough, wet your fingertips with water or vegetable oil. This will help prevent the dough from sticking to your hands and make it easier to shape in the loaf pans.
Grease and cornmeal the loaf pans. Grease the loaf pans well to prevent the bread from sticking. Sprinkle cornmeal on the greased pans to add a crunchy texture to the bottom of the bread. You can also use flour if you choose to skip the cornmeal.
Cool the bread completely. Once baked, remove the loaves from the pans immediately and allow the bread to cool on a wire rack. Cooling the bread on a wire rack ensures that any excess moisture evaporates and helps the crust remain crisp. Don't be tempted to slice the bread until it's completely cooled. Doing so will smash and tear it.
More recipes I think you'll enjoy
Want more delicious recipes? Follow Hostess At Heart on Pinterest!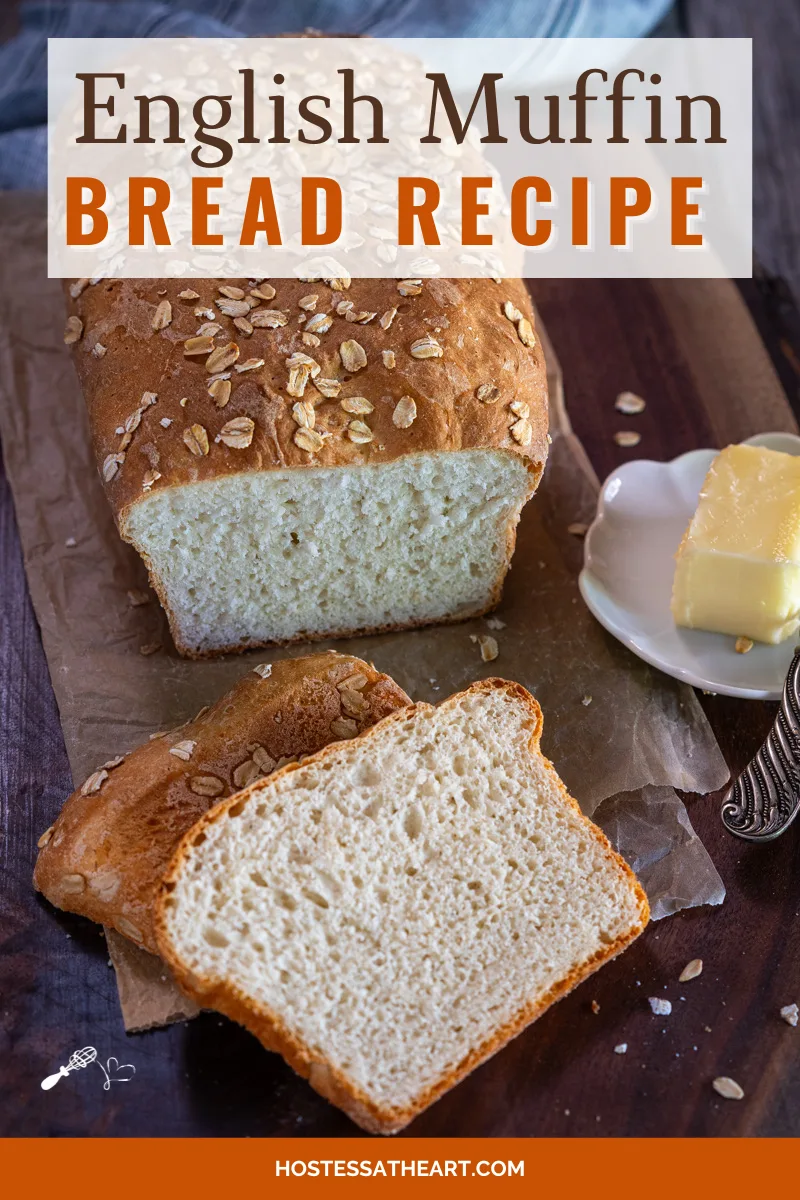 This post was originally posted on November 20, 2014, and has been updated with new images and detailed information to improve our reader's experience. No changes were made to the recipe.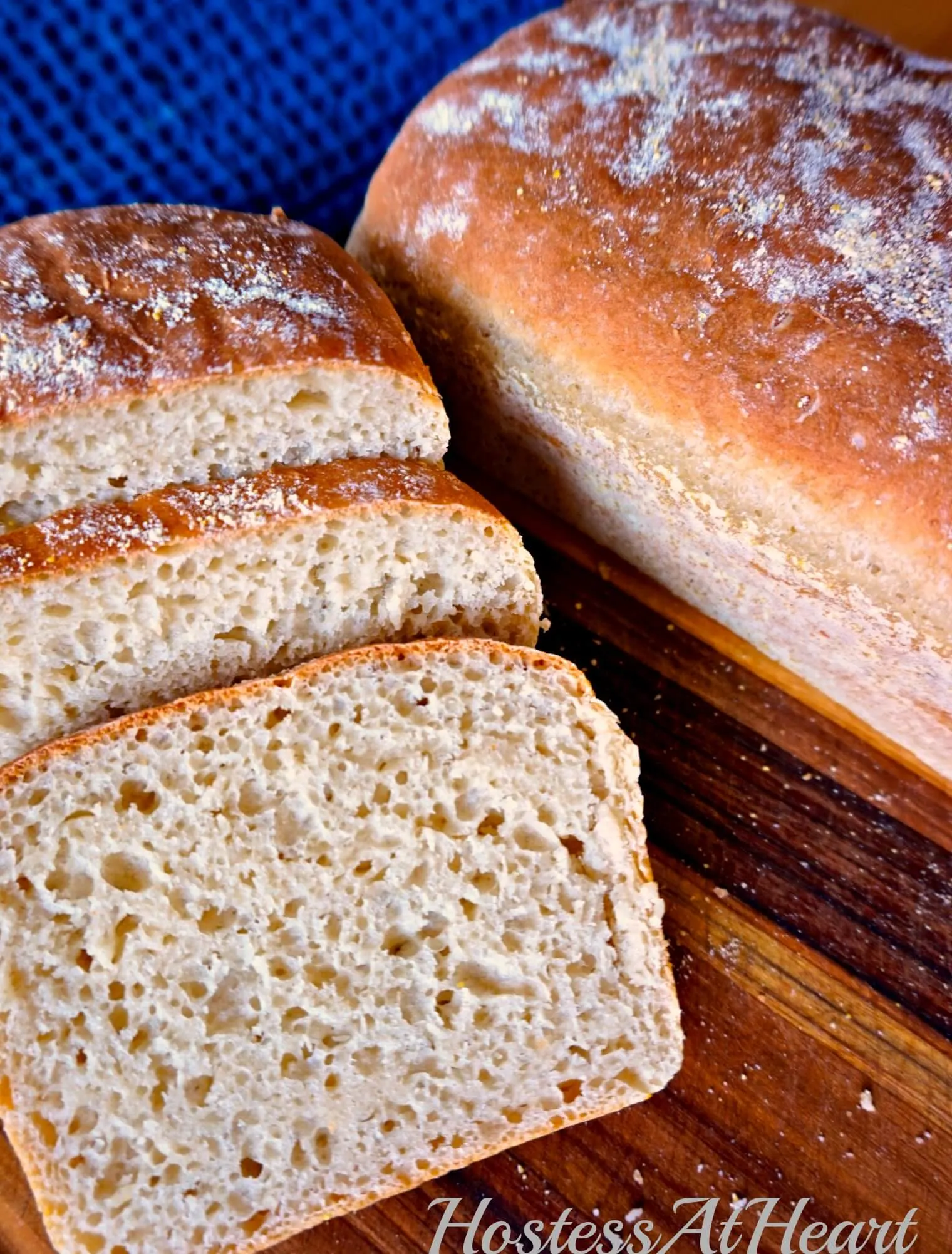 I broiled a couple of buttered slices with some Canadian bacon and put a poached egg on top. It was delicious! My hubby loaded his slices with honey and the other with cinnamon butter.