Get ready for a tasty journey to Cuba with a delicious Cuban Black Beans recipe! Dive into the flavors and textures of Frijoles Negros guaranteed to make your taste buds dance.
Cuban-style Black Beans is a simple recipe that is packed with flavor. And like our popular black beans recipe using canned black beans, and our instant pot charro beans, it's a versatile side dish or a delicious meal.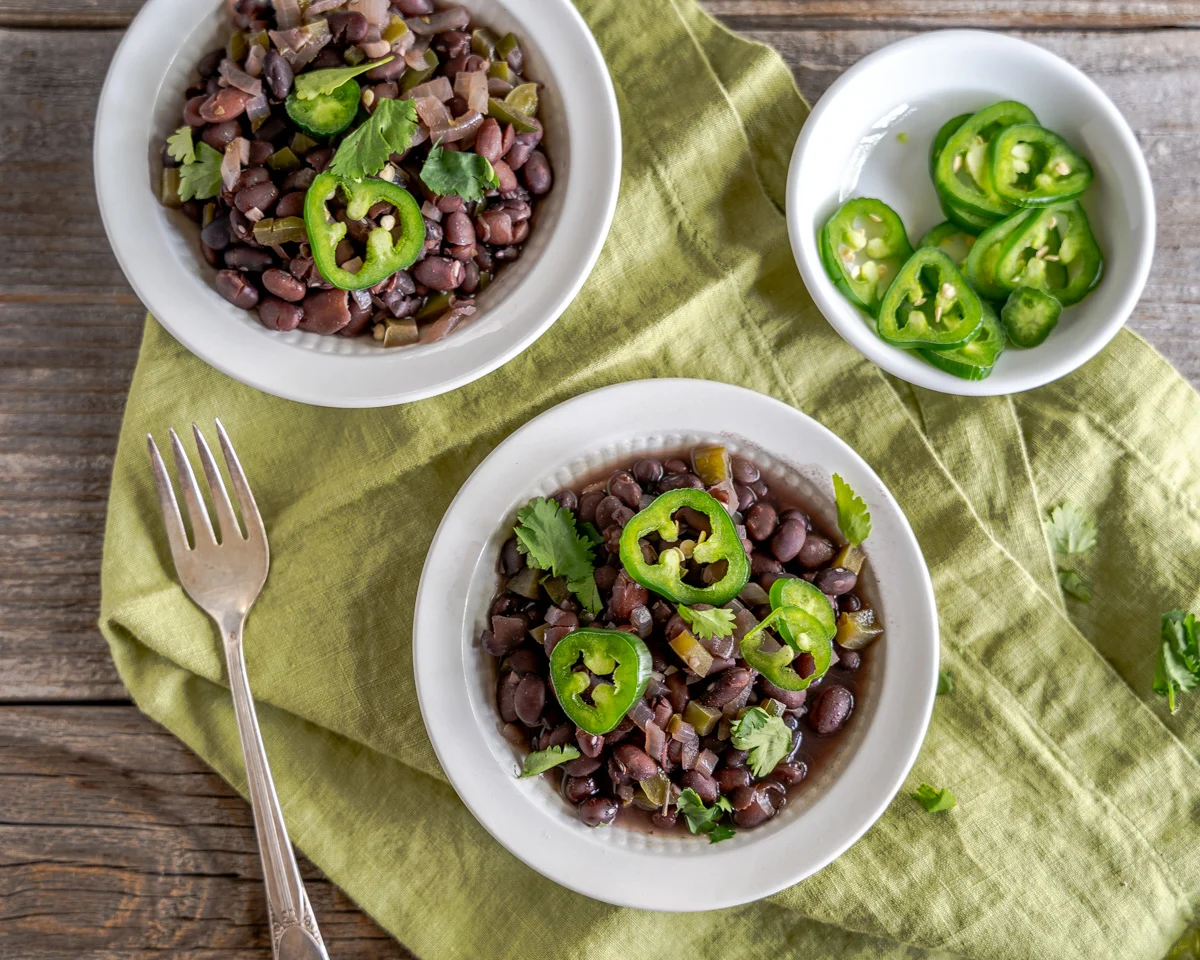 I have the perfect dish to spice up your menu: authentic Cuban black beans. Not only are they packed with flavor, but they're also a healthy and affordable option. In this article, we'll go over the ingredients you'll need, and step-by-step instructions on how to make this delicious dish.
If you're looking for a simple way to incorporate more plant-based protein into your diet, this authentic recipe for Cuban black beans is a must-try.
Why You'll Love Our Cuban Black Beans
Simple to make. Not only do black beans offer many nutritional benefits, but they're also incredibly versatile and can be used in various dishes. The good news is you won't find anything too complicated about this recipe.
Common ingredients. Adding traditional Cuban spices and ingredients like bay leaves, cumin, and oregano give these black beans a unique and flavorful twist that will have you coming back for more. The good news is it's all things you probably already have in your pantry.
Side dish or main meal. Black beans are one of the most budget-friendly protein sources, making this recipe a great option for those looking to save money on their grocery bill.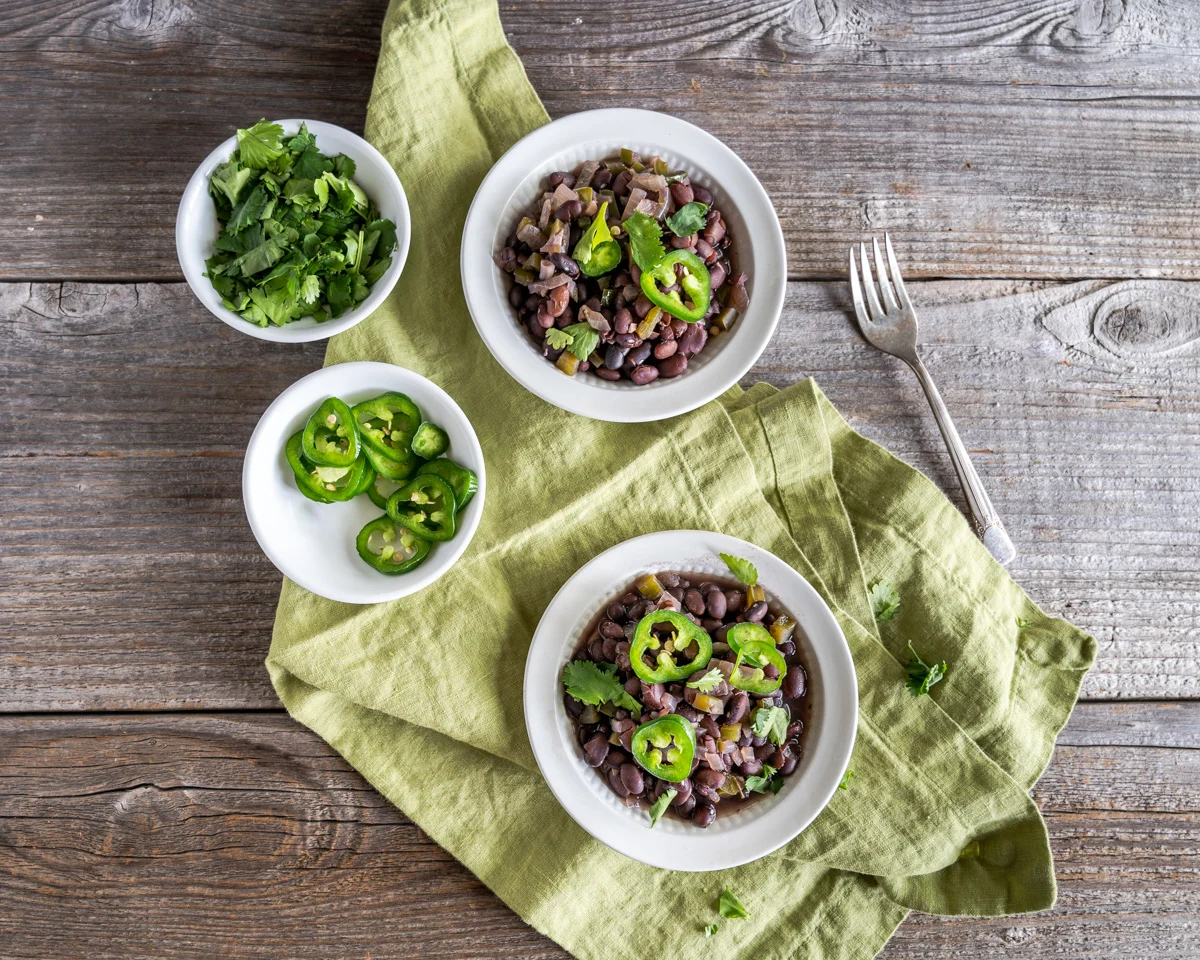 What are Cuban Black Beans?
I credit this recipe to one of my favorite Cuban cookbooks, "Three Guys From Miami Cook Cuban." Who create humorously simple and delicious recipes. They state that Cuban black beans generally aren't spicy, are thick and saucy, and are generally eaten at every meal.
You might be wondering how this Cuban black beans recipe is different from regular Easy Black Beans. Cuban black beans start with a "sofrito" which is traditionally onion, green pepper, and garlic, and use dried black beans. The flavor profile of Cuban black beans is simple, cumin, oregano, salt, pepper, and a bay leaf.
Cuban chefs have taken the liberty to add special ingredients such as, in this case, jalapenos, paprika, chili powder, and coriander, among others.
Equipment Needed
Hostess At Heart participates in affiliate programs. As an Amazon Associate, I earn a commission from qualifying purchases. Please refer to my disclosure page for more information about these affiliate programs.
Optional – Try the Instant Pot Cuban Black Beans variation! You'll need a pressure cooker.
Ingredients You'll Need for this Recipe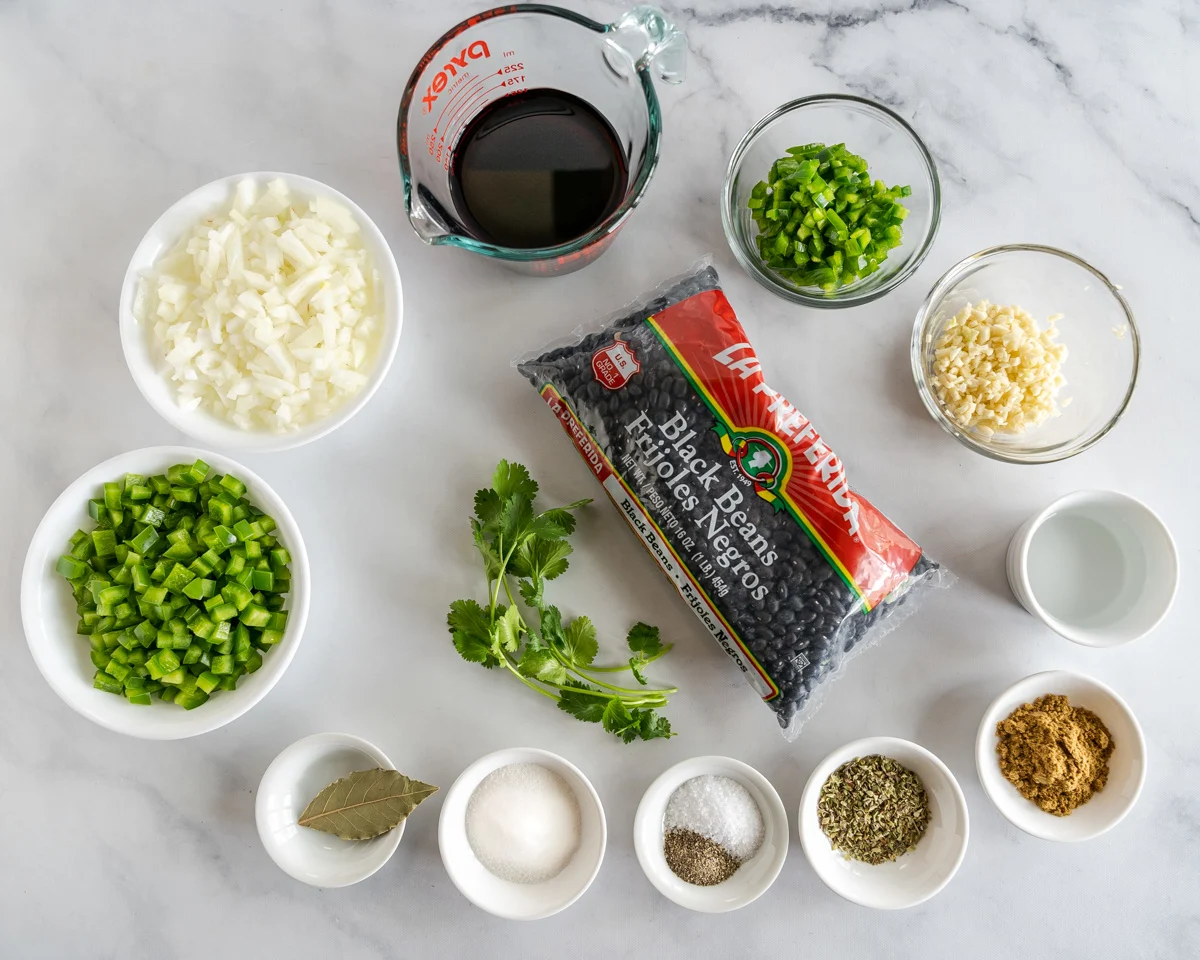 Dried Black Beans.
Onion.
Green Pepper.
Jalapeno.
Garlic.
Salt.
Ground Pepper.
Ground Cumin.
Dried Oregano.
Red Wine. Choose a Spanish or dry red wine.
Bay Leaf. This should be removed before serving as they are inedible. Not poisonous, just unpleasant and impossible to chew. You'll want it for the flavor, though!
Sugar.
Vinegar.
Extra-Virgin Olive Oil.
Water.
How To Make Cuban Black Beans
Please note, that the printable recipe card has ingredient quantities, complete instructions, and nutritional information. The following is a quick overview of the recipe.
Now that you have your ingredients ready, let's dive into the step-by-step instructions on how to make these mouth-watering Cuban black beans.
Step One. Soak the sorted beans.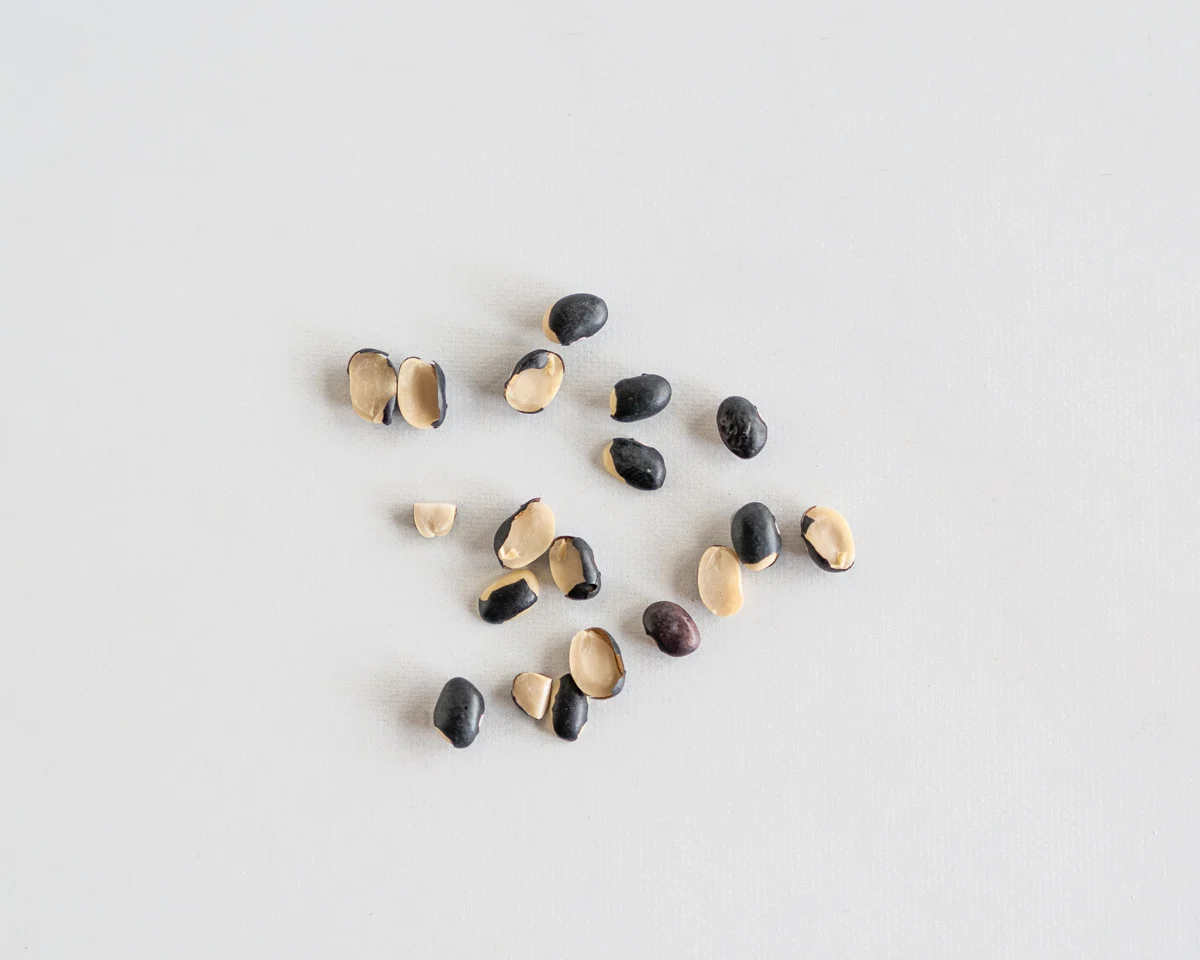 Sort and rinse the beans using a fine mesh strainer and put them in a 6-quart dutch oven or large soup pot. Cover the rinsed beans with the lid and let them sit out overnight.
Step Two. Cook the Cuban Black Beans.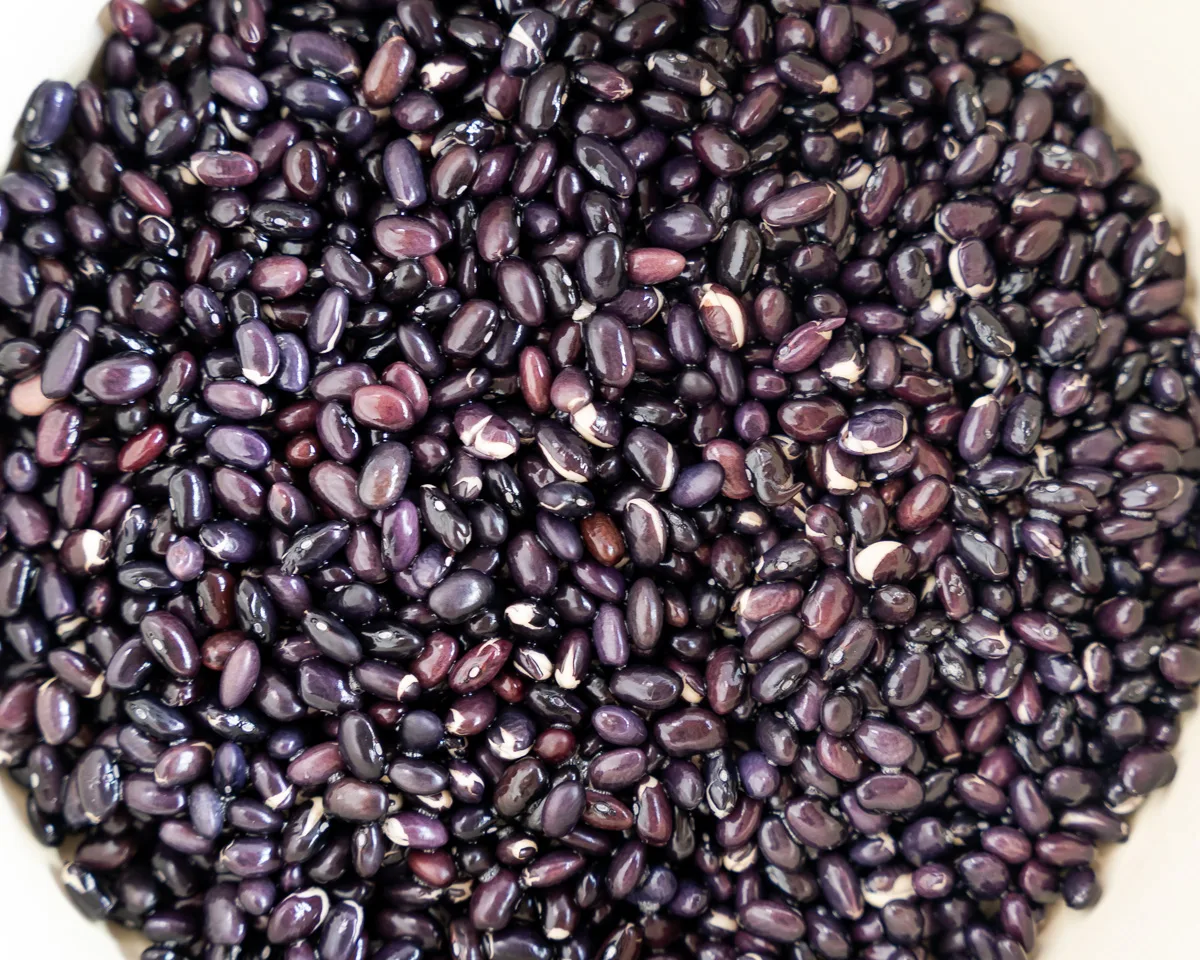 After the overnight soak, drain and discard the water from the soaked beans. Add 8 cups of fresh water and a tablespoon of olive oil to the beans. Bring the pot to a boil and then reduce the heat to low. Cover the pot and let it simmer for one hour. Do NOT drain the water from the beans once cooked.
Step Three. Prepare your add-ins for Cuban-Style Black Beans.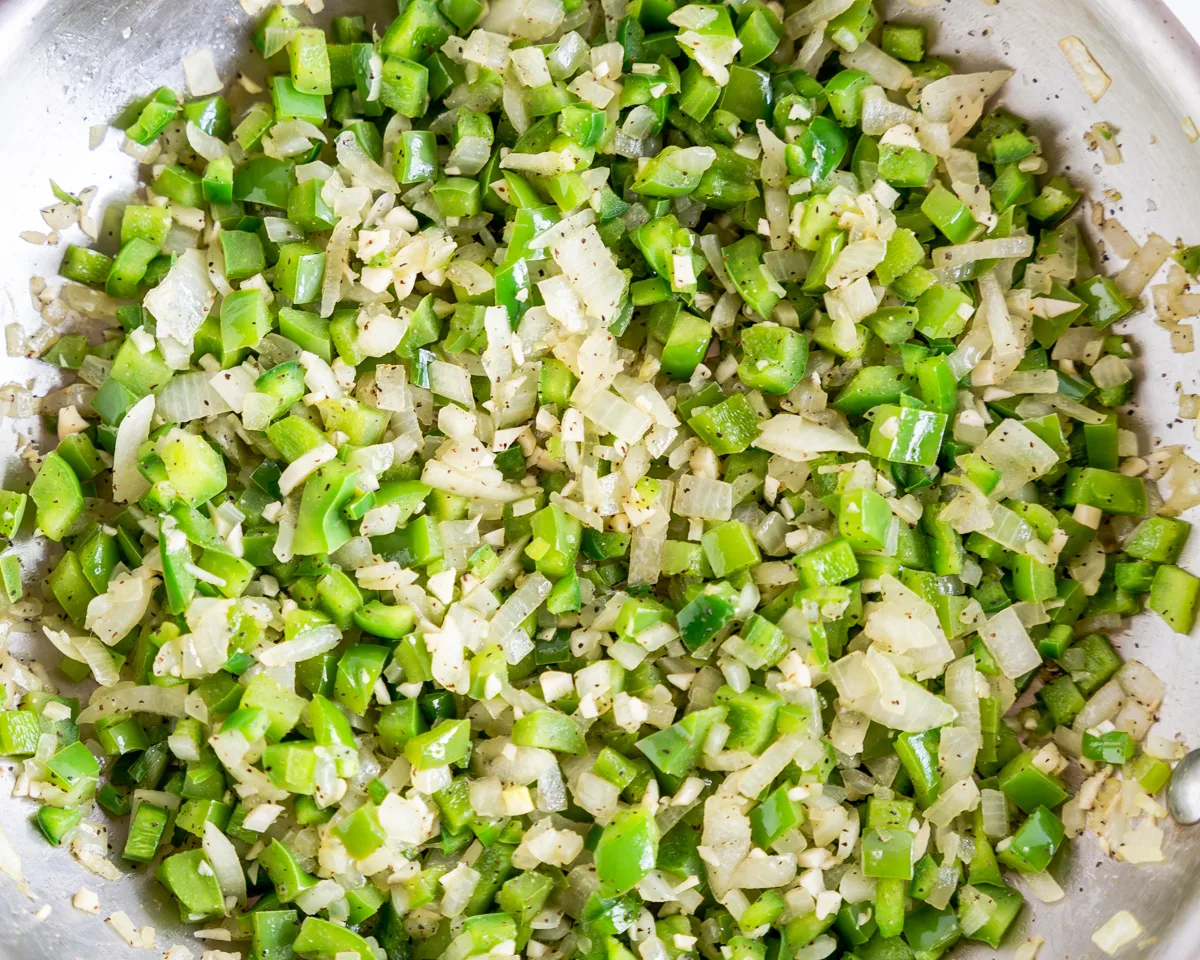 While the beans are cooking, chop the onion, green pepper, jalapeno and mince the garlic. Drizzle and heat olive oil in the bottom of a skillet. Add the onion and green pepper. Cook until the onion begins to soften. Add the diced jalapeno and minced garlic. Cook for two more minutes and set aside.
Step Four. Mix it all together.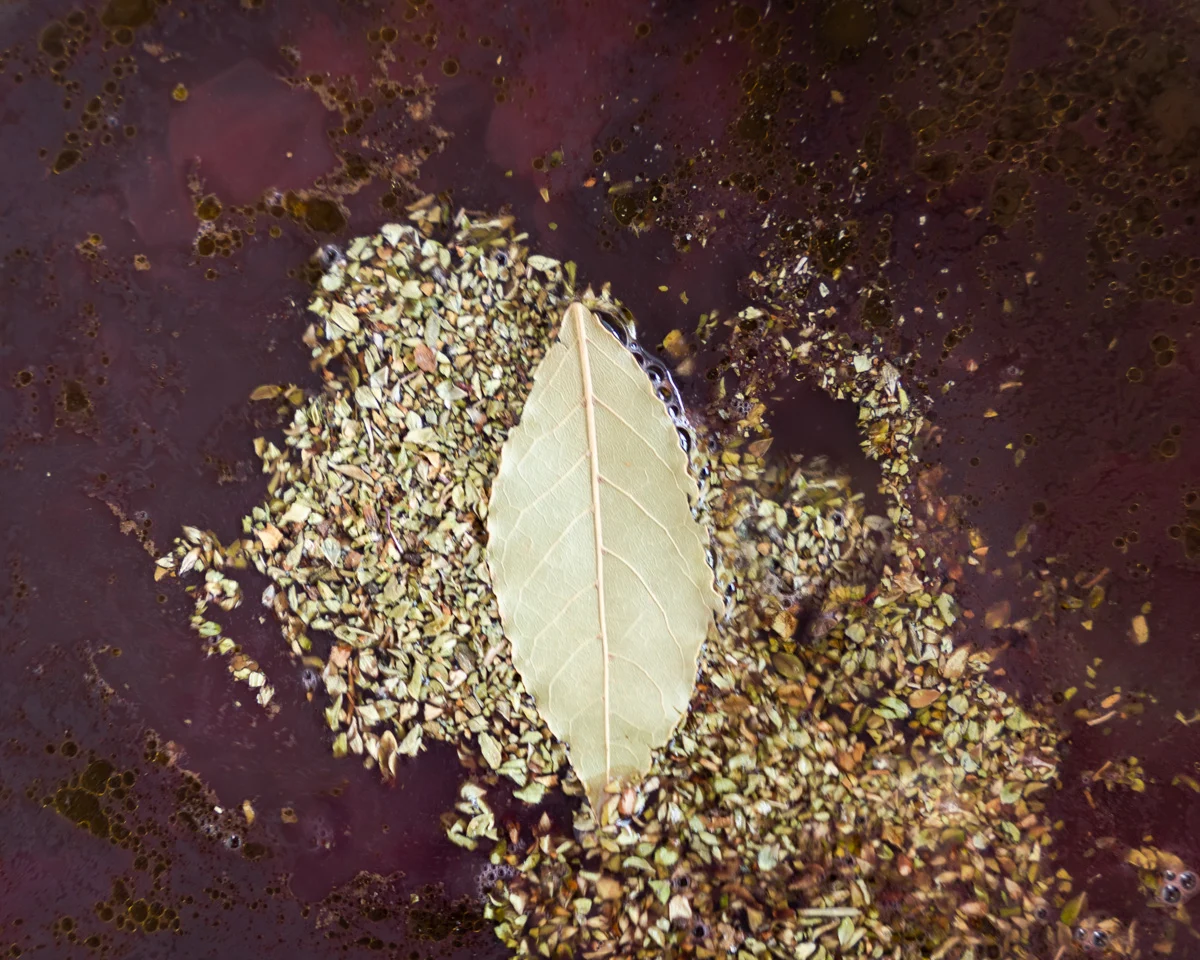 Add the cooked onion and green pepper mixture, oregano, cumin, bay leaf, vinegar, and wine to the cooked beans. Cook for 15 to 20 minutes more, then remove the bay leaf.
Step Five. Optional. Thicken the beans.
For a thicker consistency, remove one cup of the cooked beans and mash them into a thick paste. Return them to the pot and stir to thicken.
Step Six. Wrap it up with the final seasoning of your Cuban black beans.
Add more salt and pepper to taste. Stir in the sugar and drizzle with several tablespoons of olive oil over the beans. Cover the pot and remove it from the heat. Let the pot stand for 10 minutes. Garnish as desired and serve.
What to Serve with Cuban Black Beans
First, it's important to note that this beans recipe can stand on its own as a vegetarian meal. Add them to tacos or burritos. If you want to add variety, consider pairing it with a side of freshly cooked tomatillo rice to help balance out the flavors. If you want to add some extra texture, add some chopped fresh cilantro, Queso Blanco cheese, or diced onion as a garnish on top of the beans.
Another option is to serve these beans as a side dish alongside other Cuban staples like picadillo, a classic ground beef and tomato sauce dish, or tostones, which are fried plantains. This creates a full Cuban meal that is sure to impress your guests.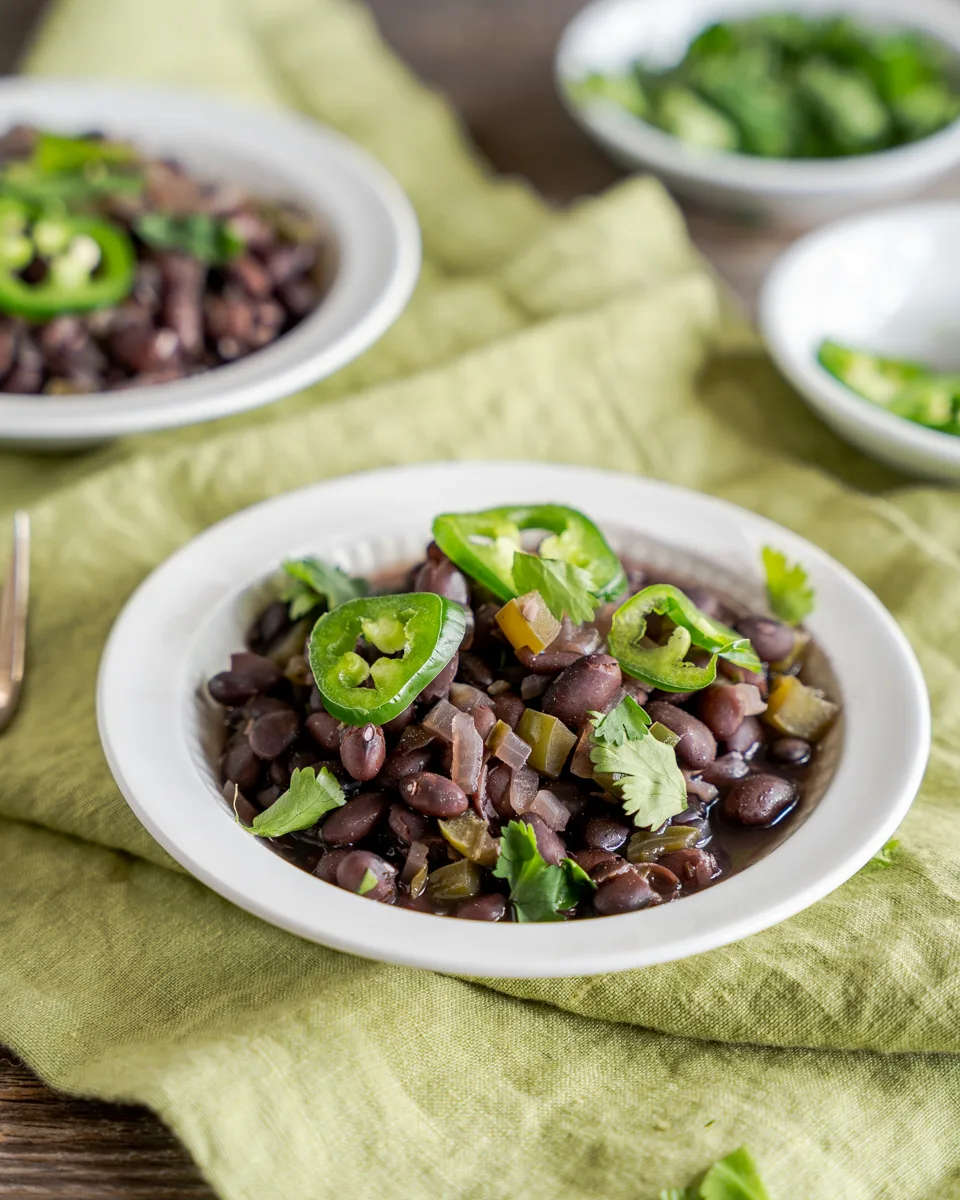 Beans FAQ
We get lots of questions about cooking with dry beans.
Is it difficult to cook dried black beans from scratch? No! It takes a little bit of pre-planning and a longer cook time, but the cooking process is very hands-off and quite easy. Plus they taste better than canned.
Why are beans sorted? Beans are sorted because they may contain small rocks and dirt. You'll also want to remove any broken or misshapen beans.
Lots of people ask Do I have to soak the dried black beans? No, you do not. They will take longer to cook, however.
What causes dry beans to split when cooking? Beans split because the outer seed coat isn't soft enough when the insides of the bean rehydrate. Soaking will rehydrate the bean making it less likely to split. Also, once we bring the pot to a boil, turn it to low to continue cooking. Constant boiling will make your beans fall apart. There is no need to remove the split beans. They're perfectly safe to eat.
How do you tell if beans have soaked long enough? 6 to 10 hours is usually what it takes. They're ready to cook when the skin slides off of the bean. Beans shouldn't be soaked longer than 12 hours or are more likely to cook up mushy. If you can't cook the beans after 12 hours, drain them, and put them in the refrigerator.
How To Reheat & Store Cuban Black Beans
Best way to store Frijoles Negros
Cooked beans should be refrigerated in an airtight container and will last for up to a week.
Can I Freeze Cuban-style Black Beans
Yes. Freeze in an air-tight container for up to three months. Thaw on the stovetop in a saucepan and add liquid if the beans have dried out.
How to reheat Cuban Black Beans
Microwave or simmer on the stovetop.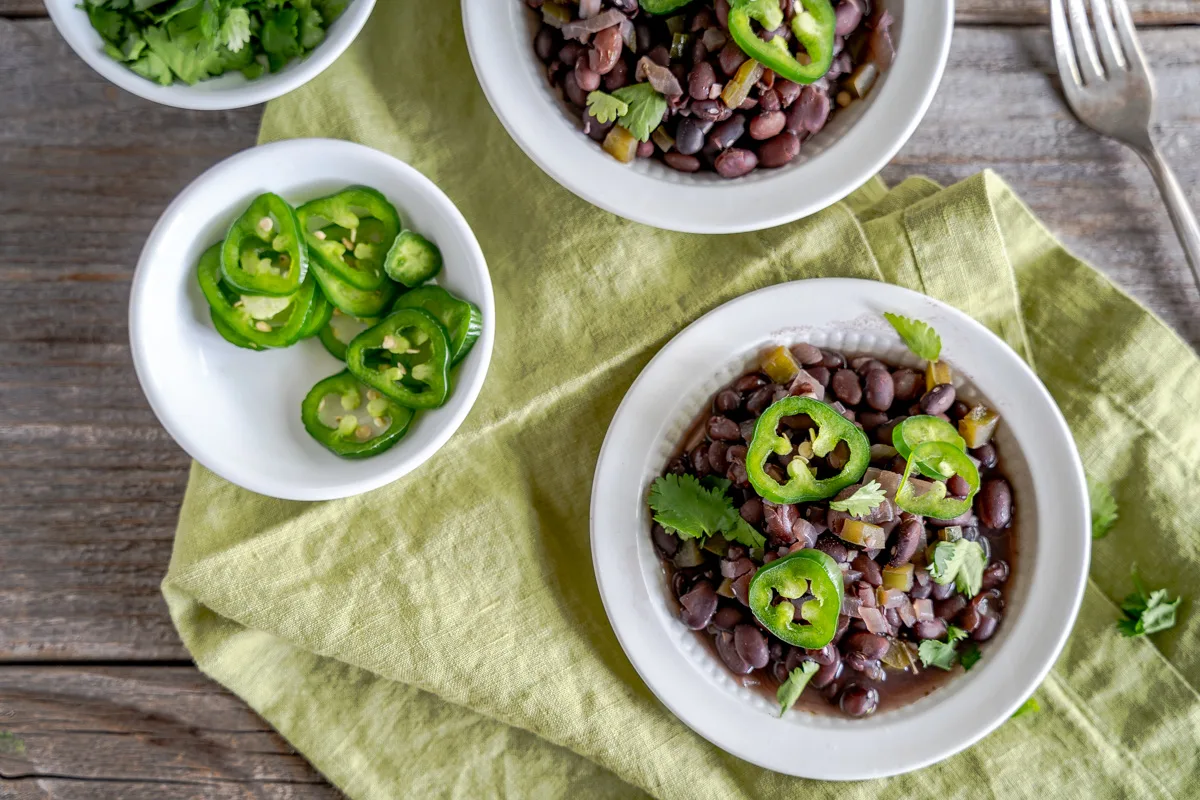 Variations to Try
Add a Mexican twist: Instead of using oregano and cumin, try using chili powder and cilantro for a Mexican-inspired flavor. You can also add some diced tomatoes, a couple of shakes of Tabasco sauce, and a splash of lime juice to brighten up the dish.
Spice it up: If you like your food with a kick, add sliced jalapeños or a dash of hot sauce to your black beans. You can also add chili powder or smoked paprika for a smoky flavor.
Go vegetarian: If you're looking for a meatless meal, add protein-rich ingredients like quinoa or tempeh to your black beans. For extra flavor and nutrition, you can add roasted vegetables like sweet potatoes or red bell peppers.
Make it thicker: You can blend more of the cooked beans for a thicker consistency. You can also simmer it longer to allow the cooking liquid to cook down but be careful not to overcook the beans. They'll become mushy.
Tips for This Perfect Cuban Black Beans Recipe
Make Instant Pot Cuban Black Beans. Beans can be cooked in a pressure cooker (Instant Pot) according to the manufacturer's instructions for exact times. In most machines, it takes about 25 minutes.
Add Olive Oil. Olive oil added to the dried beans can keep them from foaming.
Make sure to sort! Go through your dried black beans and remove any broken or misshapen beans or foreign objects such as small rocks. Do not skip this step.
Use fresh water. Drain off the soaking water from the beans and add fresh water to cook the beans. Beans can be cooked in the soaking water, but I prefer fresh. Using fresh water is said to make beans more digestible.
Choose your pot carefully. I use an enameled Dutch oven to make my beans. Stainless will work as well. Don't boil in cast iron. Boiling water will lift the cast iron seasoning and expose the raw metal, causing oxidation of your pan.
Watch out! Don't add any salt to your boiling beans. Salt will make the beans tough.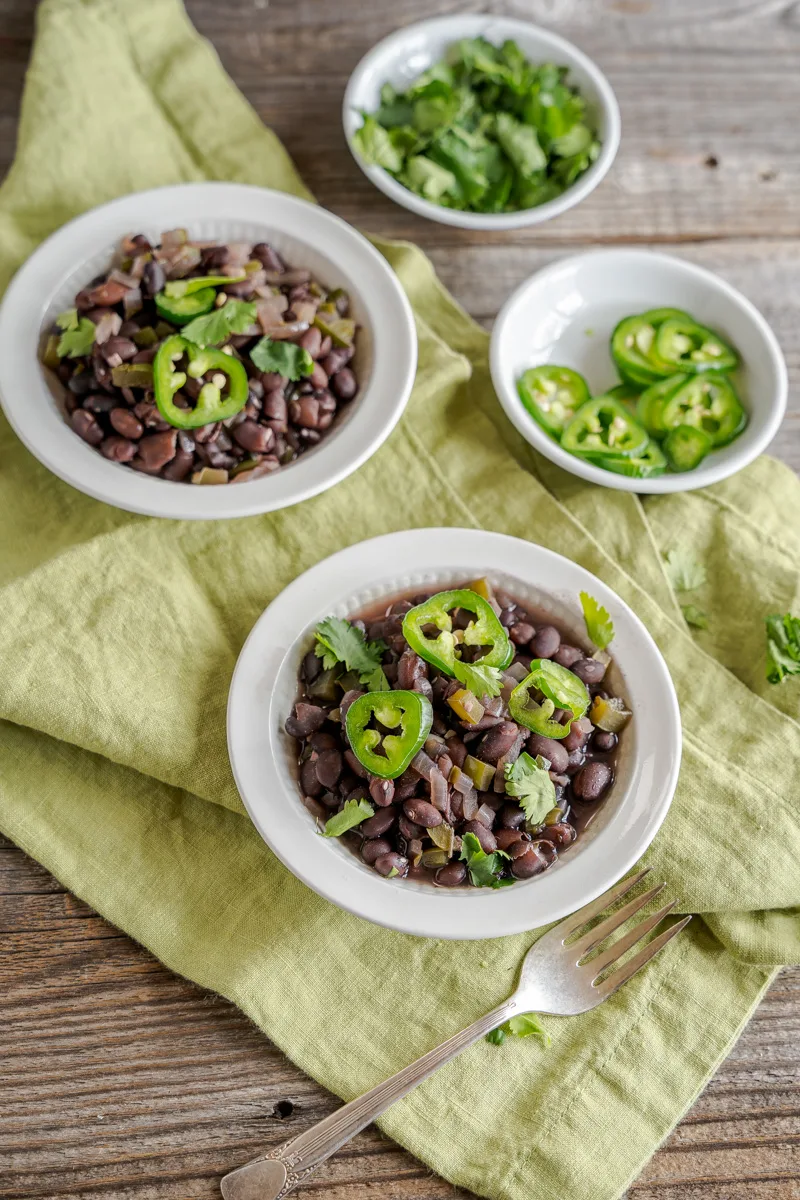 If you enjoyed this recipe, check these out!
I hope you enjoyed this delicious recipe as much as we do. Drop me a comment below, and don't forget to give it a star rating. ⭐⭐⭐⭐⭐. Your comments and ratings help others decide if this recipe is for them too.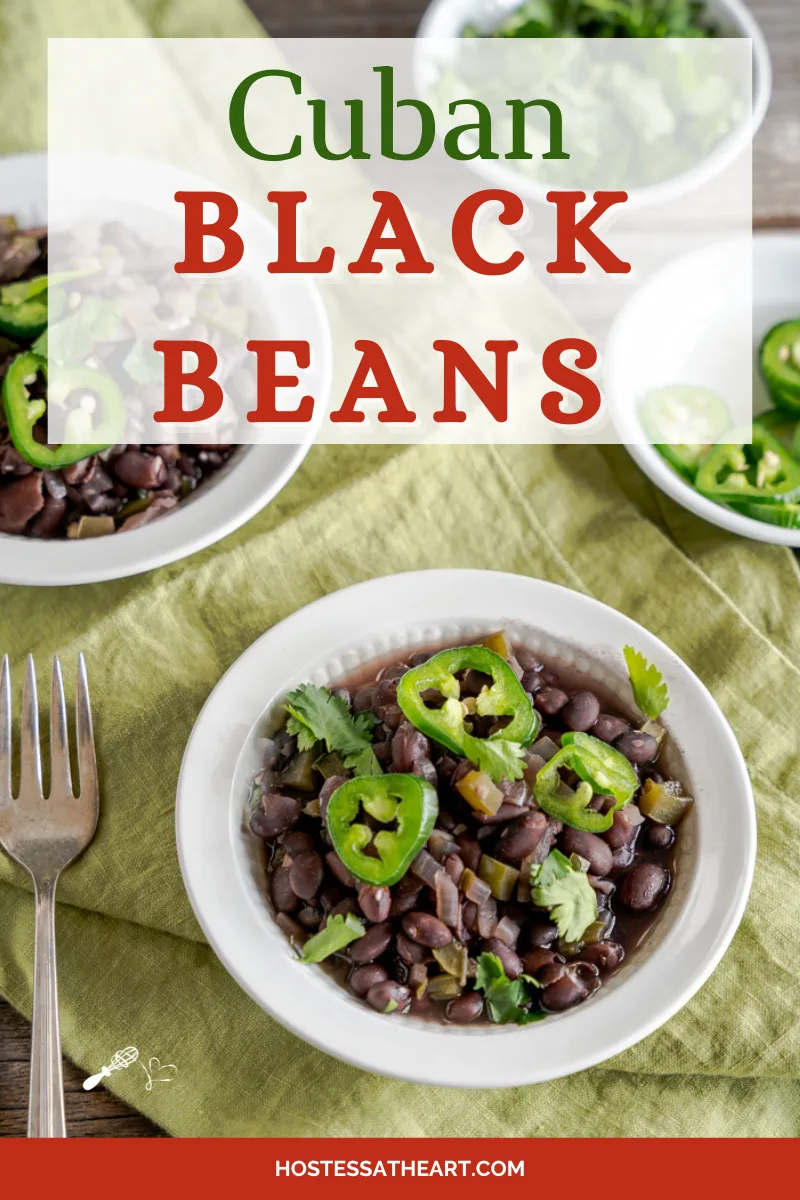 Pin this amazing recipe!