Fall flavor perfection is found in this delicious and easy pear pie recipe. Bosc pears combined with warm cinnamon make this homemade fresh pear pie the perfect tasty dessert. Even Mom would be proud of this old-fashioned classic pear pie.
Serve your family a beautiful fresh pear dessert without any fuss or complexity.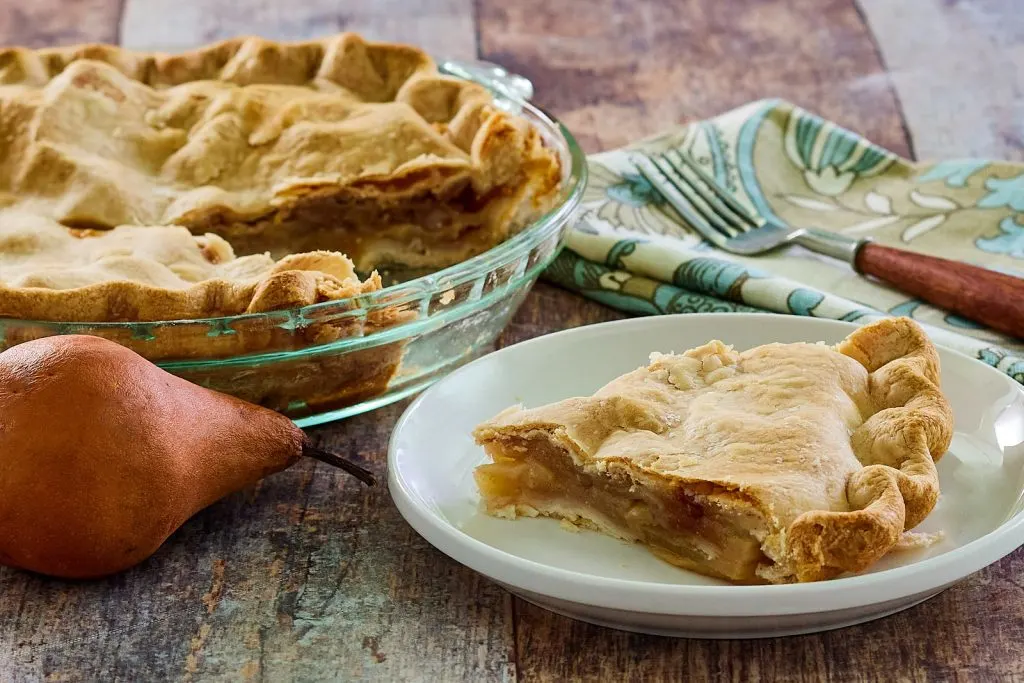 Why You'll Love This Fresh Pear Pie
Easy as Pie. This is a real thing! Classic pies like this one come together so fast and easy!
Use up ripe produce. Inevitably, all of the yummy fruit in season ripens on our counters at the same time. When that happens, take advantage of the moment to make our easy pear pie!
Old-Fashioned pies like this one are appreciated by young and old. They're easy to make and take for any get-together.
Ingredients For Your Easy Pear Pie Recipe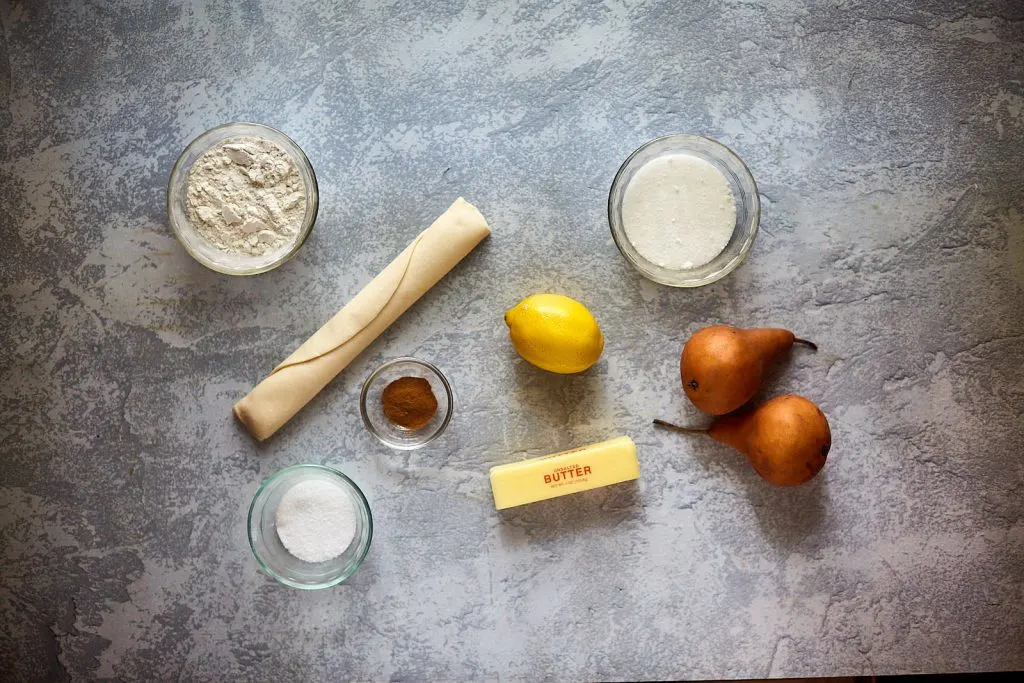 Double Pie Crust. This pie is made with a double crust, which means a crust on the bottom and a crust on top. I prefer this All-Butter Pie Crust recipe but you can purchase a crust.
White Sugar.
All-Purpose Flour. Just a little bit to help the juices thicken as the pie bakes.
Salt.
Ground Cinnamon. I love a pie with plenty of cinnamon!
Lemon Zest. Adds a little tartness for balance.
Bosc Pears. A nice crisp pear for baking.
Butter. Enhances the richness of the fruit.
Lemon Juice. It keeps the pears from browning after they are exposed to air.
What are the best pears for a pie?
I used Bosc pears because they hold their shape while baking. Bosc Pears are juicy but crunchy. Other pears that are perfect for this recipe are Anjou and Bartlett.
How many pears do I need for this fresh pear pie?
I used 5 cups of pears in this recipe which is about 3 pounds or 6 pears. You want to fill up the crust because the pears will cook down. Almanac states that 2 pounds or 4 medium-sized pears equal 2 cups.
Please note, that the printable recipe card has ingredient quantities, complete instructions, and nutritional information. The following is a quick overview of the recipe.
How To Make A Pear Pie
Step 1: Get everything ready.
Preheat your oven and place a baking sheet on the bottom rack. Peel and slice the pears.
Step 2: Mix the dry ingredients.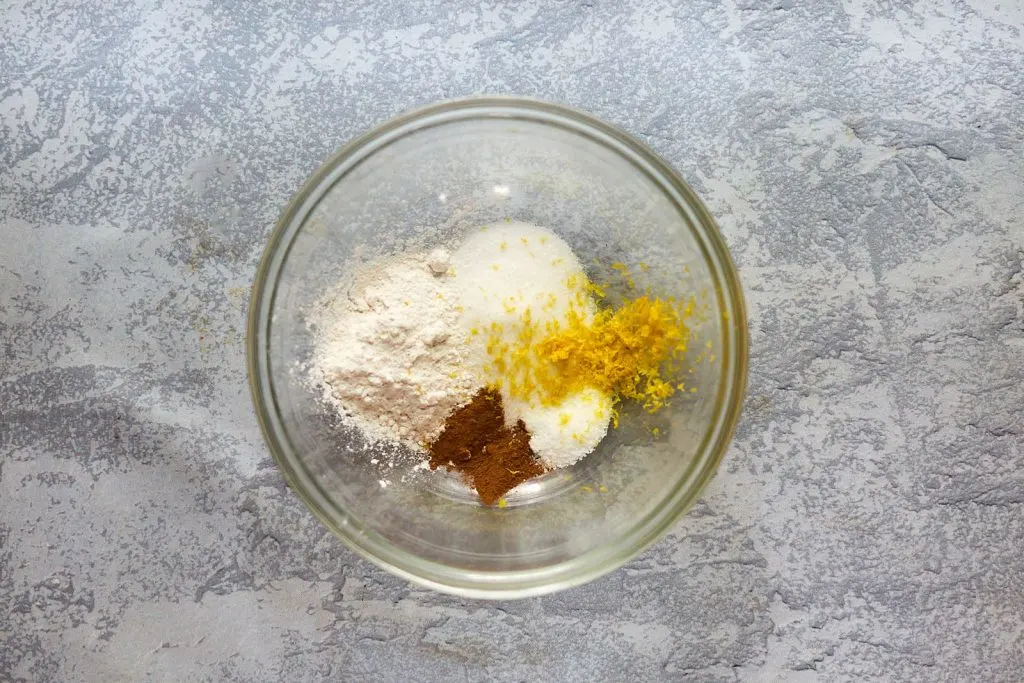 Combine sugar, flour, salt, cinnamon, and lemon zest in a mixing bowl.
Step 3: Roll out the pie crust.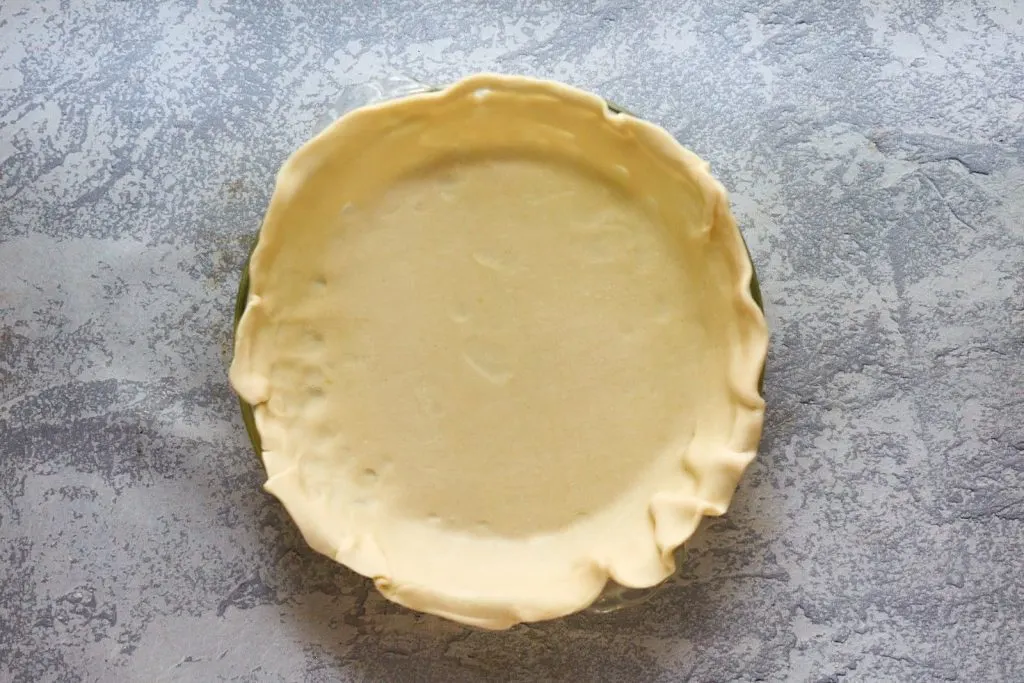 Place the bottom unbaked pie crust in your pie pan.
Step 4: Add the pears.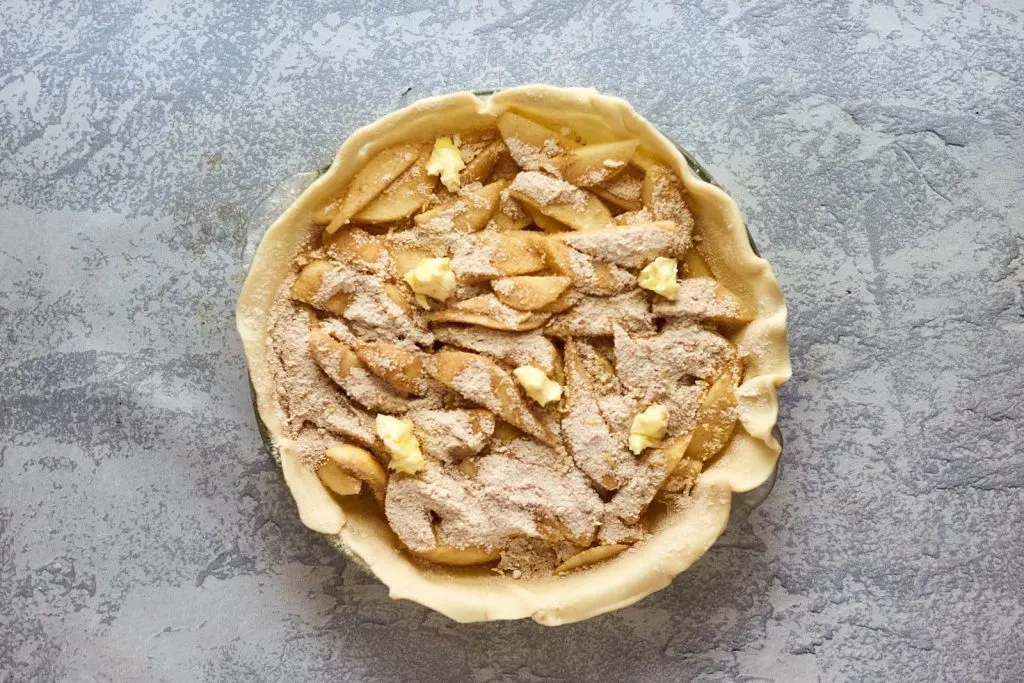 Arrange the pear slices in layers on the pastry-lined pie plate, topping them with a sprinkling of the sugar mixture. Add dots of butter and lemon juice.
Step 5: Add the top pie crust.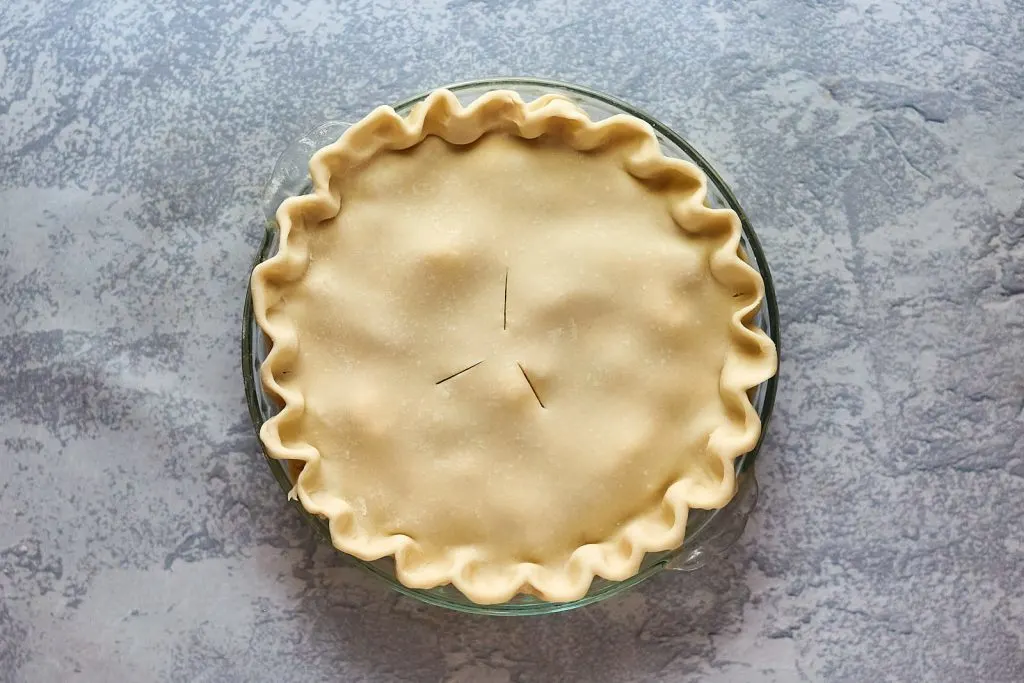 Top the filling with the second crust. Flute the edge. Cut slits in the top crust to allow steam to escape.
Step 6: Bake your pie.
Bake for ten minutes and then reduce the temperature and continue baking for about another 35 minutes.
TIP: My mother always sprinkled the top pie crust with sugar or turbinado sugar before it was baked for a great crunch.
What to Serve with Your Fresh Pear Pie
This pie is amazing when served hot with a scoop of vanilla ice cream or a drizzle of warm caramel sauce. It also works well served cooled with whipped cream or a delicious cup of hot coffee.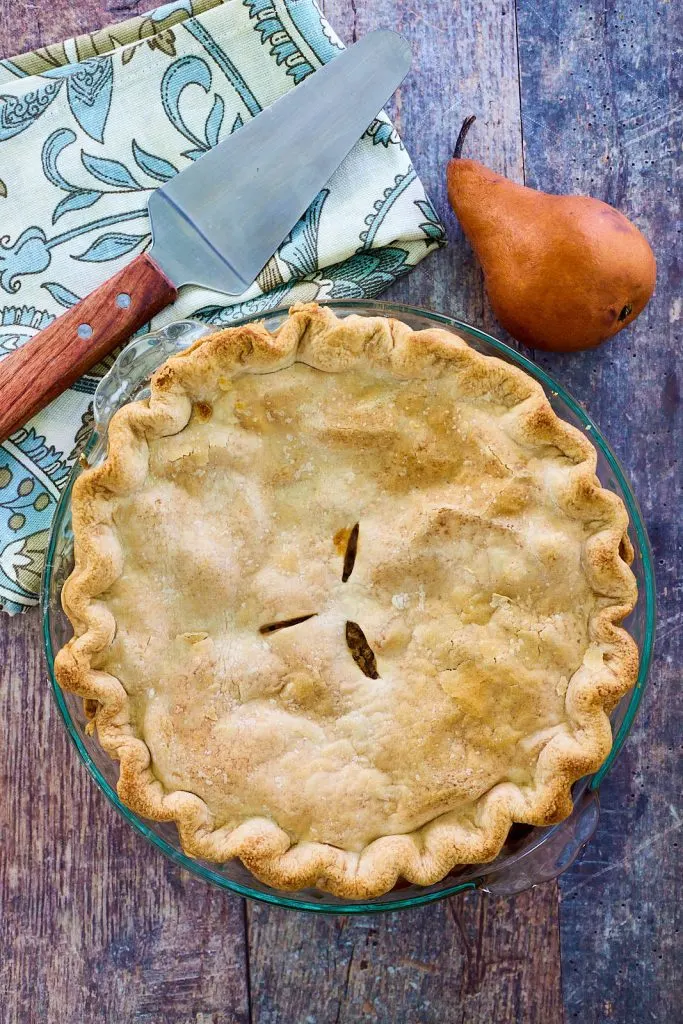 Popular Substitutions & Additions
Apples and pears are interchangeable in this recipe. Pears can be substituted 1:1 for apples. While we love this pie, we also love using an apple pear combination for the pie filling.
Anjou pears and Bartlett Pears will both work in this recipe if you cannot find Bosc pears.
I use a lot of cinnamon in my homemade pies. You can also use warm spices such as nutmeg, allspice, cardamom, ginger, and apple pie spice.
Some people prefer their pies with less crust. You could use a lattice crust. I show you how in this recipe. A crumble topping with brown sugar would be amazing which is what I did for this pie recipe.
How To Reheat & Store Pear Pie
Best Way To Store Fresh Pear Pie Leftovers
Storing pear pie is easy. Simply make sure it is completely cooled. Then cover it tightly with plastic wrap. It will keep at room temperature for two or three days.
How Long Will Pear Pie Last In the Fridge?
I do not recommend refrigerating leftover pie. The filling will weep and cause your pie crust to become soggy.
Can I Freeze Fresh Pear Pie?
Freezing pear pie is a win-win situation. You can freeze individual slices and you have a grab-and-go dessert for work days or lunch boxes. Pie slices kept in airtight containers will last for up to three months.
How To Reheat This Pear Pie Recipe
Place a slice of pie in the microwave for ten to fifteen seconds at a time until it is hot and bubbly if you prefer to eat it hot with ice cream. It can also be eaten at room temperature.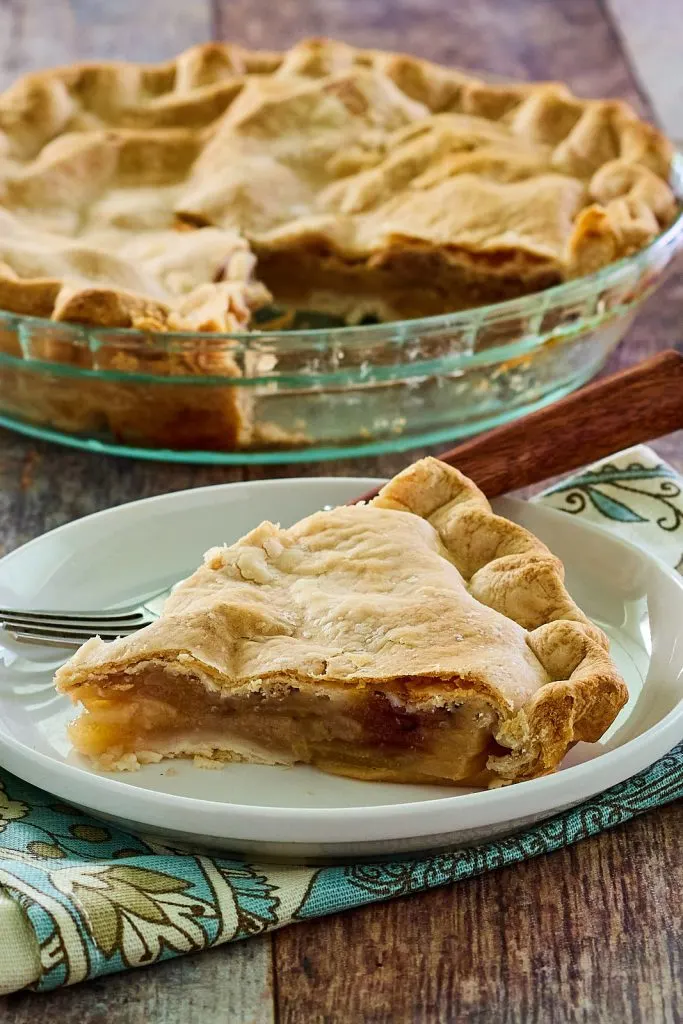 Easy Pear Pie Recipe FAQs
Can I use unripe pears in a pie?
No. It is a huge mistake to use pears that have not ripened properly. A ripe pear will be slightly soft to the touch, but not mushy. It will be perfectly sweet and soft in the finished pie.

An unripe pear will not have nearly the flavor and will not soften enough.
How do you know when a pear is ripe?
Apply gentle pressure to the base of the neck, or stem end, of the pear with your thumb. If the flesh gives a bit and yields to pressure, it's ripe.

I don't recommend using overly ripe pears because the filling will break down creating a mushy pie. For the same reason, I don't recommend using canned pears in this recipe.
Do I have to peel pears for baking?
Yes, the peel becomes tough when baked.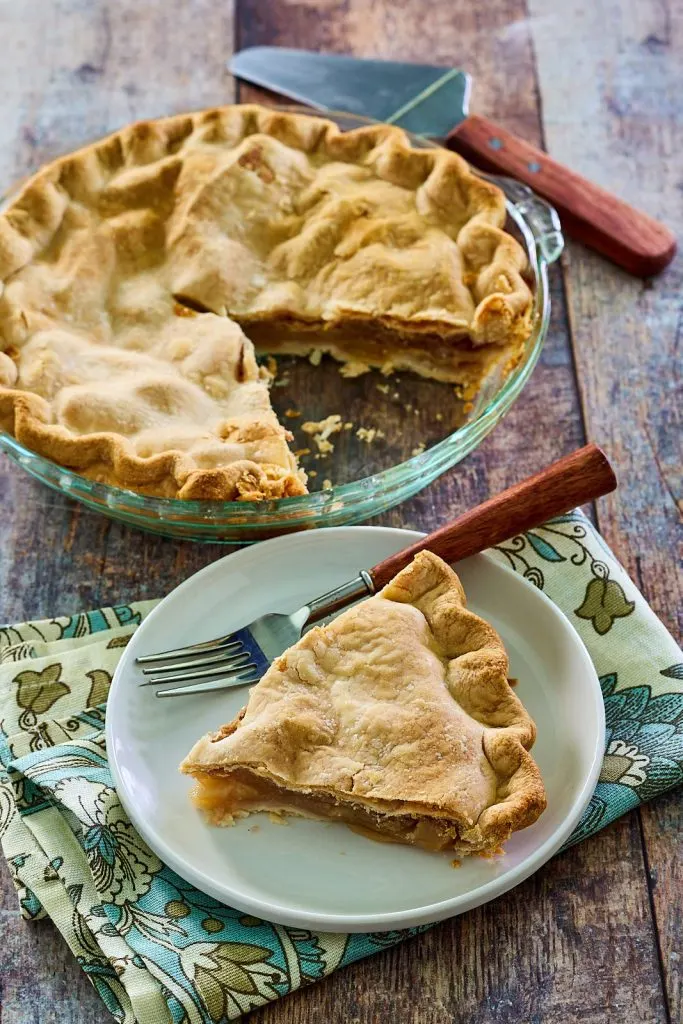 Hostess Tips for the Perfect Pear Pie
Slice pears approximately 1/4-inch thick. They'll retain their shape a little better than if you slice them thinner. Cutting them into uniform-sized slices will ensure that they cook evenly.
If you love a golden brown crust, brush the top crust with an egg wash mixture of one egg and one teaspoon of water blended together. Watch it carefully and if it starts to get too brown cover the crust loosely with aluminum foil or a pie crust shield.
We used a 9-inch pie dish for this recipe but you can also use an 8-inch square baking dish.
I place a baking sheet under my fruit pies before baking because they can bubble over and make a mess of your oven.
More delicious pear recipes you may enjoy
Don't Forget To Come Back And Let Me Know How Your Pear Pie Turned Out!
Are you still looking for pies?
Pin It Now