Mom's Old-fashioned Rhubarb Custard Pie recipe combines a sweet-tart rhubarb filling topped with creamy custard under a buttery lattice pie crust. This easy rhubarb dessert has only 8 ingredients and comes together in no time.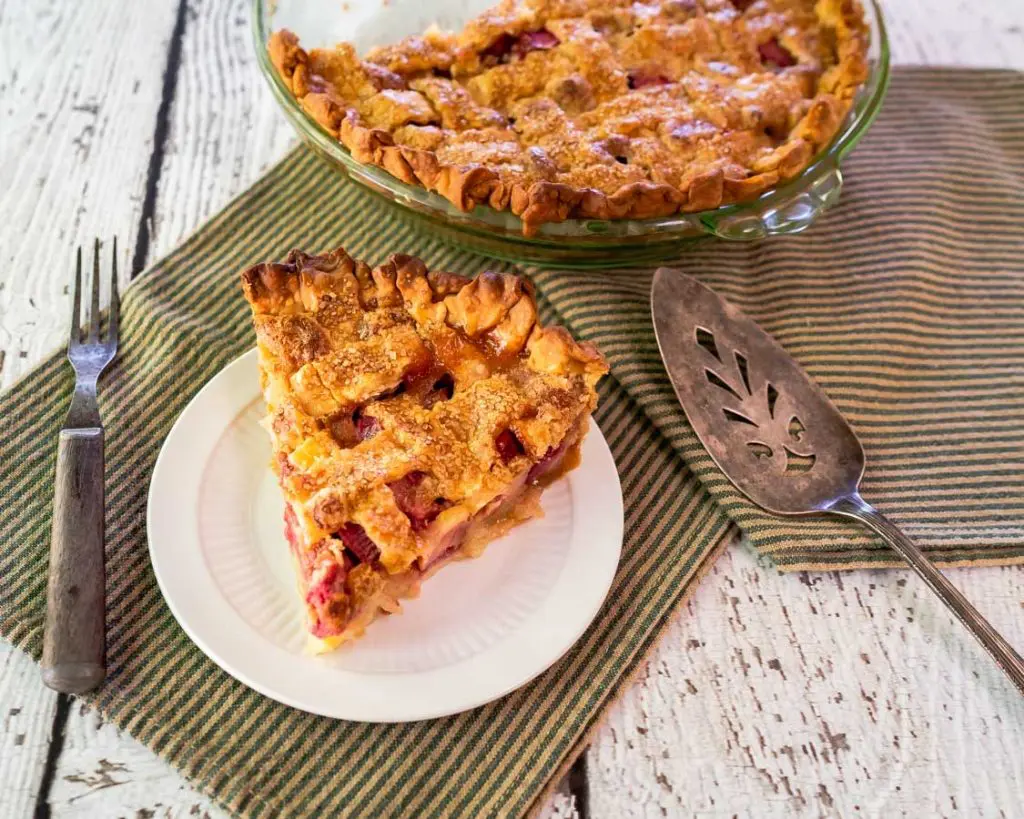 This old-fashioned rhubarb custard pie will take you back to lazy days spent on porches or at picnics. Sharing a homemade pie is an act of love that are guaranteed to make your friends and family feel special.
When I can get my hands on fresh rhubarb, I'll snatch up as much as I can get whether it's at the farmer's market or our grocery store. One of our favorite rhubarb dessert recipes is Rhubarb Custard Pie. Just one creamy bite and you'll understand why!
HOW TO CHOOSE RHUBARB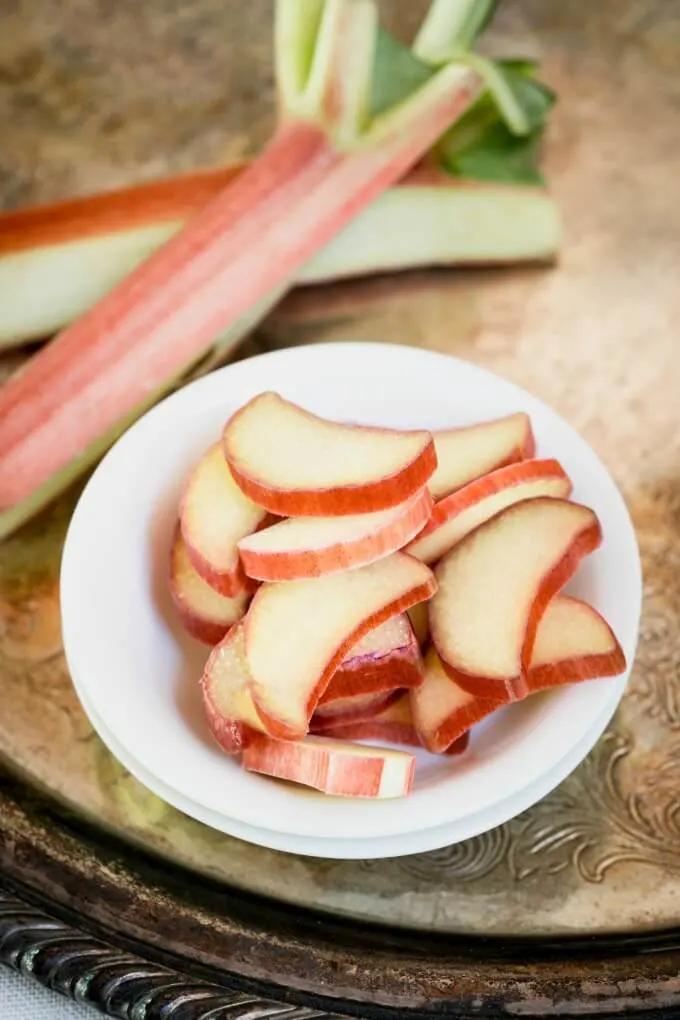 Rhubarb is in season in the Midwest beginning in April for about 8 to 10 weeks. However, some plants continue producing throughout the summer.
You can tell the rhubarb is ripe when the stalks are 12 to 18 inches long and the stalks are firm, crisp, and have shiny skins according to One Green Planet.
Avoid choosing rhubarb that is soft, limp, or contains blemishes.
Rhubarb, once picked, can dry out quickly. It's best to store fresh rhubarb stalks in a sealed plastic bag in the refrigerator. Don't cut them until you're ready to use it.
If you can't use the fresh rhubarb immediately, you can cut it and freeze it in an air-tight container.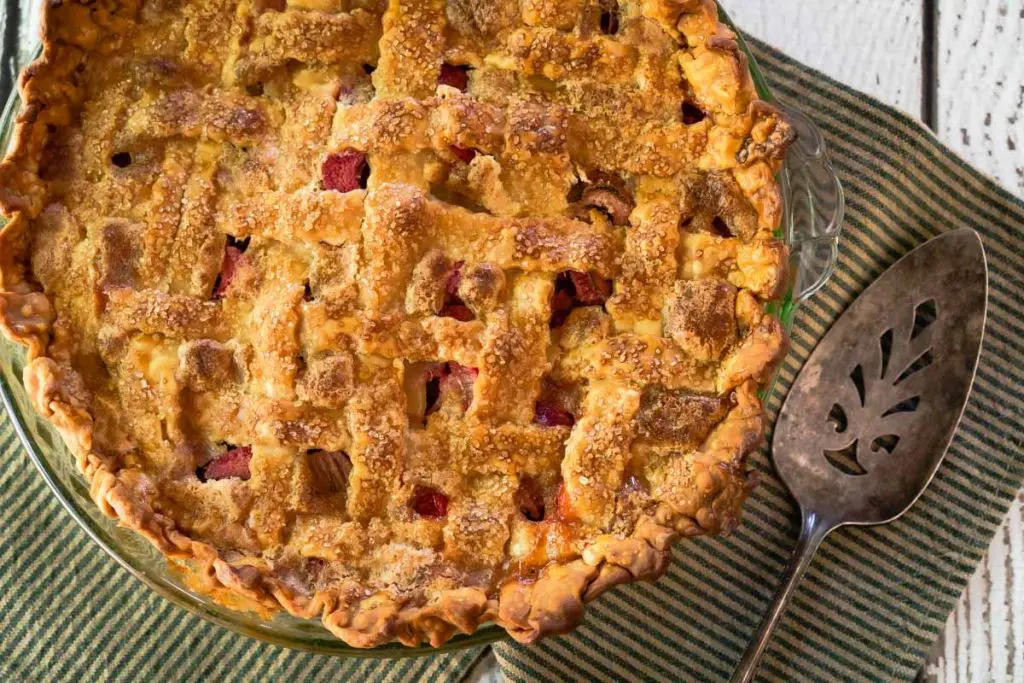 WHY MAKE THIS OLD-FASHIONED RHUBARB PIE RECIPE?
If you already love an easy rhubarb dessert, you're going to love our Rhubarb Custard Pie recipe.
This is a very traditional pie in many parts of the United States so for many of us it is comfort food at its finest.
RHUBARB CUSTARD INGREDIENTS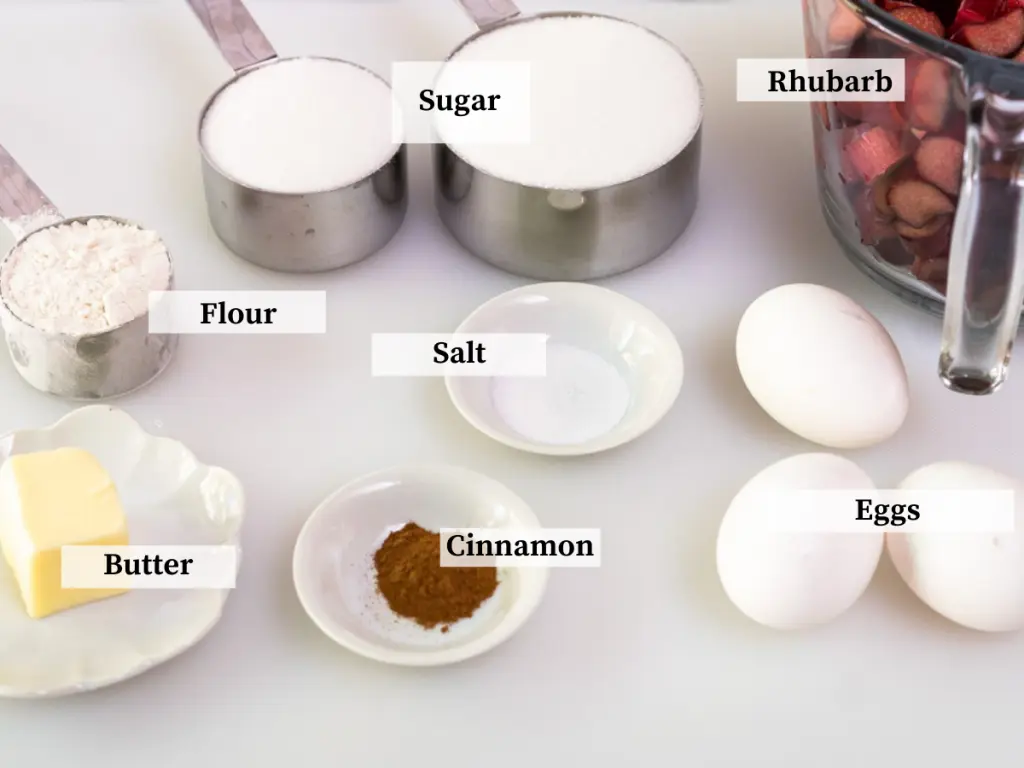 Fresh Rhubarb. Approximately 1 pound.
Sugar. Plain white granulated sugar
Cinnamon. You can also add a pinch of nutmeg which you'll find in other rhubarb custard pie recipes.
Salt. Even a small amount of salt does a great job making the sweet ingredients stand out.
Eggs. We use Grade A Large eggs for consistency in our baking.
Flour. All Purpose flour.
Pie crusts. I prefer my All-Butter Pie Crust but you can use one you like or buy one.
HOW TO MAKE RHUBARB CUSTARD PIE
It's a super easy rhubarb pie to make, especially if you buy your pie crusts already made!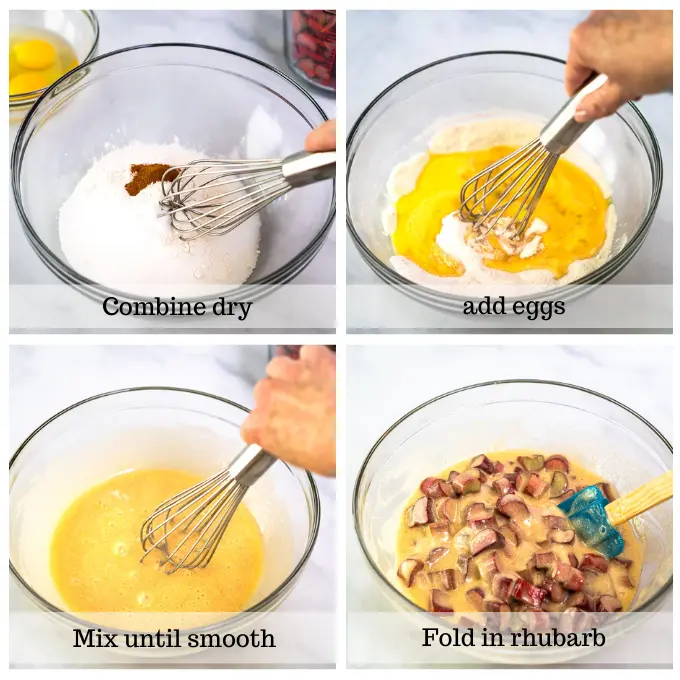 Preheat your oven to 400º first so it gets nice and hot.
Slice the up the rhubarb.
Combine the sugar, flour, cinnamon, and salt together.
Add the beaten eggs to the dry ingredients and mix until creamy.
Fold in the sliced rhubarb.
Place the first pie crust in your baking dish.
Add the fruit mixture.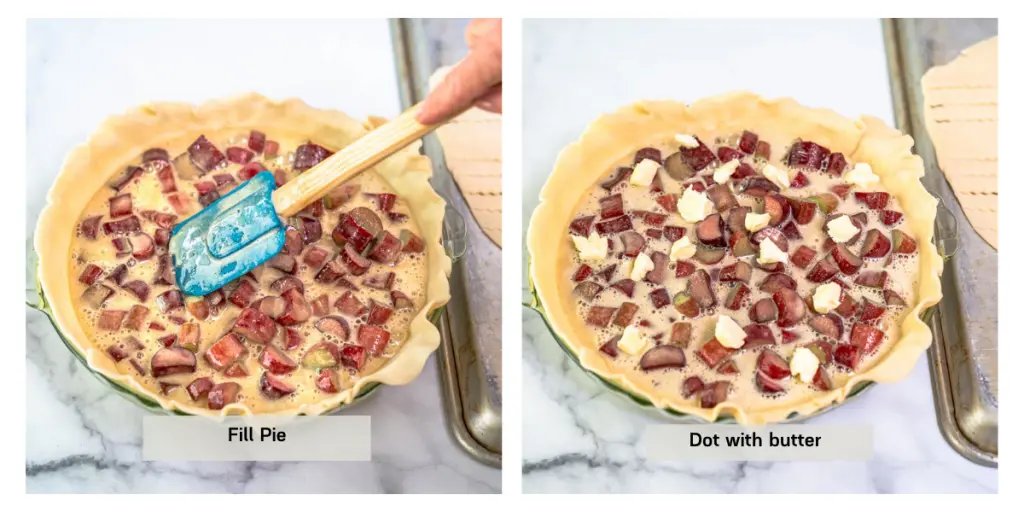 Dot the filling with diced butter.
Slice the top crust into strips and make a lattice (see instructions below).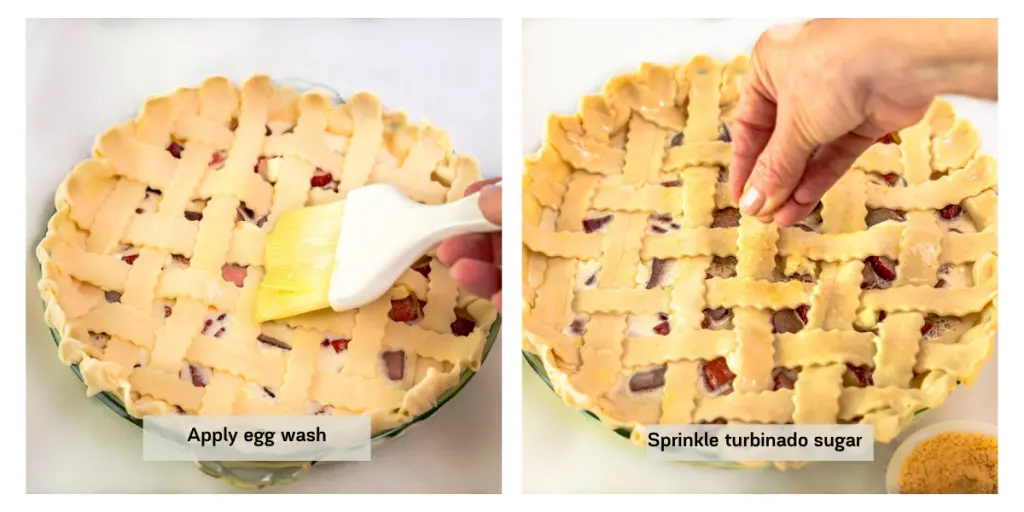 Whisk one egg and a teaspoon of water together to make an egg wash.
Cover the top crust with the egg wash and quickly sprinkle with the turbinado (coarse) sugar before the egg wash dries. Note, you can use white sugar over the top of the crust which is what my mom did.
If you aren't making a lattice crust make 4 to six slits with a sharp knife in the pie crust so the steam can escape.
Bake
HOW TO MAKE A LATTICE CRUST
Adding a lattice crust definitely makes it look like an old-fashioned rhubarb custard pie and we love how it shows off all that delicious filling. Don't let that fancy lattice top scare you! Our steps below and our video will show you exactly how to do it.
Start by rolling out a crust thinly in 11-1/2 to 12-inch diameter. You want to be able to cover the bottom crust so we roll it a little larger than the pie plate.

We place the crust on the back of a baking sheet which keeps it from sticking and makes it easy to cut and pick up the strips. You can use a lightly floured surface as well.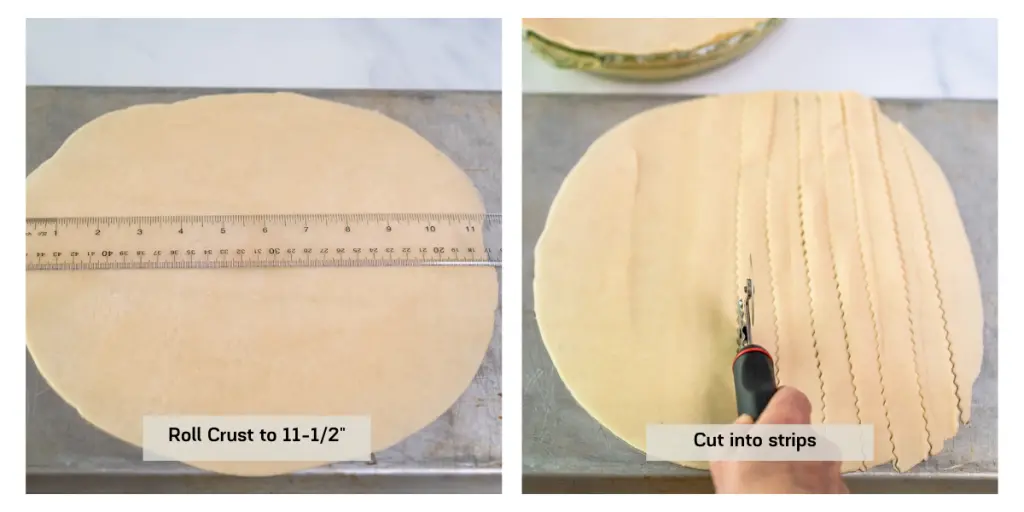 Using a knife or ravioli cutter, cut the crust into strips about 1/2-inch wide.
Starting in the center, lay the largest strip vertically down the center of the pie. Continue placing strips about an inch apart until you get to the side edges.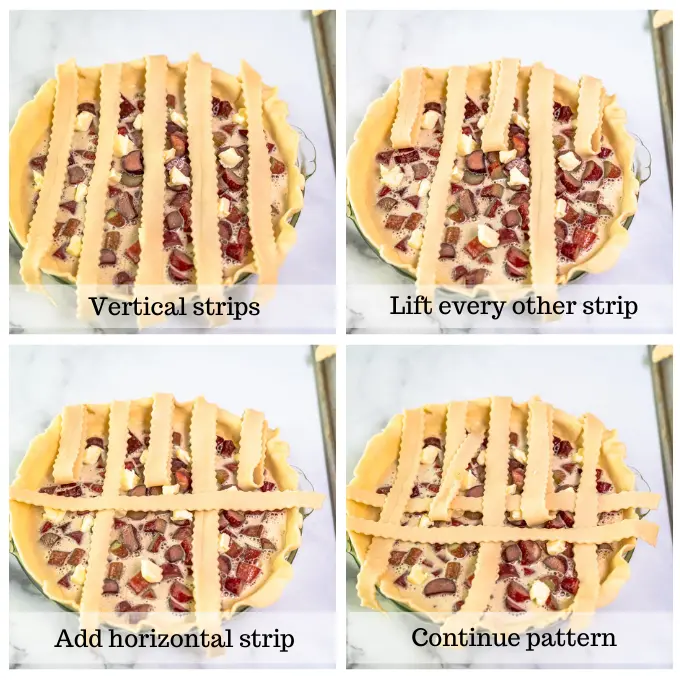 Pull up every other strip and lay a pie crust strip horizontally through the center of the pie. Close the strips that you just pulled up and pull up the strips that haven't been pulled up yet and lay another strip horizontally about an inch apart. Continue this pattern until the lattice crust is complete.
Cut off any extra long strips then tuck them under the bottom crust. Flute the edges.
TIPS FOR A GREAT PIE
Use fresh rhubarb for your old-fashioned Rhubarb Custard Pie. This will assure that your pie will not be watery. You can use frozen rhubarb but make sure it is completely thawed and press any excess moisture out of it.
Rhubarb custard filling can be made in an electric stand mixer but we would still fold in the rhubarb with a spoon or spatula.
We put our unbaked pie on a baking sheet lined with parchment paper to prevent it from bubbling over in the oven.
Shield the pie with aluminum foil during the last 10 minutes if the pie is becoming excessively brown.
Many egg washes use only the whites, but we've found the crust browns more golden by using both.
If the egg wash dries, the coarse sugar will not stick. Put it on right away for a delicious crunch and texture.
Cook your pie until the crust is browned. This will assure a buttery flaky crust.
What eggwash I have left I cook up for my pup. She loves it.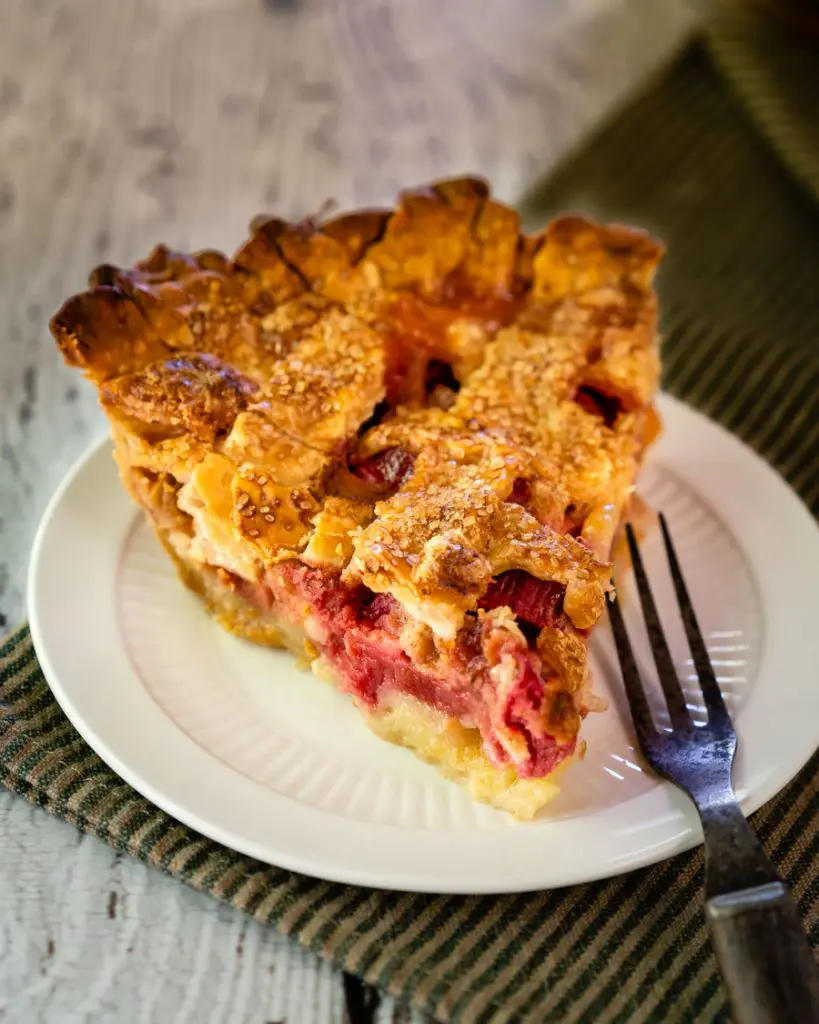 STORING AND FREEZING YOUR PIE
You can keep a rhubarb pie for several days. We recommend that you refrigerate it which will help to keep the juices from running out of the pie and becoming soggy.
Tightly wrap and place the pie in an air-tight container to keep for up to three months in the freezer.
YOU MAY NEED THESE SUPPLIES
Pin this yummy Rhubarb Pie!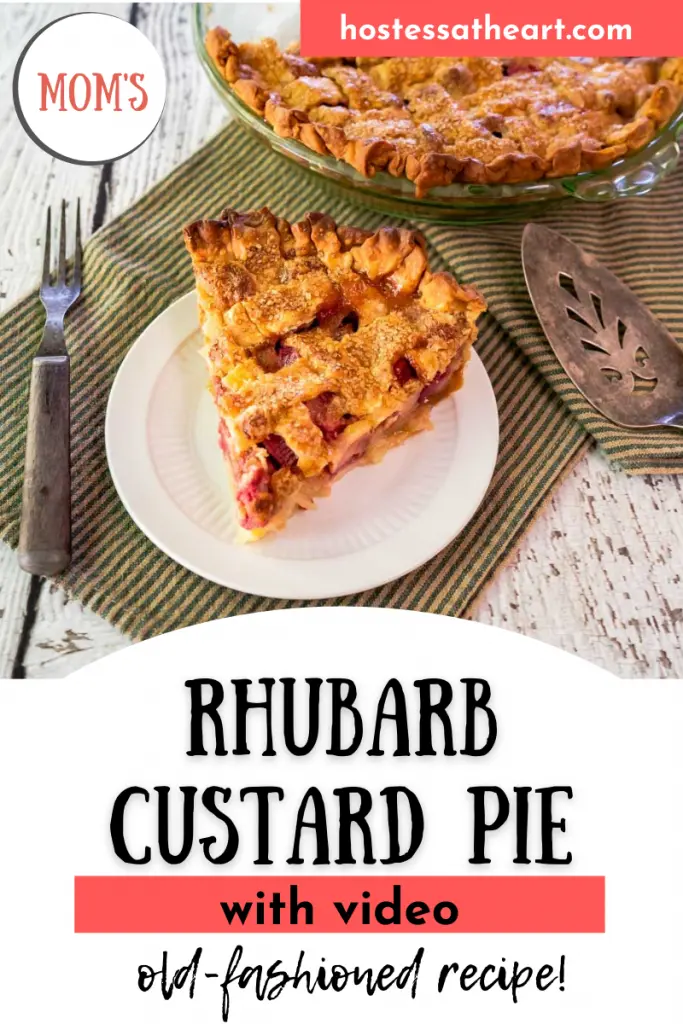 OTHER RHUBARB RECIPES
Apple Rhubarb Pie. A tart and sweet pie that will surprise you.
Rhubarb Sauce. Make this delicious smooth sauce as an ice cream drizzle, jam, or even served over pork.
Rhubarb Crisp with Strawberry Jello. This is a family favorite and one perfect for a make and take.
Rhubarb Muffins. A beautifully moist muffin with cinnamon crumble. It's one of our most popular recipes!
f you like this recipe, we would appreciate your comment and a 5-star ⭐️⭐️⭐️⭐️⭐️ review!