Apple Rhubarb Pie Recipe is the perfect blend of sweet and tart. This Cast Iron Skillet pie nestles fresh fruit and flaky crust over a layer of buttery caramel.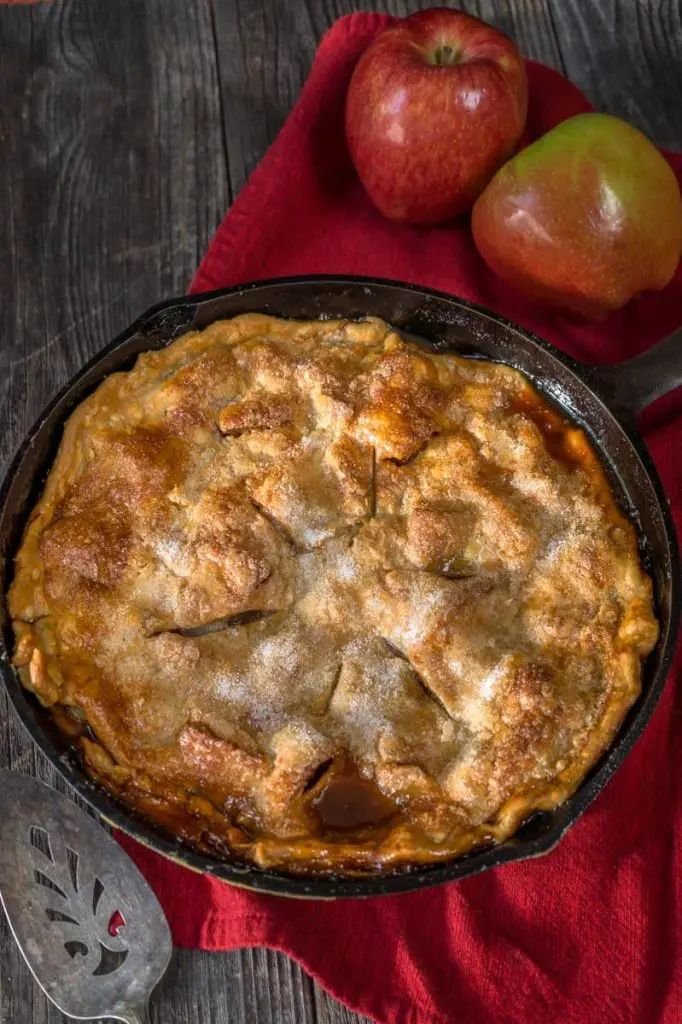 By baking this Apple Rhubarb Pie in a cast-iron skillet, people can only anticipate how amazing all of the layers bake together.
This old-fashioned rhubarb pie has been given a makeover by adding fresh delicious apples, and a layer of caramel under a flaky crust.
Warmed and under a spoon of creamy ice cream are what dreams are made of.
When I was a child, my sister and I played outside all day long. We lived in a small community so could go just about anywhere our legs could take us.
We often stopped and picked fruit from trees to snack on or we would dare each other to eat raw rhubarb.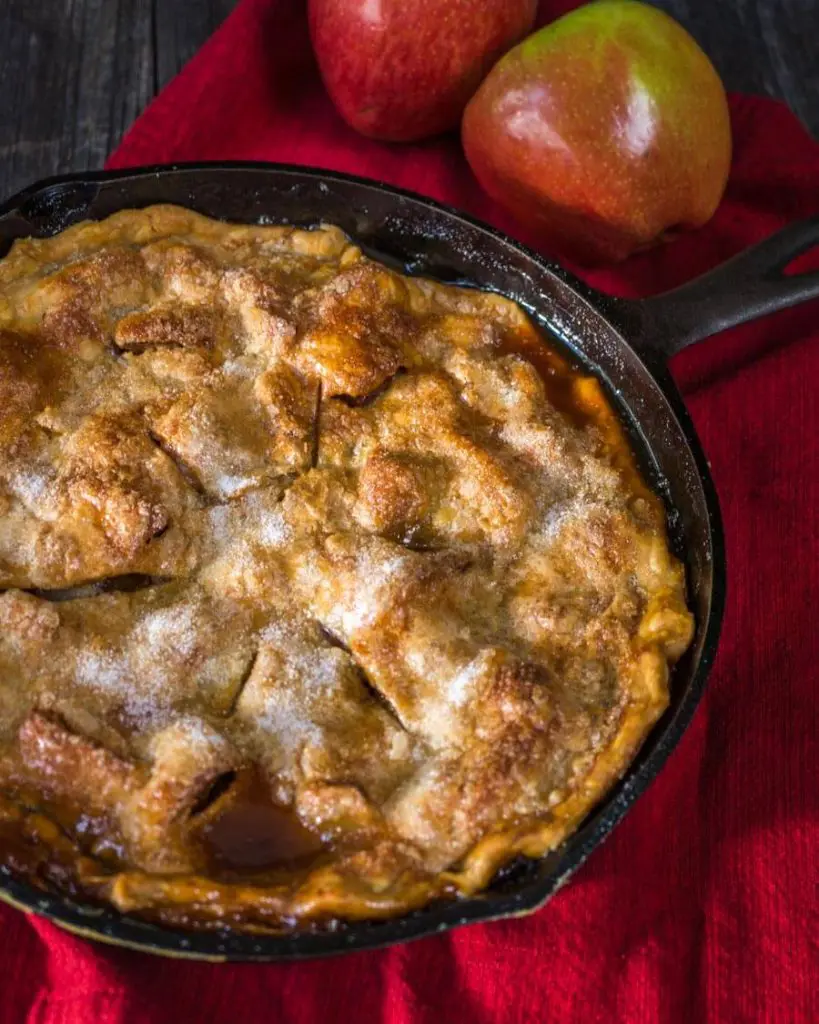 My mouth puckers up just thinking about it, but who could turn down a dare? I would have picked it by the barrels if someone would have made me a Rhubarb Apple Pie!
I just love cooked rhubarb. Specifically, in a rhubarb pie. I found some gorgeous rhubarb at the farmers market and couldn't resist.
How to choose Rhubarb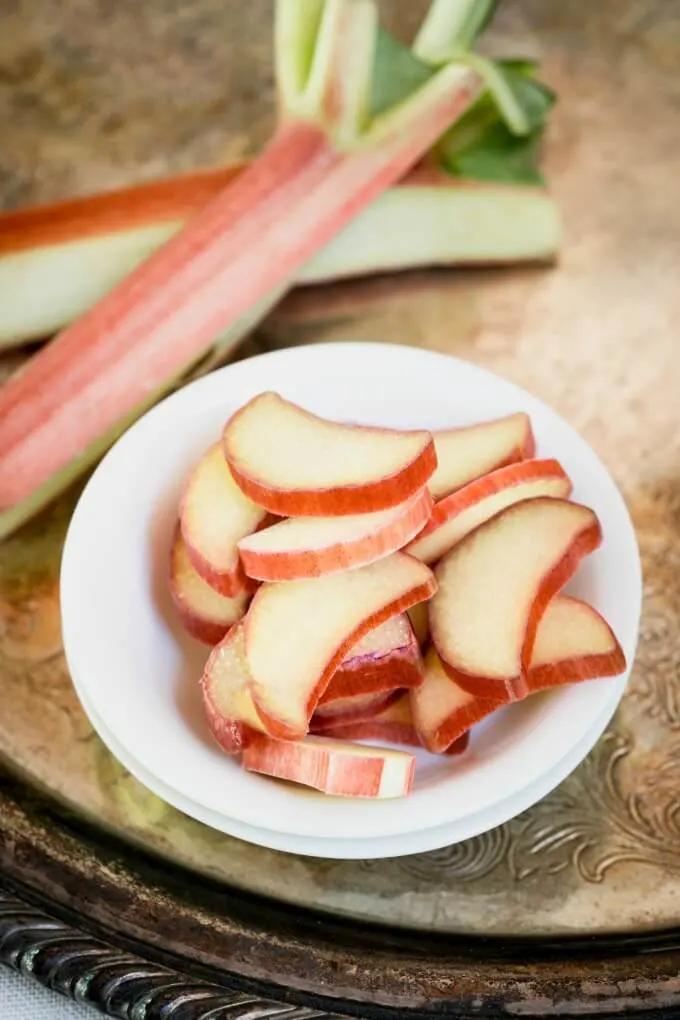 Rhubarb is in season in the Midwest beginning in April for about 8 to 10 weeks. However, some plants continue producing throughout the summer.
You can tell the rhubarb is ripe when the stalks are 12 to 18 inches long and the stalks are firm, crisp, and have shiny skins according to One Green Planet.
Avoid choosing rhubarb that is soft, limp, or contain blemishes.
Rhubarb, once picked, can dry out quickly. It's best to store fresh rhubarb stalks in a sealed plastic bag in the refrigerator. Don't cut them until you're ready to use it.
If you can't use the fresh rhubarb immediately, you can cut it and freeze it in an air-tight container.
Rhubarb is another ingredient that John was convinced he didn't like. He must have taken the dare too.
This pie busted that myth. I knew he would never go for a rhubarb pie. We love strawberry rhubarb pie and knew that apples and rhubarb could be a winning combination too.
Pin this amazing Skillet Apple Rhubarb Pie Recipe!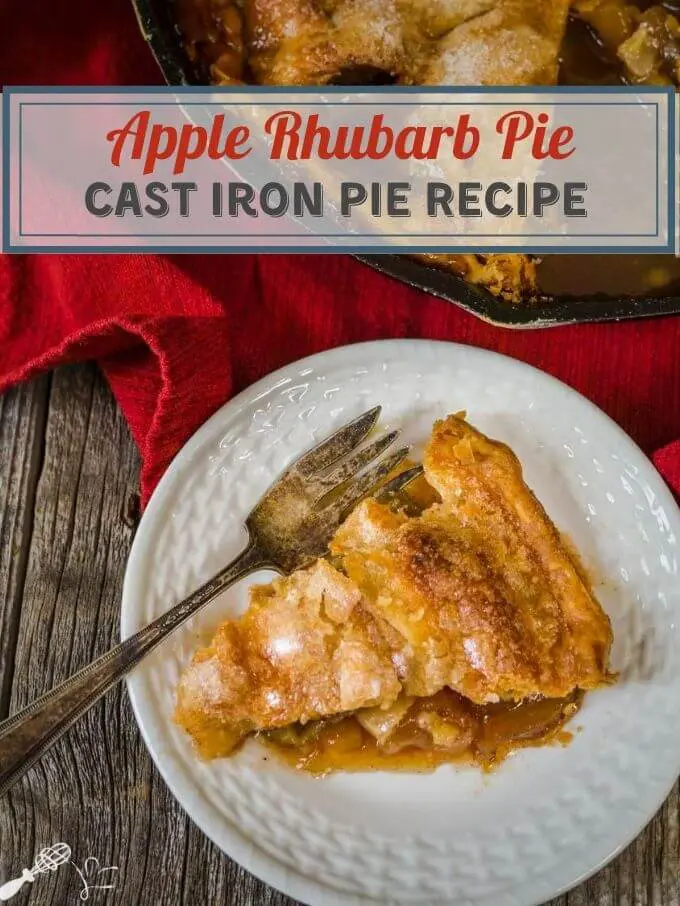 Apple Rhubarb Pie Ingredients
Apples – I like using a firm apple.

My choices (from where I live) are Braeburn, Granny Smith, and Jonathans. I've also used Fuji.

Rhubarb – I prefer fresh, but frozen will work too.

Thaw the rhubarb and dab it with a paper towel. Frozen rhubarb can lose moisture but works in this recipe because of the moisture in the apples.

Sugar – White granulated sugar.

We find the amount of sugar in this recipe compensates for the tartness of the rhubarb. You can add or eliminate as much as 1/4 cup.

Butter – Unsalted

We don't use butter substitutes. Real butter is so much better.
You can use salted butter since no additional salt is added to the recipe.

Flour – All-purpose flour thickens the Apple Rhubarb Pie filling.
Brown Sugar – We use Dark Brown Sugar but you can use what you prefer.

We find that it has a deeper molasses flavor and is less dry. Light brown sugar actually has more white sugar in it.

Cinnamon -This recipe has a reasonable amount in the recipe but when it comes to cinnamon we're unreasonable and will end up adding a lot more.
Egg – We use grade A for consistency.
Pie Crusts – You can use your own favorite recipe or buy one.

We don't judge. we love my own pie crust but will buy one if we want a pie but don't feel like making a crust.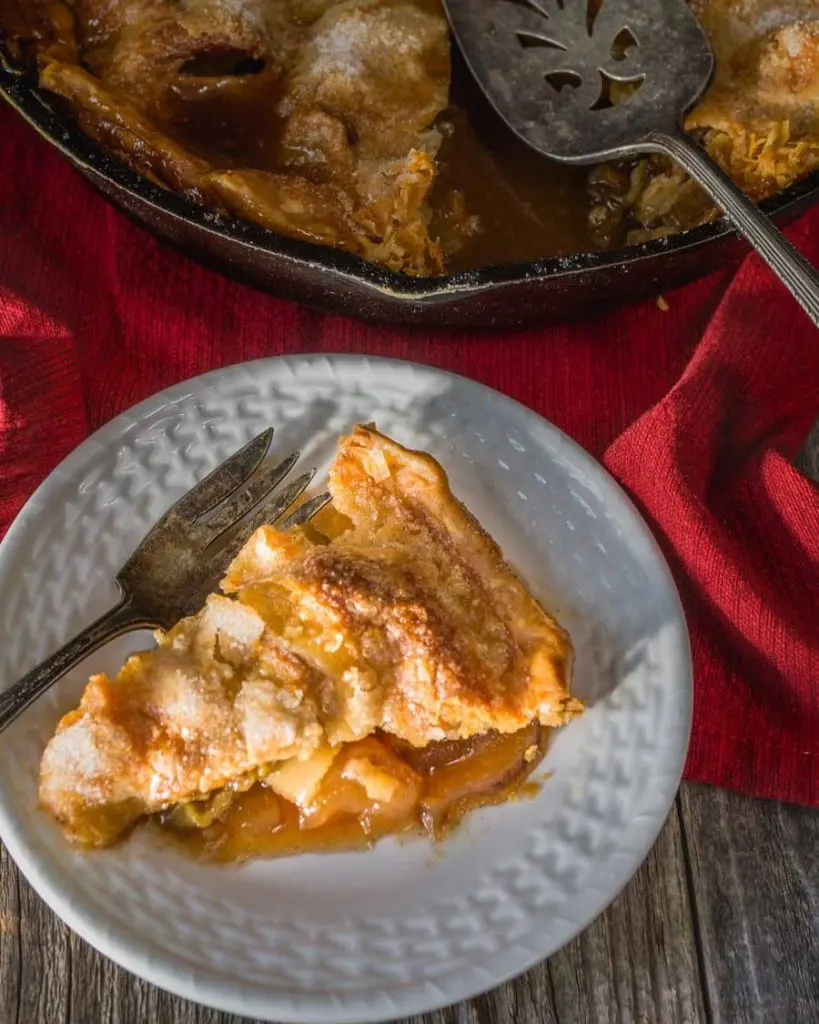 We decided to use the same method as my skillet apple pie. That pie was simple to put together and makes clean up so easy.
I'd rather eat pie than cake. Here are a few of our favorite recipes
Why bake the pie in a cast-iron skillet?
We love the way pies bake up in cast iron. The heat just bubbles that caramel layer and cooks the crust right into it.
You can use a 9" or 10" cast-iron skillet. Any baked pie can actually be baked in cast iron.
If you have a newer cast-iron skillet, make sure that it's seasoned properly before you use it.
The bottom crust that is placed over melted butter and brown sugar before it's baked adds an amazing caramel layer to this Rhubarb Apple Pie.
It gives this pie a buttery sweet foundation. The sweetness of the apples and brown sugar in contrast with the tang of the rhubarb is a wonderful combination.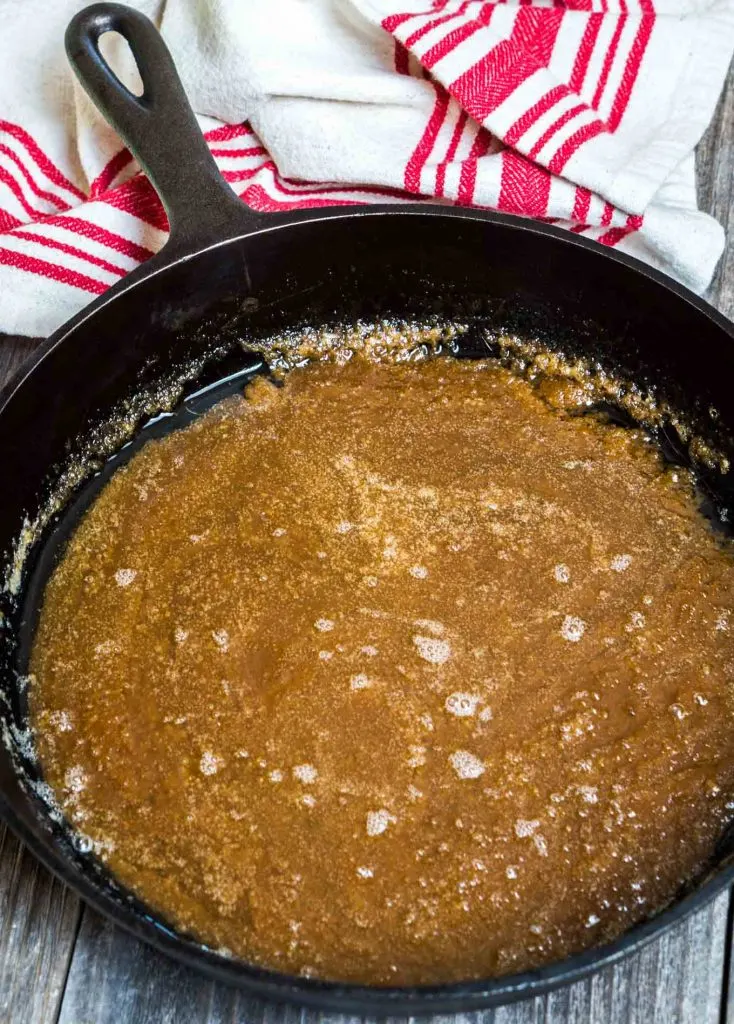 How to make an Apple Rhubarb Pie
Melt the butter in a cast-iron skillet. Add the brown sugar and stir until melted or 1 to 2 minutes. Set it aside to cool. (See tips)
Combine the apples and rhubarb in a large bowl. Add white sugar, flour, and cinnamon. Stir to coat the fruit.
Lay a bottom crust over the cooled brown sugar and butter in the cast iron skillet. Add the fruit mixture. Top with the top crust and crimp the sides.
Apply an egg wash and sprinkle of sugar to the top. Cut 4 to 6 slits into the top crust to allow the baking pie to steam.
Bake.
Rhubarb Apple Pie tips:
Let the caramel cool before topping with the crust or it will just melt into the caramel.
Depending on how deep your cast-iron skillet is, your bottom crust will not come entirely up the bottom and up the sides of the pan.

Don't worry about tucking the top crust into the bottom crust. We crimp the edges of the top crust so everyone gets that nice contrast of the flaky crust with the filling and caramel layer.

Our egg wash uses both the yolk and white mixed with a teaspoon of water and whipped together.

Many egg washes use only the white, but I've found the crust browns more golden by using both.
What eggwash we have left are cooked up for our pup. She loves them.

Add the egg wash and quickly follow with the sugar.

If the wash dries, the sugar will not adhere or cook onto the crust and just falls off.
We like turbinado sugar. It's a coarser sugar that adds a nice crunch to the top of the pie.

Don't try and serve the pieces in slices. Grab a big ole spoon and put it under a layer of ice cream. I dare anyone to complain!
Don't have time to make it now?

Pin it

for later!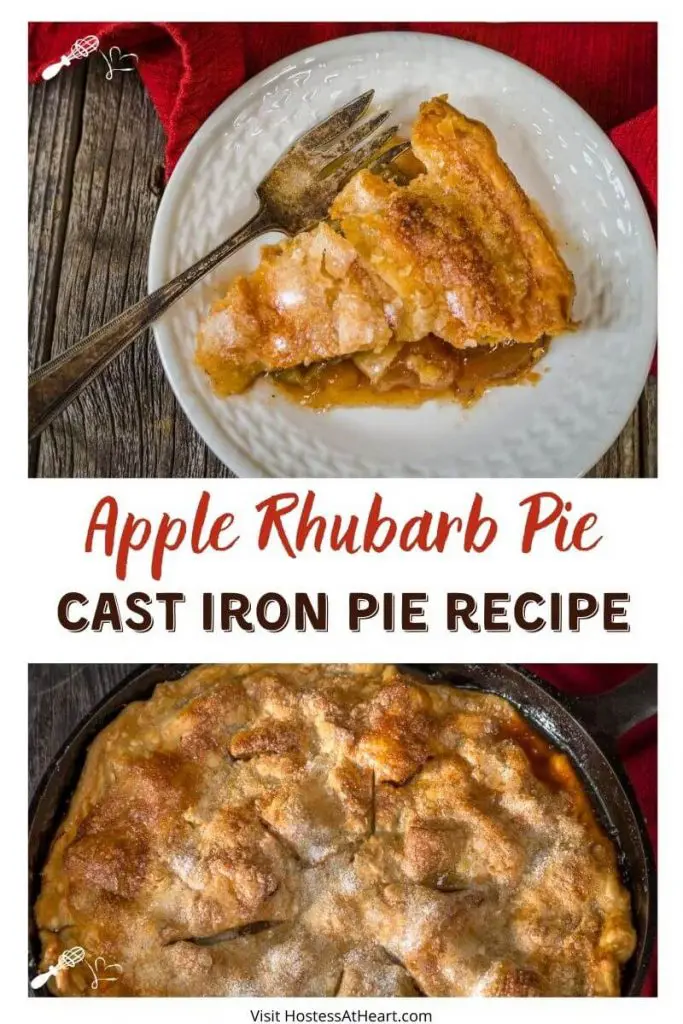 This pie was juicy, and when we sliced it, thick juices ran. That wasn't a problem for us, especially when spooned over that scoop of ice cream…ok, make that two scoops of ice cream!
A few of the most popular recipes on Hostess At Heart
I'm definitely a pie lover, are you? This Apple Rhubarb pie recipe is one of my favorites. Do you have a favorite Pie? Please share in the comments below.