Angel Food Pie is a fluffy cool and creamy pie with a pineapple filling. It just melts in your mouth and is a great make-ahead recipe perfect for any time of year.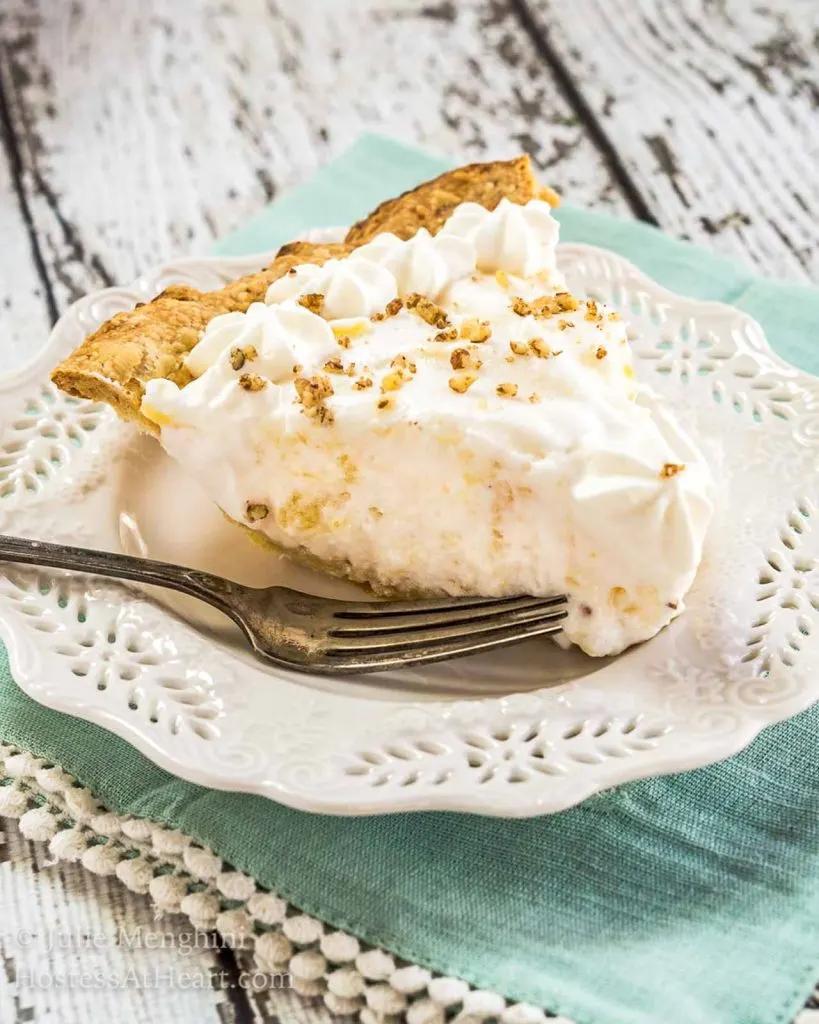 This Angel Food Pie is like eating a soft and fluffy cloud. It's quick to put together and is light and delicious. This is a no-bake pie!
The great thing about Angel pie with pineapple filling is that it's perfect year-round. The sweet citrus just reminds me of a warm sunny day.
Why I love Angel Food Pie
Easy. This pie is easy to put together without any difficult techniques.
Make Ahead. Since this pie has a cool and creamy fluffy pineapple cream filling. I can make it earlier in the day or the day before I need it. That frees up my time for other things.
Simple Ingredients. Since the ingredients are available any time of year, I can make it anytime.
Perfect Dessert. This would be the perfect dessert after a heavier meal.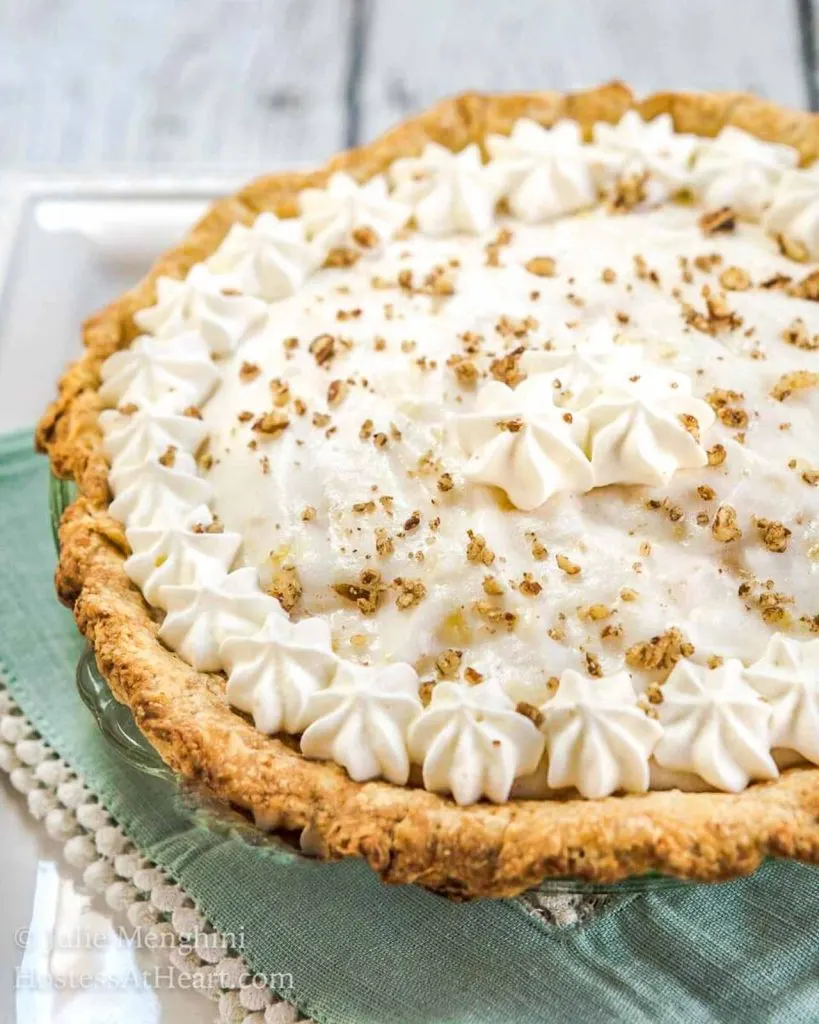 Angel Food Pie Recipe Ingredients
Sugar. White granulated sugar
Crushed Pineapple. Use the canned version. I don't recommend fresh pineapple for this recipe.
Flour. All-purpose flour thickens the pineapple pie filling.
Egg Whites. Grade A large egg whites.
Salt. A little kosher salt or table salt brings out the sweetness of the other ingredients.
Whipped topping. I served my pie with whipping cream. You can make your own or purchase some.
Pecans. I crushed some pecans as a garnish. This is optional.
Pie crust, baked. Make your own or purchase one.
This recipe was in the archives of my MIL's recipe box. It was confusing because I've heard of Angel Food cake, but never angel food pie.
John loves my Pineapple Cream Meringue Pie so I had to give this one a try.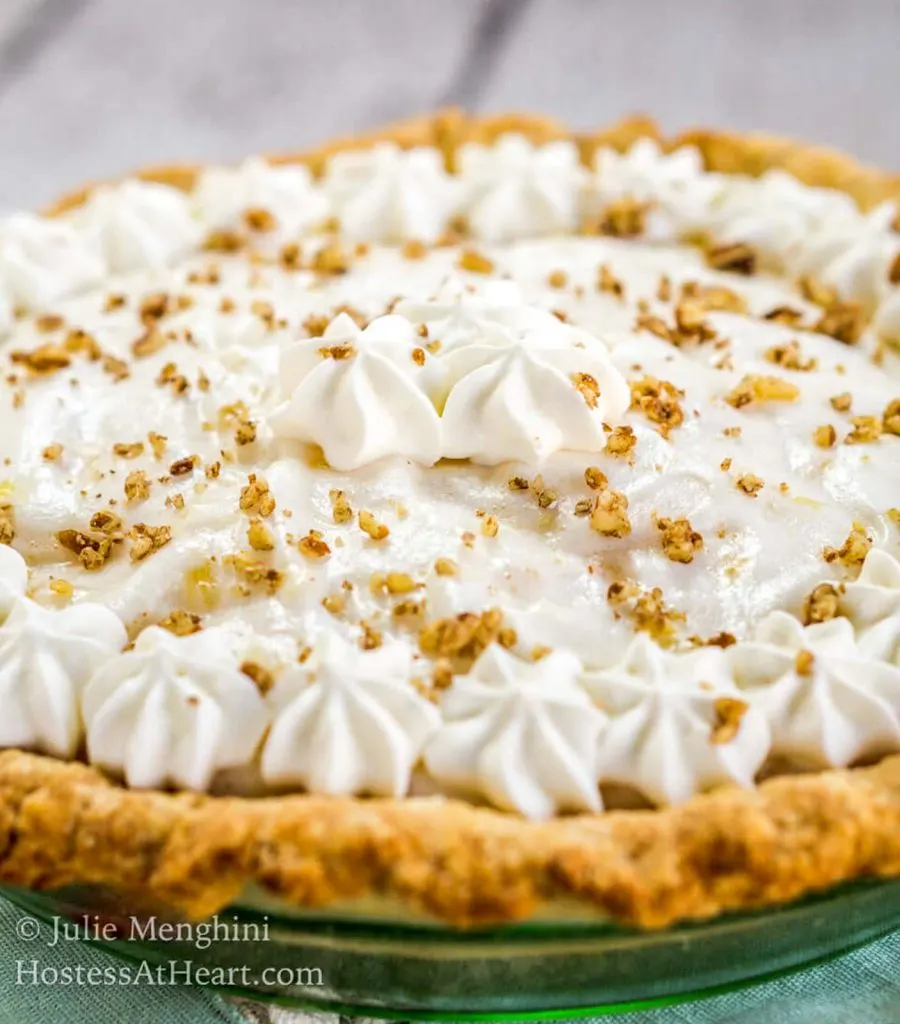 How to make Angel Pie Recipe
This angel pie goes into an already baked (blind-baked) pie crust. Make sure the crust is cool before filling it.
Step 1: In a medium-sized saucepan mix sugar, flour, and salt together. Add water gradually, mixing until smooth. Add pineapple and cook until the mixture thickens. Set aside to cool.
Step 2: Beat the egg whites until stiff. Fold into the cooled pineapple filling.
Step 3: Pour the filling into the cooled pie crust. Refrigerate to chill for 6 hours or overnight before serving.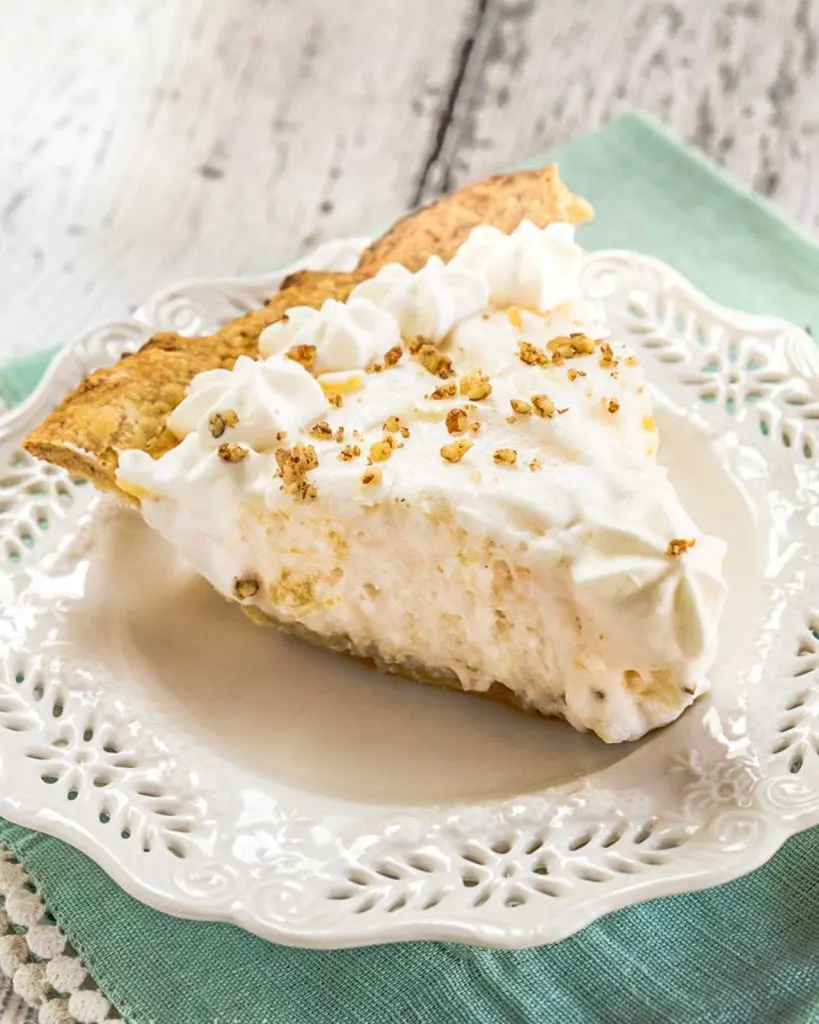 Tips for the perfect Angel Food Pie Recipe
Make sure the crust is completely cool before filling it.
If you don't want to make a crust you can buy one. This pie would be delicious in a graham cracker crust too.
Make sure your egg whites are at room temperature when you whip them. If you forget to take the eggs out of the refrigerator, you can immerse them in room-temperature water for 5 minutes.
Make sure you don't have any egg yolk in the whites. That will prevent your whites from whipping.
Don't over-whip the egg whites. Once they come to a peak, they're finished. Once they're overwhipped, they'll start to break down and you'll have to start over.
If you enjoyed this Angel Food Pie Recipe, check these out!
Oh and I was correct, John loved this pie!
I hope you enjoyed this delicious recipe as much as we do. Drop me a comment below, and don't forget to give it a star rating. ⭐⭐⭐⭐⭐. Your comments and ratings help others decide if this recipe is for them too.
Don't have time to make it now?

Pin it

for later!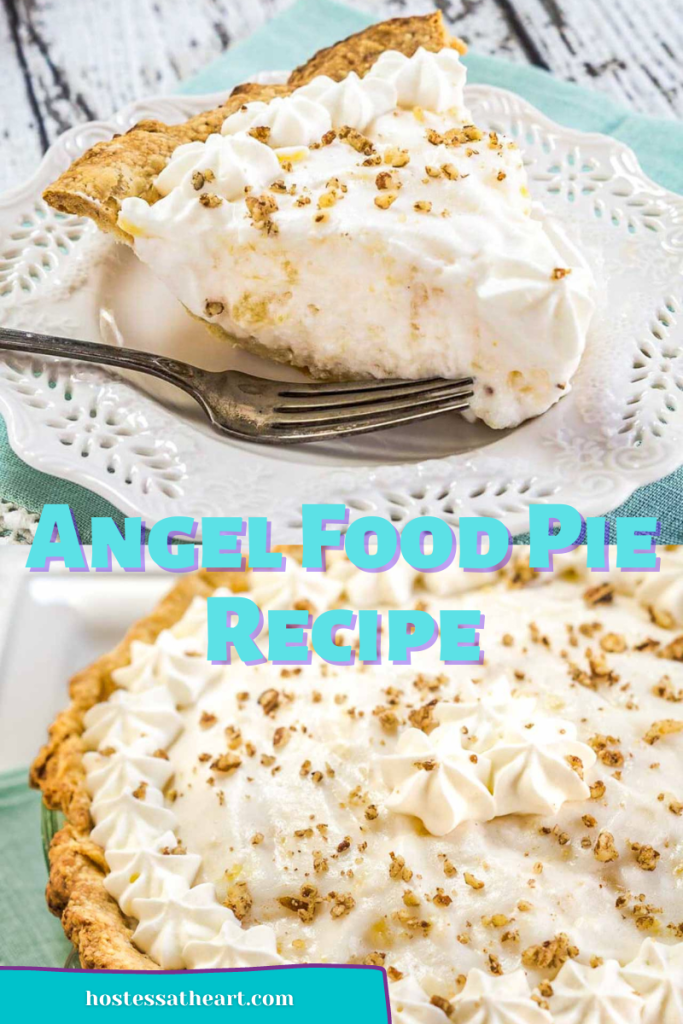 Our most popular recipes!
This post was updated to improve readers' experience. No changes were made to the recipe.