Pineapple Cream Meringue tarts have a smooth and luscious filling that sits in a buttery, flaky crust. The whole thing is topped with my no-fail meringue.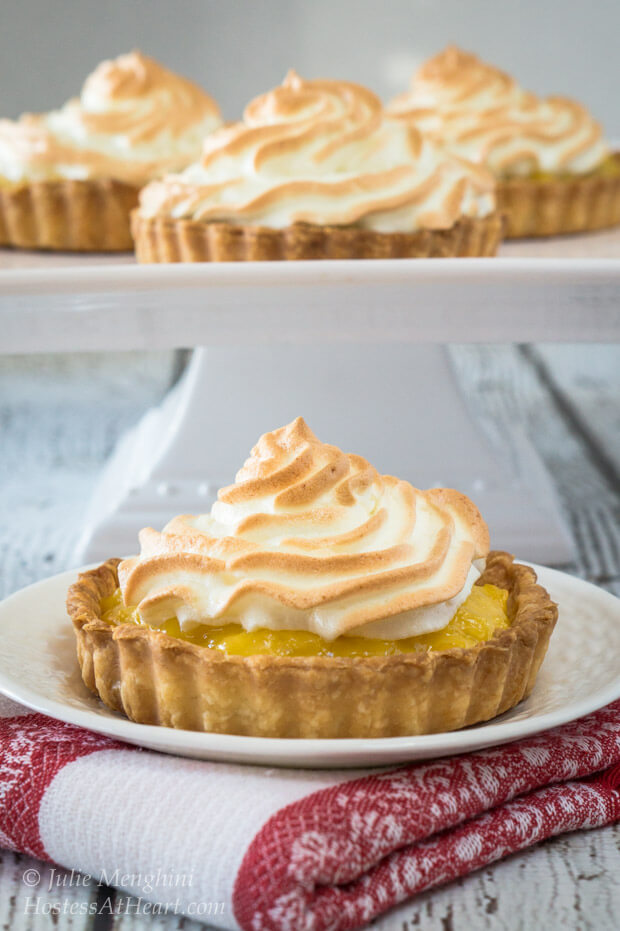 John and my celebrations usually include a great dinner that we cook together and a bottle of wine followed by a favorite dessert like these Pineapple Cream Meringue tarts.
A lot of people don't care for Valentines Day. I LOVE Valentines Day. It is a happy occasion that reminds me how lucky I am to have met my husband at the ripe old age of 19.
We don't go out for dinner or buy each other extravagant gifts on Valentine's Day, and sometimes we choose to celebrate on the weekend if the actual day falls within the week.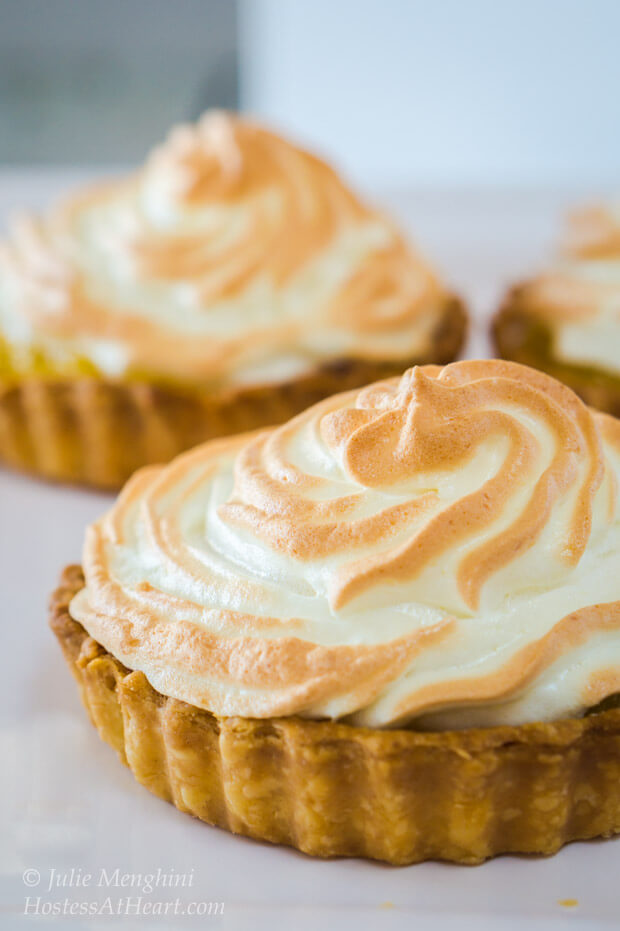 I love making John special desserts for occasions like this one.
This pie is what he requests for his birthday every year. I had these little tart shell pans that I had purchased and had never used, so I made it into tarts.
I used the crust that I learned to make in Pie School. Then loaded in some thick juicy pineapple filling and topped the whole shebang with a thick layer of toasted meringue. What's not to love?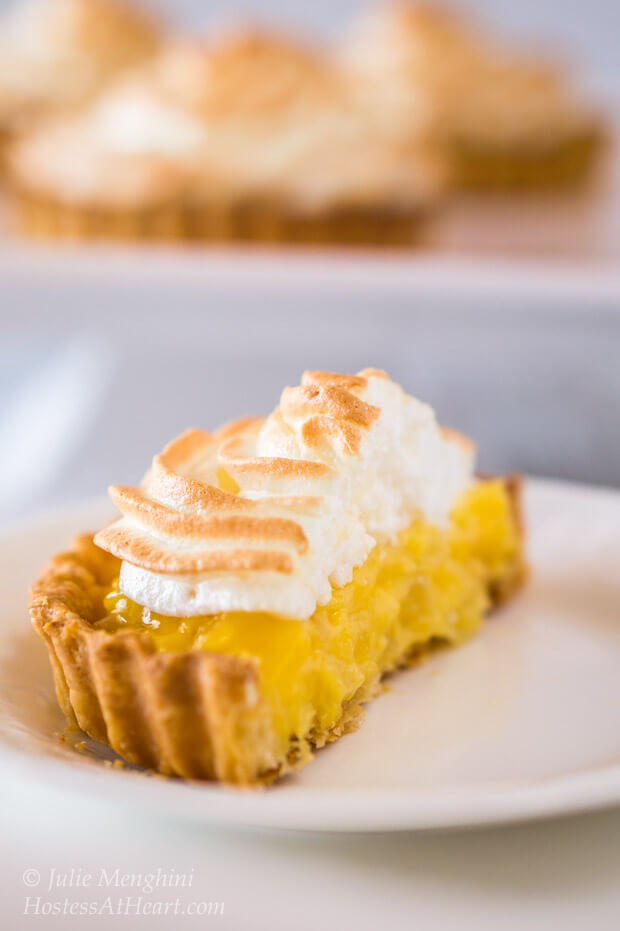 This recipe was handed down to me by my mother-in-law (MIL). The meringue technique is like none that I've ever used. I've never had it fail, so if meringue scares you, this recipe is for you.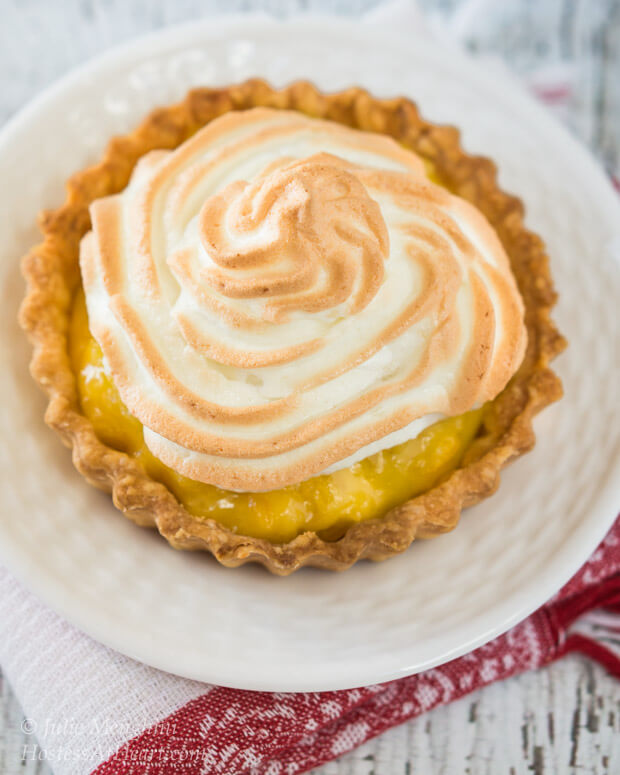 I got 4 large tarts out of my pie crust and then just filled little dishes with the leftover filling and topped them with meringue, without crusts. If you used two crusts, you would easily have 8 large tarts.
Don't have time to make it now?

Pin it

for later!


Our most popular recipes!
Pineapple Cream Meringue Tarts
Pineapple Cream Meringue tarts have a smooth and luscious filling that sits in a buttery flakey crust. The whole thing is topped with my no-fail meringue.
Ingredients
Pie Crust
2-1/2

cups

AP Flour

I used unbleached

1

cup

butter

well chilled (I use Kerrygold or Land O'Lakes)

1

tbs

white sugar

1

tsp

salt
Filling
16

oz

crushed pineapple

canned crushed do not drain and do NOT use fresh

1/4

cup

All Purpose flour

1

cup

sour cream

1

cup

sugar

3

egg yolks

at room temperature and lightly beaten,Whites will be used in meringue

1

tsp

vanilla extract
Meringue
1

tbs

cornstarch

2

tbs

cold water

1/2

cup

water

boiling

3

egg whites

1

tsp

lemon juice

or vanilla

6

tbs

sugar
Instructions
Start Meringue
In a small sauce pan, mix cornstarch and cold water. Stir in boiling water over medium heat and boil for two minutes. Remove from heat and set in cold water or refrigerate to cool while you prepare the crust.
Pie Crust
Place 1-1/2 cups of water in a liquid measuring cup in the freezer. You will not use it all, but it's better to have more than not enough.

In a large bowl, combine flour, sugar, and salt. Cut cold butter into 1-tablespoon sized pieces. Toss them into the flour. Scoop up flour and butter and rub between your thumb and fingers, letting it fall back into the bowl. Do this until you have a crumb that resembles rough cornmeal with pea and almond sized pieces.

Remove water from the freezer. In a circular motion, drizzle a small amount of water in a circular motion into the flour mixture to the count of five. Toss the water through the flour with your hands until you no longer feel wet spots. Repeat until dough is shaggy and slightly tacky. Press an egg sized ball together. Toss it in your hand a couple of times. If it breaks apart when you catch it, add a little more water. If it retains its shape you're done.

Gather the dough in 2 roughly even discs. Wrap each disc in plastic wrap and refrigerate for a minimum of 1 hour. If you only use one crust, the other one can be wrapped and used within 3 days, or frozen.

Remove pie dough from the refrigerator. On a lightly floured surface, cut each disk into 4 pieces and roll each piece of dough out from the center to the edge until the dough is large enough to fill your tart shell and about ⅛ inch thick. Turn as you roll, always pushing out away from yourself. Press dough into shell gently. Use your rolling pin to remove excess dough overhanging tart shell. Repeat with remaining tart shells.

Pierce the bottom of each shell with a fork, turning slightly. Place a piece of aluminum foil into each tart leaving the edges of the foil standing and not overlapping the edges. Fill with pie weights or dry beans. Bake at 425 degrees F for 10 minutes. Remove the tarts from the oven and pick up the edges of the foil and remove with weights. The foil will cool immediately. Reduce the oven temp to 375 degrees F and continue baking for 15 minutes or until tart shells are browned. Remove to a cooling rack to cool completely.
Filling
Prepare the filling. In a medium sized sauce pan, combine flour, sugar sour cream and pineapple. Cook over low heat stirring continuously until thick. Don't neglect because it can thicken all of a sudden. Blend in egg yolks, stirring continuously, and cook for 2 more minutes. Add vanilla and cool.
Finish Meringue
Finish Meringue. In an electric stand mixer, fitted with a whisk attachment, add egg whites and beat on medium high until they start to form soft peaks. Add sugar one tablespoon at a time and vanilla. Continue beating until strong peaks form. Add cornstarch mixture and beat until blended. Don't over beat or your meringue will start to break down.

Place tarts on a baking sheet and fill each shell 3/4 full with filling. Top with meringue by the spoonful or you can use a pastry bag. Bake at 375 degrees F for 5 minutes or until peaks are golden. Be careful not to burn.

Completed tarts should be refrigerated until serving.
Nutrition
Sodium:
203
mg
|
Calcium:
22
mg
|
Vitamin C:
0.2
mg
|
Vitamin A:
90
IU
|
Sugar:
18
g
|
Potassium:
36
mg
|
Cholesterol:
7
mg
|
Calories:
118
kcal
|
Saturated Fat:
1
g
|
Fat:
3
g
|
Protein:
1
g
|
Carbohydrates:
21
g
|
Iron:
0.2
mg
This recipe was calculated using the exact brands and measurements I used to make this recipe. If you are following a strict diet please note changing anything will cause the nutritional info to change. My calculations are intended as a guide only.
If you are in the mood for other creamy dreamy pies, here are a couple more great recipes for you!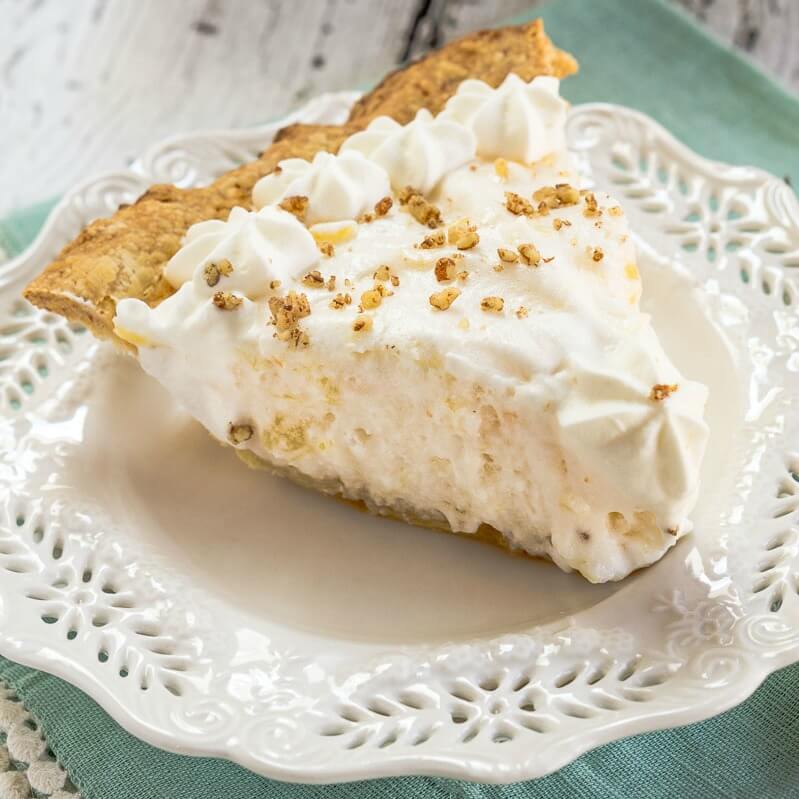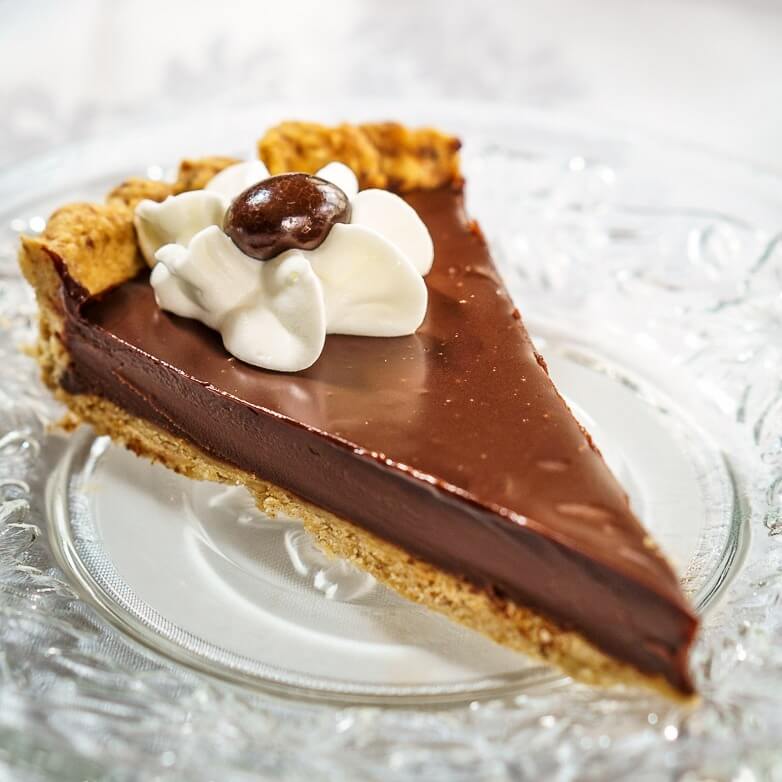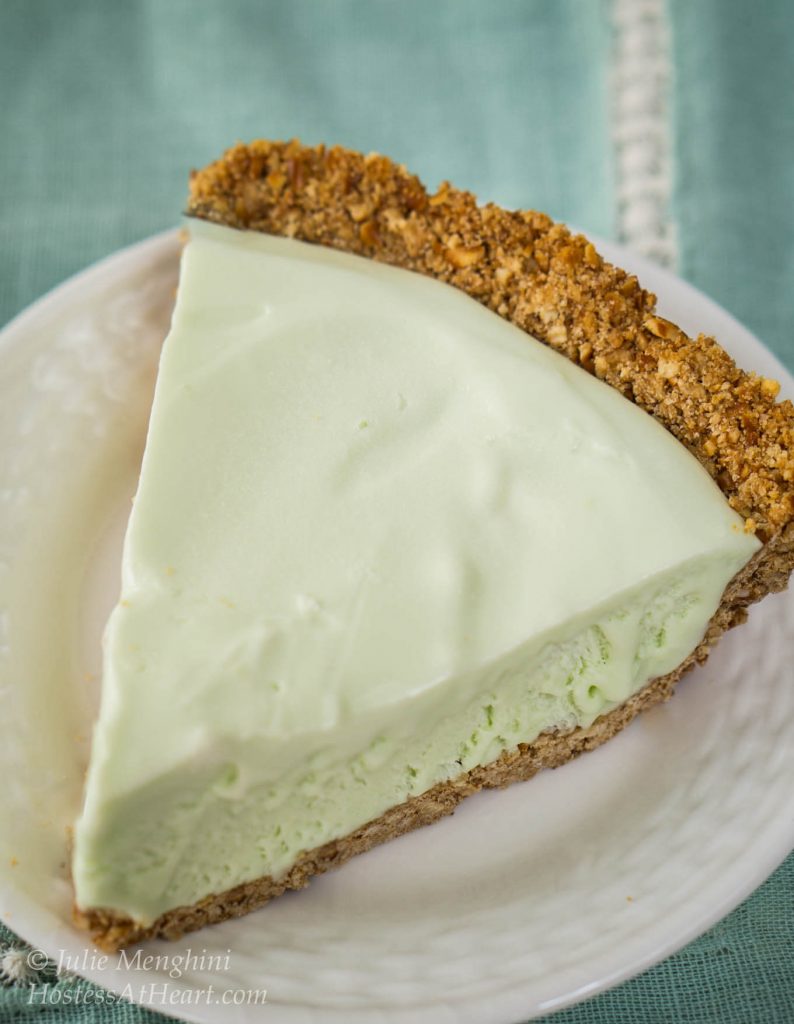 What are your favorite special celebration recipes? Please share!