Pineapple Tarts are cool and creamy under a thick layer of delicious meringue. They're insanely delicious and Pineapple Mini Tarts assure everyone gets their own!
This post was originally published on 2/10/16 so it was time for an update. I've added better instructions and a video. No changes were made to the recipe.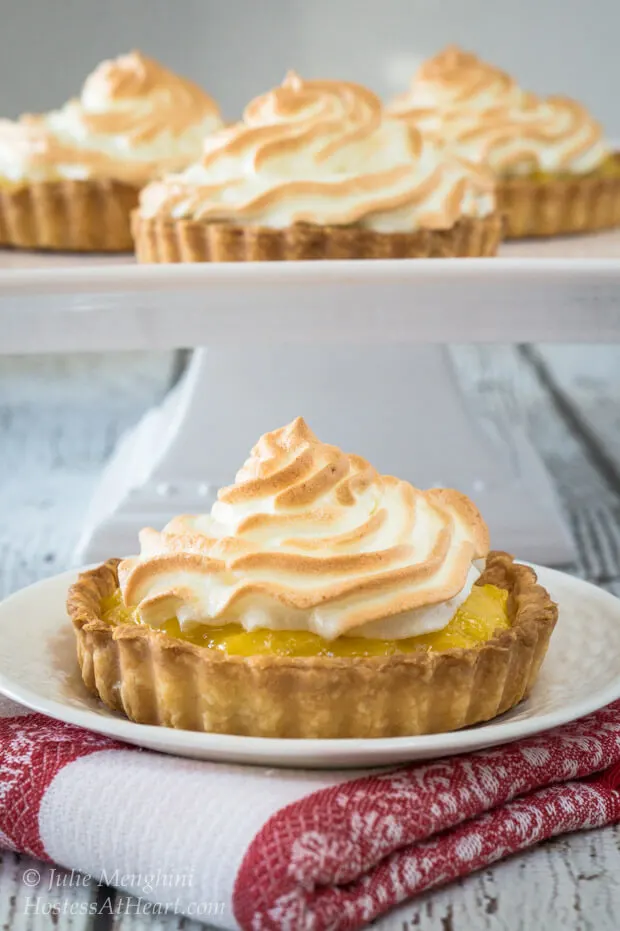 John and my celebrations usually include a great dinner we cook together followed by a favorite dessert like these Pineapple Cream Meringue tarts.
A lot of people don't care about Valentine's Day. I LOVE Valentines Day. It is a happy occasion that reminds me how lucky I am to have met my husband at the ripe old age of 19.
We don't go out for dinner or buy each other extravagant gifts on Valentine's Day, and sometimes we choose to celebrate on the weekend if the actual day falls within the week.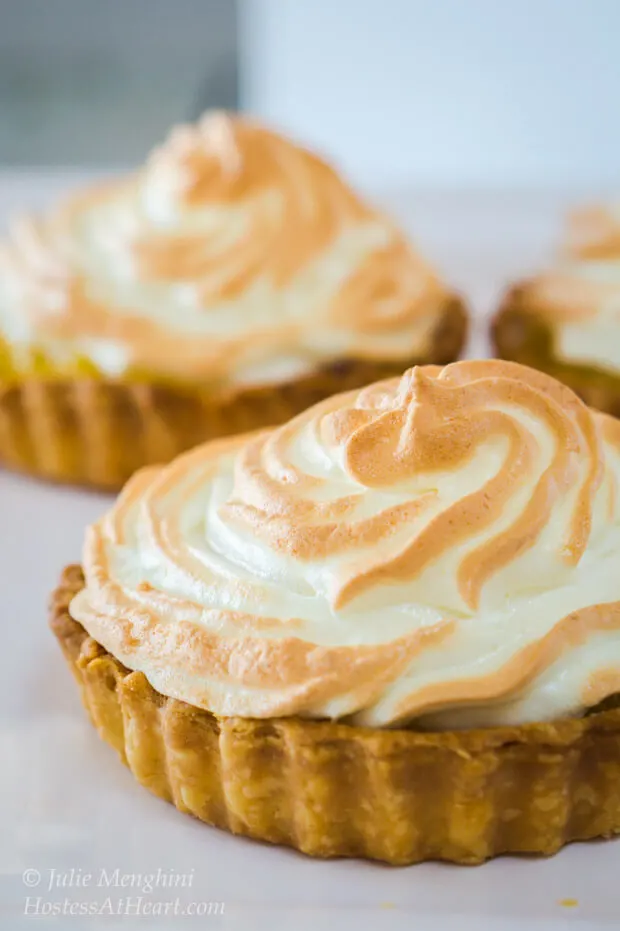 I love making John special desserts for occasions like this creamy Pineapple Tart with Meringue.
John's mother handed this recipe down to me and it's the one that John requests every year for his birthday.
Equipment needed
Tart pans – you can use any size, but these are the ones I used.
Saucepan – I use this size saucepan the most in my kitchen.
Pineapple Tart Recipe Ingredients
Crushed Pineapple – 16 oz can. Don't drain and don't use fresh.
Flour – All-purpose flour, bleached or unbleached.
Sour Cream – Full fat only.
Sugar – White granulated sugar
Eggs – Large
Vanilla extract – I prefer pure vanilla extract for this pie
Crust – I prefer my all-butter homemade pie crust but you can buy one.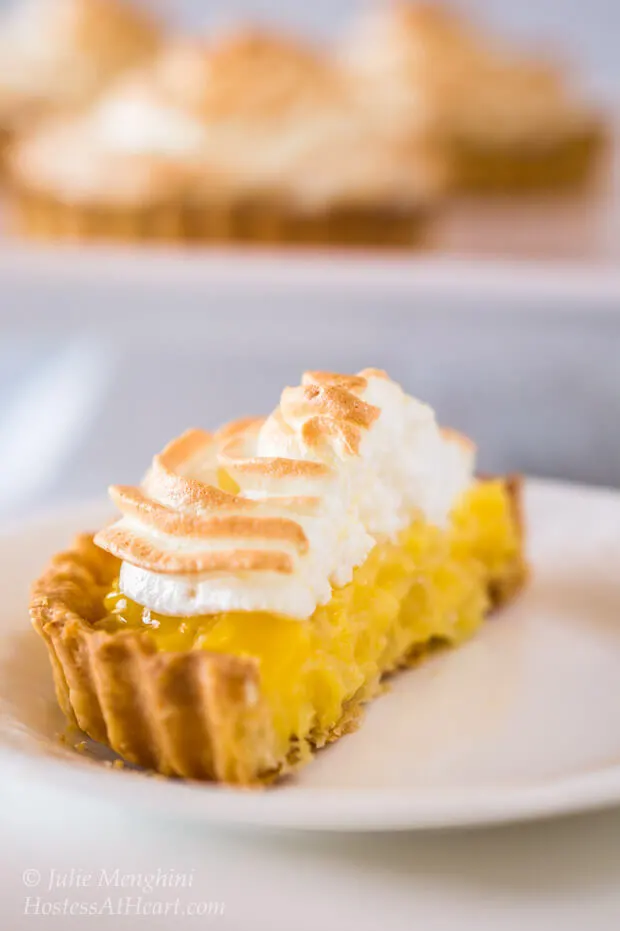 How to make Pineapple Tarts
Please note, that the printable recipe card has ingredient quantities, complete instructions, and nutritional information. The following is a quick overview of the recipe.
Step 1: Blind bake the crust. Set it aside to cool.
Step 2: Prepare the cornstarch mixture for the meringue so it can cool while you prepare the filling.
Step 3: Make the pineapple tart filling by combining the flour, sugar sour cream, and pineapple in a medium-sized saucepan. Cook until thick.
Step 4: Pour the Pineapple filling into the baked pie shell.
Step 5: Make the Meringue. Using an electric mixer beat the egg whites until soft and foamy and gradually add the sugar and vanilla with the mixer running on low. Turn up the mixer and once peaks get sturdier add the cornstarch mixture.
Step 6: Top the pie with the meringue. Bake at 400°F until the peaks are browned. Watch carefully so you don't burn the meringue.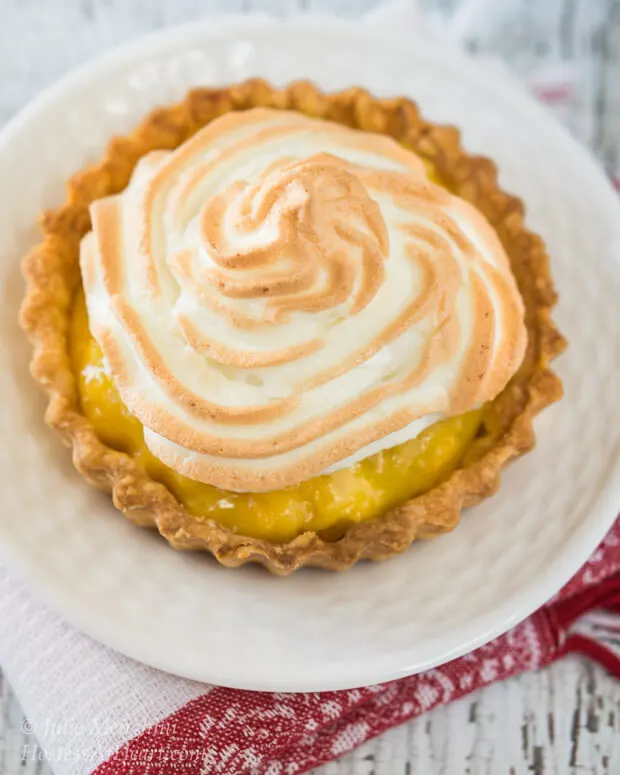 So I have to top with Meringue?
This recipe was handed down to me by my mother-in-law (MIL). The meringue technique is like none that I've ever used. I've never had it fail, so if meringue scares you, this recipe is for you.
You do not have to make meringue, however. Pineapple tarts without meringue are creamy and delicious. You can let them cool and sprinkle them with powdered sugar right before serving.
The pineapple tart filling is delicious served as pudding too.
Variations
I got 4 large tarts out of one pie crust. You can make pineapple mini tarts so everyone can have their own. If you used two crusts, you would easily have 8 large tarts.
How to store Pineapple Tarts
This pineapple tart recipe needs to be kept in the refrigerator, lightly covered. It's normal to have some juice gather around the tarts. It's best to eat these pineapple tarts within 2 to 3 days.
I don't recommend freezing these tarts.
Don't have time to make it now?

Pin it

for later!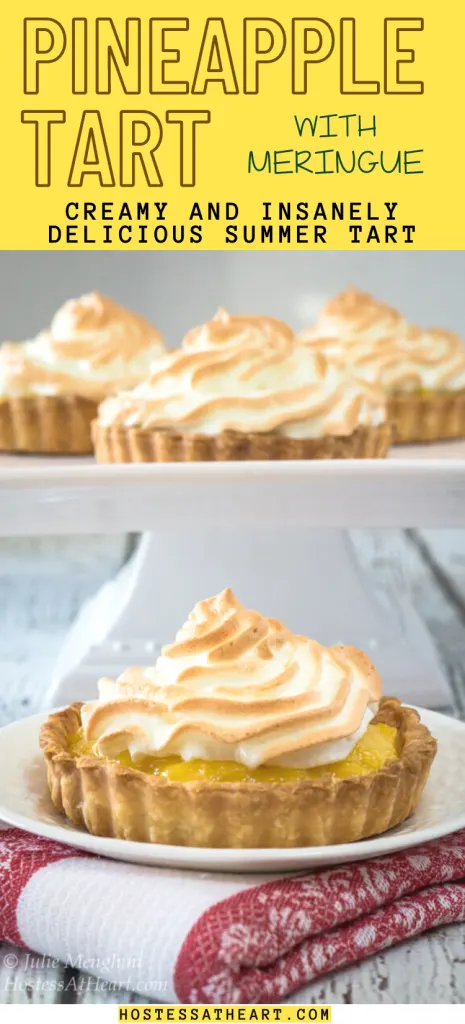 More recipes you'll enjoy!
I hope you'll let me know how your Pineapple Tart came out!
Some more creamy pies and tarts!