Indulge in the irresistible aroma and flavors with this homemade Pumpkin Yeast Bread recipe. This easy-to-follow recipe combines the rich, earthy sweetness of pumpkin with the fluffy texture of freshly baked bread. Perfect for autumn gatherings or any time you crave a warm and comforting treat.
This recipe was originally posted on November 10, 2015, so it was time for an upgrade. I've added some new photos and clarified some steps. No changes were made to the recipe.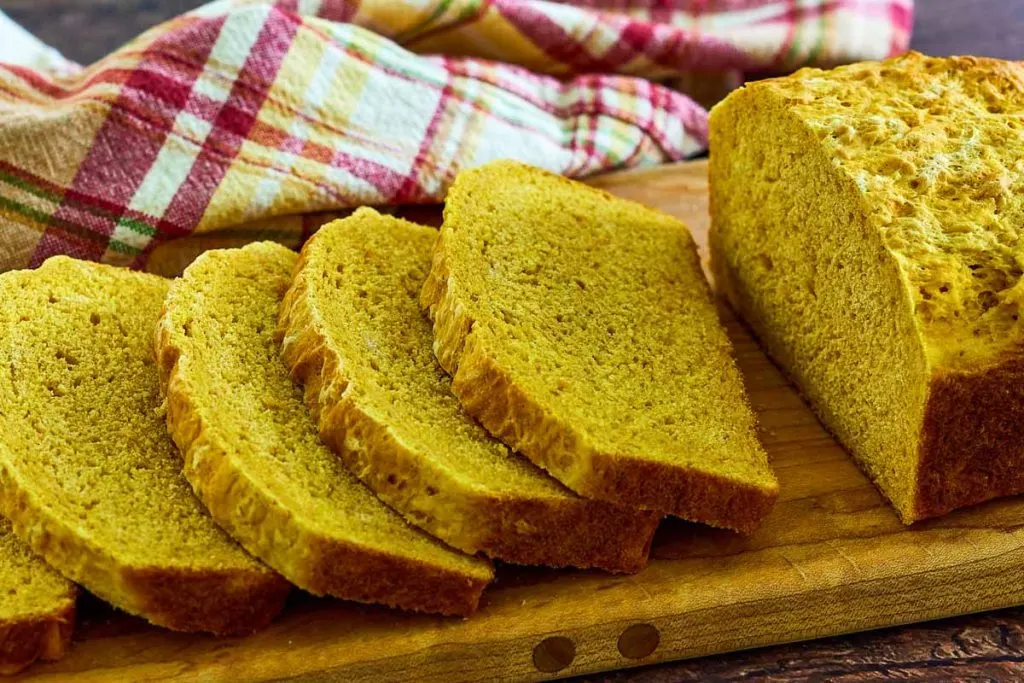 Fall on the horizon makes me think of harvest. Growing up in a rural community, we often shared the task of putting up fruits and vegetables so we could make delicious recipes including this easy pumpkin yeast bread recipe.
I don't go to all of that work anymore, and rely on the Farmer's market or in this case, canned pumpkin from the grocery store.
Why You'll Love These Pumpkin Yeast Bread Rolls
Fluffy bread. Pumpkin Yeast Bread is so light and tender.
Versatility. You can make two loaves, one loaf, and 16 rolls, or you can make all rolls.
Beauty. The color of this bread is perfect for my Thanksgiving table or any Fall meal.
Equipment Needed to Make Yeast Pumpkin Bread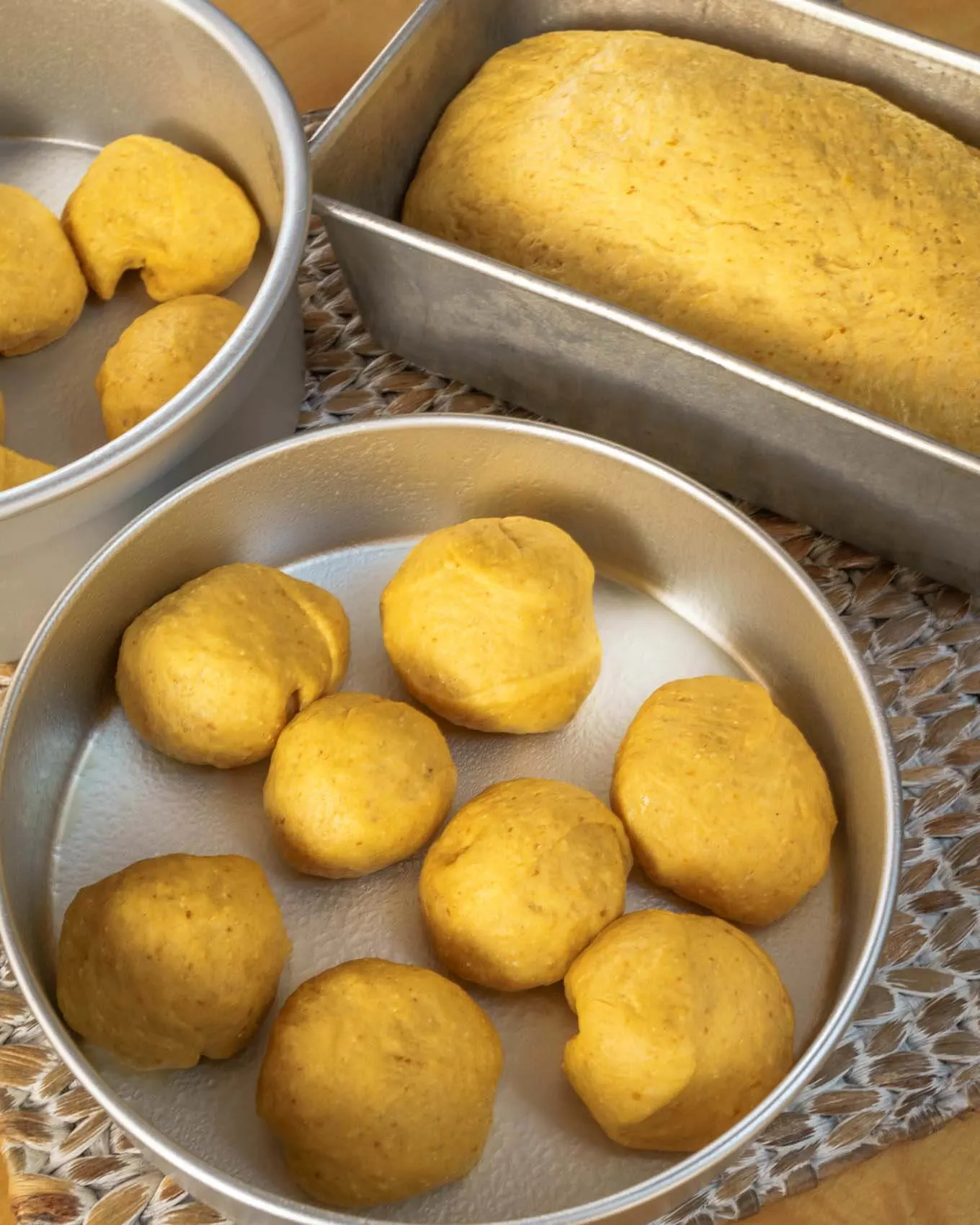 Yeast Bread Vs. Quick Bread
What is Quick Bread?
Quick bread doesn't mean quick as in fast. Quick bread uses leavening agents other than yeast or eggs such as baking soda and baking powder. This is a yeasted bread recipe which means it uses yeast to rise.
Ingredients for your Pumpkin Yeast Bread Recipe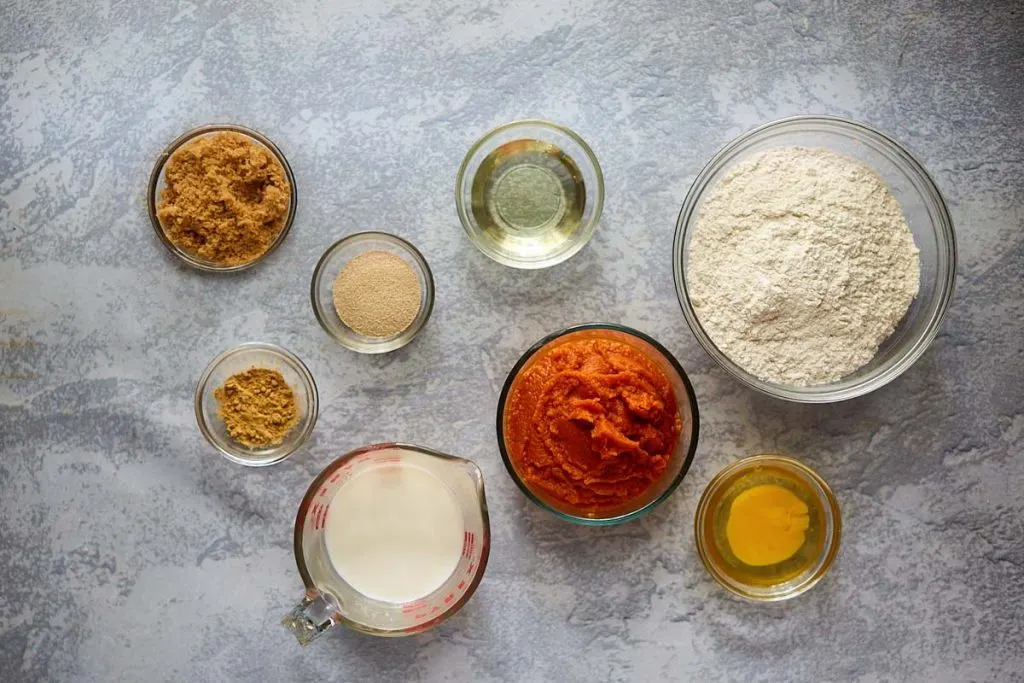 Please note, that the printable recipe card has ingredient quantities, complete instructions, and nutritional information. The following is a quick overview of the recipe.
How to Make Pumpkin Yeast Bread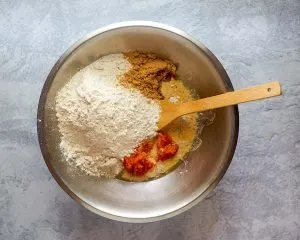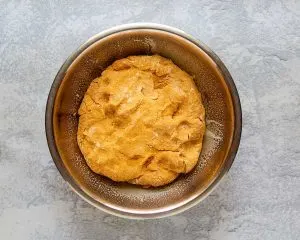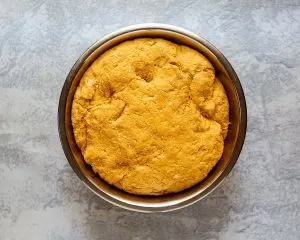 Step One. Mix all of the ingredients in one large bowl. Hand mix.
Step Two. Knead for eight minutes.
Step Three. Let the dough rise and double.
Step Four. Gently deflate and divide your pan of choice.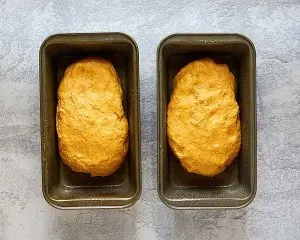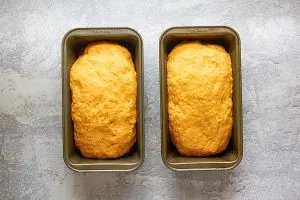 Step Five. Let the dough rise again.
Step Six. Bake the bread.
Step Seven. Cool completely before storing.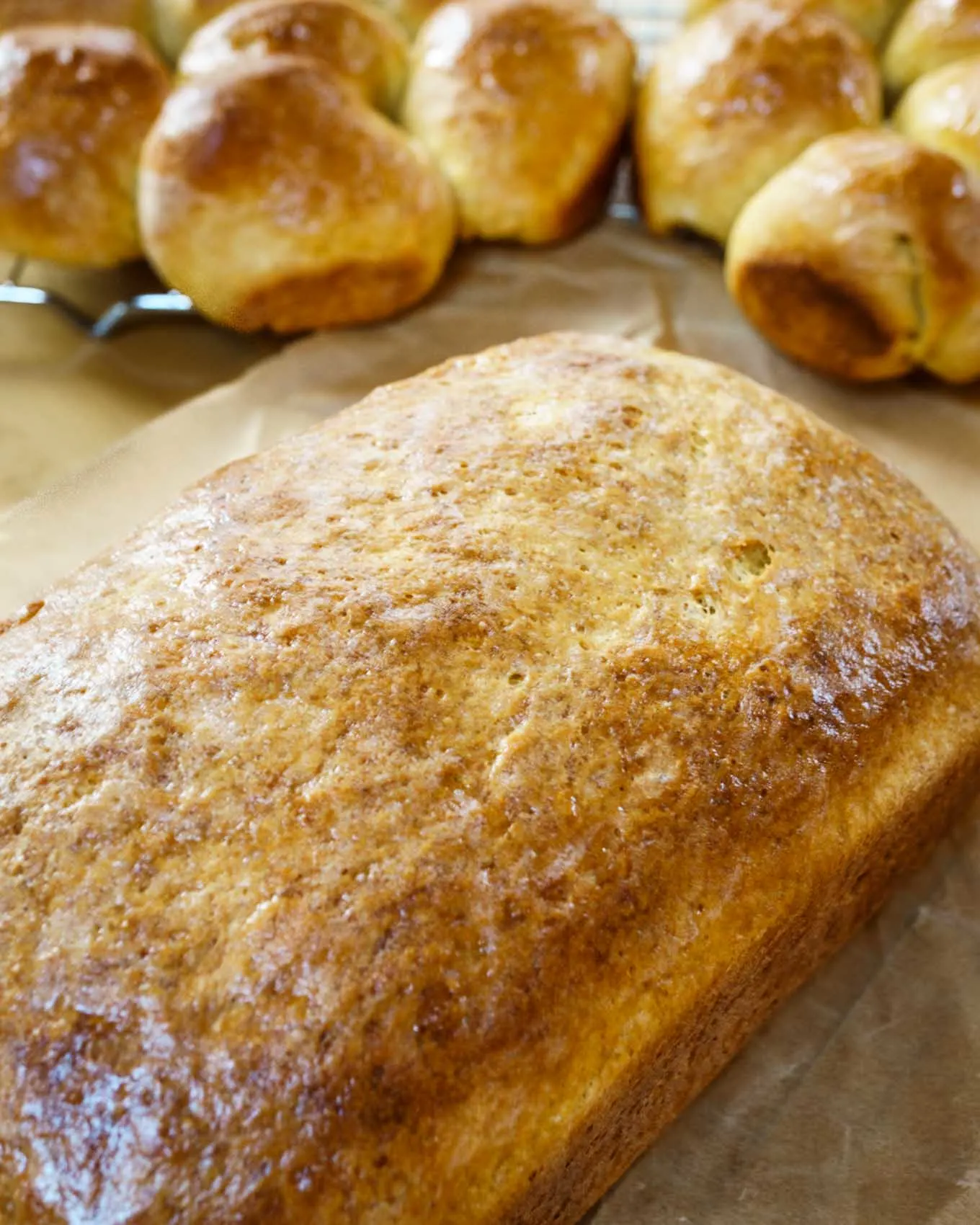 How long should you knead bread?
While some bread recipes become dense if they're not kneaded long enough, this pumpkin bread recipe requires minimal kneading.
What to Serve With Your Pumpkin Yeast Bread Rolls
These lovely rolls are the perfect addition to any Fall or holiday meal! They taste so incredible you will want to make them again and again. We especially love this delicious bread with soups and chili, especially our Award Winning Chili.
Substitutions and Additions
This bread is a sweetened bread. I added cardamom and ginger which went well with the brown sugar used to sweeten this bread. You could add cinnamon, nutmeg, or a pumpkin pie spice blend.
Raisins, dried cranberries, and nuts (walnuts, pecans) would work well in this bread. I recommend no more than 1 cup of combined add-ins. Bread can also be topped with oats or seeds such as poppy seeds.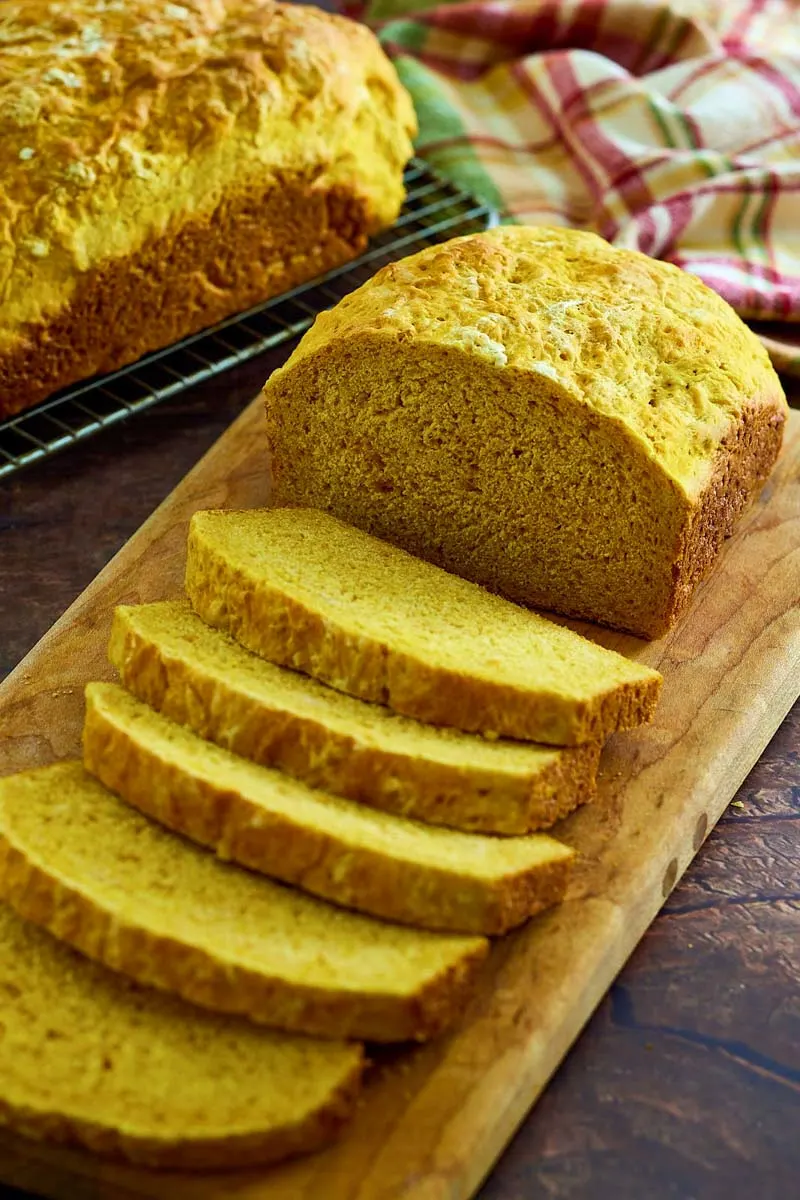 How To Reheat & Store Pumpkin Yeast Bread
Best Way To Store Yeast Pumpkin Bread
Store completely cooled bread or rolls in well-wrapped plastic wrap at room temperature or freeze.
How Long Will This Pumpkin Yeast Bread Recipe Last In the Fridge?
Keep leftover rolls in the refrigerator in a sealed plastic bag.
Can I Freeze/Thaw Pumpkin Bread?
Yes. You can freeze cooked rolls or raw dough in sealed freezer-quality plastic bags for up to three months. Thaw to eat or cook.
How To Reheat Pumpkin Yeast Bread Rolls
Place leftover rolls on a plate in the microwave for ten to fifteen seconds to reheat them and enjoy warm.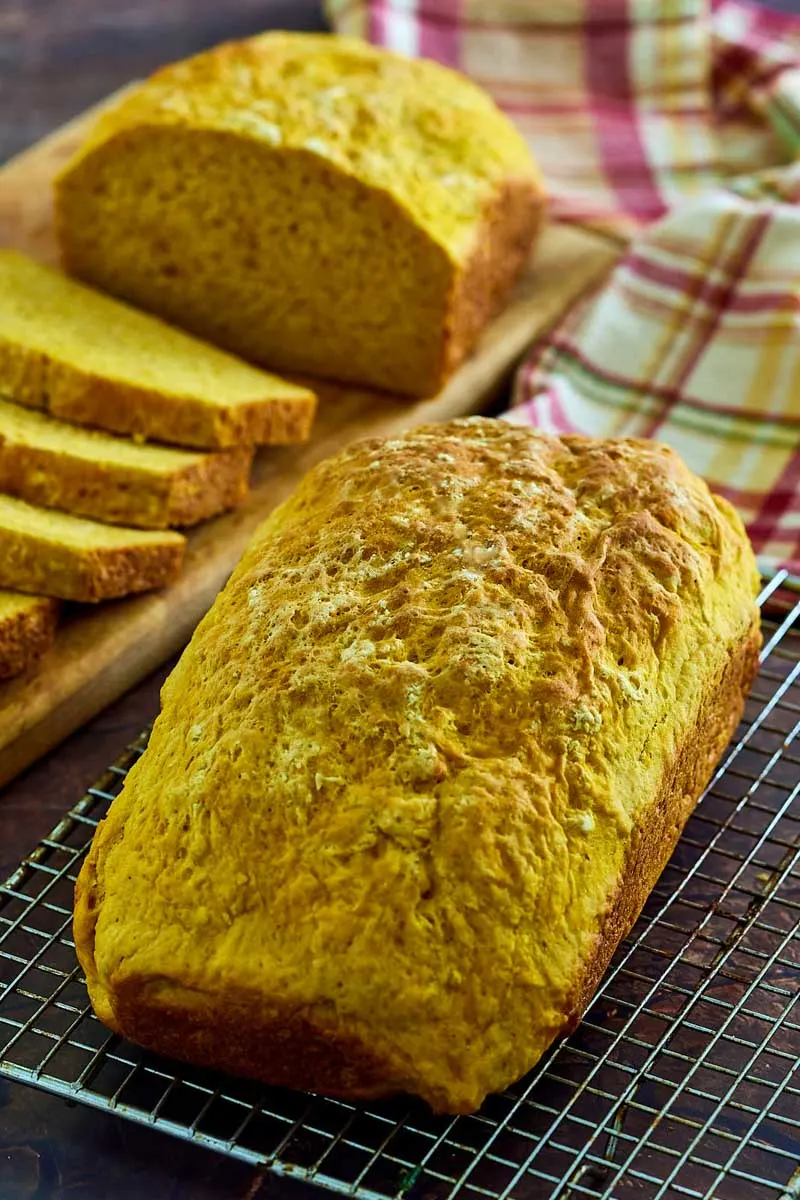 Pumpkin Yeast Bread FAQs
What kind of oil do you use for pumpkin bread?
I recommend using a neutral cooking oil such as canola or vegetable. Coconut oil would also be a great substitution.
Why did my pumpkin loaf not rise?
Any time a yeast bread doesn't rise, the yeast is the most likely culprit. Expired yeast is common. Yeast can also get killed when it is stored near the cooktop in your kitchen or becomes overheated during the mixing process. Make sure the liquids you use are lukewarm and not hot enough to kill the yeast.
Should I Sift flour for pumpkin bread?
While sifting can improve the texture of some pumpkin bread recipes, it's not necessary for this recipe.
Tips to Make the Perfect Yeast Pumpkin Bread
Do not over-knead the bread. Too much kneading will cause the bread to be tough or chewy, or potentially not rise correctly.
If you have a "proof" setting on your oven, it will work perfectly to raise the dough the first time, and raise your bread or rolls the second time. Make sure to adjust the rack in the oven to allow the dough to double in size.
Using an Instant Read Thermometer ensures that the bread is perfectly baked at 190ºF.
Other Recipes You Will Love
Don't Forget To Come Back And Let Me Know How Your Pumpkin Yeast Bread Turned Out!
Want more delicious recipes? Follow Hostess At Heart on Pinterest!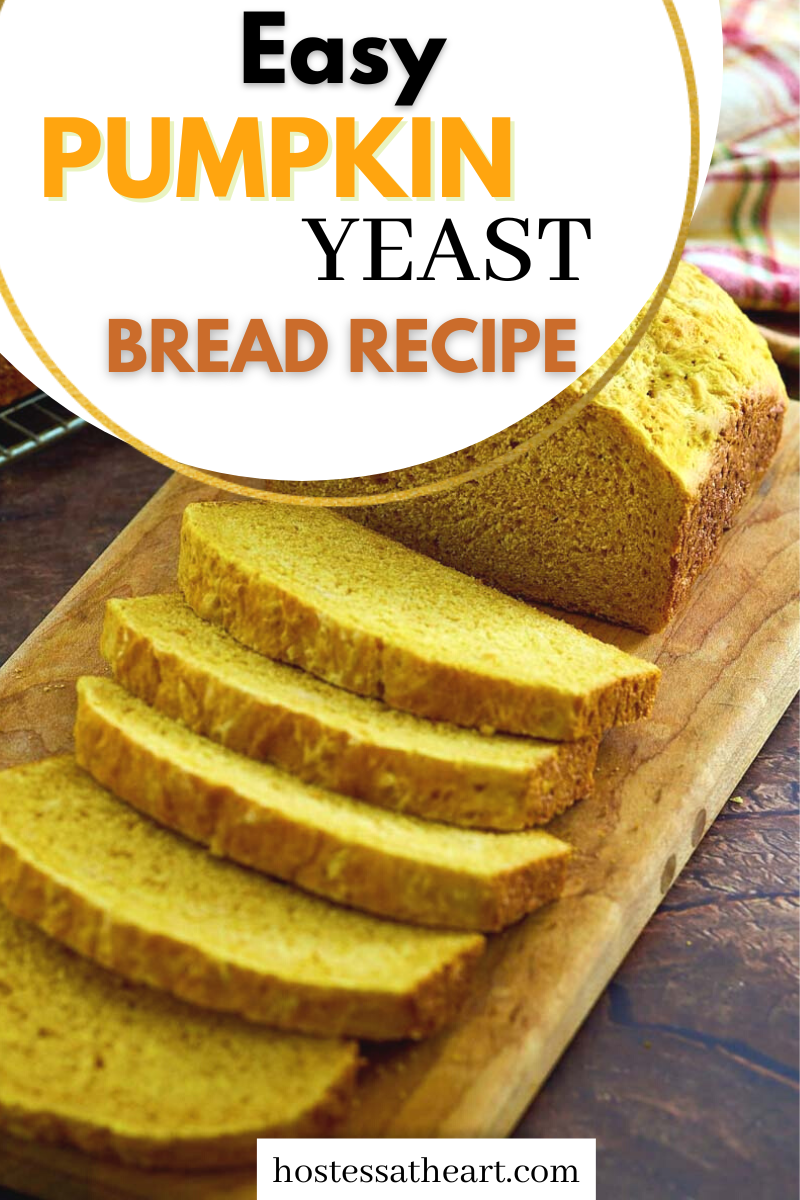 This pumpkin bread is perfect for your holiday table. this year? Another recipe idea for your holiday table would be Herb Topped Sweet Potato Biscuits.
This recipe was developed for my Bread Baker's blogging event. Take a look at what my fellow bakers bake for their Family Feast Breads.
#BreadBakers is a group of bread-loving bakers who get together once a month to bake bread with a common ingredient or theme. Follow our Pinterest board right here. Links are also updated each month on this home page.
We take turns hosting each month and choosing the theme/ingredient.
If you are a food blogger and would like to join us, just send Stacy an email with your blog URL to [email protected].
Looking for more bread recipes? Here's some beautiful bread perfect for any table.