Bakery-quality yeast bread got a thousand times better with the addition of cranberries and walnuts. This Cranberry Walnut Bread recipe has a beautiful texture and delicious flavor.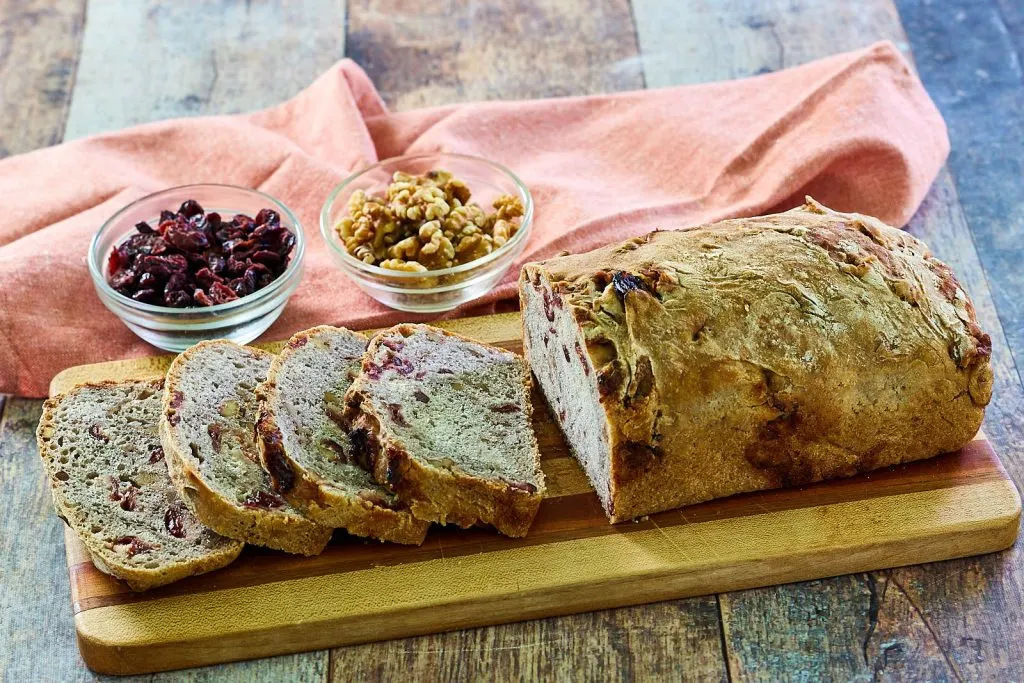 This cranberry walnut loaf is guaranteed to be an instant hit at breakfast or dinner. Just look at how gorgeous it is!
Why You'll Love This Cranberry Walnut Loaf
Simple Yeast Bread. Even though this bread does have a long rise time due to the added weight of cranberries and walnuts, it is still a very simple no-knead yeast bread.
Simple Ingredients. You only need seven ingredients to make this bread, and one of those is water.
Equipment Needed To Make No-knead Cranberry Walnut Bread
Loaf Pan. In the Fall and Winter, when baking bread warms up the house and brings comfort to all, I like to have disposable loaf pans on hand so that I can take a loaf to a friend or neighbor in need of cheer. Mini loaf pans are also perfect for gift giving of this festive bread.
Parchment Paper. To keep things from sticking and make clean-up a breeze.
Ingredients For Your Cranberry Walnut Bread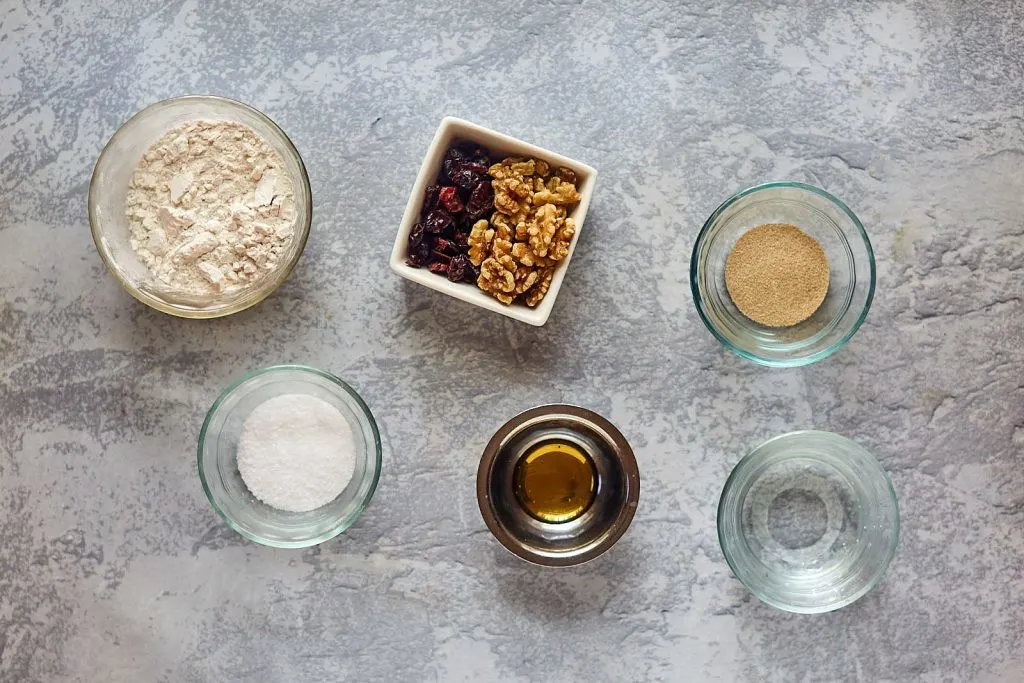 All-Purpose Flour. Have a little extra ready to rub on your hands and dust on surfaces.
Instant Yeast. Make sure you get the right packet.
Salt. Fine sea salt is preferred.
Dried Cranberries. Also called Craisins.
Chopped Walnuts.
Water.
Honey. You may use a vegan honey substitute.
Please note, that the printable recipe card has ingredient quantities, complete instructions, and nutritional information. The following is a quick overview of the recipe.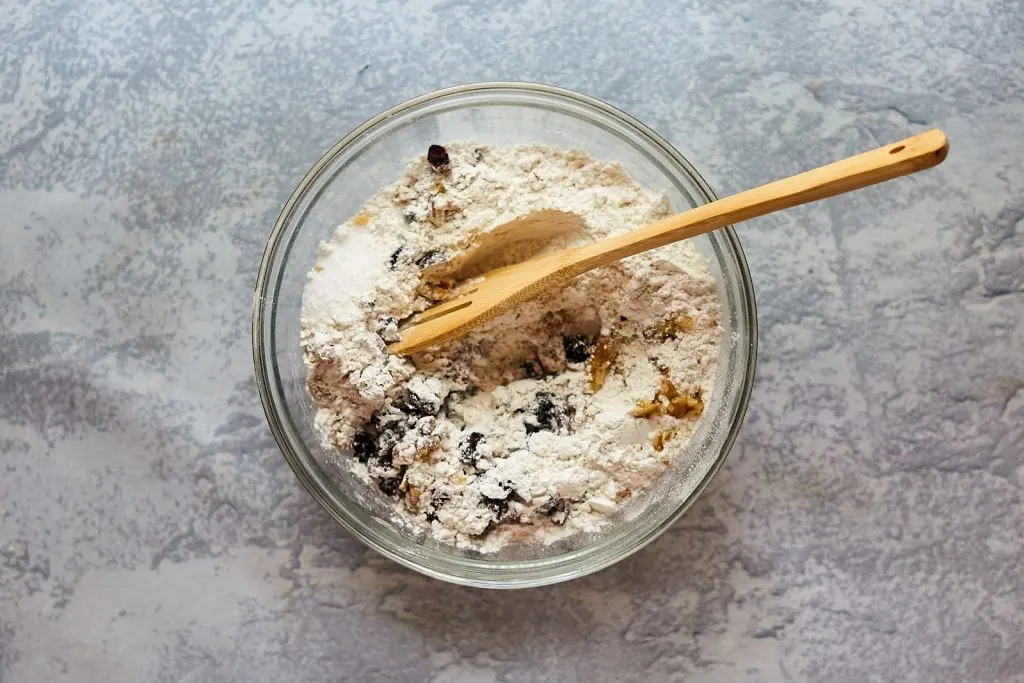 How To Make Cranberry Walnut Bread
Step 1: Mix the Dry ingredients.
Flour, yeast, and salt get stirred together with a wooden spoon. This is important because certain metal spoons can be reactive to yeast.
Step 2: Add the fruit and nuts.
Toss it all together to ensure the cranberries and walnuts are evenly distributed and coated.
Step 3: Add liquids.
Stir in the honey and the water.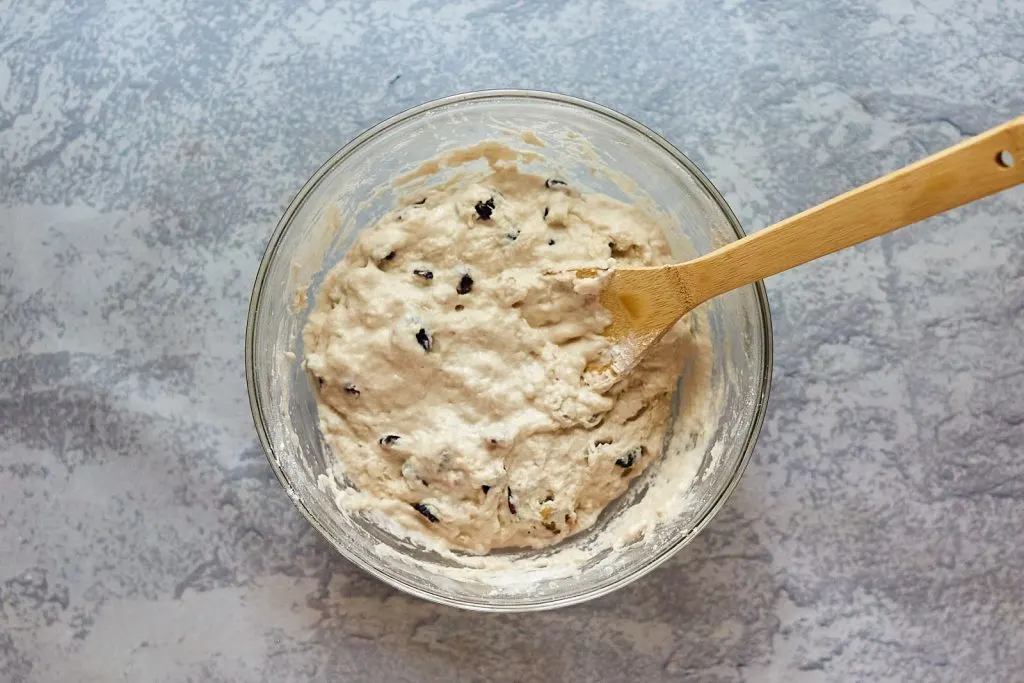 Step 4: Cover the Bread and let it rise.
You can use plastic wrap or a damp tea towel for 12 to 18 hours
Why use a long rise time for bread?
A long rise time for this cranberry walnut bread loaf is all about developing flavor. The dough will produce sugars and alcohol that add a delicious yeasty flavor that complements the dried cranberries.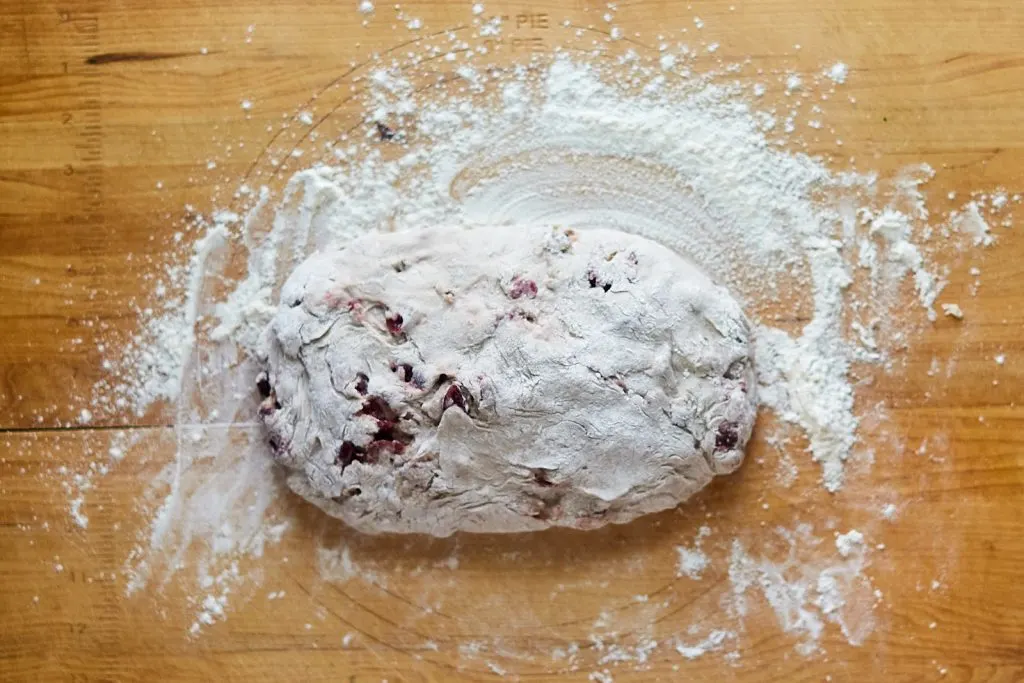 Step 5: Shape the dough.
Use parchment paper and flour to avoid sticking to the dough.
Step 6: The second rise.
This takes about 45 minutes.
Step 7: Bake your bread.
Make sure your oven is preheated.
Step 8: Cool.
Cut after the bread is completely cooled.
Does this bread have to be baked in a loaf pan?
No, this is a sturdy bread and can be baked freestanding without a loaf pan. You can shape it into a loaf or round, also called a boule. Place the shaped bread on a parchment paper-lined baking sheet to bake.
How to Eat Cranberry Walnut Bread
Makes amazing toast with a slather of butter and or honey for breakfast.
Delicious sliced on a Charcuterie board.
The perfect bread to serve on Thanksgiving.
Popular Substitutions & Additions
Exchange the walnuts for another nut, such as pistachios or pecans, or eliminate them altogether.
Exchange craisins for raisins or substitute another dried fruit such as apricots or dates.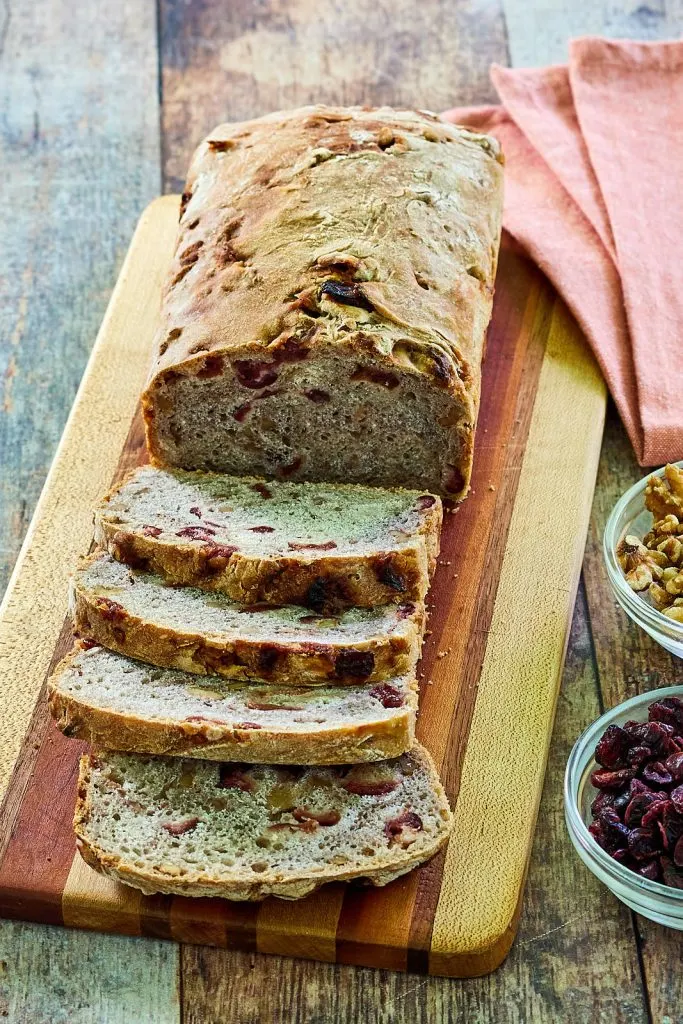 How To Reheat & Store Cranberry Walnut Bread
Best Way To Store Cranberry Walnut Loaf Leftover
Keep your completely cooled leftover bread in a sealed plastic bag for three or four days. Room temperature is fine.
How Long Will This Walnut Cranberry Bread Recipe Last In the Fridge?
Three or four days if sealed in an airtight container, but chilling the bread may cause moisture condensation and a somewhat slimy exterior crust.
Can I Freeze the Cranberry walnut bread recipe with yeast?
Yes. Freeze bread in airtight containers or freezer-quality baggies for up to three months. You can also freeze the shaped dough for up to three months and bake from frozen by adding length to the baking time.
How To Reheat Cranberry Walnut Loaf
Add a pat of butter if desired, then place a single slice in the microwave for ten seconds. Repeat in five-second increments as necessary.
Cranberry Walnut Loaf FAQs
Is cranberry yeast bread the same as quick bread?:
No, it's not. Quick bread doesn't use yeast. It relies on baking soda, baking powder, or eggs as leavening. Quick breads have a much fluffier interior compared to this denser yeast bread.
Can you use dried cranberries for baking?
Yes! Dried cranberries bake up sweet and delicious. They can be added right to the dough or plumped up ahead of time by letting them soak in warm water for 15 to 20 minutes. Soaking makes them plump and juicy. Another option is to put them in a microwave-safe bowl, cover them with liquid, and microwave them for 30 to 60 seconds. Let them sit for 5 minutes.
Can I use fresh or frozen cranberries instead of dried cranberries?
Yes, you can. I recommend roughly chopping them and then measuring since there is a difference in measurement.
Are dried cranberries and craisins the same thing?
Yes, they are the same. Craisins is a registered trade name by Ocean Spray and can't be used by other manufacturers.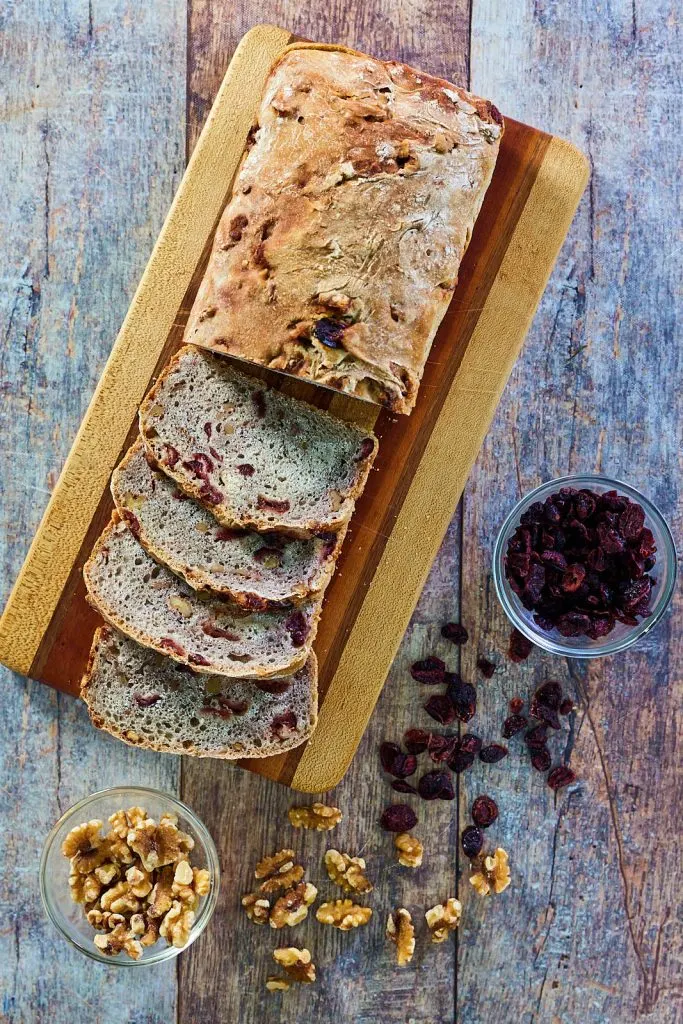 Tips to Make the Perfect Dried Cranberry Walnut Bread
The dough will be rough and a bit sticky before the first rise, but that's normal.
If your oven has a "proof" setting, you can use that as a safe place to let your bread rise.
Rub flour on your hands before shaping the dough so that you don't stick.
Other Recipes You'll Enjoy
Don't Forget To Come Back And Let Me Know How Your Cranberry Walnut Bread Recipe Turned Out!
Welcome to the fourth annual #FallFlavors! We have 21 bloggers sharing over SIXTY recipes using fall ingredients like squash, apples, maple, pecans, and many more. Follow #FallFlavors to see all the delicious recipes on social media.
Friday #FallFlavors Recipes
Appetizers and Beverages
Breads
Sauces
Mains Dishes
Desserts
Follow the Favorite Fall Recipes Facebook group and follow the Favorite Fall Flavors Pinterest board for more fall inspiration!