Make delicious homemade bread with minimal effort using the Almost No-Knead Bread recipe. Perfect for busy schedules, this recipe requires only a few simple ingredients and a bit of patience for a crusty, artisan-style loaf that will impress your family and friends.
As much as I love my sourdough, sometimes I just want an easy and delicious bread like this recipe or our English Muffin Bread and Cubano Bread that require minimal effort. It doesn't have to be complicated to be delicious.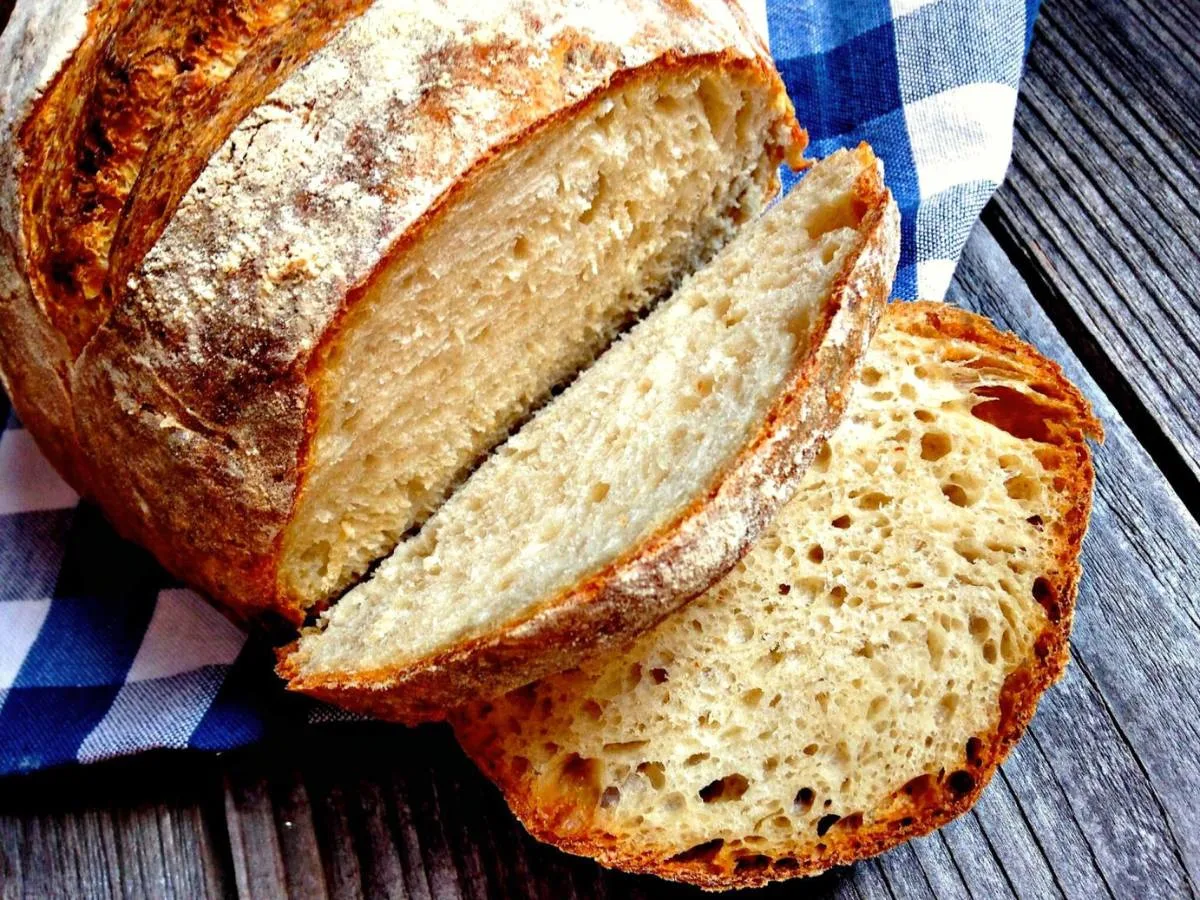 Are you tired of baking homemade bread that looks and tastes unprofessional? That was me!
Fortunately, with this almost no-knead bread recipe, you can create a crispy and professional-looking crust from the very first loaf. I'll share some tips for mastering the crust, from using the right ingredients to the necessary baking method. By the end of this article, you'll be able to bake bread that looks and tastes like it came from a bakery.
Why this No Knead Bread Recipe works
After searching for a bread recipe that had a crispy crust, chewy texture, and easy recipe instructions, I discovered Cooks Illustrated's original recipe for No Knead Bread recipe which appeared in Cook's Illustrated January/February 2008, America's Test Kitchen TV Season 9: Breadmaking, Simplified.
Simple ingredients that you are likely to already have in your pantry.
Non-complicated instructions perfect for beginners and home cooks
There is very little kneading but a long fermentation to form gluten strands which is what gives bread its texture.
Beer and salt add flavor to this bread.
Dutch oven baking mimics bakery's steam ovens which give this no-knead bread its crackly chewy crust. It's the method I use for my sourdough bread too.
What you may need to make this recipe
Dutch Oven – I have several enameled cast-iron dutch ovens. I started out with a few that cost about 4 times what this one does and it's my favorite! You could also use a cast iron skillet or a stock pot.
Parchment Paper – It's important to know that there is an oven temperature rating on parchment paper. If you exceed it your parchment paper can catch fire in your oven. This brand is rated at 450°F.
No-Knead Bread Recipe Ingredients
All-purpose flour – Bleached or unbleached
Salt – I like to use fine sea salt. I find that it dissolves better and doesn't leave pockets of salt. You can use table salt or whatever you prefer.
Beer – lager is what I used. You can use a non-alcoholic beer as well. Room temperature.
Yeast – rapid rise or instant yeast which is easier to work with than active dry yeast.
Vinegar – white distilled vinegar. You could also use apple cider vinegar.
Water – warmed but no hotter than 110ºF.
How to Make Almost No Knead Bread Recipe
See the printable recipe card for detailed recipe instructions and nutritional information.
Start by grabbing a mild-flavored lager beer (every recipe should start like this right?). Place 6 tablespoons of the beer in a container to allow it to come to room temperature. Drink the rest before it gets warm. John did this for me for the sake of science. Or so he says.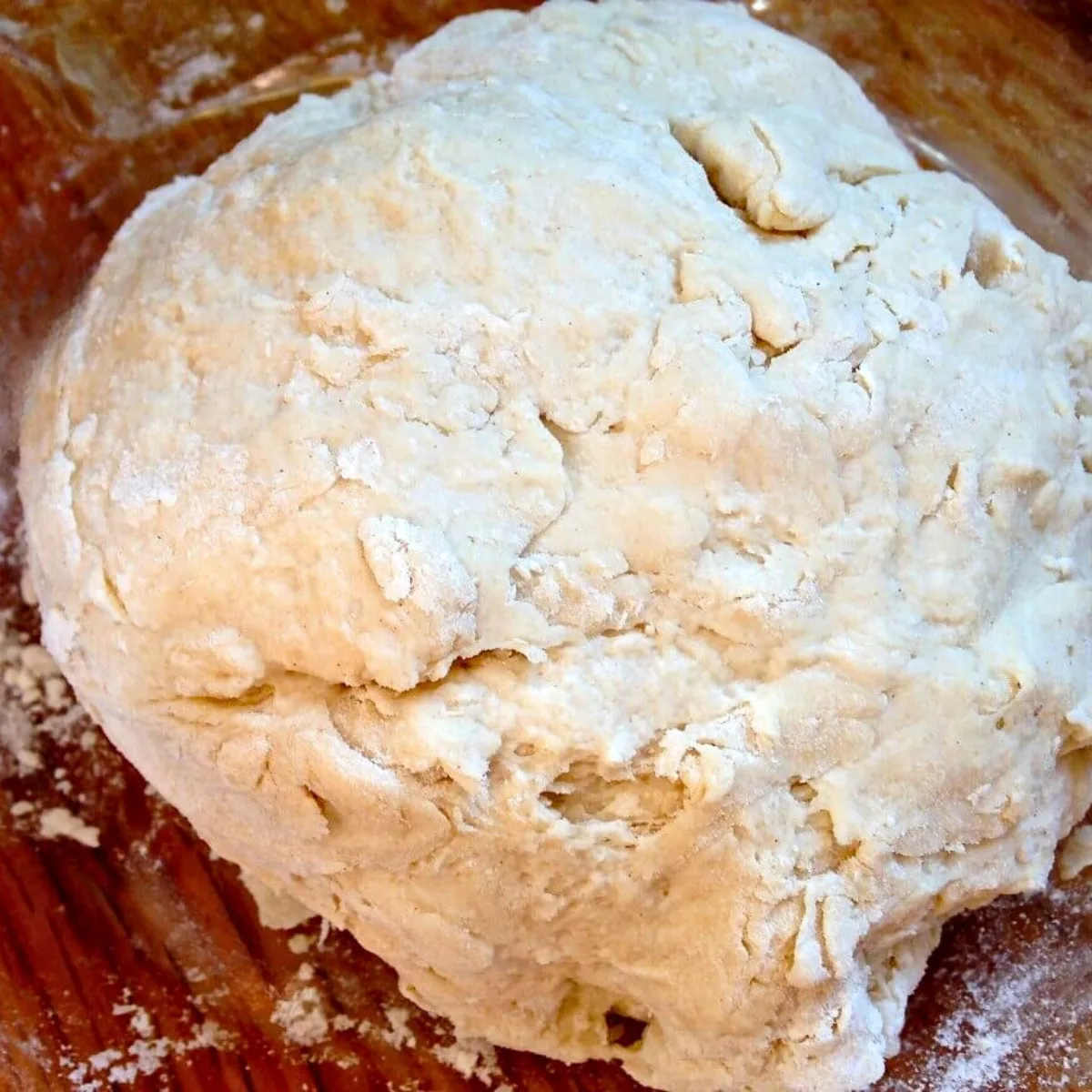 Using a large bowl, whisk the flour, yeast, and salt together. Add the room-temperature beer, vinegar, and warm water to the flour mixture. Mix until a shaggy dough ball is formed. Cover the bowl with plastic wrap and let it sit at room temperature for at least 8 hours or up to 18 hours. I find an overnight rise convenient.
On the day of baking, lay a piece of 18-inch by 12-inch piece of parchment paper inside a 10-inch skillet and spray with non-stick cooking spray.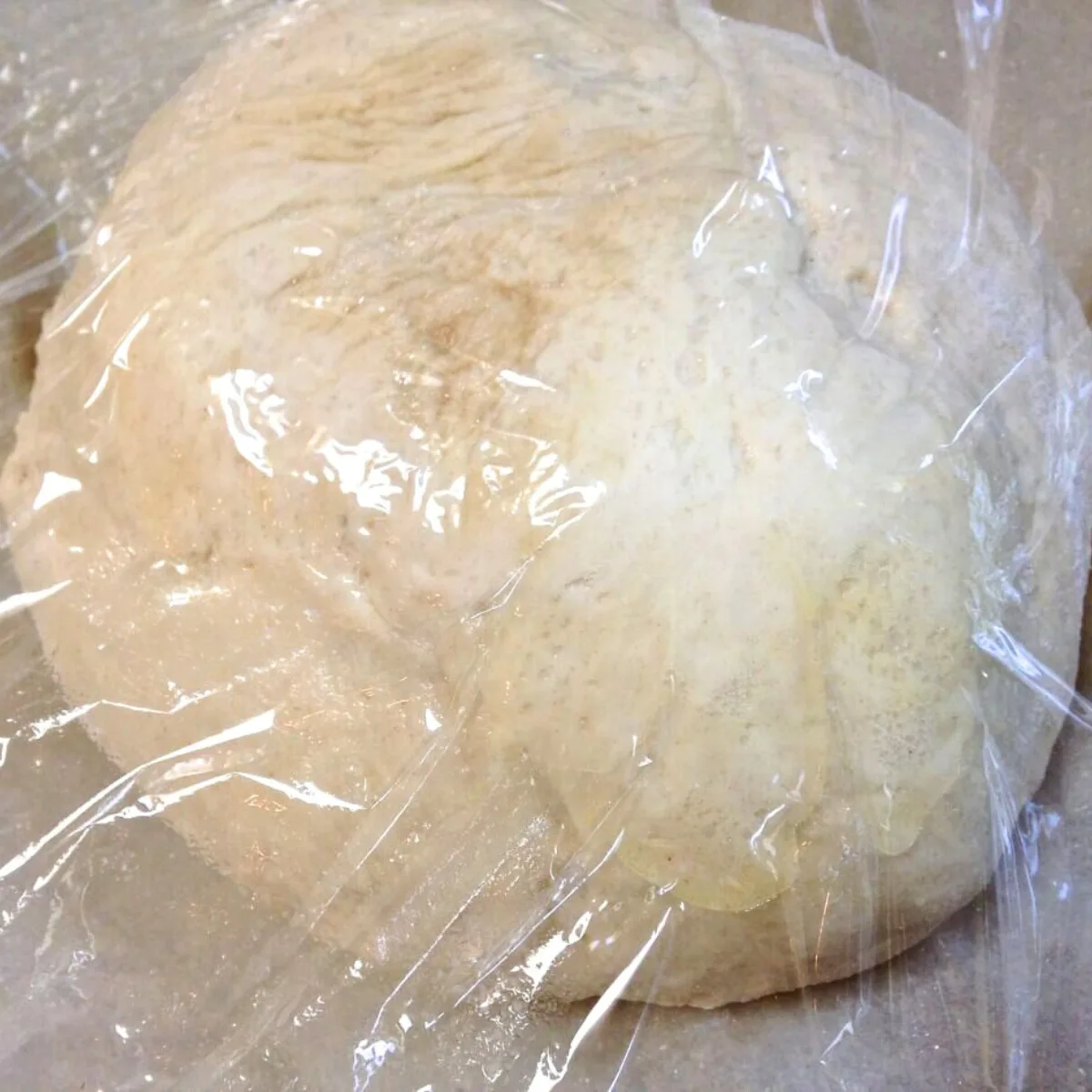 Scrape the dough out onto a lightly floured work surface and knead the bread dough by hand 10 to 15 times. Shape the dough into a ball by pulling the edges to the middle. Put the loaf, seam side down, on the prepared parchment paper. Spray the surface of the dough with cooking spray. Cover the dough loosely with plastic wrap and let it rise at room temperature until doubled in size, about 2 hours. (Dough should barely spring back when poked with a knuckle).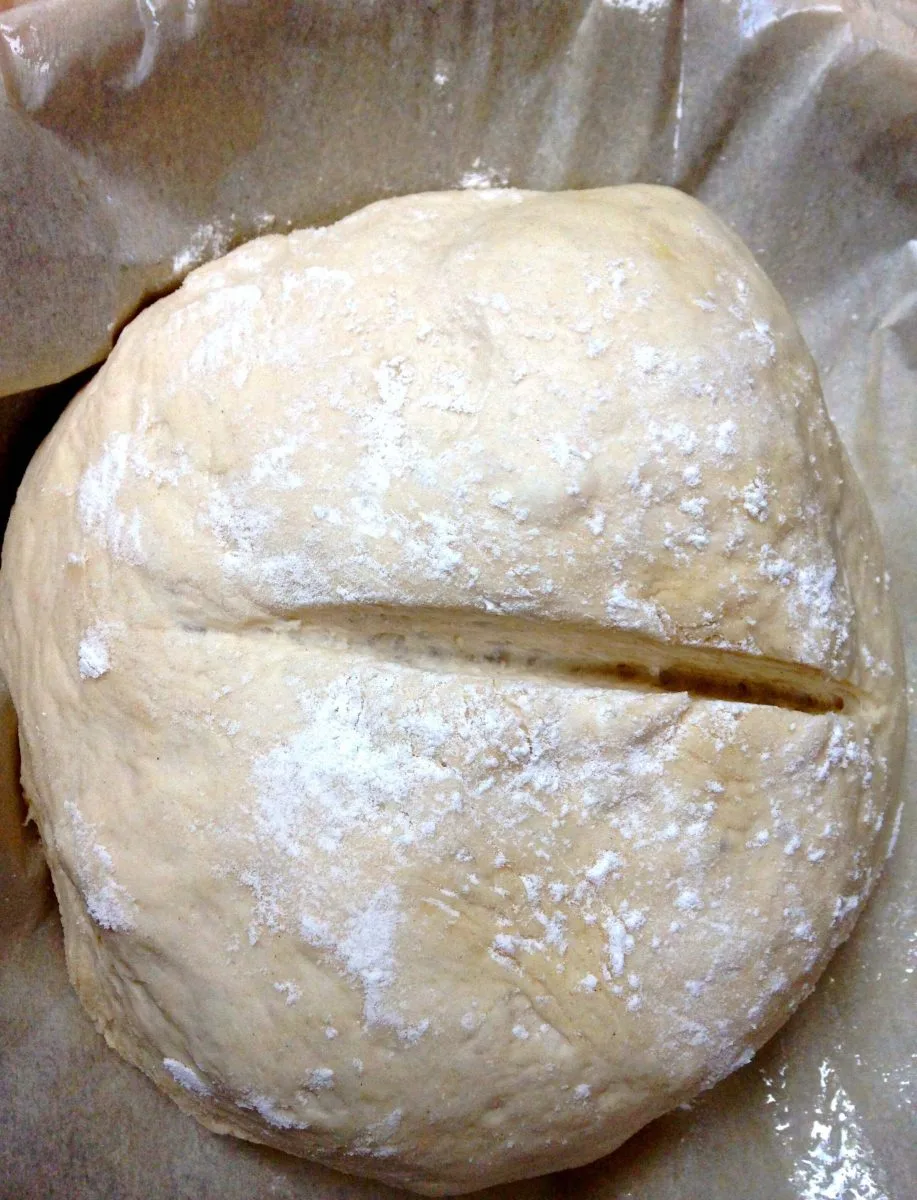 Thirty minutes prior to baking, move your oven rack to the lowest position. Put your empty dutch oven pan and lid into the oven, and heat the oven to 500°F. Lightly flour the top of the dough, and using a sharp or serrated knife or razor blade, cut a 6-inch slice across the top of the dough, approximately 1/2 inch deep.
Using oven mitts, carefully remove the pot from the oven and take off the lid. Pick up the loaf by lifting the parchment overhang. Lower into the pot and let any excess parchment overhang the pot edges.
Cover the pot and place it in the oven. Reduce oven temperature to 425°F and bake covered for 30 minutes. Remove the lid and bake until the crust is deep golden brown, 20 to 30 minutes longer.
Carefully remove the hot loaf from the pot and transfer it to a wire cooling rack.
How to Store and Reheat Homemade No Knead Bread
Bread always tastes best the day it's baked. However, store leftover bread at room temperature in foil. I often put my completely cooled bread in a reclosable plastic bag. The crust will soften slightly but it's still delicious.
Reheat the bread unwrapped in a 450-degree oven for 6 to 8 minutes.
Bread freezes remarkably well. Wrap it in plastic and then foil for up to 3 months.
Let the Bread Cool Completely
Once your bread is baked to perfection, it's important to exercise some patience before you dig in. Allowing your bread to cool completely will give the crust time to set and the interior time to finish cooking. You might be tempted to slice into your fresh loaf right away, but resist the urge and let it cool on a wire rack.
Not only will this ensure the best texture and flavor, but it will also make your bread easier to slice. Warm bread can be difficult to cut cleanly and can even become gummy if sliced too soon. So take a deep breath and let your bread cool completely before enjoying the fruits of your labor.
Now that you have achieved the perfect crust with your almost no-knead bread recipe and allowed it to cool completely, it's time to delve into some bonus tips for further perfecting your bread.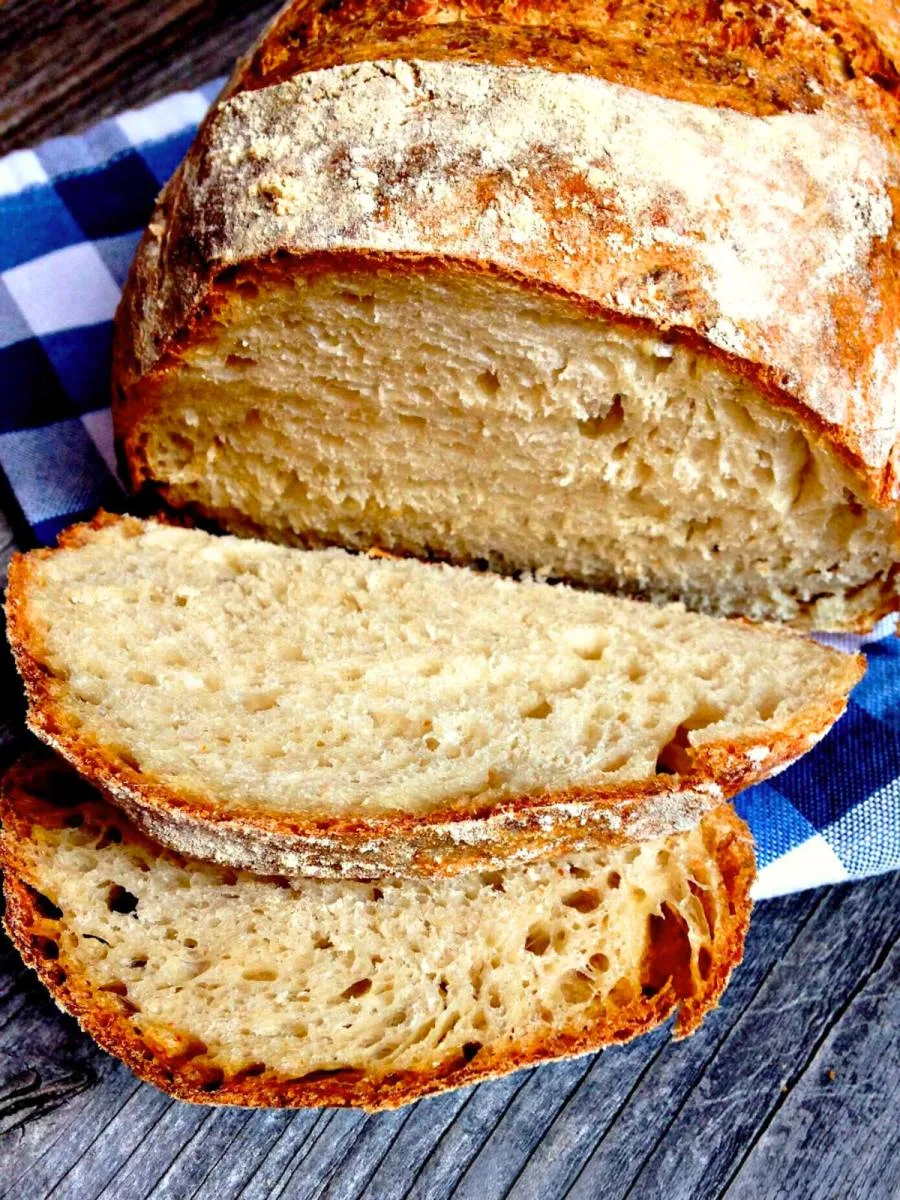 Bonus Tips for Perfecting Your No Knead Artisan Bread
The temperature of your ingredients plays a crucial role in the outcome of your bread. If the liquids, flour, or yeast, are too cold, the bread will not rise as well. Be sure to check the temperature of your water with a thermometer before adding it to the flour mixture. You don't want it warmer than 110ºF because it will kill the yeast. Shoot for 100ºF to 102ºF or like bath water.
Instead of relying on the color of the bread to tell me when it's finished baking, I use an instant-read thermometer and bake to approximately 205ºF to 210ºF.
Experiment with different types of flour. While all-purpose flour works well in this recipe, substituting some of it with bread flour or whole wheat flour can add different flavors and textures to your bread.
Try incorporating different ingredients such as herbs, spices, fresh garlic, or even grated cheese into your dough before baking. This can add an extra layer of complexity to your bread and improve its flavor profile.
Don't be afraid to get creative with shaping your bread. While this recipe calls for a round loaf, you can also try shaping it into a baguette or even a braid. Not only will this impress your dinner guests, but it can also make for a fun baking experiment.
No-Knead Bread Serving Suggestions
My favorite way to eat Dutch Oven No Knead bread is with a slather of butter. However, it also makes great toast or garlic bread. A crusty artisan bread is a delicious addition to a Charcuterie board or served with dipping oil.
Once it's no longer fresh, croutons, French toast, or bread pudding is a delicious way to use up leftover bread. What is your favorite way to eat a delicious slice of homemade bread?
More Great Bread Recipes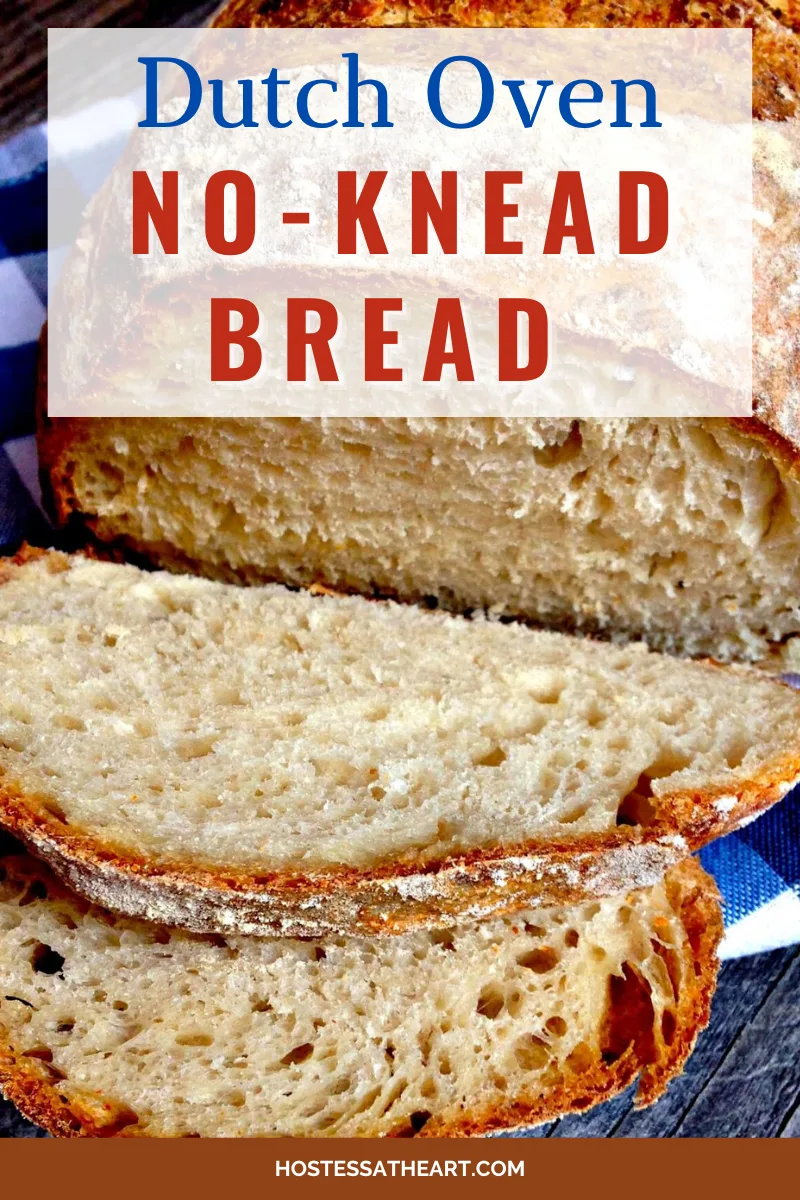 This recipe was originally published in 2014 and has been updated to improve readers' experience. No change was made to the recipe.