Simple Rustic Loaf is a beautiful loaf of bread that is easy to make and will leave you amazed that it came from your kitchen and not the bakery.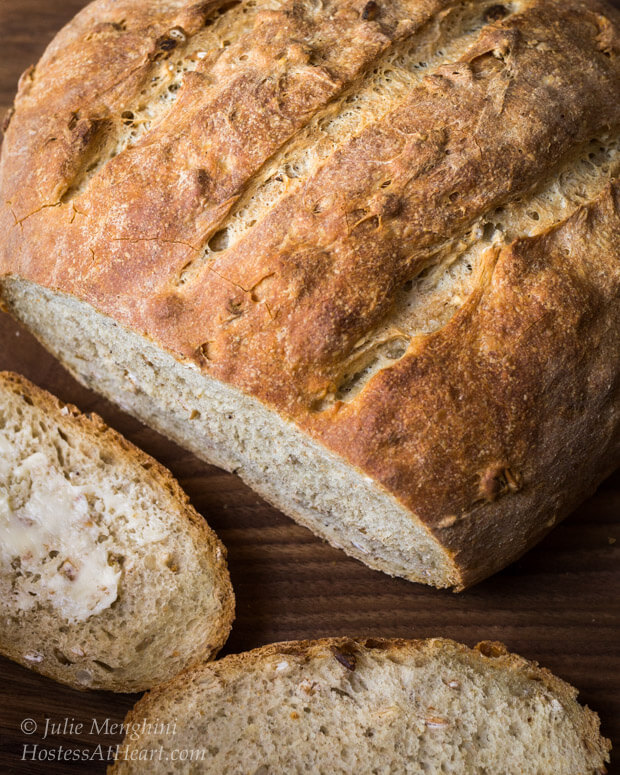 Have you started your new year with a set of goals that you'd like to accomplish? I have, and even though they are probably modest compared to a lot of goals, I'm excited to get a start on them! This Simple Rustic Loaf is a part of last year's goals and a big part of this years goals.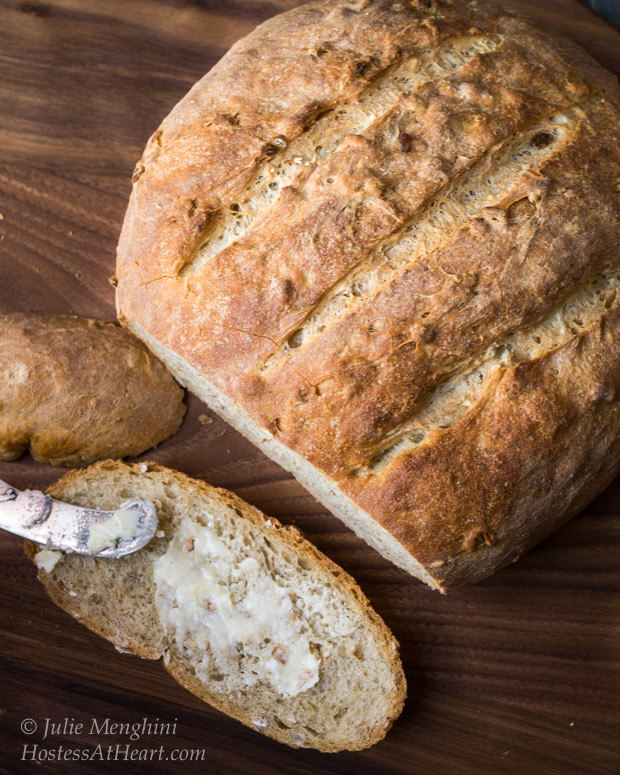 Last year one of my goals was to learn more about baking bread. To push myself in that direction, I joined a group of people that also enjoy baking bread and participate in monthly challenges. This group is called Twelveloaves, and there are people from all over with all degrees of skill. I've learned some great things from this group, and it's my goal to continue pushing myself and my skill level.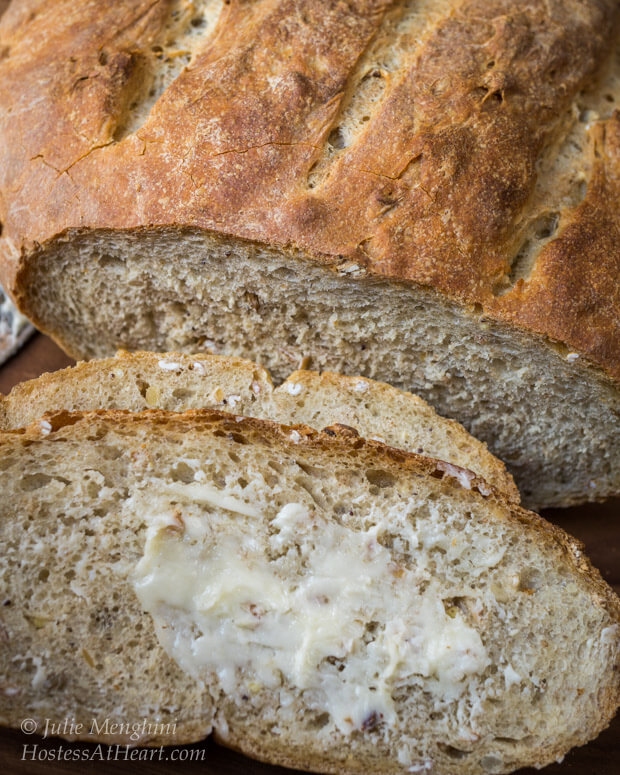 This month's challenge was to use a flour that we'd never worked with. I chose pumpernickel. To tell you the truth, this recipe actually used very little pumpernickel flour, and I learned that there are a lot of pumpernickel recipes that use a combination of flours such as wheat and rye flour. I just loved how this bread came out. It has a wonderful artisan crust and the crumb is so soft and moist. This bread is easy to make, and I think you will surprised that such a pretty loaf of bread can come from your oven. Bread can be pretty right?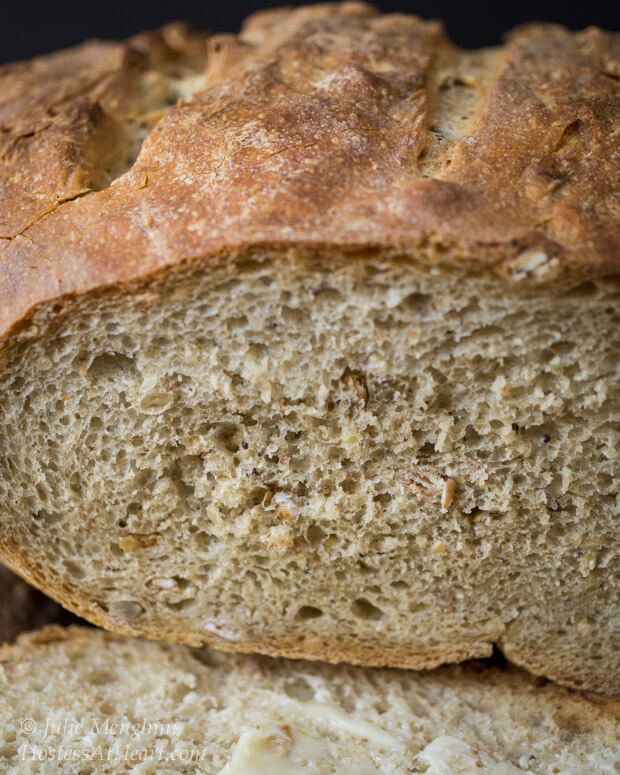 You will want to start this recipe either early in the day or even the day before which is what I did, because it has you make a sponge that needs to sit out on the counter for at least 4 hours. I left mine out over night and baked my bread the next day. Don't let the sponge scare you. It's just a flour yeast mixture that is allowed to sit out and will help the flavor of your bread develop. This picture is of my sponge after it sat overnight. All bubbly and ready to do it's job.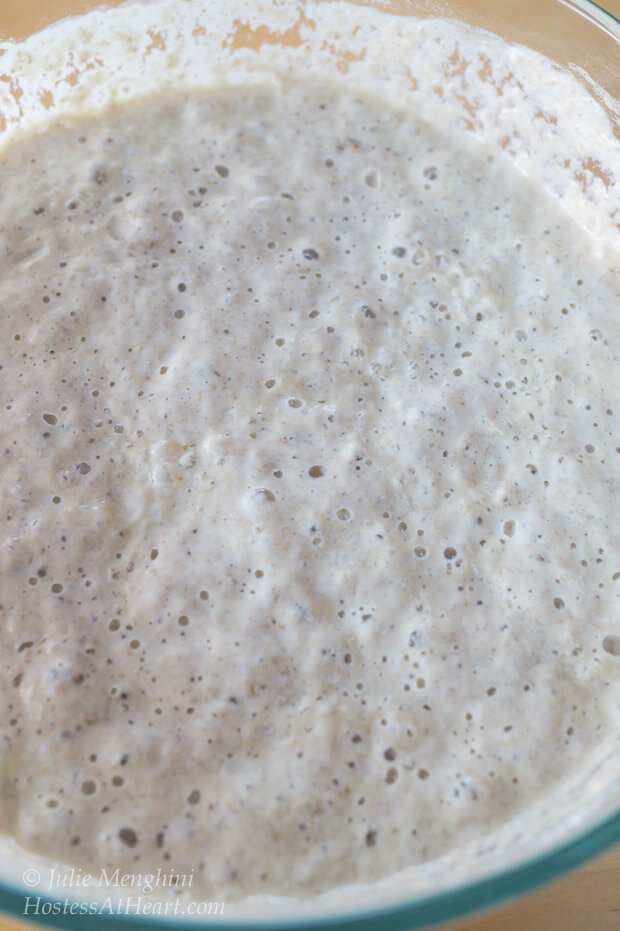 You will also note that I suggest you use filtered or spring water. That's because chlorine can have an adverse effect on yeast. So, if your water is chlorinated, use bottled or filtered water.
A Simple Rustic Loaf
A Simple Rustic Loaf is a beautiful loaf of bread that is easy to make and will leave you amazed that it came from your kitchen and not the bakery.
Ingredients
Sponge
1 1/2

cups

12 ounces cool water (Filtered or Spring)

1

teaspoon

instant yeast

1 1/2

cups

6 1/4 ounces Unbleached All Purpose Flour

1/2

cup

2 ounces Pumpernickel flour
Dough
2

teaspoons

salt

2 1/4

cups

9 1/2 ounces Unbleached All-Purpose Flour

1/2

cup

2 3/4 ounces King Arthur Harvest Grains Blend or mixed seeds and grains of your choice
Instructions
To make the sponge
Mix the sponge ingredients together. Cover and let it sit at room temperature 3 to 4 hours or overnight.
Dough
Stir down the sponge. In a large bowl, combine dough ingredients and the sponge. Knead until smooth and elastic. Knead in the Harvest Grains blend or your choice of seeds. Form a ball and put it into a large well oiled bowl. Turn once to coat both sides. Cover and allow to rise for 1 1/2 to 2 hours.

Lightly grease a baking sheet, or cover it with parchment paper. Turn out the dough out onto the baking sheet, and form it into a ball. Cover and allow it to rise for 1 more hour. Preheat the oven to 450 degrees F.

Gently but firmly slash the dough across the top and then spritz it with water. Bake the bread for 30 to 35 minutes, until it's a deep golden brown. Remove from the pan and allow the loaf to cool completely on a cooling rack prior to slicing.
Notes
Included in the prep time is inactive rising time.
Recipe originated by King Arthur Flour
Nutrition
Serving:
1
g
|
Calories:
1778
kcal
|
Carbohydrates:
369
g
|
Protein:
54
g
|
Fat:
6
g
|
Saturated Fat:
1
g
|
Sodium:
4763
mg
|
Potassium:
616
mg
|
Fiber:
17
g
|
Sugar:
1
g
|
Calcium:
82
mg
|
Iron:
22
mg
This recipe was calculated using the exact brands and measurements I used to make this recipe. If you are following a strict diet please note changing anything will cause the nutritional info to change. My calculations are intended as a guide only.
#TwelveLoaves is a monthly bread baking party created by Lora from Savoring Italy and runs smoothly with the help of Heather of All Roads Lead to the Kitchen, and the rest of our fabulous bakers.
This month we are baking New-to-You Flour Breads that are perfect to celebrate the holiday season. For more bread recipes, visit the #TwelveLoaves Pinterest board, or check out last month's inspiring selection of #TwelveLoaves Holiday Breads!
60% Kamut Sourdough Bread from Karen's Kitchen Stories
Coconut Flour Zucchini Bread from CulturEatz
Five Grain Loaf with Dried Cranberries & Pecans from All That's Left Are the Crumbs
Gluten-Free Artisan Bread from A Shaggy Dough Story
Rustic Loaf using Pumpernickel Flour from Hostess At Heart
Rye Soda Bread from Savoring Italy
If you'd like to bake along with us this month, share your New-to-You Flour Breads using hashtag #TwelveLoaves!
This recipe is shared with link parties Throwback Thursday, Fiesta Friday and Saucy Saturdays! Come party with us and pick up some amazing recipes!