Use your sourdough discard to make this amazing, light, fluffy, soft sourdough pancakes recipe. Something magic happens to pancakes when you use sourdough. You get a delicious flavor comparable to buttermilk and a beautiful tender texture from the sourdough starter.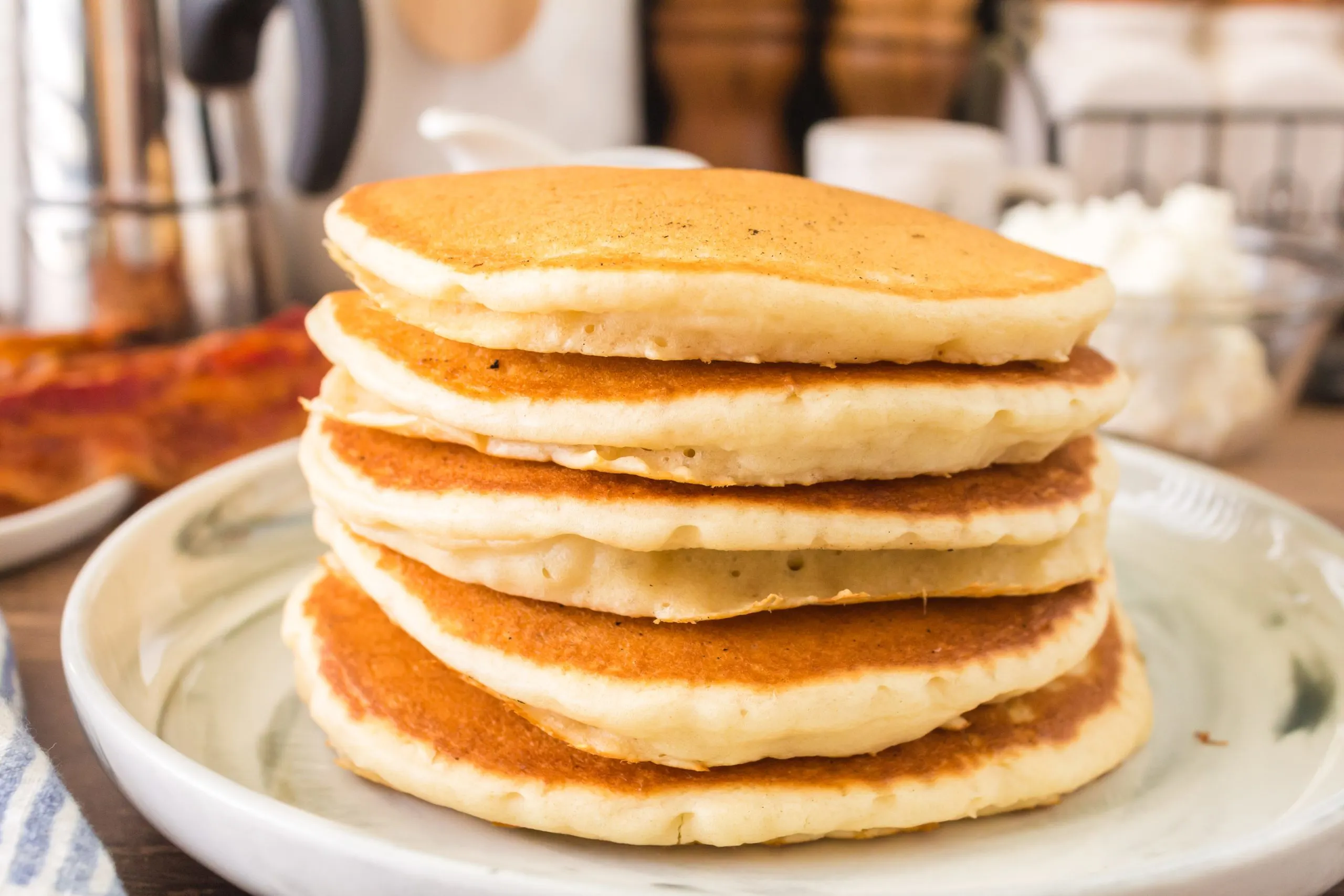 Follow our step-by-step instructions to make this gorgeous stack of pancakes for your family breakfast!
Why You'll Love Sourdough Starter Discard Pancakes
The texture is perfect. The fermentation in your pancake batter creates soft, fluffy pancakes you are going to adore.
The process is easy. Making and saving your sourdough pancakes is so fun with our recipe!
Breakfast is homemade. Some of my favorite memories over the years include making and eating a hot breakfast with my family.
No waste. We don't like throwing away unused starter (sourdough discard). These pancakes make sure it doesn't go to waste just like our favorite sourdough discard recipes.
What is Sourdough?
Sourdough bread is bread made with a fermented "starter" batter also referred to as natural yeast or wild yeast. This starter begins with yeast and bacteria mixed with flour and water. The starter is fed to keep these organisms alive and create fermentation. A "discard" of the batter is then mixed into the bread dough to create that classic sourdough taste.
Ingredients You'll Need for this Recipe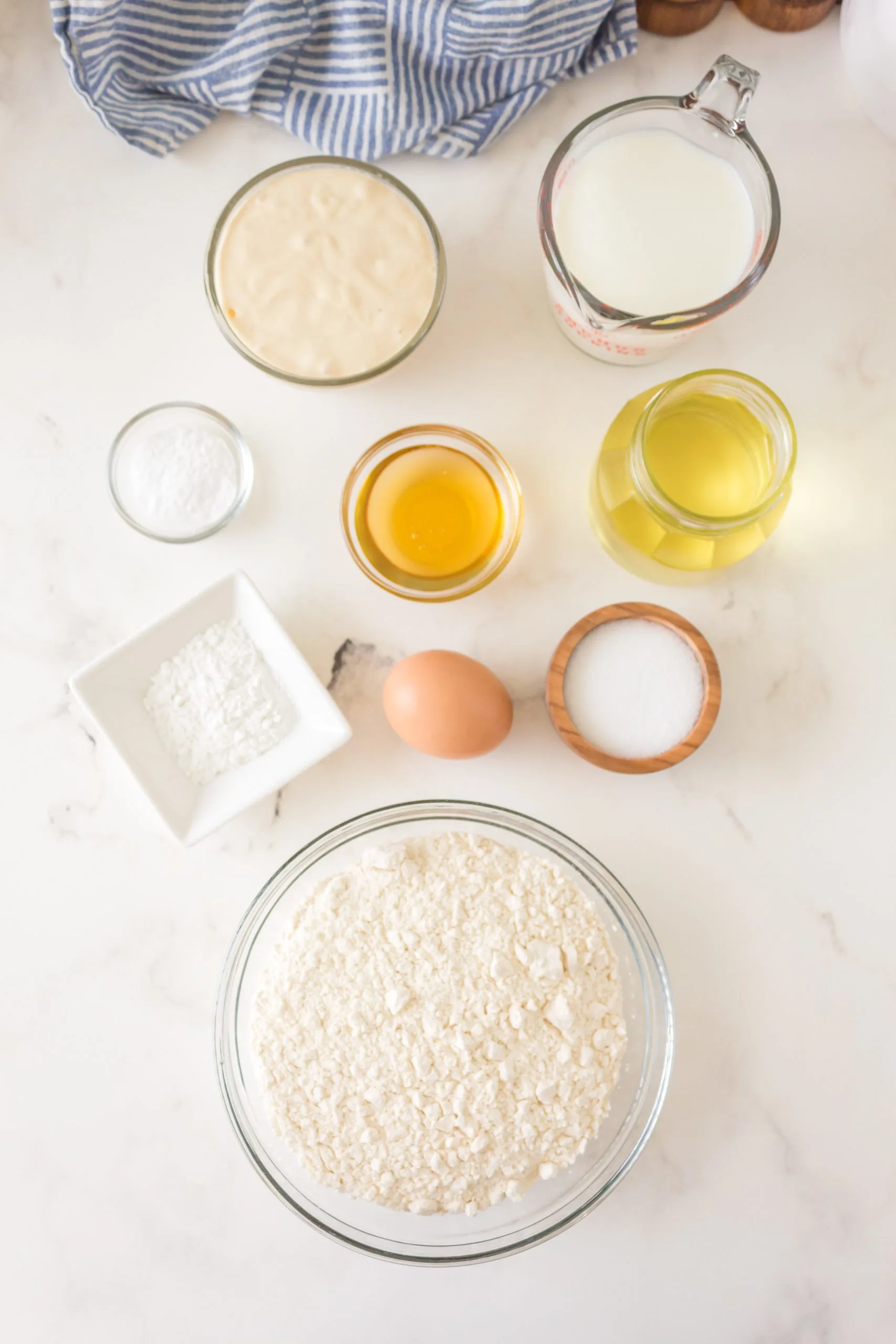 Milk. The higher fat content in your milk will make pancakes tender and moist.
Sourdough Discard. Sourdough starter is made from a combination of yeast and bacteria growing inside a paste made of flour and water. Make your own starter and learn how to get discard using these instructions.
Honey. White Granulated Sugar or maple syrup will also work.
Vegetable Oil. Canola oil or any flavorless oil will work. I don't recommend using olive oil unless your pancakes will be used in a savory application. It adds too much flavor to the batter.
Salt.
All-Purpose Flour.
Egg.
Baking Powder.
Baking Soda.
How To Make Sourdough Pancakes
Please note, that the printable recipe card has ingredient quantities, complete instructions, and nutritional information. The following is a quick overview of the recipe.
Step One. Mix the liquids.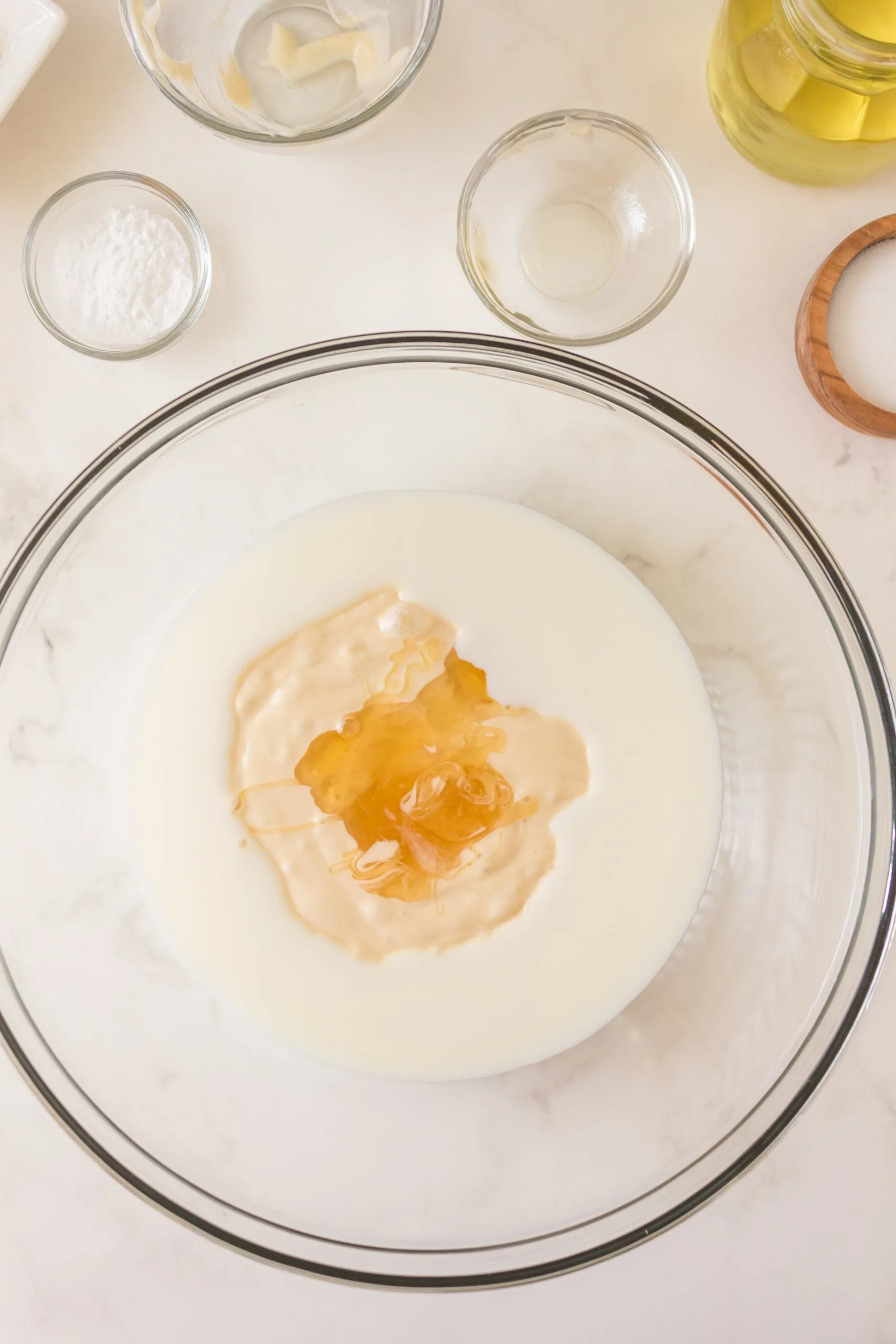 Place the milk, sourdough discard, and honey in a large bowl or the bowl of your stand mixer bowl. Mix and let it stand for 2 to 3 minutes. Add the oil and salt.
Step Two. Add the dry ingredients to your Sourdough Pancake Batter.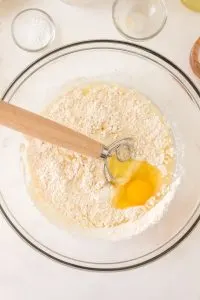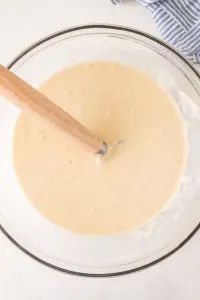 Add half of the flour. Mix until the flour is almost all incorporated. Add the egg. Mix well. Add the remaining flour, baking powder, and baking soda. Mix until the batter is smooth.
Step Three. Rest your Sourdough Discard Pancake Batter.
Let the batter rest while warming up the griddle or pan. Heat a cast iron pan or pancake griddle to around 325° F to 350° F while the batter rests.
Step Four. Fry your pancakes.
Pour batter, about ⅓ cup of batter for each pancake. Let it cook for about 1 ½ – 2 minutes or until the bottom of the pancake is a light golden brown or until the top is nice and bubbly then flip.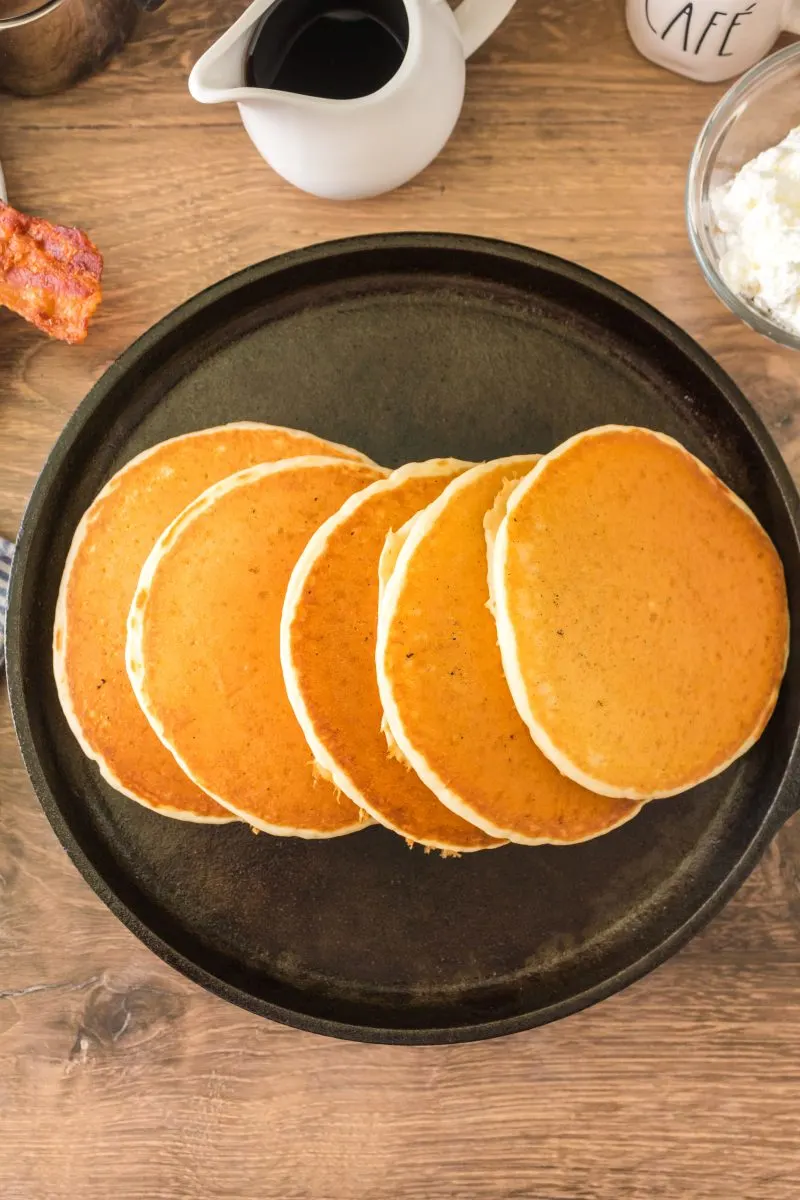 Frequently Asked Questions
How long does pancake batter last in the fridge?
You can store your leftover batter in the refrigerator for up to two full days in an airtight container or resealable bag.
How do I store pancake batter?
I like to put it in a plastic pitcher with the lid or my large glass measuring cup (with a handle) and then I can pour the batter directly into my hot skillet or griddle.
What temperature should I use for pancakes?
Temperature is the most important element in achieving the best sourdough pancakes. If you're using an electric griddle, set the temperature to 325ºF-350ºF. For cooking on the stovetop, we prefer a cast iron skillet over medium heat. If you use too high a heat the outside will cook before the middle is done or you'll burn the outside.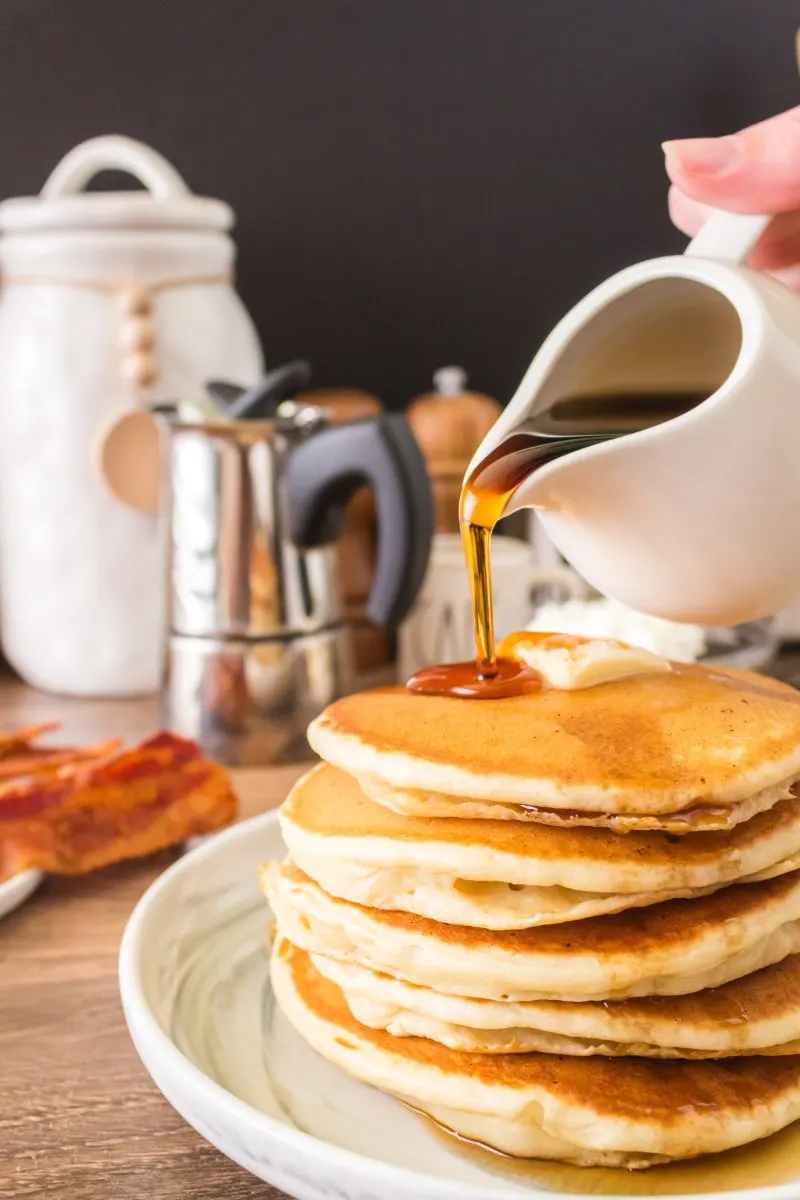 How To Reheat & Store Sourdough Pancakes
Best way to store this Sourdough Pancake Recipe
Once they are completely cooled, place them in a plastic bag in the fridge for up to 3 days.
Can I Freeze Sourdough Discard Pancakes
Yes. Freeze leftovers in a single layer on a baking sheet in your freezer for at least a couple of hours. Then move them to a freezer-quality bag for long-term storage. This process keeps them from sticking together.
How to Reheat Sourdough Pancakes
You can place frozen pancakes in a toaster oven or a microwave. Only thirty seconds in the microwave may be enough. You don't want to do too much or it will dry out or get chewy. Another alternative is to place it in an air fryer at 330º F for 2-3 minutes.
Variations and Substitutions
Make these pancakes kid-friendly with one of these options:
Chocolate chips or blueberries mixed in and whipped cream on top.
Sprinkles mixed in or sprinkled over the top.
Fruit to make a face on top with whipped cream for hair. Use blueberries for the eyes, strawberries for the mouth and a raspberry for the nose.
Make your pancakes savory with these options:
Add bacon or ham, and cheddar to the batter.
Add green onions or scallions and herbs to the batter.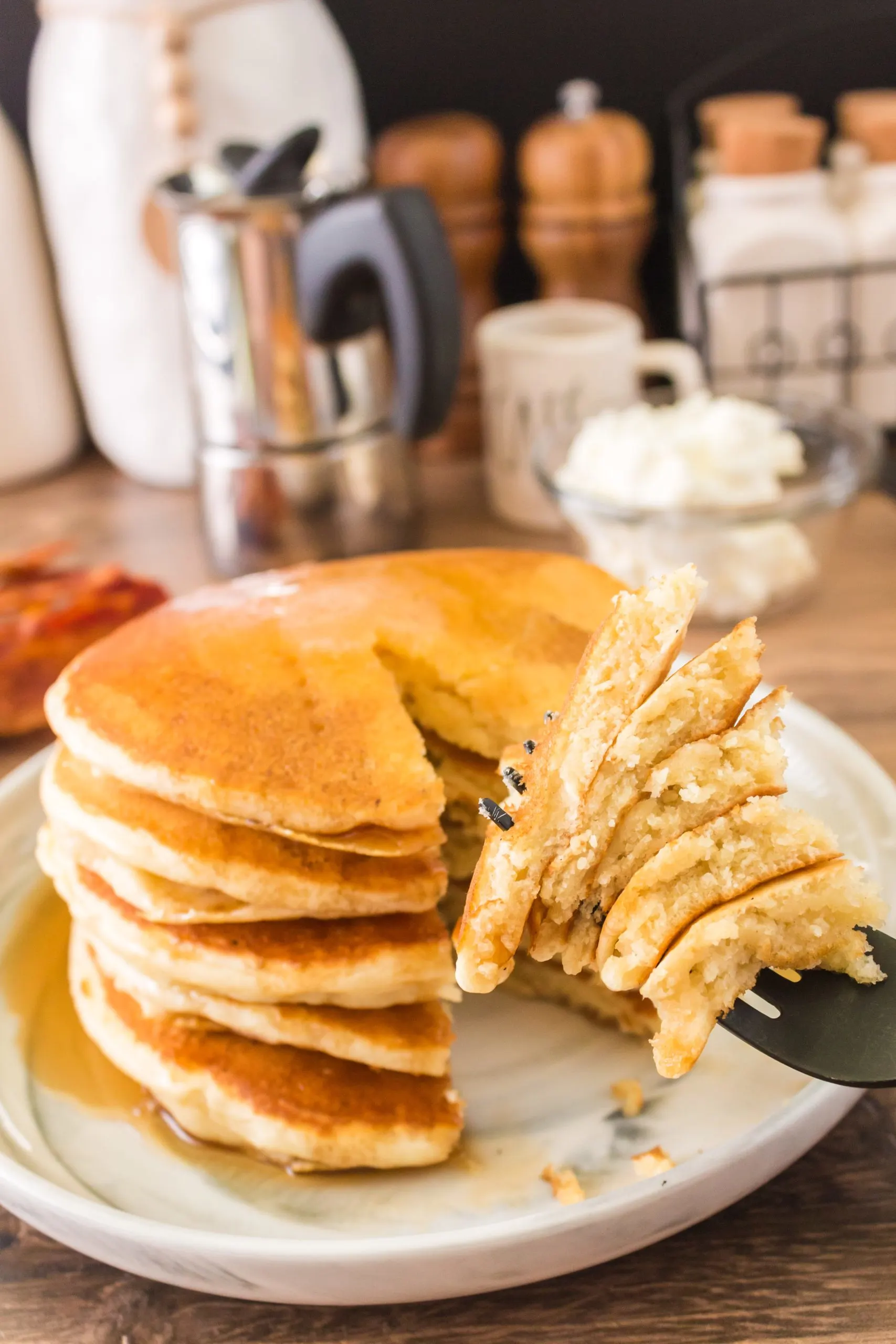 How to Serve Sourdough Discard Pancakes
Serve the sourdough pancakes with your favorite pancake toppings. Our favorite toppings include whipped cream, Nutella, chocolate drizzle, maple syrup, with a pad of butter. Top the pancakes with fresh berries and fruit, or pour a fruit coulis over them.
Hostess Tips and Tricks
I love using my Danish whisk to mix the batter smooth.
Do not skip letting the batter rest.
Use a large measuring cup to pour the batter onto the hot griddle is the perfect way to make all of your homemade sourdough pancakes the same size.
We test the temperature of our griddle or cast-iron skillet with the first pancake.
You should only flip a pancake once so that it stays light and fluffy. Flipping it multiple times will make the tough and dry.
Preheat the oven for 2 minutes and then turn it off. Put the finished pancakes on a plate in the oven to be kept warm so everyone gets a hot pancake at the same time. Including the cook!
If you enjoyed our Sourdough Pancakes Recipe, I think you'll enjoy these other breakfast recipes too!
If you love fruity, try our Apple Dutch Baby Pancake Recipe or these Swedish Pancakes with Raspberry Compote. For a nice protein boost, make this yummy Italian Sausage and Potatoes. When you want a different kind of sweet for when you need a handheld on-the-go breakfast, enjoy our Blueberry Puff Pastry Recipe.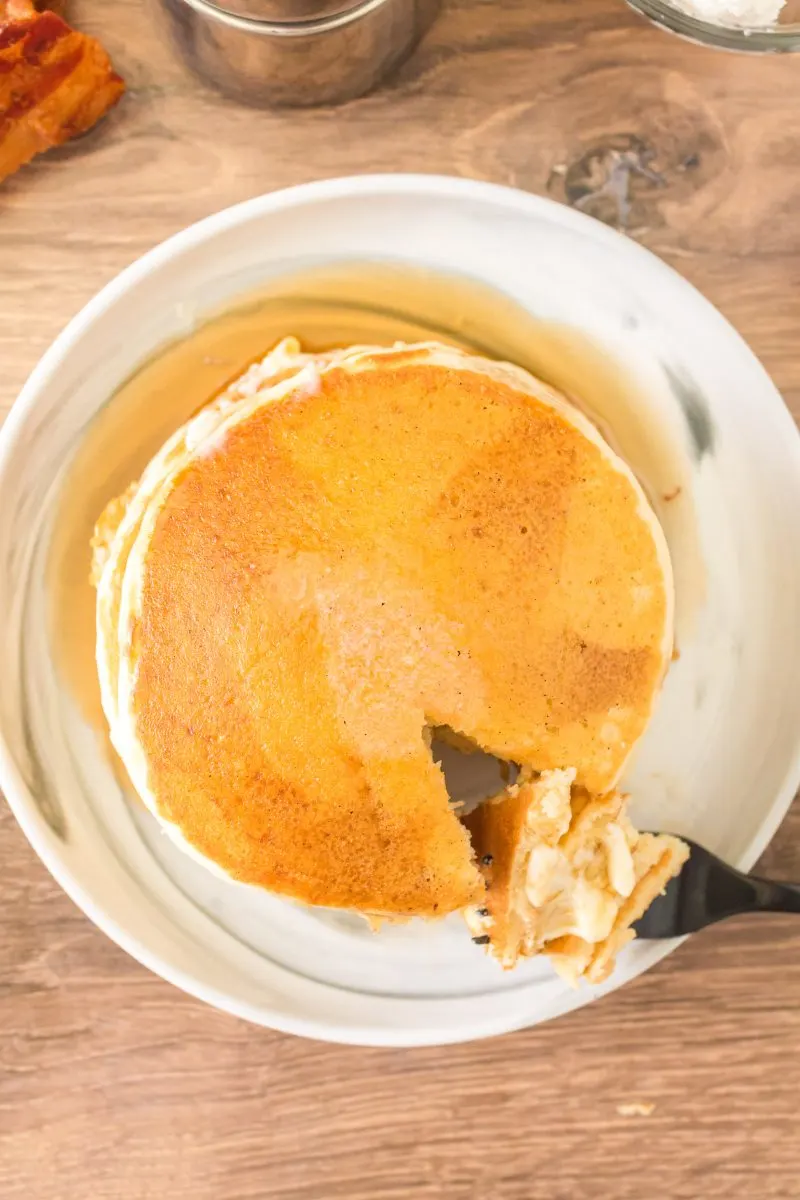 I hope you enjoyed this delicious recipe as much as we do. Drop me a comment below, and don't forget to give it a star rating. ⭐⭐⭐⭐⭐. Your comments and ratings help others decide if this recipe is for them too.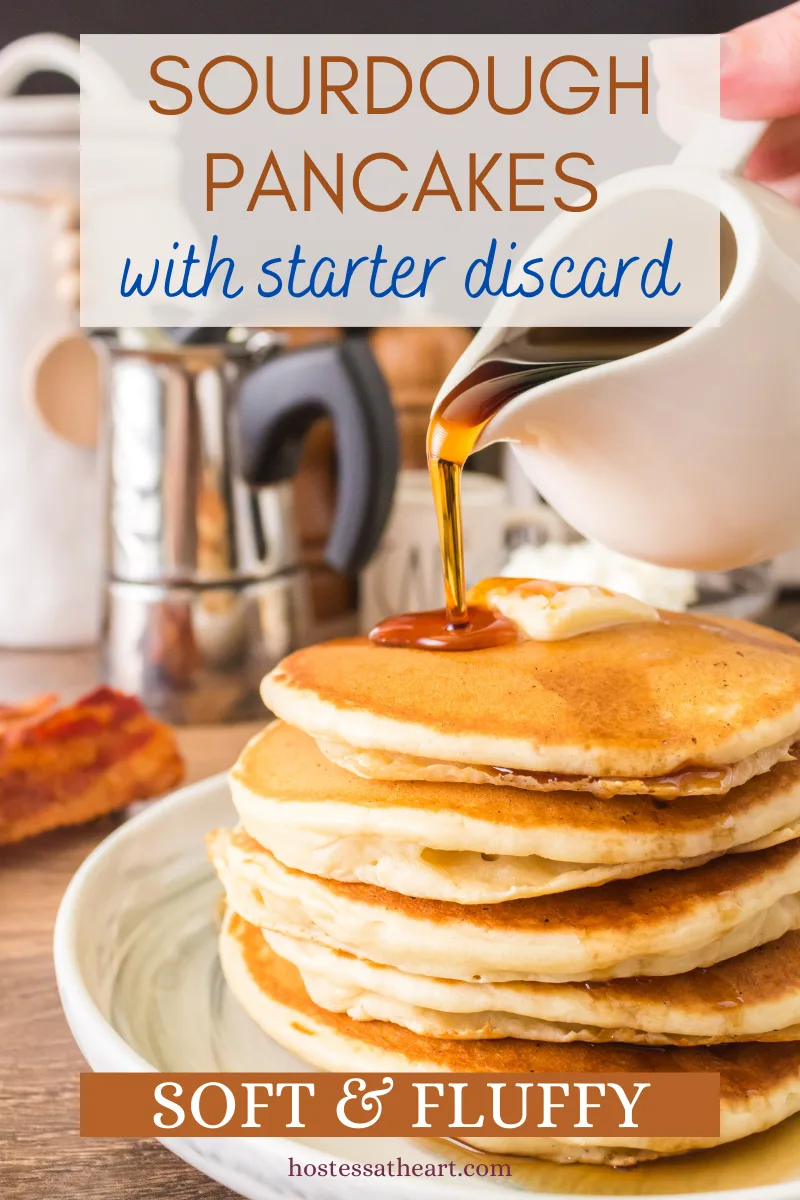 Pin this amazing recipe!