Swedish Pancakes with Raspberry Compote is a delicate crepe-like pancake that's easy enough for any morning or decadent enough for brunch.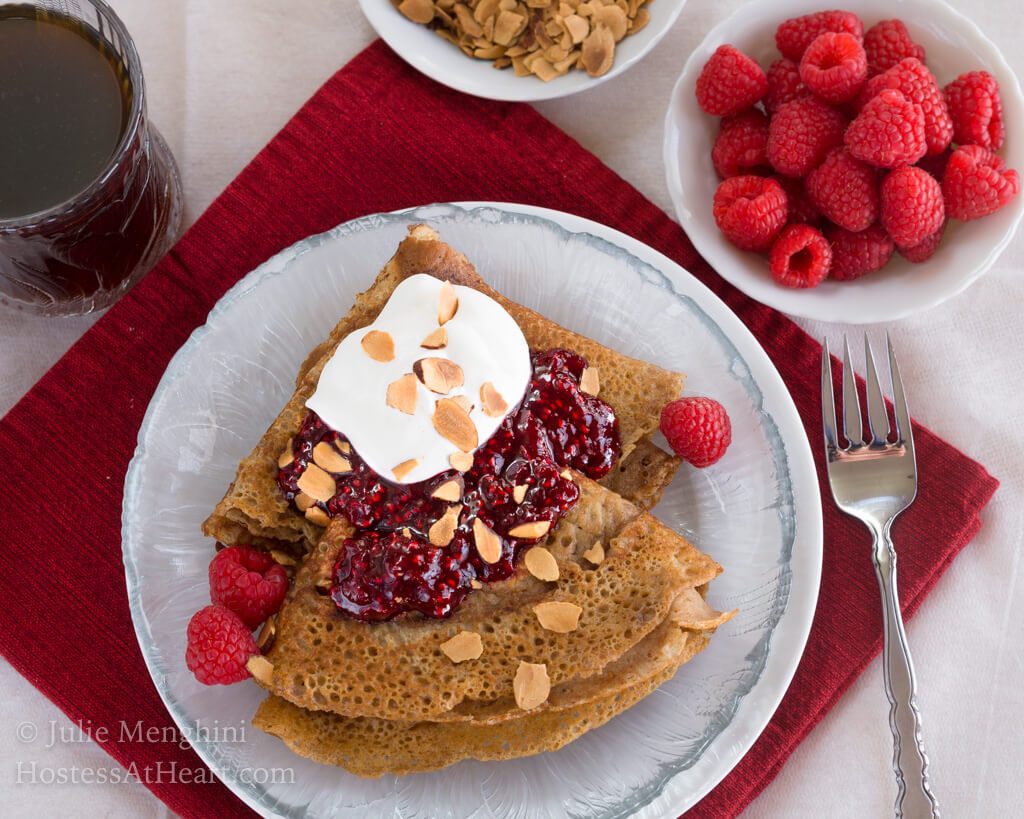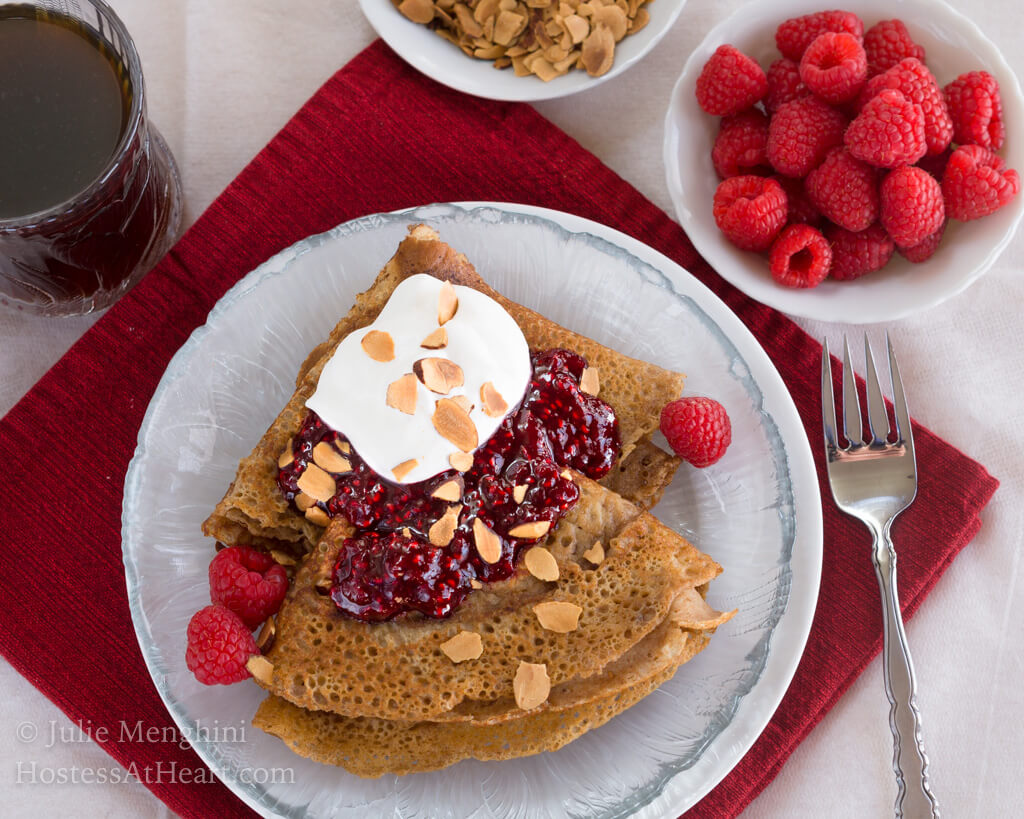 Swedish Pancakes with Raspberry Compote is a little taste of decadence with a big side of amazing. They're the perfect brunch or breakfast when you're looking for that wow factor.
This whole wheat version is topped with a decadent raspberry compote, homemade whipped cream, and toasted almonds. We're talking 4-star restaurant stuff here folks!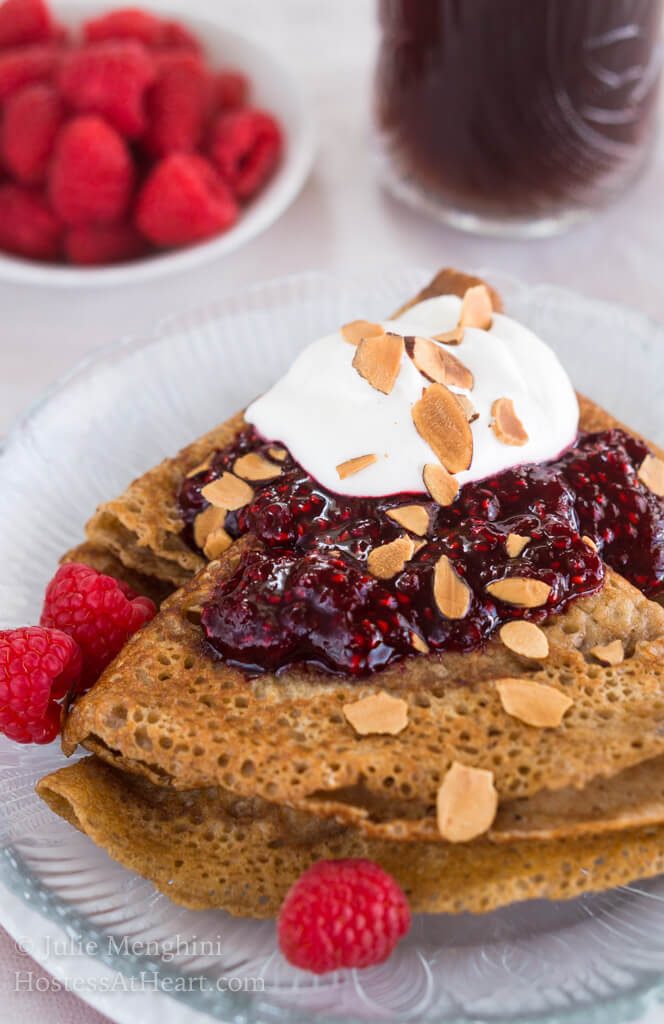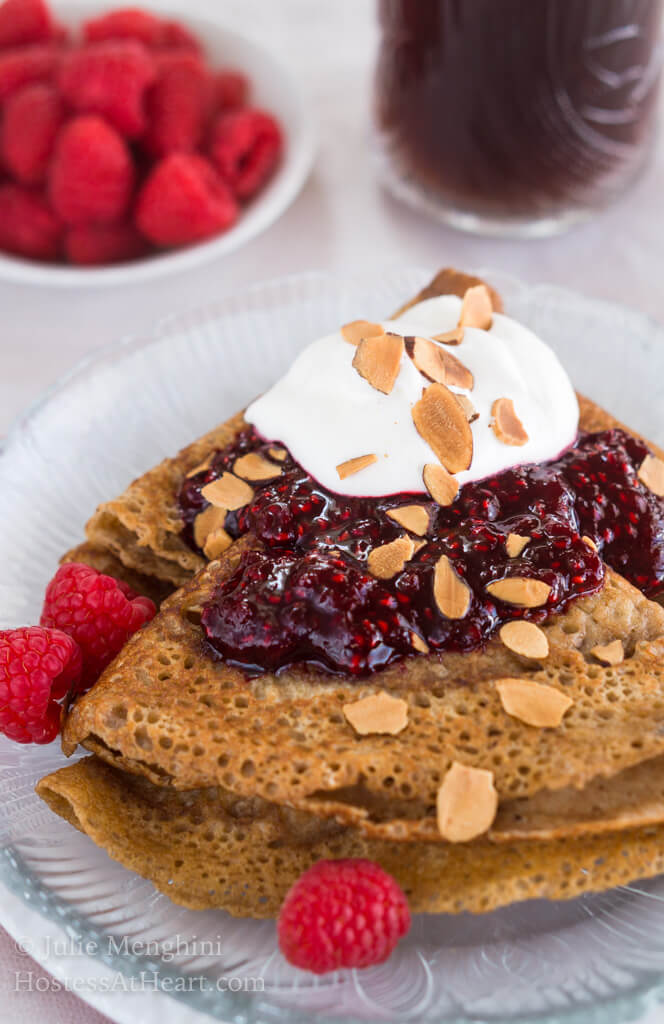 National Pancake week is in February! O.k., I didn't know it either until Wendy from A Day In the Life On The Farm picked "Pancakes" theme for this month's Bread Bakers event.
I just love this group because it's pushed me to make things that I wanted to but probably wouldn't have. This group is made up of people all over the world in a variety of cultures. I see recipes that I wouldn't otherwise.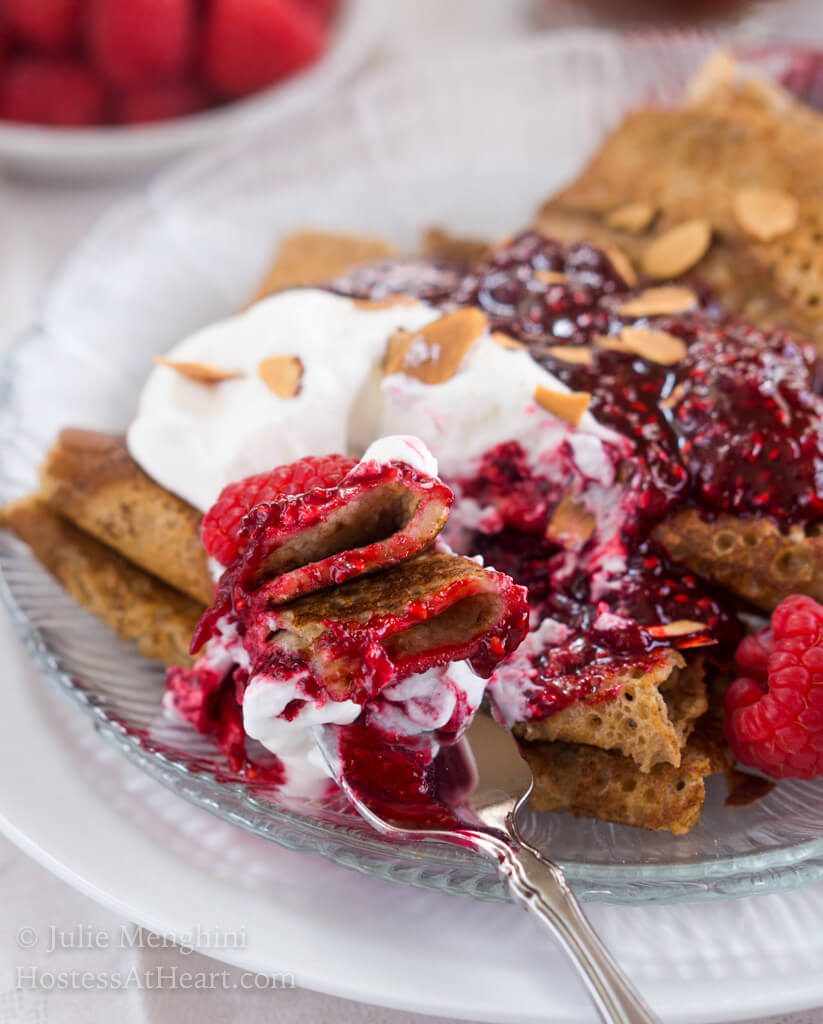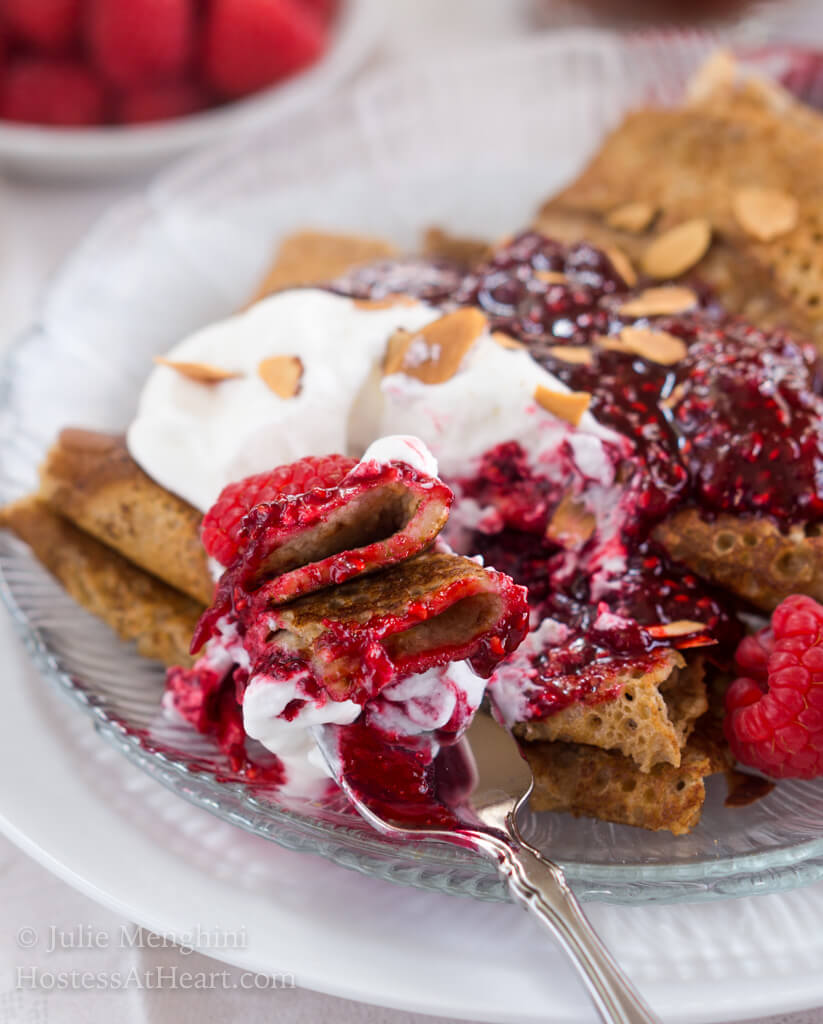 A couple of years ago we were on vacation in Colorado and there was this food truck that sold crepes. At that time I couldn't say that I'd ever eaten one but was amazed that they had a long line to order one all day long.
My daughter who lived in France for a time was obsessed with a good crepe so I eventually tried them and learned what the buzz was all about. Amazing!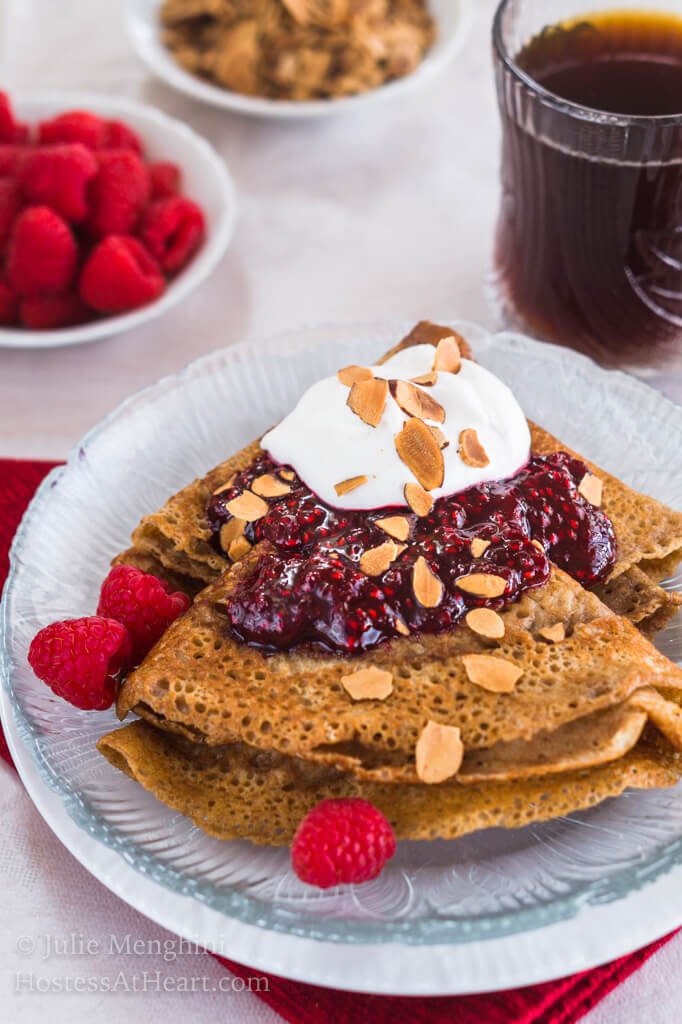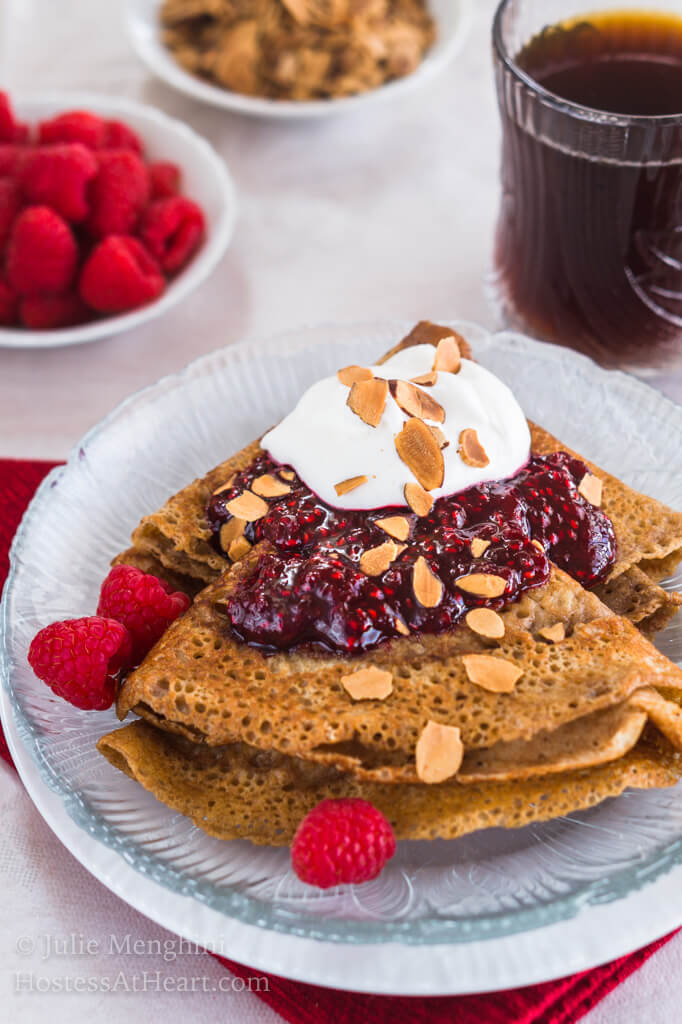 These Swedish pancakes with Raspberry Compote might not qualify as a crepe but, to me, they are very similar.
They are a flavorful thin batter that cooks into a light lacy pancake that is perfect as is or with a topping like this beautiful raspberry compote, homemade whipped cream, and toasted almonds.
Here are a couple more breakfast recipes that we love!
Don't have time to make it now?

Pin it

for later!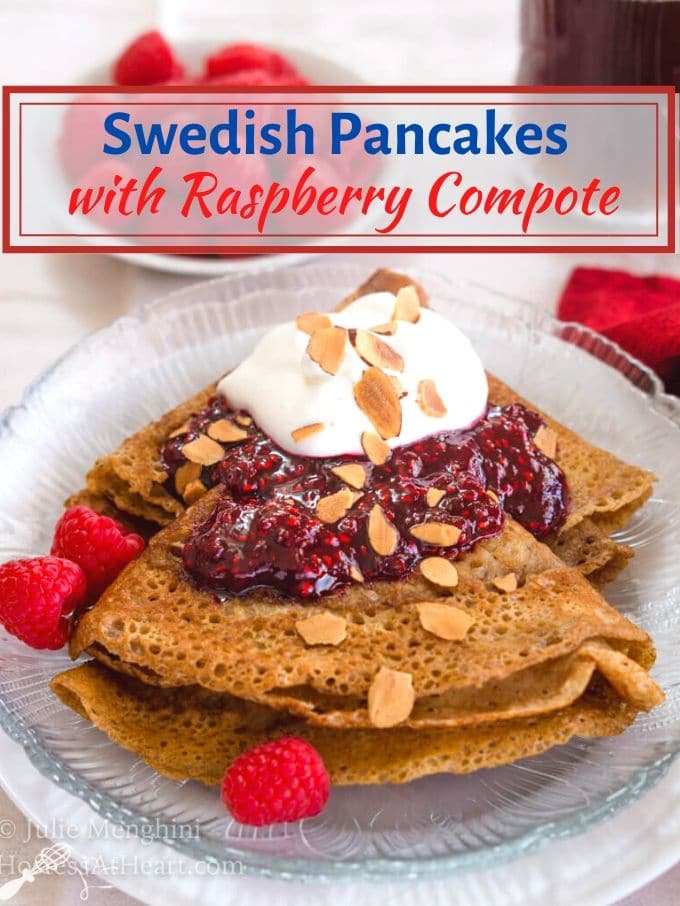 I make a lot of quick and easy recipes but have to admit that these took a bit of time to make and got much easier as I went. They were really worth the time they took. Now it's time to see what my friends from Bread Bakers made!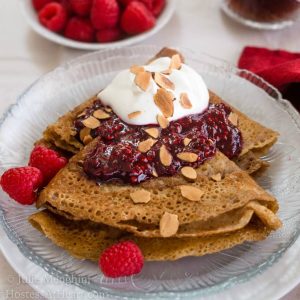 Swedish Pancake with Raspberry Compote
These Swedish Pancakes with Raspberry Compote are a delicate pancake that is just as delicious to eat as they are striking to look at.
Ingredients
Pancake
1-1/4

cup

whole-wheat flour

1/2

tsp

salt

2

cups

whole milk

2

eggs

large

1/2

cup

heavy cream
Toppings
1/2

cup

heavy cream

2

tbsp

powdered sugar

1/2

cup

slivered almonds

5

tbsp

unsalted butter
Instructions
Raspberry Compote
Combine raspberries, sugar and vanilla extract together in a medium-sized saucepan. Cook over medium heat for approximately 20 minutes. Cool completely. Compote will thicken as it cools.
Garnishes
Preheat the oven to 350°F. Put a piece of parchment paper on a rimmed baking sheet. Spread almonds over parchment paper and toast until browned. 10 to 15 minutes.

Whip heavy cream with a whisk attachment on an electric stand mixer. As soon as cream becomes fluffy add 2 tablespoons of powdered sugar. Blend together until whipped cream is thick enough to peak. Place in the refrigerator until pancakes are cooked
Pancake
Reduce the oven to 200°F and line the rimmed baking sheet with parchment paper. This pan will be used to place cooked pancakes in the oven to stay warm.

In a medium-sized bowl combine the flour and salt. In a large-sized bowl whisk eggs together and then milk and cream. Gradually whisk dry ingredients into wet ingredients. The batter will be thin.

Heat a 10″ cast iron skillet over moderate heat. Add 1/2 tablespoon of butter in the skillet and as soon as it begins to brown add 1/2 cup of the batter. Swirl the pan to thinly coat the bottom of the pan with the batter. Cook until the bottom layer is brown (2 to 4 minutes). If the butter gets dark too quickly the heat is too high. Turn the pancake and cook until bottom is browned, approximately 2 more minutes. I used a fish spatula to turn the pancake. Place cooked pancake flat on the parchment paper and keep in the oven until serving. Repeat starting with butter until pancake batter is gone
Assembly
Fold each pancake in half and then half again to form a triangle. Spoon raspberry compote over pancake followed by whipping cream and slivered almonds. Serve immediately.

Pancakes may be stored in an air-tight container in the refrigerator 1 to 2 days. Store raspberry compote and whipping cream separately.
Notes
Calories are based on all of the raspberries and whipped cream being used. I didn't need all of it.
Pancake adapted from Food and Wine June 2017
Nutrition
Calories:
349
kcal
Carbohydrates:
27
g
Protein:
6
g
Fat:
24
g
Saturated Fat:
13
g
Cholesterol:
106
mg
Sodium:
200
mg
Potassium:
243
mg
Fiber:
3
g
Sugar:
19
g
Vitamin A:
830
IU
Vitamin C:
11.1
mg
Calcium:
126
mg
Iron:
0.9
mg
Nutritional Disclaimer
This recipe was calculated using the exact brands and measurements I used to make this recipe. If you are following a strict diet please note changing anything will cause the nutritional info to change. My calculations are intended as a guide only.
#BreadBakers is a group of bread loving bakers who get together once a month to bake bread with a common ingredient or theme. Follow our Pinterest board right here. Links are also updated each month on this home page.
We take turns hosting each month and choosing the theme/ingredient.