Blueberry Puff Pastry Rolls are a flaky, buttery blueberry pastry that's quick, easy, and delicious. This Puff Pastry Blueberry recipe is perfect for breakfast, brunch, or that sweet treat after any meal.
I love making puff pastry recipes. They make a simple recipe such as my Chocolate Puff Pastry dessert look oh la la fancy. Well, there's nothing fancy about this Blueberry Puff Pastry recipe either but biting into one will have you reaching for another.
This recipe was originally published in 2017 so it was time for an update. I've added some instructions and tips that I believe will make it easier to follow. No changes were made to the actual recipe.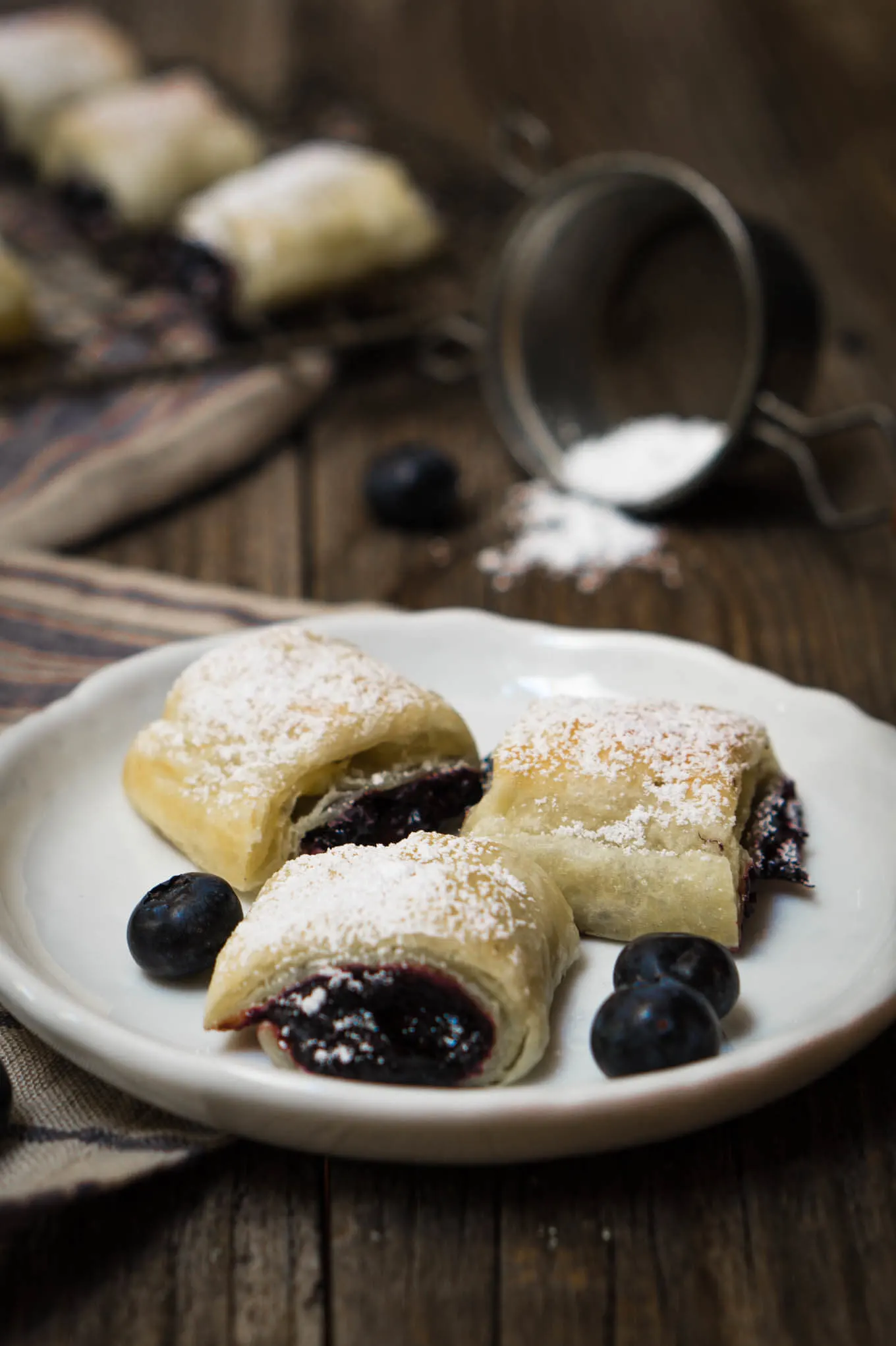 Artists test their own talent by trying to create a berry as beautiful as the original, just as I tried to create a puff pastry blueberry recipe that tasted as Mother Nature intended.
I don't think that there is anything more beautiful than what good ole "Mother Nature" creates. The colors of new berries are amazing and taste even better when loaded into blueberry pastry recipes.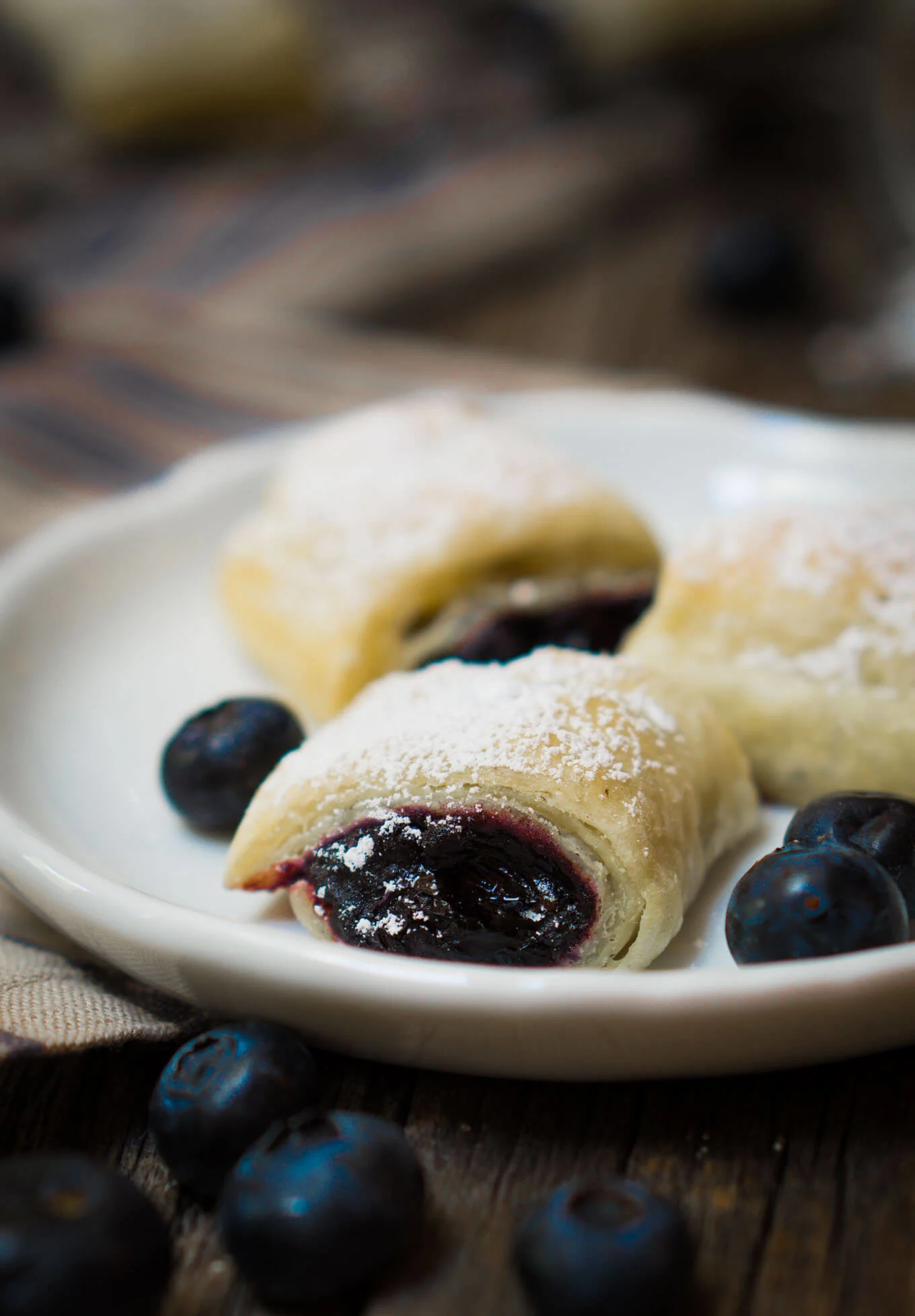 When berries look good, I just buy, buy and buy. When I can't get fresh, frozen works perfectly. In fact, since they don't grow where I live, frozen can be tastier.
So when my refrigerator was full of blueberries, I had to get creative. Creativity doesn't mean difficult or time-consuming.
This Blueberry Puff Pastry recipe is quick, easy, and delicious. That makes this recipe about as perfect as those blueberries.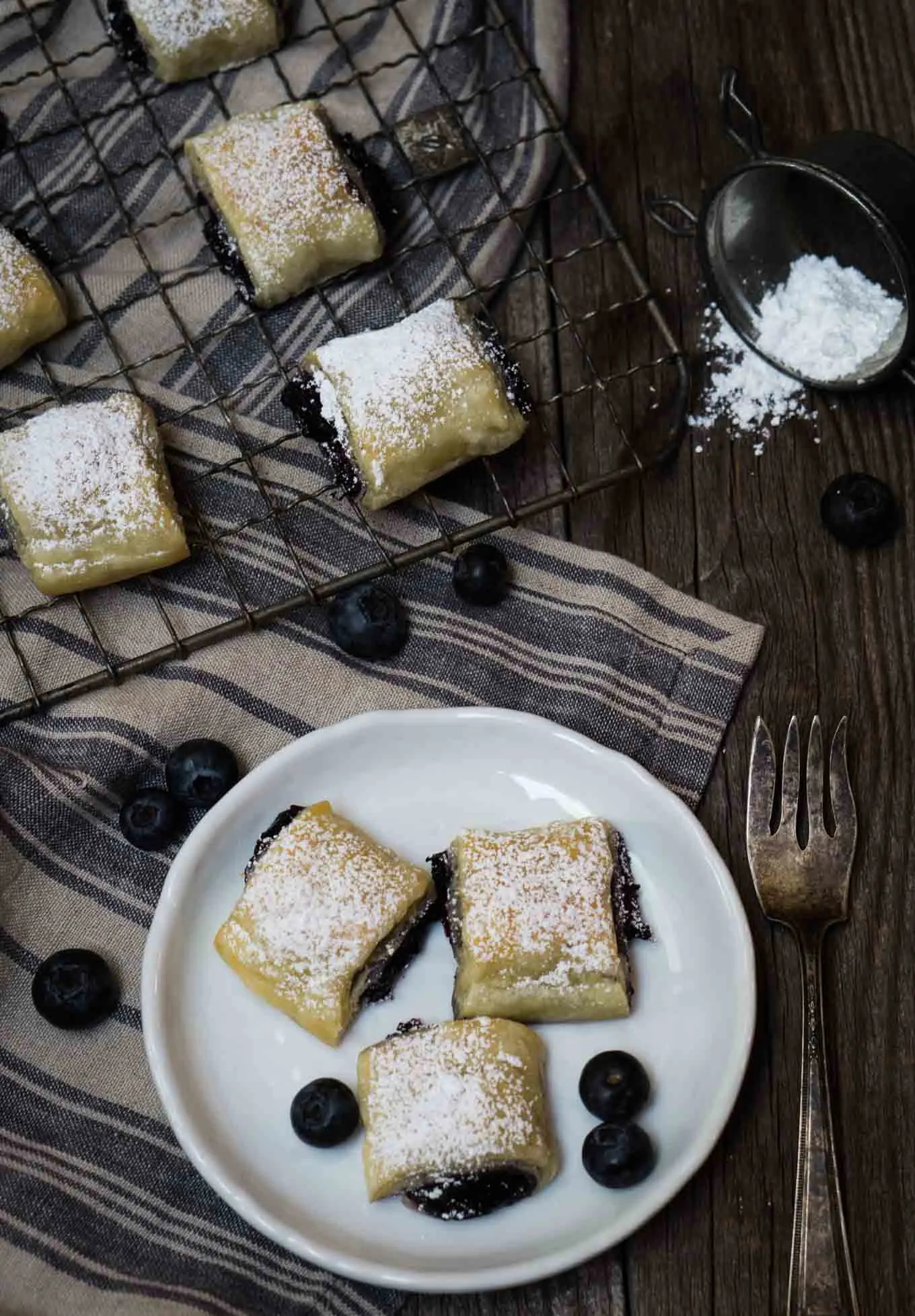 The filling is such a deep purple, that only my fingers showed how purple they really were after I shoved a couple of not-so-delicate bites into my mouth.
The buttery puff pastry was a perfect match for the sweetness of the blueberry filling, and the whole thing was finished with a light sprinkling of powdered sugar.
Puff pastry is one of those ingredients that make a regular ole-joe cook like me look good. It's a delicious time saver too. Whether you're making a blueberry puff pastry dessert or little blueberry puff pastry bites for breakfast, they're guaranteed to be delicious.
Why You'll Love our Blueberry Pastry Recipe
Quick and easy semi-homemade recipe. The recipe uses purchased puff pastry for convenience, but the filling is homemade and delicious.
Great way to repurpose fresh fruit. If you have a refrigerator full of extra fruit, make this blueberry pastry recipe! Your taste buds will be happy.
Flexible. Change the shape of the rolls and you can make Puff pastry hand pies or turnovers!
Great activity for the kiddos. Kids love to make yummy food with you in the kitchen. This recipe is perfect for kids — not too hard but extra delicious.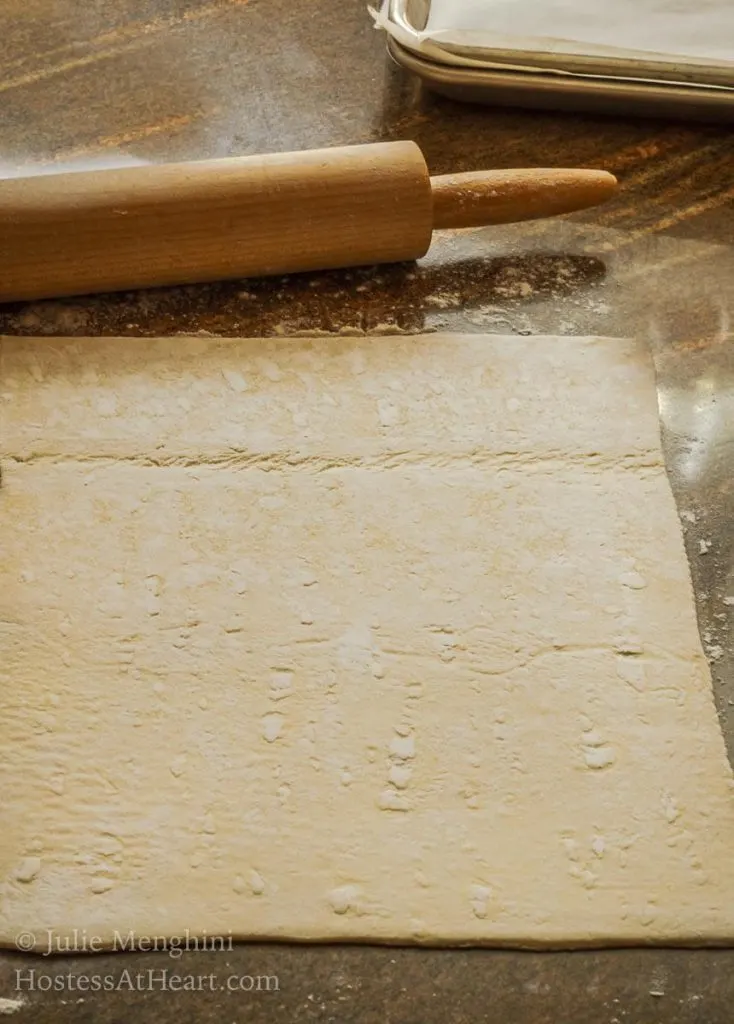 Ingredients for Your Blueberry Puff Pastry
Fresh Blueberries. If you find great blueberries on sale you can buy in bulk and freeze the extras. This recipe can also be made using frozen blueberries if needed.
White Granulated Sugar.
Fresh Lemon Juice.
Ground Cinnamon.
Ground Nutmeg.
Unsalted Butter.
Kosher Salt.
All-Purpose Flour.
Puff Pastry Sheet. You can find this at your local grocery store where they keep the refrigerated biscuits. If you'd like to have some on hand at all times, you can also purchase frozen. You'll just need to allow some thawing time.
Egg or Egg White. This is used to brush the outside so that it gets glossy and a little sticky.
Powdered Sugar. Dusted on at the end for a beautiful finish.
Please note, that the printable recipe card has ingredient quantities, complete instructions, and nutritional information. The following is a quick overview of the recipe.
How to Make the Blueberry Puff Pastry Recipe
Step One. Preheat your oven so that it is nice and hot. While it is preheating, line two baking sheets with parchment paper so that they will be ready to go.
Step Two. Combine blueberries, sugar, cinnamon, nutmeg, lemon juice, salt, and butter in a saucepan, stir, and cook briefly.
Step Three. Stir in the flour to thicken the filling.
Step Four. Remove from heat and set aside to cool.
Step Five. Unroll the puff pastry onto a floured surface and cut it into thirds.
Step Six. Spoon cooled filling down the center of each piece of puff pastry.
Step Seven. Bring the edges of the puff pastry together and pinch to close. Be careful not to overfill. Slice and bake.
Step Eight. Mix egg and water. Whip this with a fork or whisk to form a foam and brush it on top of each pastry.
Step Nine. Prick each pastry with a fork or knife to allow it to vent while cooking. Note: even though the ends are open I still vent the pastry dough because I feel it keeps its shape when it is allowed to vent. This is optional.
Step Ten. Place each pastry on the lined baking sheet and bake for 15 to 20 minutes or until golden brown.
Step Eleven. Allow the blueberry puff pastries to cool completely on the baking sheet.
Step Twelve. Dust with powdered sugar.
Here are a few fun Puff Pastry Facts:
What is puff pastry?
Puff pastry is a series of pastry dough folds or layers with butter, lard or olive oil rolled in between. Puff pastry appeared in cookbooks as early as 1607 in Spain and 1653 in France. Rumors state that it was first created by a French painter/cook prior to the 17th century.
Can you make your own puff pastry?
You can make your own puff pastry. Renowned chef Julia Childs recommends 73 layers in Volume II of her Mastering the Art of French Cooking textbook.

I've never had the desire to make my own. Commercial brands are relatively available in most grocery stores, and I find them easy to work with and delicious. I know of some amazing bloggers that have made their own, but that's not on my bucket list.
Shopping Tips for Buying Puff Pastry
According to Epicurious, there are 3 considered worthy, Dufour Classic Puff Pastry, Trader Joe's All Butter Puff Pastry, and Pepperidge Farm Puff Pastry Sheets. The first two are made from all butter, and Pepperidge Farm's version contains vegetable shortening.
They state the all-butter versions kept their flavor longer but I've used Pepperidge Farm Puff Pastry for years and it's delicious. I say the best one is what you like. Right?
This Blueberry Puff Pastry Recipe makes a perfect breakfast over the holidays or a great addition to your brunch menu. I love working with puff pastry because it looks like you went to a lot more work than you actually did. They are sure a lot easier to make than they look!
Blueberry Filling Substitutions:
Puff pastry rolls can be filled with about anything that you can come up with. If you want to make other versions of this puff pastry blueberry recipe, the following filling ideas are excellent substitutes:
Cream such as a Bavarian cream
Cream cheese such as used in cream cheese danishes
Use strawberries or another fruit either cooked into a filling like this, canned pie filling one or jam
Chocolate or Nutella
Poppyseed
Use a ready-made jam.
Instead of dusting with powdered sugar apply a vanilla bean glaze as I did to these Snickerdoodle Bars.
Equipment Needed to help you with your Blueberry pastries:
Cooling Rack – I love these large racks. I can get an entire batch of cookies on one and they're tough enough to hold large loaves of bread. It fits into my half-sheet pan for baking bacon too!
Parchment Paper – This is my favorite parchment paper. It's important to know that there is an oven temperature rating on parchment paper. If you exceed it your parchment paper can catch fire in your oven. This one is rated to 450°F, high enough for my bread recipes too.
Rolling Pin – I'm old school what can I say? I have three rolling pins and keep going back to my tried and true classic rolling pin.
What to Serve with your Puff Pastry Breakfast
These pastries are beautiful as the sweet treat after omelets, quiche, or any savory breakfast dish like a hashbrown bowl. Add a yummy breakfast protein with eggs or sausage and you have a complete, tasty breakfast.
Blueberry puff pastries are also lovely on their own when you don't want a heavy breakfast.
How To Reheat & Store Blueberry Puff Pastries
Best Way To Store Blueberry Pastries
Store your leftovers in the refrigerator in an airtight container or zipped plastic bag.
How Long Will Blueberry Puff Pastries Last In the Fridge?
While these are best eaten fresh, they will last 2-3 days in a covered container in the refrigerator.
Can I Freeze/Thaw Breakfast Pastries?
Yes. Freeze in an airtight container or freezer-quality plastic bag for up to three months. Thaw at room temperature or in the refrigerator.
How To Reheat Blueberry Pastries?
If you want them reheated use the microwave for ten to thirty seconds depending on your machine. But, these don't have to be served warm. They are equally delicious cold or at room temperature.
Blueberry Pastry Recipe FAQ
Do I have to make Blueberry pastry into rolls?
No. You can make Blueberry Puff Pastry Turnovers by cutting the puff pastry into a square and folding it in half or connecting the opposite corners to form a triangle. You can also make hand pies.
My blueberry filling won't thicken. What do I do?
You can make a slurry with cornstarch and water and mix it into the filling mixture with a whisk to thicken up the sauce. Whisk rapidly to avoid lumps forming.

You can also temper the slurry by mixing some of the hot filling mixture separately with the slurry in a bowl on the side then putting it all back into the saucepan.

This "tempers" the slurry and makes the temperatures of the two mixtures more similar so that the cornstarch doesn't cook in lumps before it has a chance to thicken the sauce.
Tips to Make the Perfect Blueberry Puff Pastry
Puff pastry is easiest to work with when it's cold (not frozen).
If your puff pastry gets warm before you cut them into individual rolls, you can pop them into the refrigerator for 15 minutes.
Add the zest of the lemon for more lemon flavor.
Cook the filling until extra juices thicken. If the berries have too much juice they will be too hard to fill and will leak the juice.
Don't overfill the rolls. The extra filling will just bake out.
Use a fork or a sharp knife to make small slits in the rolls so the filling has a place to vent. That will help prevent your rolls from breaking.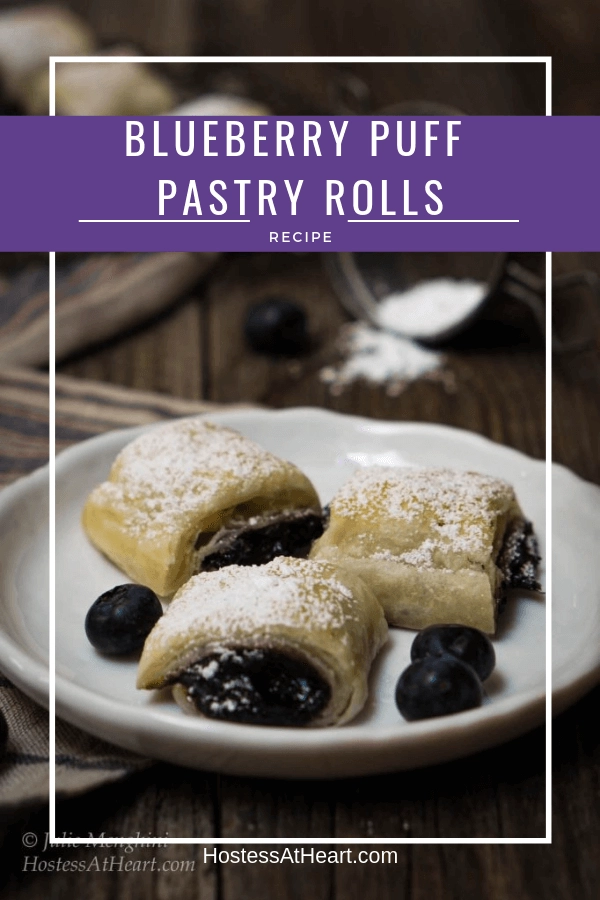 If you liked this recipe, you may enjoy these too!
Don't Forget To Come Back And Let Me Know How Your Blueberry Puff Pastry Turned Out!