Blueberry Puff Pastry Rolls are a flaky, buttery blueberry pastry that's quick, easy and delicious. This Puff Pastry Blueberry recipe is perfect for breakfast, brunch or that sweet treat after any meal.
THIS POST HAS BEEN UPGRADED FROM 11/2/17 TO IMPROVE READER EXPERIENCE.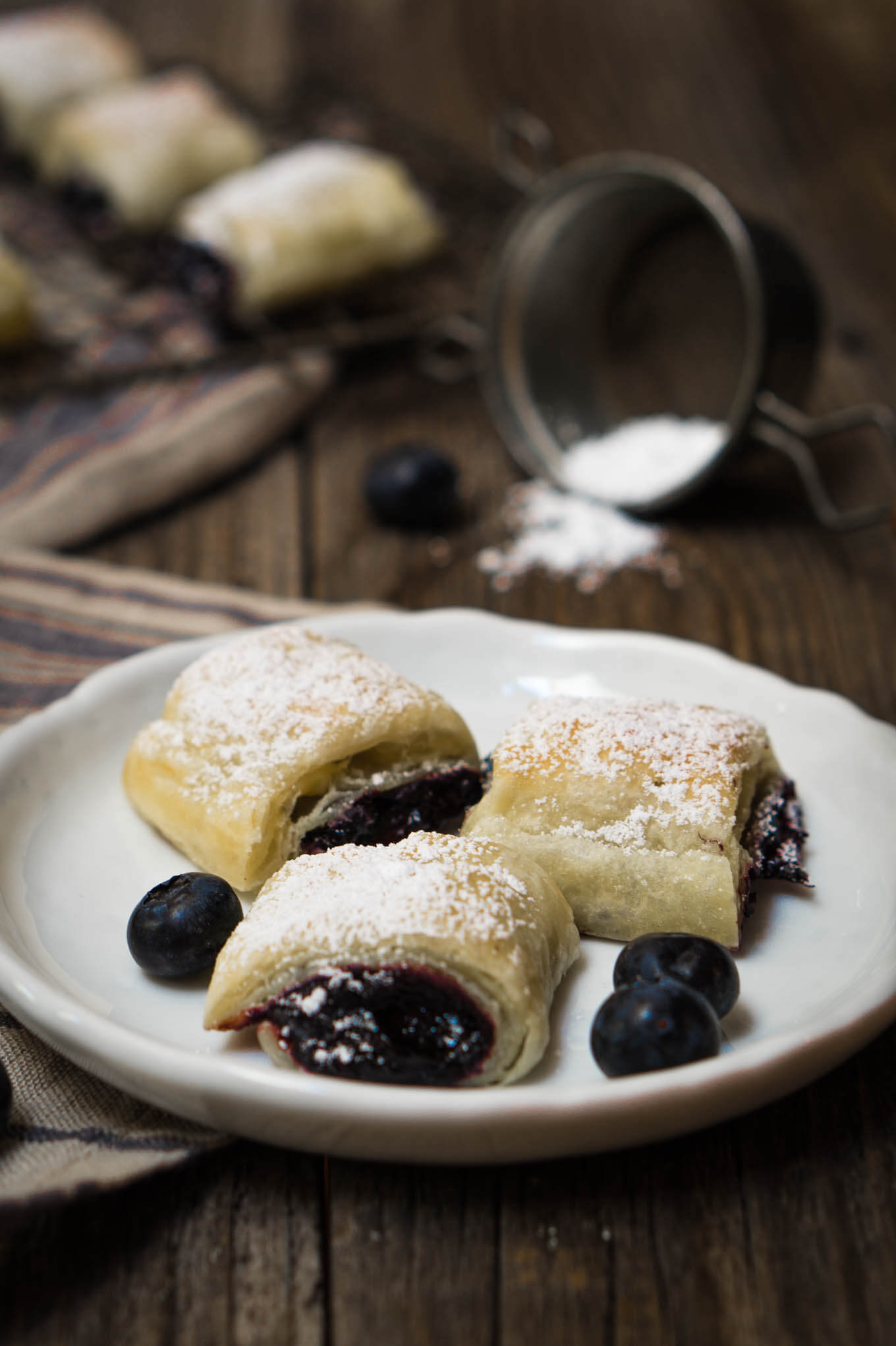 Artists test their own talent trying to create a berry as beautiful as the original, just as I tried to create a puff pastry blueberry recipe that tasted as Mother Nature intended.
I don't think that there is anything more beautiful than what good ole "Mother Nature" creates. The colors of new berries are amazing and taste even better when loaded into blueberry pastry recipes.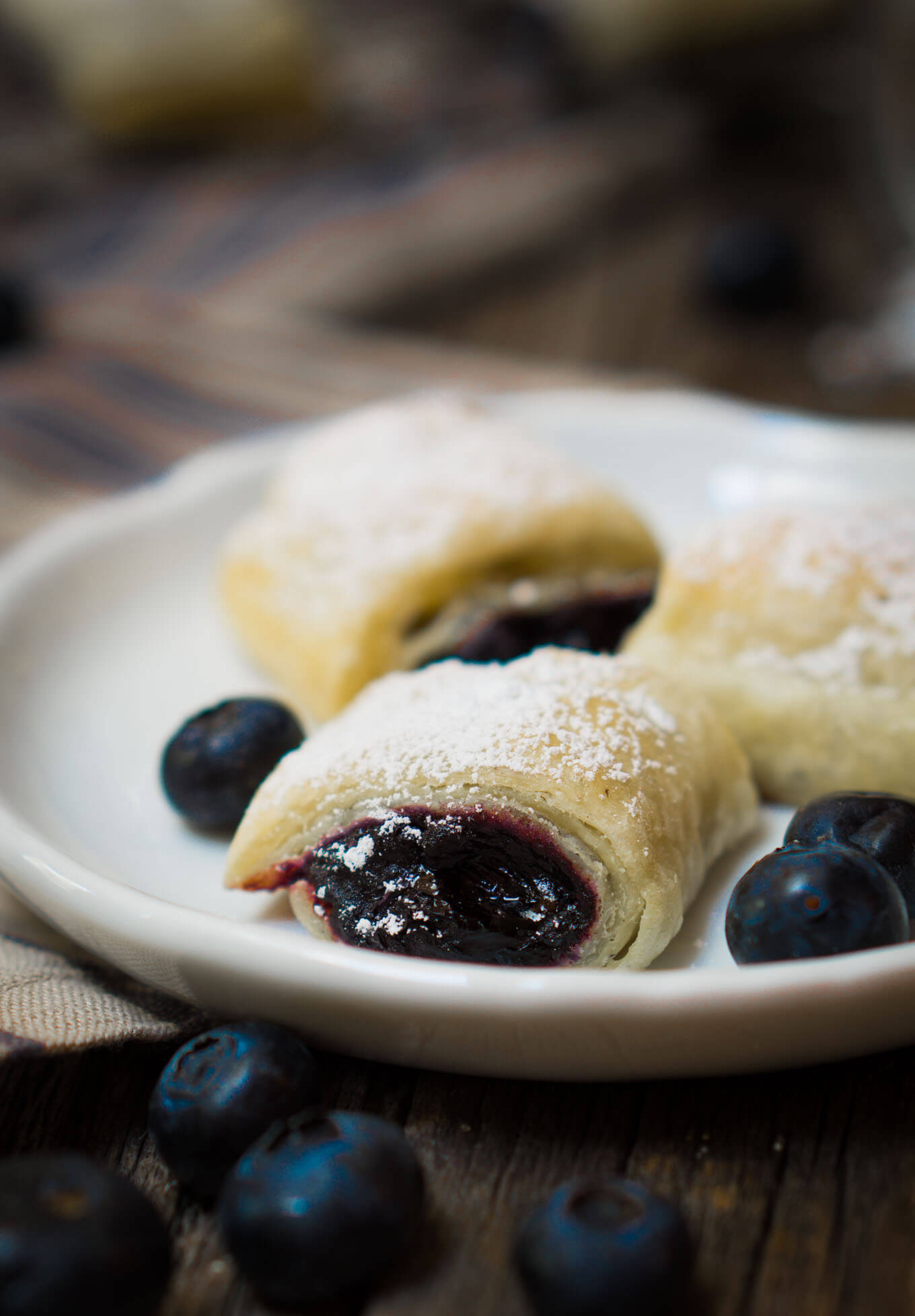 When berries look good, I just buy, buy and buy. When I can't get fresh, frozen work perfectly. In fact, since they don't grow here frozen can be tastier.
So when my refrigerator was full of blueberries, I had to get creative. Creative doesn't mean difficult or time-consuming.
This Blueberry Puff Pastry recipe is quick, easy and delicious. That makes this recipe about as perfect as those blueberries.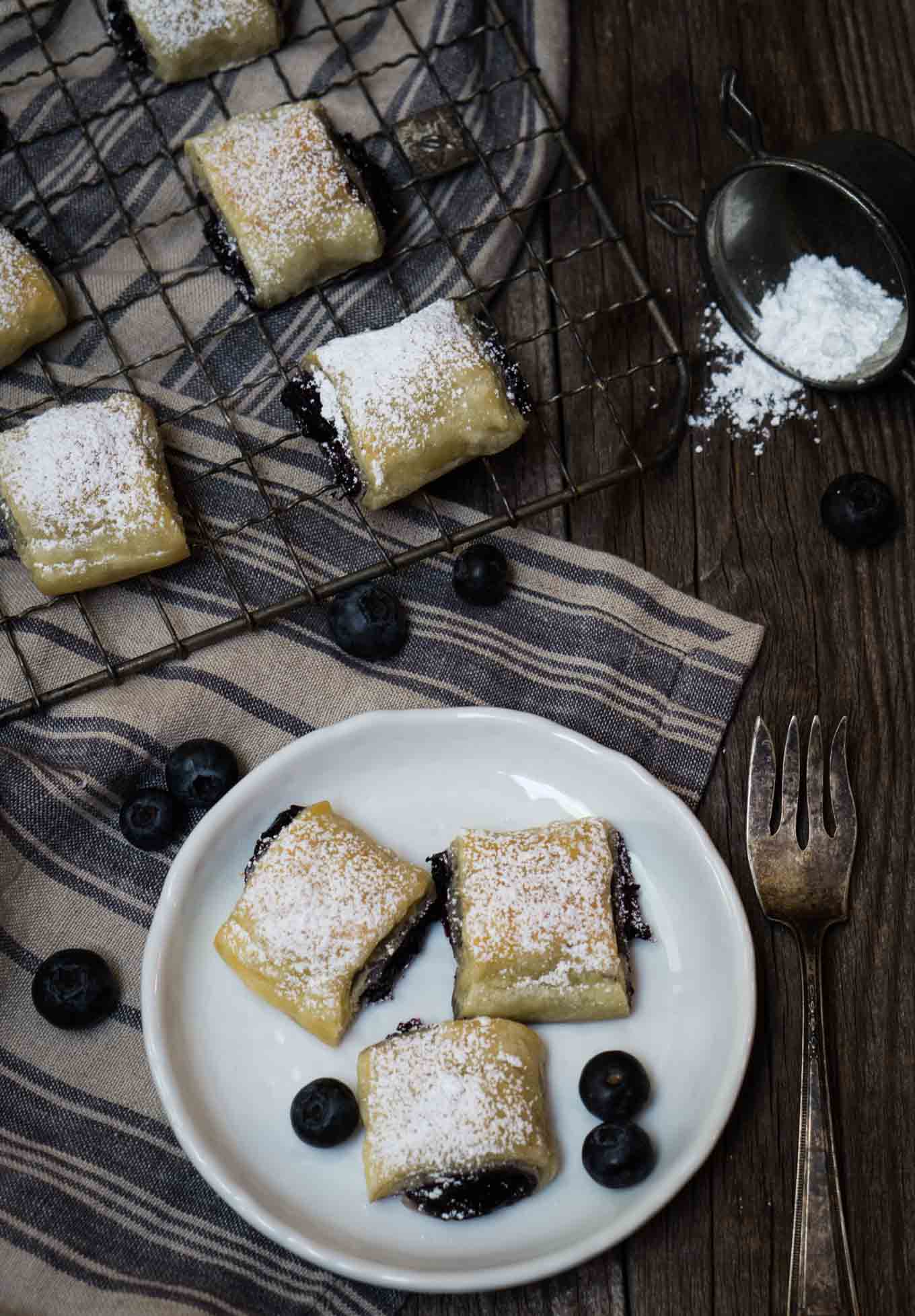 The filling is such a deep purple, that only my fingers showed how purple they really were after I shoved a couple of not-so-delicate bites into my mouth.
The buttery puff pastry was a perfect match for the sweetness of the blueberry filling, and the whole thing was finished with a light sprinkling of powdered sugar.
Puff pastry is one of those ingredients that make a regular ole-joe cook like me look good. It's a delicious time saver too.
Here are a few fun Puff Pastry Facts:
What is puff pastry? Puff pastry is a series of pastry dough folds or layers with butter, lard or olive oil rolled in between. Puff pastry appeared in cookbooks as early as 1607 in Spain and 1653 in France. Rumors state that it was first created by a French painter/cook prior to the 17th century.
Can you make your own puff pastry? You can make your own puff pastry. Renowned chef Julia Childs recommends 73 layers in Volume II of her Mastering the Art of French Cooking textbook.
I've never had the desire to make my own. Commercial brands are relatively available in most grocery stores, and I find them easy to work with and delicious. I know of some amazing bloggers that have made their own, but that's not on my bucket list.
Shopping tips for buying puff pastry:
According to Epicurious, there are 3 considered worthy, Dufour Classic Puff Pastry, Trader Joe's All Butter Puff Pastry, and Pepperidge Farm Puff Pastry Sheets. The first two are made from all butter, and Pepperidge Farm's version contains vegetable shortening.
They state the all-butter versions kept their flavor longer but I've used Pepperidge Farm Puff Pastry for years and it's delicious. I say the best one is what you like. Right?
This Blueberry Puff Pastry Recipe makes a perfect breakfast over the holidays or a great addition to your brunch menu. I love working with puff pastry because it looks like you went to a lot more work than you actually did. They are sure a lot easier to make than they look!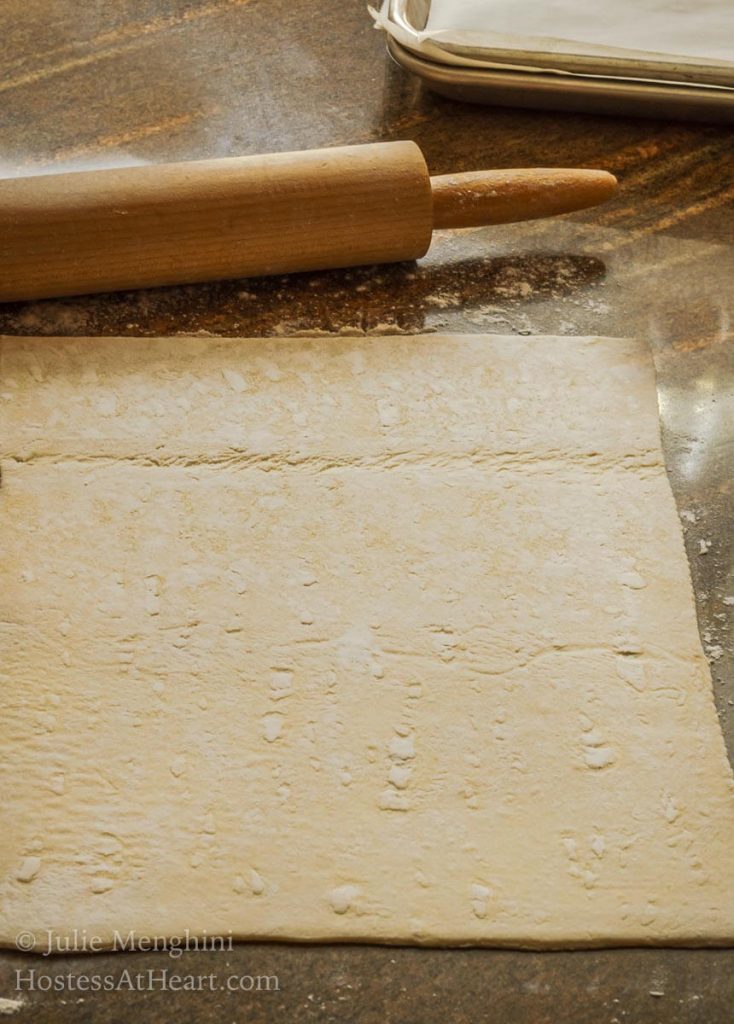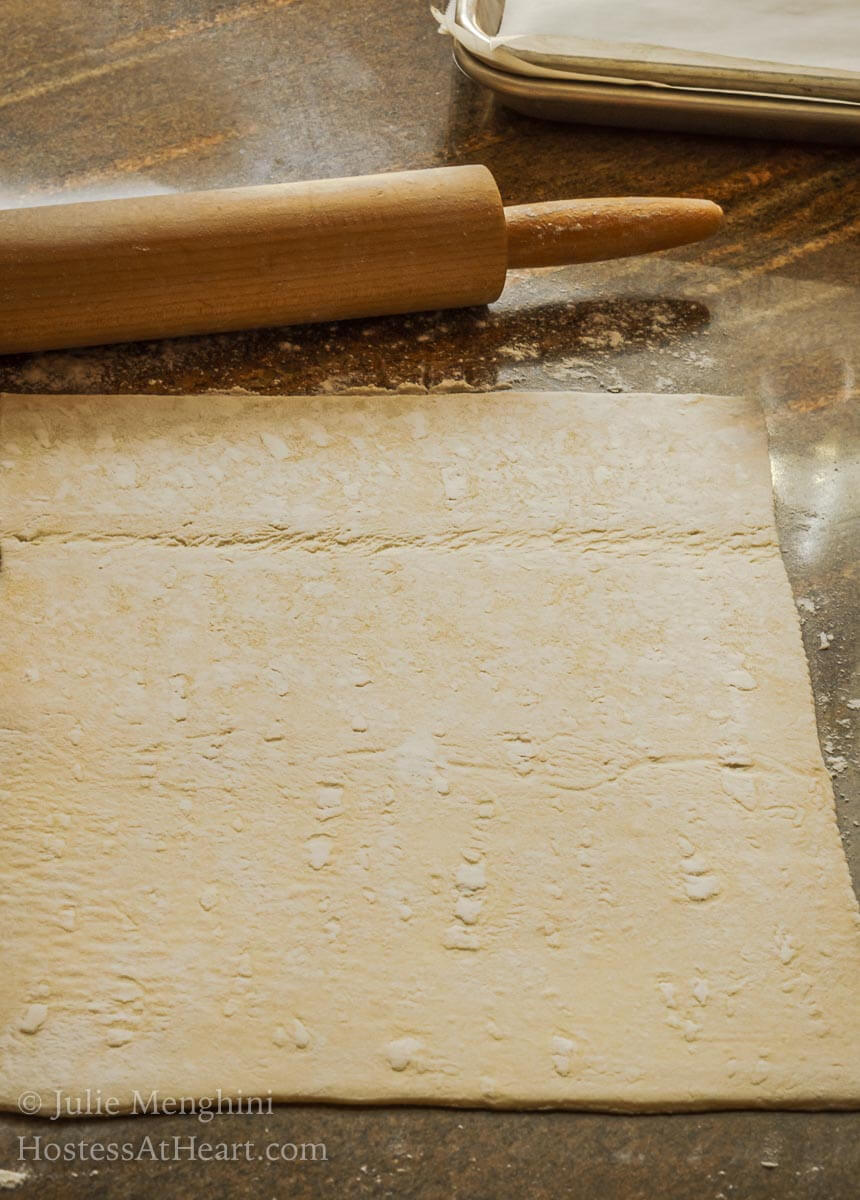 Blueberry Filling substitutions:
Puff pastry rolls can be filled with about anything that you can come up with. If you want to make other versions of this puff pastry blueberry recipe, the following filings are excellent substitutes:
Cream such as a Bavarian cream
Cream cheese such as used in cream cheese danishes
Fruit, either cooked into a filling like this, canned pie filling, or jam
Chocolate or Nutella
Poppyseed
Here are a few items that may help you with your Blueberry pastries:
Cooling Rack – I love these large racks. I can get an entire batch of cookies on one and they're tough enough to hold large loaves of bread. It fits into my half-sheet pan for baking bacon too!
Parchment Paper – This is my favorite parchment paper. It's important to know that there is an oven temperature rating on parchment paper. If you exceed it your parchment paper can catch fire in your oven. This one is rated to 450°F, high enough for my bread recipes too.
Rolling Pin – I'm old school what can I say? I have three rolling pins and keep going back to my tried and true classic rolling pin.
Don't have time to make it now?

Pin it

for later!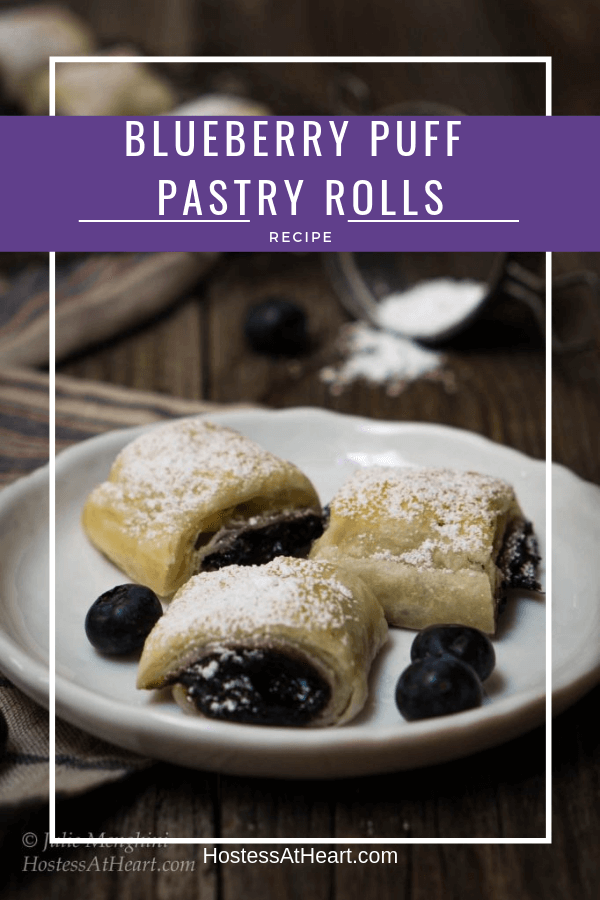 Other great Puff Pastry recipes:
Blueberry Puff Pastry Rolls
Blueberry Puff Pastry Rolls are quick, easy and delicious. They are perfect for your breakfast, brunch or that sweet treat after any meal.
Ingredients
2-1/2

cups

fresh blueberries

1/2

cup

white granulated sugar

1

tbsp

fresh lemon juice

½

tsp

ground cinnamon

¼

tsp

nutmeg

1

tbsp

unsalted butter

1/8

tsp

kosher salt

(pinch)

2

tbsp

all-purpose flour

1

puff pastry sheet

1

egg

or egg white

1/2

cup

powdered sugar
Instructions
Preheat oven to 425 degrees F. Line two baking sheets with parchment paper.

In a saucepan combine blueberries, sugar, cinnamon, nutmeg, lemon juice, salt, and butter. Cook over medium-low heat until berries soften (5 minutes). Stir in flour and cook until thickened (about 2 minutes). Remove from heat and set aside to cool.

Lightly flour a work surface. Unroll puff pastry and cut into thirds along the folds.

Spoon cooled filling down the center of each piece of puff pastry. Bring edges together and pinch to close. Don't overfill or they will break open during baking. Slice into 1-1/2 inch lengths. Place rolls on baking sheets.

Mix egg (or egg white) with a small amount of water. Whip with a fork until foamy. Brush the top of each roll with the egg mixture. Prick with a knife or fork to vent (optional).

Place on the parchment paper lined baking sheet and bake 15 to 20 minutes or until golden brown. Dust with powdered sugar. Allow to cool completely on the baking sheet.

Store in an airtight container.
Nutrition
Sodium:
40
mg
|
Calcium:
3
mg
|
Vitamin C:
0.8
mg
|
Vitamin A:
30
IU
|
Sugar:
7
g
|
Potassium:
13
mg
|
Cholesterol:
8
mg
|
Calories:
95
kcal
|
Saturated Fat:
1
g
|
Fat:
4
g
|
Protein:
1
g
|
Carbohydrates:
12
g
|
Iron:
0.3
mg
This recipe was calculated using the exact brands and measurements I used to make this recipe. If you are following a strict diet please note changing anything will cause the nutritional info to change. My calculations are intended as a guide only.
If you like those hand pies as much as I do, here are a couple of my favorites!
Pear Hand Pies with Dark Chocolate Drizzle
Pear Hand Pies with Dark Chocolate Drizzle are packed with pears that have been baked in a sauce of brown sugar and cinnamon between a flaky buttery crust.
Check out this recipe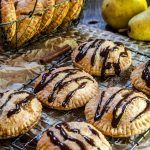 Easy Blueberry Pineapple Hand Pies
Easy Blueberry Pineapple Hand Pies are a snap to put together and make any breakfast, snack or dessert special.
Check out this recipe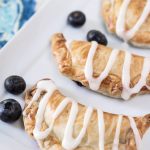 Dark Chocolate Puff Pastry Hand Pies
DARK CHOCOLATE PUFF PASTRY HAND PIES HAVE A LIGHT, AIRY AND SOFT INTERIOR ENHANCED BY A DEEP DARK CHOCOLATE. THE WHOLE THING IS WRAPPED IN A GOLDEN BROWN PUFF PASTRY WITH A DELICATE CRUNCH.
Check out this recipe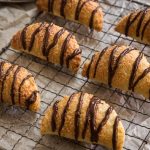 Have you used puff pastry? What is your favorite recipe using it? Please share, you are my inspiration!