The uses for fresh peach sauce are endless. It makes a great topping over ice cream and cake, delicious yogurt parfait, frozen popsicle, or Peach Bellini.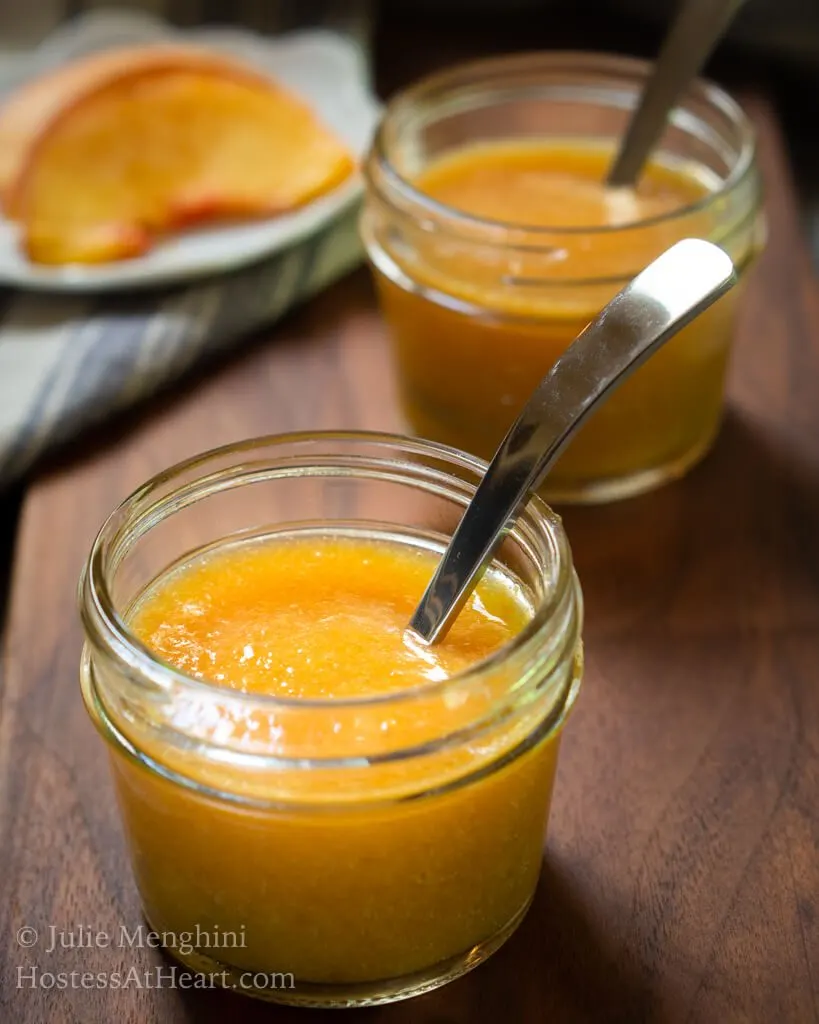 This Homemade Fresh Peach Sauce is so versatile and can be served so many ways. Making fruit sauces are a great way to enjoy fresh fruit flavor while knowing exactly what the ingredients are.
I grew up in an agricultural community where we enjoyed fresh summer and fall produce.
We shared it, ate it fresh, or canned it for a rainy day. I rely on farmers' markets or grocery stores for my produce now but regardless of where it comes from, one thing remains the same, I don't want to waste it.
So when I had several peaches that were getting beyond their prime I decided to whip up some peach sauce.
What I couldn't use right away I put in the freezer for another day.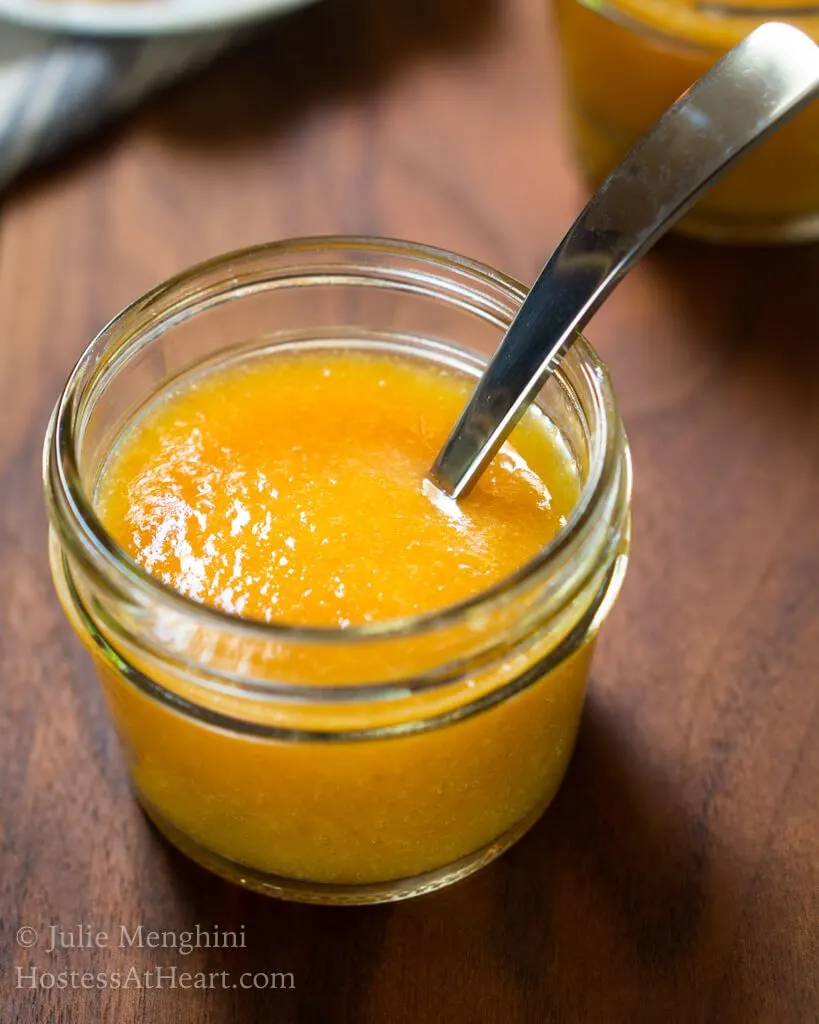 When my children were younger one of their favorite treats was homemade applesauce. I usually made it on cold days and served it with soup, stew, or chili.
It was just one of those combinations that went well together. I'd cook up a large batch and break it down into smaller containers and pop it into the freezer.
This is exactly what I did with my homemade peach sauce.
Fresh Peach Sauce Ingredients
What I love about fruit sauce are the minimal ingredients.
Fresh Peaches – The type of peaches doesn't matter.
Sugar – White sugar is what I used. You can replace 1/4 cup of the white sugar with brown sugar. It's delicious!
Lemon – Freshly squeezed lemon.
Sprinkling this fresh fruit sauce with a little cinnamon or a teaspoon, vanilla extract, or almond extract, adds a warm touch.
This recipe can be increased or decreased according to the number of peaches you have. I wouldn't use more lemon than what this recipe calls for unless you are doubling it.
Just a few more peaches don't warrant additional lemon juice.
How to make Peach Sauce
Prep the peaches and add the sliced or diced peaches into a deep-sided pan with about 1-inch of water covering the bottom. Simmer over a medium-heat until softened, approximately 20 minutes. You don't want to bring them to a boil.
Remove the pan from the heat and add the cooked peaches to a blender a few at a time, food processor or stick immersion blender. Process them until smooth. Return them to the heat and add lemon juice and sugar. Heat until sugar is dissolved, approximately 10 minutes.
Be sure to read the recipe card for the complete instructions.
FAQ's
Can I use frozen peaches? – Yes! talk about convenience, they're already skinned and pitted. Freshly frozen peaches will make a quick and easy peach sauce recipe!
Do I have to skin the peaches? Yes, we recommend that the peaches be skinned so the sauce stays smooth and satiny. The skins could add an undesirable texture.
THE EASIEST WAY TO SKIN A PEACH.
Wash and score the peach skin with the sharp tip of a knife 4 to 6 times down the length of the peach.
Add the peaches to boiling water and keep them submerged or turn them for 30 seconds.

I use a spyder strainer for holding the peaches down, turning them, and removing them from the hot water.

Submerge the peaches in an ice bath for 10 seconds.
Slide the skin from them immediately.

Once the skin is removed, cut the peaches in half and remove the pit. The peaches can be sliced or diced.
How to use Fresh Peach Sauce
Fresh Peach Yogurt Parfait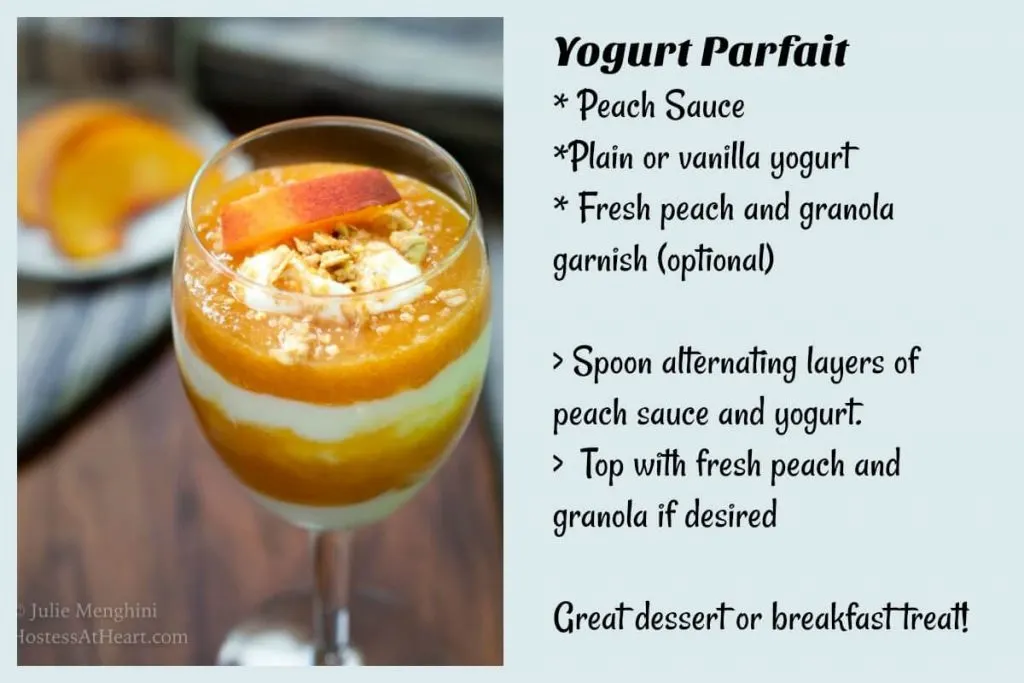 A yogurt parfait is a delicious way to start your day or to take a creamy break mid-morning. It tastes decadent without one ounce of guilt.
Peach Cocktails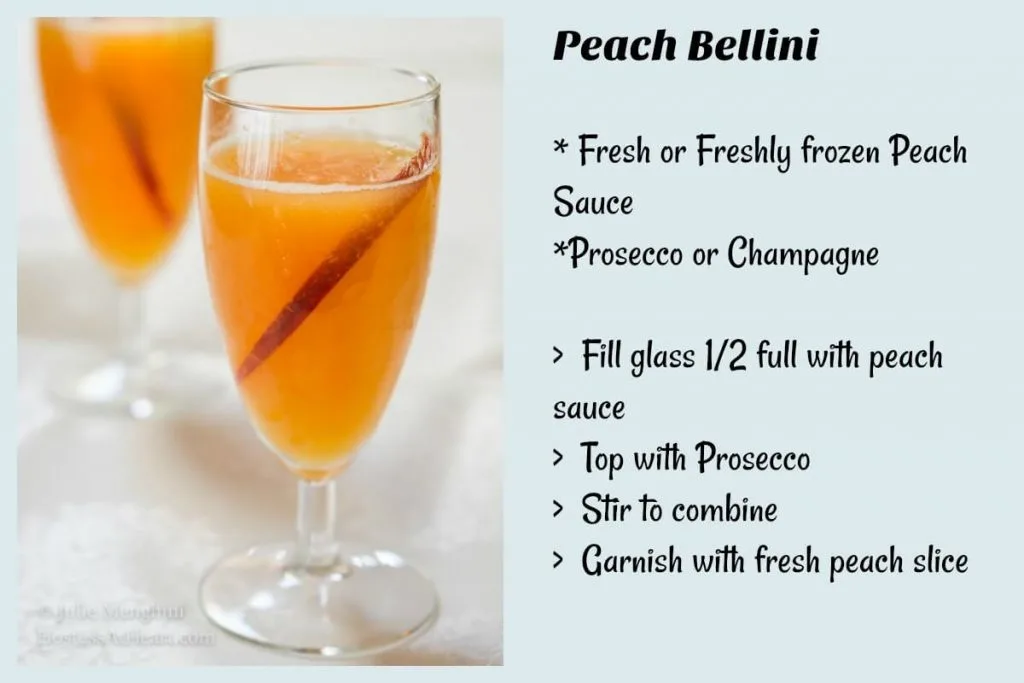 A fresh Peach Bellini tastes like one of those summer cocktails where you could be at a black-tie event or swinging on a porch swing. They're quick, easy and so refreshing!
Peach Topping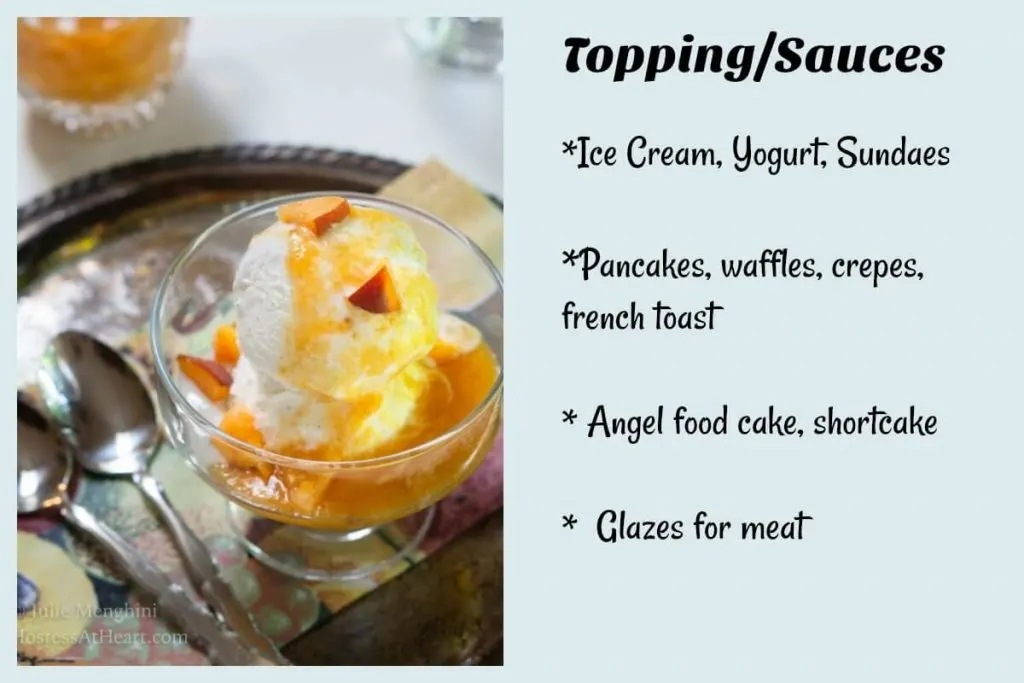 Our peach sauce drizzled over vanilla ice cream or your favorite sweet treat is one of our favorite ways to use peach sauce. Peach shortcake with angel food or pound cake, a dollop of whipped cream, and even a couple of slices of fresh peaches make one beautiful dessert in a jiffy.
We've actually added our peach sauce to pancake and waffle batter for a delicious peach pancake and waffle!
Here are a few more ideas for this sauce!
Blend sauce and mascarpone or cream cheese together for a quick fruit dip or the start of a great fruit pizza.
Add fresh herbs such as thyme and rosemary and serve warm as a glaze over roasted chicken or pork.
Substitute frozen sauce for a quick smoothie.
Freeze for a clean popsicle. Add whole fruit to mix it up.
Peach margaritas
Can't make it now?

Pin it

for later!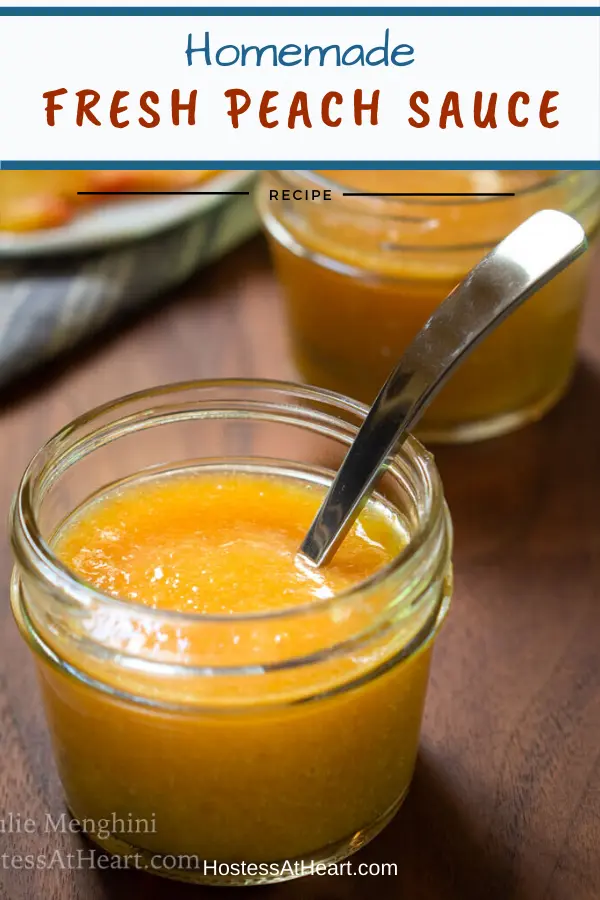 Here are a few more recipes you may enjoy using fresh peaches
Tips for storing: This Peach Sauce recipe will last up to 3 days in the refrigerator or frozen in an airtight container for up to 3 months in the freezer.
This recipe can also be canned in the same manner as you would applesauce.
There's nothing better than the taste of fresh peaches long after the season has passed.
What is your favorite way to use peaches? I'd love it if you would share it with the rest of us!
Like it? Pin it!