Peach Upside-Down Cake with Hot Rum Glaze combines sweet summer peaches with warm brown sugar caramel under a buttery rum sauce.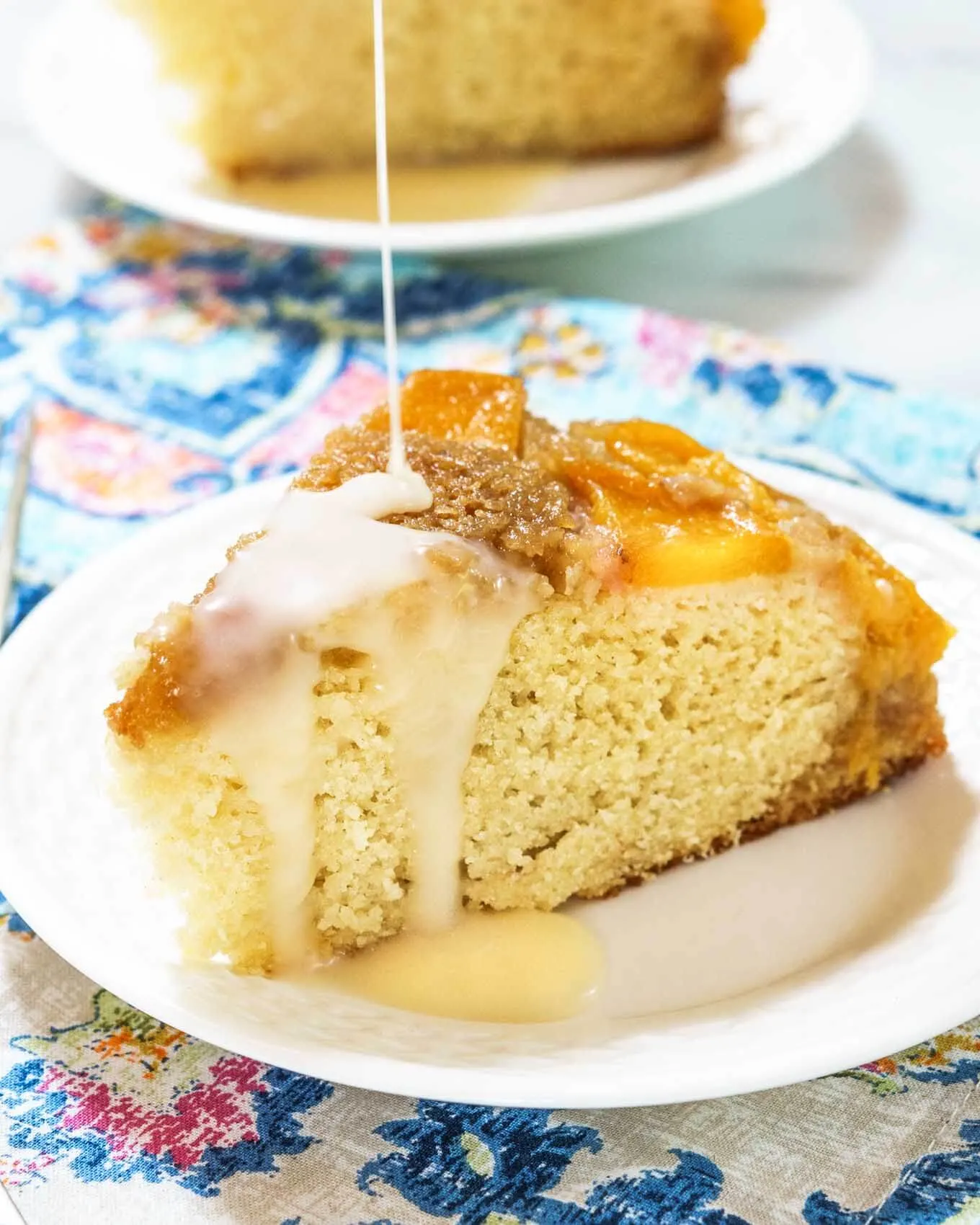 I've been hanging on to this pineapple upside-down cake recipe that I wanted to eventually try. When I ended up with way too many fresh peaches, I decided to make a peach upside down cake with fresh peaches
Had I known how amazingly delicious it was going to be, I would've been making it from the minute I saw it. John said that using the peaches had to be even better than pineapple.
How to Make Peach Upside-Down Cake
Step 1: Make the Upside Down Peach Cake Topping
The interesting thing about this kind of cake is that the topping goes on the bottom of the cake pan. When the cake is flipped out of the pan, all that gooey deliciousness makes a beautiful presentation on the top of the cake. So to make the peach upside-down cake recipe, you first have to start with the topping.
You'll heat the topping ingredients in a saucepan, and pour that into the cake pan so that it covers the bottom.
Step 2: Fresh Peach Layer
Then arrange the peaches close together, covering the bottom. Remember that the bottom becomes the top so arrange the peaches in one layer so the entire pan has a layer of peaches.
Step 3: Peach Upside-Down Cake Layer
This recipe uses a peach cake from scratch. You can make a peach upside down cake with a cake mix for a quick and easy Upside Down Peach Cake.
Mix up the cake batter and pour that over the topping. Again, you'll want to cover the entire peach layer with the peach cake layer.
Once the cake has been baked, cooled, and removed from the pan it is served with a hot rum sauce that takes it over the top. This sauce can be made on the stovetop while you wait for the cake to bake.
How to cool this Peach Upside Down Cake
When the cake is removed from the oven, it needs to cool for exactly four minutes before you loosen the sides and invert it onto a serving platter.
If the warm peaches want to slide off the edge of the cake when it's removed from the pan, keep them in place with toothpicks while the cake cools. Remove prior to serving.
Let the cake cool on the serving platter for a full twenty minutes before cutting it to serve with hot rum sauce.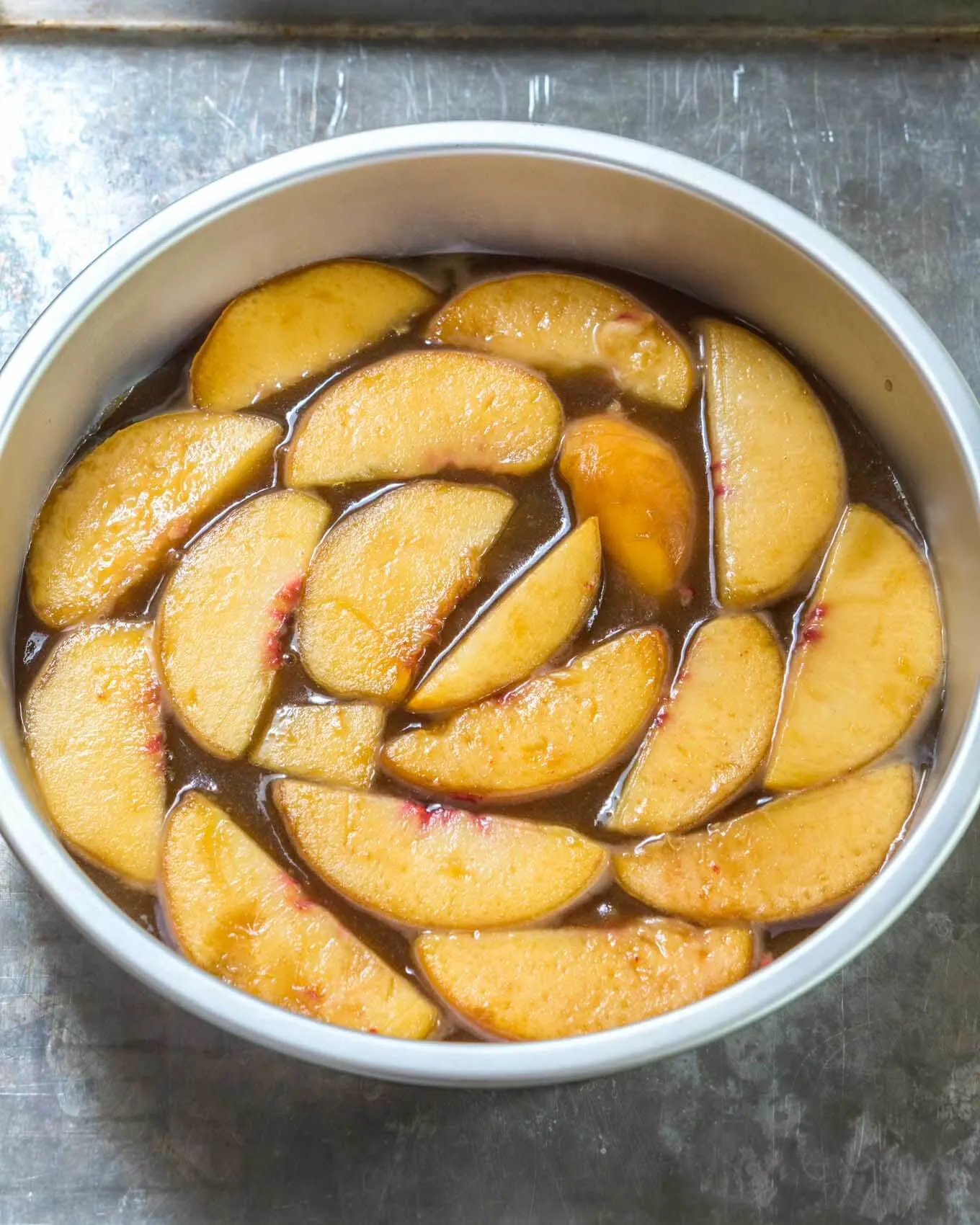 Peach Upside Down Cake Recipe Ingredients
Ingredients for the Cake Topping
Peaches. Skins and pits need to be removed and then the peaches will need to be sliced into 1/2-inch slices.
Salted Butter.
Salt.
Dark Brown Sugar. You could also use light brown sugar
Dark Rum. One of my favorite Rums to use is Bumbu.
Ingredients for the Peach Upside-Down Cake Batter
Cake Flour.
All-purpose Flour.
Sugar.
Baking Soda.
Baking Powder.
Salt.
Buttermilk. I don't keep fresh buttermilk on hand so often make my own. My techniques post explains how to make your own easy buttermilk.
Eggs.
Dark Rum.
Salted Butter. Melted.
Hot Rum Sauce Ingredients
Heavy Cream.
Sugar.
Salt.
Dark Rum.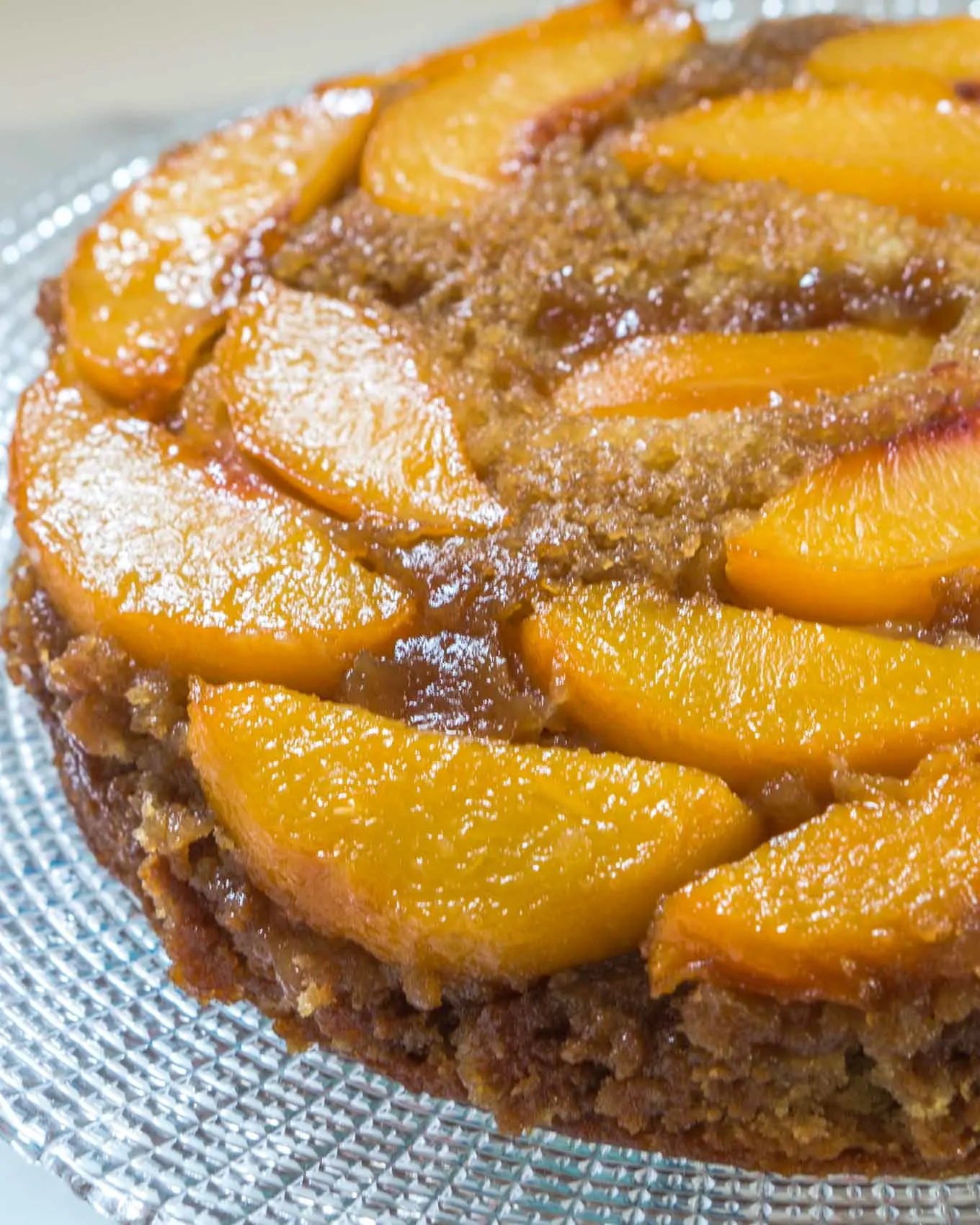 Peach Upside Down Cake Recipe FAQs
Can I use canned peaches?
Yes, canned peaches work well in this cake but drain them well.
Do I have to use rum?
No, you don't have to use rum. You can leave it out altogether. If the sauce is too thick add more cream.
Do I have to use cake flour?
No, you don't have to use cake flour. However, I highly recommend it. Cake flour has less gluten than all-purpose flour and will produce a light and fluffy peach cake.
Can you freeze peach upside down cake?
Yes. We recommend making the sauce fresh and adding it right before serving.
Can you make Peach Upside-Down Cake ahead of time?
You can make it the day before it's needed or make it and freeze it.
Does peach upside-down cake need to be refrigerated?
No, it doesn't. However, I believe that it holds up better if kept in the refrigerator. Either letting it come to temperature before serving it or putting it in the microwave to heat it up a little is best for serving.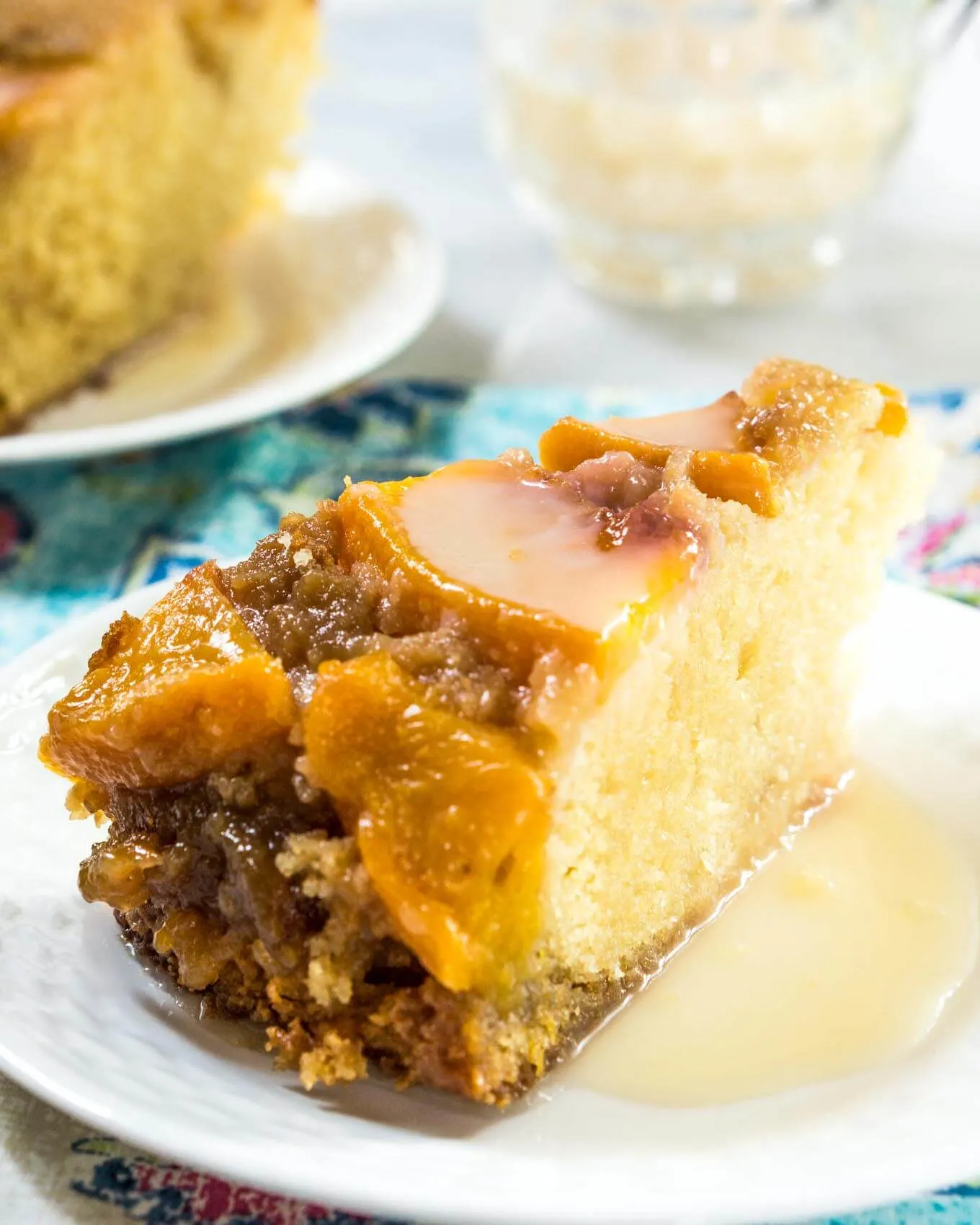 Tips for the Perfect Cake
I baked this upside down peach cake in a tall-sided 9-inch cake pan. The original pineapple cake recipe said to put it on a baking sheet for possible spills. I'm glad that I did because that baby bubbled over. I believe that a tall 10-inch pan would have worked well, and I would still sit it on a baking sheet.
You could add a teaspoon of cinnamon and a 1/4 teaspoon of nutmeg to the cake batter and a 1/4 teaspoon of ground cinnamon to the topping.
Slice the peaches all about the same thickness so they bake at the same rate.
Do I have to peel the peaches?
Yes! Peaches soften while baking and the skins will naturally fall off leaving an undesirable texture and sometimes bitter flavor.
The easiest way to skin a peach.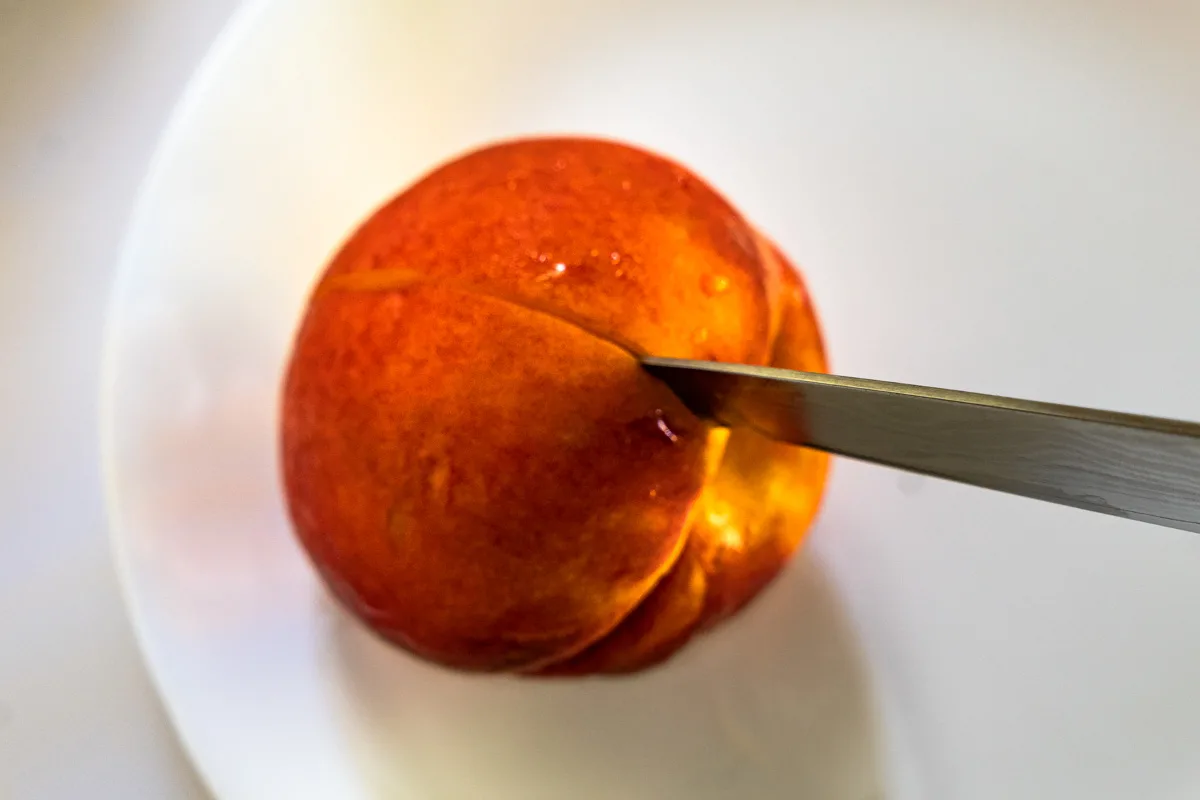 Wash and score the peach skin with the sharp tip of a knife 4 to 6 times down the length of the peach.
Add the peaches to boiling water and keep them submerged or turn them for 30 seconds.

I use a spyder strainer for holding the peaches down, turning them, and removing them from the hot water.

Submerge the peaches in an ice bath for 10 seconds.
Slide the skin from them immediately.
How to Store Peach Upside Down Cake
This cake is best kept in the refrigerator, lightly covered. To serve the cake heat it up in the microwave or let it come to room temperature on the counter.
You can also freeze unused portions of cake. If you choose to freeze the cake, I definitely recommend making fresh rum sauce when you are ready to eat it.
More recipes you may enjoy
We LOVE Dessert! You can find all of our dessert recipes here!
Don't forget to stop back and let me know how your Peach Upsidedown Cake turned out.
This post was originally posted in 2018 so it was time for an update. I've added clarity to the instructions and additional tips. No changes were made to the recipe.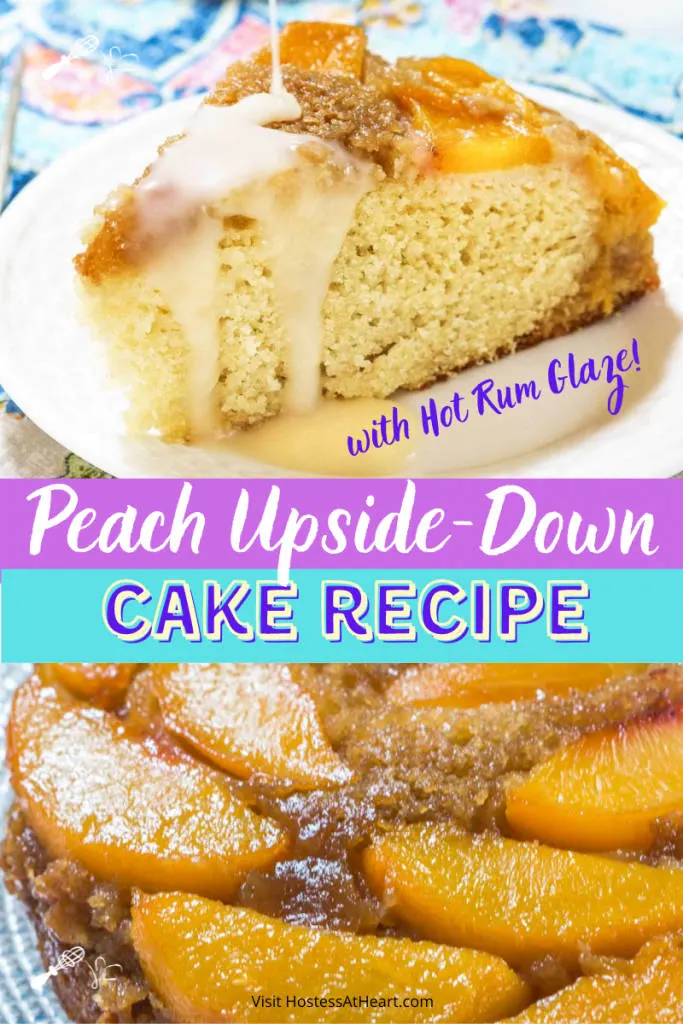 Want more delicious recipes? Follow Hostess At Heart on Pinterest!