When you want a cookie that is simple to make and ready in no time at all, Grandma's Easy Oatmeal Cookies are a perfect choice. Our cookie is smaller than most and comes out soft and chewy. This Easy Oatmeal Cookie Recipe is also thicker than many classic oatmeal cookies. The simplicity of this cookie is what makes it amazing.
Brown sugar and butter-flavored shortening give these cookies incredible flavor. Everyone will love snacking on these cookies after school or work. They are also solid enough to use for packing lunches and make a perfect grab-n-go breakfast cookie to eat on the bus or train when you are in a rush.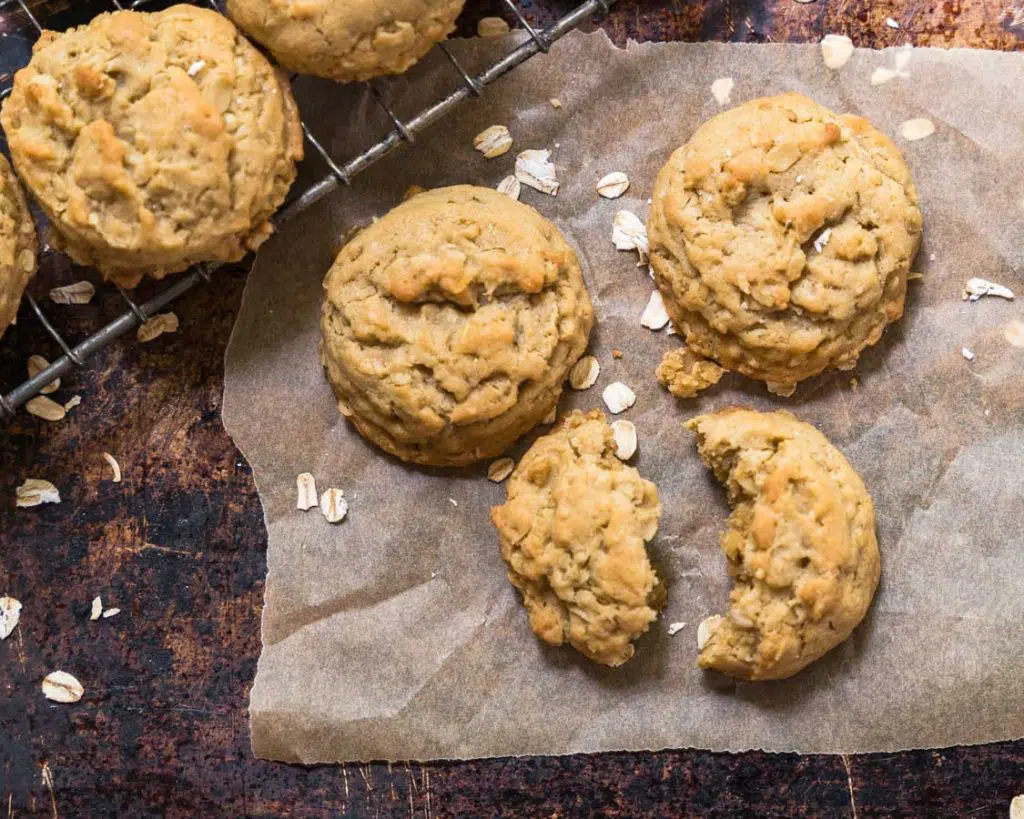 How to Make Easy Oatmeal Cookies
Preheat the oven first, so that your cookies bake evenly and perfectly every time. Lightly beat the eggs so they are ready to go. Then, cream the fat and sugar in a medium mixing bowl. Next add the eggs, vanilla, and milk. In a separate bowl, mix the dry ingredients, not including the oatmeal.
Combine the wet ingredients and dry ingredients with a mixer. Then turn the mixer to low and mix in the oatmeal. Use a cookie scoop to make perfectly uniform cookies, and bake until the cookies just start to brown on the edges. Do not overbake. They may not look done in the center when the edges start to brown, but you should remove them from the oven anyway.
Ingredients for Easy Oatmeal Cookies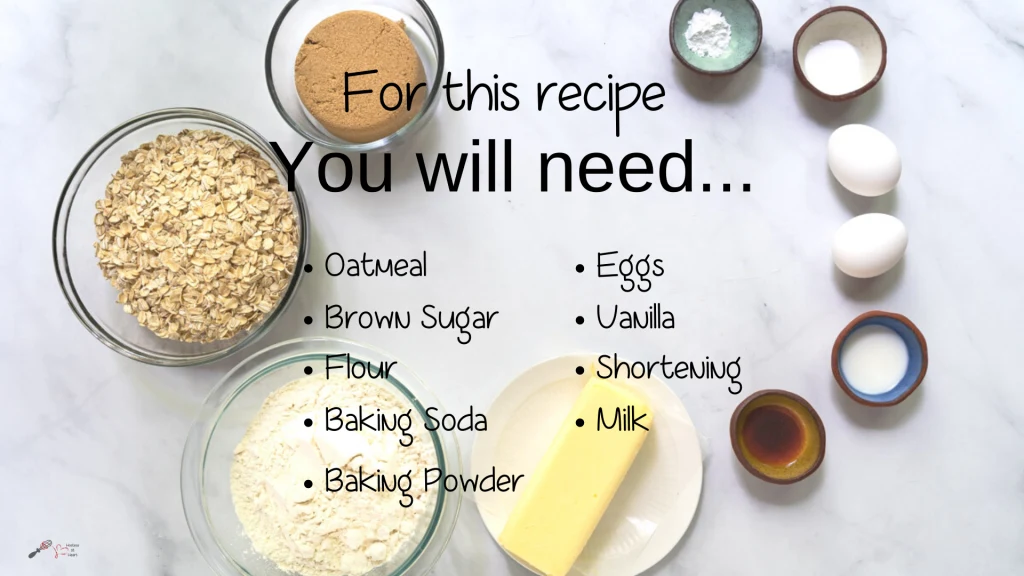 Shortening. We used butter-flavored.
Brown Sugar.
Eggs. We used large eggs.
Vanilla Extract.
Milk.
Old-fashioned Rolled Oats.
All-Purpose Flour.
Baking Soda.
Baking Powder.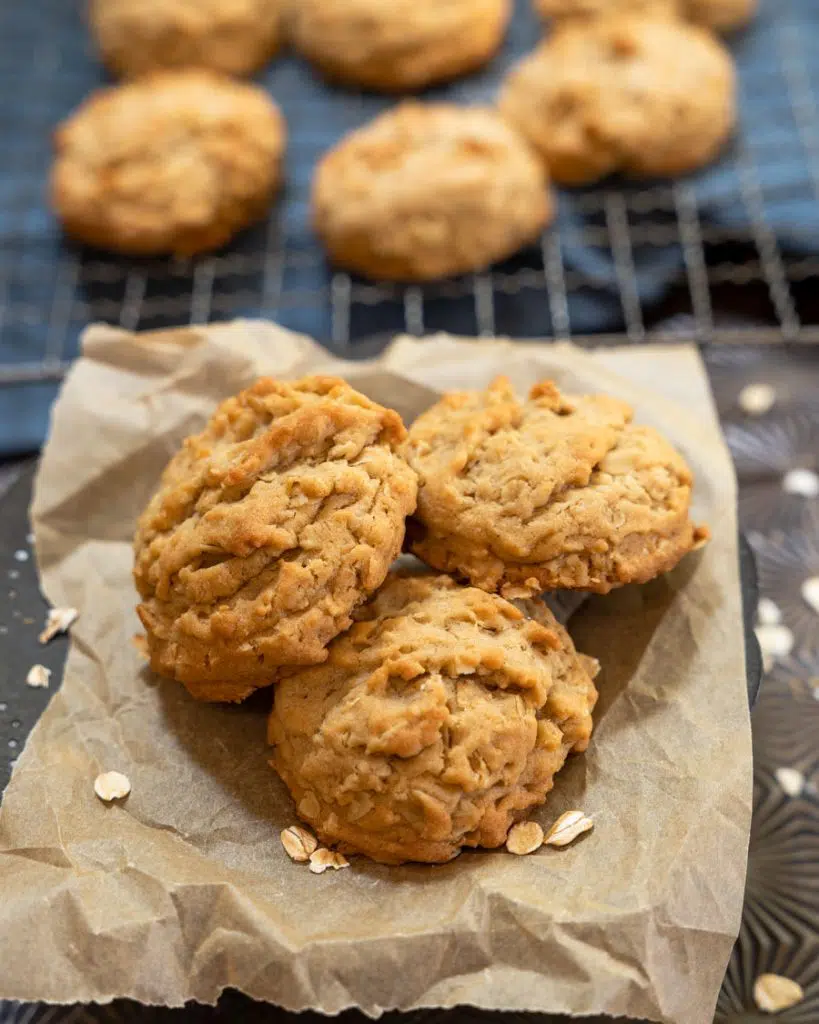 Variations on the Easy Oatmeal Cookie Recipe
There isn't any salt in these cookies and we didn't miss it! If you choose to add salt, we wouldn't recommend more than 1/2 teaspoon.
We used butter-flavored shortening but non-flavored shortening can be substituted.
Butter can be substituted for shortening and the cookie will be absolutely delicious. Shortening will actually make a cookie rise more but not so noticeably that you have to make an extra trip to the store before trying these amazing cookies.
This old-fashioned Oatmeal Cookie would be delicious with added nuts or raisins. However, this is the best oatmeal raisin cookie!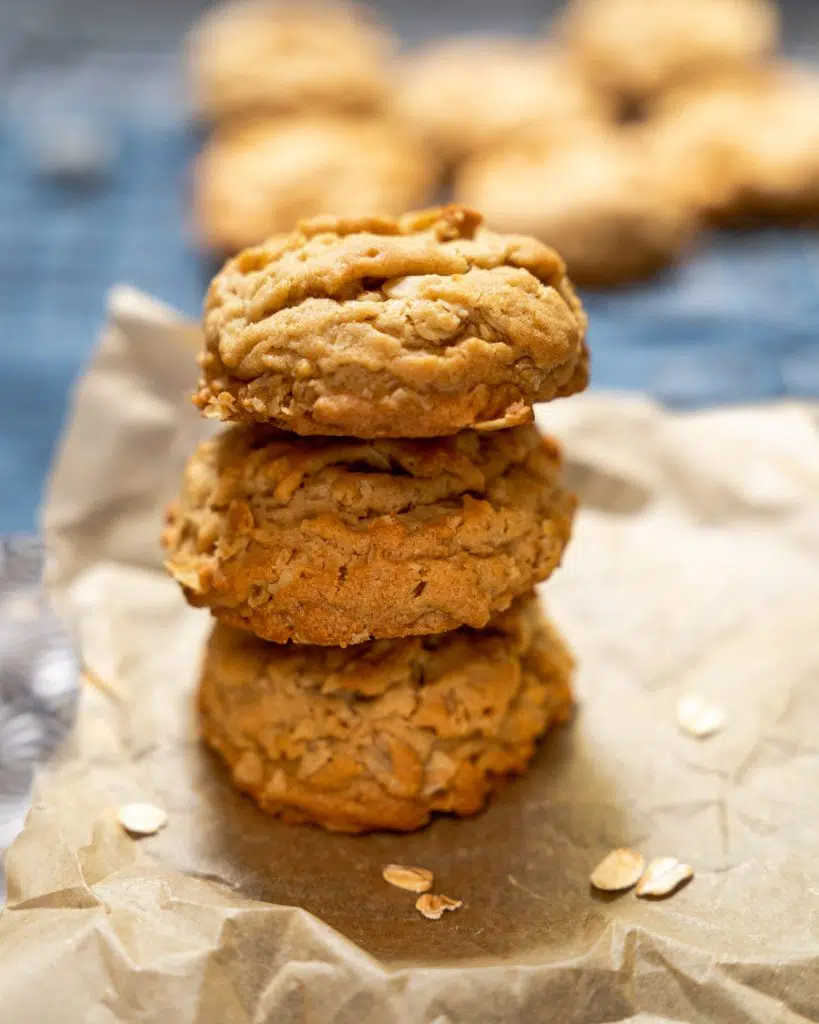 FAQ
Can I use old-fashioned oats instead of quick oats in these easy oatmeal cookies?
We will substitute old-fashioned oats for quick oats but rarely the other way around. Quick-cooking oats and old-fashioned oats are interchangeable. However, they do have an effect on the texture and moisture of the cookie.

The old-fashioned oats used in this recipe guarantee a chewy cookie that's tender and moist. Quick oats can act as flour and dry the cookie.
Can I make Easy Oatmeal Cookies Gluten-Free?
Any cookie recipe on our site should work using a one-for-one gluten-free flour such as the Pillsbury One-For-One Gluten-Free flour. It may change the flavor and texture ever so slightly, but it's a great option! You'll also want to make sure you use gluten-free oats for this recipe!
How to tell if Oatmeal Cookies are done?
Oatmeal cookies are tricky because they don't ever look done when it's time to pull them from the oven. The cookies may not look totally baked, but as soon as they start to brown on the edges you need to pull them from the oven. They will continue baking after being removed from the heat source and will set up beautifully within a few minutes on the cooling rack.
I recommend you start checking on your cookies at the earliest time suggested in the recipe. If your oven runs hot, you may need to check them sooner.
How to Store Easy Oatmeal Cookies
Keep your oatmeal cookies soft, chewy, and fresh by storing them in an airtight container for a few days. You can also freeze the cookies after they are baked and thaw as needed.
Did you know you can also refrigerate or freeze unbaked cookie dough and use it from frozen? Bake exactly what you need and add a minute or two to the baking time if starting from frozen. This is perfect if you only need a handful of cookies for your family.
Other Great Cookie Recipes
Besides this recipe and the Oatmeal Raisin Cookies we linked earlier in the article, we have two other oatmeal cookies you have to try! Each of these four cookies is a completely different blend of ingredients and honestly, they are all four fabulous.
Oats are a fabulous cookie ingredient because they change the texture and give a different structure to the cookie. It's perfect for variety! As an added bonus, oatmeal cookies are more appealing to your sensory-seeking kiddos or children who eat based on texture. If this is your child, have them help make one of our oatmeal recipes with you and try it!
Easy Chocolate Chip Oatmeal Cookies
Scotchies – Butterscotch Oatmeal Cookies
Sourdough Chocolate Chip Cookies
We love a great cookie, and you can find all of our cookie recipes here!
Pin it!