If you think Oatmeal Raisin Cookies are boring, you've never eaten the best oatmeal raisin cookie. They're soft and chewy with sweet plump raisins and warm spices.
These Old-Fashioned Oatmeal Raisin Cookies are a recipe from a dear friend of my grandmother's. My grandmother would drive out to her farm and buy eggs. They would visit over a cup of coffee and often a homemade treat.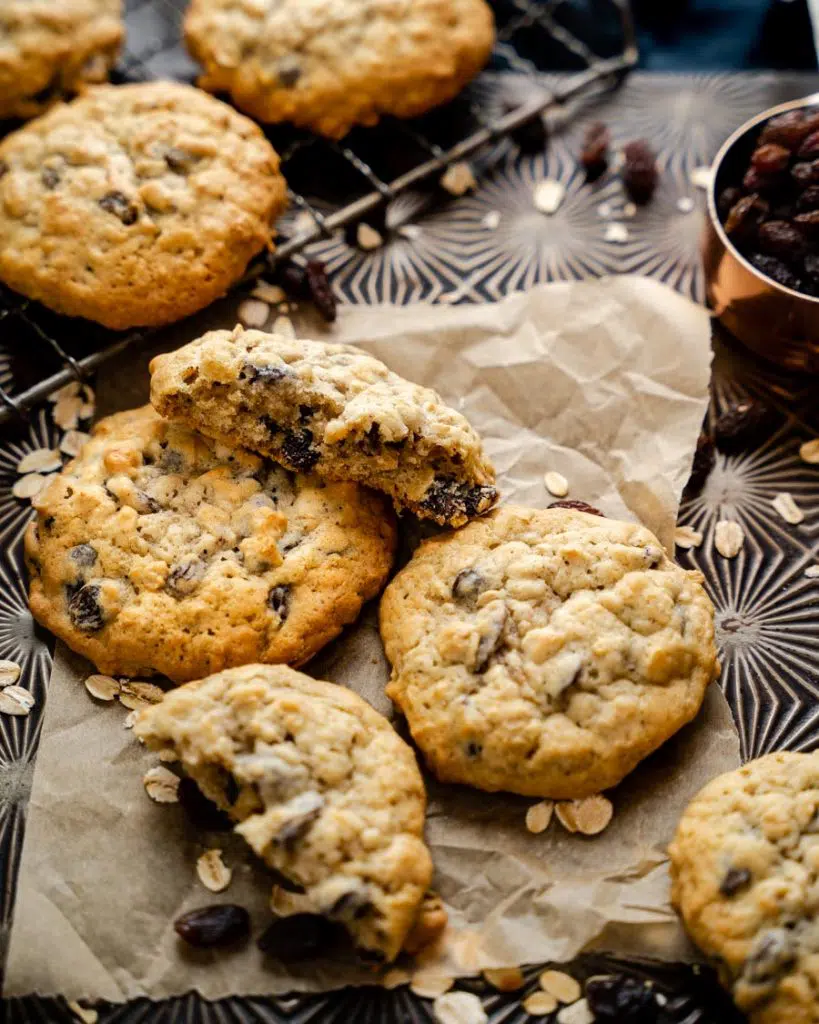 How to Make Oatmeal Raisin Cookies
These homemade cookies are soft and chewy and delicious. This is an easy homemade oatmeal raisin cookie recipe to make and is perfect for helping a beginner learn to bake.
We start this recipe by positioning our baking rack in the center of the oven for even baking. We preheat the oven so it gets good and hot, and line our cookie sheets with parchment paper.
Put the raisins in a small bowl or measuring cup and cover them in hot water to plump them up into juicy raisin perfection. Drain off the water and set them aside.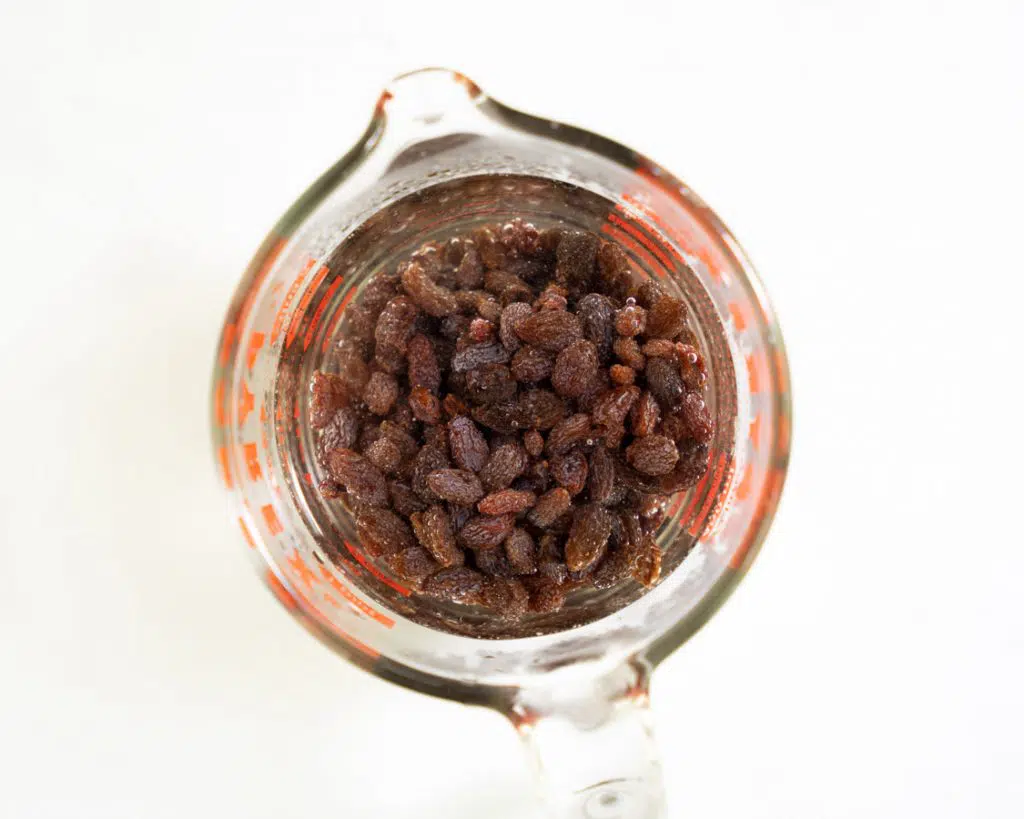 Cream the fat and sugar together in the bowl of an electric stand mixer fitted with the paddle attahment or by hand using a wooden spoon or spatula.
Add lightly beaten eggs and milk. Mix on medium speed.
Mix the dry ingredients separately in a large bowl and then spoon the flour mixture into the wet ingredients at low speed.
Stir in the oatmeal and raisins last and gently mix those in before forming balls of cookie dough with a three-tablespoon cookie scoop and putting them on the prepared baking sheets. We add 12 cookies to a cookie sheet to give our cookies plenty of room to spread out.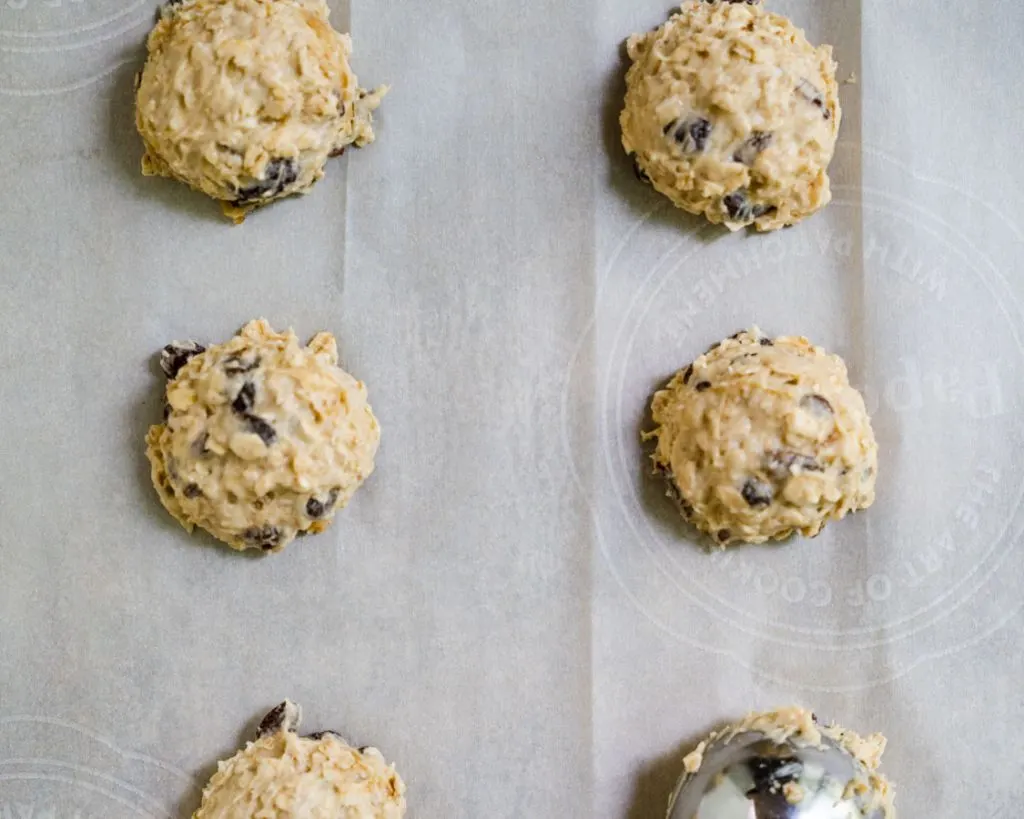 Bake the cookies just until the edges barely start to turn golden brown for the best oatmeal raisin cookie ever.
Let the pan cool on a wire rack for 5 minutes and then remove the cookies from the pan.
Ingredients for the Best Oatmeal Raisin Cookies
Shortening. We used butter-flavored.
White Sugar.
Eggs. We use large eggs, lightly beaten eggs.
Milk. We used whole but any variety will work.
Baking Soda.
All-Purpose Flour.
Salt.
Cinnamon.
Old Fashioned Oats. Old Fashioned oats work best for this cookie. Quick oats can act more like flour and dry the cookie out.
Raisins. Golden raisins are a delicious variation.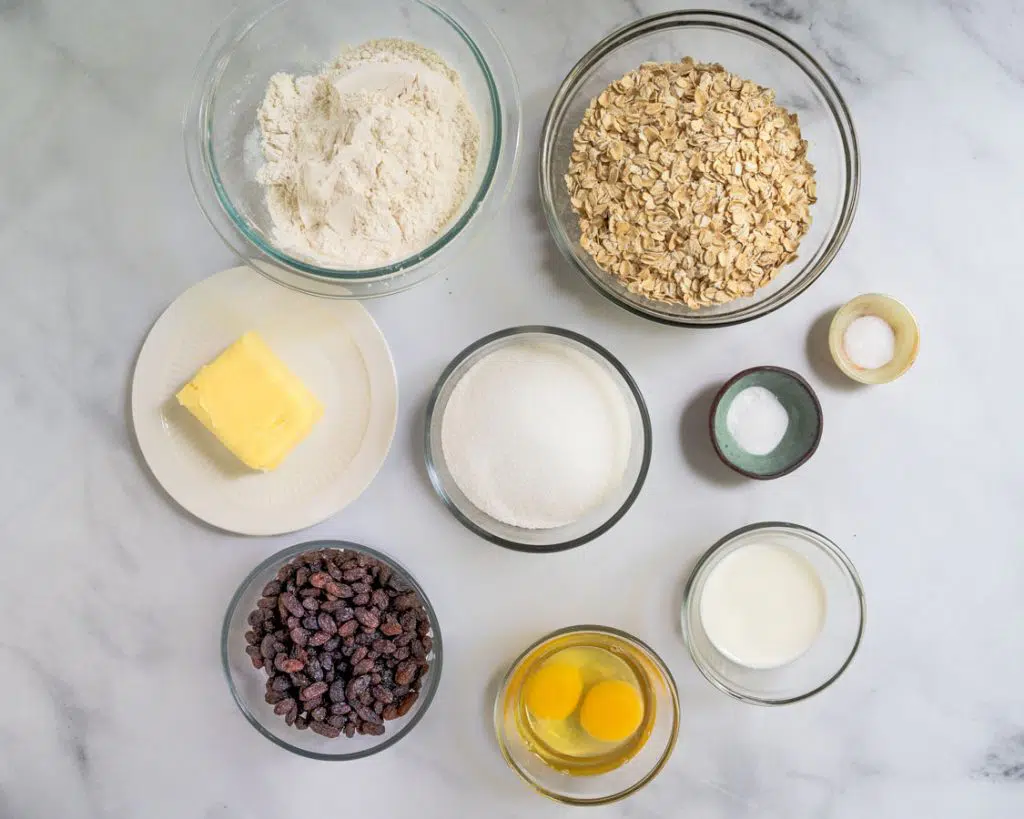 Variations for the Best Oatmeal Raisin Cookie Recipe
You can switch things up and still have a fabulous oatmeal raisin cookie favorite for friends and family.
Use dried cranberries or other dried fruit instead of raisins. You will still want to rinse them with hot water to plump them.
Use nuts instead of raisins, or use half nuts and half raisins. Walnuts, pecans, and macadamia nuts would all work.
FAQ
How long do oatmeal raisin cookies last?
2-3 days in an airtight container if they last that long.
Can I substitute butter for the shortening?
The short answer is yes, but you might want to read more about how this will affect your end results for the best oatmeal raisin cookies.
Does the cookie dough need to be chilled?
We didn't chill the oatmeal raisin cookie dough. However, if your kitchen is very warm you could for a small amount of time to assure the cookie dough doesn't spread too quickly in the oven.
Why are my cookies spread out so much?
There are several reasons your cookies might spread out or become flat.
Make sure your baking soda is fresh. It can lose potency over time. We can explain how to test it.
A common reason is that you measured the fat incorrectly or substituted butter for shortening. Butter has water content and can change the end result significantly.
Perhaps you used a hot baking sheet from the previous batch.
It's also possible your shortening was too warm or you added too little flour to the cookie.
Any of these possibilities could result in a flat cookie.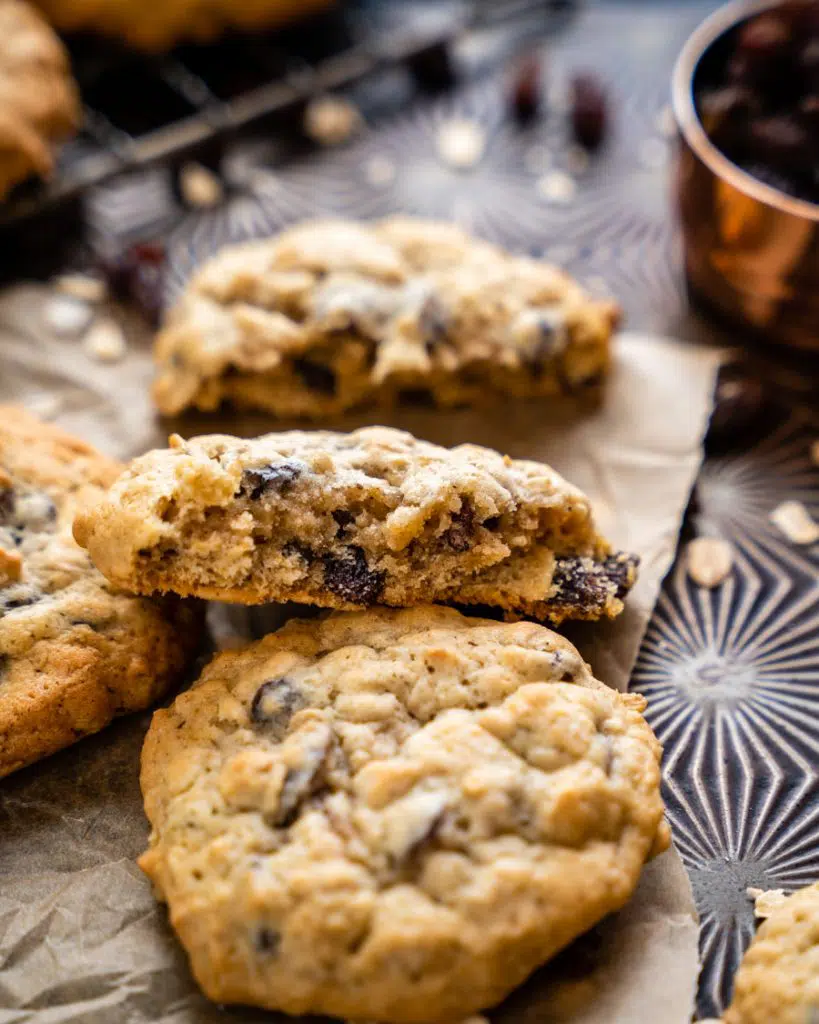 Why are my oatmeal raisin cookies so dry?
Using quick oats will result in a dry oatmeal raisin cookie or measuring the ingredients incorrectly. Make sure you are using proper measuring techniques. It's also important to bake these cookies immediately after mixing. If you choose not to, cover the bowl and refrigerate the dough. You can scoop and bake the chilled dough at your convenience.
Can I use quick oats instead of old-fashioned in cookies?
We will substitute old-fashioned oats for quick oats but rarely the other way around. Quick-cooking oats and old-fashioned oats are interchangeable. However, they do have an effect on the texture and moisture of the cookie.
The old-fashioned oats used in the best oatmeal raisin cookie recipe guarantee a chewy cookie that's tender and moist. Quick oats can act as flour and dry the cookie.
Why aren't my cookies soft and chewy?
The most common reason for hard cookies is overbaking. As soon as the cookies start to turn light brown on the edges, it's time to pull them out. Cookies never look finished in the middle at this point. However, leaving the best oatmeal raisin cookies in the oven until they "look done" will result in a hard crunchy cookie that must be dipped to be edible. If instead, you pull them out just as they start to turn, they will continue baking on the cooling rack and set completely within minutes.
Over mixing can result in a tough cookie too. When each ingredient is added, you want to mix only until the ingredient is combined. That doesn't apply to creaming the shortening and sugar together. It's important that you mix until the shortening is light and fluffy.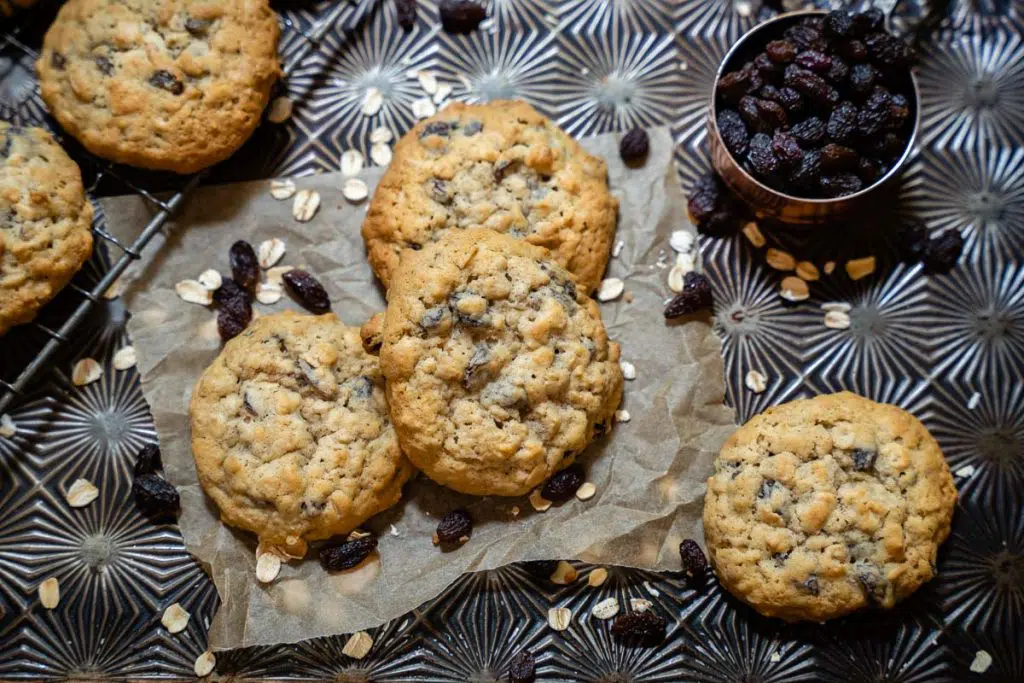 Storing Leftover Cookies
Old-fashioned oatmeal raisin cookies can be kept in an airtight container for a few days. They freeze beautifully for up to 3 months. Just put them in an airtight container.
Unbaked cookie dough can be portioned into cookie-sized pieces, frozen on the cookie sheet, and placed in a freezer-safe zipper bag for use later.
Frozen cookie dough can be baked without thawing. You may need to add a couple of minutes to the total bake time.
Pin it!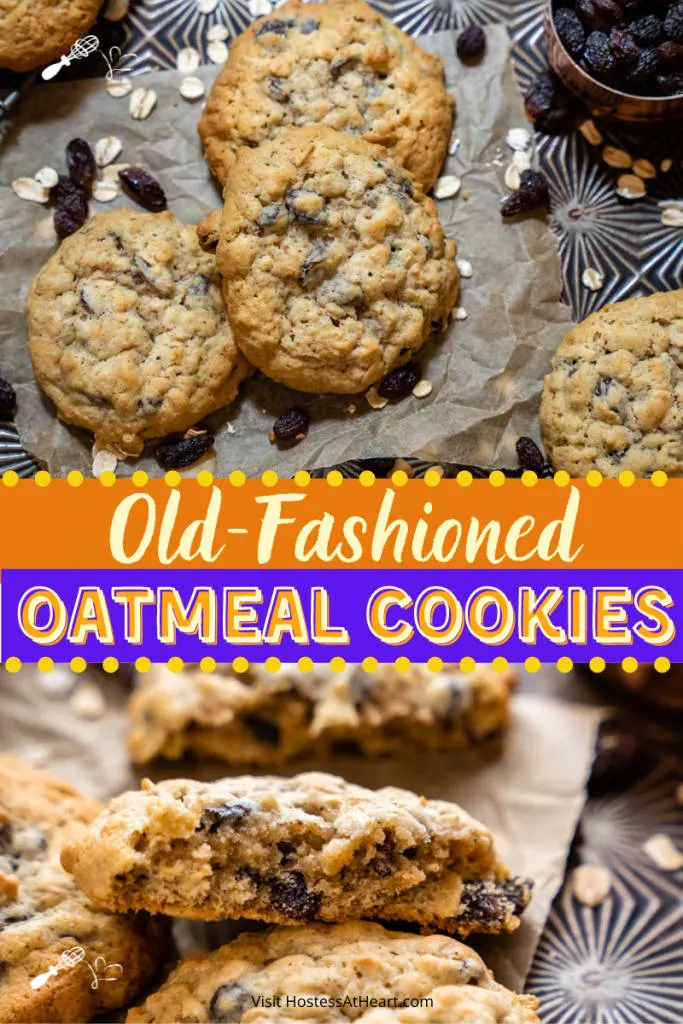 Other Great Oatmeal Cookie Recipes Like This One
Easy Chocolate Chip Oatmeal Cookies
Scotchies – Butterscotch Oatmeal Cookies
Sourdough Chocolate Chip Cookies
We love a great cookie, and you can find all of our cookie recipes here!