Can't you just see the excitement in the eyes of the child who gets to eat one of our Halloween mummy pretzels? Not only is the treat amazingly cute, but it's also delicious. Whether you need a gift for neighbors, want to send homemade treats to school, or want to have the most amazing Halloween party on the block, these Halloween Pretzels are the perfect solution.
In fact, you can call these Halloween Pretzel Rods ghosts, monsters, or mummies! All three are believable. Whatever you call them, they will be the hit of the party for sure.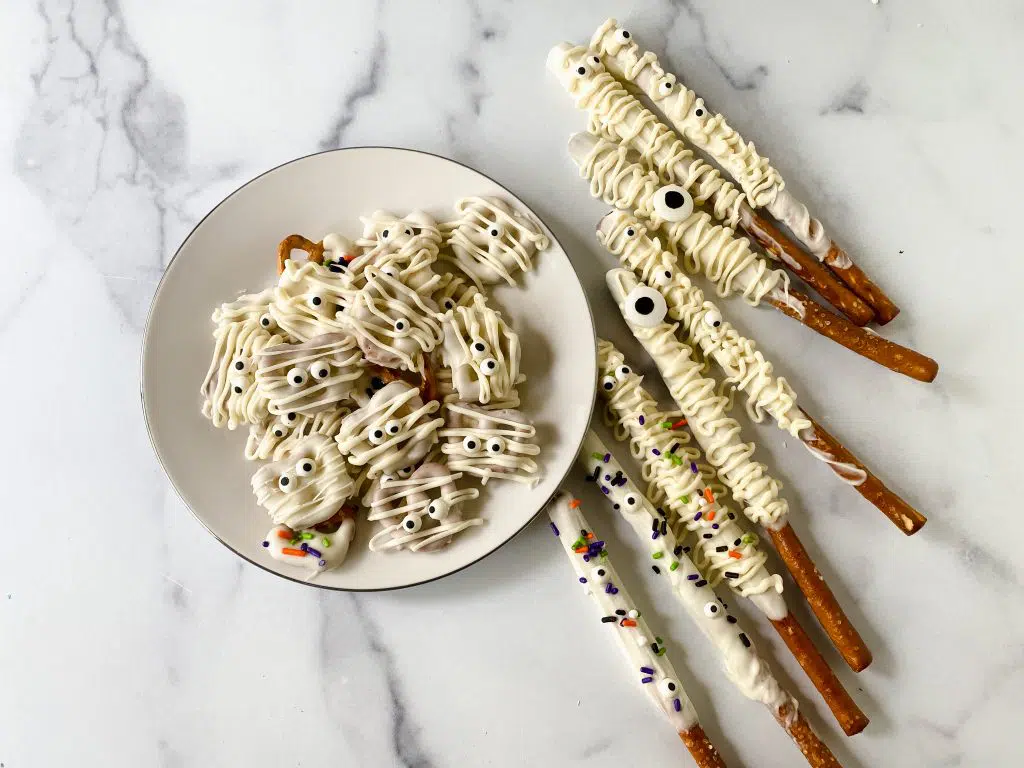 Equipment You Will Need
Parchment Paper. This keeps the pretzels from sticking to any surface as they set up. They usually have it at grocery stores. I like to stock up during the holiday season when you can find it on sale.
Baking Sheet. This just contains the sprinkle and chocolate mess in your kitchen.
12 inch Piping Bag. Used to pipe the mummy stripes on your pretzels. You can find these at your local craft store or Amazon.
Scissors. Used to clip the tip of the piping bag.
Tall Cup. Used to dip tall pretzel rods in melted chocolate.
Ingredients for the Halloween Pretzels
Pretzel Rods. Long thin pretzels perfect for decorating.
Small Pretzels. You can also use the pretzels called "snaps" which are more square.
White Candy Melts or White Chocolate. Either one will work. Candy melts are usually found at your local craft store. White chocolate chips are at your grocery store.
Halloween Sprinkle Mix. These usually include eyes and a variety of sprinkles in "Halloween" colors.
Candy Eyes. Made by Wilton, these are found at your local craft store or on Amazon.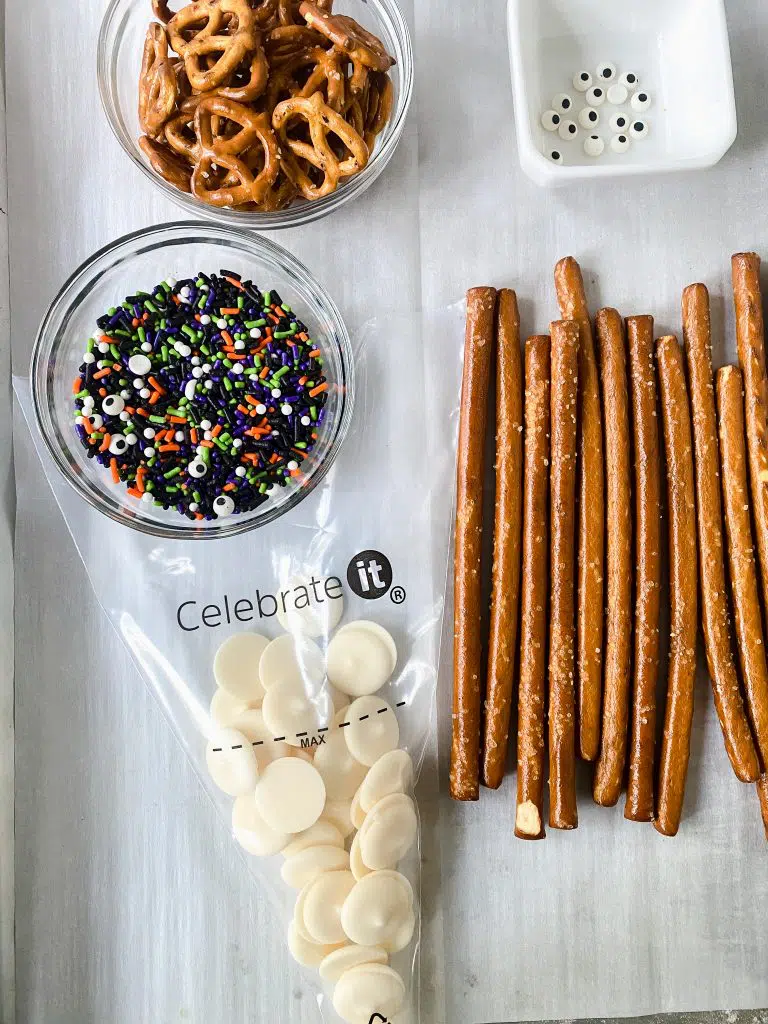 How to Make Halloween Pretzel Rods
First, you will need to melt your candy melts or white chocolate. I like to melt it directly in the decorator bag. Fill about half the bag with chocolate. Heat chocolate in microwave on High for 1 min stopping at 30 seconds to press the bag and move the chocolate around so it doesn't burn in one spot. After 60 seconds mash the bag to make sure all candy melts are fully melted.
Place the bag in a tall cup or glass and fold the top over the cup.
Dip rods into the bag to coat in chocolate then place onto parchment to set.
Add sprinkles immediately to some. For others allow time to set without sprinkles.
Once completely set (about 15 minutes) warm the remaining chocolate in the bag for about 15 seconds. Snip off a small hole in the tip and squeeze the chocolate out in a back and forth motion first down the rod and then back up to create the wrapped effect.
Add candy eyes and let them set up for 25 – 30 mins before serving.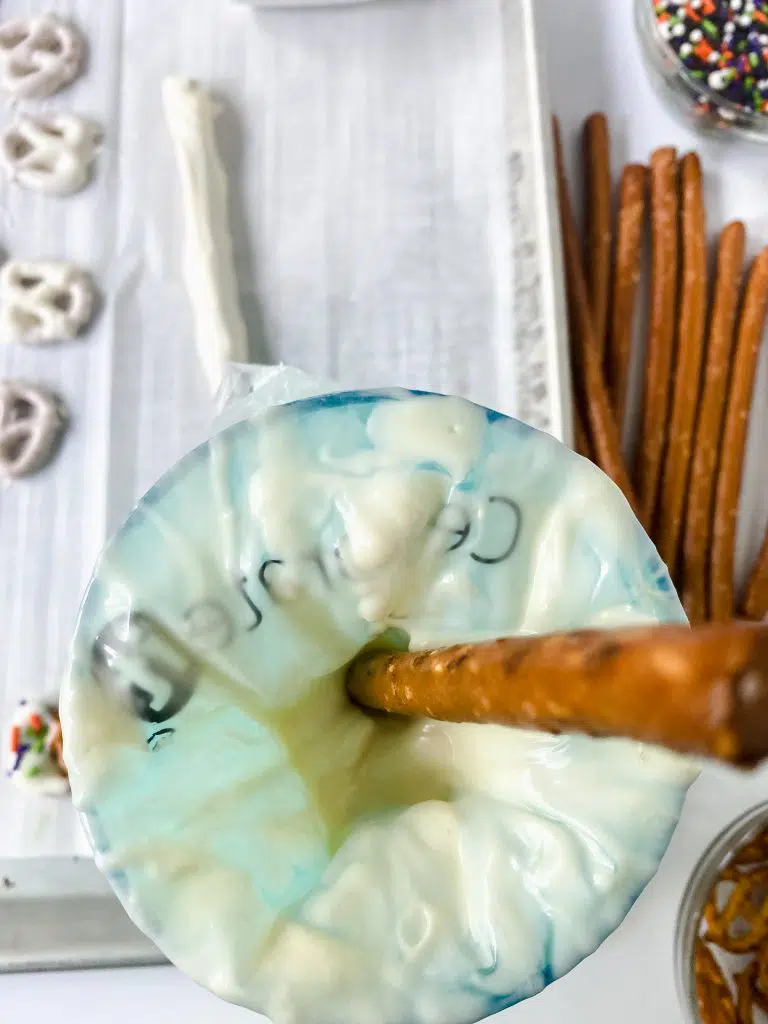 How to Make Mummy Pretzel Twists
Melt some candy melts or white chocolate in a bowl according to the package instructions. Add 1 tsp of oil (vegetable or coconut oil) at a time to thin out the chocolate if needed. Stir well to incorporate. Use a fork to dip the pretzel twist in the chocolate allowing excess to drain off before placing it on a parchment-lined baking sheet.
Let set for 15-20 mins.
Add the remaining chocolate to a piping bag or ziplock bag. Heat for 10-15 seconds once the pretzels have been set. Snip the tip and make back and forth zigzag patterns of chocolate to create the mummy look.
Add candy eyes and allow to completely set for 25 – 30 mins.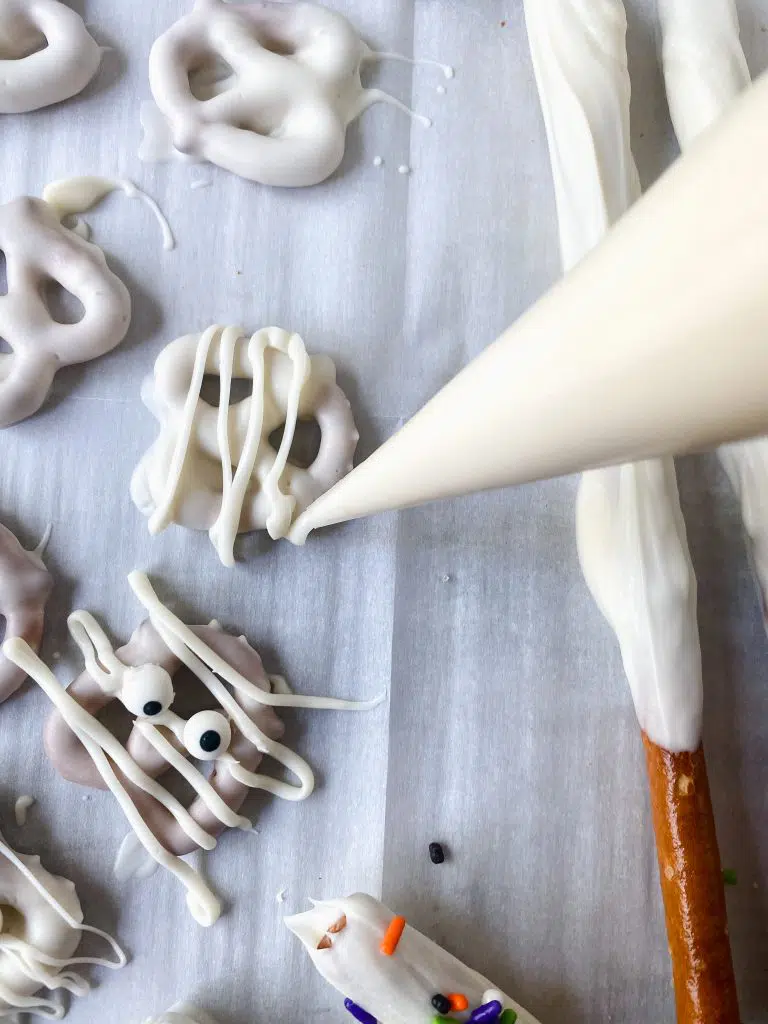 Tips for Making Awesome Halloween Pretzels
Make sure your white chocolate or candy melts are perfectly melted without overcooking. To do this, microwave the chocolate or candy melts in short segments like ten seconds at a time as your chocolate approaches the right consistency.
Make sure to stir the chocolate each time you check it because it will hold its shape even after melting and possibly even burn without losing its shape.
Using a tall cup to dip the pretzel rods is a great trick. Make sure your cup and the piping bag will work together by testing it before you melt the chocolate. After you melt the chocolate you'll have a full bag to hold and won't want to be searching through your cabinets for the perfect cup.
Storing Your Mummy Pretzels
You can keep your chocolate-covered pretzels for up to a week in an airtight container at room temperature. They will not need refrigeration unless you live in an extra warm climate and don't use air-conditioning. Make sure your Halloween pretzels are completely solidified before you place them in a storage container.
Similar Recipes for your Halloween Party
Monster Cupcakes. Super cute monster-decorated cupcakes that are so easy to make it will take you no time at all.
Monster Cake. An adorable alternative to cupcakes and just as impressive.
Halloween Cookie. A huge cookie with instructions for piping a spiderweb on the cookie. It turns out so cool!
Monster Rice Krispie Treats – Easy Rice Krispie Treats for Halloween perfect for your little monsters.
Halloween Hershey's Kiss Cookies – So easy and peanut butter free!
Love trying new things? You may enjoy our "How To" articles!