Looking for the perfect Halloween treat? Make these adorable monster cupcakes any time you need a ghoulish treat for your kids. These monster decorated cupcakes are the perfect Halloween party treat.
These Halloween monster cupcakes will be the most popular item at your event when kids and parents see how amazing they look. Of course, we all know they taste great too, especially with our yummy cupcake frosting recipe included in this post. The best part is, they are so easy to make!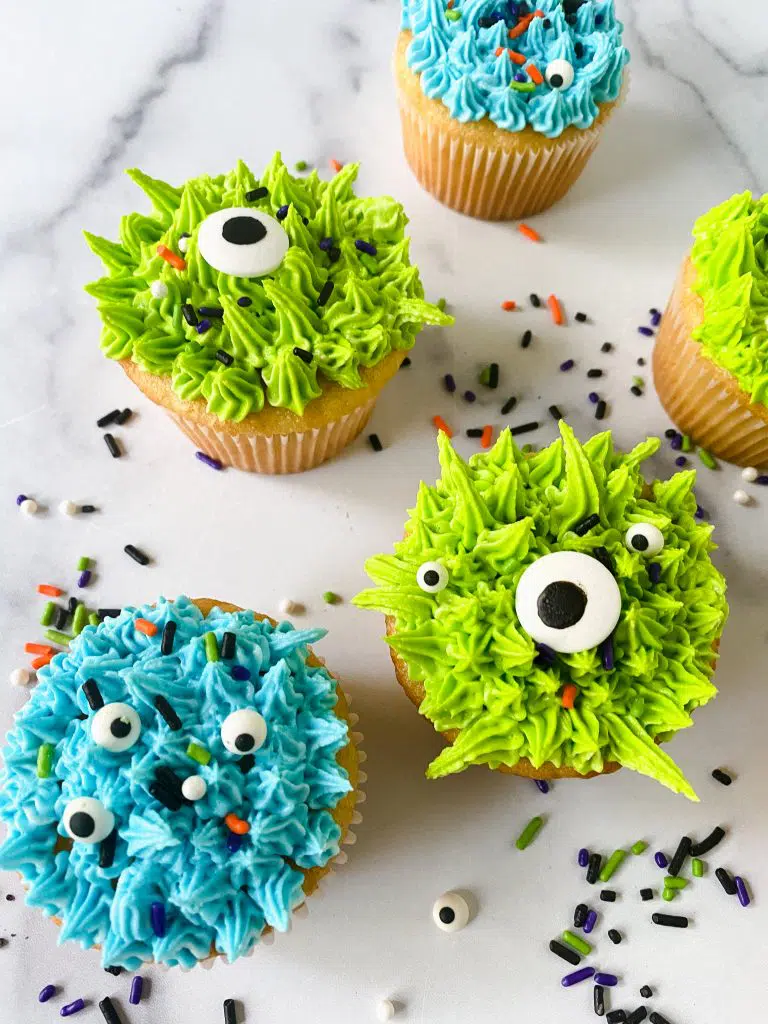 Equipment You'll Need
12-inch piping bags. These are disposable decorating bags, and they are so handy because after you are finished you can remove the tip and coupler and throw the bag away.
Scissors. You'll need these to cut a hole for the tip in the bottom of the decorator bag.
Tip number 18 or 21. This is a star tip. I've linked to a small set with #18 in it, but you can really use whatever you have. You can also use the grass tip for your monster cupcakes and it still turns out so cute.
Decorating Coupler. Couplers come in two pieces. You'll get a small plastic piece you drop inside the piping bag and then a ring that screws on over the tip on the outside of the bag. Don't add the frosting until the bag is fitted with the coupler and piping tip so that it's ready to go.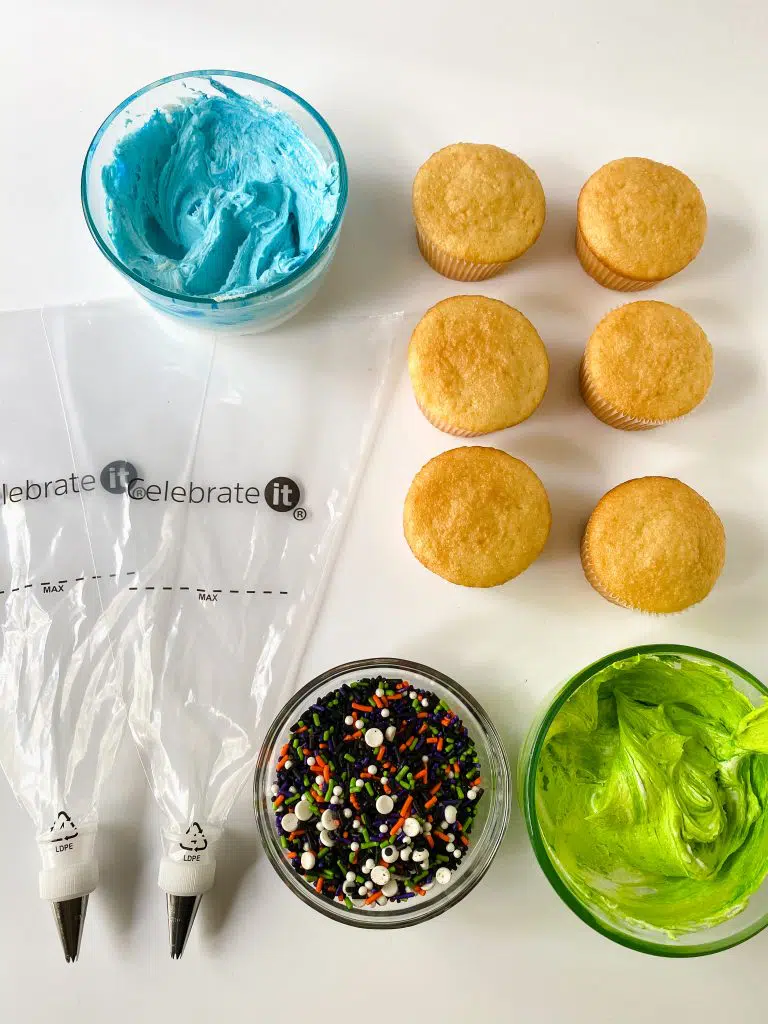 Ingredients for Monster Cupcakes
Prebaked Cupcakes. You can use your favorite cake mix or recipe to make cupcakes or purchase undecorated cupcakes at some grocery store bakeries. If you make your own cupcakes, you'll need foil cupcake liners and a muffin pan in addition to the equipment listed above. I like to use the foil ones because they are nonstick but you can also use cute seasonal ones.
Frosting. We've included a fantastic buttercream frosting recipe at the end of this post. You can also purchase decorator frosting if you want the easy button. You can make the frosting any color you want. We used green and blue.
Sprinkles or Candy Eyes. Or both.
How to Make Monster Cupcakes Step-By-Step
Once you've gathered your ingredients and your cupcakes are completely cool you can start creating the Halloween monster cupcakes. To begin, cut a hole in the bottom of your piping bag, and fit it with a coupler and #18 tip. Then add frosting to the piping bag until it is about half full.
Twist the bag at the top of the frosting (not the top of the bag) and hold the twisted part firmly before applying pressure. Hold the bag at a 90-degree angle when piping. Squeeze out the frosting, stop squeezing, then pull away. Cover the entire surface of the cupcake with frosting. Add sprinkles or candy eyes immediately.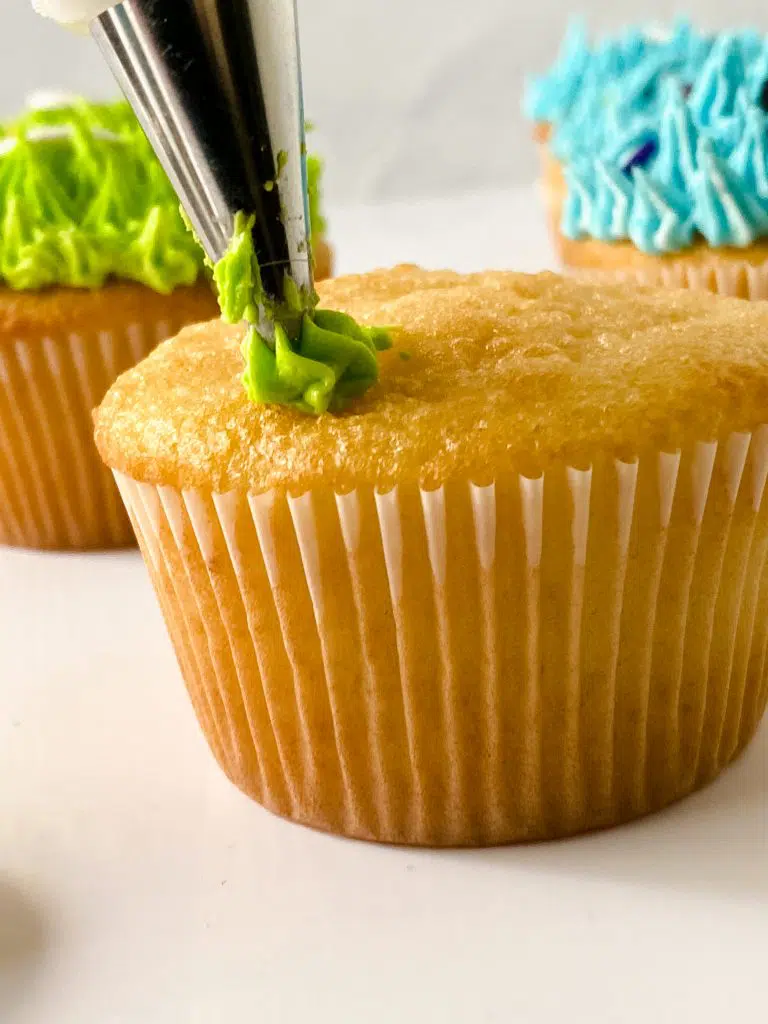 Tips for the Best Halloween Monster Cupcakes
When piping frosting, if you don't stop squeezing before pulling away, your frosting will keep coming out and you will have a much sloppier look to your cupcakes. That's the most important trick to piping.
After filling your frosting bag, you need to twist it right at the top of the frosting (halfway up the piping bag) two or three times and then hold it twisted as you decorate the cupcake. This keeps the frosting from coming up out the top of the bag as you apply pressure.
You want your frosting the right consistency for piping. If it won't hold its shape after piping, add more powdered sugar. If it's too thick to squeeze through a piping bag, drizzle in additional cream 1 teaspoon at a time.
As you hold the piping bag, the frosting gets warm and may stop holding its shape. If this happens, place the piping bag in the refrigerator for a few minutes to firm it back up. If this causes a dry plug of frosting in the end of your tip, you can remove it with a toothpick before returning to decorating your Halloween monster cupcakes.
TIP: If you have to place the piping bag in the refrigerator, you can cover the tip with plastic wrap. We also cover any frosting not in the piping bag with a damp paper towel to keep it from developing a crust.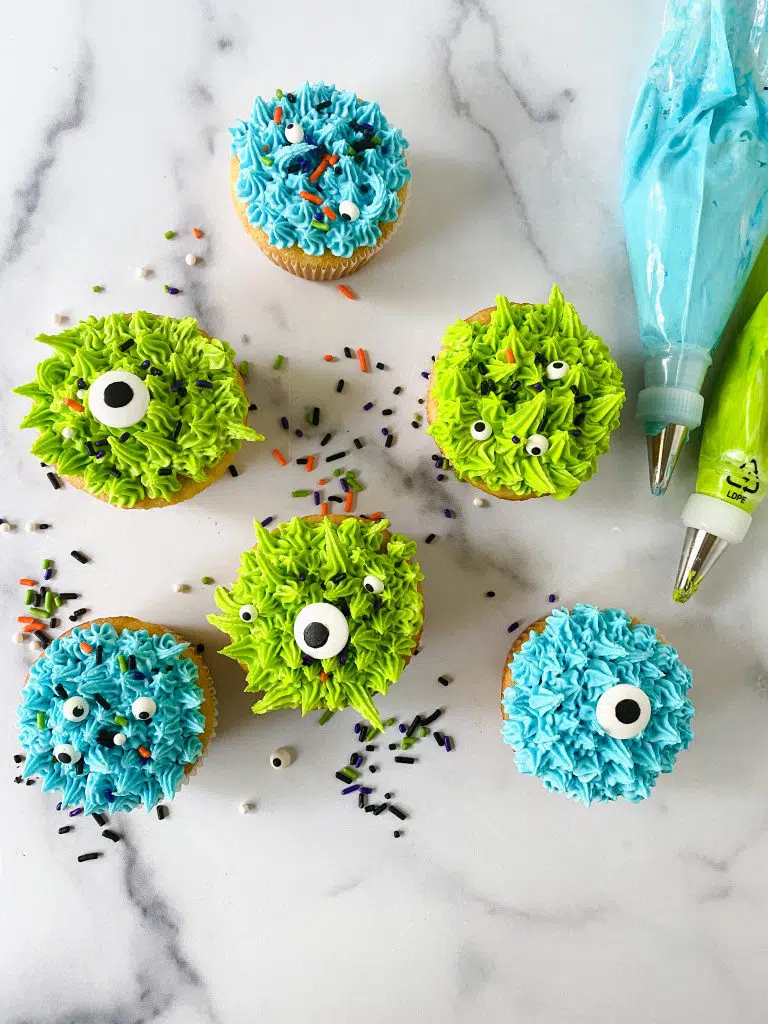 Storing Leftovers
Monster Cupcakes can be stored at room temperature for a couple of days or in the refrigerator for even longer until the frosting starts to get weepy or the cake is stale. They don't usually last that long at this house!
If you store the cupcakes at room temperature, make sure you don't put them in an airtight container. The frosting needs access to air and develops a slight crust of crystalized sugar on the outside that helps keep it fresh. If you seal it up airtight, the crust on the frosting softens and the frosting goes bad more quickly.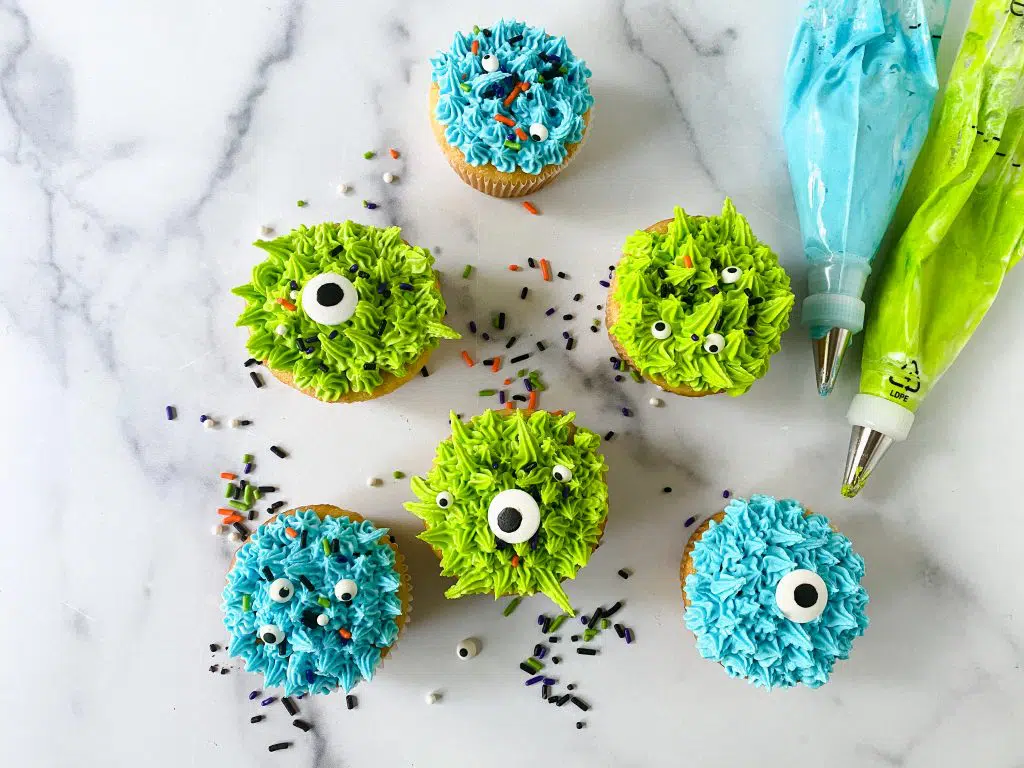 Similar Recipes to Enjoy
Chocolate Cake Pumpkin Faces. These easy pumpkin faces are so fun. They're the hit at any Halloween get-together
Mummy Pretzels. These super cute decorated pretzels are perfect for a handheld treat or as an addition to your Halloween jarcuterie.
Halloween Hershey's Kiss Cookies – Super fun and peanut butter free!
Monster Cake. A super cute cake you can make for events where you don't want cupcakes.
Halloween Cookie. Turn a giant cookie into a cool spiderweb with these instructions.
Monster Rice Krispie Treats – Everyone loves a cute monster. These monsters are perfect for your little monsters.
Halloween Cakes, Cupcakes, and Cake Pops. A ton of amazing Halloween-inspired recipes.
We used an easy buttercream frosting for these adorable monsters. You could also use my Vanilla Frosting recipe that's light and fluffy.