This Soft Peanut Butter Cookie recipe makes the best peanut butter cookies that I've ever eaten. They're soft and chewy and simple to make.
They may look like the classic, but when it comes to flavor and texture, they're anything but. This is an easy peanut butter cookies recipe that will soon become your favorite.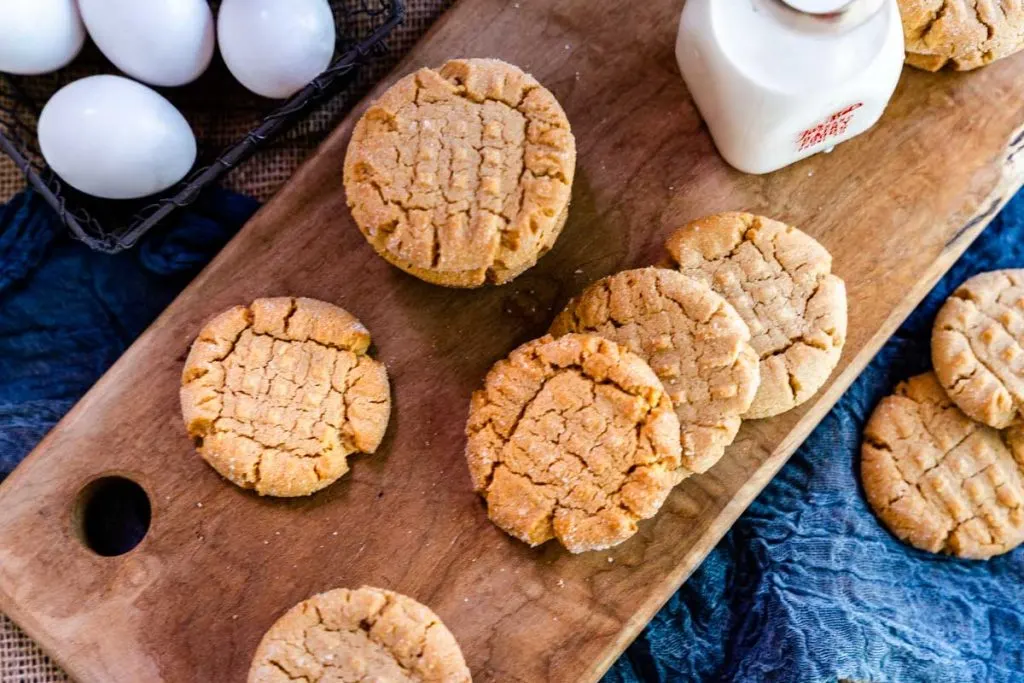 If you think a cookie is a cookie, you've never had one of these soft peanut butter cookies. How many times have you tried a new cookie recipe only to be disappointed?
I've made this recipe twice and doubled it both times. There's no reason to double it because one batch will make up to 42 cookies. Needless to say, my friends and family love it when I overbake.
John loves peanut butter and the hardest thing was to get them baked! I call him my cookie dough pirate!
Why You'll love this Soft Peanut Butter Cookie Recipe
Flavor and texture – These cookies are soft and chewy with just the right amount of delicious peanut butter flavor. Each bite is a mouthful. This isn't a flat crunchy cookie.
Simple and easy – These cookies are a delight to put together. This is a straightforward recipe with no complicated techniques.
They will feed a crowd – Each batch will make up to 42 cookies. That makes them perfect for neighborhood get-togethers or a holiday cookie tray.
Make-ahead – These cookies can be frozen so when you volunteer to bring something to work or school, grab a bag of cookies from the freezer. They'll taste freshly baked.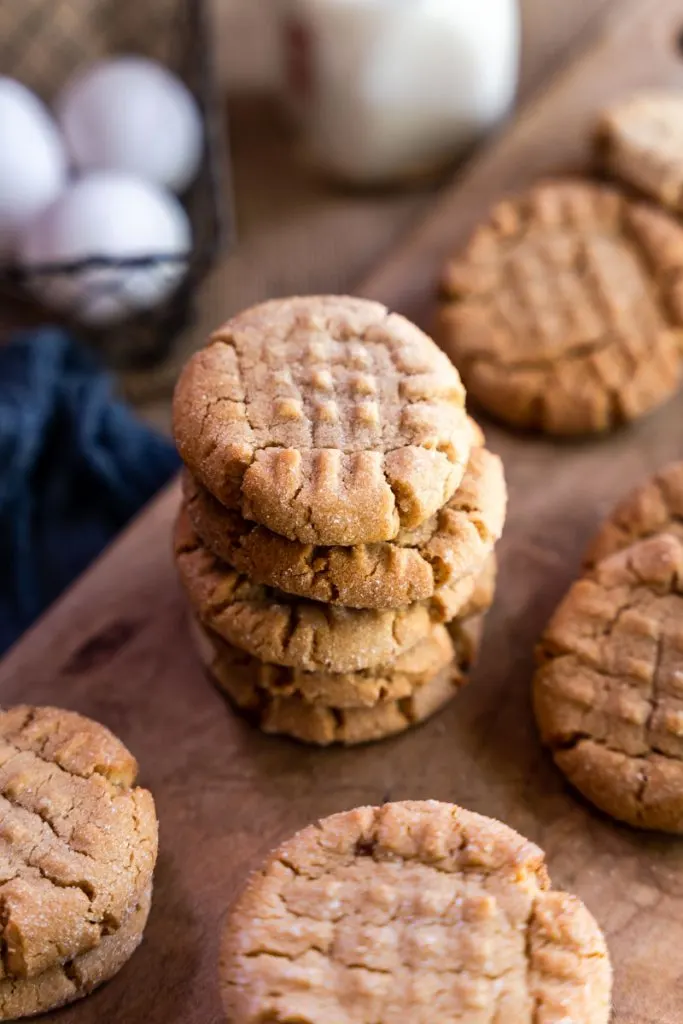 What's so special about this Soft Peanut Butter Cookie Recipe?
As much as I would love to take credit for creating this soft and chewy Peanut Butter cookies recipe, this recipe is actually inspired by our Freaky Friday Blog Hop.
What is the Freaky Friday Blog Hop? Freaky Friday is a blog hop with some of my favorite food blogger buddies!
We secretly get assigned one another's blogs to make a recipe from, and then we all reveal who we had and what we made on the same Friday, and that is today! The Freaky Friday blog hop is organized by Michaela who runs An Affair From the Heart.

I was so excited to get Sue's blog, Sue Bee Homemaker for Freaky Friday.
Let me tell you a little bit about Sue
Sue and I have a lot in common. My mother was from a large family (9) and I grew up watching her and her sisters cooking together. Sue has the same memory of her mother who was one of 14! We both have two cherubs and a pup and love to ride bikes with our hubby's.
Sue started her blog as a soon-to-be empty nester. I did as well and much of my inspiration came from cooking and baking with my grandmother. Hers was her amazing mother.
I had a heck of a time choosing just one recipe to share. That girl is a baking guru! She shares my love of bread and I can't wait to try her Jalapeño Cheddar Sourdough. I'll definitely be making her Giant Cinnamon Twist Roll for our next set of overnight guests! I've already made her Peanut Butter Blondies which were amazing so knew her Best Ever Peanut Butter Cookies would be delicious. Not in my wildest dreams did I know how good!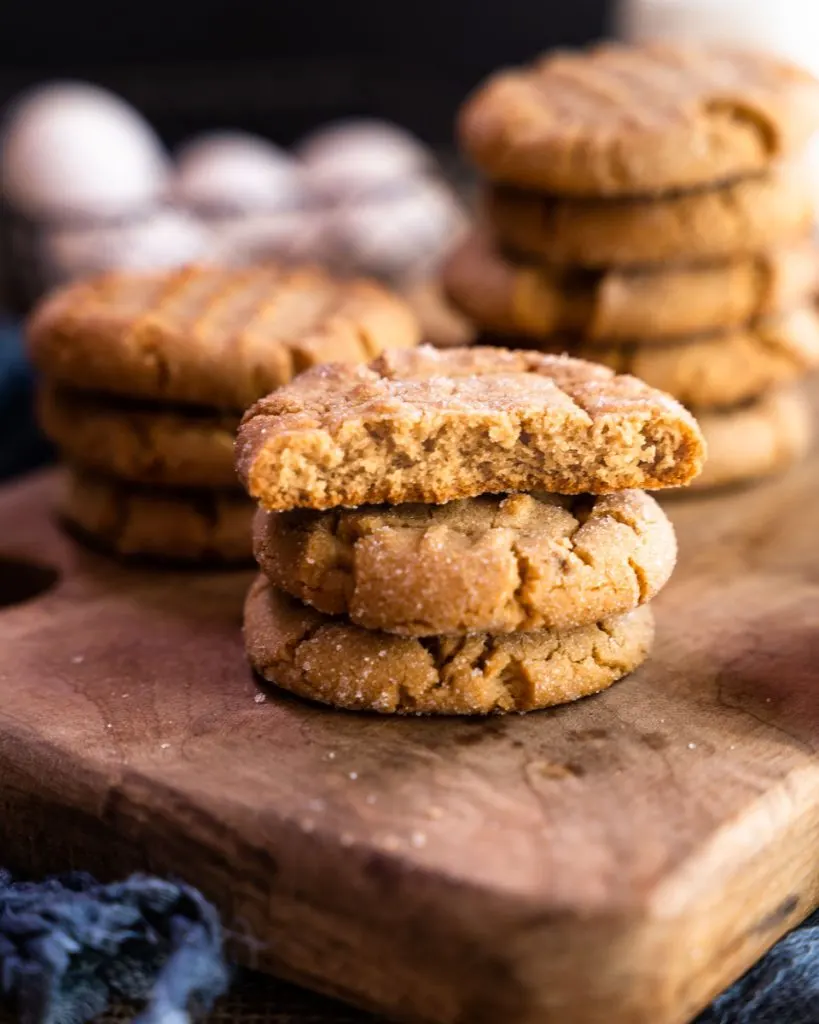 Soft Peanut Butter Cookies Recipe
Equipment you may need
Baking sheets – These sheet pans are durable and I have four of them so I can get everything baked in a jiffy!
Parchment paper – This is my favorite parchment paper. It's important to know that there is an oven temperature rating on parchment paper. If you exceed it your parchment paper can catch fire in your oven. This one is rated to 450°F, high enough for my bread recipes too.
Scoops – Ever wonder how every cookie, meatball, or muffin is the same size? Scoops! I've had this set of 3 for years!
Electric Stand Mixer – I know this item is an investment. Nothing creams butter and sugar together or makes a fluffy meringue quite like a good mixer.
What are the ingredients for the peanut butter cookies recipe?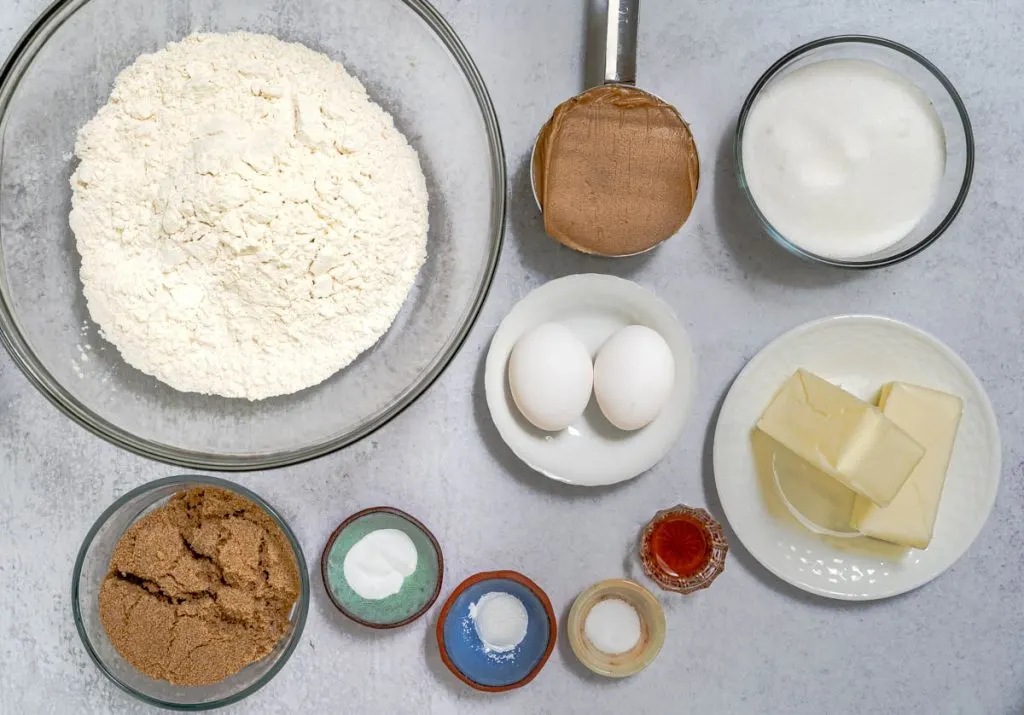 Peanut Butter – This peanut butter cookie recipe uses creamy peanut butter, but you can use an equal amount of crunchy peanut butter. I haven't tried using natural peanut butter.
Unsalted Butter – I use real butter. If you use salted butter, reduce the amount of salt called for to 1/4 teaspoon.
Brown Sugar – I always use dark brown sugar because it is moist with a deeper molasses flavor. You can use light brown sugar if that is your preference.
Sugar – White granulated sugar.
Eggs – I use large Grade A eggs for consistent results in my cooking and baking.
Vanilla extract – Pure vanilla is delicious in this soft peanut butter cookie recipe.
Flour – Bleached or unbleached all-purpose flour.
Salt – Kosher or table salt is fine. I prefer fine sea salt. I find it mixes into my recipes without leaving pockets of salt.
Baking soda and baking powder are used to make these cookies light and fluffy. Replace these ingredients every 6 months or test their potency. If you're unsure how to do this, I show you how in my basic techniques post.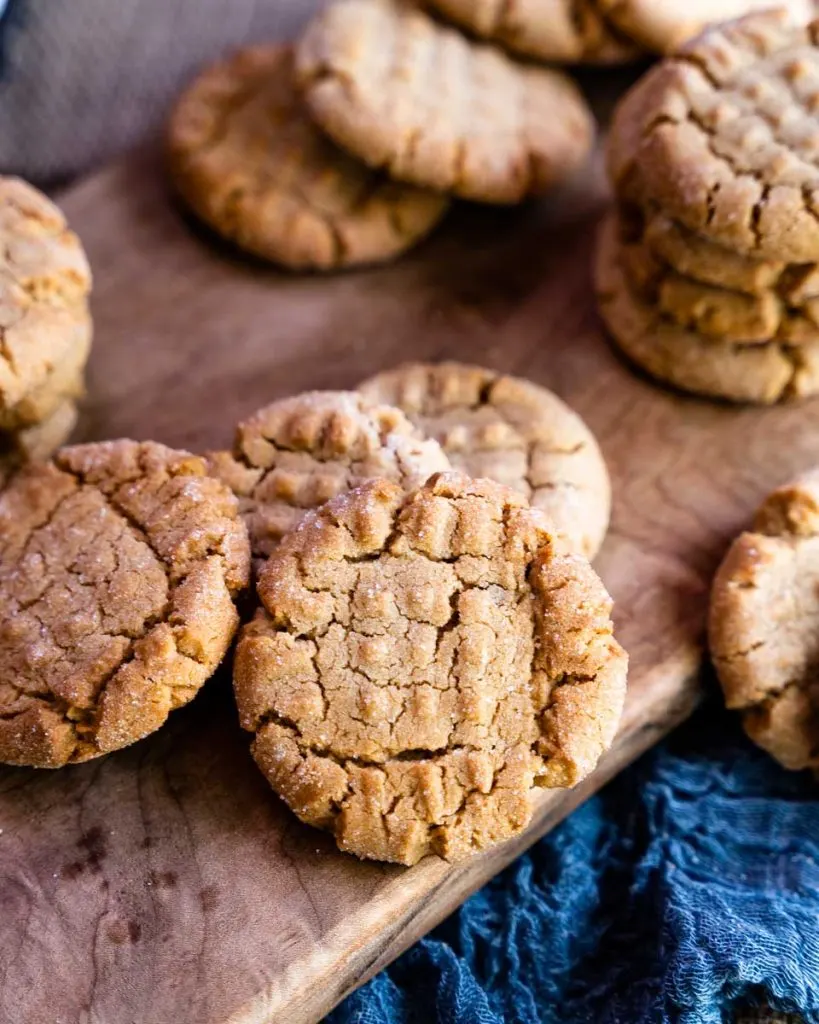 How to make peanut butter cookies
Note: This recipe is best chilled for one hour so plan accordingly.
Please note, that the printable recipe card has ingredient quantities, complete instructions, and nutritional information. The following is a quick overview of the recipe.
Step 1: Cream the butter and sugars together until light and fluffy. Up to 5 minutes.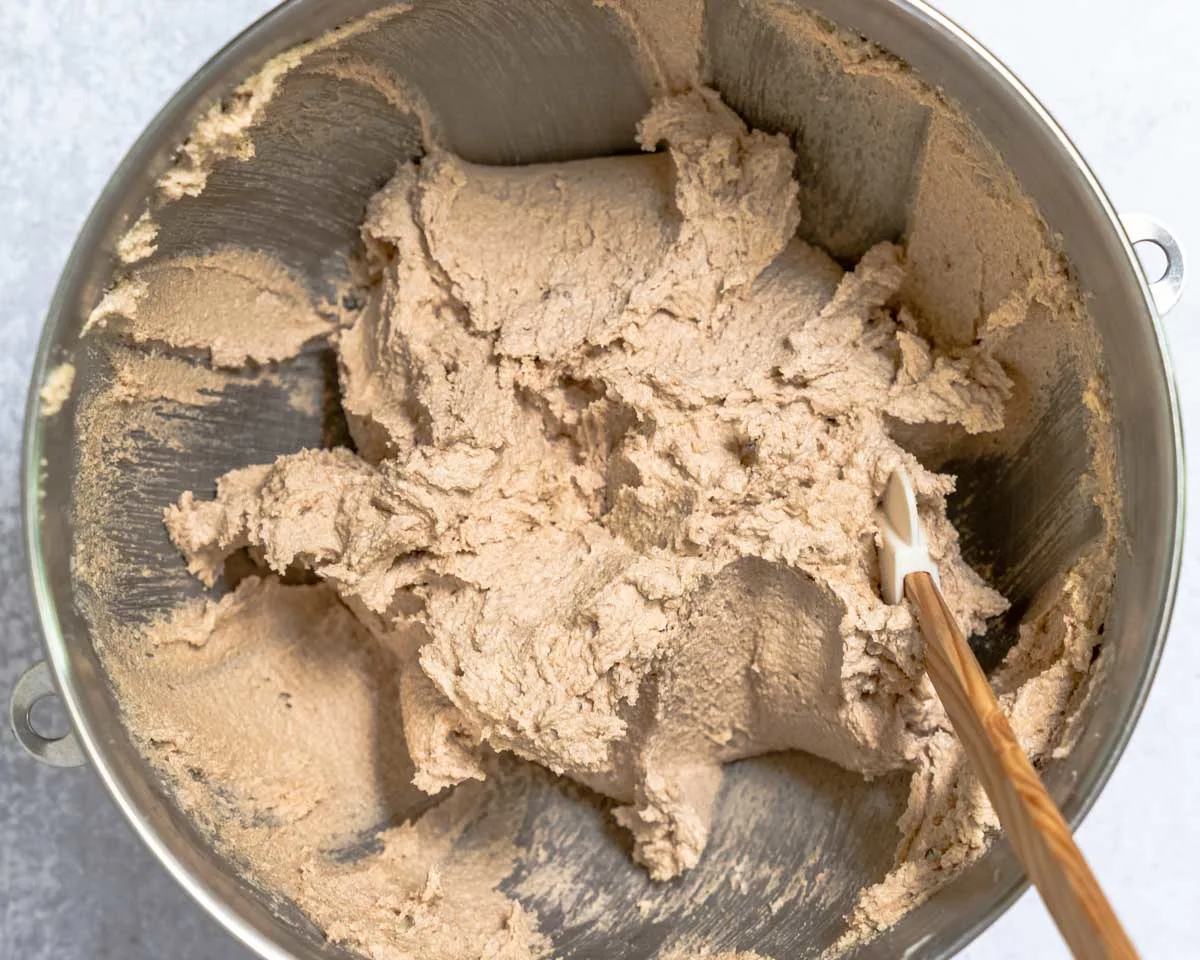 Step 2: Add the eggs, vanilla, and peanut butter to the butter mixture. Cream together.
Step 3: Whisk the dry ingredients together in a medium-sized bowl. With the mixer on low, spoon the dry ingredients into the wet ingredients until thoroughly incorporated with no pockets of flour visible. The batter will be thick.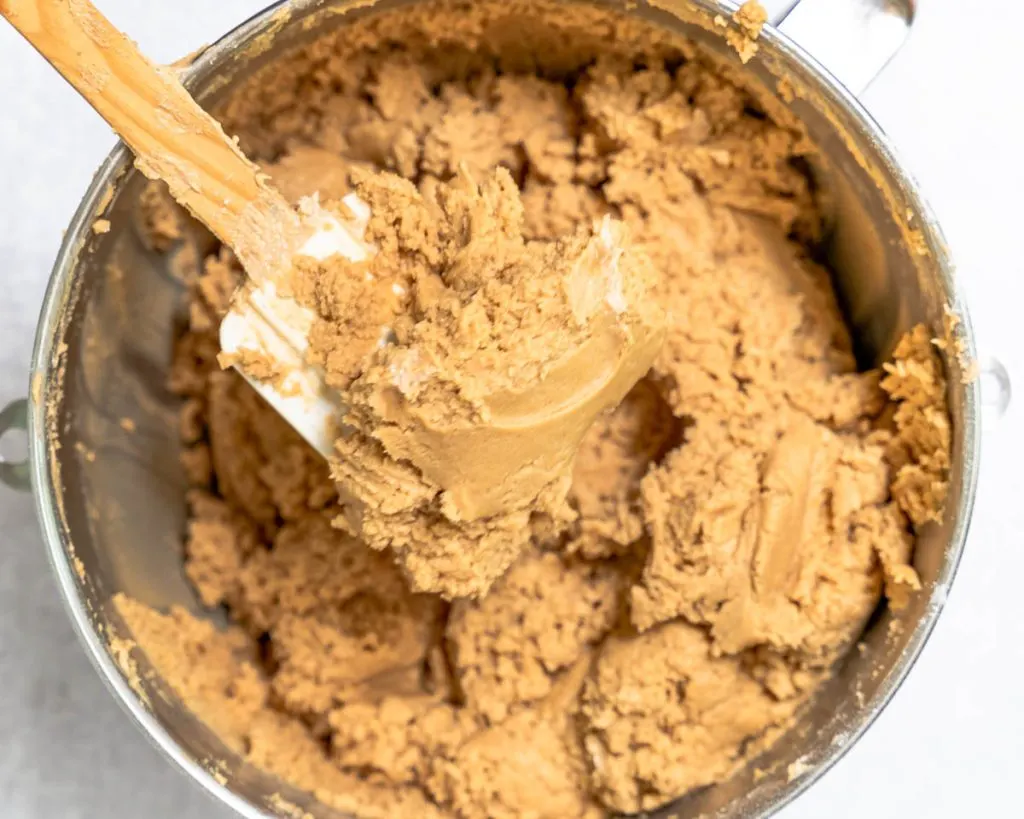 Step 4. Cover and chill the peanut butter cookie dough for 1 hour.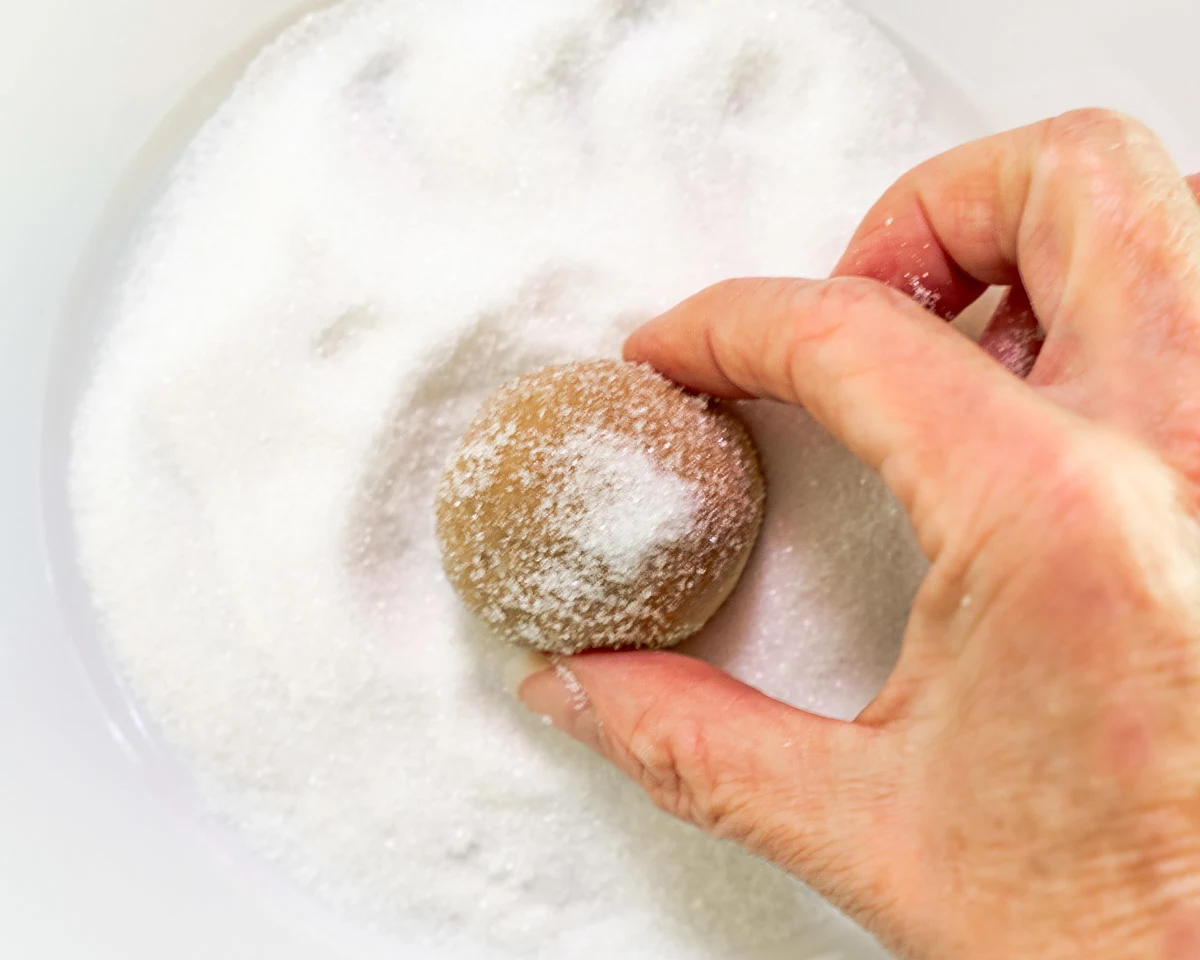 Step 5. Form the dough into balls and roll them in sugar. Place them on a baking sheet and press a fork into the top horizontally and vertically. Bake.
Tips for the Best Ever Peanut Butter Cookies
This is a very thick dough. Using a sturdy mixer is helpful.
Once the peanut butter cookie dough is chilled, the dough is stiff. Using a scoop makes it easier to make the dough into balls. It also keeps handling to a minimum so it doesn't warm the dough.
I used a 1-1/2 tablespoon-sized scoop. You can make the cookies larger or smaller but may need to adjust your baking time.
When pressing the dough ball with a fork, don't press too hard. Some cracks are normal but pressing too hard will cause the cookie to tear and crack more.
To keep cookies from getting hard, don't overbake them. Once the edges are lightly brown, remove them from the oven. Let the cookies cool on the baking sheet for 5 minutes so they can set and removed to a cooling rack without crumbling. You also want to store them correctly. (see below)
FAQs
Why are there fork marks on peanut butter cookies?
Peanut butter cookie dough is thick and dense so it doesn't flatten out much when baked. Pressing the dough balls with a fork helps flatten out the cookies for even baking.
Should cookies be baked on parchment paper?
Yes, I recommend parchment paper or a silicone baking mat which eliminates the effect that the surface of the pan has on baking. It also helps to keep the cookie from sticking and breaking when you try and remove the cookies from the pan.
How do you know when the cookies are baked?
Remove the cookies when the edges are just beginning to brown. Leave them on the pan for 5 minutes to firm up before removing them to a cooling rack. I'll often write on the recipe how long the optimal baking time is for a recipe according to my oven.
Want more delicious recipes? Follow Hostess At Heart on Pinterest!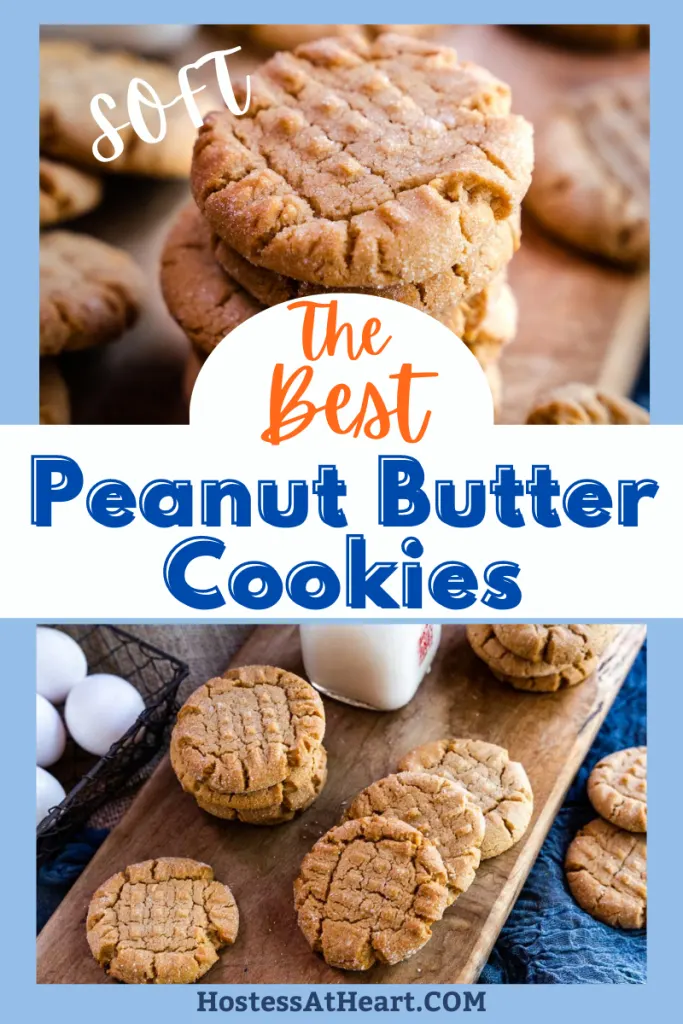 How to store Soft Peanut Butter Cookies
Cookies are best stored at room temperature in an airtight container such as a recloseable bag for up to 5 days. There isn't any reason to store the cookies in the refrigerator which can aid in drying them out.
Cookies can be frozen in an airtight container for up to 3 months. You can also freeze the cookie dough. Pre-form and indent the cookie dough with the fork into individual cookies and then freeze them. Just remove the number of cookies you want to bake at a time. There is no reason to thaw them before baking. Just add a minute or two.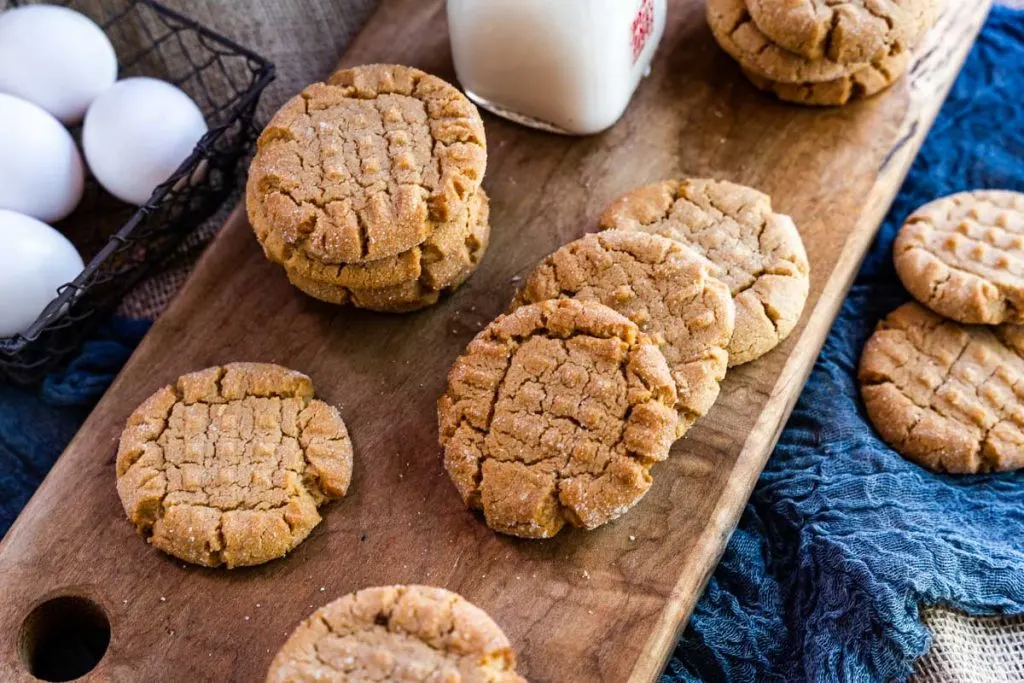 If you enjoyed this soft peanut butter cookie recipe here are a few more you may enjoy!
Be sure and stop back to let me know how your Peanut Butter cookies turned out!
I want to thank Sue for sharing what I think are "The Best Peanut Butter Cookies".
See all of our 2022 Freaky Friday Summer Edition Recipes
Hosted by –
An Affair from the Heart