These easy-to-make Apple Cinnamon Muffins are fluffy, airy, and not too sweet but extremely satisfying. They are perfect for breakfast, a quick snack in the afternoon, or as a pick-me-up before sports practice. This muffin is the perfect sidekick to a nice glass of milk or cappuccino.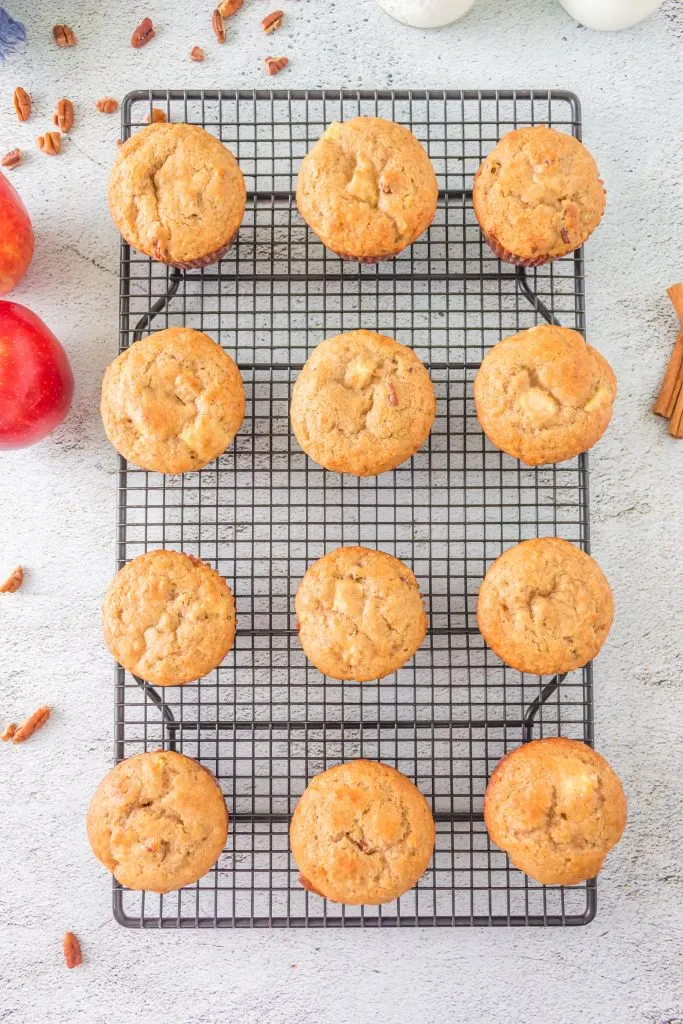 Are you looking for something you can make and just grab out the door or pass to the kiddos on the way to their next activity?
Cinnamon Apple Muffins are quick to make on the weekend and grab when you need a quick bite on the go or when you're ready to kick back for a few minutes.
Why You'll Love These Easy Apple Cinnamon Muffins
Light and airy. This is not a heavy muffin batter. As long as you do not over mix the ingredients you will get light and fluffy muffins every time!
Homemade Quality. No added preservatives, extra sugar, or unknown ingredients. What you put in is what you get out! Plus homemade is just so tasty.
Equipment Needed To Make the Cinnamon Apple Muffins Recipe
Best Apples for Baking Apple Cinnamon Muffins
Jonagold. A large, sweet apple with a thin skin. Perfect if you like to leave the skins on!
Honeycrisp. A perfectly crisp sweet and sour apple that works great for baking and is also a great snacking apple.
Braeburn. A tasty, classic, firm and sweet apple perfect for baking.
Mutsu. Also called a Crispin apple.
Winesap. Sweet apples with a tangy finish.
Pink Lady. This apple is very similar to a Honeycrisp, but not quite as crisp or sweet raw. They are great for baking!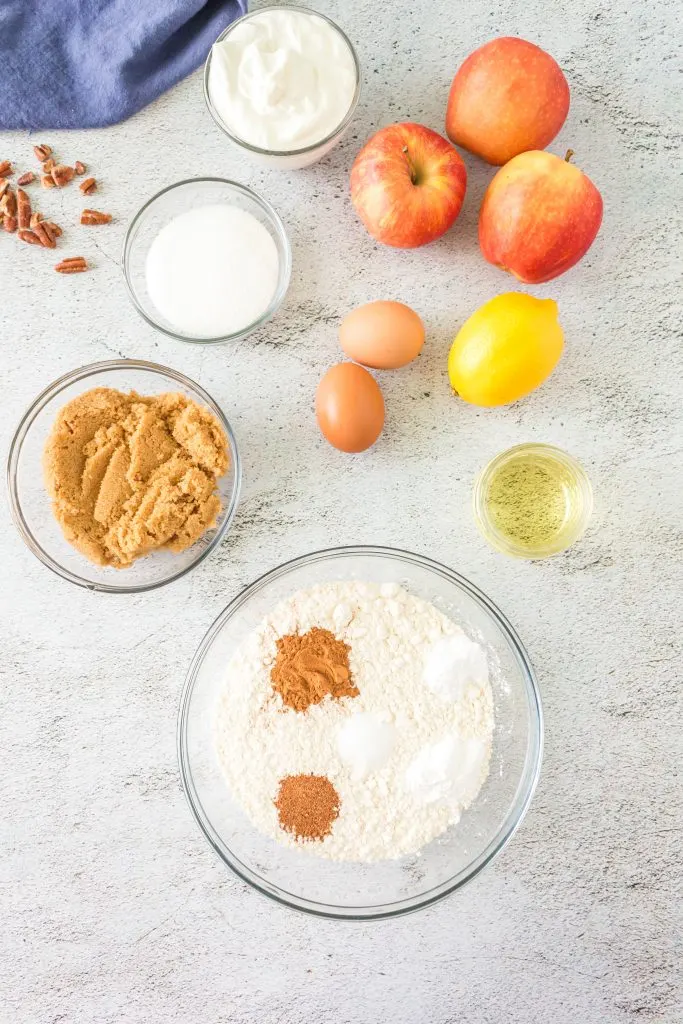 Ingredients For Your Apple Cinnamon Muffins
Apples. Choose your favorite apple for baking or pick one from our list to try.
Lemon Juice. Use fresh or purchase a bottle of lemon juice for convenience.
All-Purpose Flour. Bleached or unbleached will both work.
Baking Soda.
Baking Powder.
Ground Cinnamon.
Ground Nutmeg.
Salt.
Vanilla Yogurt. You can use plain flavor and add ½ teaspoon of vanilla extract.
Pecans. Other types of nuts such as walnuts will also work.
Eggs. I like to get Large, Grade A eggs.
Vegetable Oil. Canola oil, corn oil or vegetable oil will all work.
Brown Sugar. Dark or light can both be used for this recipe. Dark brown sugar may intensify the flavor profile.
Granulated Sugar. White table sugar.
Maple Syrup. This ingredient is totally optional. But it is also highly recommended. You will love it!
Please note, that the printable recipe card has ingredient quantities, complete instructions, and nutritional information. The following is a quick overview of the recipe.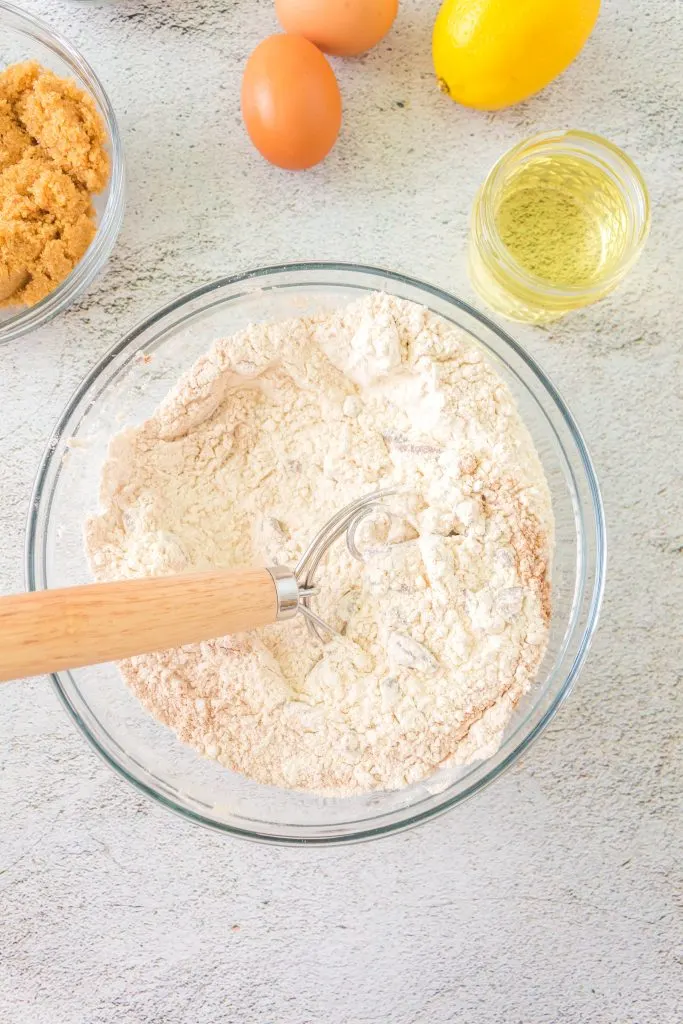 How To Make Cinnamon Apple Muffins
No-stress homemade muffins are a blessing for everyone at the table. Mix these up in a jiffy and enjoy them hot with butter or cream cheese for a special treat. Here's the step-by-step breakdown.
Step One. Get your oven and muffin tin ready. You can use non-stick cooking spray or cupcake liners.
Step Two. Peel, core, and dice the apples. Coat them with lemon juice and maple syrup.
Step Three. Mix your dry ingredients until combined.
Step Four. Add the pecans and the apples and mix to coat.
Step Five. In a new bowl, mix the remaining ingredients (liquid, fat, sugar) until fully incorporated.
Step Six. Add the dry ingredients to the wet ingredients and combine but do not over mix.
Step Seven. Fill the muffin pan.
Step Eight. Bake.
Step Nine. Cool.
What to Serve With Your Easy Apple Cinnamon Muffins
Although great on their own, these tasty muffins are the perfect addition to your breakfast or brunch. Here are a few of our favorite brunch recipes.
Southwestern Chorizo Hash with Poached Eggs
Easy Sausage, Hashbrowns and Egg Casserole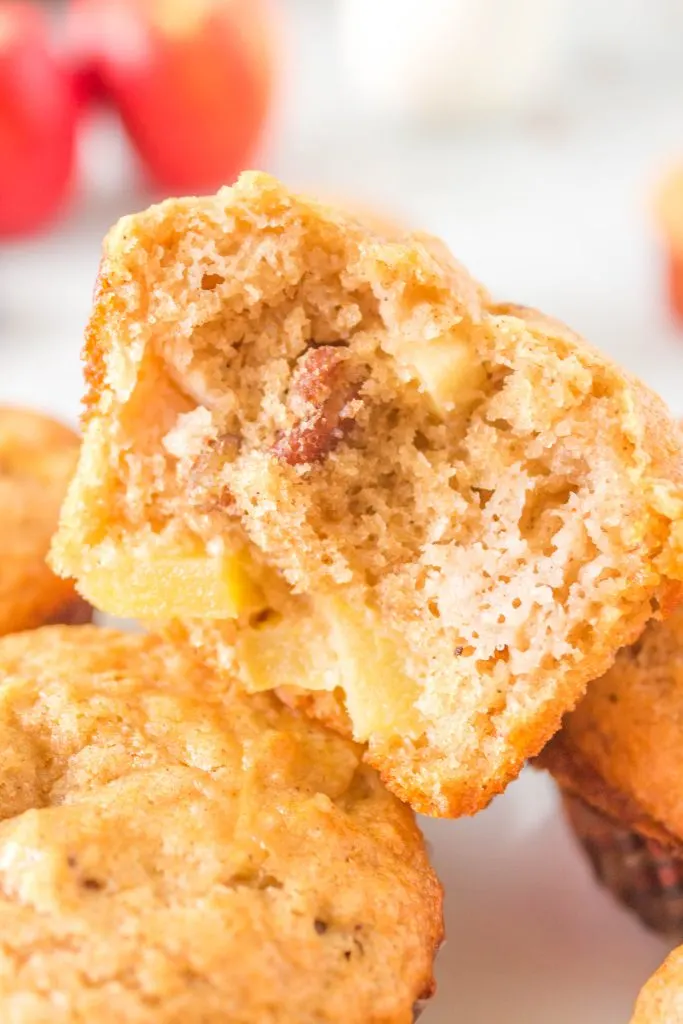 Substitutions & Additions
You can substitute the ground cinnamon and nutmeg with 2 teaspoons of apple pie spice.
You could replace the Greek Yogurt with plain yogurt. We made them with sour cream, and it gave this tangy taste that we did not like.
How To Reheat and Store Apple Cinnamon Muffins
Best Way To Store Cinnamon Apple Muffins Recipe
Keep leftover muffins in an airtight container at room temperature or in the refrigerator. They may get soggy with extended storage. The muffins will keep for two or three days.
How Long Will Cinnamon Apple Muffins Last In the Fridge?
Two or three days before they become too soggy.
Can I Freeze and Thaw the Easy Apple Cinnamon Muffins
Yes. If you will have plenty of leftovers I definitely recommend freezing the extra muffins in airtight containers or freezer quality plastic zip bags. Thaw for thirty seconds in the microwave.
How To Reheat Apple Cinnamon Muffins
Room temperature muffins will reheat in ten to fifteen seconds in the microwave. Frozen muffins will reheat in thirty seconds or so in the microwave. Depending on your microwave you may need to adjust these times.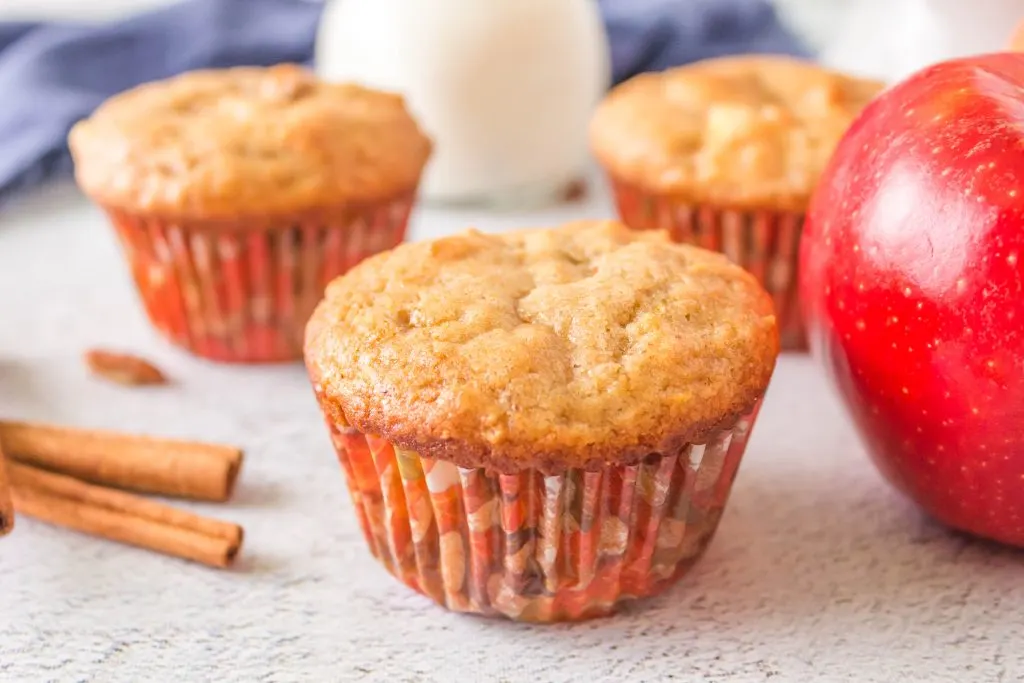 Easy Apple Cinnamon Muffins FAQs
How long can muffin batter sit before baking?
You can let your muffin batter rest overnight if you wish. Mix up your batter the day before and cover the bowl with cling wrap. Chill the mixture in your refrigerator. When you wake up in the morning, your muffin batter is ready to go. You can put it directly in the muffin tins cold and put it in the oven.
How much do you fill muffin tins?
2⁄3 – 3⁄4 full. Your preference depending on how large you want your muffins.
Should muffins cool in the pan?
Always leave baked goods in the pan for a few minutes after baking. If you leave muffins in the pan until they are completely cool, you may end up with soggy muffins. After just a couple of minutes, remove the muffins using a dinner knife or metal spatula like the ones used for cake decorating.
Tips to Make Perfect Apple Cinnamon Muffins
Do not overmix the dough so you have nice, airy, and fluffy muffins. Mix by hand. No need to use a mixer.
When you insert a toothpick in the middle and it comes out clean or with just a few, they are ready.
Leave the muffins in the pan for two or three minutes to give them time to fully set. Then remove them to a cooling rack to finish cooling completely.
Foil cupcake liners are a family favorite because they are truly non-stick and peel right off without losing pieces of muffin.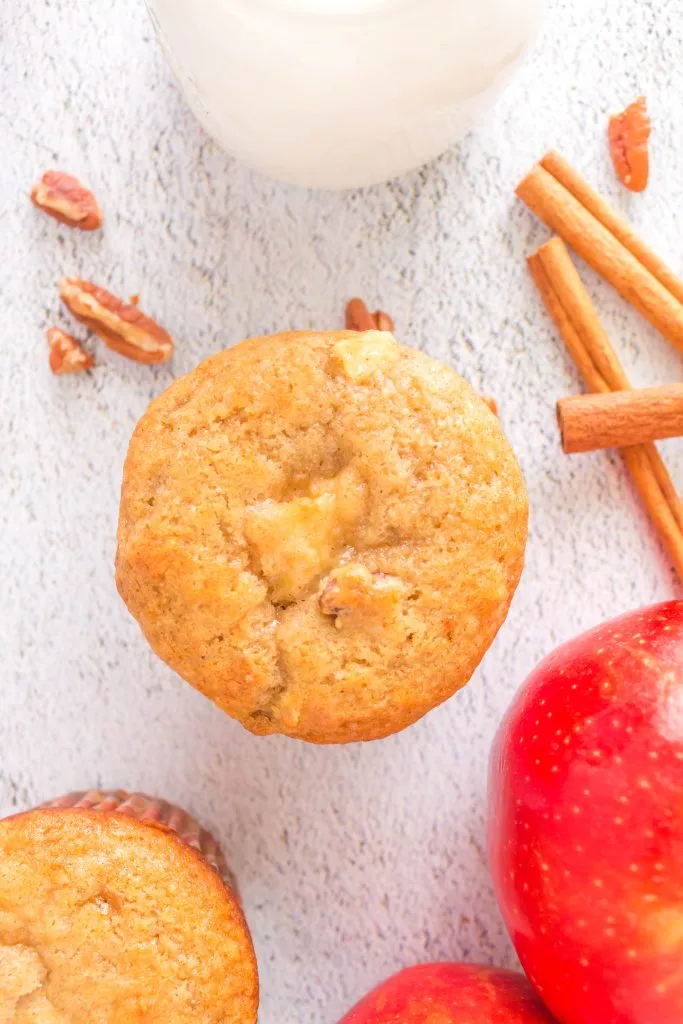 Other Recipes You May Enjoy
Don't Forget To Come Back And Let Me Know How Your Cinnamon Apple Muffins Turned Out!