One of the most decadent desserts you will ever have, Fresh Peach Cobbler with Bourbon Sauce is an unforgettable old-fashioned recipe everyone will love.
Delicious fresh peaches in sweetened condensed milk form the base of this delicious cobbler, topped with crunchy pecan topping and luscious bourbon sauce. Each bite is pure joy!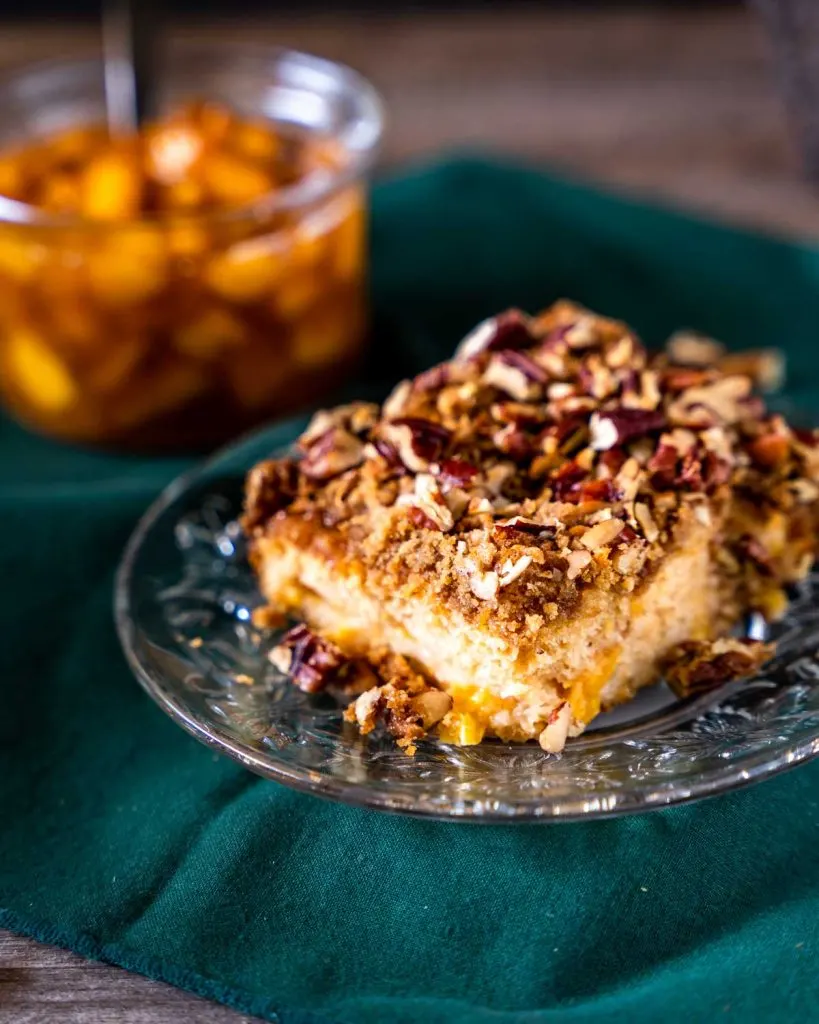 When the peaches hit the Farmer's Market, I buy and buy and buy. We just love fresh peach desserts. Besides tasting delicious, they're show stoppers. Homemade Peach Cobbler is gorgeous baked exactly like our Peach Kuchen and Peach Crisp recipes are.
Best Peach Cobbler I've ever had. I first tried this recipe at a dinner my good friend hosted. I couldn't stop thinking about it and couldn't wait to share it. It's so easy to put together and is the perfect size for a smaller gathering.
Equipment Needed to Make Homemade Peach Cobbler
9×9 pan. Double the recipe to use a deep 9 x 13 pan.
Mixing Bowls. A necessary staple for every kitchen.
Saucepan. A good saucepan is worth it's weight in gold!
What are the best peaches for baking?
Peaches come in three different types including freestone, clingstone, and semi-freestone hybrid. The best choice for baking is a freestone peach because the pit will come right out making them easy to peel and dice. Most of the peaches you can purchase at the grocery store are freestone peaches.
Ingredients for Fresh Peach Cobbler Recipe
Ingredients for the Cobbler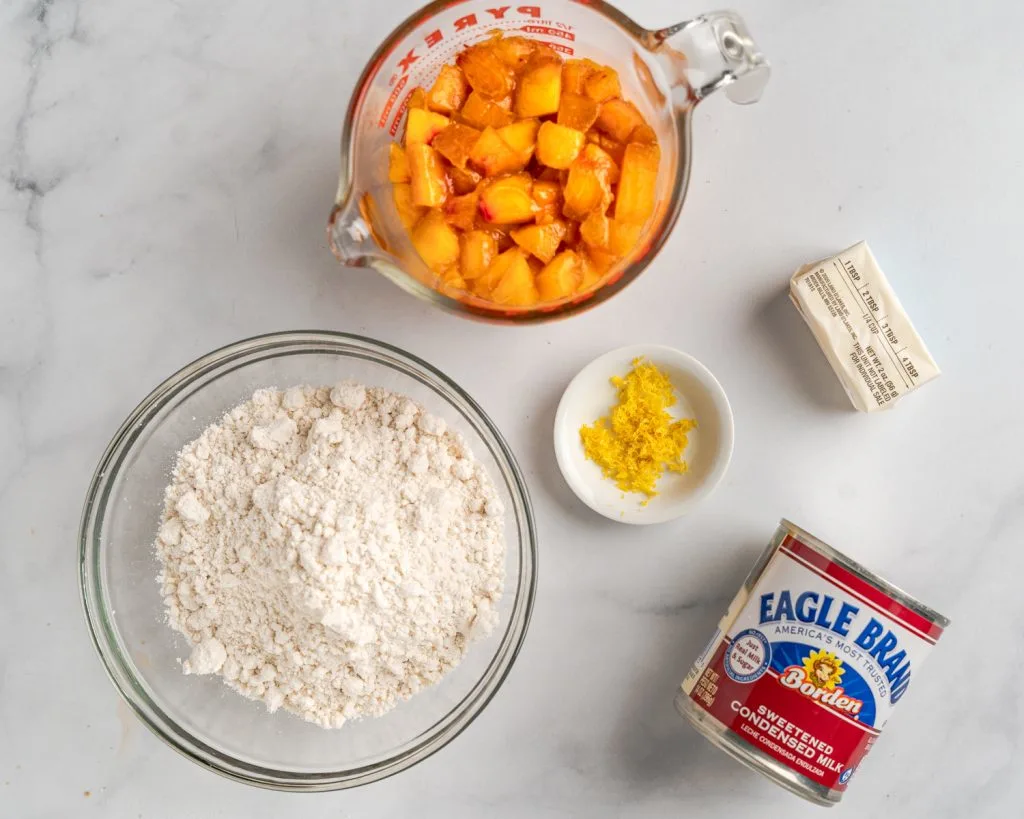 Diced Fresh Peaches. Look for ripe peaches with just a little bit of give when pressed. They should be free from mold and not be too mushy or slimy.
Sweetened Condensed Milk. Found in the baking aisle.
Lemon. Look for a fruit that is firm, without white spots or a strange odor. You will be using the zest and some juice.
Butter. I use real butter.
Biscuit Baking Mix. Your choice of brand. I always use Bisquick
Ingredients for the Cobbler Topping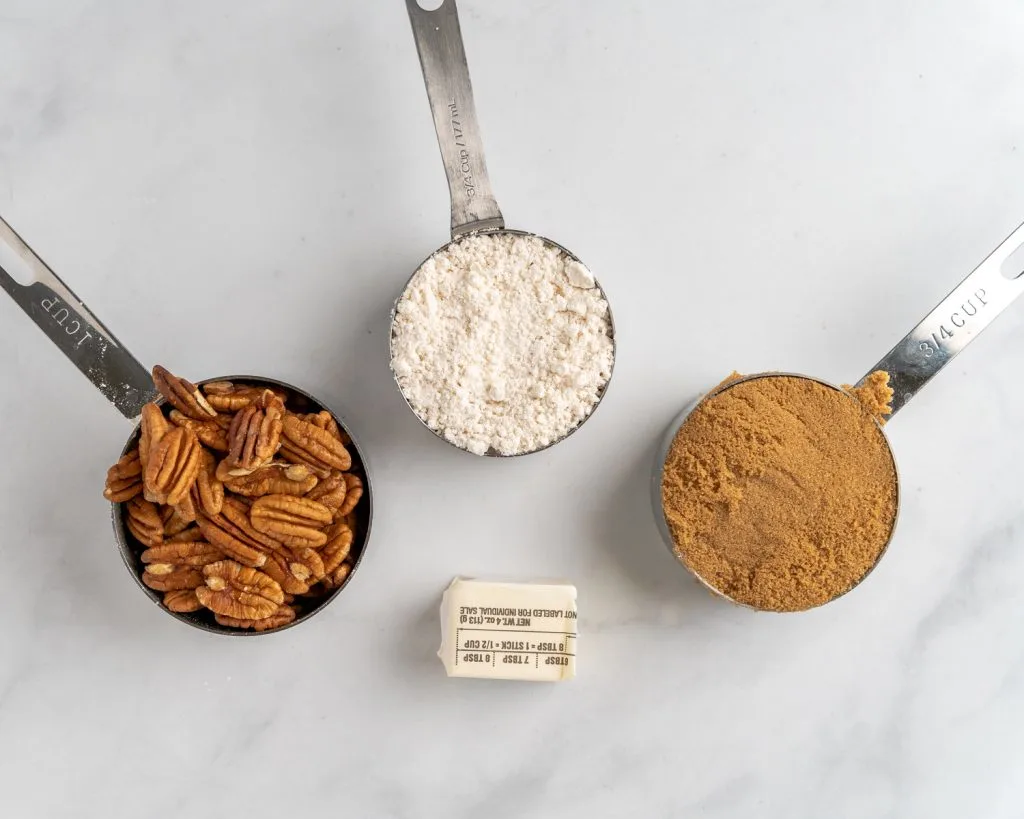 Biscuit Baking Mix. Your choice of brand. I always use Bisquick.
Brown Sugar. Light or Dark, both will work.
Butter.
Pecans. You could substitute walnuts if needed.
Ingredients for Peach Bourbon Sauce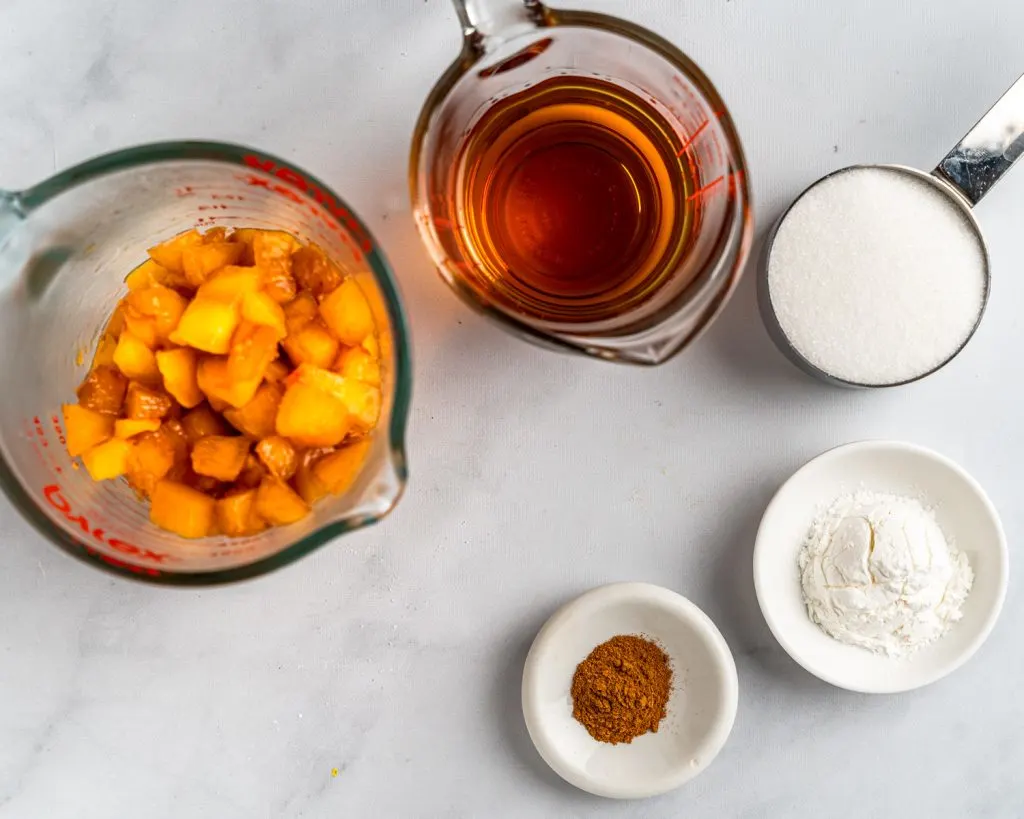 Sugar.
Cornstarch.
Cinnamon.
Bourbon. Some great choices include Four Roses Yellow Bourbon, Jim Beam Kentucky Straight Bourbon, and Evan Williams Black Label.
Fresh Peaches. Peeled, pitted, and diced.
Lemon Juice.
Please note, that the printable recipe card has ingredient quantities, complete instructions, and nutritional information. The following is a quick overview of the recipe.
How to Make Fresh Peach Cobbler
Making a peach cobbler with fresh peaches is really as easy as dicing everything up, mixing it together, and baking it in the pan. None of the steps are complicated or frustrating.
Step One. Preheat the oven.
Step Two. Peel, pit, and dice the peaches.
Step Three. Mix the filling ingredients in a prepared pan.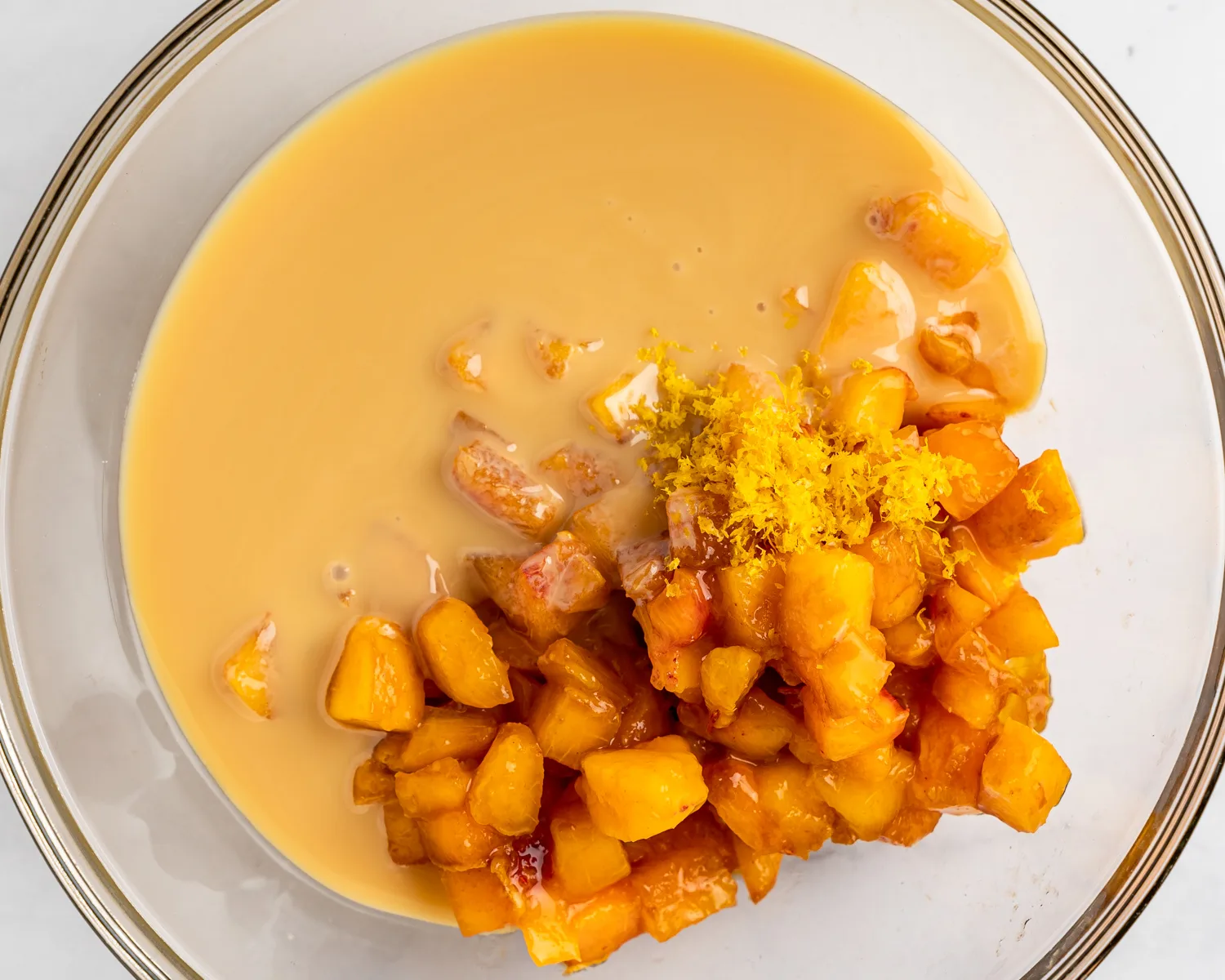 Step Four. Cut the butter into the biscuit mix and brown sugar until crumbly and spread it over the peach mixture.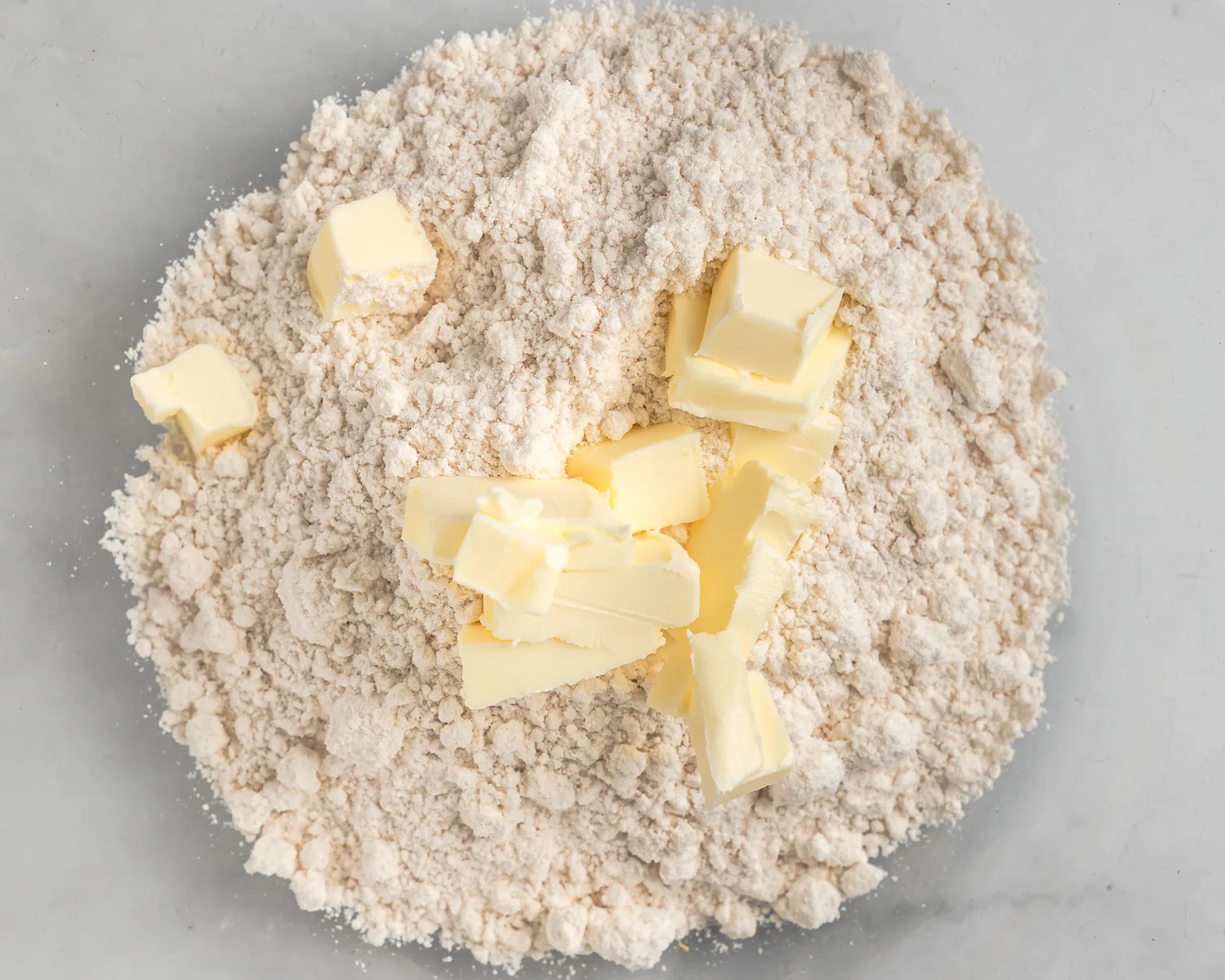 Step Five. While the fresh peach cobbler bakes, make the bourbon sauce on the stovetop.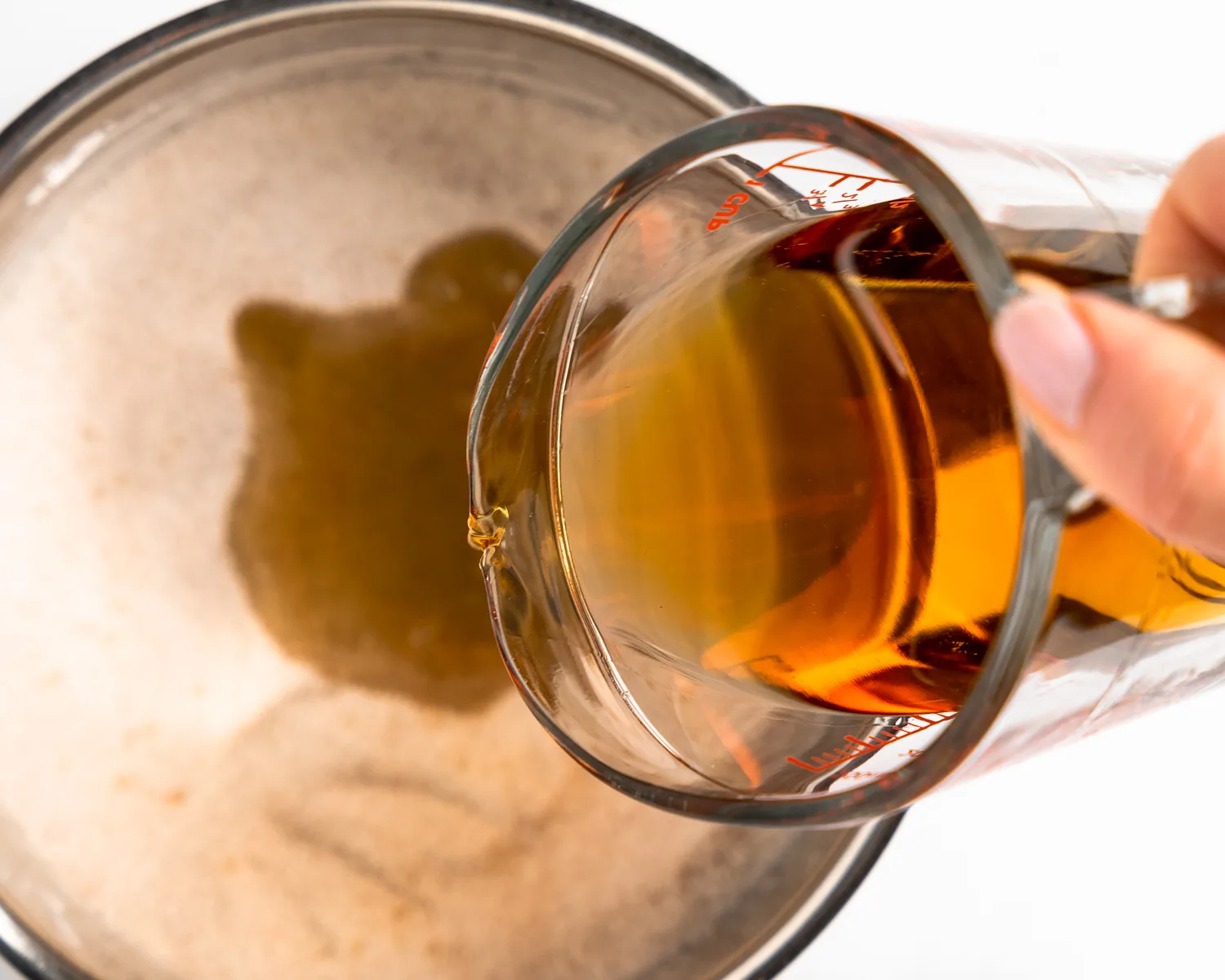 Combine the sauce ingredients except for the peaches in a saucepan. Cook it on medium-low until it thickens. Stir in diced peaches.
What to Serve With Homemade Peach Cobbler
Is peach cobbler supposed to be warm or cold?
You can serve the cobbler warm or at room temperature but I prefer it warm and really recommend heating the Bourbon sauce.
You can also serve it with whipped topping or vanilla ice cream and then topped with the bourbon sauce…amazing!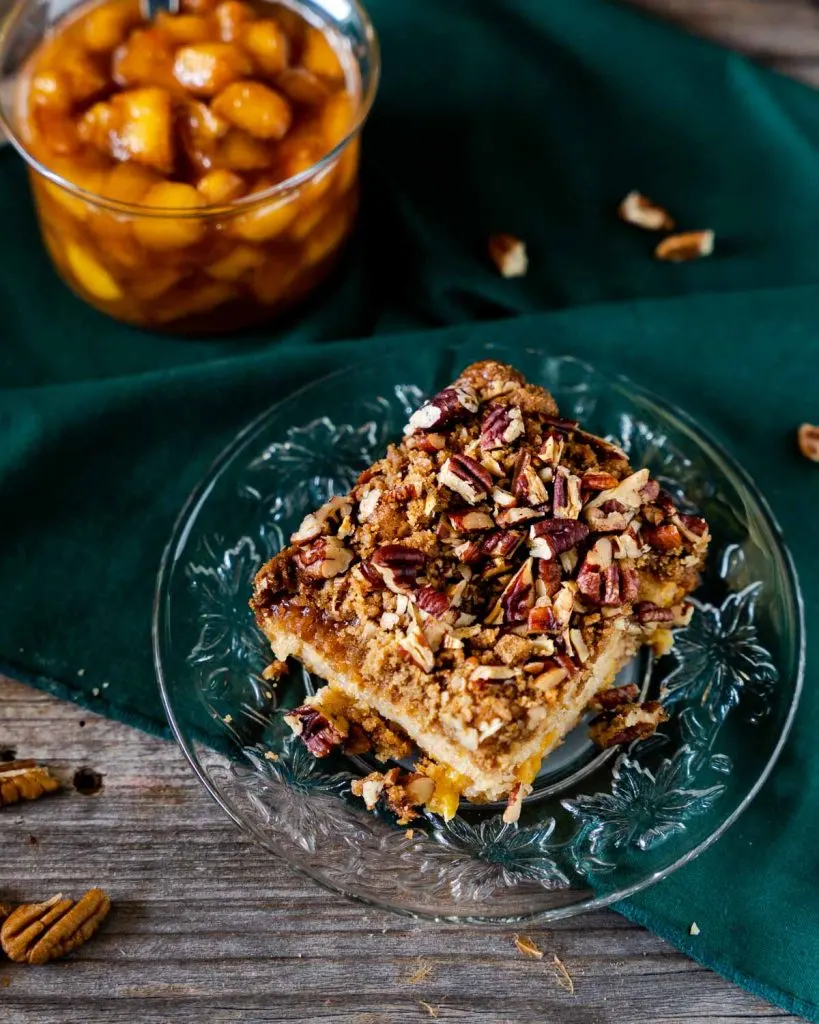 Substitutions and Additions
Alcohol or Non-alcoholic? Bourbon can be replaced with rum or you can make it nonalcoholic by using an equal amount of water or juice. Ultimately, you don't have to serve it with the bourbon sauce (gasp) and it will still be delicious.
Nuts. Walnuts would work well.
Sauce. The sauce is amazing but the cobbler is delicious as is or topped with a simple scoop of whipped topping or ice cream.
Want more delicious recipes? Follow Hostess At Heart on Pinterest!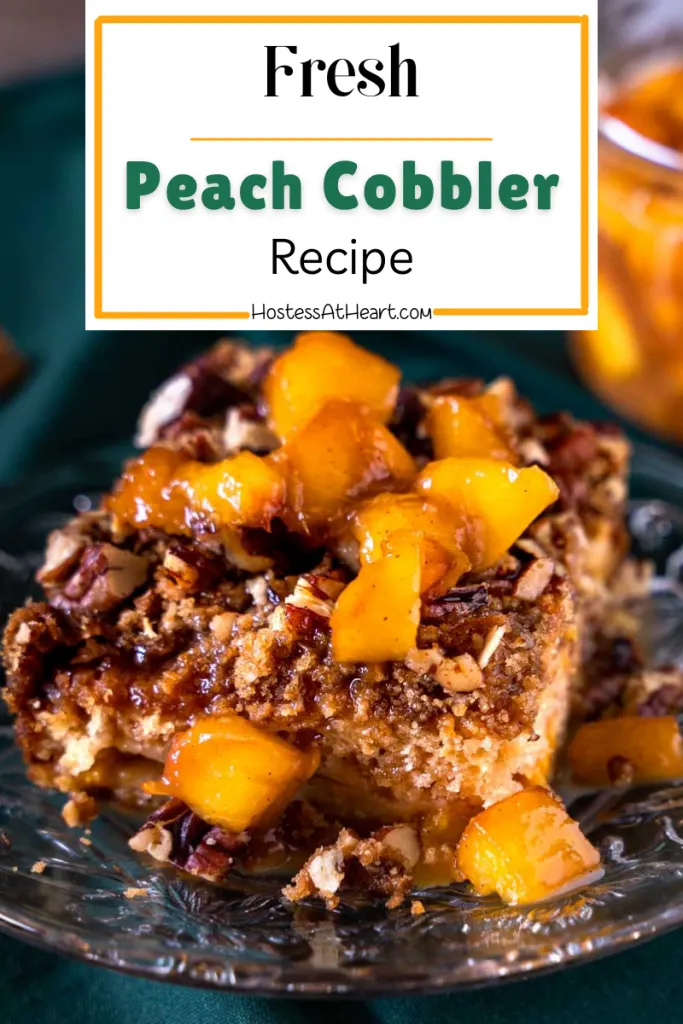 How To Reheat & Store Fresh Peach Cobbler
Best Way To Store Homemade Peach Cobbler?
This dessert can be stored at room temperature for 2 to 3 days. However, I store my cobbler In the refrigerator lightly covered with plastic wrap. I feel this keeps it from getting too moist from the fresh peaches or from drying out.
Can the Fresh Peach Cobbler Recipe be made ahead of time?
I believe this cobbler is best if made and served the same day. You can make it earlier in the day and serve it that evening. Ultimately, you can make the cobbler one day in advance and refrigerate it. Let it come to room temperature or warm slices in the microwave before serving. Top with warmed bourbon sauce.
How Long Will Fresh Peach Cobbler Last In the Fridge?
You can keep it in an airtight container for up to three days. The liquids in the filling will start to separate. Keep the bourbon sauce in a separate container and pour it over the reheated pie.
Can Peach Cobbler with Fresh Peaches be Frozen?
Yes. It will last for up to 3 months. Wrap well in plastic wrap and then in tin foil. I recommend freezing the bourbon sauce in a separate airtight container.
How To Reheat Homemade Peach Cobbler
Bring the cobbler to room temperature and then put it into a 250º F oven for 20 minutes. I've heated individual servings in the microwave, and while not recommended, it works fine in a pinch.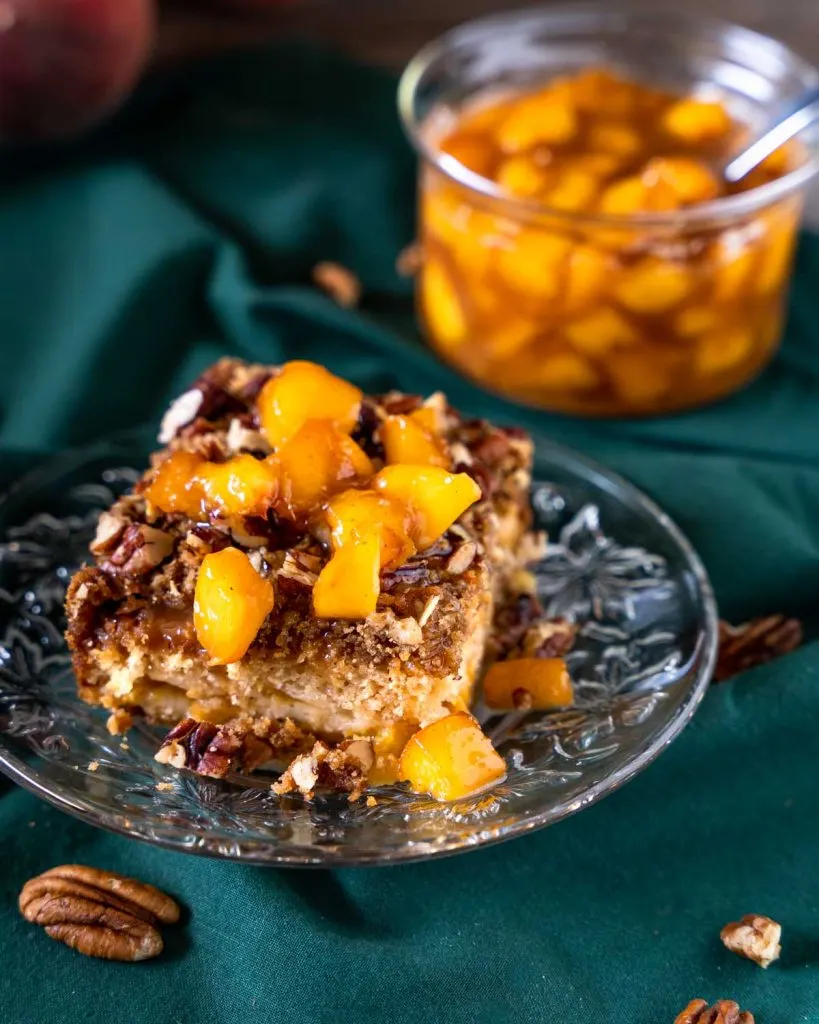 Homemade Peach Cobbler FAQs
How do you make peach cobbler not runny?
The use of fresh peaches and the additional biscuit mix in this cobbler keep it from being runny. See our tip on using canned or frozen peaches for this recipe.
Why is my peach cobbler gooey?
Did you use fresh peaches? Using canned fruit or canned pie filling will make your cobbler gooey.
What's the difference between cobbler and crisp?
Cobblers are usually made with a biscuit mix and are denser than a crisp. A crisp is a fruit-filled dessert topped with streusel.
Does peach cobbler need to be refrigerated?
Yes, I recommend that you refrigerate the peach cobbler because if left out at room temperature the liquid from the peaches would make the cobbler soggy.
Do you have to peel the peaches?
Yes! Peaches soften while baking and the skins will naturally fall off leaving an undesirable texture and sometimes bitter flavor.
Tips to Make the Perfect Peach Cobbler
You can mix the pecans in with the cobbler topping mixture. I chose to sprinkle them on top so they added a roasted nut flavor to the cobbler. If you do this watch that they don't get too dark or burn.
This easy recipe for peach cobbler can be doubled and baked in a 9×13 pan. You may have to add additional time to baking.
You may get more than 1-1/2 tsp juice from the lemon but that's all we needed in this recipe. Pour the rest into a glass of ice water for a refreshing drink.
We didn't use all of the bourbon sauce with the cake. It makes an amazing topping over ice cream as well.
The easiest way to skin a peach.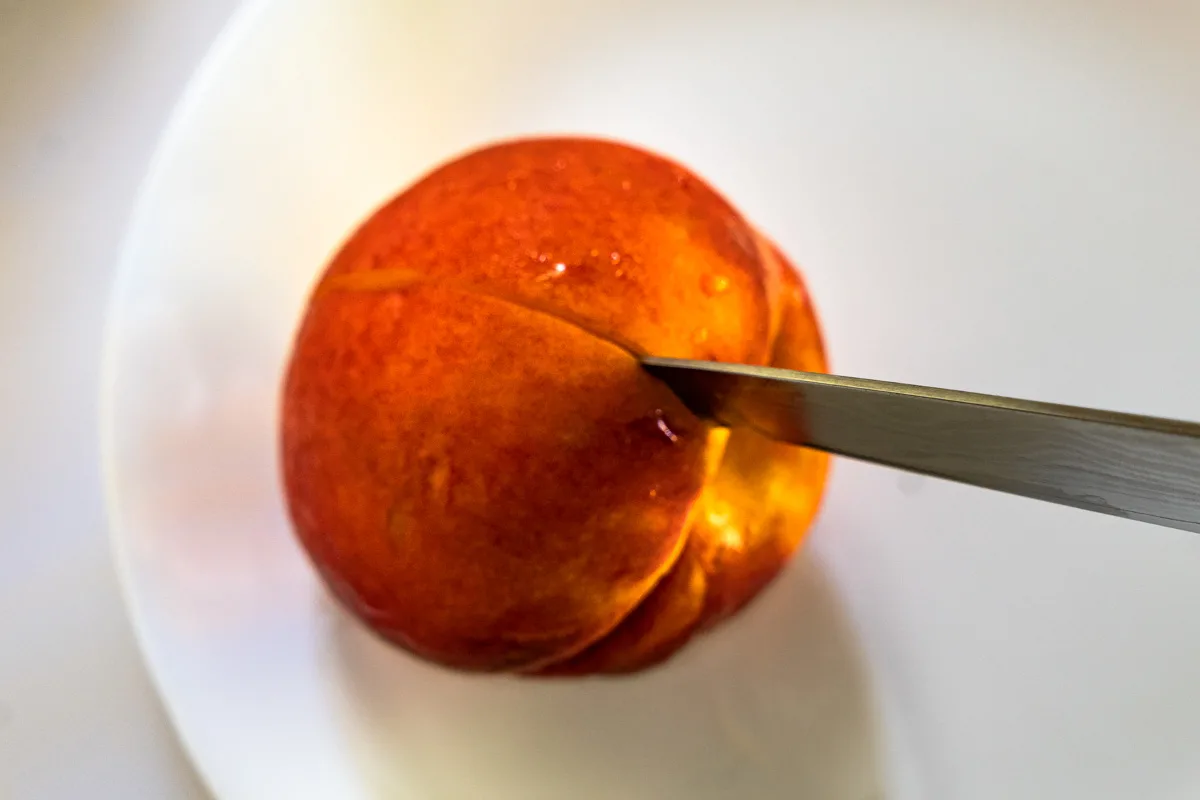 Wash and score the peach skin with the sharp tip of a knife 4 to 6 times down the length of the peach.
Add the peaches to boiling water and keep them submerged or turn them for 30 seconds.

I use a spyder strainer for holding the peaches down, turning them, and removing them from the hot water.

Submerge the peaches in an ice bath for 10 seconds.
Slide the skin from them immediately.
Other Peach Recipes You'll Love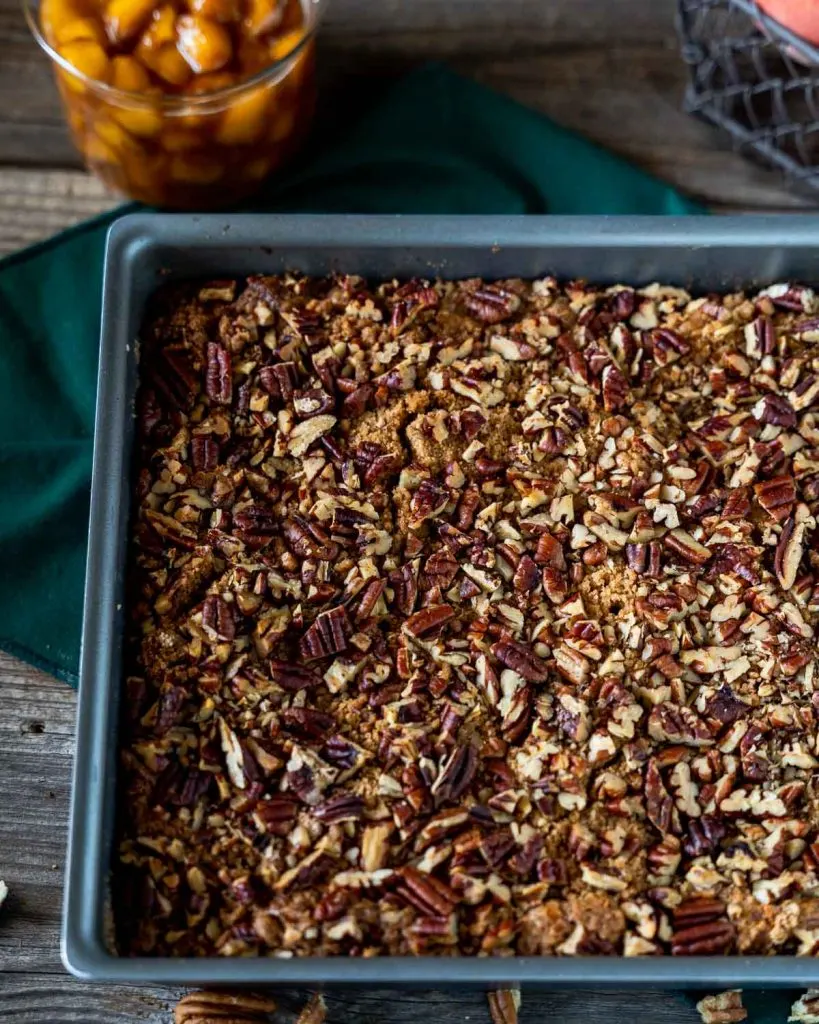 Don't forget to come back and tell me how your fresh peach cobbler recipe turned out.