Easy Cheesy Potatoes Casserole goes with almost any meat dish, reminds everyone of home, and satisfies the stringy, melty cheese craving. This casserole dish is the perfect make and take recipe.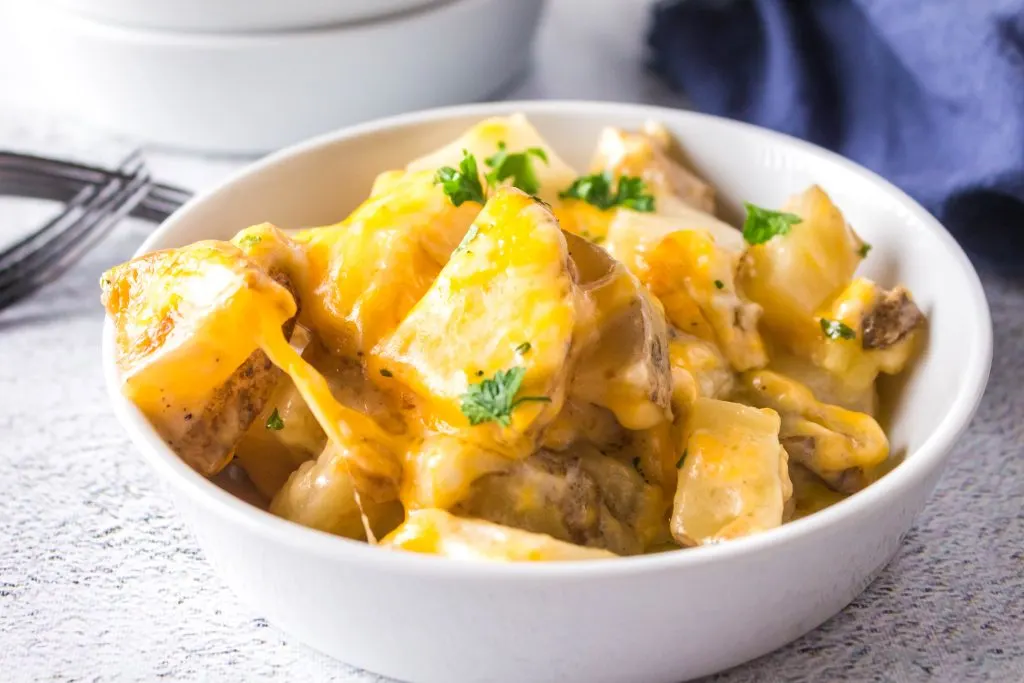 Simple ingredients that you probably already have on hand come together quickly for a delicious side dish from a traditional baked ham to smoked brisket. When you want a comforting, cheesy side dish this easy cheesy potato casserole recipe is the answer.
Why You'll Love This Cheesy Potato Casserole Recipe
Make ahead. You can make and freeze as many unbaked potato casseroles as you like so that they are ready to go. Then thaw them in the refrigerator and bake as needed.
Easy recipe. You won't find any complicated steps or bewildering ingredients in this recipe. Just prepare and bake.
Feeds a lot of people. Our recipe for the best cheesy potatoes goes a long way! You can even add chunks of ham so that it becomes the main dish.
Goes with any kind of meat. Serve up cheesy potatoes with anything off the grill, any meat baked in the oven, and any kind of meat you would fry. It's a perfect match for everything!
Equipment Needed to Make the Best Cheesy Potatoes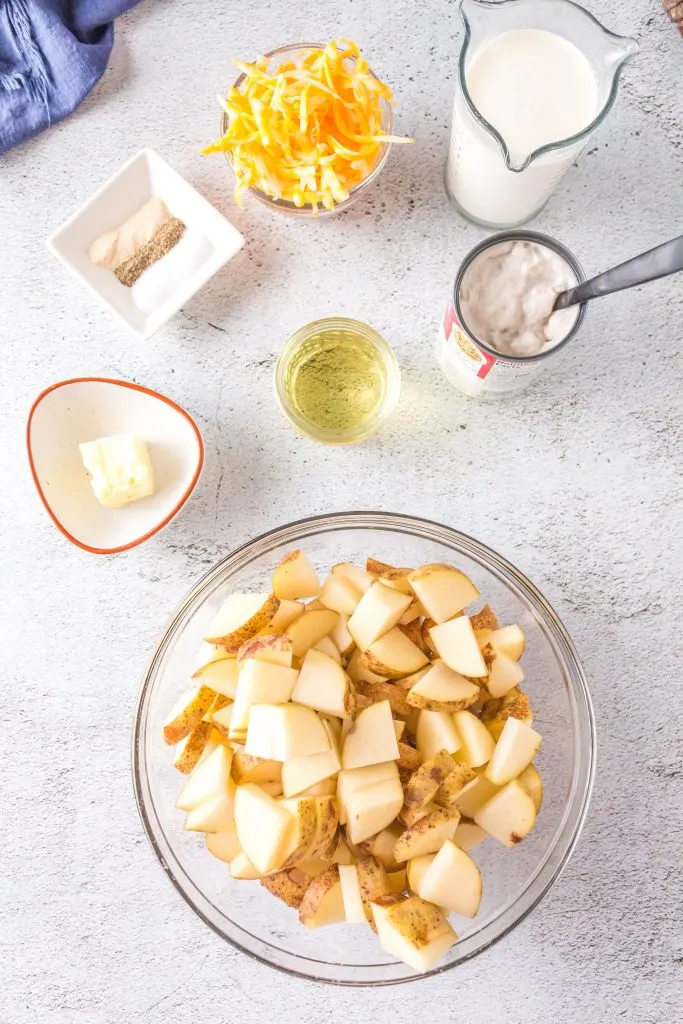 Ingredients for Cheesy Potatoes Casserole
Russet Potatoes. Substitute red potatoes if needed.
Cream of Mushroom Soup. I use a low sodium variety but any will work. You can substitute another creamy soup such as cream of celery or cream of chicken.
Heavy Cream. Half and Half or whole milk can be substituted.
Salt and Pepper.
Onion Powder.
Shredded Colby Jack Cheese. You can use cheddar or a blended cheese of your choice.
Cooking Oil. Olive oil or vegetable oil.
Unsalted Butter. If you use salted butter, only use 1 tsp of salt.
Please note, that the printable recipe card has ingredient quantities, complete instructions, and nutritional information. The following is a quick overview of the recipe.
How to Make Cheesy Potatoes Casserole
Making our cheesy potato casserole recipe is so easy! Simply cut the potatoes and then mix all the ingredients. Bake it and serve hot! Here are step-by-step instructions.
Step One. Preheat the oven.
Step Two. Slice the potatoes.
Step Three. Mix all of the ingredients except the potatoes until all are combined.
Step Four. Add the potatoes to the mixture.
Step Five. Place oil and butter in the bottom of the baking dish.
Step Six. Spread out the potatoes evenly.
Step Seven. Bake for 30 minutes until it is nice and bubbly, and you have a slight crisp on the edge.
Step Eight. Take the aluminum foil off and bake for an additional 20 minutes.
Step Nine. Add more cheese and bake again.
Step Ten. Let it rest for 5 minutes before serving.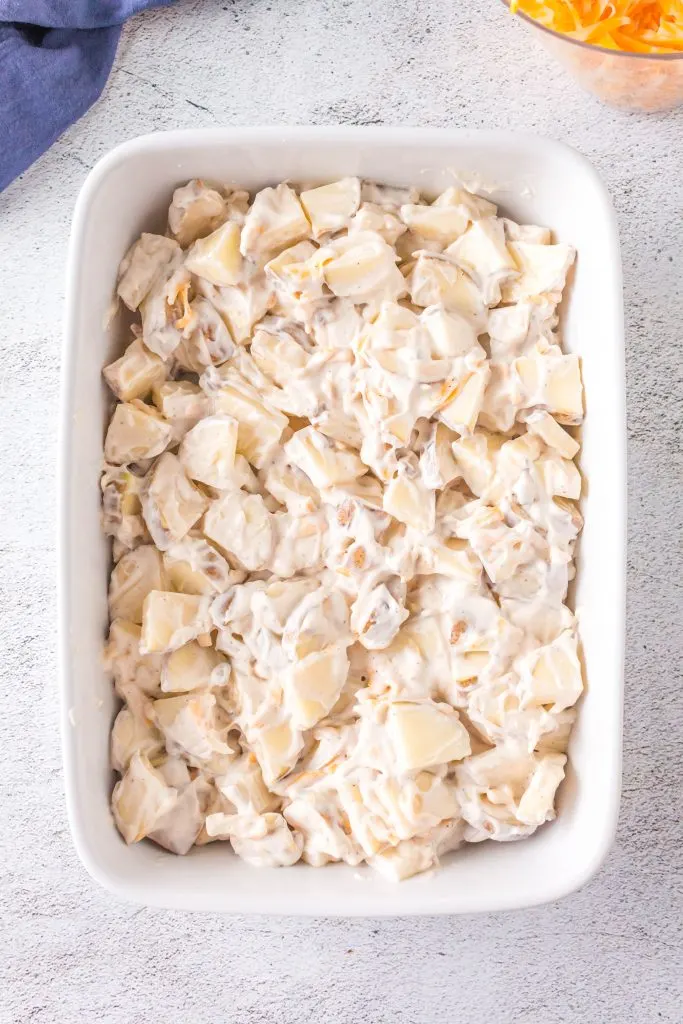 What Main Dish Goes With Cheesy Potatoes?
Any kind of meat is going to work perfectly with this recipe as a side dish. Choose from this list!
Baked Blackened Salmon with Brown Butter Lemon Drizzle
Hamburger Steak With Mushroom Onion Gravy
Want more delicious recipes? Follow Hostess At Heart on Pinterest!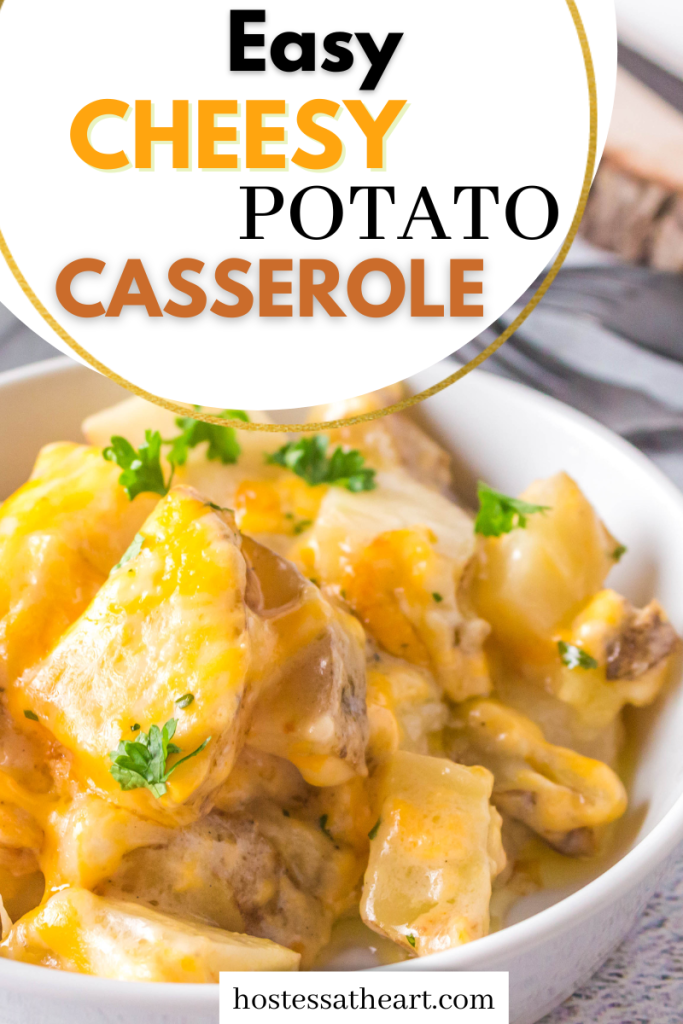 Substitutions & Additions
Cheese – I used Colby Jack because it melts really well and adds a bit of color. Cheddar, Mozzarella, Gouda, or a mix of your favorite cheeses will work.
Add thinly sliced onion or bell pepper.
Exchange Cream of Mushroom soup for Cream of Celery or your favorite cream-based soup.
Add crumbled bacon or diced ham.
Top with Bread crumbs or corn flakes
Use yogurt instead of sour cream.
Add or substitute garlic powder for the onion powder
Cream – half and half or any milk variety can be substituted.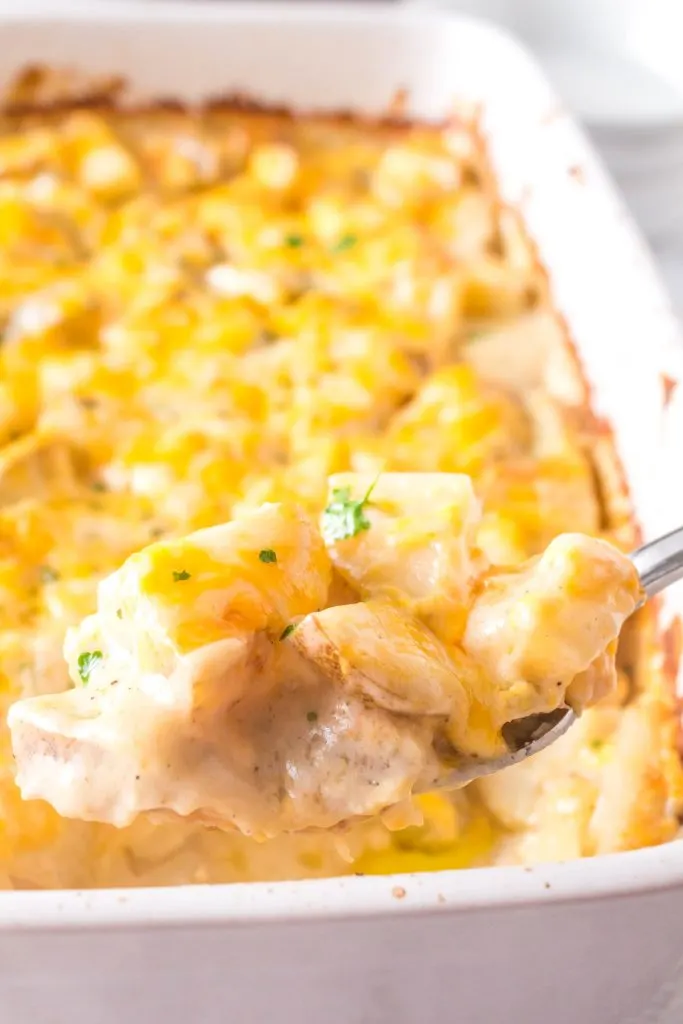 How To Reheat & Store Cheesy Potatoes Casserole
Can you make cheesy potatoes ahead of time?
Yes. Keep the unbaked casserole for up to 2 days in the fridge. Freeze unbaked or baked casserole for up to 2 months.
Best Way To Store Cheesy Potato Casserole with Real Potatoes
How Long Will Cheesy Potatoes Casserole Last In the Fridge?
You can make this up to 2 days ahead of time, and keep it covered with foil in the fridge. Wait and add corn flakes or bread crumbs until right before baking. Freeze unbaked. Thaw in the refrigerator and bake as instructed.
Can I Freeze/Thaw Cheesy Potatoes?
Baked Cheesy Potatoes Casserole can be frozen for up to two months. Unbaked cheesy potatoes can also be frozen for two months. Thaw in the refrigerator and bake or reheat as instructed.
Can you freeze cheesy potatoes before baking?
Yes! Thaw in the refrigerator and bake as instructed.
How To Reheat Easy Cheesy Potato Casserole
Reheat leftovers in single portions in the microwave for one minute at a time until you reach the desired level of heat and melted cheesiness.
Frozen single portions can be reheated in the microwave in the same manner.
Reheat frozen casserole-size portions by thawing them first in the refrigerator and then placing them in the oven until heated through and bubbly. Use the same temperature as when first baked.
Reheat frozen unbaked casseroles by thawing them first and then following the original instructions.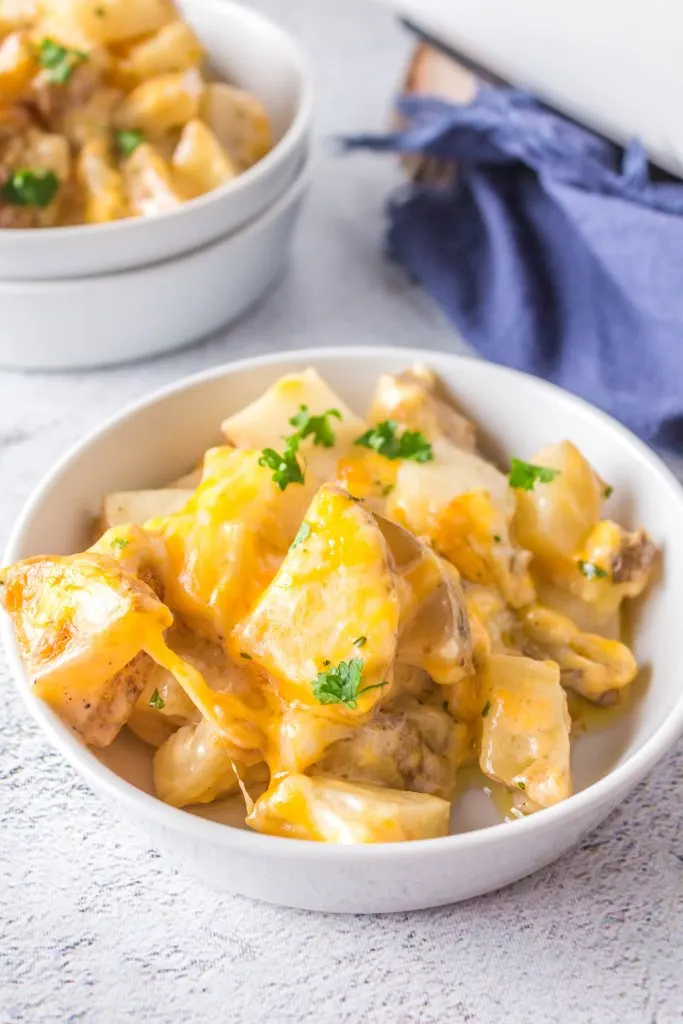 Best Cheesy Potatoes FAQs
Do I have to peel the potatoes?
No. I scrub the peeling and then dice the potatoes.
Can I use frozen potatoes?
Yes. You can use either diced or sliced frozen potatoes.
How do I know if my cheesy potato casserole is done?
The cheese on top will be melted, bubbly, and starting to crisp up on the edges. The potatoes will be tender when pierced with a knife or fork.
How do I make a ham and cheesy potato casserole?
To add ham to the recipe simply cube 1 to 2 cups of baked ham or leftover ham and bake it in the mixture with the potatoes.
Tips to Make the Perfect Cheesy Potatoes Casserole
I don't recommend using previously cooked sliced or diced potatoes. Rebaking them will make a mushy casserole.
Cut the potatoes all approximately 1/4 inch thick so they cook at the same rate.
Lightly spray the underside of the foil that will cover the casserole so the ingredients don't stick to it.
Shred your own cheese. Pre-shredded cheese has an anti-caking agent that will throw off the final cheesiness of the dish.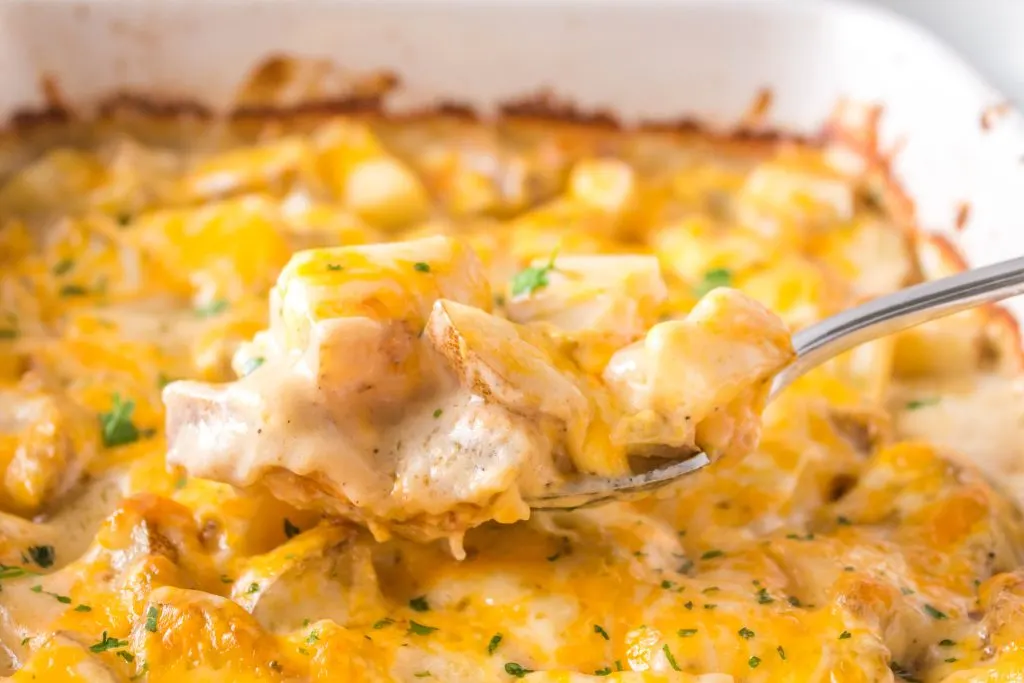 Other Potato Recipes You'll Love
Don't forget to come back and let us know how the cheesy potatoes casserole turned out!
This recipe is in celebration of National Dairy Month. I'm teaming up with some very talented bloggers for this event. Just look at all of these amazing recipes!
Friday #DairyMonth Recipes