Hamburger Steak with Mushroom Onion gravy recipe is a new twist on an old classic. This savory Hamburger Steak recipe is loaded with rich flavor. It's the perfect one-pan dinner!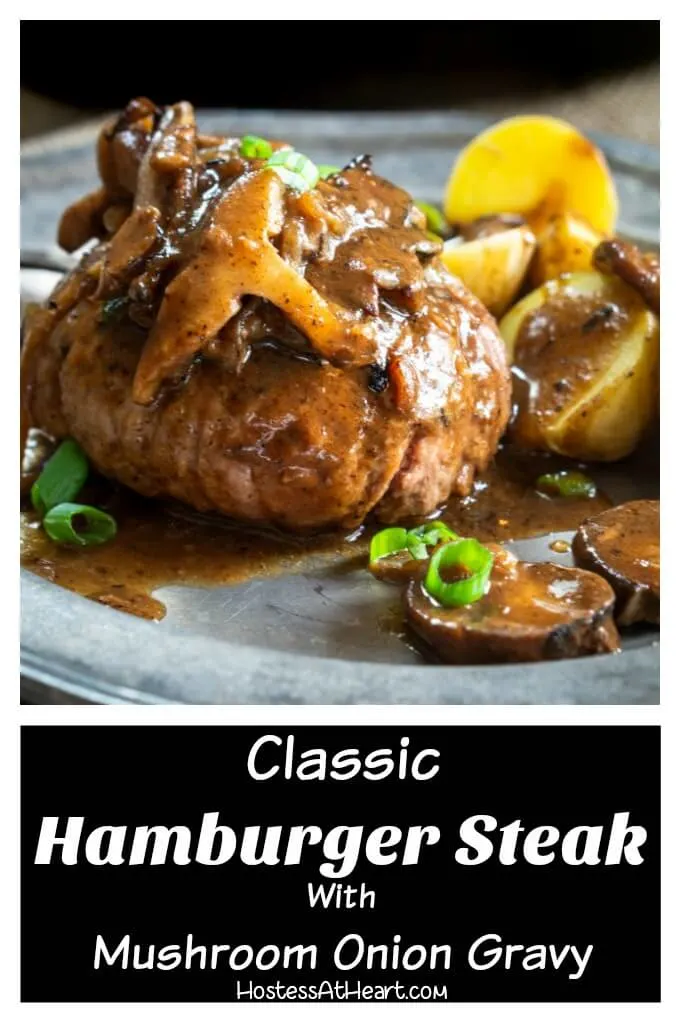 Hamburger Steak with mushroom onion gravy is easy to make but tastes like a dish that's been braised for hours. It's quick enough to put together for a weeknight dinner.
We loved Hamburger Steak with gravy growing up. Rich brown gravy over a burger smothered with fresh mushrooms and browned onion with a potato on the side (smothered in more gravy) make a delicious comfort-food meal.
The truth here is that the Hamburger Steak and gravy I grew up with, while delicious, was a little different than this hamburger steak recipe.
You see, my mother cooked everything to death. If it was falling apart she called that tender. And, even though we grew up in the Heartland of America and had access to all kinds of fresh produce, mushrooms came from a can (sad face inserted here).
Now this isn't a dis on my mother. She grew up in a different time than I and we have different interests.
Cooking is admittedly not hers. Just like my beautiful daughter cooks differently than I do. Not to say better (might be) just different.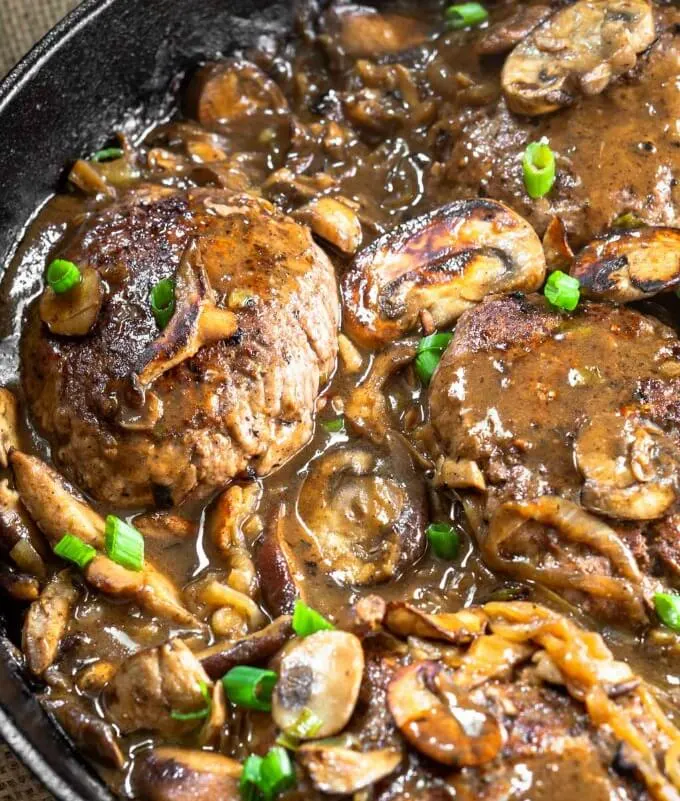 This Hamburger Steak recipe starts with a perfectly cooked medium rare patty. The mushrooms and onion are fresh and cooked to their optimum flavor and not beyond.
The simple garnish of fresh green onion provides another layer of flavor and texture that's perfect for this recipe.
Did you know Ground Beef and Hamburger isn't necessarily the same thing?
I sure didn't. According to Nutritionist, Sandi Busch, some types of ground beef, such as ground round, come from a specific cut, but hamburger contains meat from more than one cut.
Also, ground beef can't have extra beef fat added to the mix, while hamburger can, as long as it doesn't contain more than 30 percent total fat. Who knew?
What is the best ground beef for this Hamburger Steak with Gravy recipe?
For convenience, I use pre-ground for this recipe. Chuck is cut from the shoulder, which contains enough fat to add flavor and juiciness and is a good choice for hamburgers.
Round cuts of beef come from the hind leg. This cut of meat may become dry when cooked beyond medium-rare.
A burger cooked to medium-rare will not reach the temperature required to kill bacteria.
The winner is…for the best meat for this recipe is ground chuck or hamburger.
Cooking Tips:
Make patties the same thickness so they all cook at the same rate. PLEASE don't overcook the meat. You may not like it as pink as we do but you'll lose flavor and juiciness the more you cook your beef.
The scallions in this dish are more than a garnish. They add another layer of flavor and a nice contrasting texture. Don't skip them.
Start some potatoes cooking when you start your Hamburger Steaks. They're amazing under a layer of this gravy!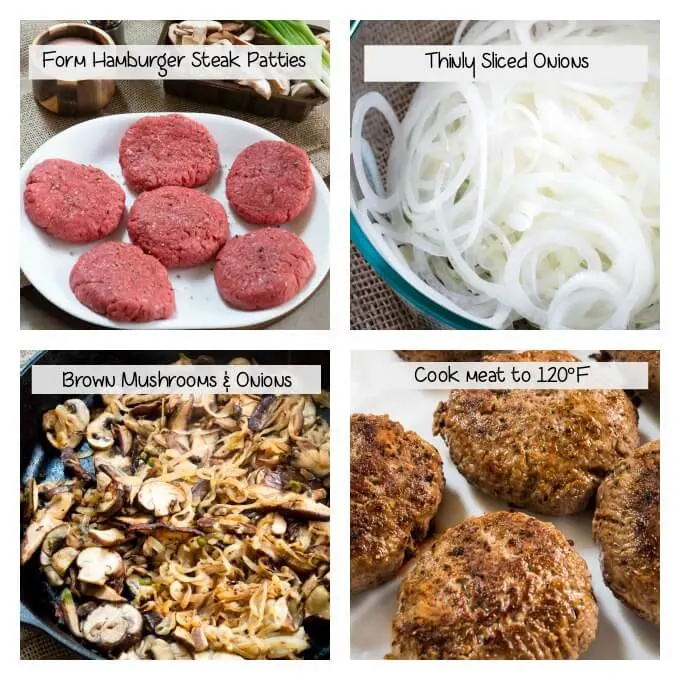 The patties are first seared to give them that golden crust on each side. They continue to cook once they're added back in with the gravy.
The best way to determine when they're done is with an instant-read thermometer.
Remove the Hamburger Steaks from the skillet to stop cooking a few minutes before the optimum doneness.
The following chart information was provided by the Certified Angus Beef Brand.
When is my Hamburger Steak cooked perfectly?
| | | |
| --- | --- | --- |
| Doneness | Description | Temperature |
| Rare | Cool red center | 125°F 52°C |
| Medium Rare | Warm red center | 135°F 57°C |
| Medium | Warm pink center | 145°F 63°C |
| Medium Well | Slightly pink center | 150°F 66°C |
| Well Done | Slight or no pink | 160°F 71°C |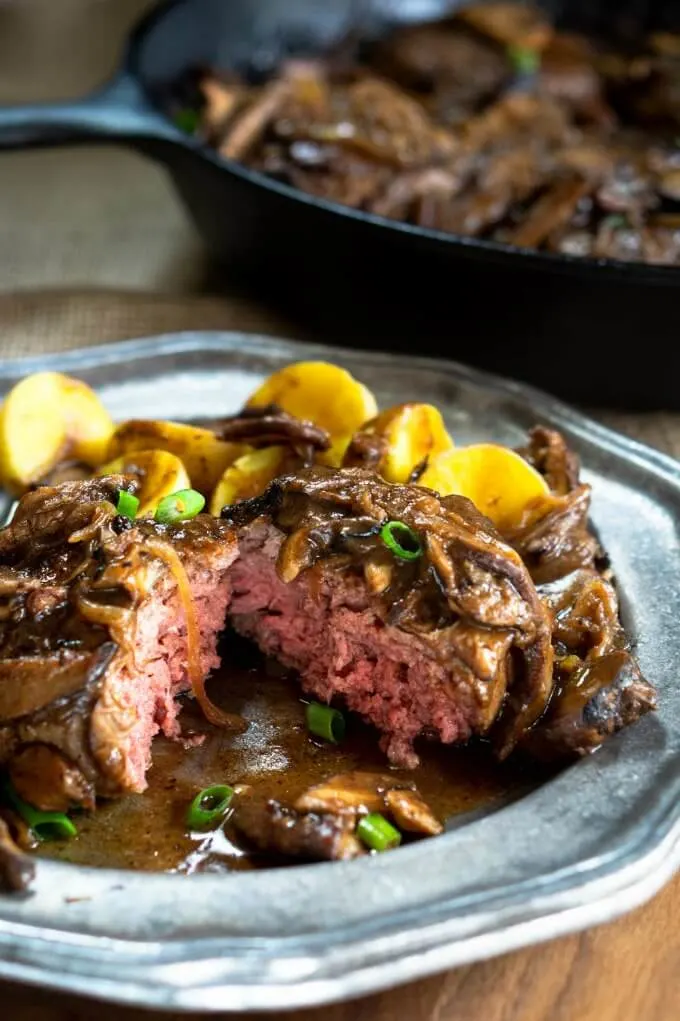 You May Need:
Instant-Read Thermometer – I use an instant-read thermometer for this recipe, for grilling, and even baking bread! I couldn't function without one.
Large Cast Iron Skillet – This skillet is a beast and I love that I can make a large serving all at once. Properly cared for, this skillet will last forever. It's even survived several camping trips!
Silicone Whisks – These whisks work well without scratching my pans. I've got them in several sizes and colors. You know how I love my gadgets!
Still looking for dinner ideas? Here are some of our most popular recipes
Don't Forget To Come Back And Let Me Know How Your Hamburger Steak Turned Out!