Chocolate Caramel Cookie Bars are the perfect combination of sweet caramel, rich dark chocolate, and the crunch of a delicious cookie crust. If you're looking for an easy, impressive, and delicious dessert, this chocolate caramel cookie bars recipe is just what you need.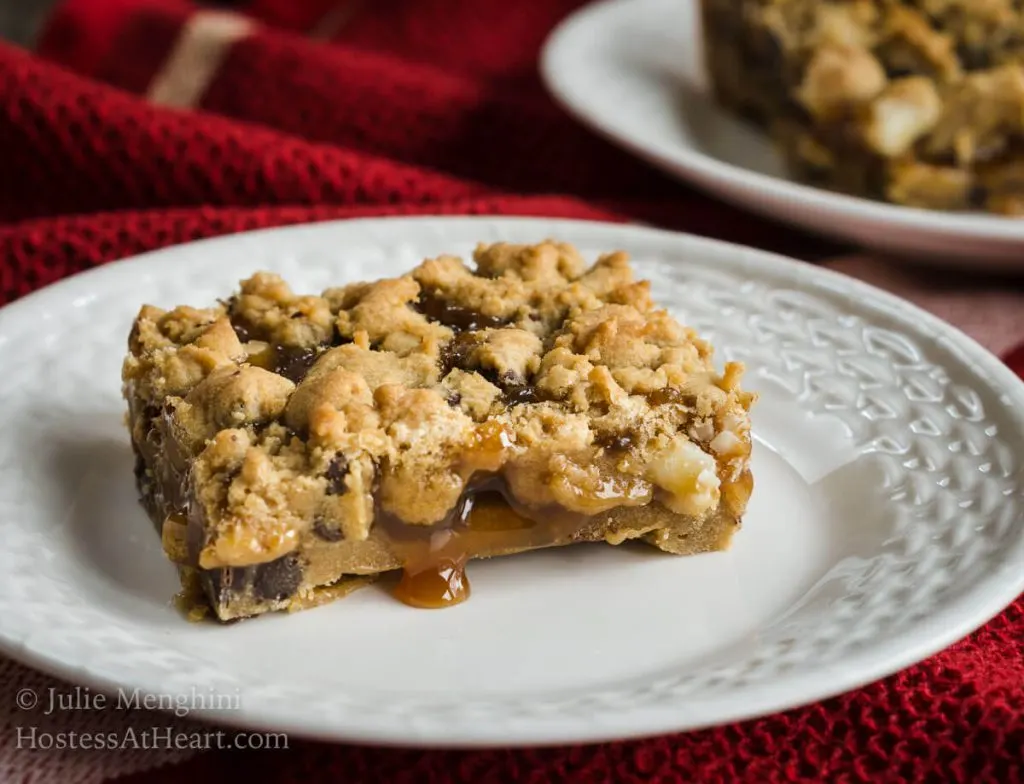 As Forest Gump said, some things are just meant to go together. For me, that's chocolate and caramel. If you're like me, you love chocolate caramel recipes too. I make these Turtle Thumbprint Cookies. They're amazing. And, Chocolate Caramel Mini Cheesecakes are an adult's dream since it's has a touch of Baileys Irish Cream too.
You're going to love how quick and easy these caramel bars are to whip up, and one batch will feed a crowd.
If you love an easy chocolate ooey gooey caramel dessert bar that is bursting with layers of chocolate and caramel, this recipe is for you! This Chocolate Caramel Cookie Bars recipe will feed a small army and wow the pickiest of dessert lovers.
Why You'll Love Caramel Cookie Bars
Why not make up a dessert that will feed a crowd? This caramel cookie bar recipe makes a full 9×13 pan. They're rich so cut them small. Take some to work and leave some at home so you get your share, wink wink.
I love recipes with Simple Ingredients that I always have in my pantry. There's no need to go on a hunt for unusual or difficult to find ingredients.
A Quick and easy dessert for work parties, holiday gatherings, or potlucks. Who needs recipes that take forever when we're the busiest?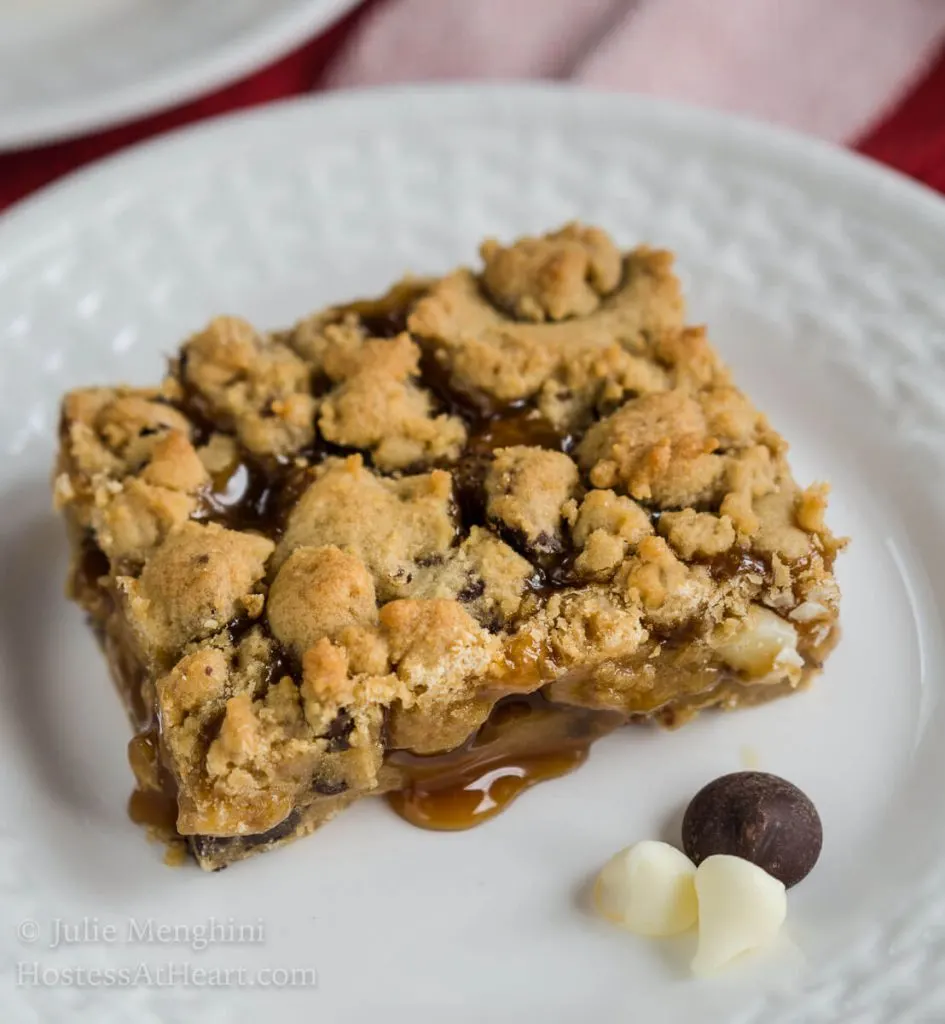 What's so special about this Caramel Cookie Bar Recipe?
I would love to take credit for this decadent Chocolate Caramel Cookie Bar recipe, but this recipe is actually inspired by the Cookie Exchange edition of our Freaky Friday Blog Hop.
Freaky Friday Virtual Cookie Exchange Blog Hop

What is the Freaky Friday Blog Hop? The Freaky Friday blog hop is a group of bloggers that are secretly assigned each others' blogs from which we choose a recipe appropriate for the theme. The blog that I was given is PicNic.
The Freaky Friday blog hop is organized by my amazing friend, Michaela, from An Affair From the Heart.
The mastermind behind PicNic is the amazing Nicole. When they coined the phrase beauty and brains, they showed a picture of Nicole.
Nicole has her Ph.D. in Molecular Neuroscience and loves teaching. She also loves being a wife and mother to a little boy and they live in New Zealand!
The hardest thing that I had to do was decide on one recipe from her blog. I first thought I wanted to make her Double Chocolate and Salted Caramel Muffins and then thought I should look at something that I can make and take it like her Almond Butter Cookies. Then I stumbled, well fell hard, when I saw these Triple Chocolate Caramel Cookie Bars.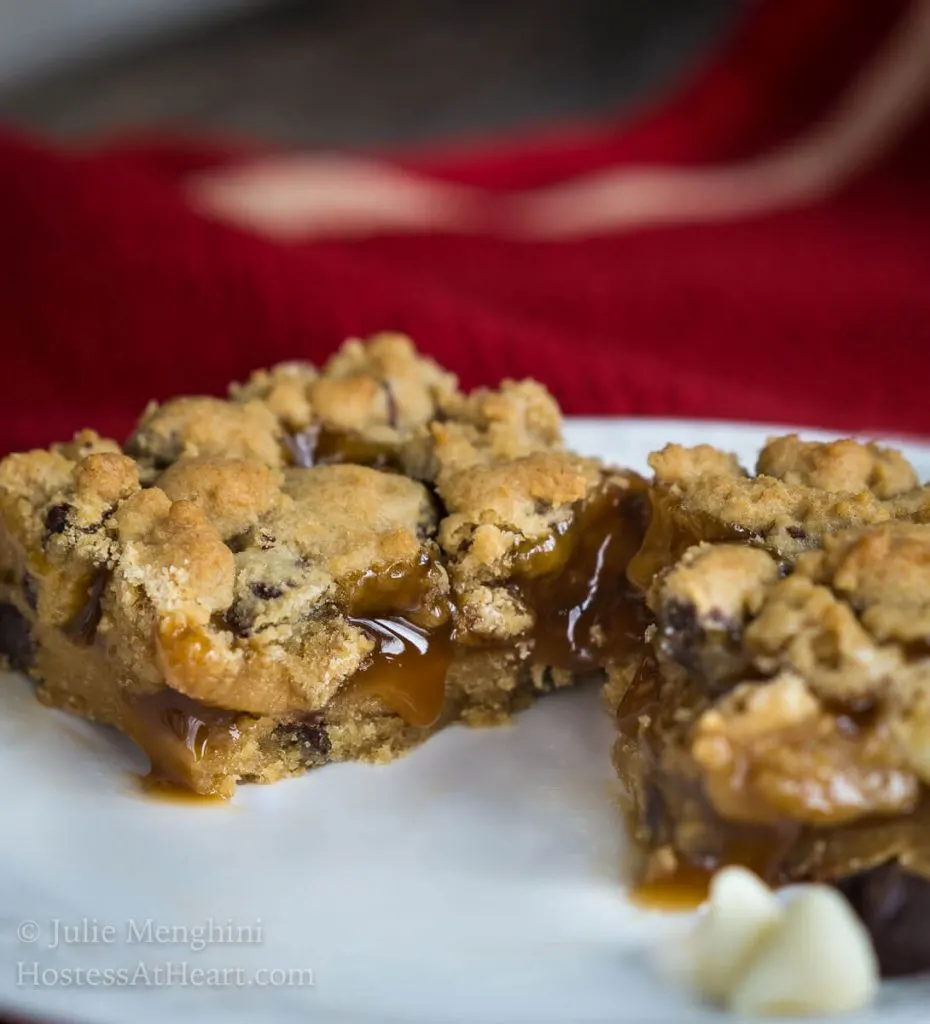 Chocolate Caramel Cookie Bar Ingredients
Flour – All-purpose flour. You can use bleached or unbleached.
Baking powder – This is what makes your cake rise. Replace it every 6 months or test it for potency. I show you how in my Basic Techniques Post.
Butter – I use real unsalted butter.
Salt – I use kosher salt. You can eliminate the salt in this recipe if you use salted butter.
Brown sugar – I use the dark variety but you can use the light. Either will work just fine.
Eggs – Grade A large is what I use for consistency in my baking.
Vanilla – Pure vanilla extract is what I prefer.
Chocolate – Three varieties were used to make these Chocolate Caramel Cookie Bars a triple threat! You can use any combination or just one variety and these cookie bars will still be delicious.
Caramel sauce – This recipe uses the prepared caramel sauce that's usually used to top ice cream. There are no caramels to unwrap or melt in this easy caramel cookie recipe.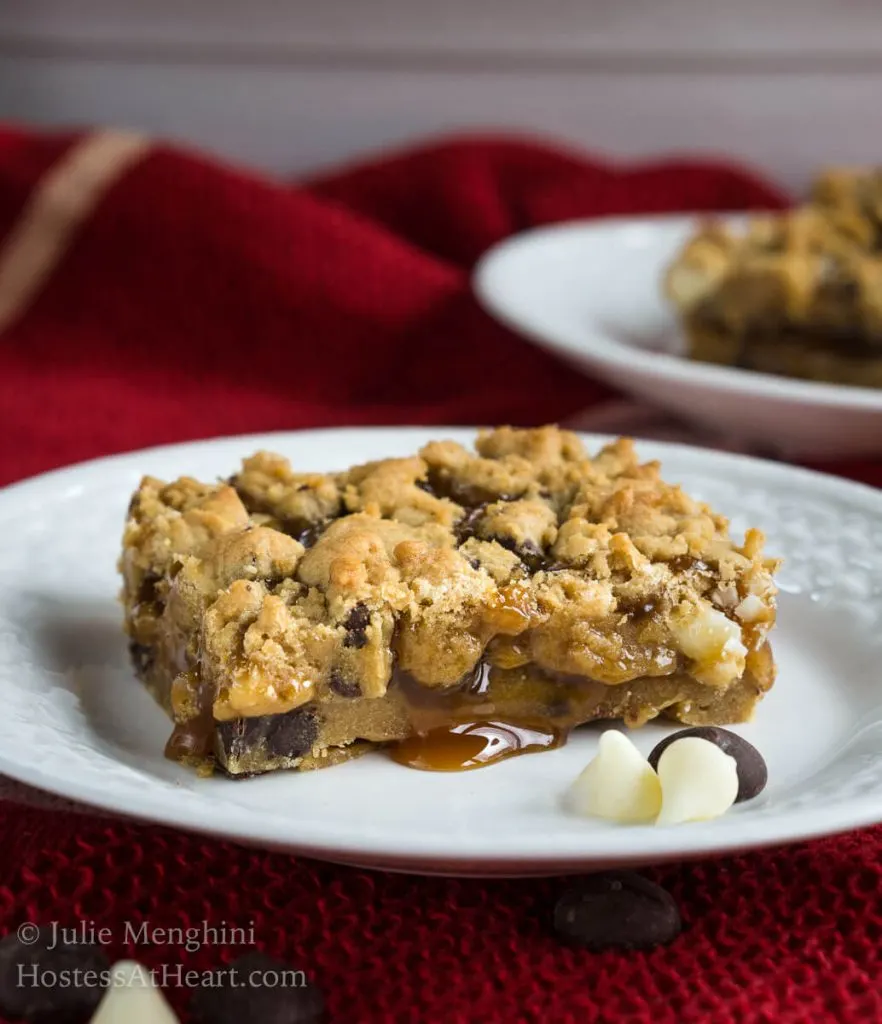 How to make Caramel Cookie Bars
I always start by preheating my oven and greasing my baking dish. You want your oven good and hot when you're ready to bake and the pan ready to go in as soon as the batter is mixed.
Add the butter and brown sugar to the bowl of an electric stand mixer and mix on medium-high until light and fluffy, 3 to 5 minutes. Add the eggs one at a time with the mixer on low, until the eggs are completely mixed in. Mix in the vanilla.
In a medium-sized bowl, mix the dry ingredients together. With the mixer on low, gradually add the dry ingredients until incorporated. Add the chocolate.
Press half of the chocolate chip caramel cookie bar batter into the bottom of your 9×13 baking dish. Pour the caramel sauce over the batter and then crumble the remaining batter over the caramel sauce layer. Bake.
Tips for the Perfect Caramel Cookie Bars Recipe
Don't overmix. These caramel bars come together quickly. Having all of the ingredients ready to go will make this recipe a cinch to put together.
Slightly beat your eggs before adding them to the recipe. That makes mixing them into the batter quicker and easier.
Cool the bars completely in the baking dish over a cooling rack. Cooling will help the bars set.
Chocolate Caramel Cookie Bars are easier to cut if they are allowed to cool completely and then chilled.
How to Store Caramel Cookie Bars
It's best to store these caramel bars in the refrigerator. Since we used jarred caramel sauce, the caramel will not become hardened when refrigerated. If they're stored at room temperature, the caramel sauce may leak out.
Freezing Chocolate Caramel Bars
Caramel Cookie Bars freeze well. If you have them all cut and ready to serve, you can freeze the individual pieces by wrapping them in plastic wrap and slipping them into a freezer-grade reclosable bag or airtight container for up to 3 months.
Looking for more delicious cookie bars? Follow Hostess At Heart on Pinterest!
F.A.Q's
Can Caramel Cookie Bars be made ahead of time?
Yes, I would bake them up completely and put them in the refrigerator in a covered container. They're best if served within one or two days of baking. Don't pre-cut them until you're ready to serve them because you don't want the caramel to run out.
Do these Chocolate Chip Caramel Bars have to be baked in a 9×13 pan?
No, in fact, if you don't need a full 9×13 sized caramel dessert, you can bake them in two 8-inch baking dishes.
Caramel Cookie Bar Recipe Variations
I think these cookie bars are perfect as is. However, I have difficulty leaving anything as is. You can add chopped nuts to the batter. Pecans or walnuts would be delicious.
You could also sprinkle more chocolate chips over the top of the crumbled cookie layer.
Toasted coconut in the batter or sprinkled over the bars would be amazing.
For a salted caramel chocolate cookie bar, use a salted caramel sauce or lightly sprinkle the bars with flaky sea salt such as Fleur de Sel Salt.
If you enjoyed these Caramel Chocolate Cookie Bars, here are a few more recipes you may like.
Don't forget to stop back and let me know how your Chocolate Caramel Bars turned out!
I want to thank Nicole over at PicNic for sharing such a great recipe and Michaela at An Affair From The Heart for organizing all of our Freaky Friday events! Just go see for yourself all of the amazing recipes on PicNic. I'll guarantee you'll want to stay a while. While you're at it, take a look at what these other Freaky Friday participants are cooking up!
An Affair from the Heart – Mocha Rum Balls
A Dish of Daily Life – Cherry Pie Cookies
Bacon Fatte – Mexican Wedding Cookies
The Devilish Dish – Rosé Meringue Cookies
The Foodie Affair – No Bake Cookie ~ Copycat Samoas
Full Belly Sisters – Chocolate Peanut Butter Cookies
Hostess at Heart – Chocolate Caramel Cookie Bars
Life Currents – Oatmeal Sandwich Cookies
Mildly Meandering – Vanilla Bean Pizzelle Cookies
Pic Nic – Lemon and Blueberry Bars
Plattertalk – White Chocolate Peppermint Cookies
Take Two Tapas – Savory Pecan Cornmeal Biscotti Bites
Seduction in the Kitchen – Orange Snowball Cookies
Who Needs a Cape? – Almond Raspberry Thumbprints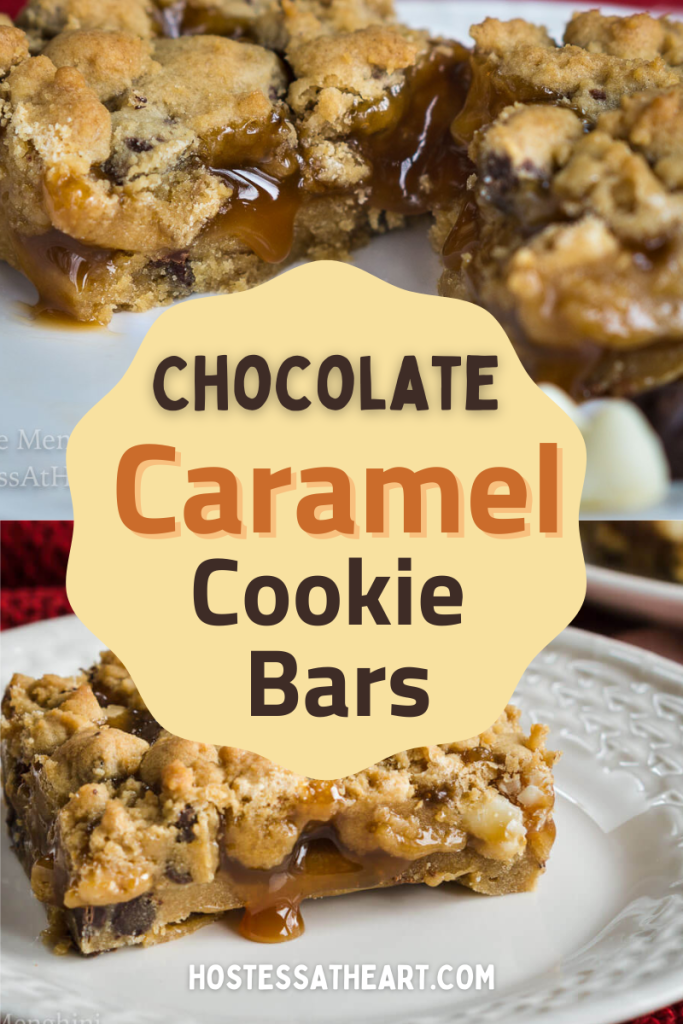 This recipe was originally posted in 2017 so it was time for an update. I've added some instructions and tips to make them easier to make. No changes were made to the recipe. I hope you'll love this recipe for chocolate caramel bars as much as we do.