If you aren't into cake decorating but love the results, these Chocolate Cake Ornaments are for you! They're also a fun activity that the Kiddos would love help making.
I've wanted to learn cake decorating since I was a child. These Chocolate Cake Ornaments would have been a great way to start.
They're fun and easy enough that either the non-cake decorator or the youngsters can help too.
I get it, cake decorating isn't for everyone or you just don't have the time.
I made my first attempt when I was about 12 years old. It was indeed a masterpiece in my mind. That was in the days when dinosaurs roamed the earth and there weren't computers let alone google.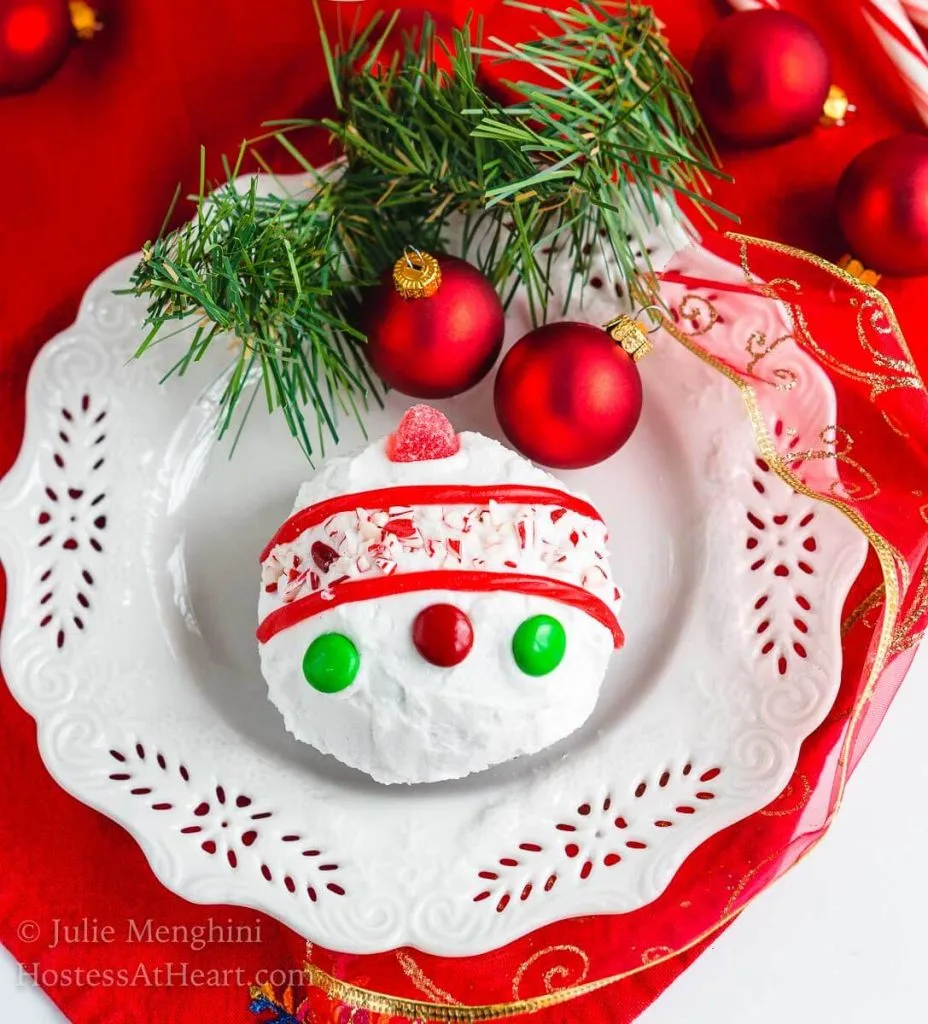 I don't even remember that many cookbooks in our house.
My mother wasn't into cooking that much and my Grandmother made everything off the top of her head.
Somewhere I came up with a magazine that had some very elementary skills and I taught myself to pipe stars.
I piped an entire cake with stars. The only problem was my frosting recipe was for royal frosting.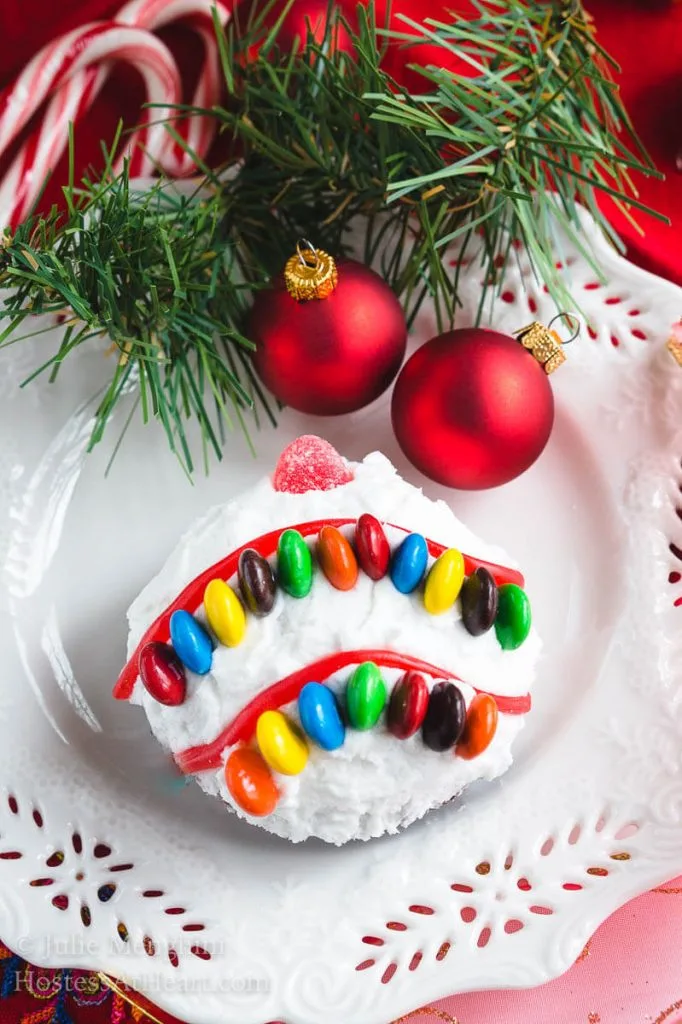 You needed a hammer and chisel to break into that cake. But hey, it looked good.
We use a simple chocolate cake recipe and added crushed candy canes. You can add chocolate chips or peanut butter chips too. It's very versatile.
You could definitely make these into cupcakes too. You can even buy the cupcakes and frosting and they'll be adorable anyway. It's all about having fun.
HOMEMADE CHOCOLATE CAKE RECIPE INGREDIENTS
Butter – We used unsalted butter.

If you use salted butter, only use 1/2 tsp of salt in the recipe or eliminate it altogether.

Sugar – white granulated sugar
Eggs – We always buy large eggs for consistency in or baking
Flour – All-purpose flour, bleached or unbleached.
Cocoa – Baking Cocoa was used in this recipe. We recommend always sifting and then measuring cocoa.
Baking soda and Baking powder – These are leaveners that make your cake rise up nice and fluffy.
Salt – We like fine sea salt because of its blend-ability but any will do.
Peanut Butter, chocolate chips, or crushed peppermint – optional
Supplies you may need
We used a Wilton Mini Ball Pan because I liked the round shape that it gave my cute little Pumpkin Faces.
HOW TO MAKE THIS RECIPE FOR HOMEMADE CHOCOLATE CAKE
Using an electric stand mixer, cream the butter, sugar, and eggs together until they are fluffy and lighter in color.

Ingredients will whip together better if they are all at room temperature.

In a separate bowl, combine the flour, sifted cocoa, baking soda, baking powder, and salt. Whisk to combine.
With the mixer on LOW, gradually add the dry ingredients alternating with the milk to the butter mixture. Mix until combined.
With the mixer on low, sprinkle in the peanut butter or chocolate chips if desired.
Bake

BAKING TIPS AND VARIATIONS
You can make these cute little chocolate cake ornaments in a muffin tin. There isn't any need to buy another pan if you don't have one. (I'm hyperventilating as I say this. I may have a pan problem LOL!)
Any pan should be greased or sprayed with non-stick cooking spray.
You should also check the doneness of the cake before the least amount of cooking time is up. Ovens and pans cook at different rates.
The cake is done when a cake tester or toothpick is inserted into the thickest part of the cake and has very few crumbs sticking to it when removed. It doesn't need to be completely without crumbs.
Muffins – Fill 2/3 full and bake 22 to 25 minutes.
2- 9″ round cake pans – bake for 30 to 35 minutes
9×13 cake pan – bake for 35 to 40 minutes
Bundt Pan – bake 45 to 55 minutes.
Simple cake decorating recipes
If you're catching the cake decorating bug, here are a few more techniques to try!
Don't have time to make them now?

Pin it

for later!
SOME OF OUR MOST POPULAR CAKE RECIPES
The holidays are all about having fun, and I love it when we can share the fun with children. What is your favorite kitchen activity with the kiddos?