Prize Mahogany Cake is a luscious tender chocolate cake that is simple to make and delicious to eat. It's one of our family's favorite cakes and may become yours too.
This recipe was originally posted on 9/15/15. I've updated the post to include helpful details and step-by-step images. No changes were made to the recipe.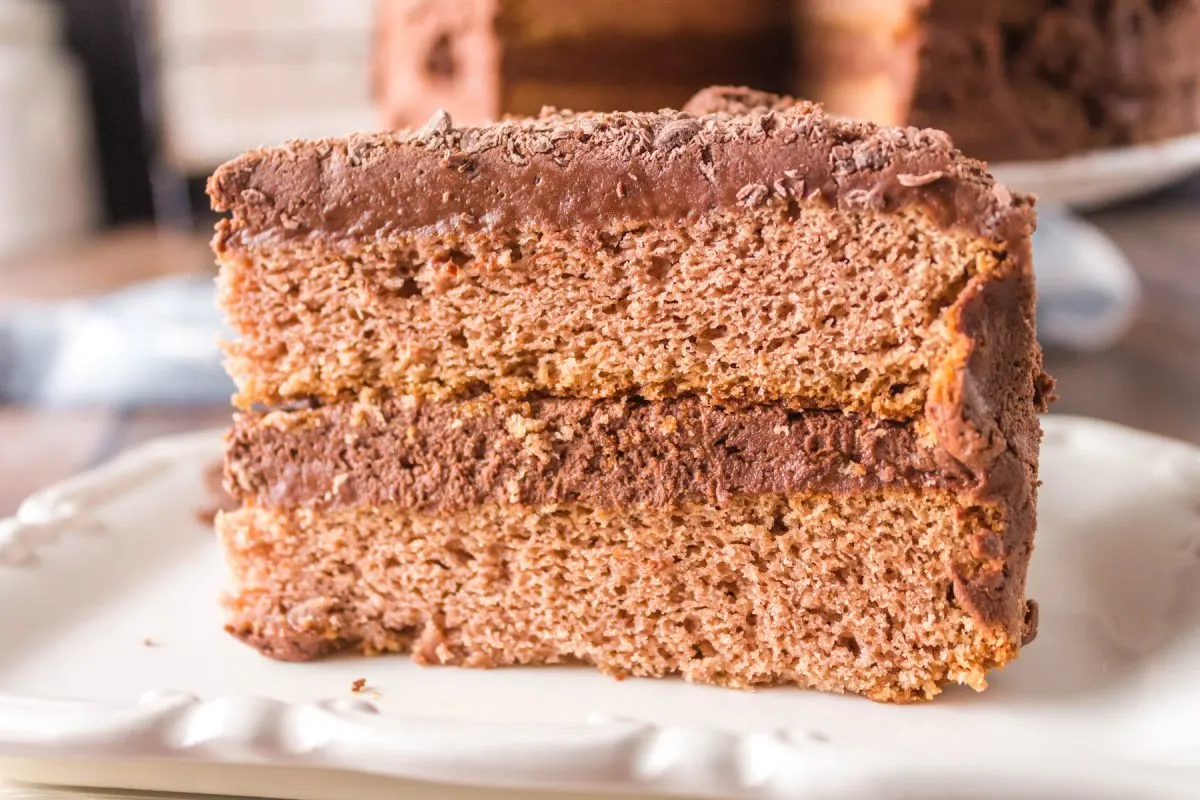 Digging through the beautiful recipe box that my Mother-In-Law (MIL) gifted me with, I came across a card titled just "Prize Mahogany". I wasn't sure what it was for and certainly never would I have guessed that it was this Chocolate Cake!
I called my MIL, and asked her what was a Prize Mahogany? She stated that this was a chocolate cake that was her mother's "go-to" recipe, and one that she's made several times. That would make this recipe at least 80 years old!
What You'll Love About This Mahogany Chocolate Cake Recipe
Old-Fashioned Simplicity. There is a reason this was my husband's grandmother's go-to cake. It's a simple tried-and-true old-fashioned recipe. The ingredients are very simple and the cake is very easy to make.
Flexibility. It can be made in any pan and makes a beautiful layer cake.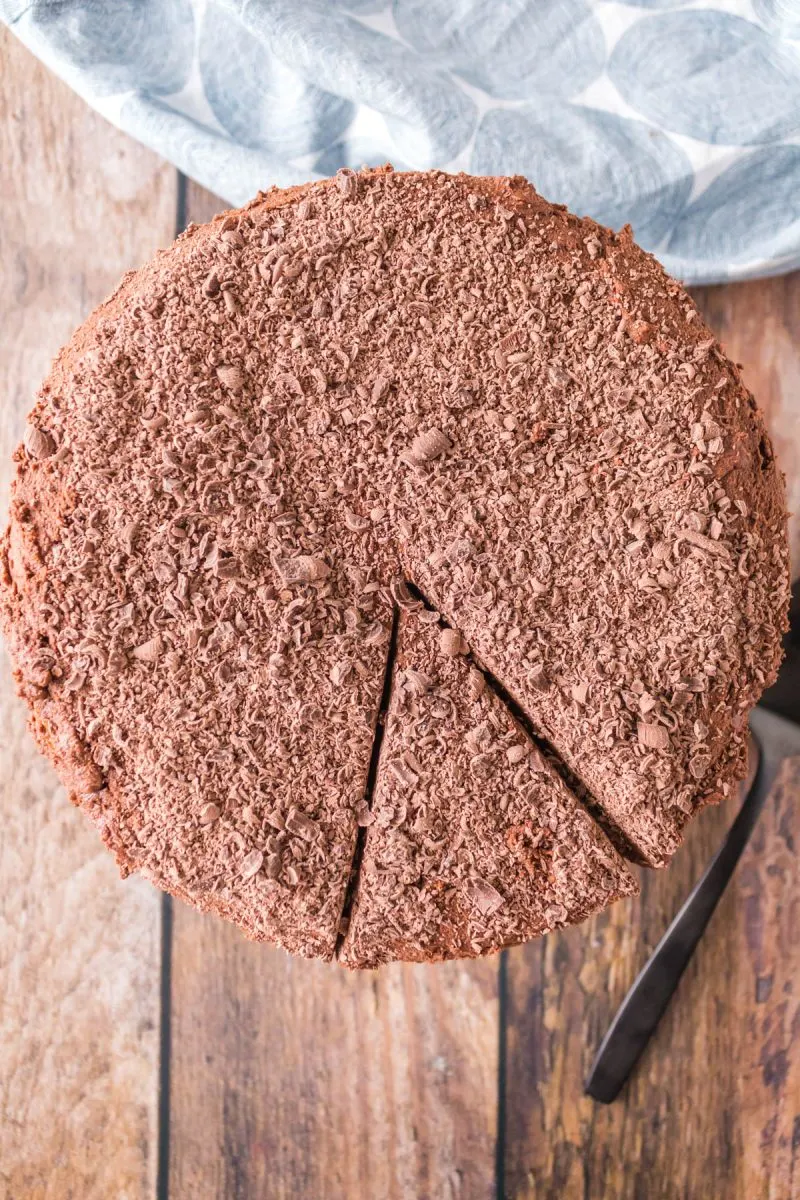 What Is Mahogany Cake?
Considered by some to be America's first chocolate cake, the chocolate mahogany cake recipe and was first made in the 1800s. Traditionally, served with a boiled, cooled, and then whipped frosting called "Ermine Frosting", this cake was the historical precursor to red velvet cake. I found my simple chocolate buttercream frosting recipe worked perfectly without all of the work.
Equipment Needed
Hostess At Heart participates in affiliate programs. As an Amazon Associate, I earn a commission from qualifying purchases. Please refer to my disclosure page for more information about these affiliate programs.
Ingredients for Your Mahogany Cake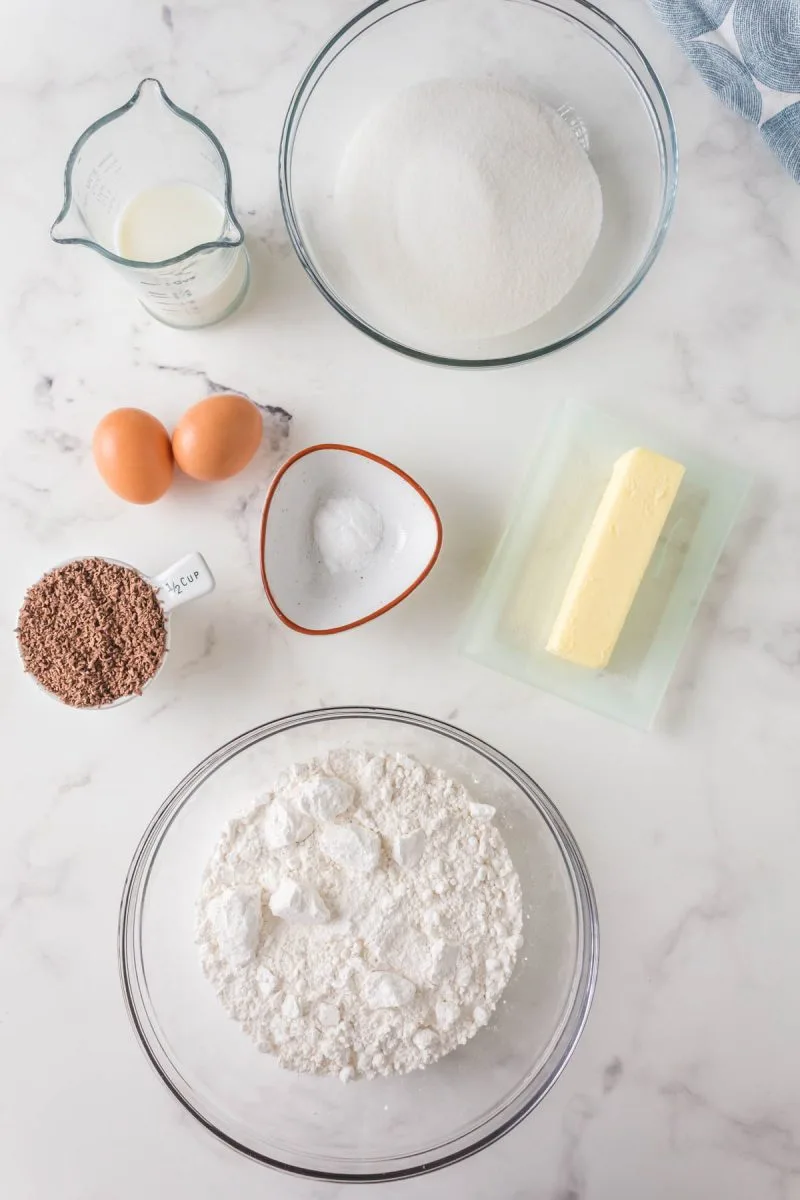 Sugar. White granulated sugar
Butter. Salted butter since there isn't any salt added.
Milk. The original recipe called for sweetened milk. What in the world is sweetened milk? I thought it was like the Eagle Brand milk, but my mother-in-law said it's just milk.
Grated Chocolate. I used darker unsweetened baking chocolate the first time I made this cake. The second time it was made with a lighter semi-sweet chocolate. You can see the difference in the more recent images as compared to the image after the recipe card. I believe that you could use any variety.
Baking Soda. Fresh an active.
Cake Flour. Did you know you can make your own cake flour?
Eggs. Grade A, large.
Please note, that the printable recipe card has ingredient quantities, complete instructions, and nutritional information. The following is a quick overview of the recipe.
How to Make a Mahogany Cake
Step One. Get everything ready to make this amazing chocolate cake recipe.
Get your pan greased and floured. Line the pans with parchment paper on the bottom, especially if they're older pans. Preheat your oven.
Step Two. Cook the milk and chocolate.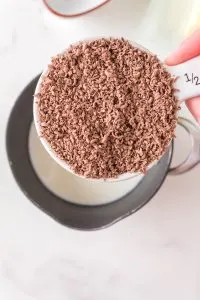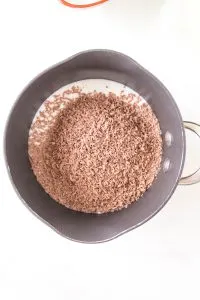 In a small saucepan, cook the chocolate on low with the milk until thick.
Step Three. Get out the mixer.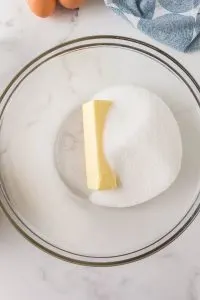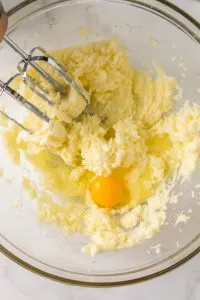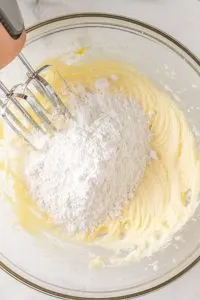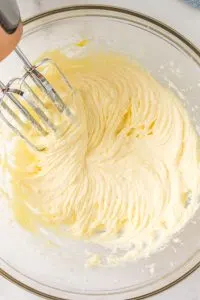 Cream the butter and sugar. Mix the dry ingredients separately with a fork, and then combine with the sugar/butter mixture and beat again with the mixer.
Step Four. Put it all together.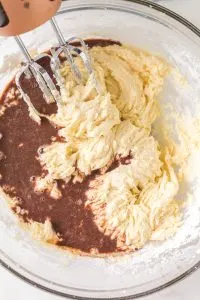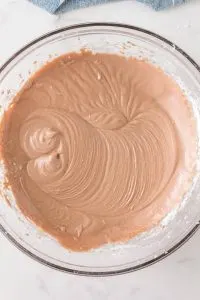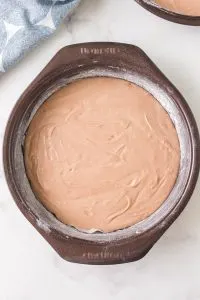 Mix the chocolate into the rest, and pour it into your prepared baking pans.
Step Five. Bake and Cool.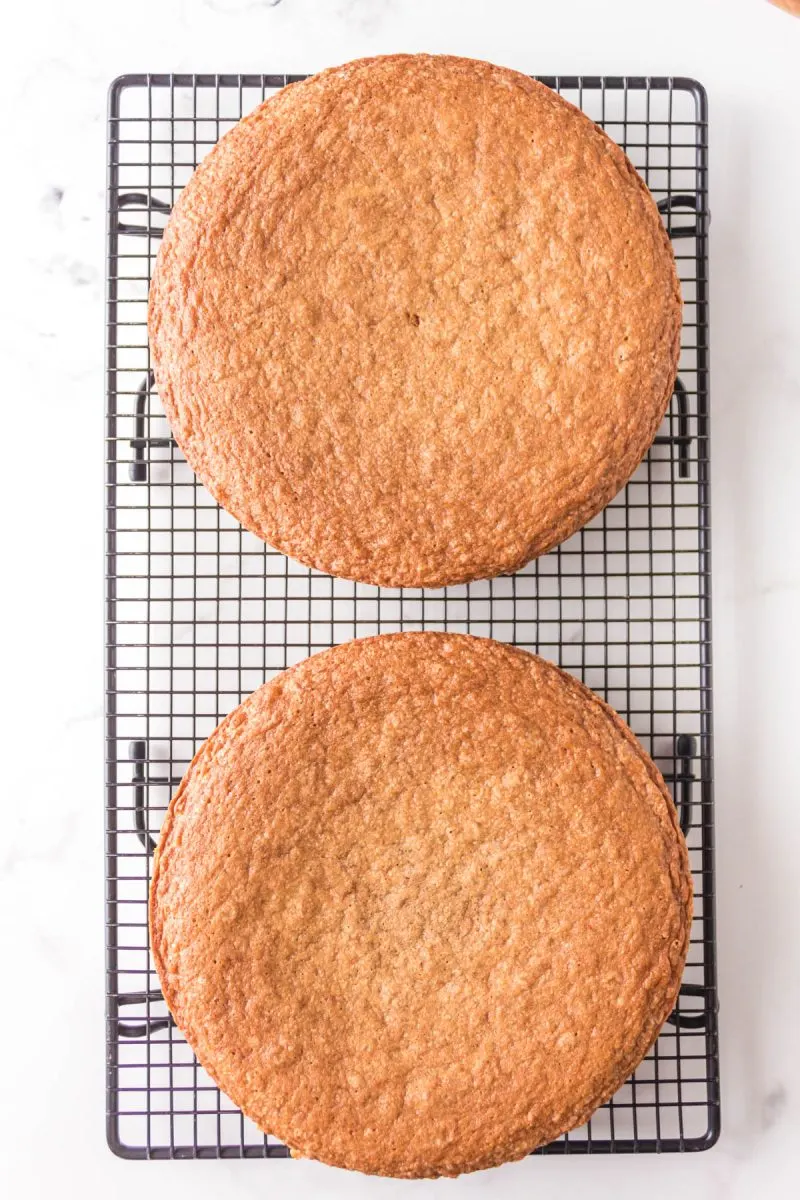 Let the cake cool in the pans for 10 minutes before releasing them from the pans and let them cool thoroughly on a cooling rack. If you used parchment paper, peel it off carefully at this time.
Step Six. Frost the Chocolate Mahogany Cake
Note: If you place the baked cake layers in the freezer for 10 minutes before frosting they will be easier to frost. Especially if you live in a warm environment.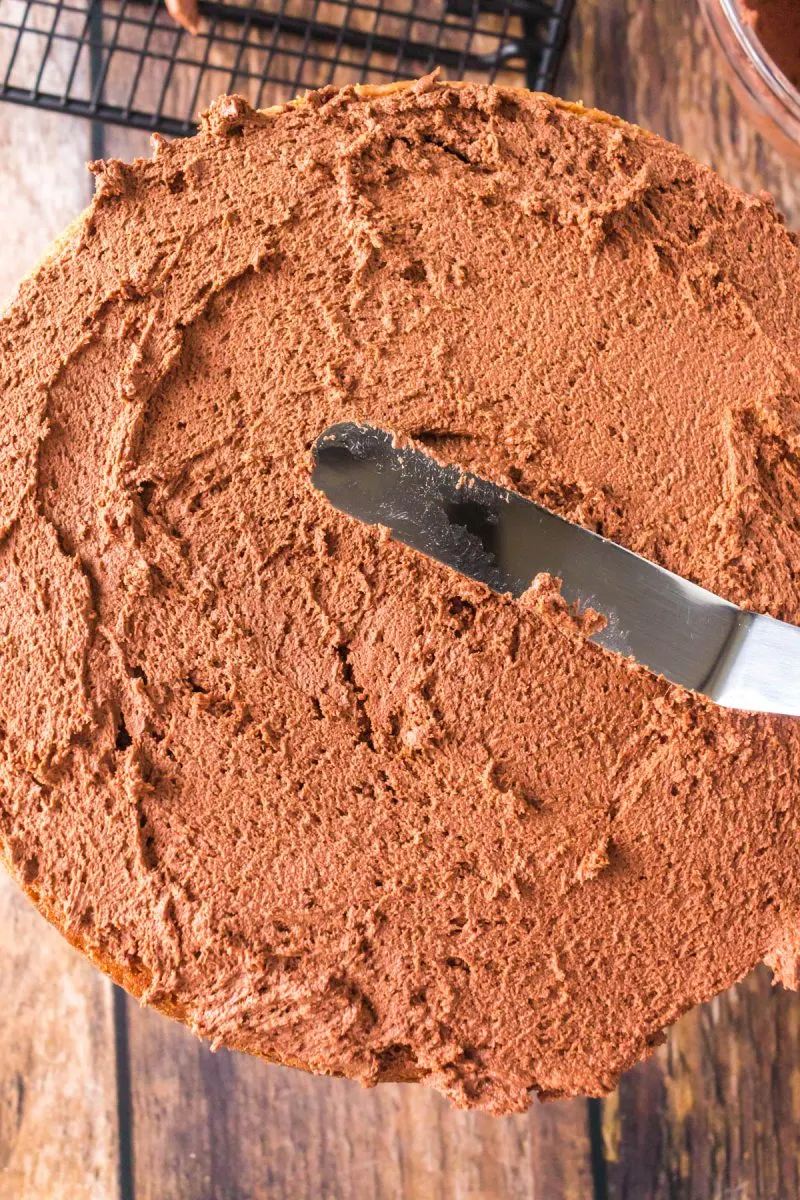 When the cake is completely cooled, frost the cake. Complete instructions for making the frosting can be found in our Chocolate Buttercream Frosting post.
Top with more grated chocolate for a gourmet look.
What to Serve with your Mahogany Cake
You won't need any extra sweets when you enjoy this rich and chocolatey cake with its velvety moist crumb. However, it does pair well with a nice espresso, latte, coffee, or a large glass of milk.
Substitutions – Additions – Variations
Add chocolate chips, mini chocolate chips or white chocolate chips to the cake or sprinkled on top of the frosting. You could also add chocolate nonpareils for an elegant touch or add bright sprinkles if you want to get festive.
Add toasted slivered almonds to the top for a gorgeous look and a little extra decadence.
Unsweetened baking chocolate will make a darker cake. Using a semi-sweet or another variety will change the color of the cake.
Add a teaspoon of espresso powder for a rich enhanced flavor. You can also add espresso powder to the frosting.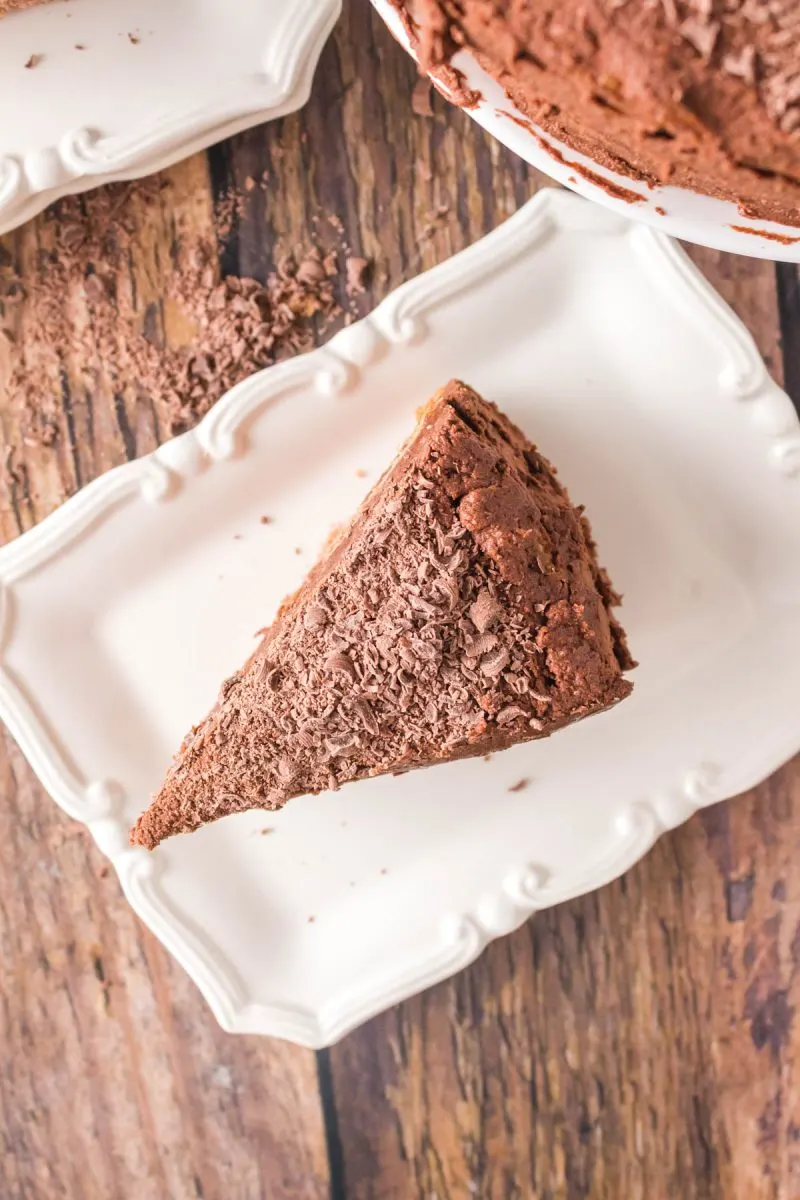 How To Store
This cake will keep at room temperature for several days and will even stay soft uncovered. You can also cover and refrigerate the leftovers if you plan to keep it around for more than a few days.
Can I Freeze and Thaw This Mahogany Cake Recipe
Yes. Freeze cake slices or the whole cake in an airtight container and don't forget to thaw it at room temperature, uncovered, for at least several hours before you want to eat it. Grab a slice to take to work and let it thaw in your lunch box!
FAQ
Why does this cake recipe use cake flour?
Cake flour has a lower protein content, creating a lighter, fluffier texture. You can
substitute with all-purpose flour but it will impact the texture. If you don't have cake flour, you
can make your own!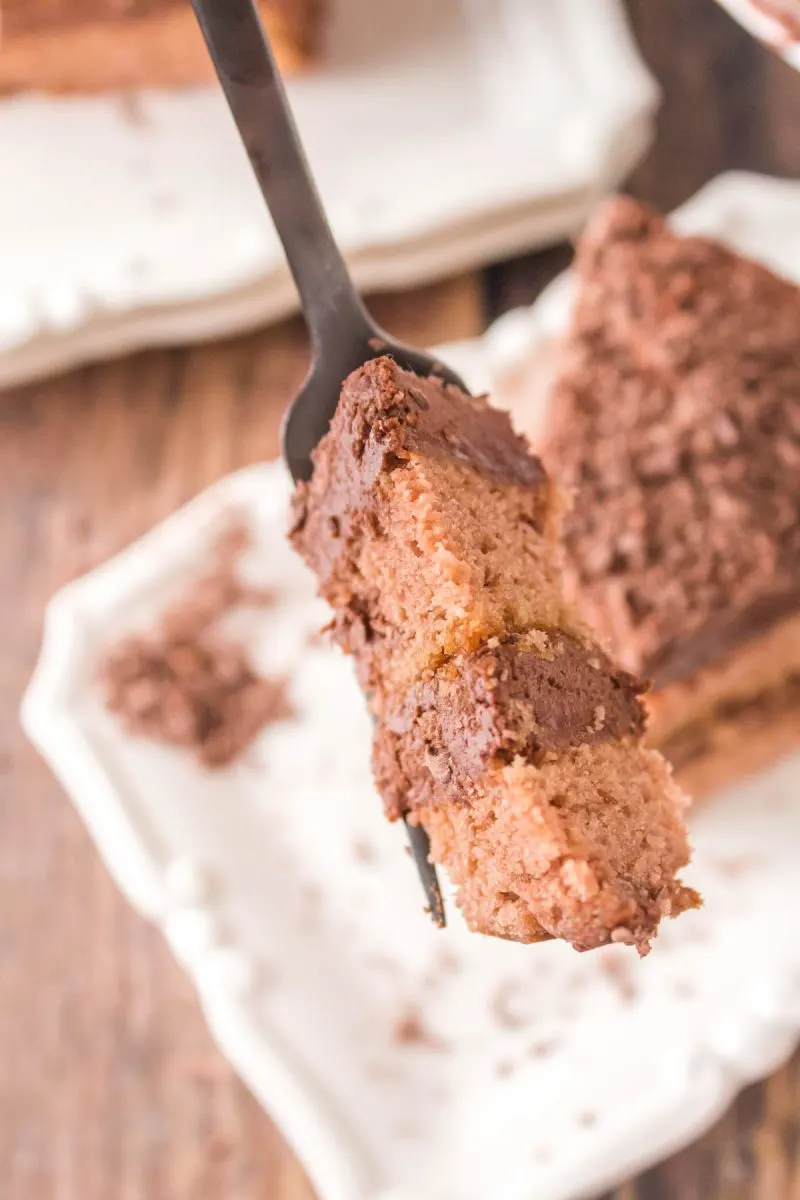 Tips to Make the Best Mahogany Cake
Don't over-mix the cake batter.
Use the scoop and level method for measuring flour for this cake so that your cake doesn't end up heavy from too much flour.
Use low heat to cook the milk and chocolate together and stir continuously until it begins to bubble on the sides. Don't overheat. It will change the texture.
To prepare the pans I used butter with a dusting of flour. You can also add a round of parchment paper especially if your pans are older.
If you tried this delicious recipe, don't forget to rate it and leave me a comment telling me what you think. I love hearing from you!
The following image is of this cake using dark chocolate in the Mahogany Cake recipe. Either chocolate is delicious, however.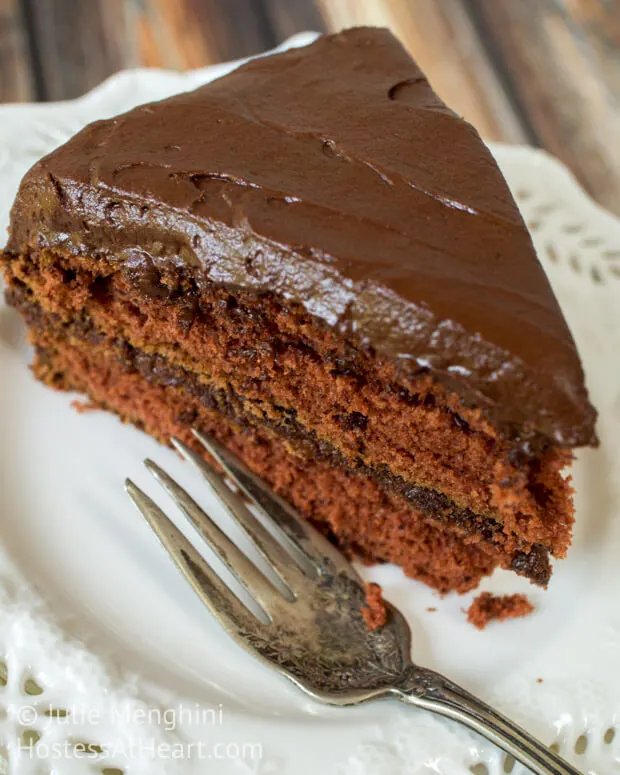 More Great Cake Recipes
Pin the Best Prize Mahogany Cake Recipe Now!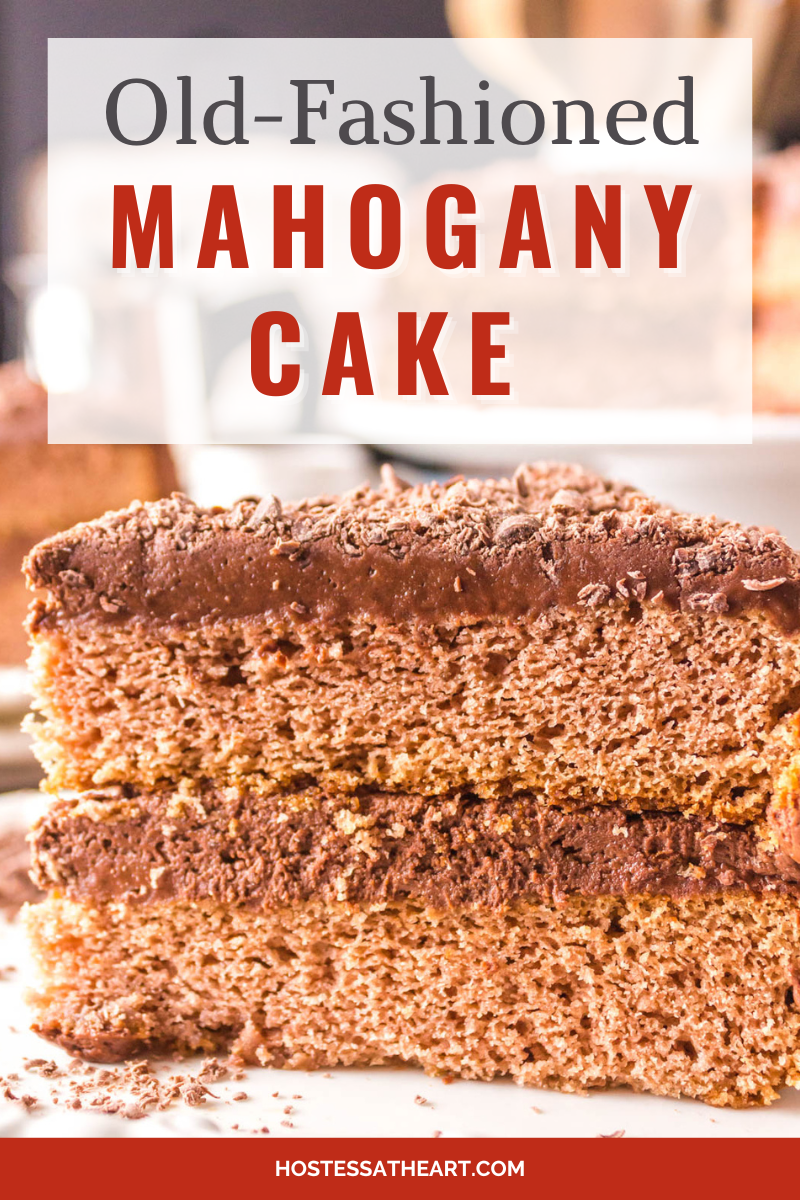 I was intrigued by the original mahogany cake recipe, but missing in the instructions were:
the size of the pan
the baking temperature
what kind of chocolate she used
She also stated that they always baked cakes in two 8 or 9-inch round pans and layered the cake, and the flour was something that resembled cake flour today.
This cake was so good. I was so glad that I made it as closely as possible to the original recipe.
The steps are all my own. They weren't listed on the recipe, but I use this same method for almost every cake that I make.
I was up for a challenge and decided to give it a go. What I had in my kitchen was two 9-inch round pans and it worked well enough. I believe 8-inch pans would have been better. This is not a very tall cake even with two layers.
I hope you'll give a try and let me know what you think.
What's popular