This Focaccia Bread recipe makes a soft and tender Italian bread that is great as an appetizer or with your favorite meal. You won't believe how easy it is to make.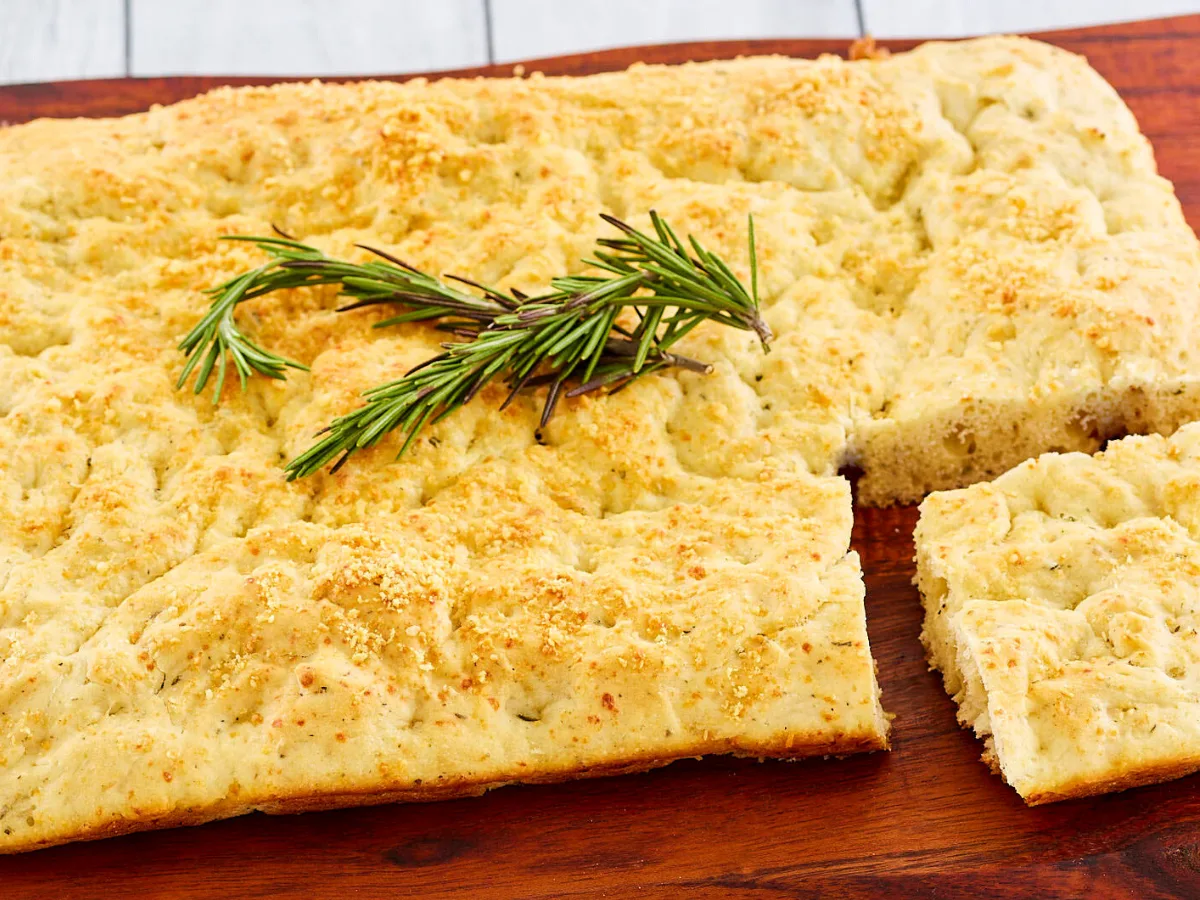 Focaccia recipes use simple ingredients and are easy enough for the beginner or the avid bread baker.
Traditional Focaccia Bread will impress the socks off of your guests. It's soft and tender and perfect for the fanciest charcuterie tray or simple pasta dinner. It's got a soft crumb that sops up a great marinara or a balsamic vinegar dipping sauce.
What is Focaccia Bread?
Focaccia pronounced (foh-kah-chuh) is a soft and chewy type of Italian bread that is made with yeast. It's not a pizza or flatbread but isn't a tall loaf either.
This rosemary focaccia is a traditional recipe but it can be varied to suit your tastes and I'll be sharing a few variations with you.
Kitchen tools used for this recipe
Baking sheet – These are my favorites! I have 4 of them so I can get large batches of cookies baked in no time.
Mixing Bowls – I'd be lost without mixing bowls in my kitchen. These bowls are perfect for mixing and serving.
Homemade Focaccia Bread Ingredients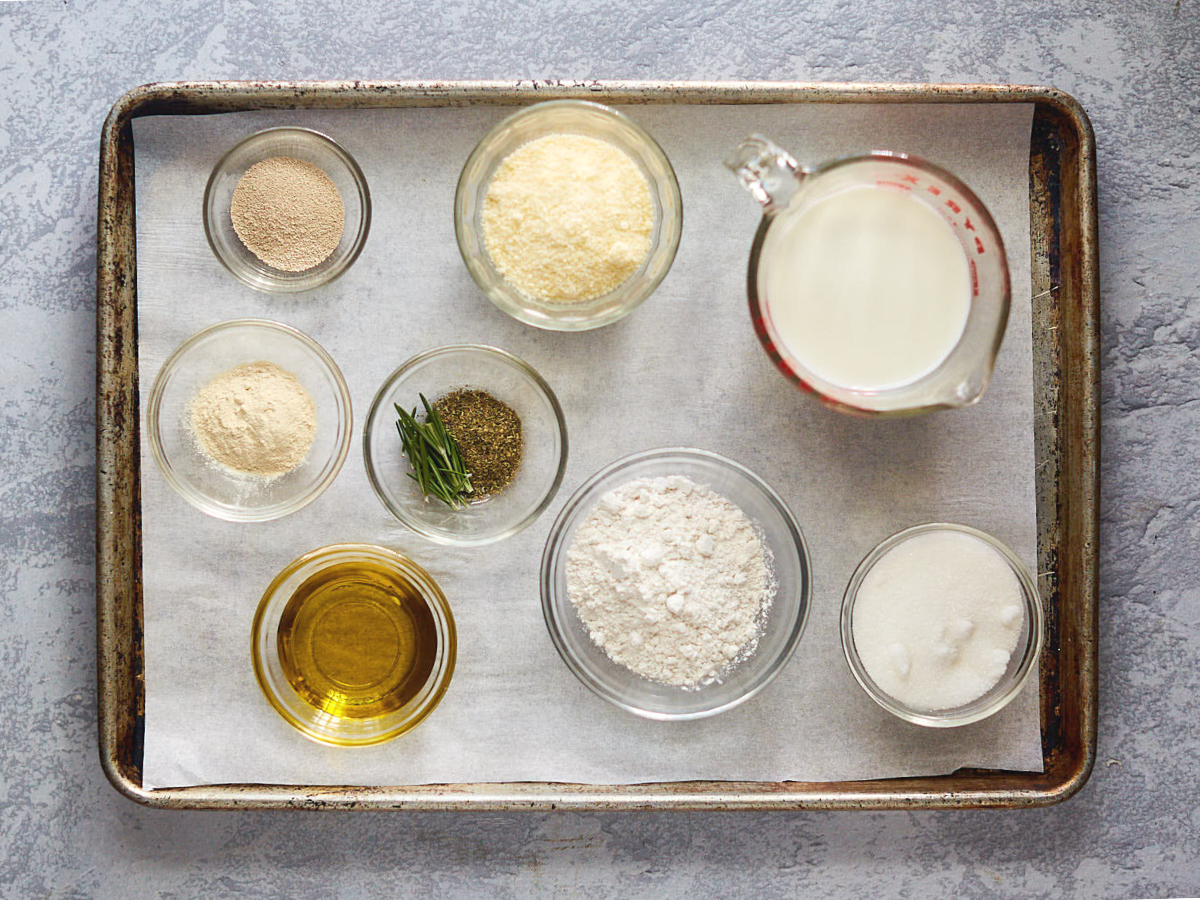 Like many Italian bread varieties, this Focaccia recipe uses simple and minimal ingredients.
All-Purpose Flour – You can use bleached or unbleached.
Salt – We used kosher salt but any salt is acceptable. We also finish the bread with a sprinkle of flaky sea salt.
Yeast – Dry yeast also called Dry Active, Instant yeast, or Rapid Rise will work in this recipe.
Sugar – White granulated sugar
Herbs – Rosemary, thyme, and oregano are used in this recipe. See the variations below for a few more ideas.
Olive Oil – Since olive oil is such an important ingredient in this bread, you will want to use a good extra-virgin variety.
Parmesan Cheese – We prefer Parmesan Reggiano
How do you make Rosemary Focaccia Bread Recipe?
Step 1: Proof the yeast.
Combine the milk, yeast, and sugar in a small bowl and let it sit until it's bubbly about 5 minutes.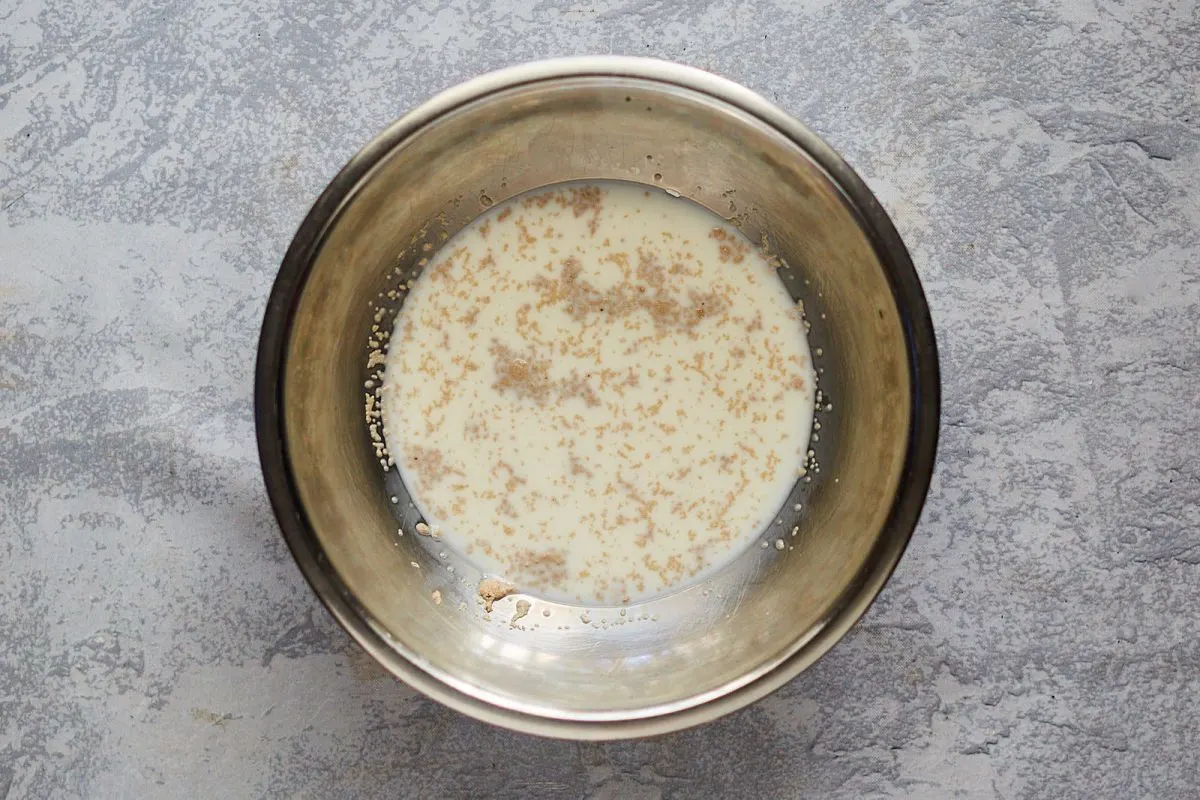 2. Prepare the focaccia dough.
Using a large bowl, combine the dry ingredients; flour, herbs, and cheese.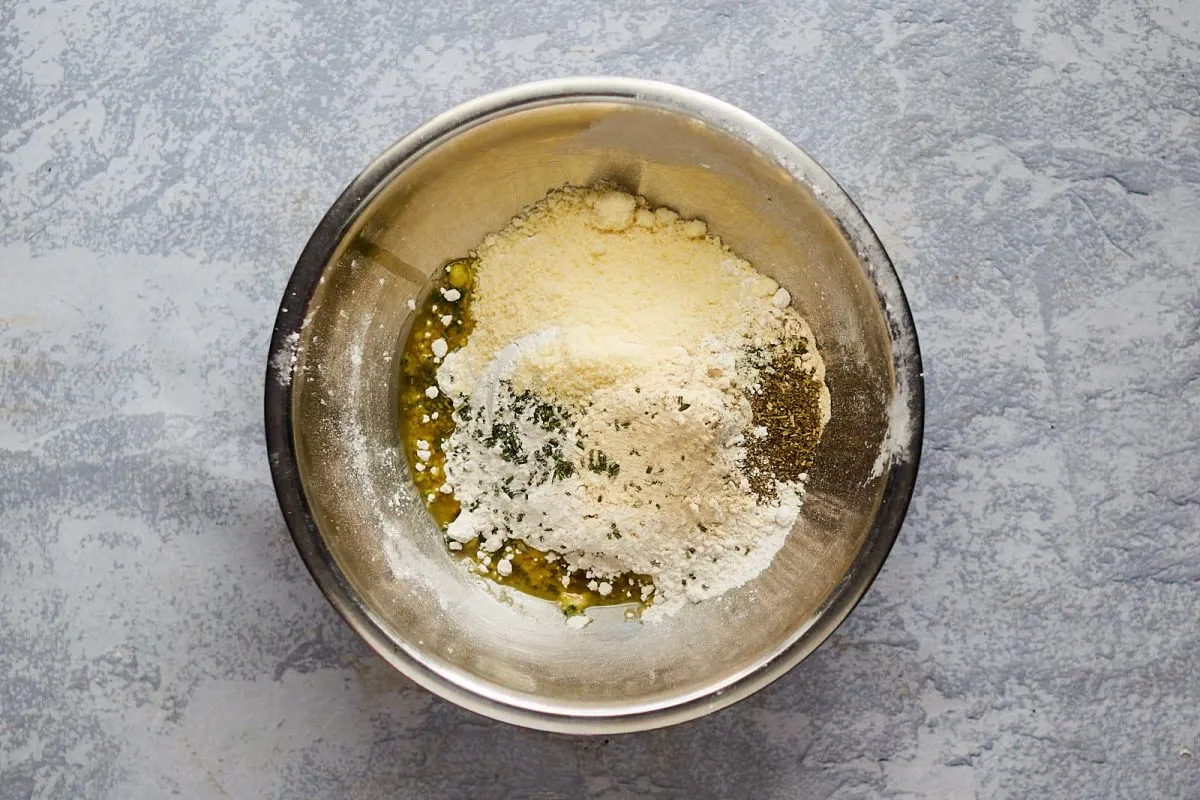 Add one tablespoon of olive oil to the dry mixture.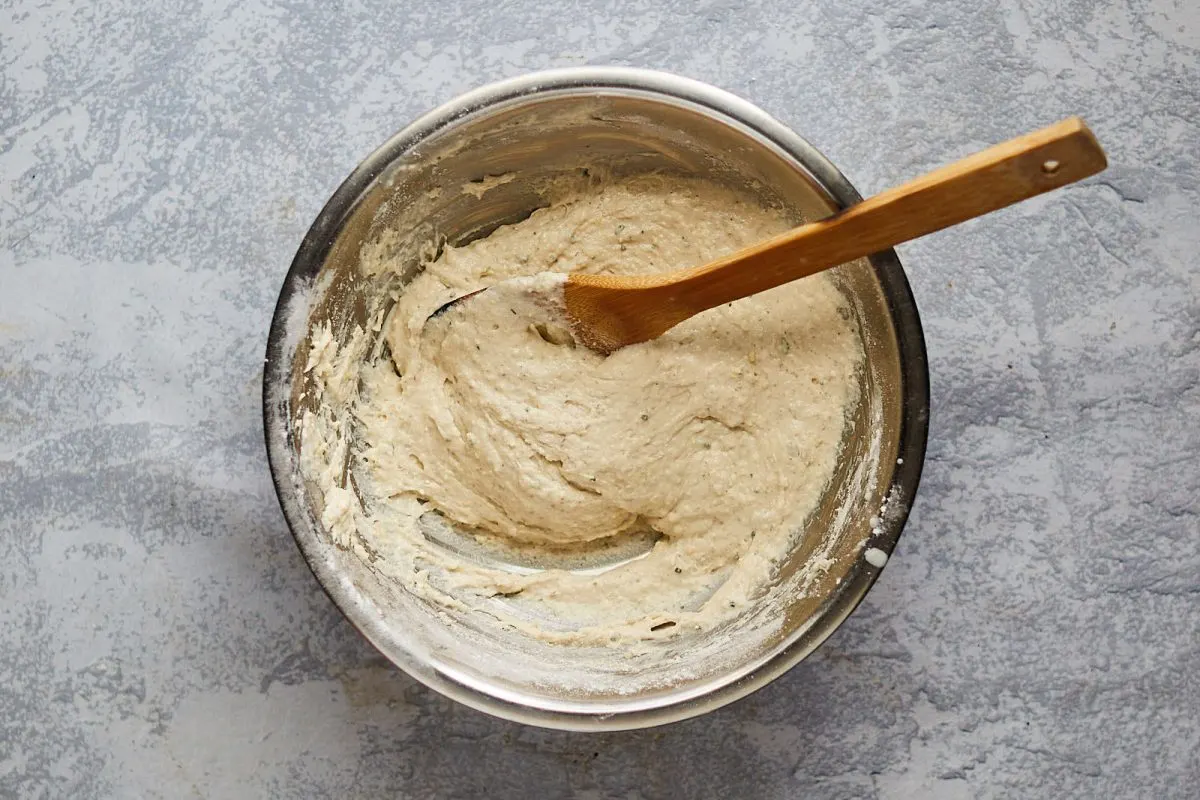 Add the yeast mixture and stir with a wooden spoon until the dough pulls together.
Knead the dough on a floured surface by hand for 10 minutes or until the dough is soft and elastic. The dough can also be kneaded using the dough attachment on your electric mixer.
3. Proof
Transfer the dough to an oiled bowl turning it over so the dough is coated on both sides. Let it rest in a warm spot until doubled, 60 to 90 minutes.
Punch the dough down and place it on a prepared sheet pan. Shape it into a rectangle approximately 1/2 inch thick. Dimple the dough with your fingers or the back of a wooden spoon.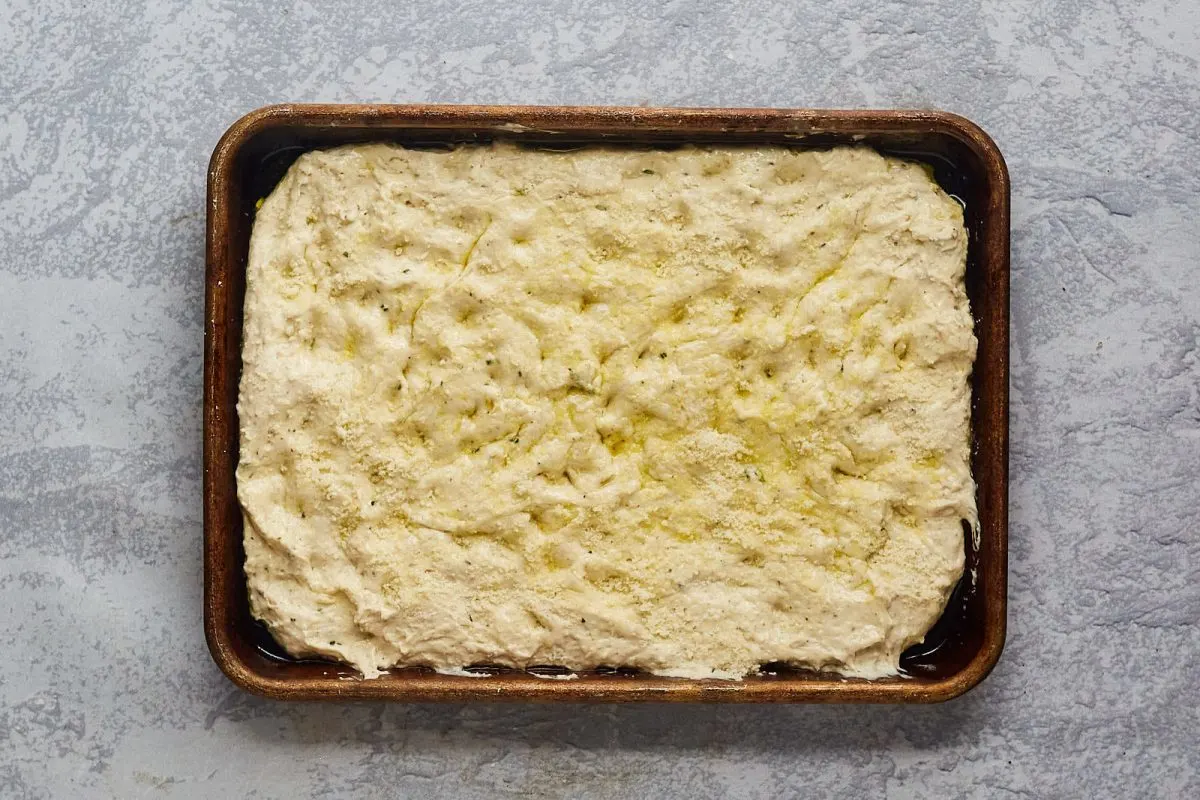 4. Bake
Brush the dough with olive oil and apply your toppings. Let it rest for 15 to 20 minutes.
Bake for 15 to 25 minutes.
Easy Focaccia Bread FAQs
Why do you dimple focaccia bread dough?
You would think it's just for appearance but it also serves an important purpose. Dimpling the bread allows the dough to puff up and become fluffy as air bubbles are created and trapped in the dough during baking.
If you forget to dimple the bread, the air bubbles will burst and the bread will be less fluffy and flat.
What if you under knead rosemary focaccia bread?
Under kneading focaccia dough will result in a flat, dense, and less springy crumb.
Why is focaccia bread dough punched down?
When the dough is punched down, it removes large air bubbles, trapping smaller air bubbles.
Do you have to use olive oil?
No, you don't. Any oil, even canola oil or sunflower oil will work. The flavor will change according to what you use.
Can this recipe for focaccia bread be made ahead of time?
Yes, it can! After kneading the dough, place it in an oiled bowl in the refrigerator, covered, overnight. The next day remove the dough from the refrigerator, preheat the oven, and let the dough sit for 20 to 30 minutes to become pliable.
Shape and dimple the dough. Brush it with olive oil and top it with the desired ingredients, and let it rest for 15 to 20 minutes. Bake.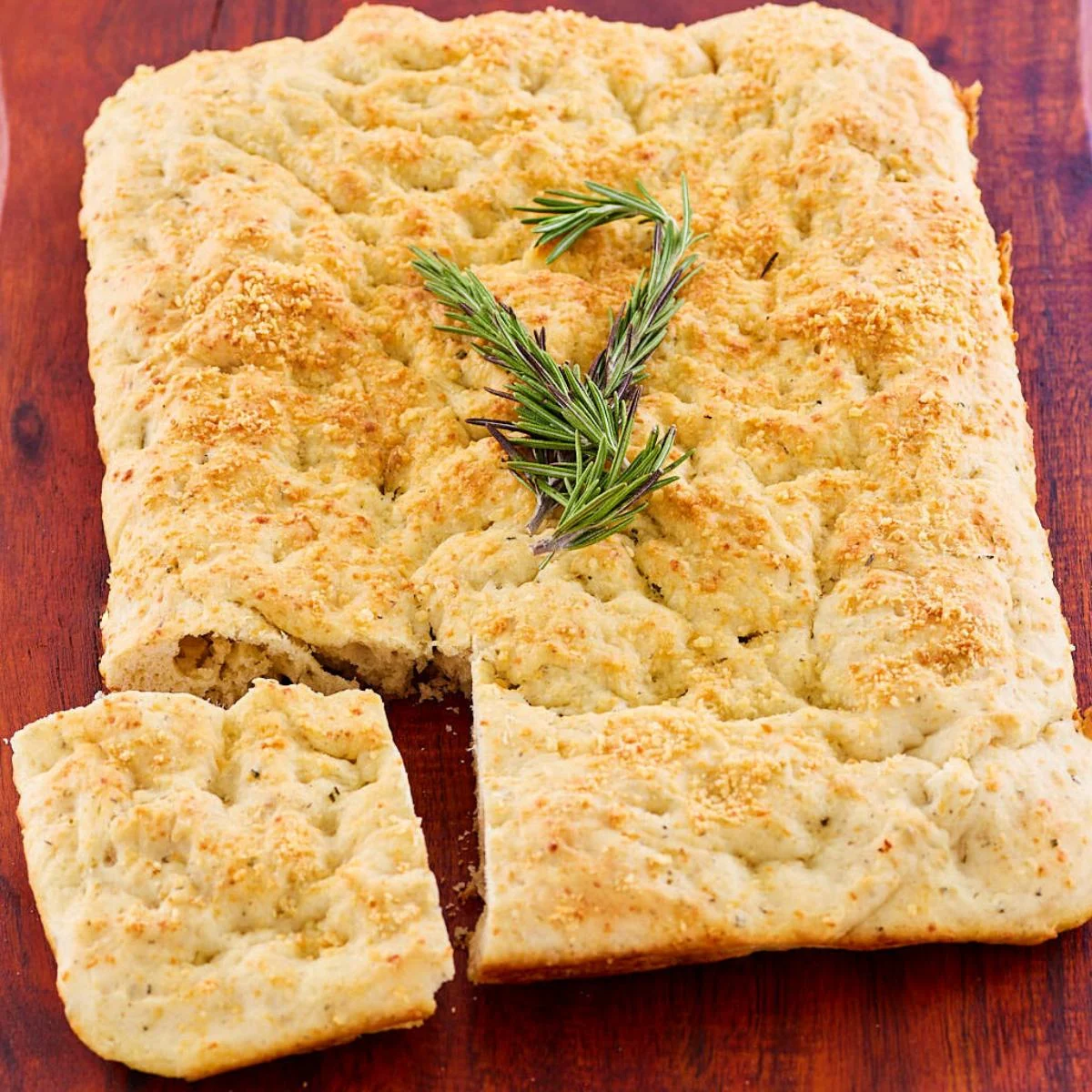 Focaccia Bread Recipe Variations
Traditionally Focaccia is made with Parmesan Reggiano and rosemary. It's also my go-to combination.
Focaccia can be topped with a variety of toppings ranging from rosemary and sea salt to different types of cheese, herbs, vegetables, and even fruit. Here are a few ideas.
Cheese – Use romano or asiago or any hard cheese that can be grated.
tomatoes – Sundried tomatoes or fresh cherry tomatoes. The sugar content in sun-dried tomatoes can cause them to burn under a high oven temperature so watch them while they bake.
Olives – Chop green, black, or a mixed variety. Include them in the bread dough and on the top. Make sure you drain them so you don't add a lot of liquid.
Herbs – We used fresh herbs but dried ones will work in this recipe. You don't have to use all of the ones that we did, (rosemary, thyme, and oregano). Add sage, basil, or your favorite herb.

You can also use dried seasoning blends such as Italian Seasoning, Herbs de Provence, or a Mediterranean Spice blend.

Vegetables – Red onion, zucchini, or asparagus thinly sliced would add color and another flavor.
Sea Salt – Sprinkling the top of foccica bread is delicious.
Shape – You don't have to shape this bread into a rectangle. You can shape it any way you want as long as it's about 1/2 inch thick. Instead of a baking sheet, you can also bake it in a 9×13 pan or round cake pans.
Tips for the BEST Focaccia Bread Recipe
Oil the sheet pan with a generous amount of olive oil when preparing it. The dough will absorb it and create crispy edges and additional flavor.
Thoroughly preheat the oven and don't open the door for any longer than you have to. The heat is what creates a fluffy crumb.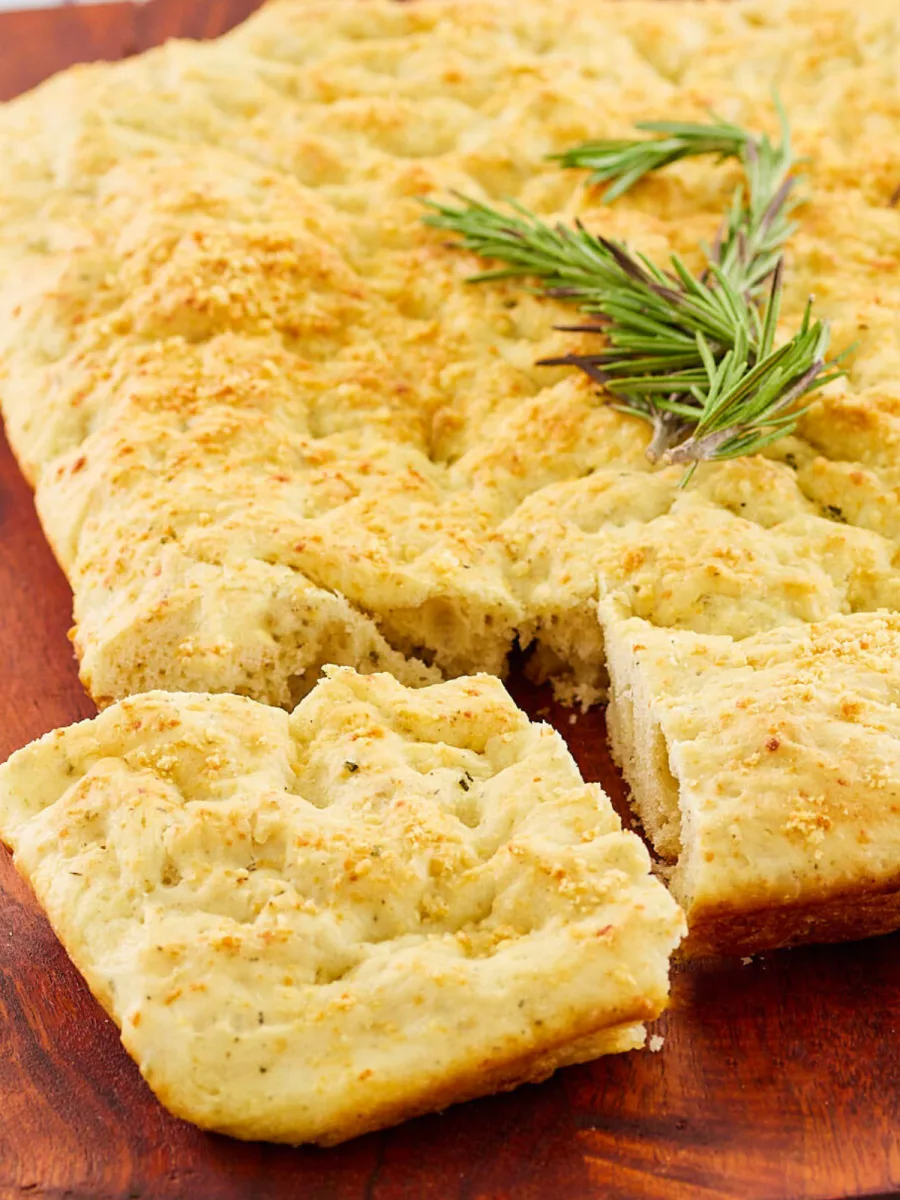 How to serve Easy Focaccia
The first time I made this bread I took it to a gathering of friends. I put it on a nice cutting board and didn't even take butter. It doesn't need it.
Here are a few more of my favorite ways to serve it.
Appetizer Course
Sliced with dips.

Olive oil dusted with cracked pepper and parmesan cheese
Pesto
Marinara

Add it to a charcuterie tray with Italian meats, cheeses, and anti-pasta ingredients such as olives and blistered tomatoes. Here are some ideas to make your own cheese tray.
Simply with a glass of wine or a cup of coffee for a quick snack.
Dinner (main course)
How to store Traditional Focaccia Bread
Store Focaccia with rosemary at room temperature in an airtight container for up to 3 days.
Focaccia can be frozen. Place it in an airtight freezer bag and then wrap it in foil or an airtight container for up to 3 months.
Note: Don't slice the focaccia bread before freezing. It can dry out.
If you tried this delicious recipe, don't forget to rate it and leave me a comment telling me what you think. I love hearing from you!
More easy bread recipes!
We LOVE baking bread! You can find all of our bread recipes here!
Pin it!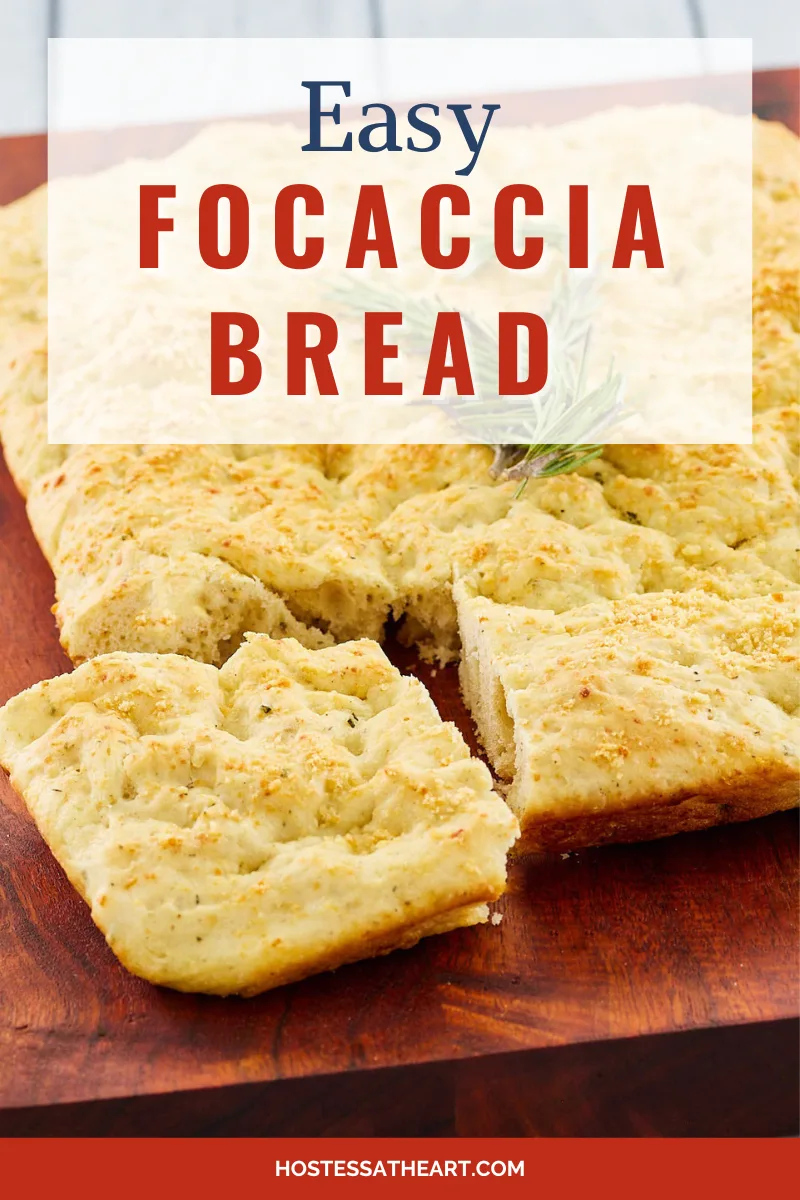 We love this easy Focaccia recipe and have made it several times. If you make it we hope you'll let us know!
This post was originally posted in 2015 and has been updated to improve the reader's experience. No changes were made to the recipe.