Italian Ground Beef Goulash is a spin on a classic that everyone's going to love. Goulash is comfort food that comes together quickly making it the perfect anytime meal.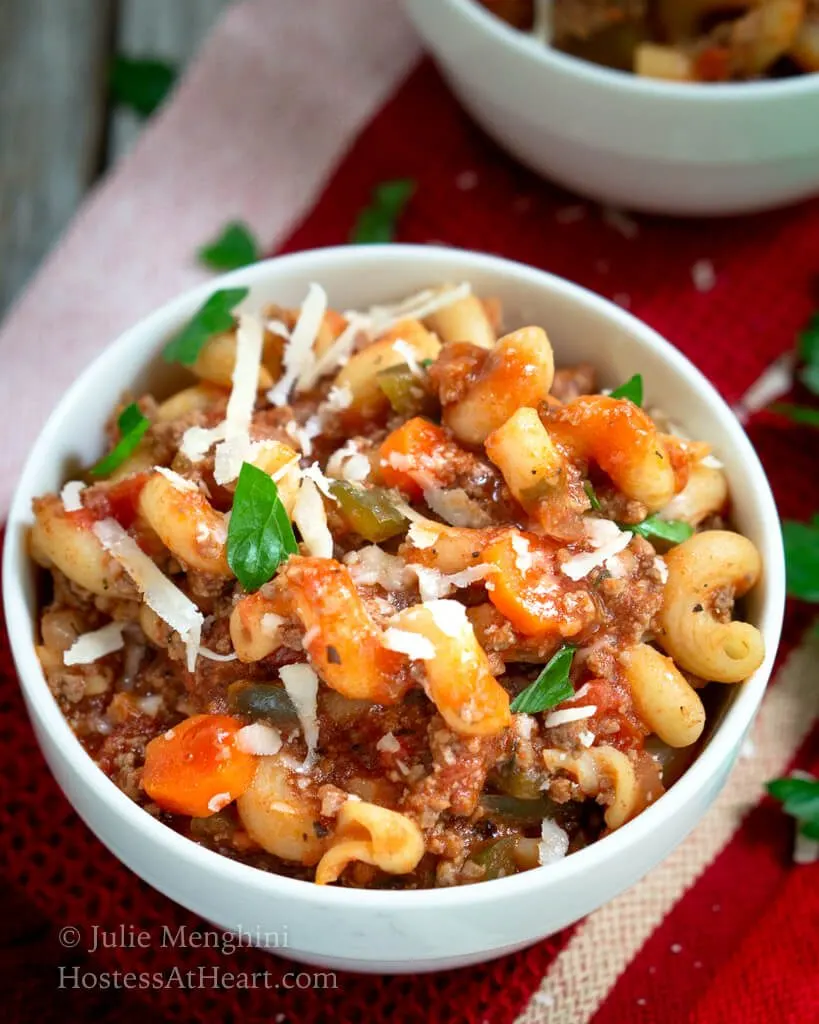 There are as many recipes for goulash as there are people that make it. You're going to love this Italian Ground Beef Goulash recipe. It's simple to make and delicious to eat!
What is goulash?
Wikipedia defines goulash as: is a stew of meat, usually seasoned with paprika and other spices.
Goulash is comfort food regardless of how you define it. I've dressed this recipe up a little bit and am sharing how I make one of our favorite comfort food recipes, Goulash, Italian style.

Is Goulash Italian?
Truthfully there are as many goulash recipes as there are people that make it. Goulash is traditionally Hungarian but different versions have emerged using the same ingredients regardless of what it's called.
My mother didn't have this definition. Her recipe was ground beef cooked with onions, some elbow macaroni, and tomato juice. Salt and pepper were her spices. Paprika would have been a foreign word.
Equipment you will need to make this recipe for Italian Goulash
Skillet – The majority of this recipe is made in one skillet, and this skillet is a workhorse in my kitchen.
Pasta Cooker – I like using a pasta cooker because it allows me to cook pasta with less water and drain my pasta without losing my pasta water. I use the pot by itself when I need a large pot too.
Italian Goulash Recipe Ingredients
Ground Beef – Ground chuck works well in this recipe but use what you prefer. You could even use ground Italian sausage!
Onion – Yellow onion is what I used but use what you like.
Vegetables – Carrots, green pepper, and celery. Mushrooms and fresh spinach would be amazing.
Crushed tomatoes – Canned is what I use for convenience.
Tomato paste – Adds flavor and thickens this easy Italian Goulash recipe.
Beef broth – Purchased or homemade.
Seasoning – Italian blend seasoning, garlic powder, salt, and pepper. You could use oregano in place of the Italian seasoning blend. Optional fresh parsley as a garnish. It adds flavor and makes the dish look gourmet.
Pasta – Any shape of noodle works. I used Cavatappi because it has little ridges that hold all that saucy goodness. It's also a little thicker so it will not get mushy.
Cheese – Freshly grated Parmesan in the goulash and a hefty garnish are what we like.
Actually, I like using spices and spice blends. Spice blends are a great way to add a spice profile without having to buy 9 different kinds of spices.
Two of my favorites are Italian Seasoning Blend and Herbs de Provence. You can also use your favorite pasta.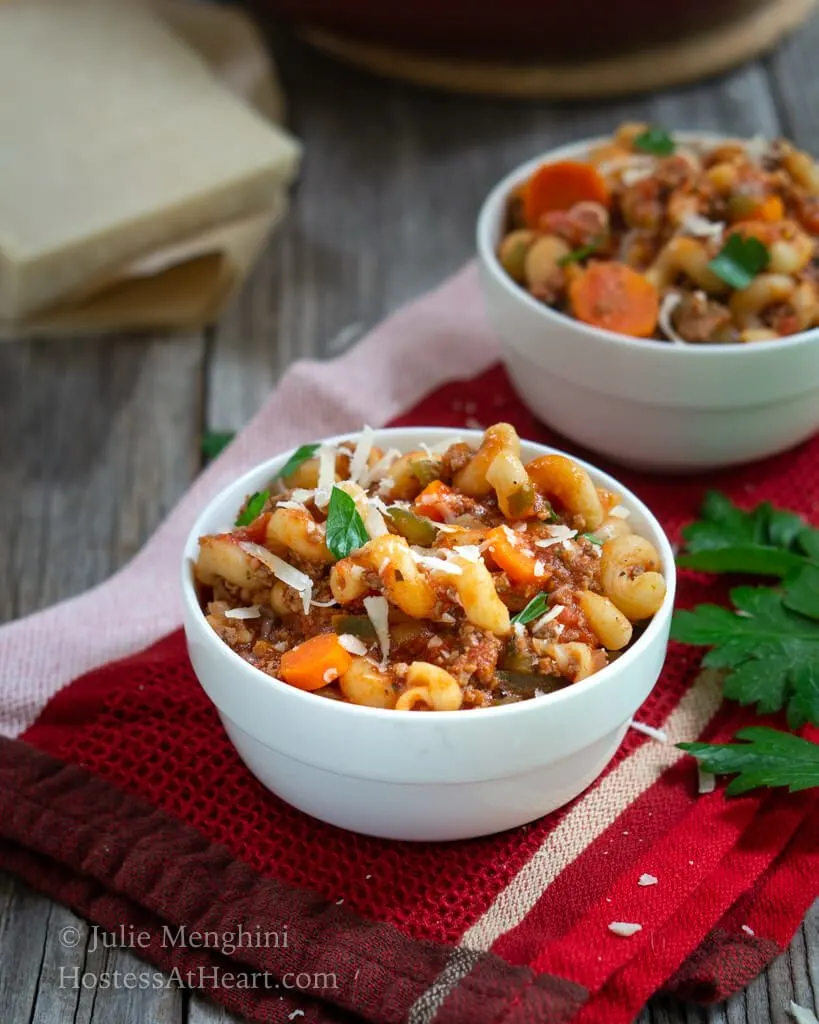 How to make Italian Goulash Recipe
Step 1: Cook the onion and beef until the beef is no longer pink. Remove the beef from the skillet and allow it to drain on a paper towel-lined plate.
Step 2: Add carrots, green pepper, and celery to the beef juices in the pan. Cook and then drain the juices if necessary.
Step 3: Add the beef and onion mixture back to the pan holding the sauteed vegetables. Add all of the remaining ingredients except for the parmesan and cooked pasta. Allow the Italian Goulash ingredients to simmer until the broth has cooked down.
Step 4: Stir in the pasta and the parmesan and serve.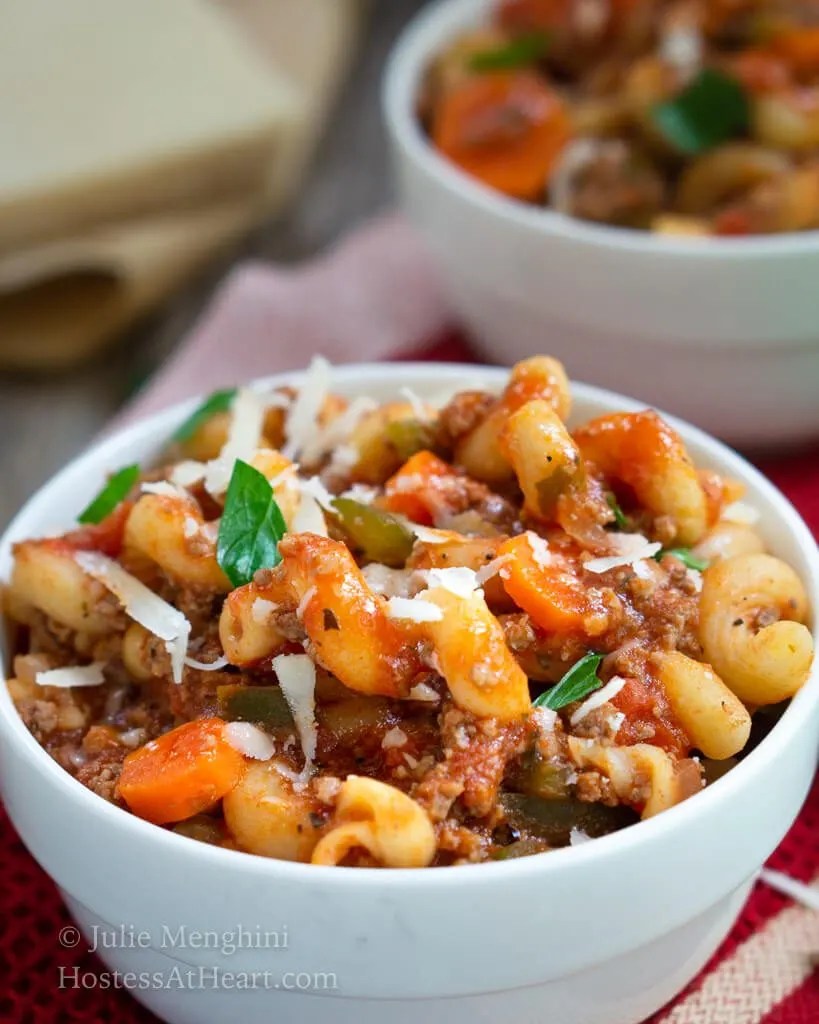 What to serve with Italian Beef Goulash
My favorite thing to eat with goulash is an amazing piece of Italian Bread to sop up those delicious juices. Add a simple Salad and you've got a meal to be proud of.
This is a simple recipe that makes it perfect for a weeknight meal.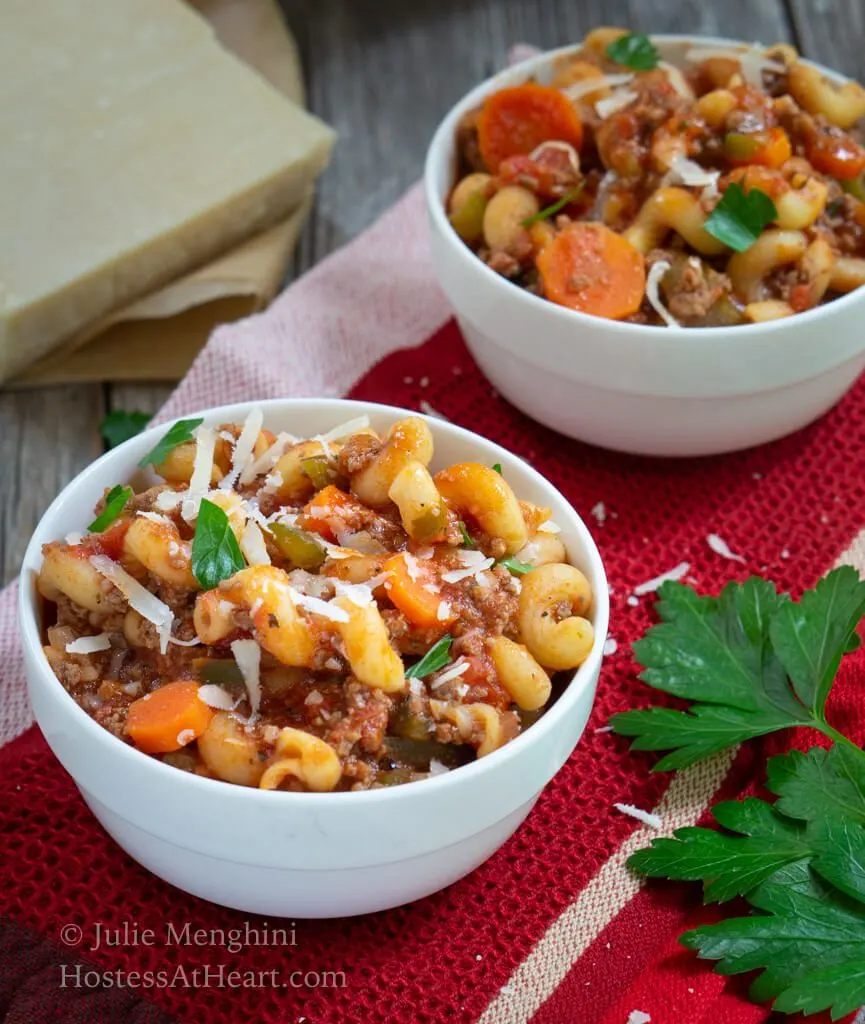 How to Store and Reheat Italian Goulash
I have a pretty consistent habit of cooking more than we can eat. Leftover goulash can be stored in an air-tight container in the refrigerator for up to 5 days. We believe it's even better on the second day.
Goulash freezes really well too. Just put it in an airtight container or freezer-grade reclosable bag for up to 3 months. You can thaw Italian goulash in the refrigerator overnight or leave it out at room temperature.
Reheat beef goulash in a covered saucepan with a little water or in the microwave. Add an additional cheese garnish.
Don't have time to make it now?

Pin it

for later!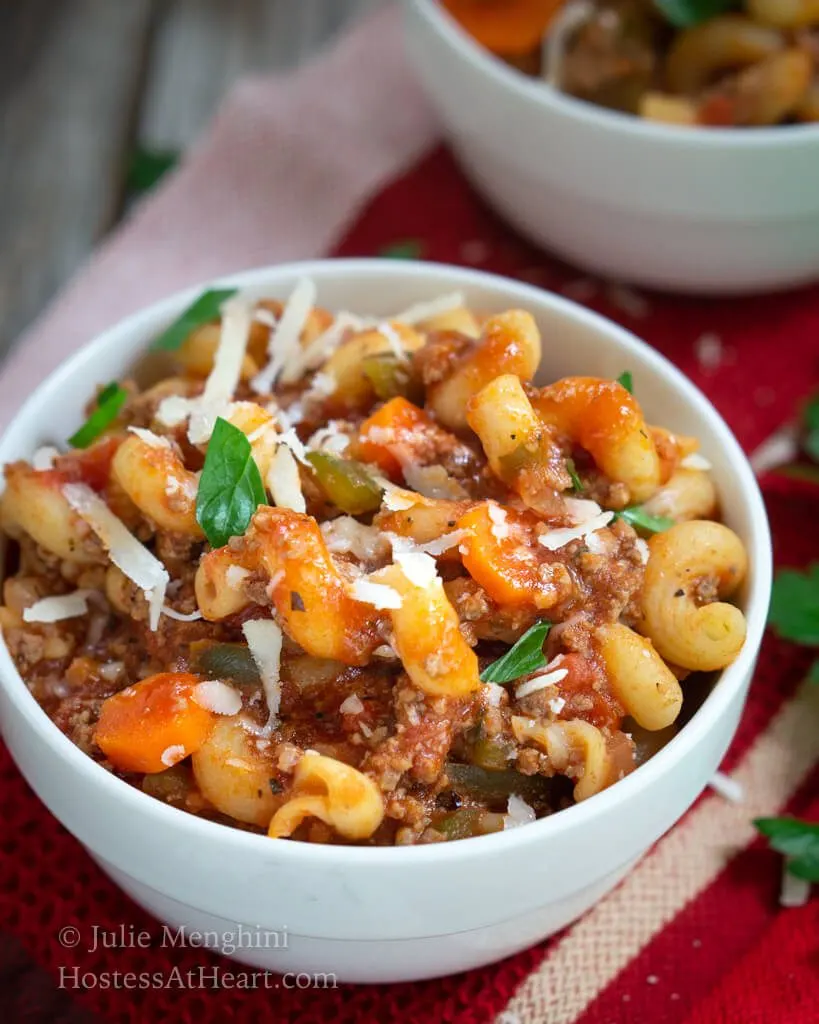 If you liked this easy dinner recipe, here are a few more recipes you may enjoy
Don't forget to stop back and let me know how your Italian Goulash recipe turned out!
What is your version? I'd love it if you would share!
I get how tough it can be to cook for the family when you're working and everyone has their activities. Here are a few more recipes that are easy to make and delicious to eat.
This post has been updated to improve my reader's experience. No changes were made to the recipe.