Creamy Shrimp Pasta recipe with bursts of tomato flavor and fresh spinach tastes like pure decadence. This simple shrimp pasta dish comes together quickly and makes a great weeknight meal or elegant enough for company.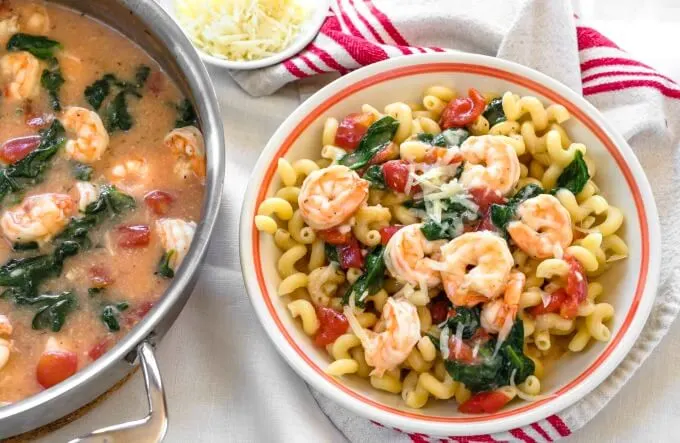 Easy pasta recipes with shrimp are always a favorite in our house. They're delicious with simple ingredients or can be loaded with cream and cheese sauces.
True story here. I have a good friend that worked for the Red Cross so was adamant about giving blood. She saw first hand what happened when there was a shortage of blood and did her part giving.
We got together and she told me that she'd had lunch before she went to give blood and had ordered an Alfredo pasta dish. When she got hooked up for her donation there was so much fat in her blood that it would hardly go through the cannula. They unhooked her and told her to come back another time.
I haven't eaten Alfredo sauce since!
Alfredo sauce is a combination of cream, butter, and cheese. Basically, a decadent fat sauce.
That being said, it hasn't stopped me from making my own version of a cheesy cream sauce. This easy Shrimp Pasta recipe doesn't have a drop of cream or butter in it! You'd never know it though.
I'm not calling this a healthy dish. It does have some delicious grated cheese that takes a simple shrimp recipe and elevates it to company status even though it comes together fast enough to make after a day of work.
What's the best shrimp size for this delicious pasta with shrimp?
Shrimp are sold in the U.S. by the pound. They are categorized according to how many it takes to make a pound as follows:
| | |
| --- | --- |
| Size | Count by pound |
| Colossal | Under 15 |
| Jumbo | 21/25 |
| Large | 31/35 |
| Medium | 41/50 |
| Small | 51/60 |
The above information varies according to the supplier so go by the count before the description on the packaging. I buy the Jumbo size but the large work well too. I buy them when they're on sale and put them in the freezer.
Shrimp go great in all kinds of dishes. Cheese varieties, flavors, courses, and cuisines are endless. A bag of shrimp in the freezer have you ready for anything including this easy shrimp pasta recipe. Keep scrolling for more shrimp inspiration!
What's the best kind of cheese to use in this creamy shrimp pasta dish?
I used Grand Cru which is the United States version of Gruyere. Other cheeses that would be delicious in this dish are as follows:
Jarlesberg
Emmentaler
Raclette
Compte
The best cheese is one that you like. See if you can sample the cheese you want to try before buying it. I really recommend buying it by the block and grating it yourself. It's usually cheaper and it doesn't add that much extra time, and I think it tastes fresher. The anti-clump ingredient in bags of shredded cheese dries the cheese.
---
What is Gruyere Cheese?
Named for the town of Gruyères in Switzerland where it was originally made, Gruyere cheese is a firm cheese with a pale yellow color and a rich, creamy, slightly nutty taste. Gruyere (pronounced "groo-YAIR") is a smooth-melting type of Swiss cheese that's made from whole cow's milk and generally cured for six months or longer.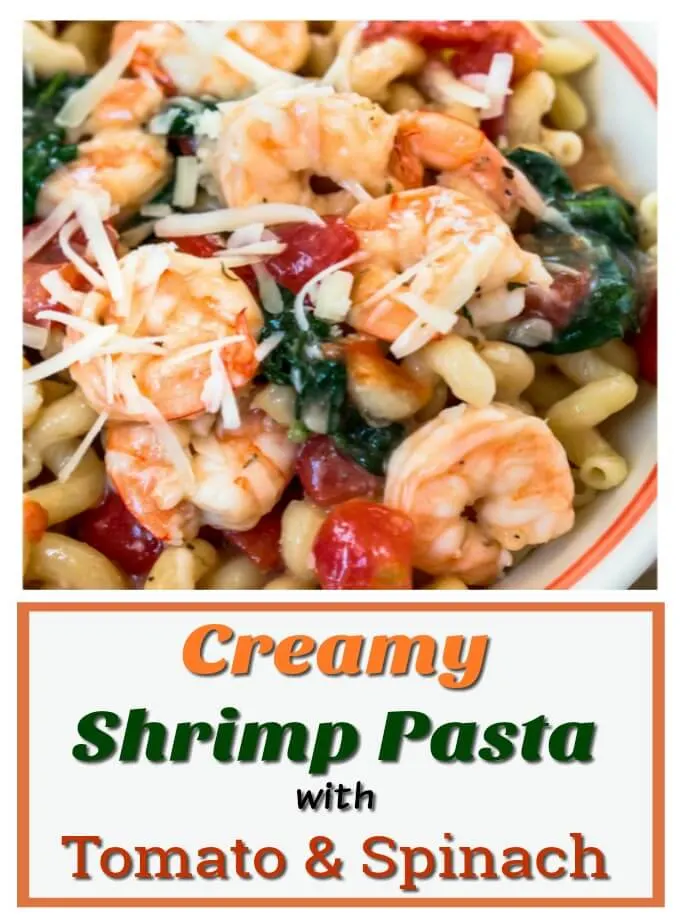 We're shrimp fanatics in this house! If you are too, I think you'll like these recipes!
You Might Need:
Pasta Cooker – I like using a pasta cooker because it allows me to cook pasta with less water and drain my pasta without losing my pasta water. I use the pot by itself when I need a large pot too.
Spaghetti Server – This server can grab a lot of pasta. It's nice and heavy and a good looking serving tool too.
Boxed Grater – I shred my own cheese. I think the cheese is fresher, doesn't contain anti-clumping agents, and is more cost effective.
Still looking for easy pasta dishes? Here are a few of our favorites!
What is your favorite sauce for pasta? Please leave us a comment! I get my inspiration from you!