This Sheet Pan Shrimp with Green Beans and Potatoes will become your go-to for last-minute dinner for either family or company you find yourself entertaining. Succulent shrimp, with perfectly cooked potatoes and roasted green beans all on one tray for easy cleanup.
Shrimp is great for dinner and if you like this Sheet Pan Shrimp and Vegetable recipe I know you'll like these other super-quick dinners of Baked Blackened Shrimp or Creamy Shrimp Alfredo.
Shrimp Sheet Pan Dinner is one of the easiest dinners you'll ever make.
Using just a few ingredients you can have dinner on the table in about 35 minutes. It's full of filling vegetables of green beans and tender potatoes with a simple southern spice mix that's easy to mix up! Large colossal shrimp cook to perfection by cooking them at the very end so they stay nice and succulent.
I'm Michele and I write about food over at West Via Midwest. I'm excited to guest post on Julie's site today about a quick and easy dinner. Who doesn't want quick and easy these days with how crazy things are— or how crazy busy you are?!?
Pin it now!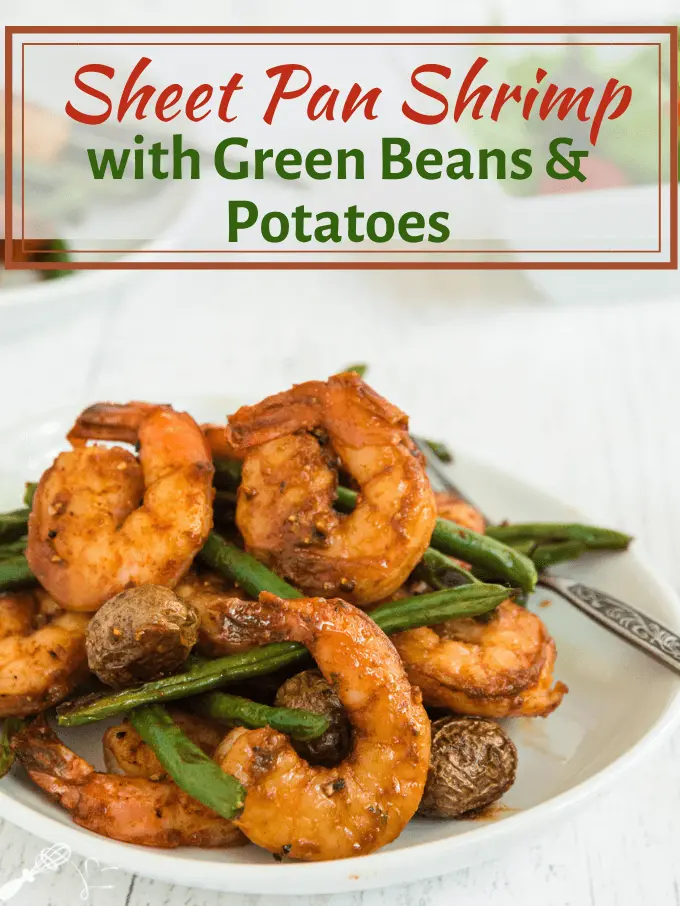 My favorite thing about this meal is that it's simple enough for weeknight dinners but it's elegant enough with big juicy delicious shrimp you can serve it to company with no guilt!
The other added bonus is you can totally customize this meal to whatever you have on hand. I used green beans and potatoes, but you can make them with whatever vegetables you have on hand.
Simple Spice mix for Shrimp
This spice mix is actually an adaptation of my pork seasoning mix. It has paprika, celery salt, sugar, onion powder and mustard powder in it. The only difference is I swapped out lemon peel for lime and gave you an individual measurement versus having a bunch to use on other things like pork ribs, burgers, and chicken breasts.
Don't want to take the time to mix up the spice mix I have in here? Use one you already have on hand like any of the following:
Even a bbq spice rub. Seriously, any seasoning will work!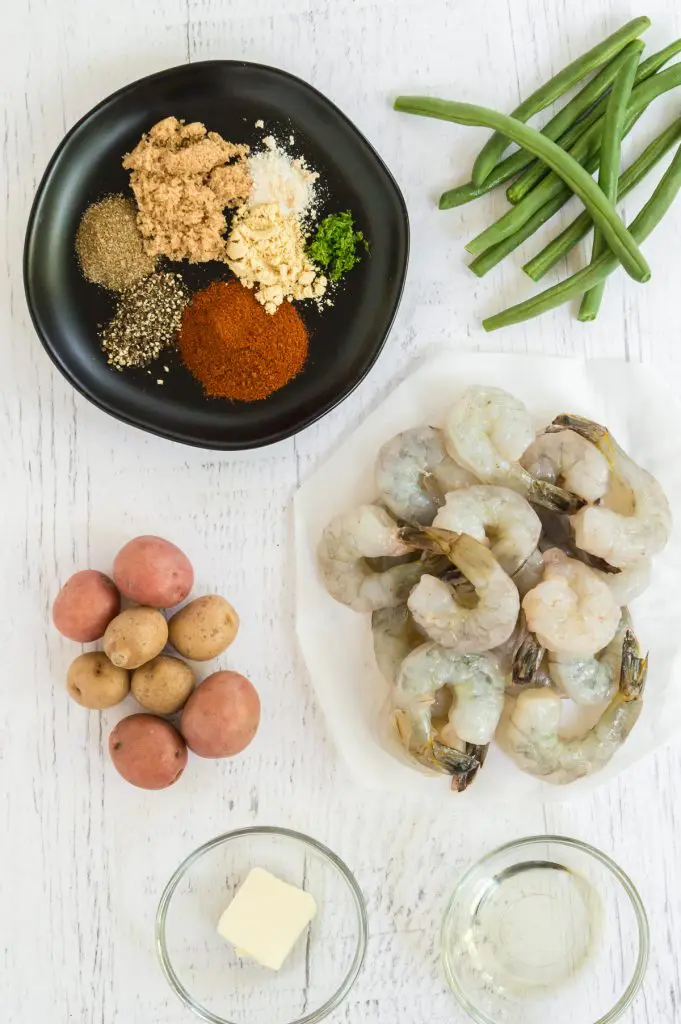 Tips for Making this Sheet Pan Shrimp Recipe Successfully
Buy Colossal Shrimp or larger. It will be about 16-18 shrimp per pound. Any other size is so small that when baking it in the oven they will dry out.
Be sure to use raw shrimp, pre-cooked is great for shrimp cocktail but won't work in this recipe.
Defrost your shrimp completely so they can cook evenly.
Use tiny potatoes so they cook in the allotted time. If you get some that are too big, just cut them into smaller pieces!
The trick to this recipe is to cook in stages. You'll cook the potatoes for a while, then add the green beans and then finally finish off by adding the shrimp to quickly cook. Doing this cooking in stages makes it so that everything is cooked to perfection— no raw potatoes, mushy green beans or dried out shrimp with this method!
Looking for a clean-up tip? Line your pan with foil so all you have to do is pull it out and throw it away. The pan cleans up much faster that way!
PRO TIP: When you add the shrimp to the pan, drizzle a little butter over the whole pan to really release all the juices. You'll want to spoon all that butter over your dinner for added deliciousness!
Other Vegetables you Might want to use
Asparagus
Green or Red Peppers
Broccoli
Tomatoes (use small grape tomatoes)
Onions (slice these up to small slivers)
Mushrooms
Equipment you may need for your Shrimp Sheet Pan dinner
Baking sheets – These sheet pans are durable and I have four of them so I can get everything baked in a jiffy!
Oven Mitts – When I work with heavy pots and pans I want an oven mitt versus a hot pad. These mitts are heat rated to 550° so are good for the oven or bbq and come in several colors. They also come in a longer length for longer arms!
Tongs – I like this set with the silicone tips. They will not scratch your pan surfaces.
Questions you might have when Making Sheet Pan Meals
I forgot to defrost the shrimp, what can I do?
This is an easy one. Place the shrimp in a colander and run lukewarm water over it.

Then place the colander or strainer in a bowl and fill with lukewarm water. Leave it for 10 minutes, then drain water that will be chilled from the defrosting shrimp.

Fill the water up again and leave for another 5-10 minutes. Your shrimp should be defrosted at this point, of not repeat until it does.
Do I have to take the shells off of the shrimp?
No, you don't have to. I usually remove all of the shells or just leave the tail on for easy removal.

But with or without the shell, the shrimp will be succulent because you are only cooking it for such a short period of time.
What can I serve this shrimp dinner with?
Serve the sheetpan shrimp on its own or over rice. If you serve it alone you can have some nice crusty bread with it to sop up the juices.
Pin this Delicious Shrimp and Vegetables Recipe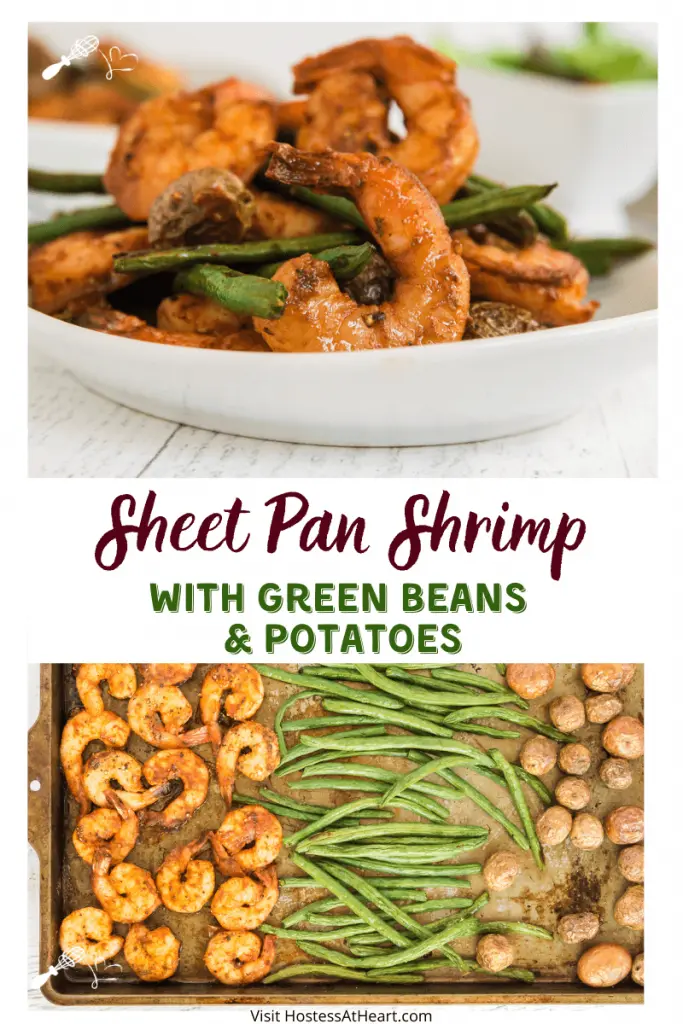 More Shimp Recipes You Might Enjoy!
Our most popular recipes!