Sensational Baked Blackened Shrimp Recipe delivers a plump mouthwatering shrimp that's spicy red. It makes a great appetizer or is perfect for tacos or on pasta and waistline-friendly!
This post was updated 1/9/19 to improve the reader experience. There were no changes made to the recipe.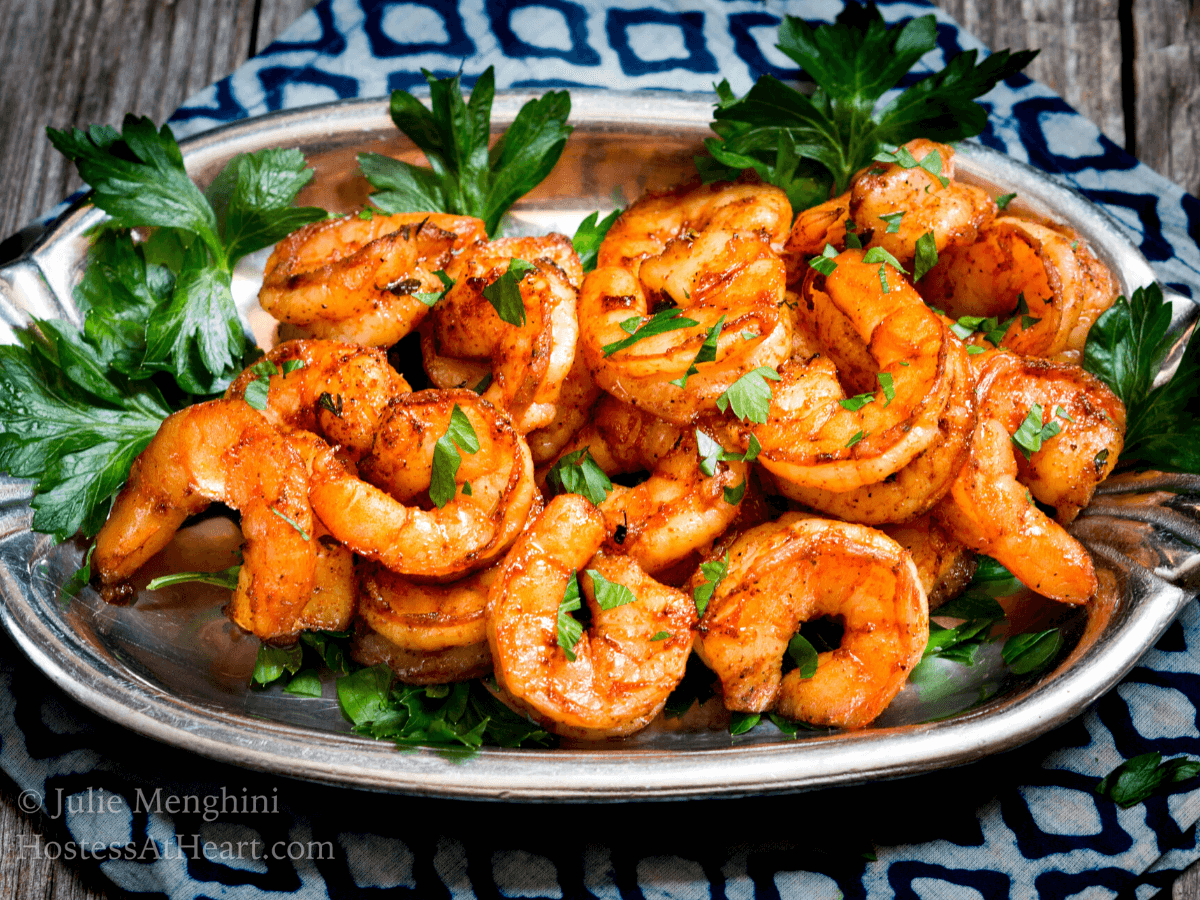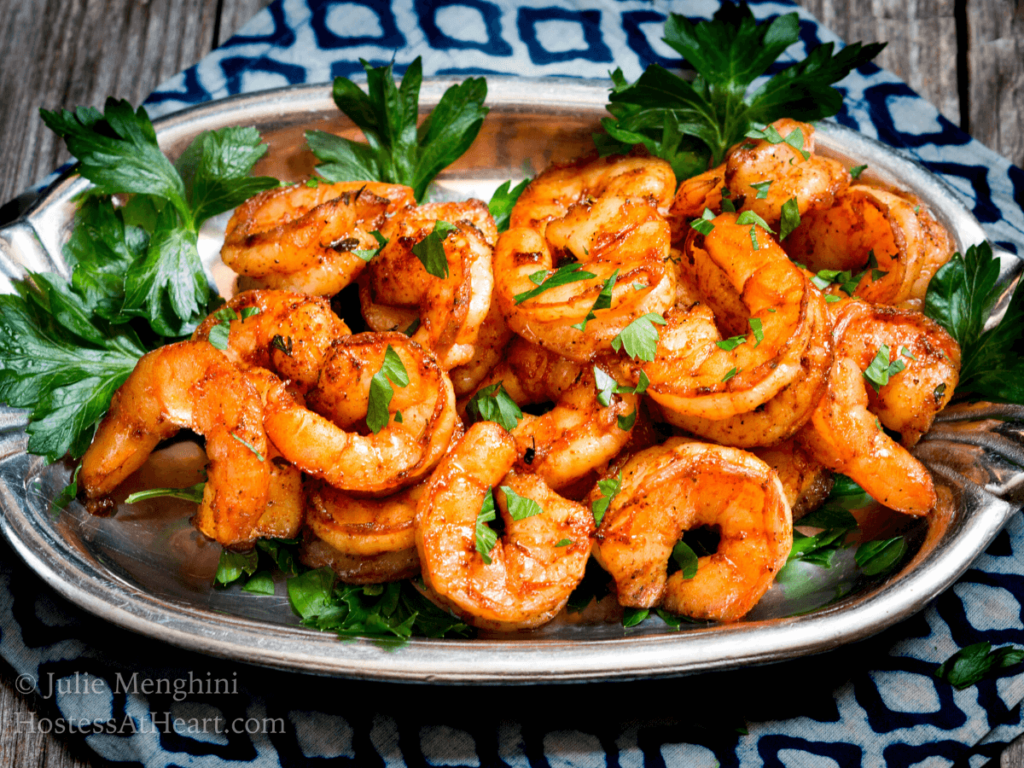 Sensational Baked Blackened Shrimp Recipe is bursting with spicy delicious flavor. This shrimp recipe makes a quick and easy appetizer and is perfect in tacos, on salad, pasta or rice.
Forrest Gump comes to mind when I think of shrimp. Because it's true that it can be prepared in so many different ways. We LOVE Blackened Shrimp.
Well, maybe we just love blackened anything? Baking shrimp is now my go-to method because they're perfectly cooked every single time. No more rubbery or mushy results…yuck.
Spicy shrimp makes this a healthier option when prepared as we do in this recipe and it takes only 10 minutes to get these mouthwatering perfectly cooked shrimp to your table. I call that a win win!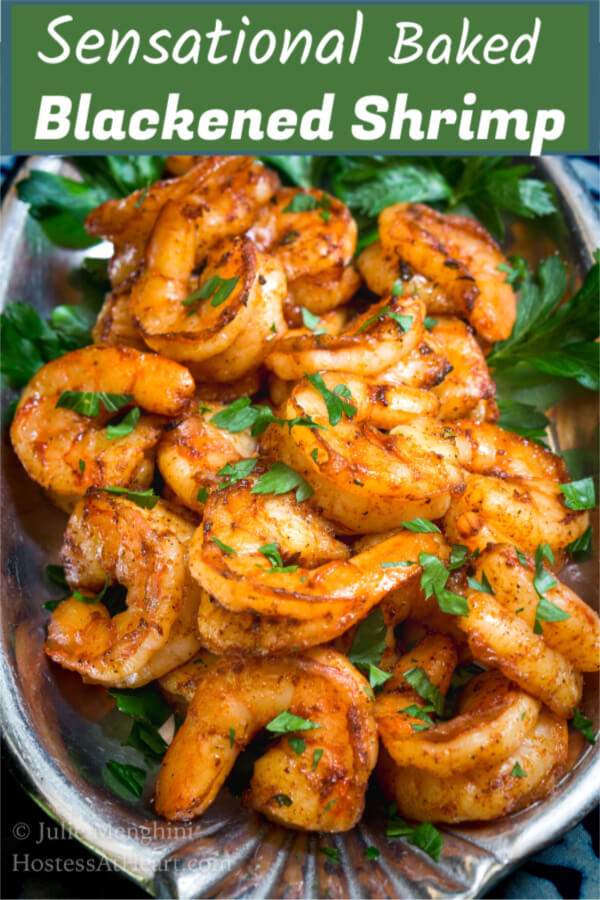 I've been up to my eyeballs in baked desserts lately. I guess our leaving Santa Claus a plate of cookies has morphed into a full dessert buffet. Just being around all of it becomes too much.
So even though the holidays are a thing of the past for another year it doesn't mean our social life goes dormant.
We were invited to one of our friend's house and everyone was supposed to bring an appetizer.
I wanted something that would be delicious hot or cold. There always seem to be some dips and salsa appetizers so I decided to take this spicy shrimp recipe.
Little did I know there was going to be a contest of the most loved appetizer. This easy shrimp appetizer crushed the competition and I brought home a blue ribbon!
Best Blackened Seasoning
Even though there are so many ways you can season seafood, blackened is one of our favorites. Blackened seasoning is usually associated with Cajun cooking. Blackened seasoning spices vary but are known to have a combination of herbs and spices.
I prefer to mix up a lot of my own spices. You can easily buy a premixed blackened seasoning but I've tried so many that I finally made my own Homemade Blackened Seasoning Blend Recipe which is our absolute favorite. I know what's in it and I can adjust the heat to our liking.
What other dishes can I make with Baked Blackened Shrimp?
Tacos
Salads
Pasta
Rice or quinoa
Gumbo
How to shop for shrimp
There is not a live shrimp within 1,000 miles of where I live. Here in the midwest, we buy them two ways. Frozen or previously frozen so I pick it up when it's on sale and have it in my freezer year-round. Shrimp is great to have on hand.
If you have the option to buy fresh make sure that they don't have an ammonia smell, are mushy or are falling apart…. I don't think I even need to tell you this!
I found a great reference from Alton Brown that has a wealth of information including regulation and sustainability information on shrimp.
How do they determine the size of shrimp?
Shrimp size is based on how many shrimp it takes to make a pound. While regulations vary, this is a general guide. As you can see there is some overlap.
Small – 51 or more
Medium – 36-50
Large – 26-40
Jumbo – 16-25
Colossal – fewer than 15
One of the first things that I consider when I'm buying my shrimp is size. I probably buy Jumbo more than the other sizes. They do shrink as they cook even though it's a little less when they're baked but I don't want to have to search for a shrimp when I sit down to enjoy my meal or am grabbing my share from the appetizer platter.
TIPS FOR SHRIMP RECIPES
Save the shrimp peels and use them when you want to make a seafood broth or sauce. Just put them in the freezer for when you need them.
It's better to serve cooled shrimp than to try and keep them hot. They will just overcook and turn to seafood rubber.
When making a seafood dish or soup add shrimp at the very end. Use a seafood broth to enhance the seafood flavor instead of relying on the shrimp to do it.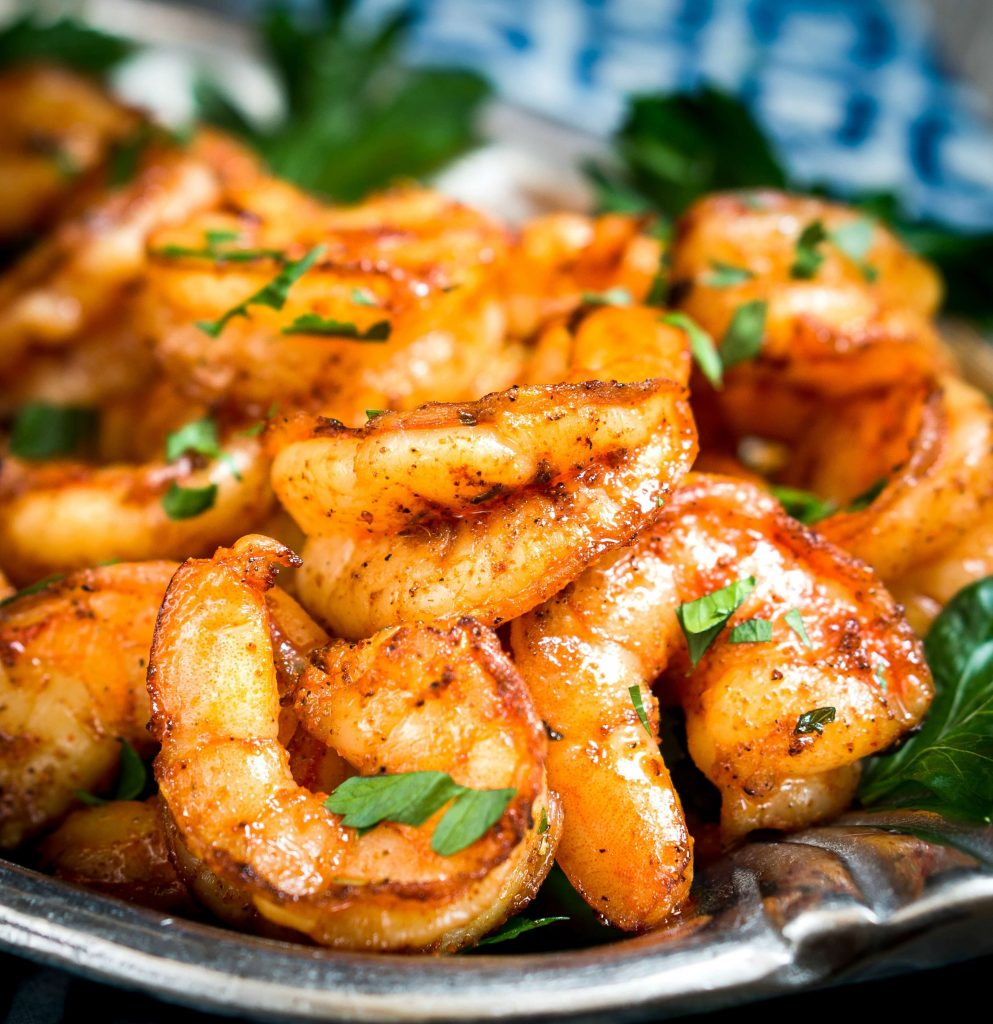 Products you may need to make Baked Blackened Shrimp:
Baking Sheets – These sheet pans are durable and I have four of them so I can get everything baked up in a jiffy.
Tongs – We have several of these tongs. They are perfect for grilling, mixing and combining about anything.
---
PIN THIS

TO YOUR FAVORITE APPETIZER BOARDS FOR EASY REFERENCE
---
Now just like in Forrest Gump, there are a ton of shrimp recipes. Here are a few of my favorites!
I would love it if you enjoy this recipe that you will leave me a comment and rate the recipe with 5 stars! ⭐️⭐️⭐️⭐️⭐️
If you like this Blackened Shrimp appetizer, I think you'll love these too!
It's always good to have a balance of things to serve and shrimp is a great contrast to chips and dips or sweets.
Sensational Baked Blackened Shrimp Recipe
Sensational Baked Blackened Shrimp Recipe delivers a plump mouthwatering shrimp that's spicy red and will keep them coming back for more.  It makes a great appetizer or is perfect for tacos or on pasta and waistline-friendly!

Ingredients
1

lb

raw shrimp

cleaned and deveined

2

tsp

blackened seasoning

ground

1/4

tsp

salt

1/4

tsp

pepper

ground

1

tbsp

olive oil

extra virgin

1/4

cup

parsley

chopped (optional)
Instructions
Preheat oven to 400F° and place a cooling rack on a baking sheet. Spray the rack with non-stick cooking spray.

In a medium-sized bowl, drizzle raw shrimp with olive oil until they are lightly coated. Add blackened seasoning, and salt and pepper. Mix until coated. You can allow them to marinate in the refrigerator for 30 minutes or cook immediately.


Lay shrimp on the prepared rack. Bake undisturbed for 8 to 10 minutes. Don't overcook.


Garnish with the fresh parsley if desired. Serve immediately or cover and refrigerate.

Notes
Baking method inspired by Ina Garten Food Network
Note: It's better to allow the shrimp to cool than to try and keep them warm. Shrimp overcook easily.
Nutrition
Calories:
78
kcal
|
Protein:
15
g
|
Fat:
1
g
|
Cholesterol:
190
mg
|
Sodium:
884
mg
|
Potassium:
74
mg
|
Vitamin A:
210
IU
|
Vitamin C:
6.4
mg
|
Calcium:
113
mg
|
Iron:
1.8
mg
This recipe was calculated using the exact brands and measurements I used to make this recipe. If you are following a strict diet please note changing anything will cause the nutritional info to change. My calculations are intended as a guide only.
We enjoyed this Blackened Shrimp so much and it's an easy appetizer to make and take for entertaining like a New Years' get-together or Superbowl party.
Baking them assures that they aren't going to get overcooked. That's my favorite way to cook them too.
What are your favorite recipes for appetizers? I'd love it if you would share. I get such inspiration from you and appreciate your visiting me today!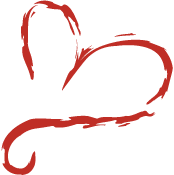 Thank you from the bottom of my heart for spending some time with me today!