Looking for a delicious and easy Beef Birria Tacos recipe? Look no further! This recipe features tender beef cooked in a flavorful blend of spices and chilies, all wrapped up in a warm tortilla for a delicious and satisfying meal.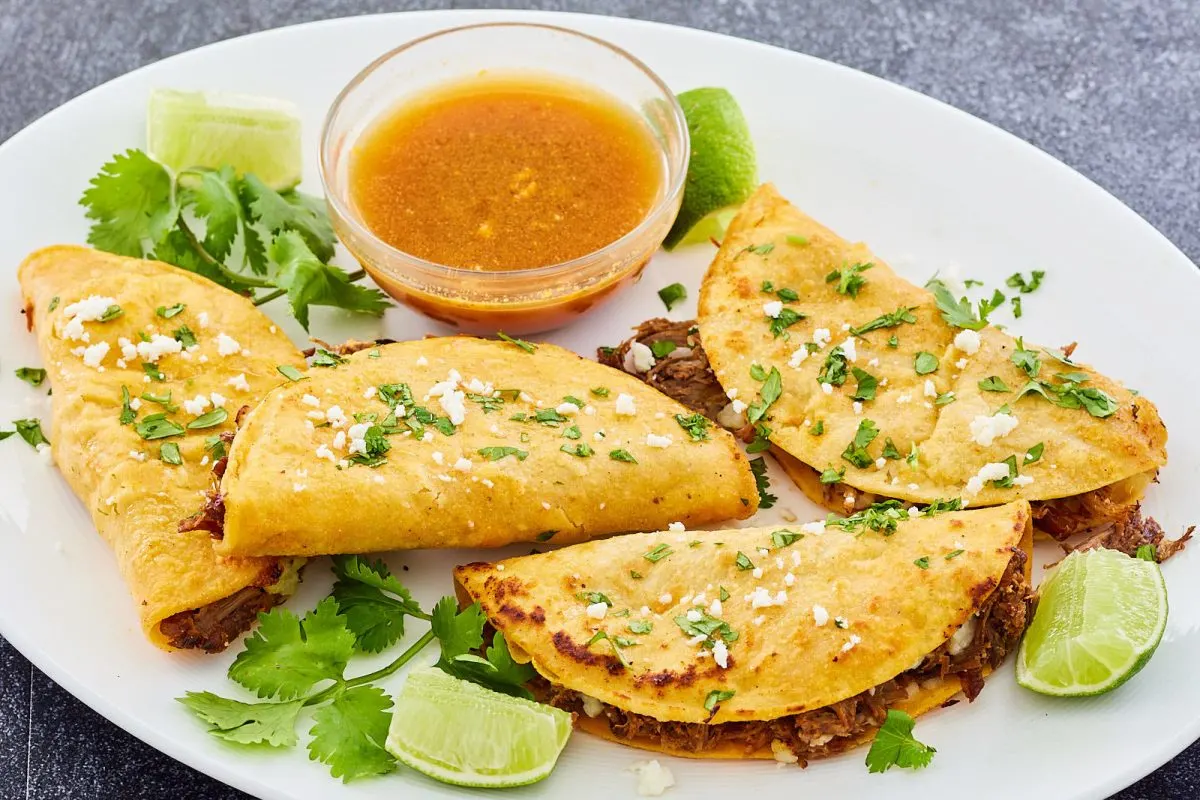 Perfect for any occasion, from weeknight dinners to entertaining guests. Try it today and experience the rich and savory flavors of this classic Mexican dish!
The spicy and unique flavors of our Birria Taco Recipe will take your guests on a culinary journey from the first bite to the last.
What are Birria Tacos?
Legend has it that a shepherd was forced to leave his goats in a cave during a volcano eruption and upon returning he found them perfectly steamed and delicious.
Originating in Birria, Mexico, this tasty mixture of shredded beef in a rich pepper sauce topped with cheese and then deep fried in bread or tortillas. It has been served for centuries. Today, beef or chicken are commonly used.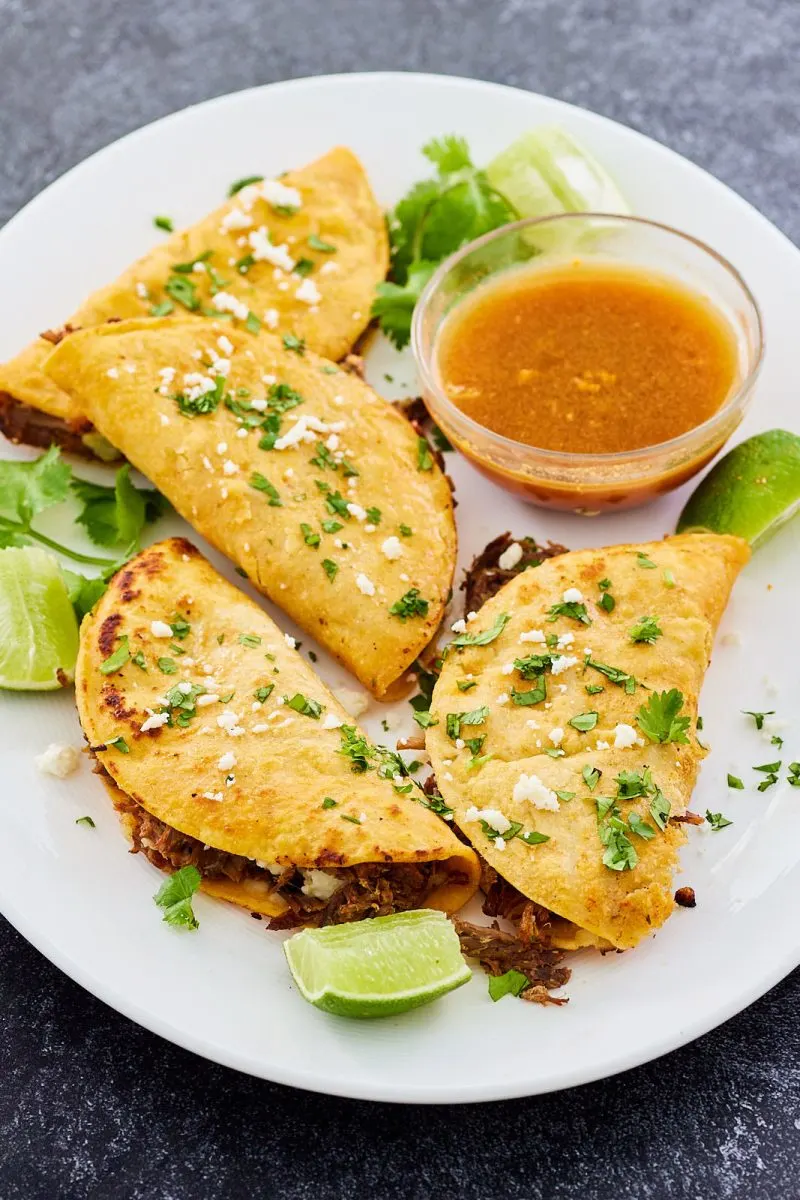 Why You'll Love Beef Birria Tacos
Incredible Flavor. Rich, savory, spicy birria beef is so good you won't believe the flavor.
Simple Recipe. It tastes complicated, but the recipe isn't complicated.
Comfort Food. While the dish has to simmer for a while to develop that incredible depth it is famous for, it's the perfect dish to make on the weekend. The smells coming from your kitchen will have everyone anticipating this amazing meal.
Equipment Needed
Hostess At Heart participates in affiliate programs. As an Amazon Associate, I earn a commission from qualifying purchases. Please refer to my disclosure page for more information about these affiliate programs.
Ingredients You'll Need for This Recipe
Traditional recipes used goat meat. I've taken the liberty to change up this Quesabirria taco using two rich and delicious cuts of beef.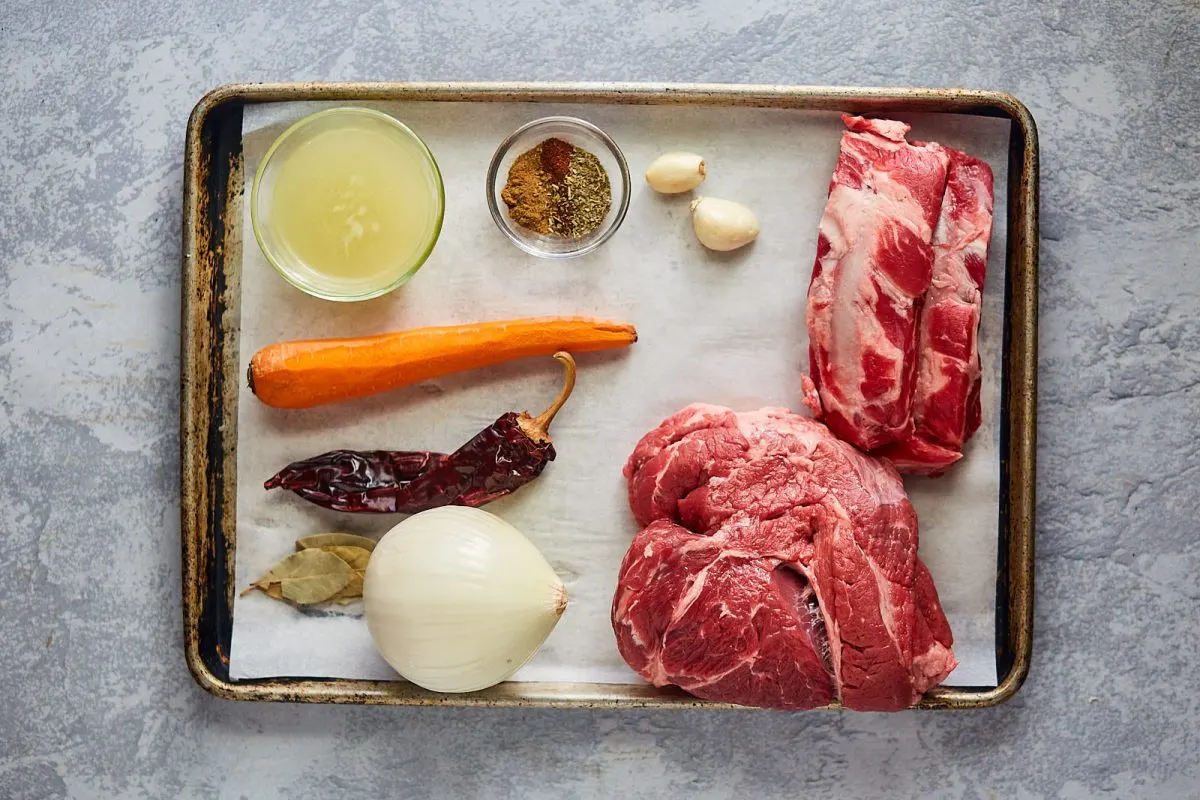 Water.
Chuck Roast. Look for one with a moderate amount of fat and even grains of marbling.
Bone-In Short Ribs. The bone adds significant flavor to the beautiful consommé used for dipping your tacos.
White Onion. You can use a sweet onion (sometimes labeled Vidalia) or yellow onion if needed.
Garlic Bulb. Each bulb has between 10 and 20 cloves of varying sizes.
Large Carrot. This will be removed at the end, so you can leave it whole or cut it into large pieces that can easily be removed after cooking.
Bay Leaves. While these leaves are not toxic, they do not break down in the stew and should be removed before you serve the sauce.
Guajillo Chiles. Guajillo chillies dried mirasol chile. They have a fruity smokey flavor and are considered a mild-medium pepper. They're hotter than a poblano but less than a jalapeno pepper, so mild in my opinion.

If you cannot find them in your regular grocery store, try a specialty store for Hispanic cuisine or a Whole Foods store. They can also be purchased onlin

e

If you're very sensitive to heat, dried ancho chiles, which are dried poblano peppers have mild heat, can be used.

Dried Chile lasts a long time and when added to a hot liquid develops an amazing flavor that you would think would only come from fresh.

Chicken Boullion. You can use the cube form or the granulated form. This adds depth to your sauce.
Chili Powder. This gives the dish its classic deep red appearance.
Mexican Oregano. I love the flavor of Mexican Oregano. It's got a smooth flavor and is not as bold as regular oregano. I use it so much that it's not one of those spices you buy and never use again.
Ground Cumin.
Salt.
We kept our spice profile very simple. Ground coriander, ground cloves, or cinnamon sticks can also be used. There's so much flavor in this dish that you don't need a lot of salt and pepper either.
Ingredients to Make Tacos
White Corn Tortillas. These have a slightly different flavor and are the most traditional for this dish. You can use yellow corn but I don't recommend flour tortillas for this recipe since they have a tendency to puff up when fried.
Cotija Cheese. A white, aged Mexican salty, crumbly cheese made from cow's milk and named after the town of Cotija, Michoacán. While it is in a class of its own, you can substitute it with queso fresco, quesadilla cheese, or even Monterey Jack Cheese if you cannot find this addictive cheese at your grocery store.
Onions and Cilantro. For garnish. Red onions would add a beautiful color.
How To Make Beef Birria Tacos
Please note, that the printable recipe card has ingredient quantities, complete instructions, and nutritional information. The following is a quick overview of the recipe.
Step One: Get started making beef birria tacos.
Place the birria meat and all of the vegetables in a large dutch oven or stock pot and cover them with water. Add the herbs and spices (except chili powder) and bring the mixture to a low boil.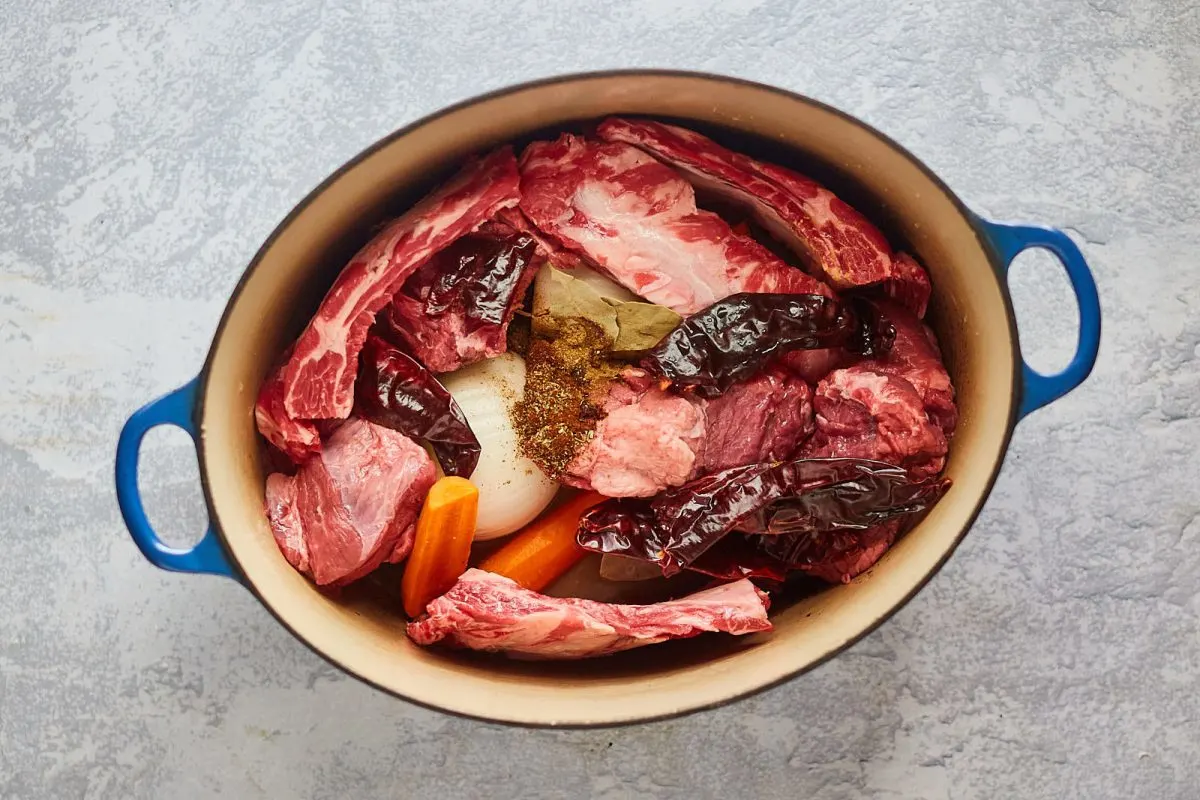 Step Two: Boil.
Let the pot boil for thirty minutes and then skim off the top to remove the impurities.
Step Three: Puree the peppers.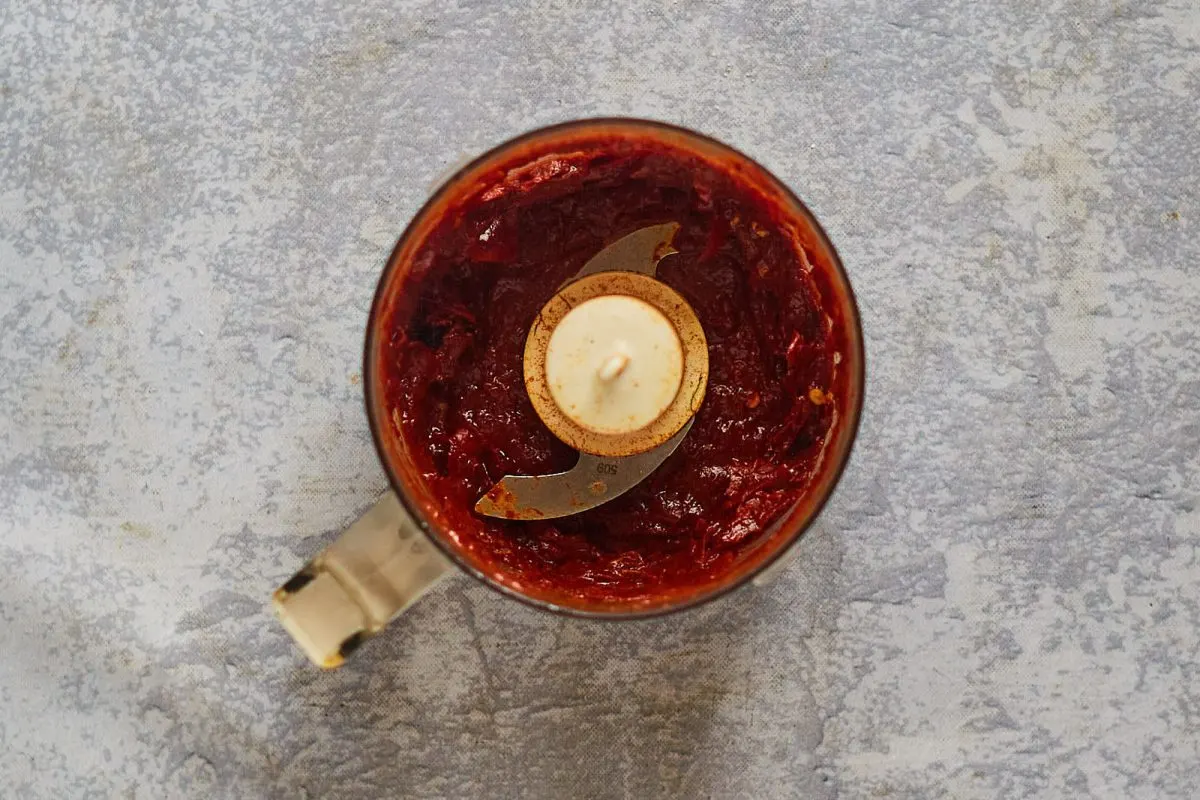 Remove the peppers from the pan with a slotted spoon and puree them in a blender or food processor. Return them to the pot and add the chili powder.
Step Four: Simmer.
Beef birria meat takes a minimum of three hours to simmer on the stovetop.
Step Five: Reserve the grease.
Skim the grease off the top and set it aside. This will be used later to heat up the tacos.
Step Six: Chop up the birria taco meat.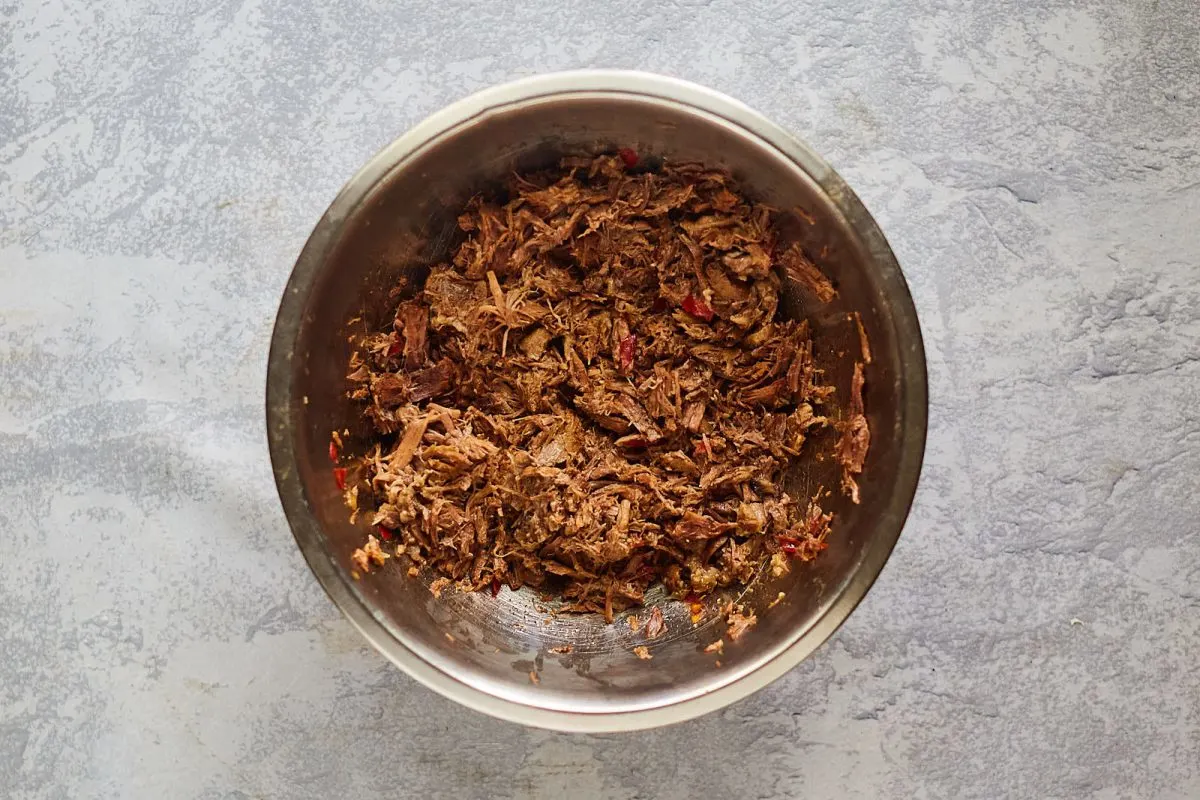 Remove the onion, garlic, carrot, and bay leaf from the pot and discard. Remove the birria meat from the hot pot and shred it.
Step Seven: Make your tacos!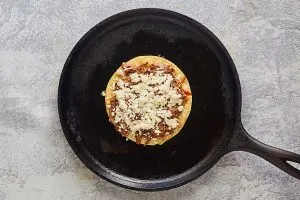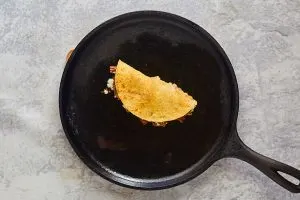 Heat the retained grease in a large skillet and place a tortilla in it. Place meat and cheese on the tortilla and let it heat. Fold the tortilla over to form a taco and cook each side until crispy. Remove from heat.
Serve beef birria tacos to your family or friends.
Set out individual bowls of your favorite toppings, such as onions, avocado, tomatoes, shredded cheese, Oaxaca cheese, and chopped cilantro. Serve individual bowls of the beef broth mixture or consommé on the side for dipping. Dipping the tortilla is the traditional way of serving Birri tacos.
Frequently Asked Questions
What beef cuts do I use for birria meat tacos?
Our recipe uses a combination of chuck roast and short rib. However, oxtail, beef shank, and stew meat are also good alternatives.
Do I have to simmer my beef birria ingredients for so long?
Yes. As with any stew, the flavors deepen as they cook. There really isn't a substitute for time when it comes to a recipe like this one. This type of meal is also well known for being better the next day.
This Beef Birria recipe makes a great slow-cooker recipe. Combine the ingredients just as you would if using a dutch oven and cook on low for 6 to 8 hours or until the meat is tender.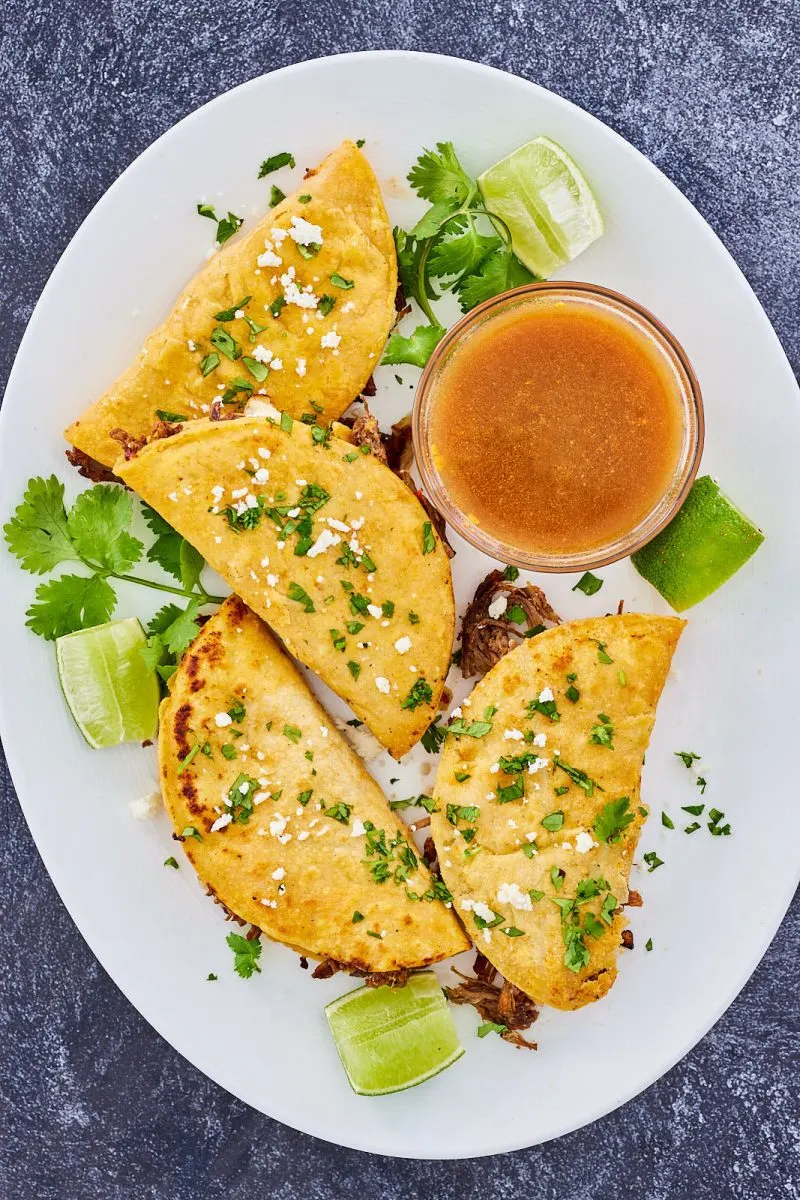 How To Reheat & Store Beef Birria Tacos
Best way to store Beef Birria Tacos
Leftover taco meat and toppings should be refrigerated separately in airtight containers. Toppings are good for a couple of days in the refrigerator and the meat will last up to 5 days. I'd freeze it as soon as you know you will not be serving it again.
Can I freeze Beef Birria Recipe?
Yes. You can freeze the cooked beef for up to three months in airtight containers. I like putting the birria meat in a reclosable ziplock bag in individual meal-sized servings and laying it flat to freeze. This allows me to take out what I need for a meal. Laying them flat allows me to stack them in the freezer as well so they take up less space.
How to reheat Birria Taco?
You have lots of options for reheating this amazing taco meat. You can reheat the birria meat from the refrigerator or from the freezer. Place the meat in the microwave and heat in thirty-second increments.
Reheat the meat in a skillet or saucepan with a little water for an easy stovetop method. It will take a little longer but is more gentle on the meat. You can also reheat the meat in the oven at 325ºF for about 15 to 20 minutes. Cover it with foil to keep it from drying out and getting too crispy.
Once the meat is hot, you can build a fresh taco just like you did the first time. You can also use Birria shredded meat on top of nachos for an appetizer and a whole new way to serve it.
What to serve with Birria de Res
Besides an amazing Margarita, we always have an appetizer such as Queso Blanco Cheese dip and love a great side dish with a spicy kick, such as Mexican Rice, Charro Beans, or our semi-homemade Black Beans Recipe. Don't forget dessert!
Tips for the Perfect Beef Birria Tacos
Cook the ingredients low and slow. The meat develops a rich and spicy flavor and becomes so tender that it falls apart.
If you do not have a food processor, you can puree the chiles with a stick blender or a high powered blender. Just make sure to put the lid on tight.
Be careful when handling the guajillo chiles. You will need to remove the seeds for the recipe. Wear gloves, and/or avoid touching the seeds completely. Remove the gloves without touching where the seeds were. Wash your hands with hot soapy water and avoid touching your eyes until you're sure you don't have chili oil on your fingers.
If you enjoyed this Beef Birria recipe check these out!
I hope you enjoyed this delicious recipe as much as we do. Drop me a comment below, and don't forget to give it a star rating. ⭐⭐⭐⭐⭐. Your comments and ratings help others decide if this recipe is for them too.
Pin this amazing recipe!