When a crowd is gathering, a good ham is the perfect solution to please everyone without a huge expense. After the party is over, it's time to find some amazing Recipes for Leftover Ham. Because let's face it. Whenever a holiday ham is involved there will always be leftovers.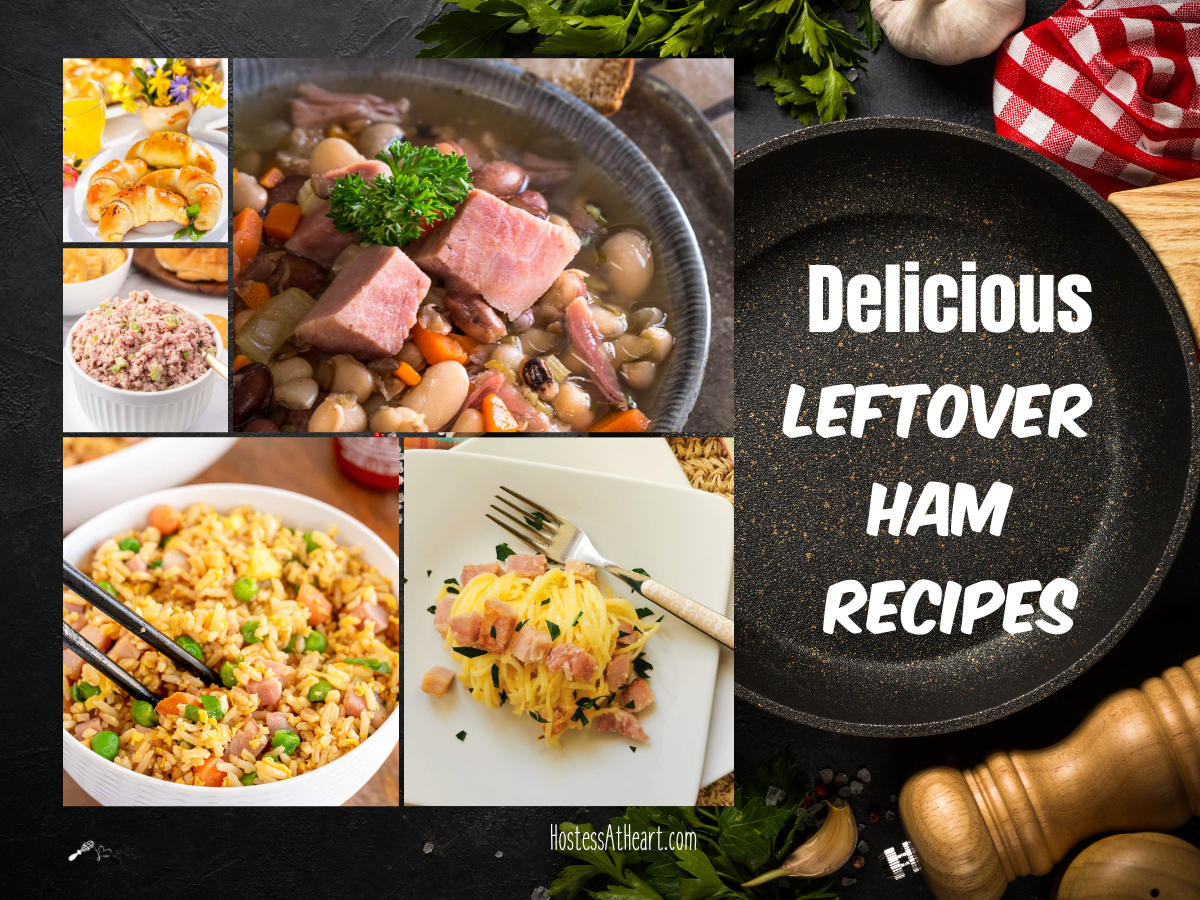 This collection of Ham Leftover Recipes will help you take full advantage of your leftovers of this delicious, inexpensive meat to make fantastic meals for your family. Once a day or two has passed, you can dice up the extra ham and freeze it to use throughout the next several months to add flavor and comfort to your dinner using these recipes.
Handhelds: Leftovers in Ham Sandwiches and Wraps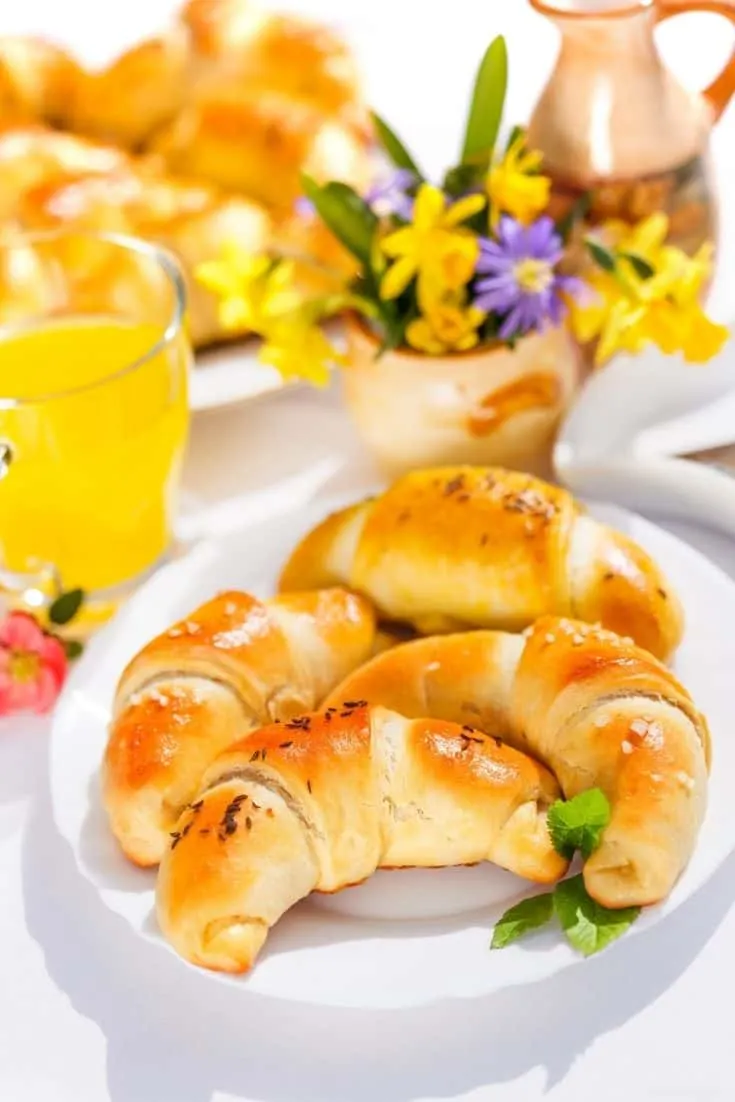 Both you and your family will love these easy ham and cheese roll-ups! This 5-minute recipe makes for a great simple dinner. It can also be enjoyed for breakfast or lunch!
These delicious ham and cheese roll-up biscuits make an easy and perfect dinner for the entire family! Topped with hot homemade cheese sauce, this tasty recipe will make your mouth water and your tummy full!
Party worthy and delectable Ham and Cheese Sliders recipe made with Hawaiian Sweet Rolls, smoked honey ham, and Swiss Cheese all lathered with a Dijon mustard poppy seed butter. These are the perfect finger food for game day, movie night, shindigs, and parties.
Whip out your air fryer to make this quick, affordable, and delicious stromboli made with your ham leftovers!
Soup Recipes for Leftover Ham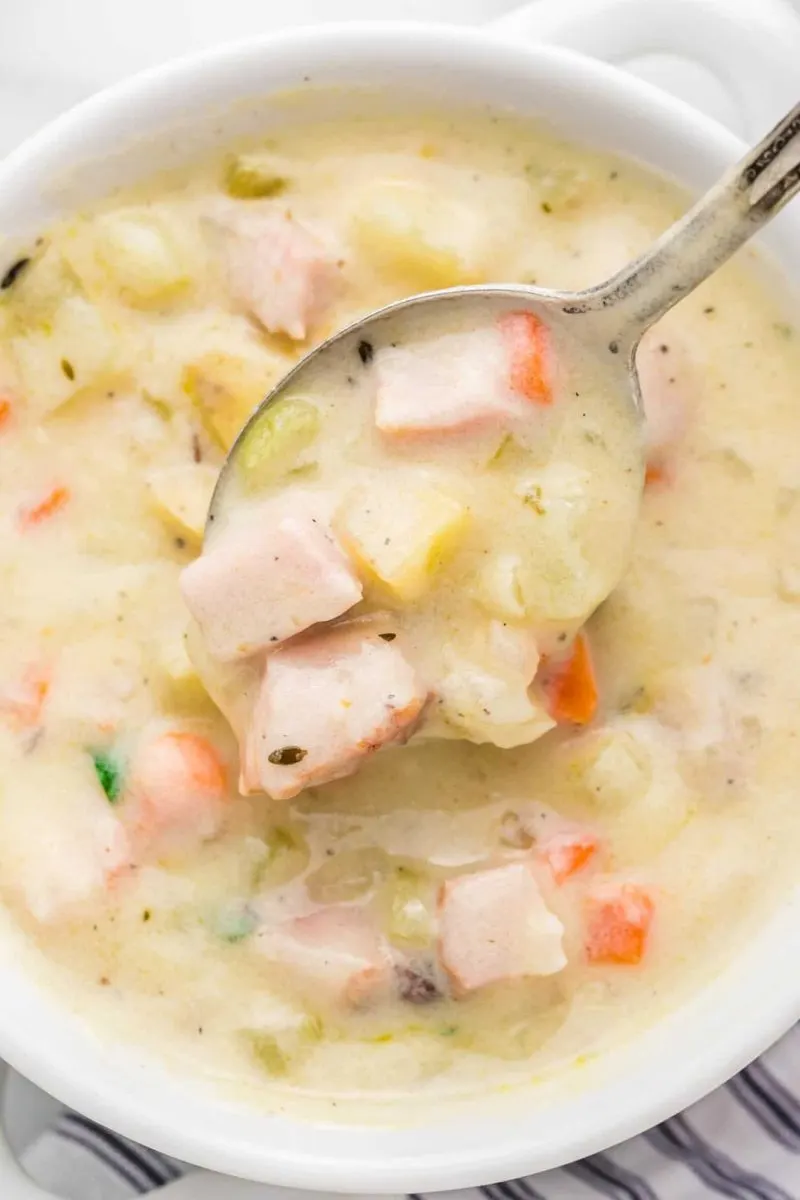 Delicious old-fashioned chunky ham and cabbage soup with potatoes that's comforting and flavorful.
Ham and Potato Soup is a simple recipe that everyone loves. It's creamy, salty, smoky, and packed with potatoes making it the perfect hearty and comforting soup.
This ham and corn chowder recipe is loaded with potatoes, bacon, and plenty of corn! It's creamy, comforting, and easy to make.
This ham and cabbage crockpot soup is made with leftover ham for a delicious ways to use up those leftovers! It's easy to make and will be ready when you get home from work.
Get yourself a chili sauce in this chilly season to enjoy the delicious taste and warmth of this amazing Instant Pot Ham and Potato Soup.
Bean Soups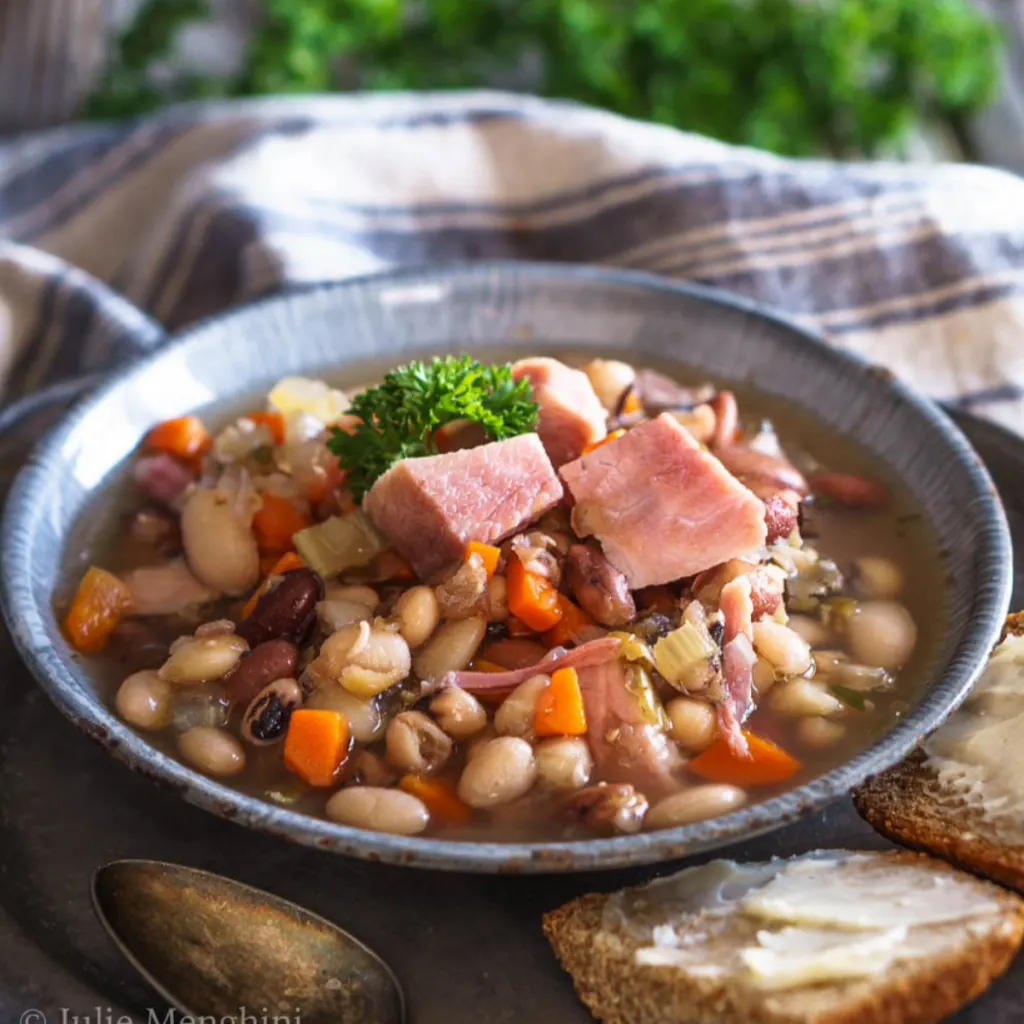 Ham, white beans, and vegetables are sautéed in butter, then simmered in water to form a broth. Cream added at the end provides a silky richness. This ham and bean chowder is the perfect use for leftover ham, and is ready in 30 minutes or less!
Our 13 Bean Ham and Ben Soup is a great choice if you want a gorgeous filling soup with lots of flavor and the comfort factor.
This Navy Bean Soup is a simple, hearty, and flavorful bean soup recipe filled with leftover ham and tender cooked navy beans. Perfect for lunch or dinner with a side of buttery bread.
This Leftover Ham and Bean Soup is an economical recipe that makes use of a ham bone. This ham bone soup is easy to make and incredibly flavorful.
Lentil Soups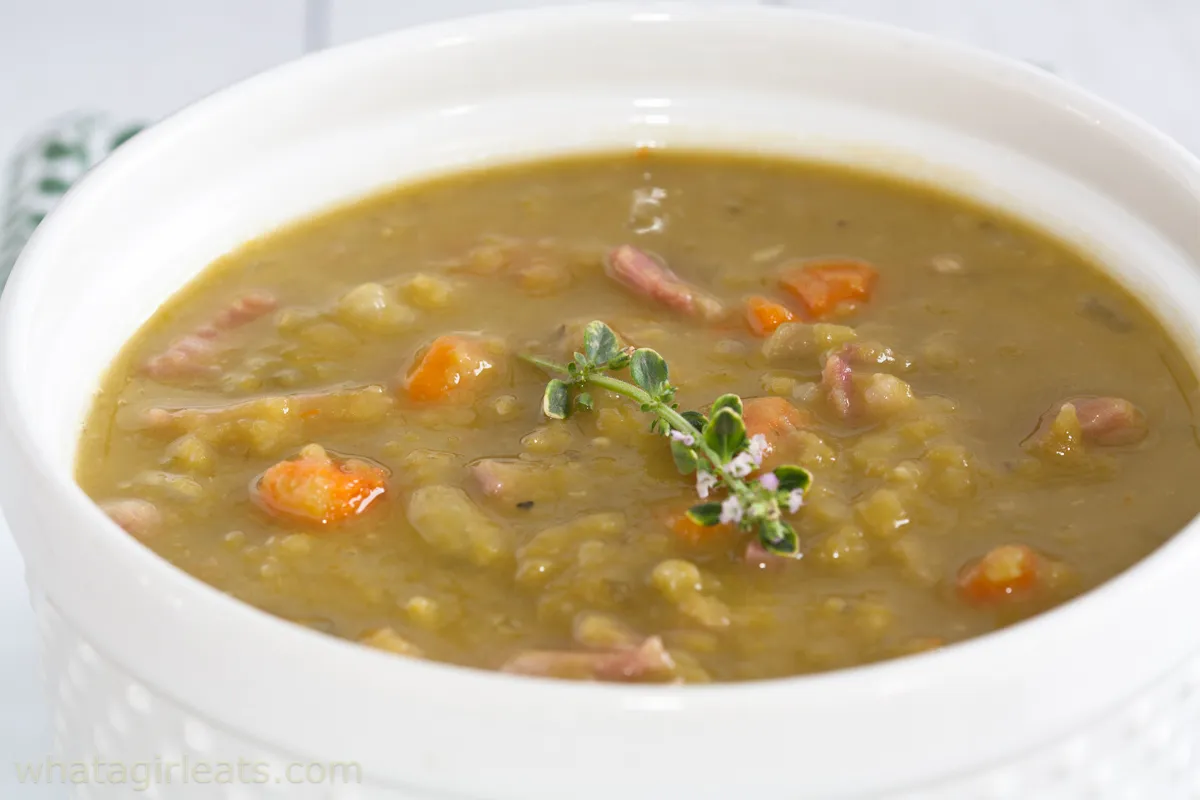 Split pea soup is a delicious and easy way to repurpose leftover ham. This recipe is perfect for the slow cooker or stovetop. Serve this tasty soup with crackers for some crunch or even a hot and buttery piece of crusty bread!
Make this delicious, hearty, and cozy old-fashioned split pea and ham soup in your Instant Pot or on the stove! Serve it for lunch or dinner with a hot and crusty buttery piece of bread!
This classic lentil and ham soup recipe is a cozy, comforting meal, made with just a few simple ingredients. It's a great way to use leftover ham and stretch your ingredients. Make it in the dutch oven or use my slow cooker or Instant Pot instructions, and serve up a bowl today!
This rich, thick and hearty crockpot soup is not only packed with flavor but it's packed with nutrients as well. The perfect comfort food recipe to make with leftover ham.
Pasta Recipes for Leftover Ham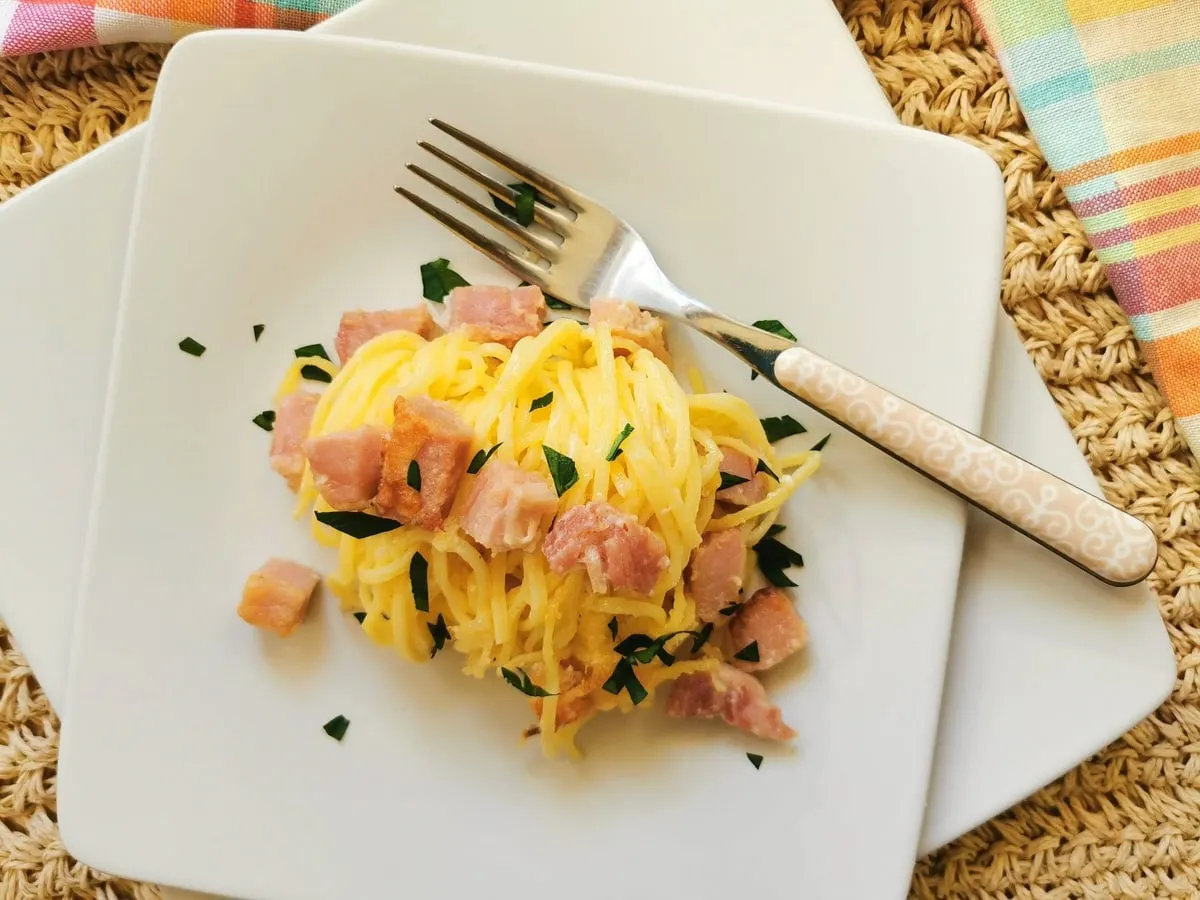 Looking for a delicious recipe for homemade macaroni and cheese that's made from scratch? This simple, healthy dinner is a favorite of both children and adults! With its rich creamy cheese sauce made from scratch, this unique variation on traditional macaroni and cheese makes for a yummy lunch or dinner option!
Based on a dish from Cipriani's Harry's bar in Venice, this tagliolini au gratin recipe is a real gem! It's also a great way to use up leftover ham. All you need to make this delicious recipe is pasta, eggs, ham, grated Parmigiano and cream and 30 minutes of your time to have this family favorite recipe on the table.
Use up that leftover ham and leftover mascarpone cheese with this Healthy Leftover Creamy Ham Pasta & Peas recipe! It's a quick, easy and delicious leftover ham recipe in 30 minutes!
Pair that leftover holiday ham with fettuccine noodles for this fettuccine Alfredo with ham. It is a delicious change from the usual holiday food. It can also be made with deli ham anytime of year!
Creamy Mushroom Ham Pasta, a delicious, easy, creamy, pasta dish, Italian style, ready in 20 minutes. A new family favorite.
Pasta alla papalina is a creamy pasta recipe from Rome named after Pope Pius XII, who was the inspiration behind its invention. Usually made with fettuccine, this dish is super simple to make and a great way to use up leftover ham!
Asian Style Ham Leftover Recipes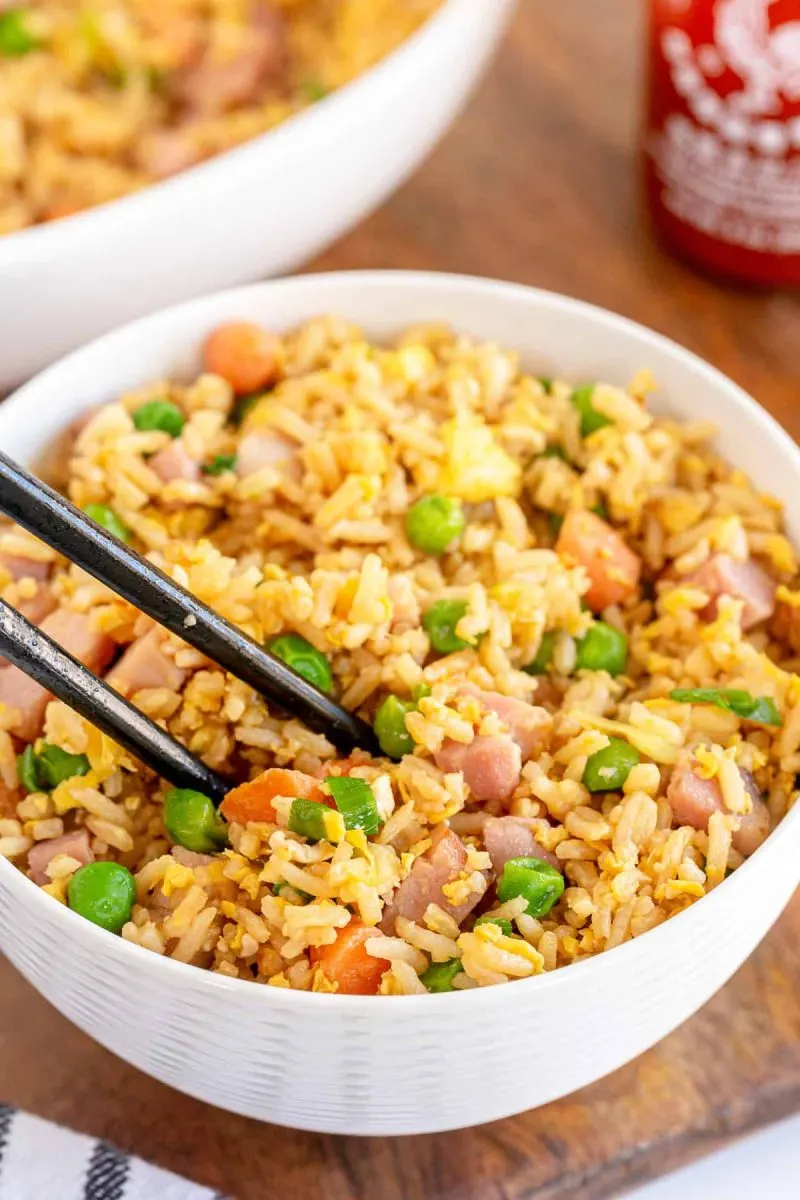 Appetizer or main dish, either is a delicious way to serve Pork Wonton Stars. Leftover ham takes on a whole new flavor – one that rivals your favorite takeout.
Make use of leftover ham and cook up a batch of this easy Ham Fried Rice. This delicious fried rice takes just 15 minutes to prepare!
Pineapple Fried Rice is a quick and easy dinner recipe that is flavorful and an excellent way for using up leftover ham.
Ultimate comfort food alert! Not for the faint-hearted, these Double Cooked Pork Dumplings are fried in oil to crisp up, then covered with a blanket of creme fraiche, ham and cheese and then baked until the cheese melts, starts to bubble and brown!
Sauteed veggies mixed with white jasmine rice, diced ham, salt, pepper and soy sauce. Mix in some green onion and fresh coriander for extra fresh flavor and color. Top your Ham Fried Rice with sesame seeds or chopped peanuts if desired.
Quite possibly the easiest lunch to make with leftover ham – ham ramen. Ramen noodles are topped with thinly sliced vegetables and leftover ham. The steaming broth of the ramen cooks reheats the ham and cooks the vegetables right in the bowl.
Use up your leftover ham fried rice style! Ham Fried Rice is a quick and easy meal that's packed with flavor, veggies, and lots of meaty ham!
Ham Leftover Recipes fo Breakfast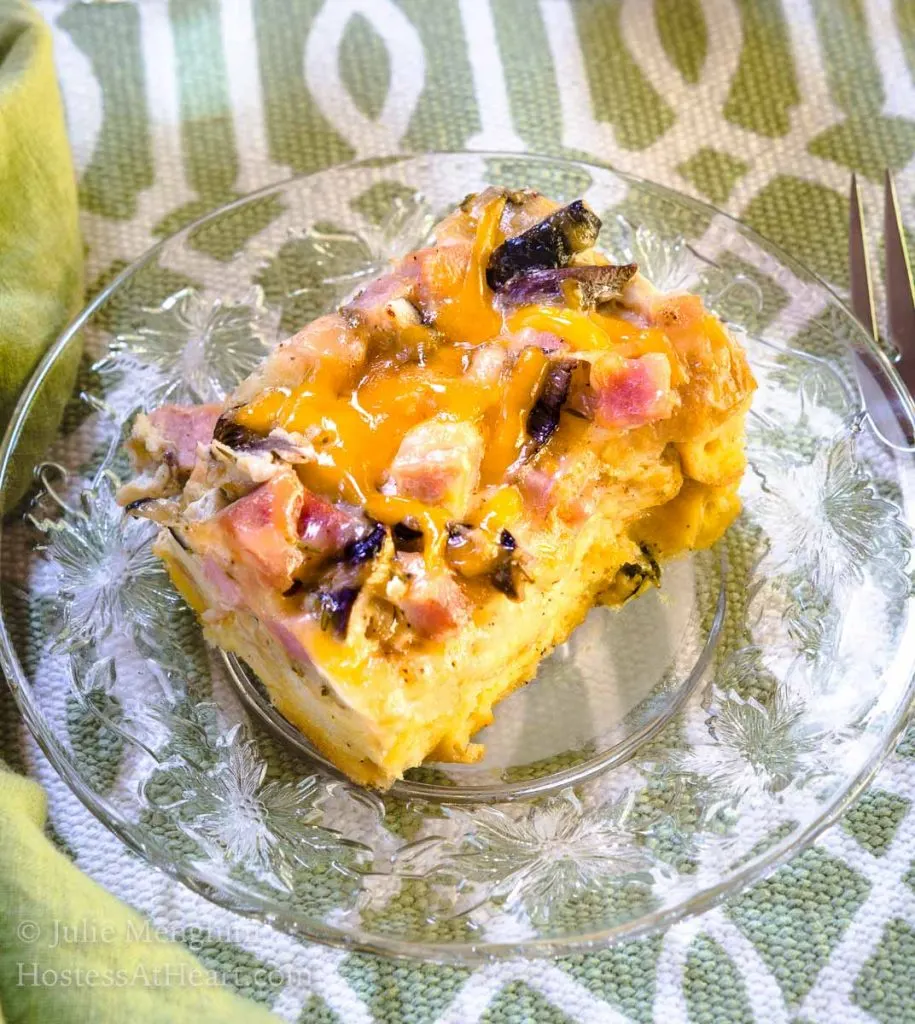 A Ham and Cheese Mushroom Strata is the perfect weekend brunch dish. Everyone loves this tasty, filling dish.
These Denver Omelette Waffles are a fun, healthy, savory twist on your weekend waffles. Made with eggs, ham, bell pepper, and cheese, it's all the classic flavors you'd expect, but in a fun egg waffle!
Vintage recipes can be a lot of fun to try and this is one everyone should try. Ham and cheese pancakes are a fun savory take on the breakfast favorite.
This Denver Omelet Pizza is ready in just 30 minutes topped with a white sauce, ham, green bell peppers, and eggs.
Quiche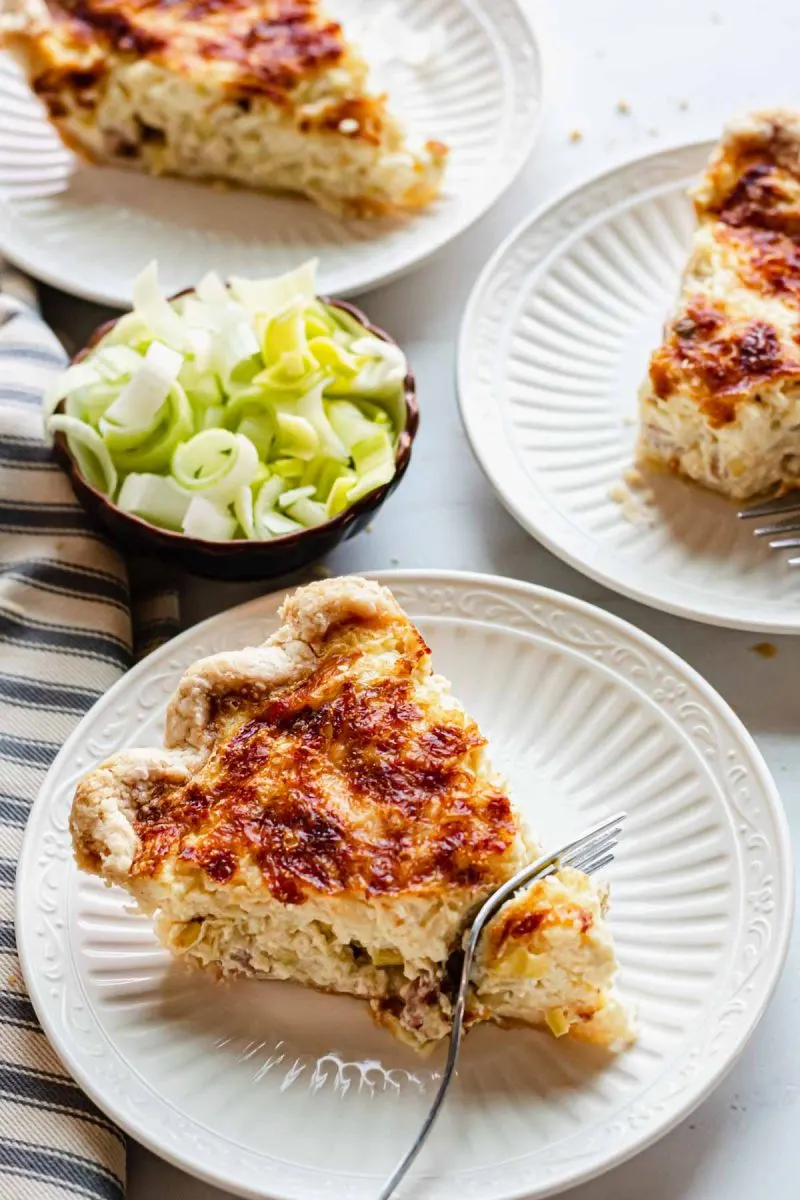 Savory mini quiche cups made with ham, shredded cheddar and crumbled goat cheese. Top with crunchy bacon bits and bake to perfection. These delicious egg muffins are the perfect way to use up leftover holiday ham!
Buttermilk quiche is a classic French egg custard tart kicked up a notch with the tang and zip of creamy buttermilk! Savory ham, cheddar, and chives, plus homemade flaky pastry seals the deal for a delicious meal.
This Spinach, Ham, and Cheddar Quiche is the perfect breakfast, brunch, or dinner meal. It's incredibly easy to make and is the perfect way to use up some leftover ham!
This easy Ham and Swiss Quiche can be made with a homemade or pre-made crust and is the perfect way to feed a crowd quickly. It has a flaky pastry, creamy filling, and is packed with flavor from the addition of leeks!
Hash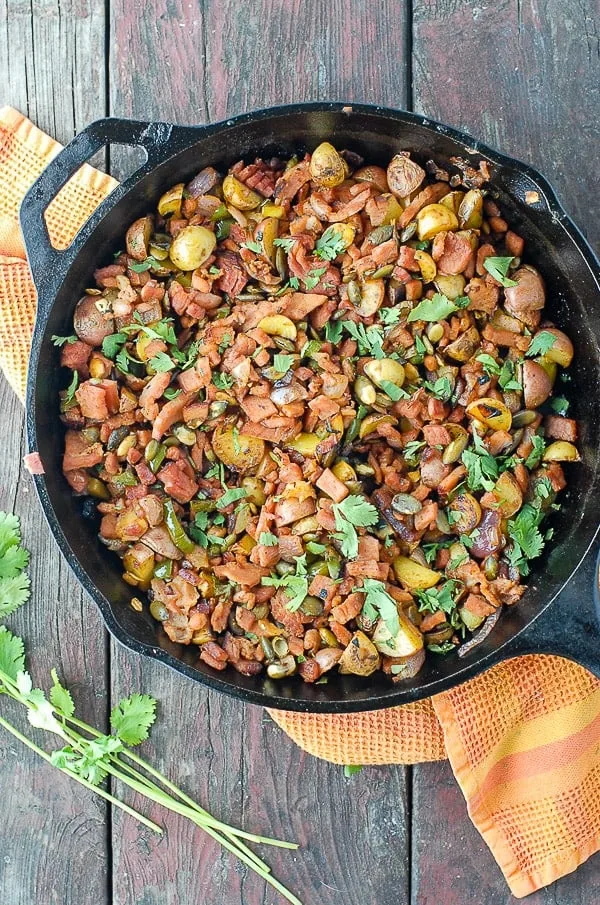 Start your day off right with this sweet potato Brussels sprouts hash with eggs. This quick and easy one-pan breakfast is hearty and healthy.
A perfect dish for leftover holiday ham, or a reason to buy ham! This Jalapeno Ham Hash is simple to whip up with sultry, earthy spice from the jalapeno pepper and smoked paprika. Ready in less than 30 minutes.
Biscuits and Handhelds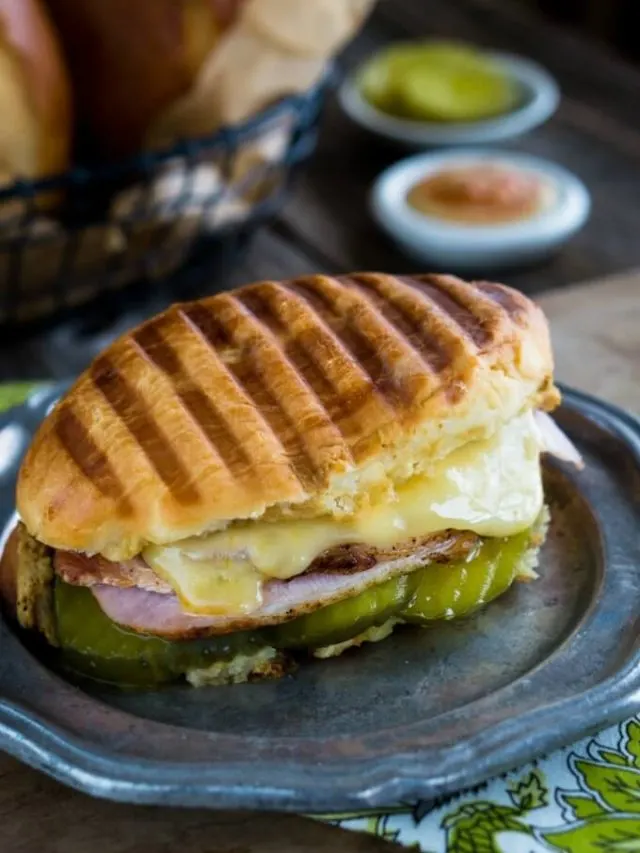 Cuban Sandwich Recipe starts with sweet buttery bread that's loaded with Cuban pork shoulder roast, cheese, smoked ham, and pickles.
Made with just 3 ingredients, these Baked Ham and Cheese Egg Cups are a quick, healthy and filling breakfast. They're an easy breakfast on the go and can be made ahead of time, making them perfect for meal prep!
These quick ham and cheese turnovers are made with puff pastry and taste like an elevated version of a hot ham and cheese sandwich! Filled with ham, sharp aged cheddar cheese, and dijon mustard, these savory turnovers are perfect for a snack, appetizer, or meal.
Whether you enjoy leftover ham, broccoli and cheese crescent cups as a brunch, breakfast or appetizer, the flavors of ham and cheese are delicious. This snack is so simple to make and it's a great recipe for leftover ham.
Make a delicious and easy breakfast with your leftover ham. Cheesy Ham and Egg Biscuit cups are great for an easy breakfast or brunch.
Ham, Melted Brie, Crispy Prosciutto Sandwich with Basil Aioli is a blend of textures and flavors that will tantalize the taste buds.
Ham Salads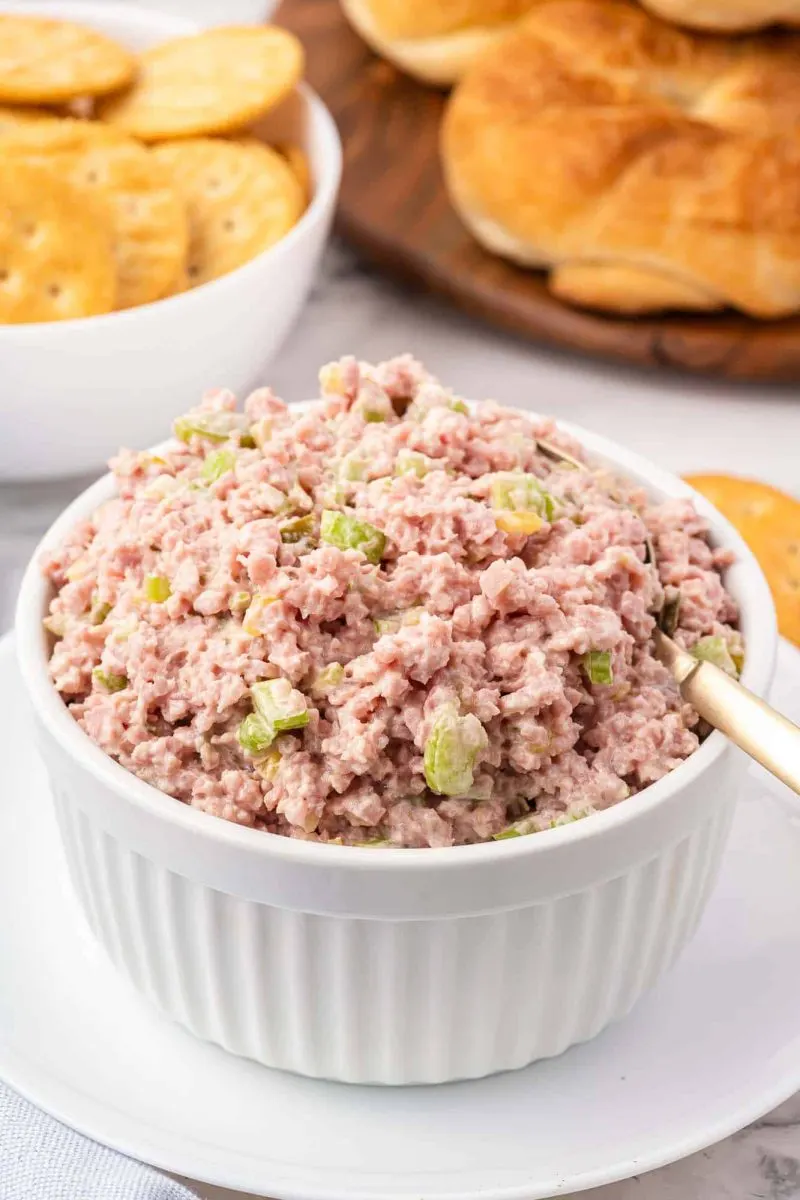 This simple ham salad recipe will be the only one you'll need to use up that leftover ham. Just 5 ingredients all you need to make this classic sandwich spread.
Use your leftover ham to make this delicious and simple dill pickle ham dip! Serve with crusty bread, crackers, or your favorite veggies for a lower carb option!
Whether using this Hawaiian Chopped Ham Salad on greens or as the filling of a sandwich, the combination of sweet pineapple, salty ham and provolone cheese and spicy red onions is irresistible.
Whether you're making ham salad sandwiches, ham salad spread, or ham salad dip, it's sure to be a crowd pleaser at your next get-together.
This Olivier Salad is a delicious and easy potato salad with meat to serve at your summer BBQ! A Russian salad made with ham (or chicken, or sausage), hard boiled eggs, peas, potatoes, carrots, pickles, mayonnaise, and dill. A versatile grilling recipe from Soviet countries.
Roasted Asparagus Salad with Crispy Turnips and Warm Ham Vinaigrette is a cozy roasted vegetable salad that's actually made under your broiler. Fork-tender asparagus, golden brown turnips, crispy ham, and a quick pan vinaigrette come together for an easy weeknight side dish you'll make again and again.
Comfort Food with Ham Leftovers Recipes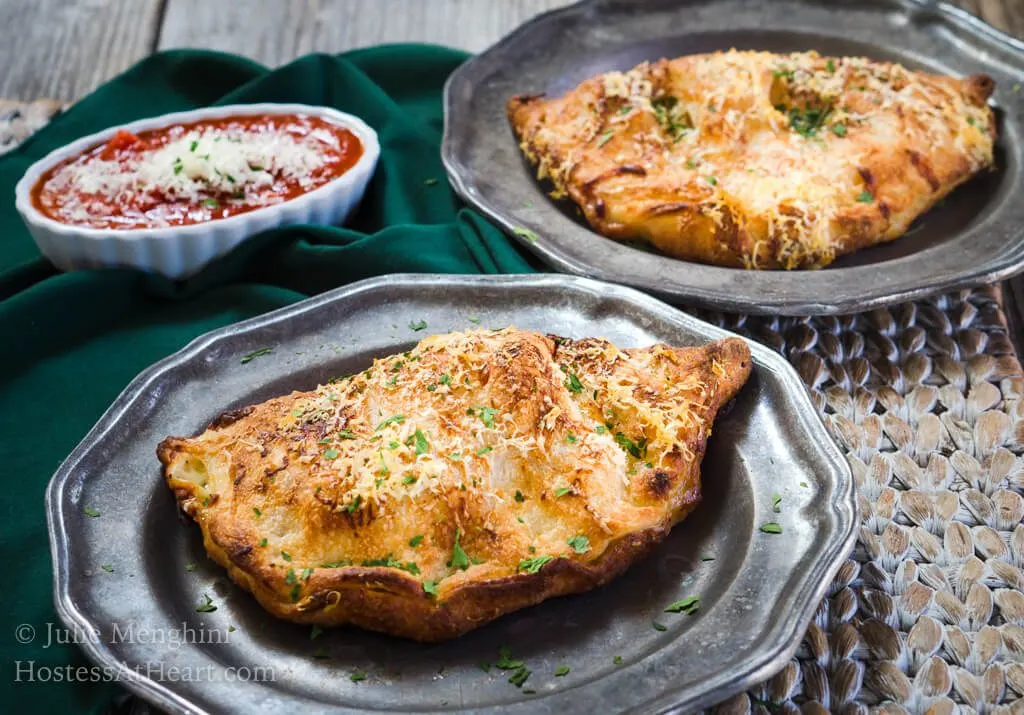 Ham and 3 Cheese Calzone takes 12 minutes to put together and 15 minutes to bake. It's easy comfort food that the entire family will love.
When you have a lot of leftover ham, consider making a ham loaf. It is a particularly good choice when you have odd size or fatty pieces left as the meat is ground up.
Dare I say this Costco Chicken Bake copycat is even better than the original? Crispy pizza dough is filled with a creamy and cheesy sauce, sweet ham, and juicy chicken. It's topped with more cheese, then baked to golden perfection. It'll be worth making it from scratch!
Chicken, Ham & Asparagus Casserole may be a terrific use of leftover ham, but it's also in-your-face delicious! Meaty, cheesy, saucy, and packed with flavor, this is a low-carb casserole you're sure to love!
Creamed Ham is the perfect way to use leftover ham or turkey after a big holiday meal! Easy to make, with just 5 ingredients, this delicious meal can be on your table in no time!
This easy crock pot ham and potatoes is great with leftover ham. Just put it together and let it cook for a few hours, then enjoy a delicious meal.
This ham casserole uses simple ingredients that you may even have on hand! It's also a wonderful way to meal prep and freeze to enjoy later!
Chicken cordon bleu is comfort food at its best but can be time-consuming to make. This casserole has all the flavor of the original without all the work.
Side Dishes with Leftover Ham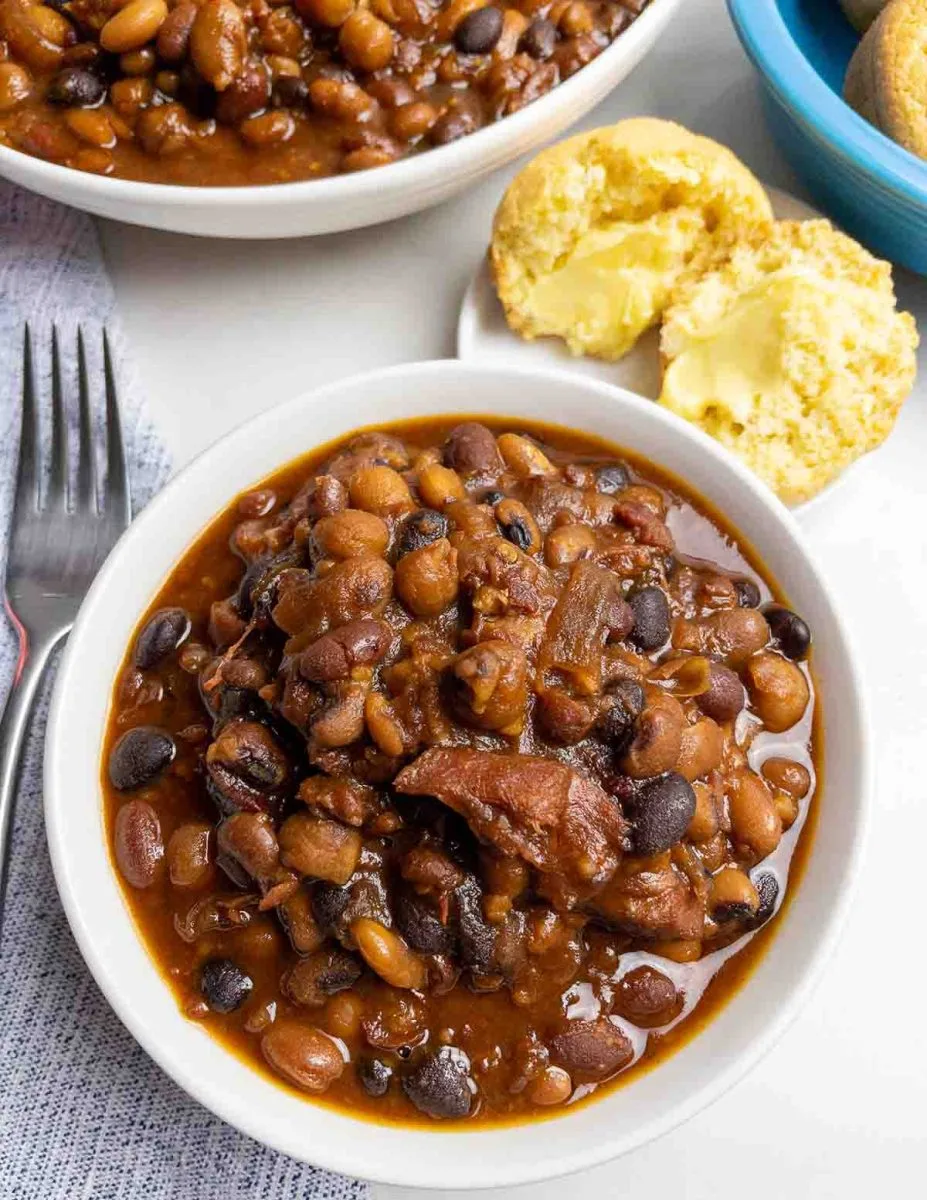 If you've cooked a ham, save the juices and make this delicious ham gravy! It is easy to make and infused with the flavors of garlic, shallot and prosciutto. It's the perfect addition to many meals.
This delicious mushroom appetizer only has 5 ingredients and takes minutes to make. It is the perfect recipe to make when you want to impress someone but don't have a lot of time.
Slow Cooker Baked Beans with Ham are an easy way to make traditional baked beans without soaking. Just load up your Crock Pot with canned beans and a meaty ham bone then let them simmer away in a chipotle brown sugar sauce.