Tender beef brisket tacos are loaded with juicy chopped beef in a spicy chipotle sauce. Brisket tacos come together quickly for a delicious anytime meal and no one will guess they're made with leftover brisket.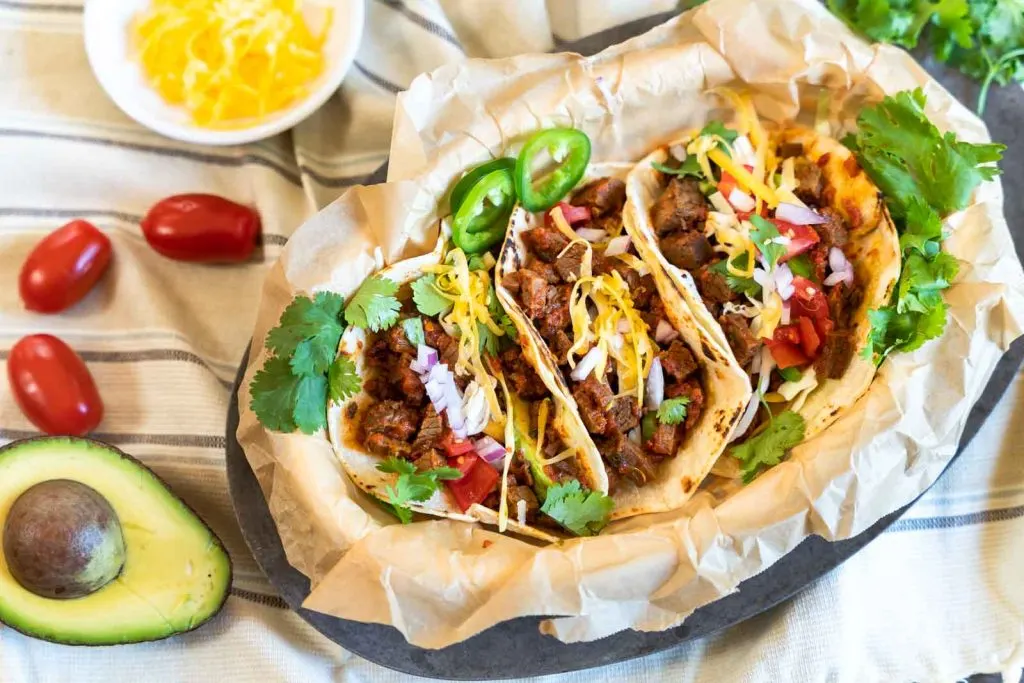 When I made our oven-baked beef brisket, I made sure that I'd have enough leftovers just for this Brisket taco recipe. It's that good!
What we love about Brisket Tacos recipe
Using leftover brisket guarantees a delicious dinner in a jiffy that the whole family will love.
Taco bar – everyone can make their own brisket tacos. Set out your toppings and let everyone help themselves. You can easily double or triple this recipe to feed a crowd.
Tough brisket – maybe your brisket got dry or came out tougher than you like? This juicy chipotle sauce will revive your tacos to gourmet status.
Slow cooker tacos – this recipe is versatile. I cooked it on top of the stove but you could put it in your slow cooker for an amazing dinner when you're ready.
What you need to make Brisket Tacos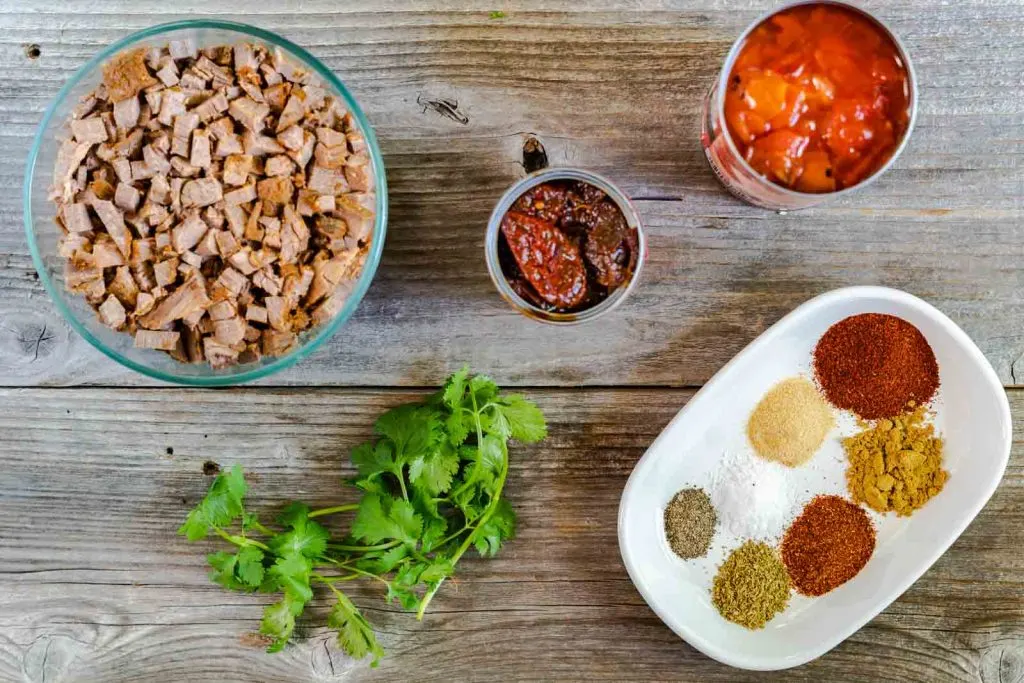 Brisket – you can make one just for this recipe or like me use leftover brisket. I preferred to chop up the beef but you can use sliced or shredded as well.
Taco shells – Any size will do. You can use corn or flour. I used taco-sized corn shells. Street tacos at home!
What you need to make the Chipotle Sauce
Chipotle Chilies in Adobo sauce – you can use one or two if you want your brisket tacos spicy.
Fresh cilantro – the stems and leaves get used in this recipe. Save some to use as a garnish.
Spices – I use chili powder, cumin, paprika, cayenne, Mexican oregano, garlic powder, salt, and pepper. You can add as little or as much as you like. The thing I like about adding my own spices is that I can control the salt and there are no preservatives. You could use a homemade taco seasoning of your choice or buy one for convenience.
Diced tomatoes – diced fire-roasted canned tomatoes are what I used. You could use any variety.
How to make Beef Brisket Tacos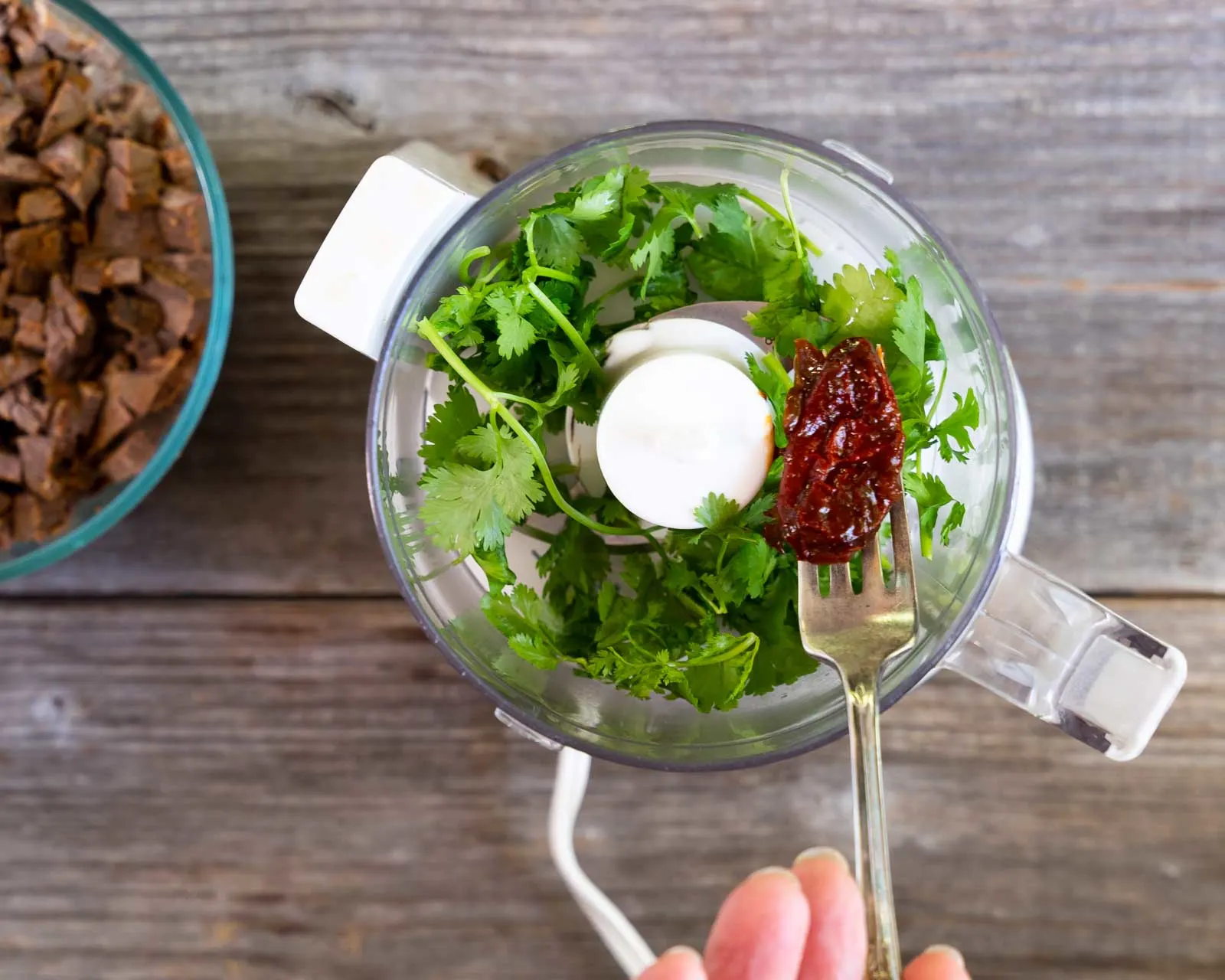 Add the chipotle chili to the spices, cilantro, and tomatoes in a mini food processor and blend together until you have a thick sauce.
Add the chipotle sauce and the brisket to a deep skillet or braiser. Stir to combine and heat until hot.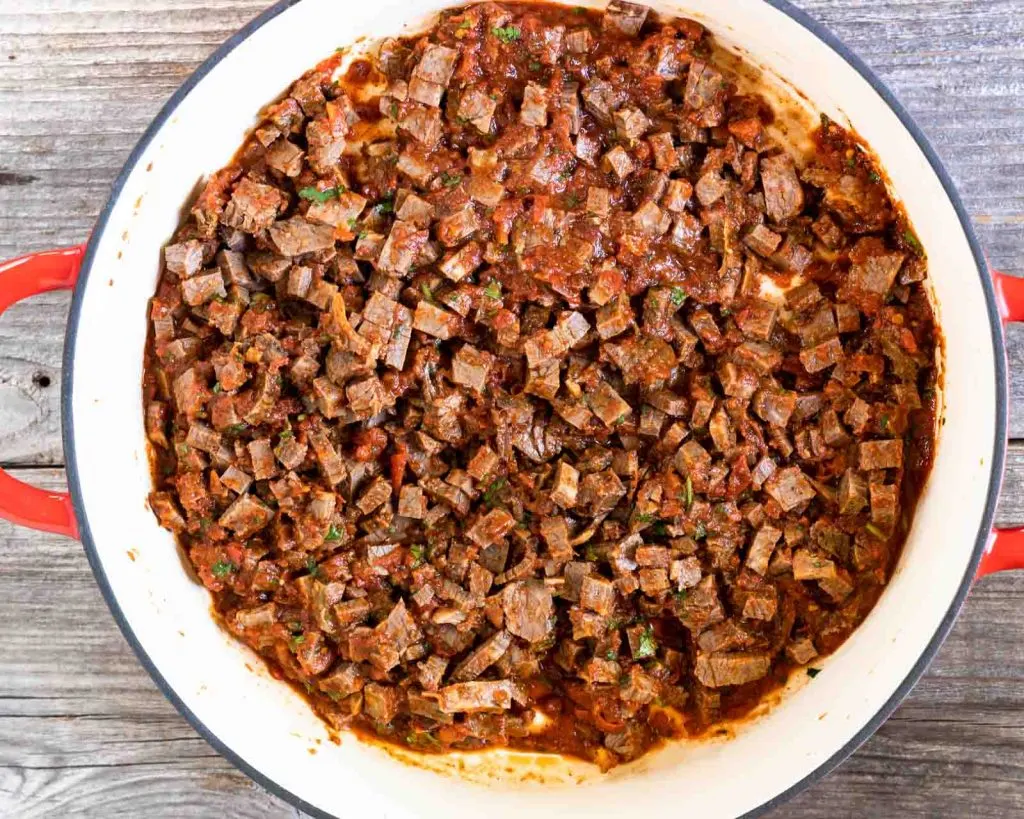 Brisket Taco Toppings
Part of the fun of making tacos is the way you garnish your work of art. I like to set out bowls with some or all of these garnishes.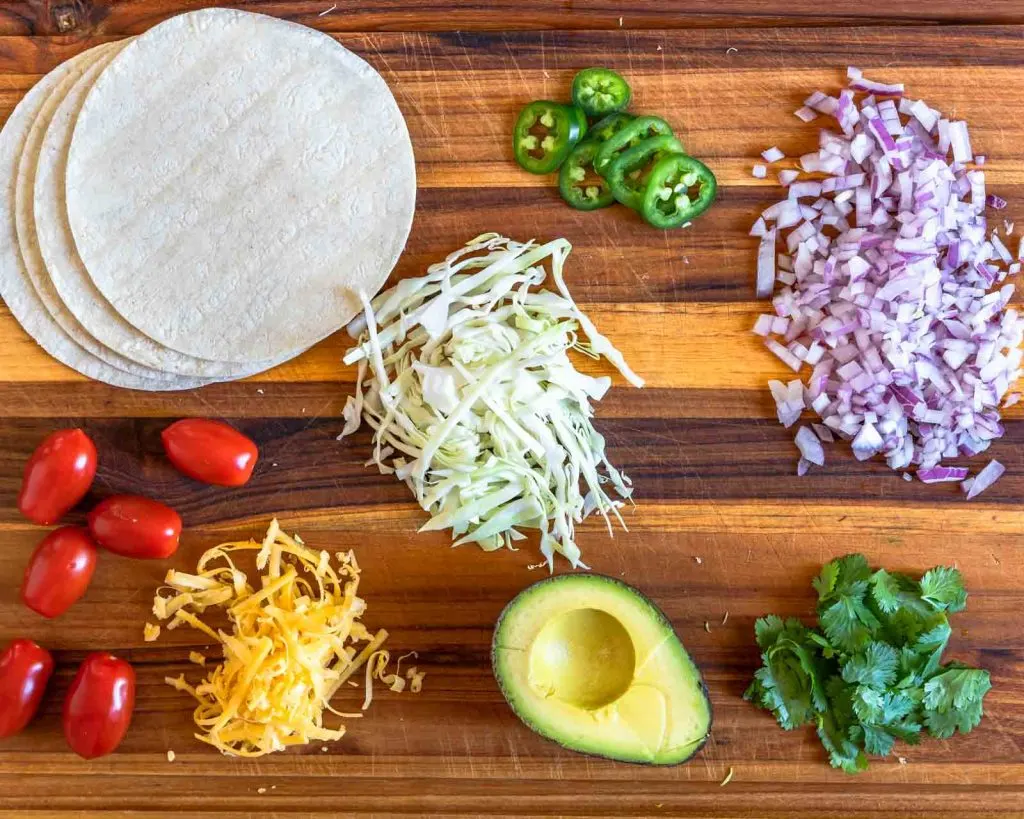 Shredded cheese such as cheddar or Monterey Jack. You could also use crumbled Cotija.
Shredded lettuce or cabbage. We use purple or green cabbage because it adds a nice crunch.
Avocado. Cool creamy avocado is a delicious addition to this recipe for brisket tacos.
Onion. Red onion or diced green onion.
Cilantro. Delicious in the chipotle sauce and as a garnish.
Fresh tomatoes are excellent for bringing down a spicy chipotle sauce.
Jalapenos. For those who love more heat.
Sour cream. Add a nice smooth flavor to tacos. Especially mixed with a little lime juice.
Pro Tips for Making Leftover Brisket Tacos
If you like using avocado in tacos or sandwiches, mash them into a spread. I find that it helps keep all of your goodies in the taco shell or sandwich. Sliced avocado tends to slide right out taking the remaining ingredients with it.
Cut the carbs and make a taco salad!
Use the cilantro stems for the chipotle sauce and save the prettiest leaves for the garnish.
The can of Chipotle in Adobe sauce contains about 12 chipotle peppers. This chipotle tacos recipe uses 1 or 2 chilis. When we make the Chipotle paste, I'll double it and freeze what we don't use so the rest of the can doesn't go to waste.

It also speeds up the time it takes the next time we want to make these tacos.
We'll put some in the refrigerator so ole cast-iron stomach (hubby) can smear more on his Brisket Tacos.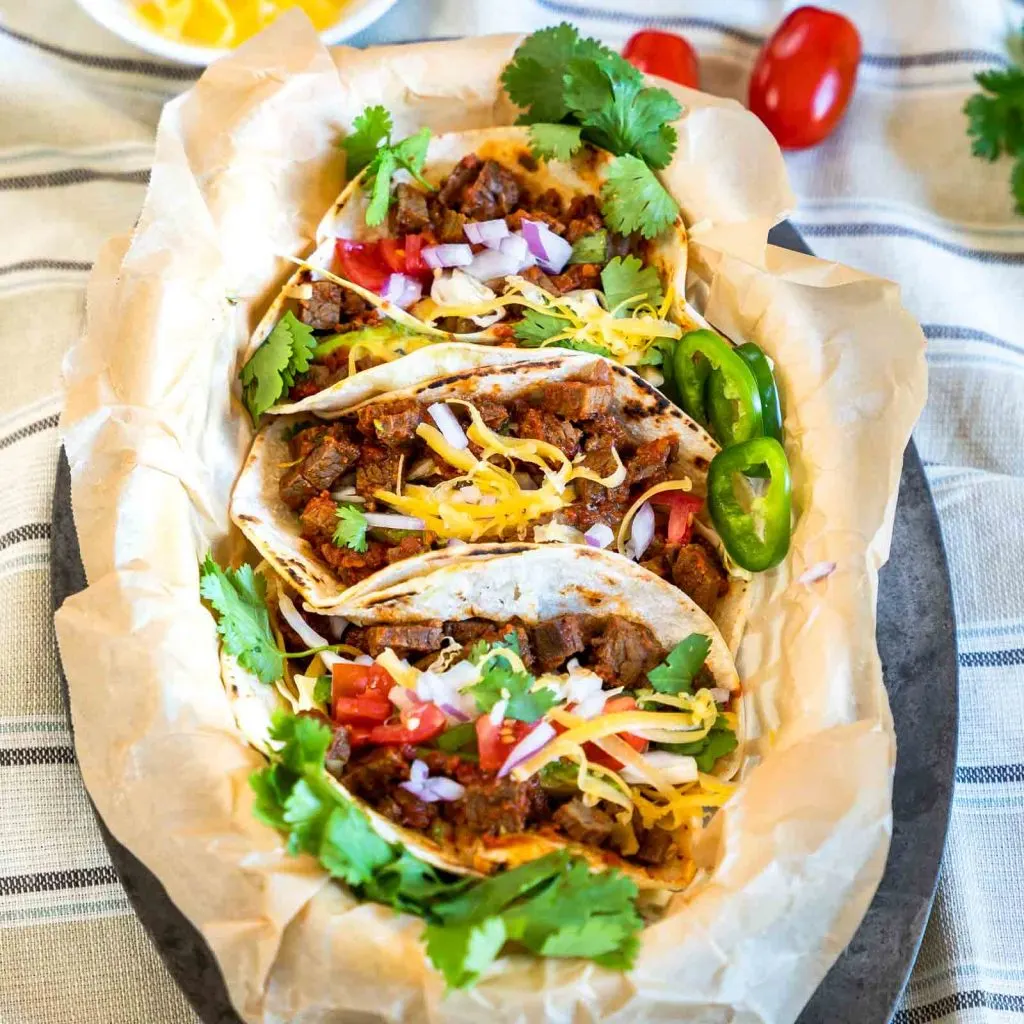 Frequently Asked Questions
Can Leftover Brisket Tacos be made in a slow cooker?
Yes! Cooking brisket tacos in the slow cooker is a great way to soften or tender beef brisket. Combine all of the ingredients and cook it on low for 1 to 2 hours or until heated through.

You may need additional liquid if your brisket filling seems dry. Just add a little water or beef broth.
Can you overcook leftover brisket?
Yes, you can overcook leftover brisket. Whether you're cooking it on the stove or in a slow cooker, use low heat and make sure you have some liquid in with the brisket such as our sauce, water, or broth.
What if I can't find Chilies in Adobo sauce?
Chilies in Adobo add a smoked flavor. You can still make an amazing brisket taco without this flavor profile. You'll have to replace the sauce with tomato sauce or paste and adjust the spices if needed.
What to serve with brisket tacos
Black Beans – This recipe dresses up canned black beans. They're delicious and you can skip the soak and long cook time dry beans require!
Tomatillo Rice – This recipe dish is amazing. It can be made in the instant pot or on the stove. Again, I use canned tomatillos so there's no peeling.
Mexican Corn Casserole – You just can't go wrong with layers of cheesy goodness and seasoned corn.
Margaritas – This recipe has ruined us! We no longer order margaritas at restaurants. It's best to stay home if you drink more than one of these boozy cocktails.
Margarita Pie – If you like the beverage, you'll love this cold and creamy pie.
If you tried this delicious recipe, don't forget to rate it and leave me a comment telling me what you think. I love hearing from you!
If you liked this recipe try these out!
Pin these amazing Brisket Taco Recipe!