Brisket Mac and Cheese is smooth and creamy. Tender beef brisket in a cheesy cream sauce under a buttery bread crumb topping makes the perfect brisket pasta dish. No one will know it's with leftovers!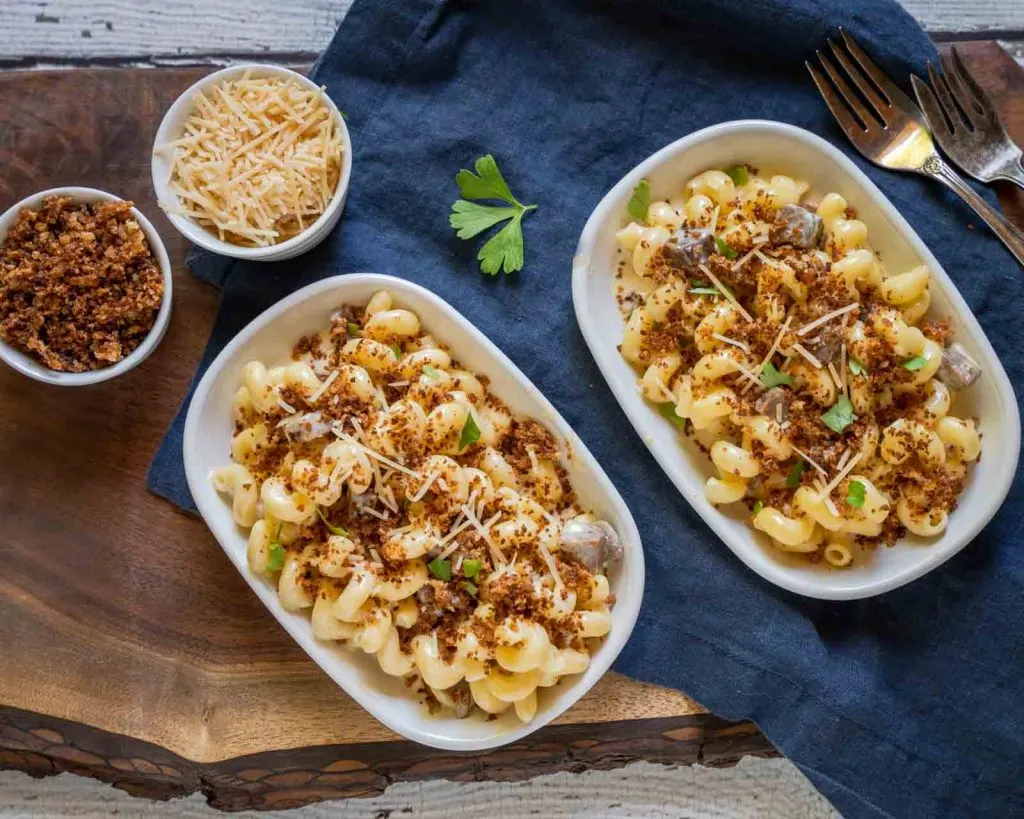 When I made our oven-baked beef brisket, I made sure that I'd have enough leftovers just for this leftover brisket Mac and Cheese. It's that good!
What we love about Brisket Mac and Cheese
Brisket Macaroni and Cheese is a delicious way to repurpose brisket.
Make as little or as much as you want. That makes it a great meal for two or several.
It's a quick and easy recipe making dinner quick and easy any day of the week.
Ingredients you need to make Brisket Mac and Cheese recipe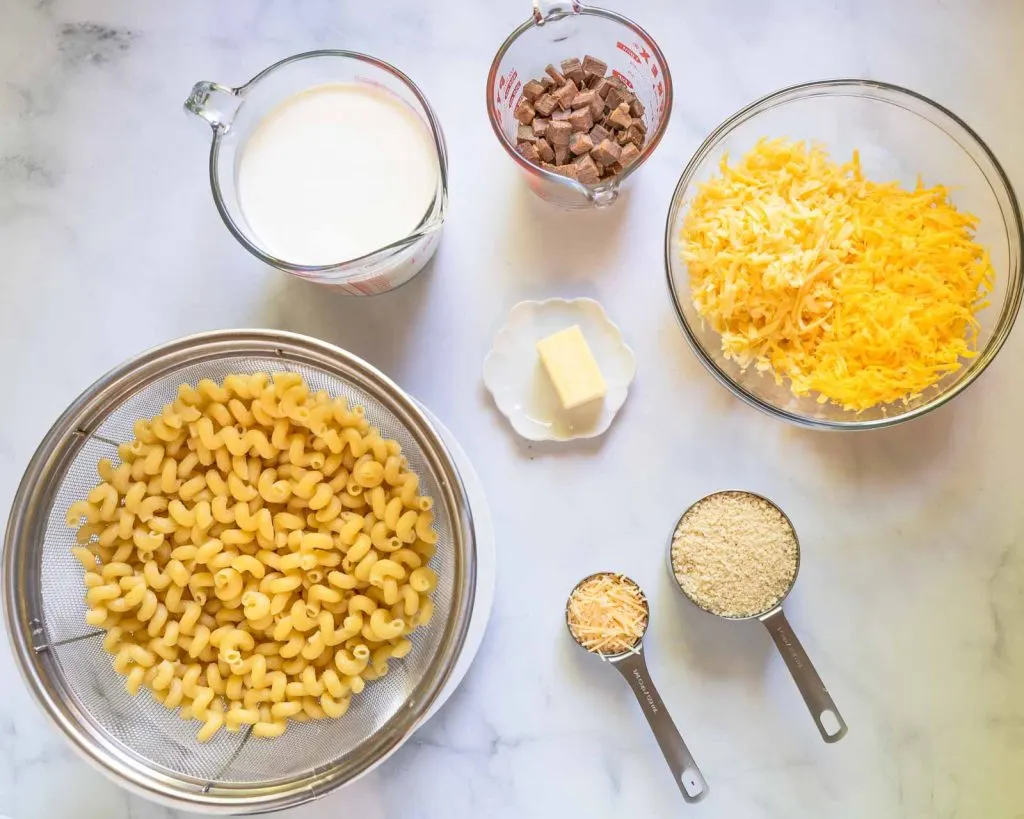 Pasta. You can use any pasta. I used Cavatappi because it's thick enough not to get lost in the brisket and the little ridges hang onto the creamy cheese sauce.
Cheese. Cheddar and Gouda make a creamy flavorful brisket mac n cheese.
Heavy Cream. Smooth and creamy cheese sauce starts with real cream.
Brisket. Diced is what this recipe used. It made it easier to get a good balance of pasta and brisket.
Panko Topping
Adding a Panko bread crumb topping to this brisket mac and cheese recipe provides a delicate buttery crunch to the dish. It's optional but I highly recommend it.
The panko topping ingredients are simple.
Panko. Panko is a Japanese bread crumb that's easy to find in most grocery stores next to bread crumbs. We like them because they maintain their crunch. You could substitute with bread crumbs.
Butter. Real butter is what I use. A substitute would work as well.
Parmesan Cheese. A special touch that is optional but highly recommended.
How To Make Brisket Macaroni and Cheese
First step: Panko topping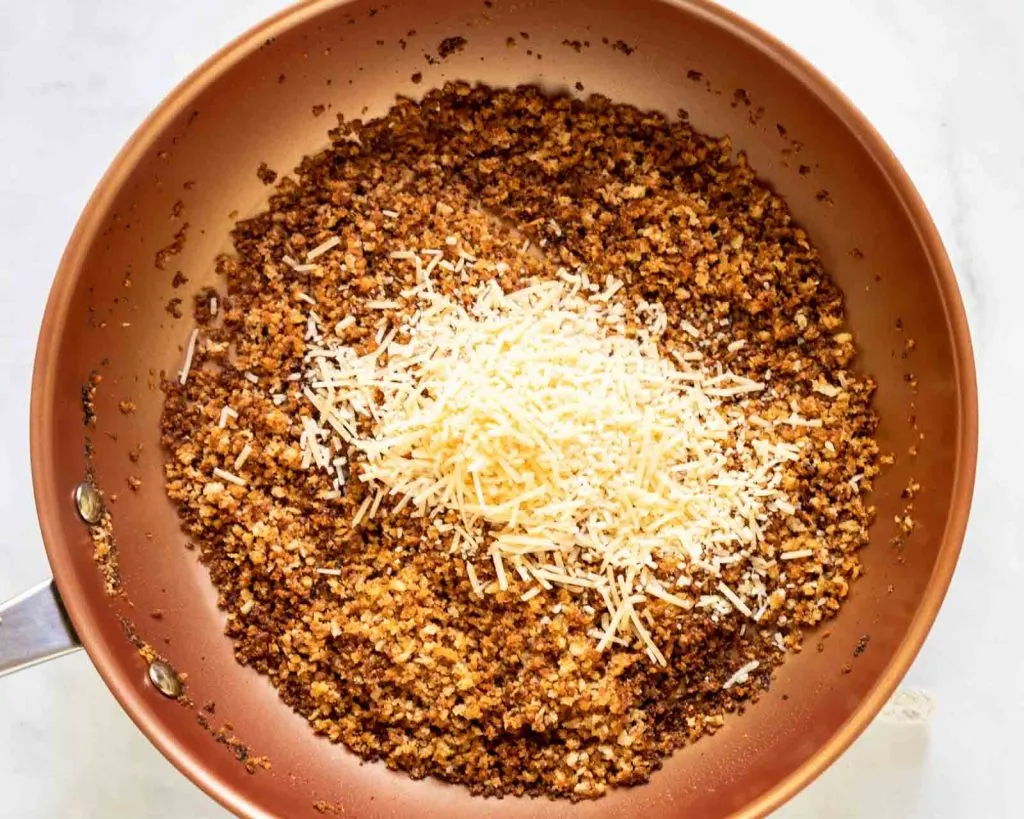 Melt the butter in a medium-sized skillet. Add the Panko bread crumbs. Stir continuously until evenly browned. Remove from the heat and allow to cool slightly. Stir in the parmesan cheese. Set aside.
Second step: Cheesy cream sauce
Add the cream to a large skillet or braiser. Heat over medium-low until the cream has reduced to half. Remove the pan from the heat and add the cheese. Stir until the cheese is melted and the sauce is smooth.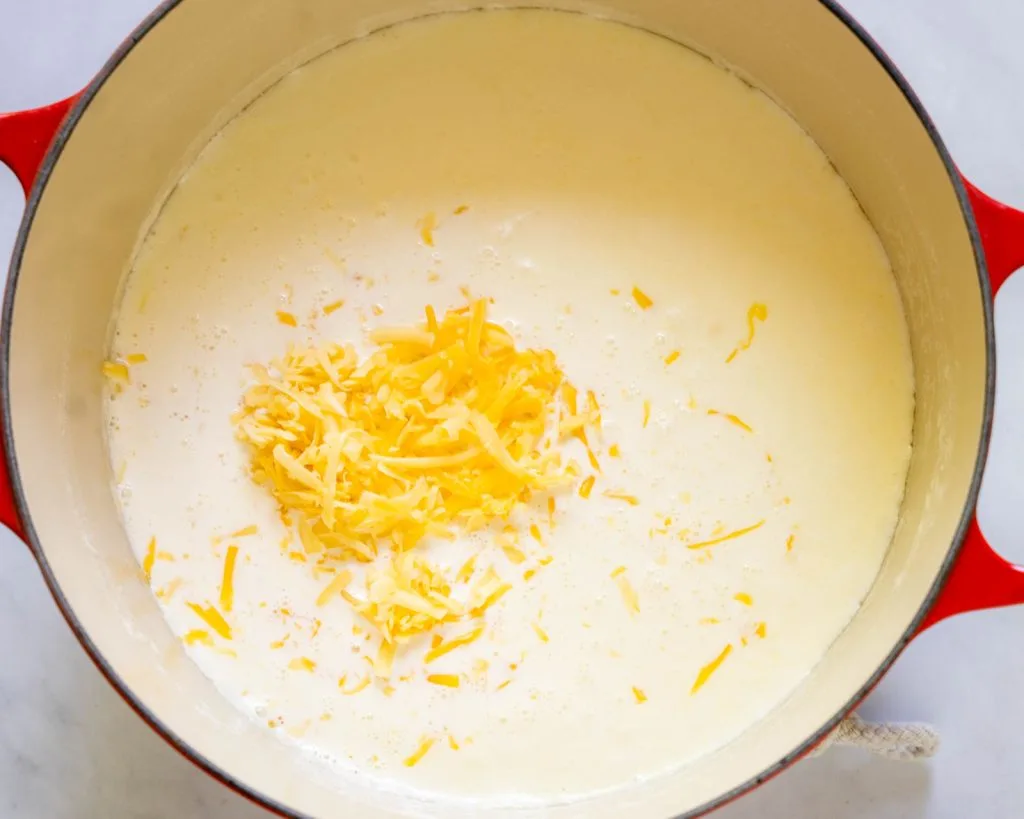 Third step: Combine Mac and Cheese Brisket ingredients
Add the cooked pasta and leftover brisket to the cheesy cream sauce. Stir until combined. Add additional milk, cream, or pasta water if the mac and cheese need thinning.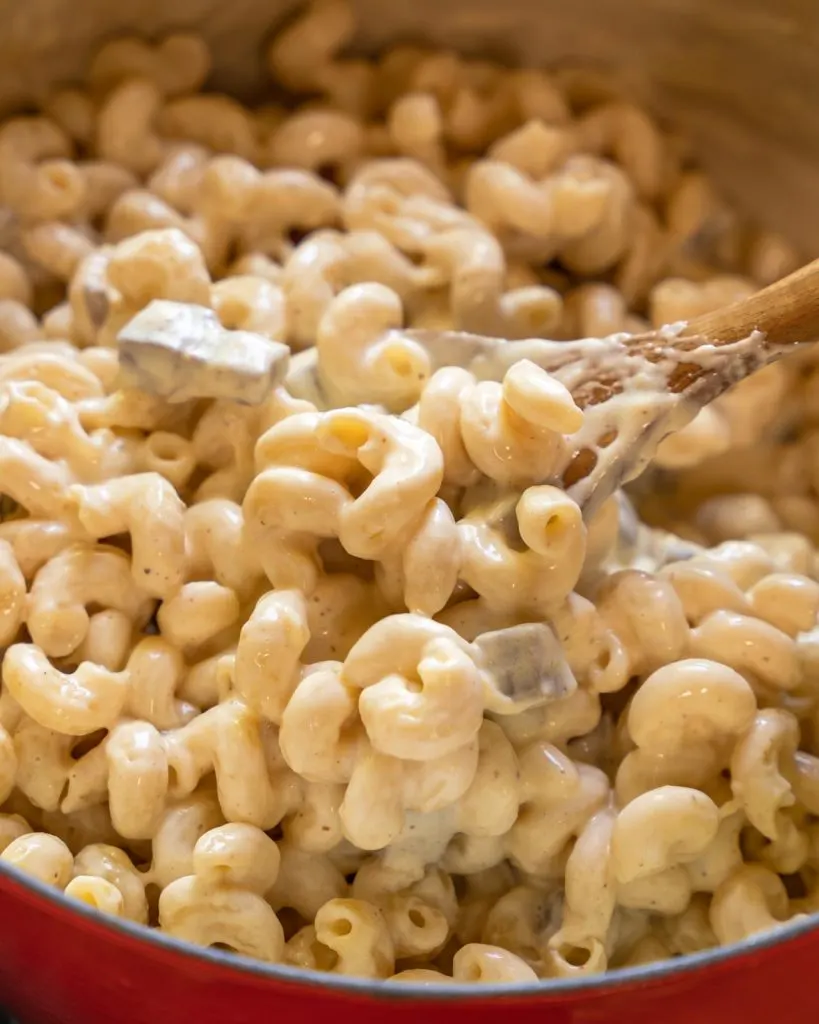 Fourth step: Top and Serve
Top each serving with Panko topping and serve.
Popular Variations & Additions
Cheese! You can use all cheddar or the combination of your choice. My recommendation is a semi-soft cheese that will melt smoothly.
Veggies. This is a great recipe to sneak some vegetables into your family's diet. You can blend cooked carrots and add them to the cream sauce.
Brisket – Our brisket was diced but if you shredded your brisket it will work great in this recipe.
How To Reheat & Store
Best Way To Store Leftover Brisket Mac and Cheese
Any dish that contains dairy should be stored in the refrigerator. Store your leftover brisket mac and cheese in an airtight container for up to 3 days.
Most leftovers should be used within 5 days of making an ingredient. Even though mac and cheese is a new dish, you should use it up or freeze it within 5 days of when you made the brisket.
Can I Freeze Brisket Macaroni and Cheese?
Yes! Macaroni and cheese with brisket freezes great for up to 3 months. I store it in individual serving sizes in airtight containers for a quick dinner. You can store leftover bread crumbs in a reclosable plastic bag and add them before serving.
I've actually had mine in there longer than that and it was fine when I finally used it. Just check it for freezer burn and drying out.
How To Reheat Mac and Cheese with Brisket
When you remove your macaroni and cheese with brisket from the refrigerator, it may appear very thick. Add a little bit of milk or cream and stir. Microwave either the entire container or individual servings at 1 to 2 minute increments, stirring between each increment until heated through. Add additional liquid if necessary.
You can also reheat leftover macaroni and cheese with brisket in a saucepan over medium-low heat. Add the liquid and cover it with a lid, stirring occasionally until heated through.
Want more delicious recipes? Follow Hostess At Heart on Pinterest!
Frequently Asked Questions
Why is my Brisket Mac and Cheese grainy?
Don't cook the cheesy cream sauce at too high a heat. It can "break" which means that the cream and butter separate. Your cream sauce will be grainy instead of creamy.
Is Brisket Mac and Cheese a main dish or a side dish?
We enjoy this recipe as a main dish. However, you could serve it as a side dish. Either way, it's delicious.
How do you make leftover mac and cheese creamy?
The cream sauce is what makes this recipe creamy. That's why it's cooked separately before adding in the remaining ingredients. Once the consistency is perfect, you'll have the best brisket mac and cheese.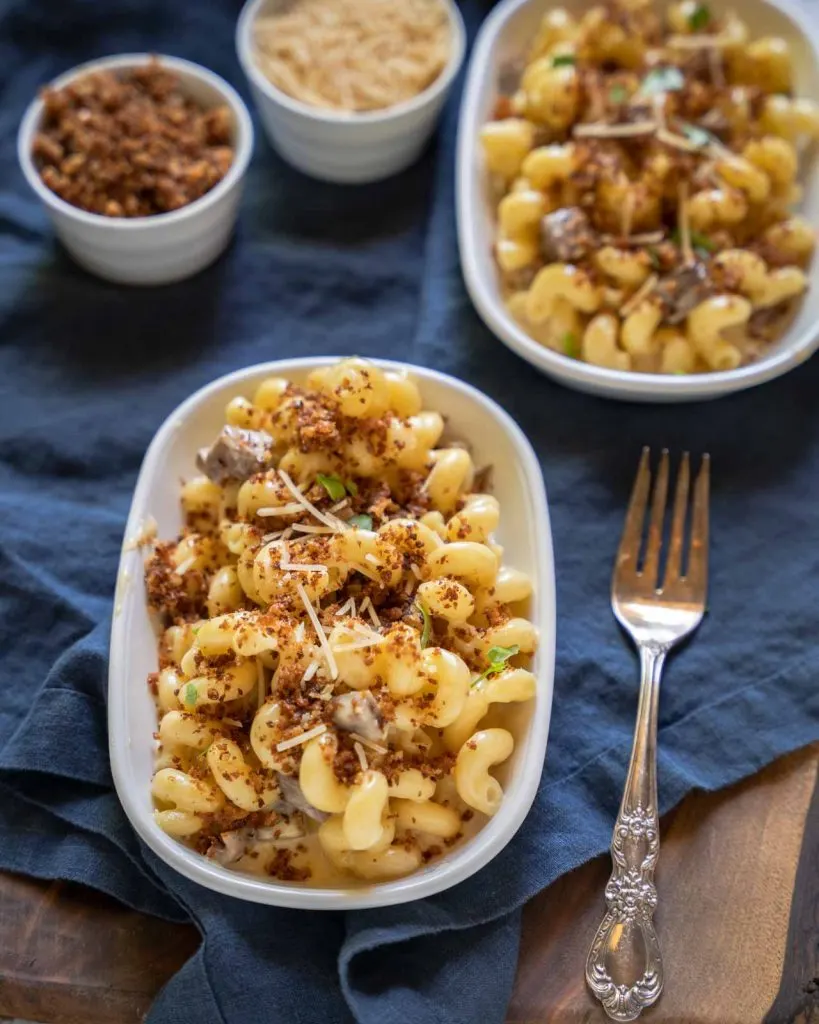 Tips for the perfect Brisket Mac and Cheese Recipe
You can serve brisket mac and cheese right from the pan to a plate and then sprinkle with bread crumbs. You don't have to serve them in individual serving dishes as I did.
Allow your panko bread crumbs to cool before adding the parmesan cheese or the cheese will melt and appear stringy.
What to Serve with Brisket Macaroni and Cheese
You could always go right to dessert in my humble opinion. I serve this apple pie filling like applesauce. It's loaded with cinnamon in a rich brown sugar sauce.
Cookies are always an easy dessert following a filling meal. My favorite is this oatmeal raisin cookie. John's favorite is my oatmeal scotchies.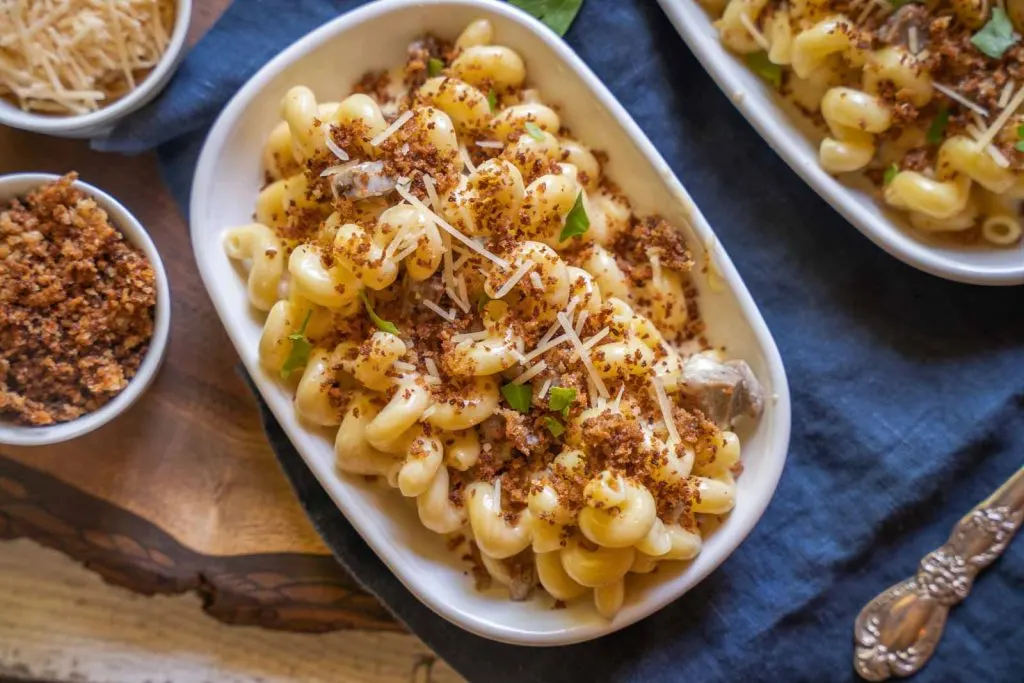 If you liked this recipe try these out
If you tried this delicious recipe, don't forget to rate it and leave me a comment telling me what you think. I love hearing from you!
Pin this amazing Brisket Mac and Cheese!