BBQ Brisket Sandwich recipe uses a sweet and spicy homemade barbecue sauce and is topped with a crunchy creamy fennel coleslaw. It's a complete meal between two pieces of bread.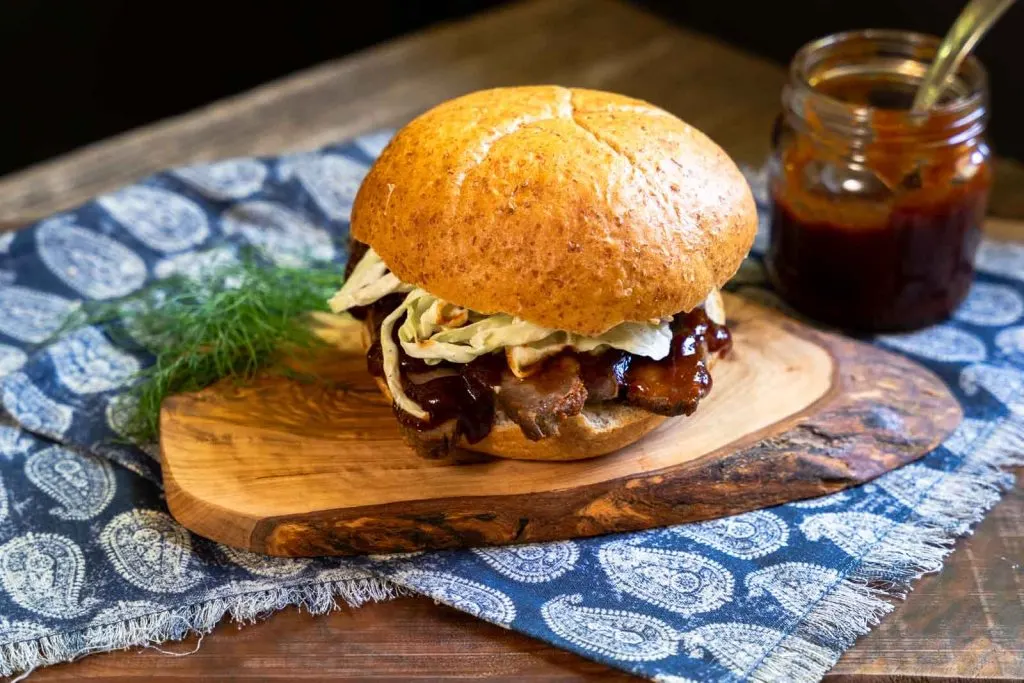 One of my favorite ways to enjoy leftover brisket is in a delicious Brisket Sandwich. When I made our oven-baked brisket recipe I made sure I'd have plenty of leftovers just for the Leftover BBQ Brisket Sandwich.
Inspired by our Corned Beef Sandwich, I wanted a sandwich that had tons of flavor and textures. This brisket sandwich recipe has it all.
Why you'll love leftover beef brisket sandwiches
Leftovers. Using leftover brisket guarantees a delicious dinner in a jiffy that the whole family will love.
Variety. Everyone can make their own brisket sandwich. Set out your toppings and let everyone help themselves. You can easily double or triple this recipe to feed a crowd.
Tough brisket. Maybe your brisket got dry or came out tougher than you like? This thick and delicious BBQ sauce will revive your sliced brisket to gourmet status.
Slow cooker. This recipe is versatile. I cooked it on top of the stove but you could put it in your slow cooker for an amazing dinner when you're ready.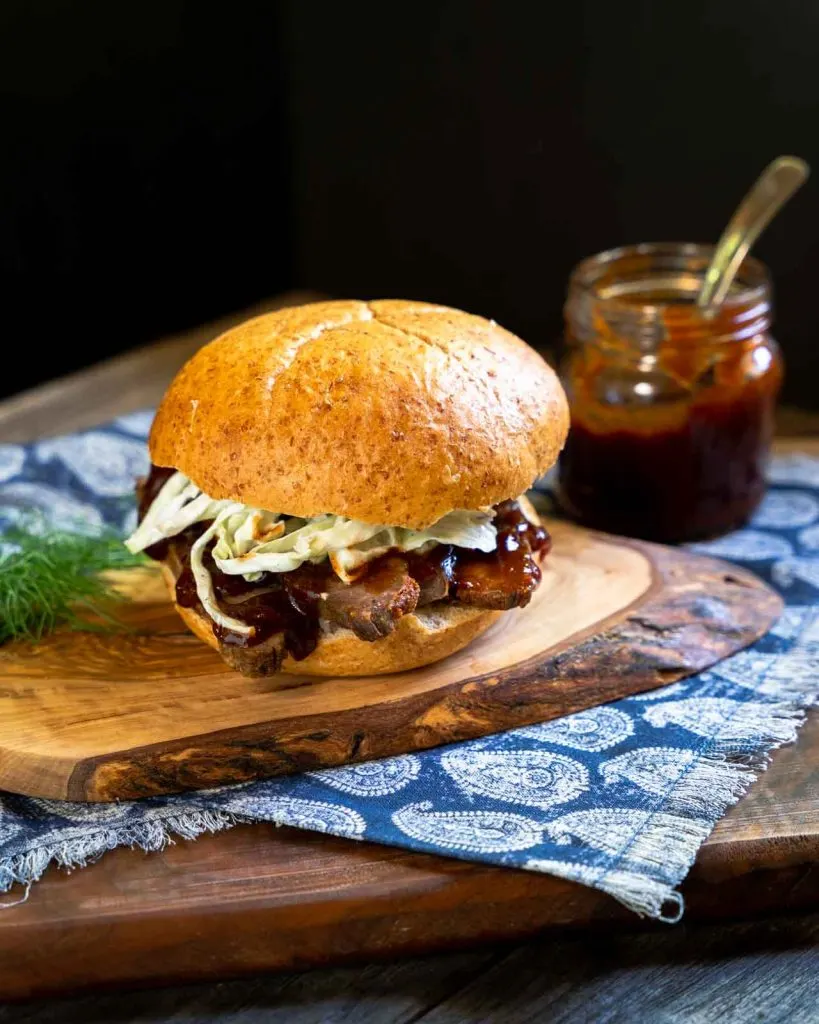 Brisket Sandwich Ingredients
Brisket Sandwich Ingredients
Leftover Beef Brisket – We thinly sliced our leftover brisket.
Bread buns or rolls – I'll be sharing my recommendations with you.
Homemade BBQ Sauce Ingredients
There are more barbeque-type sauces than I can name. This barbeque sauce is thick, sweet, and a little spicy. You can amp up the heat or dial it down.
You can use as much or as little sauce on your BBQ brisket sandwich. I like a lot and John just a bit.
Ketchup. Use a brand of ketchup that you would eat with other foods.
Apple cider vinegar. Adds brightness and cuts the tomato sweetness of the ketchup.
Brown sugar. The molasses flavor is what makes this sauce taste like BBQ.
Worcestershire sauce. This is a savory element.
Paprika. If you like a smokey bbq sauce use smoked paprika.
Mustard powder. Regardless of the flavor of bbq sauce that you like, this spice is a must.
Chili powder. We like a sweet and spicy contrast. You can make your bbq sauce as spicy as you like.
Other spices. Garlic powder, onion powder, salt, and pepper. You can use these spices as recommended or eliminate some of them. I'd definitely recommend tasting the sauce for needed salt.
Fennel Slaw Ingredients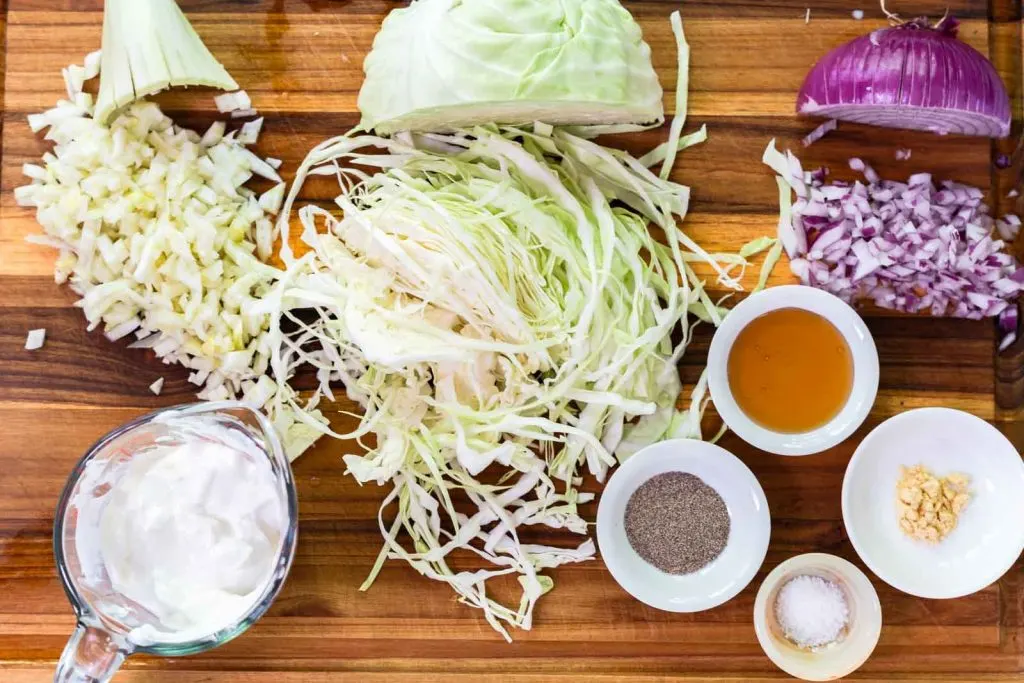 This is the best slaw for brisket sandwiches. It adds a creamy crunchy element to our sandwich. It's not overly sweet since the barbecue sauce provides that element. It's optional but recommended. It's so easy to make and so good!
Tools you'll need to make Brisket Sandwiches
Hostess At Heart participates in affiliate programs. As an Amazon Associate, I earn a commission from qualifying purchases. Please refer to my disclosure page for more information about these affiliate programs.
Saucepan for cooking the barbeque sauce.
Box Grater is used for shredding cabbage and onion.
How to make this Brisket Sandwich Recipe
Step 1: Best coleslaw for brisket sandwiches
Start by making the slaw and refrigerating it until needed. That way it's cool and crunchy and the flavors have had a chance to blend together.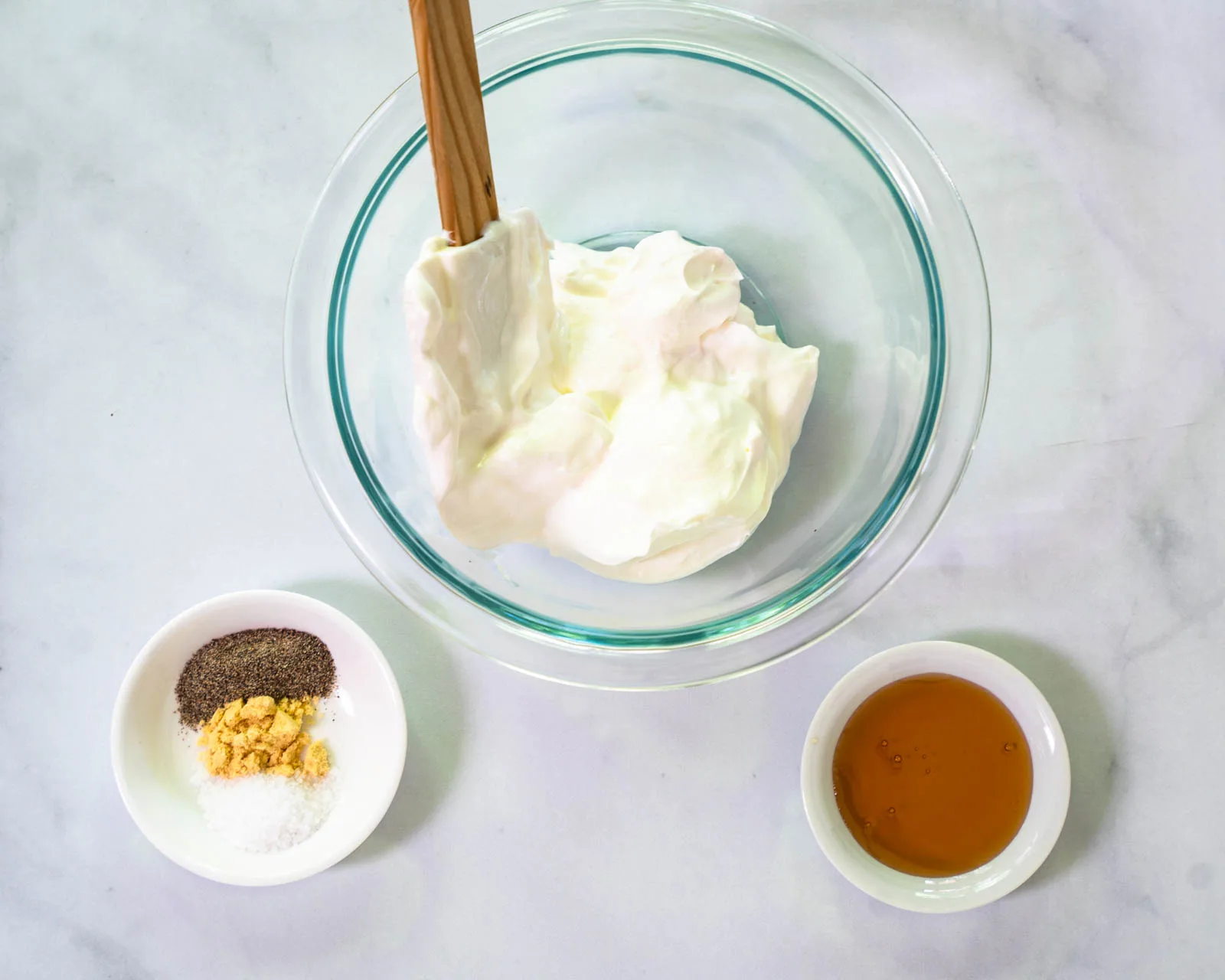 Grate the cabbage and chop the onion and fennel. Add it to a large bowl.
In a separate bowl, combine the sour cream, honey, cardamom, mustard powder, salt, and pepper.
Pour the sauce over the cabbage-fennel mixture and stir to combine. Refrigerate until needed.
Step 2: BBQ sauce
In a small bowl, whisk the spices together.
Add all of the barbecue ingredients to a small saucepan, including the spices. Cook over low heat until the vinegar smell dissipates, about 5 minutes. Allow the bbq sauce to cool.
Step 3: Assemble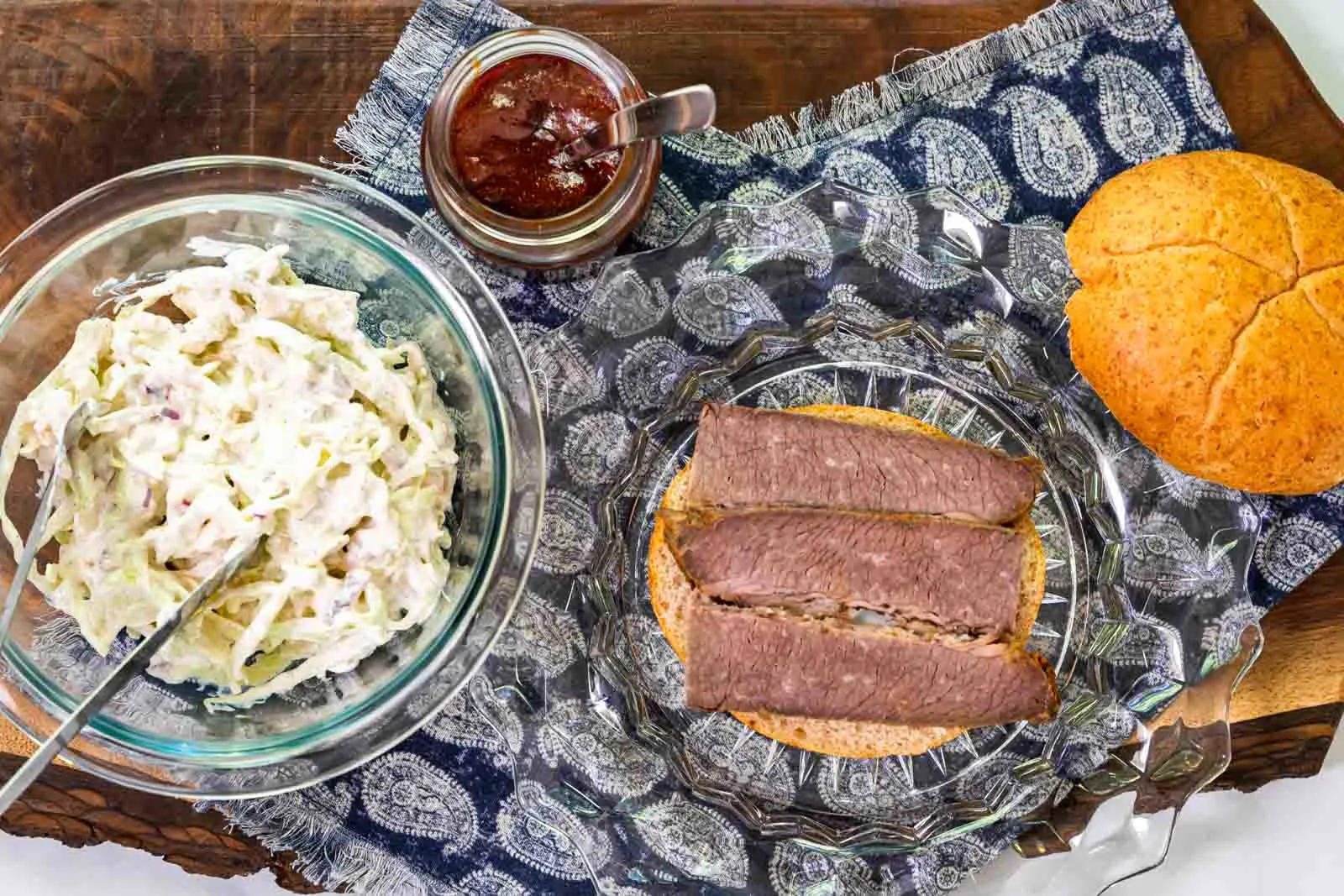 Line bread with sliced brisket. Slather the brisket with bbq sauce. Top with slaw and serve.
How To Reheat & Store Brisket Sandwiches
Brisket coleslaw, barbecue sauce, and the sliced beef brisket should be stored in separate covered containers. Store in the refrigerator for up to 3 days.
Assemble the sandwiches just prior to serving.
Can I Freeze BBQ Brisket Sandwich
Yes! The brisket freezes beautifully. We freeze sliced brisket in serving sizes for a quick dinner. Brisket can be frozen with or without the barbecue sauce added. I wouldn't freeze the coleslaw.
How To Reheat Barbeque Beef Brisket
You can serve this sandwich cold or heat up the beef brisket slathered with the barbecue sauce either in the microwave, in a saucepan on the stove, or in a slow cooker. Set it on low for 1 hour until heated through.
How to cut a fennel bulb?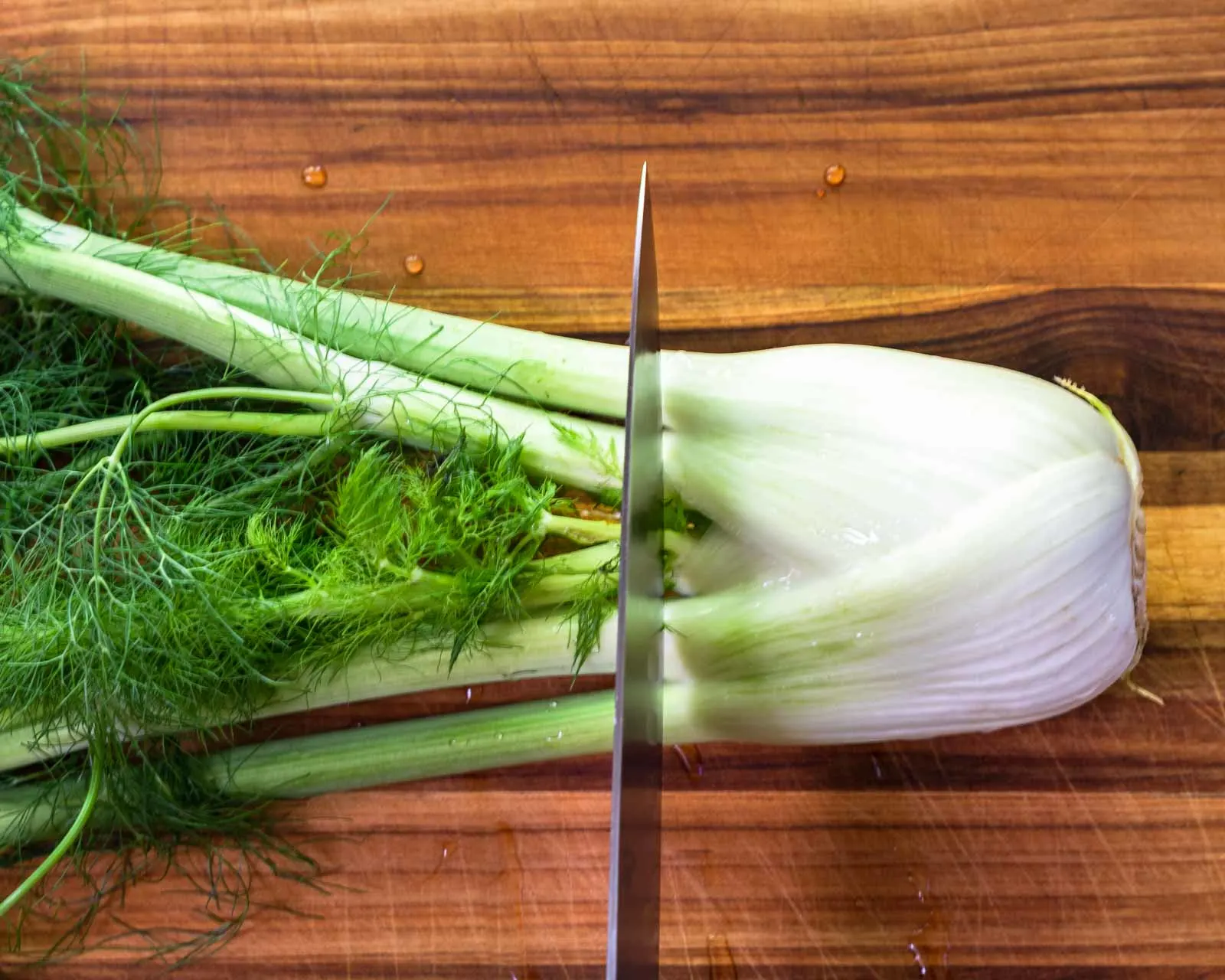 Remove the fronds from the bulb. The whispy fronds can be chopped and added to your recipe to they make a beautiful garnish.
Cut the bulb vertically.
Make a V-cut to remove the root.
Slice the bulb vertically.
Turn the bulb and thinly chop the bulb.
What is the best bread for a Brisket Sandwich?
I recommend bread that provides a good balance with the ingredients and can soak up that delicious sauce and beef brisket juices without becoming soggy. Here are my recommendations.
How much BBQ Brisket per person for sandwiches?
It depends on the bread you are using. Allow about 5 ounces or 3 to 4 slices per sandwich.
Tips for the perfect Leftover Brisket Sandwich Recipe
If your brisket is dry or tough you can cover the meat with barbecue sauce and let it cook slowly on the stovetop or in a slow cooker.
Brisket doesn't have to be sliced. You can also use shredded or chopped brisket.
Onion and fennel can also be shredded with the box grater instead of chopping.
Stir just enough sauce into the coleslaw to make it stick together. You don't want it so wet that it will make your sandwich soggy.
You can double or triple the barbecue sauce and refrigerate it for other recipes.
What do you serve with brisket?
Apple Baked Beans. This recipe is sweet and spicy just like our sandwich
Orange Salad. A simple salad that's delicious any time of year.
Brussels Sprouts. Cooked to perfection make this brisket sandwich a complete meal.
Homemade Potato Chips. Deliciously crunchy potato chips, you can't eat just one!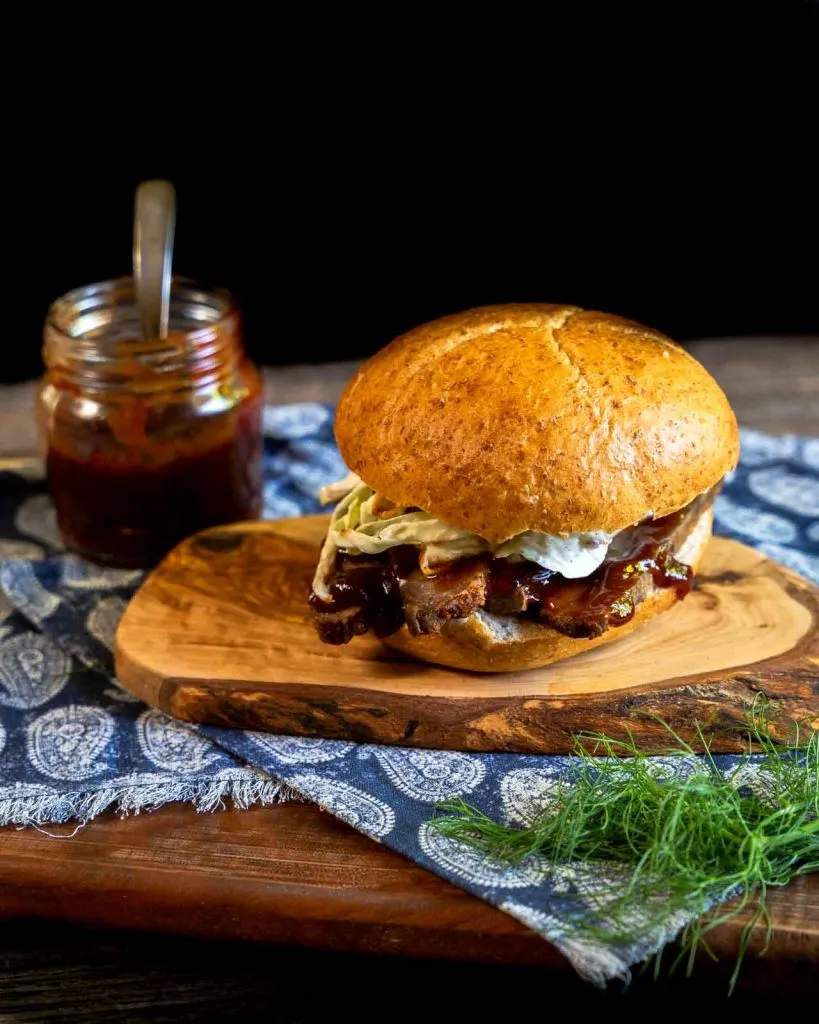 More recipes with beef brisket leftovers
Brisket Tacos and Brisket Mac and Cheese are some of our favorites. Any recipe that uses chopped or sliced beef can be made with brisket leftovers.
I hope you enjoyed this delicious recipe as much as we do. Drop me a comment below, and don't forget to give it a star rating. ⭐⭐⭐⭐⭐. Your comments and ratings help others decide if this recipe is for them too.