Easy Sweet Potato Casserole recipe combines delicious sweet potatoes with apples and warm spices under a crunchy pecan topping. You'll love this spin on the classic Baked Sweet Potato Casserole.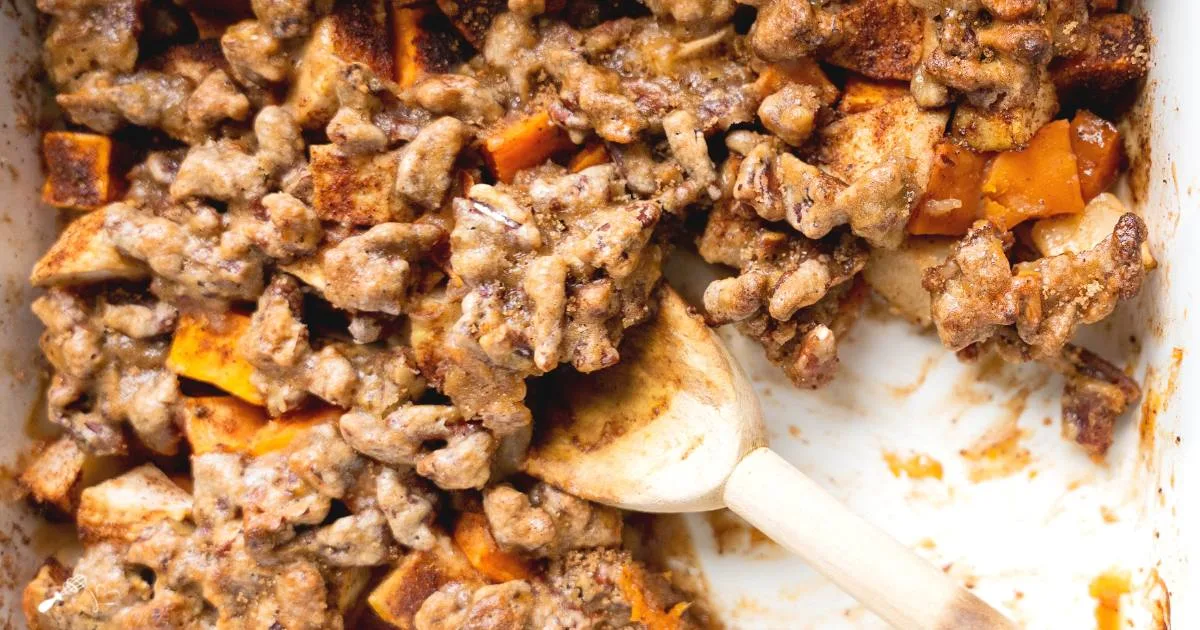 When you love sweet potatoes but don't really want the traditional overly sweet and gooey sweet potato casserole of your childhood, bring this delicious and unique recipe for sweet potato casserole to your table instead.
Why You'll Love About This Sweet Potato Casserole with Pecans
Vegan sweet potato casserole. And it will work as a side dish or dessert depending on your preference. Make sure you use dairy-free butter.
Not overly sweet. Usually, sweet potato casseroles use mashed sweet potatoes. With this recipe, I made it a lot less sweet and didn't mash the sweet potatoes. Combined with the apple we didn't miss the extra sugar and I ditched the cream for less fat.
Ingredients For Your Easy Sweet Potato Casserole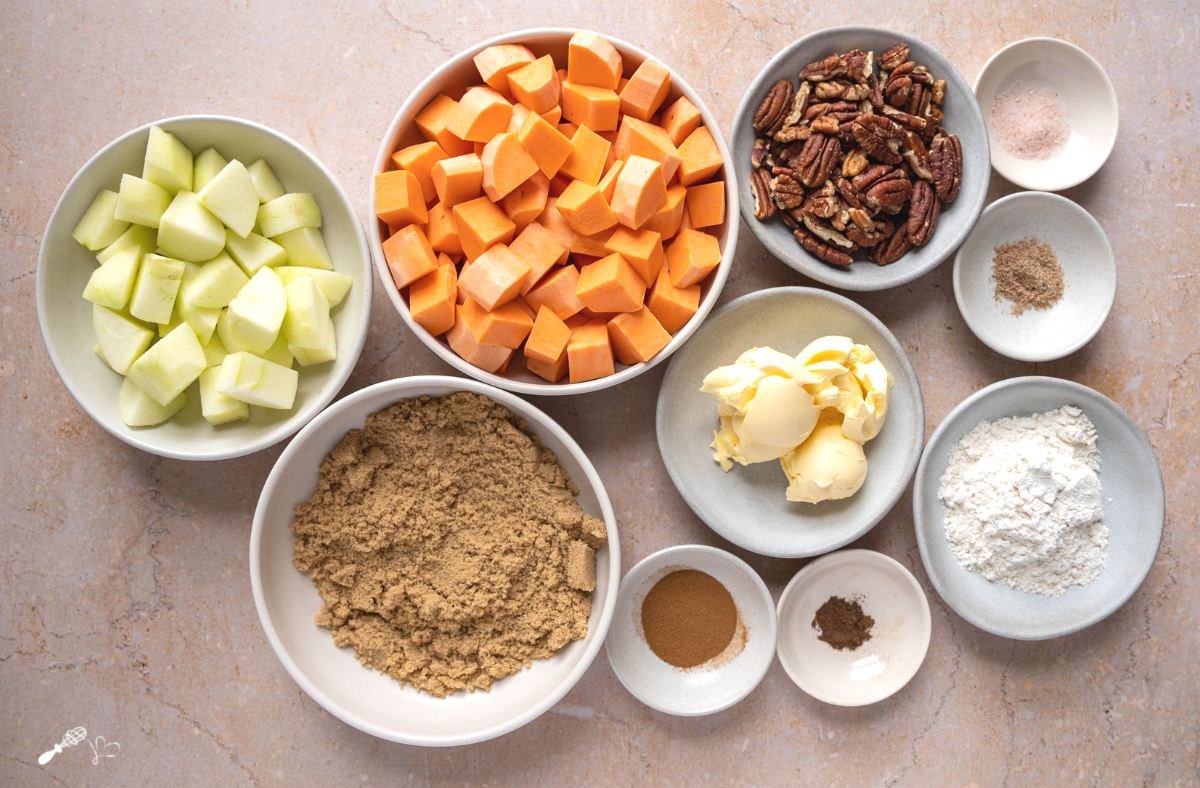 Sweet Potatoes. You will need about 18 ounces which is about two potatoes.
Granny Smith Apples. These apples have a tart edge that provides the perfect complement to the sweetness of the potatoes. They are great for baking without becoming too soft or mushy. Honey Crisp apples or a similar tart apple will work as well.
Brown Sugar. Dark brown sugar will bring more flavor to the dish and the intensity pairs well with apples and sweet potatoes. Light brown sugar will work.
Cinnamon. Traditional and tasty.
Nutmeg. A wonderful spice for sweet potatoes or squash.
Allspice. If you only use these spices during the holidays, make sure your jars are not expired. Spices really only last about six months in the cabinet with any flavor potency.
Salt. To intensify the flavors and provide cohesiveness.
Vegetable oil or non-stick cooking spray for a light drizzle. Canola will work as well.
Ingredients for the Pecan Topping
Pecans. If you prefer, use your favorite baking nut.
All-purpose flour. This recipe will definitely work with a gluten-free all-purpose one-for-one flour instead.
Brown Sugar. Again, dark or light brown sugar will work.
Butter. Use dairy-free or vegan butter if desired.
Want more delicious recipes? Follow Hostess At Heart on Pinterest!
Tools You'll Need For The Easy Sweet Potato Casserole Recipe
Hostess At Heart participates in affiliate programs. As an Amazon Associate, I earn a commission from qualifying purchases. Please refer to my disclosure page for more information about these affiliate programs.
9×13 Baking Dish. If you plan to scale up the recipe use a lasagna pan instead.
Knives. Sometimes I forget that not everyone realizes the value of good knives. If your knives are dull, it's time they were sharpened or replaced. Dull knives are actually more dangerous! Quality knives change the entire kitchen experience, so if you don't have them you do not know what you are missing.
How To Make An Easy Sweet Potato Casserole
Step 1: Bake the sweet potatoes.
Place the sweet potatoes in a baking dish and drizzle them with vegetable oil. In a preheated oven, bake these until soft. Remove from the oven.
Step 2: Prepare Sweet Potato Casserole Topping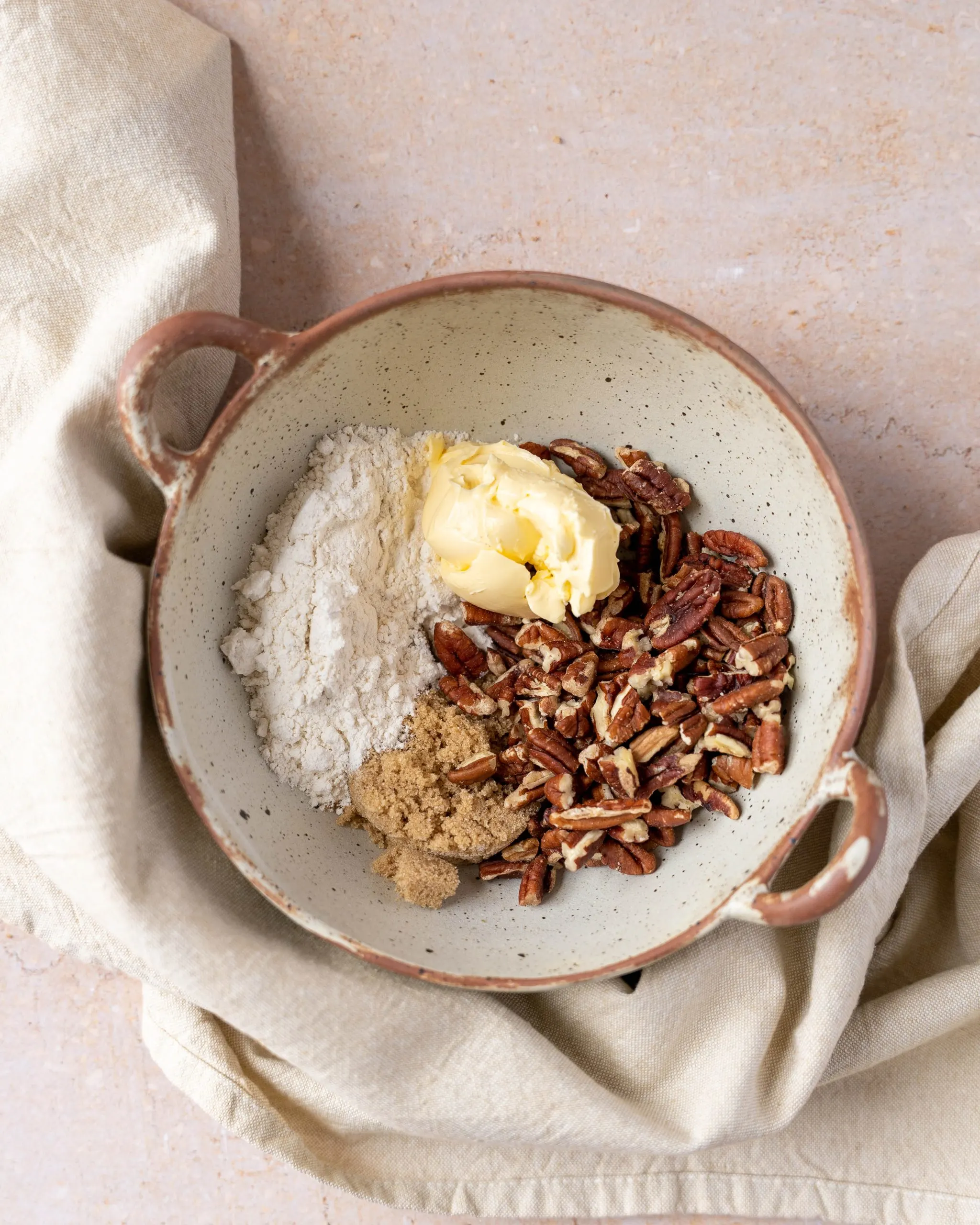 Step 3: Assemble and Top
Mix the topping ingredients together until creamy.
Add the apples to the baked sweet potatoes.
Stir in the brown sugar spice mix. Spoon it over the sweet potatoes and apples.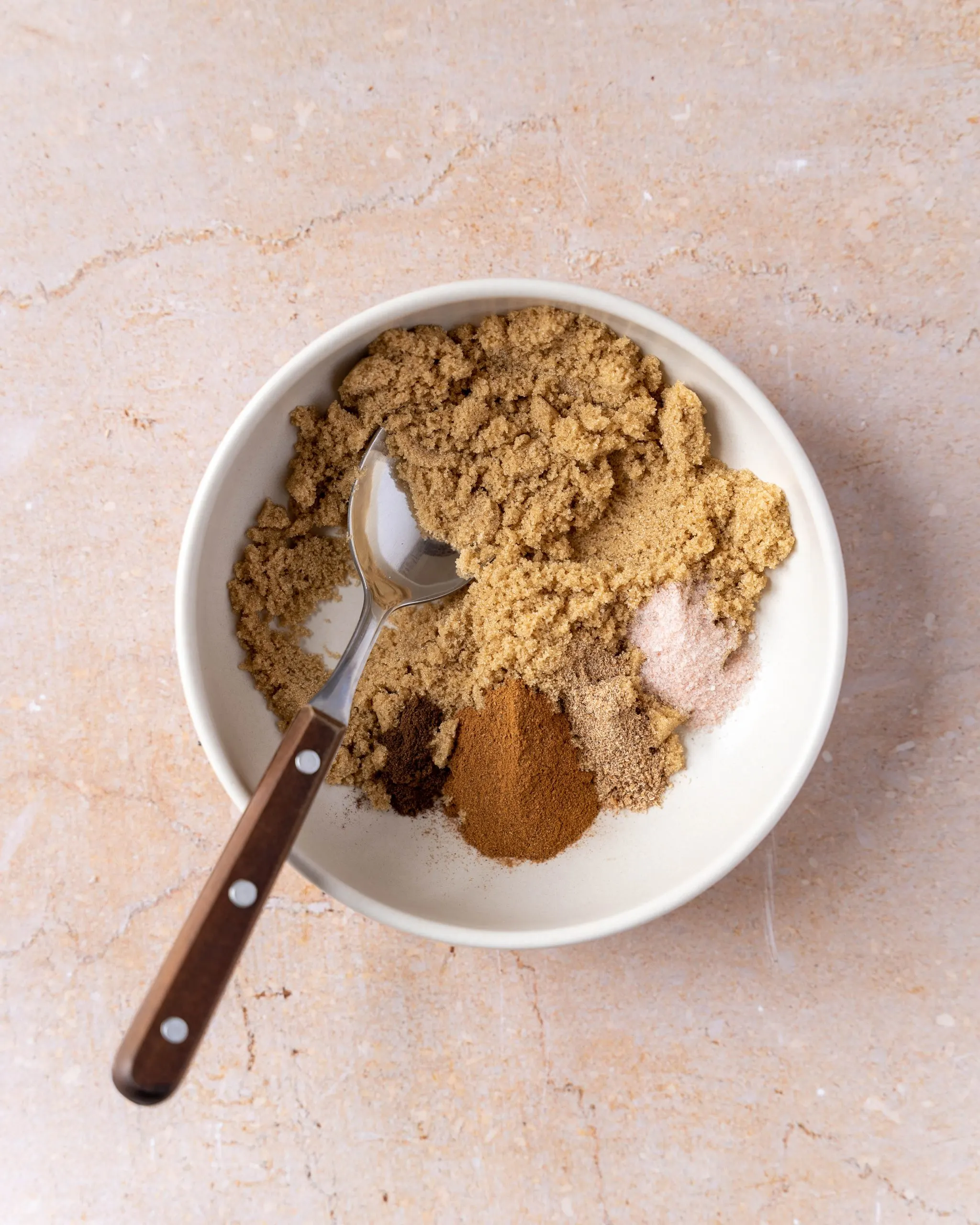 Top the casserole with the pecan topping.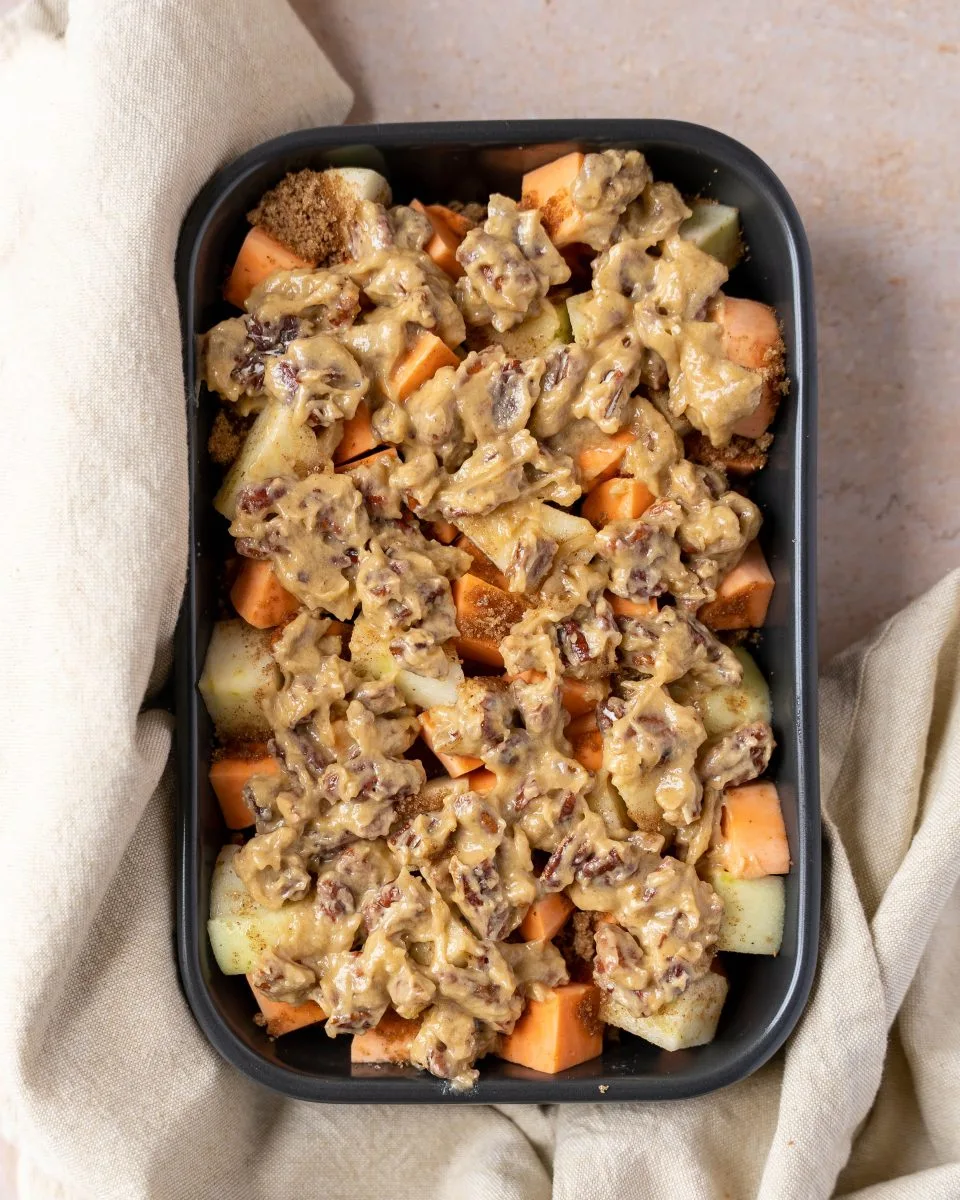 Step 4: Bake your Easy Sweet Potato Casserole.
In thirty minutes, you will have a delicious dessert or holiday side dish.
Popular Variations & Additions
Add marshmallows to the pecan topping. Marshmallows are a delicious addition to the topping. Just add about a half cup and bake when you return the sweet potato casserole to the oven.
Use all sweet potatoes instead of a combination with the apples.
Walnuts or almonds will work just as well for the topping if you already have one of those on hand.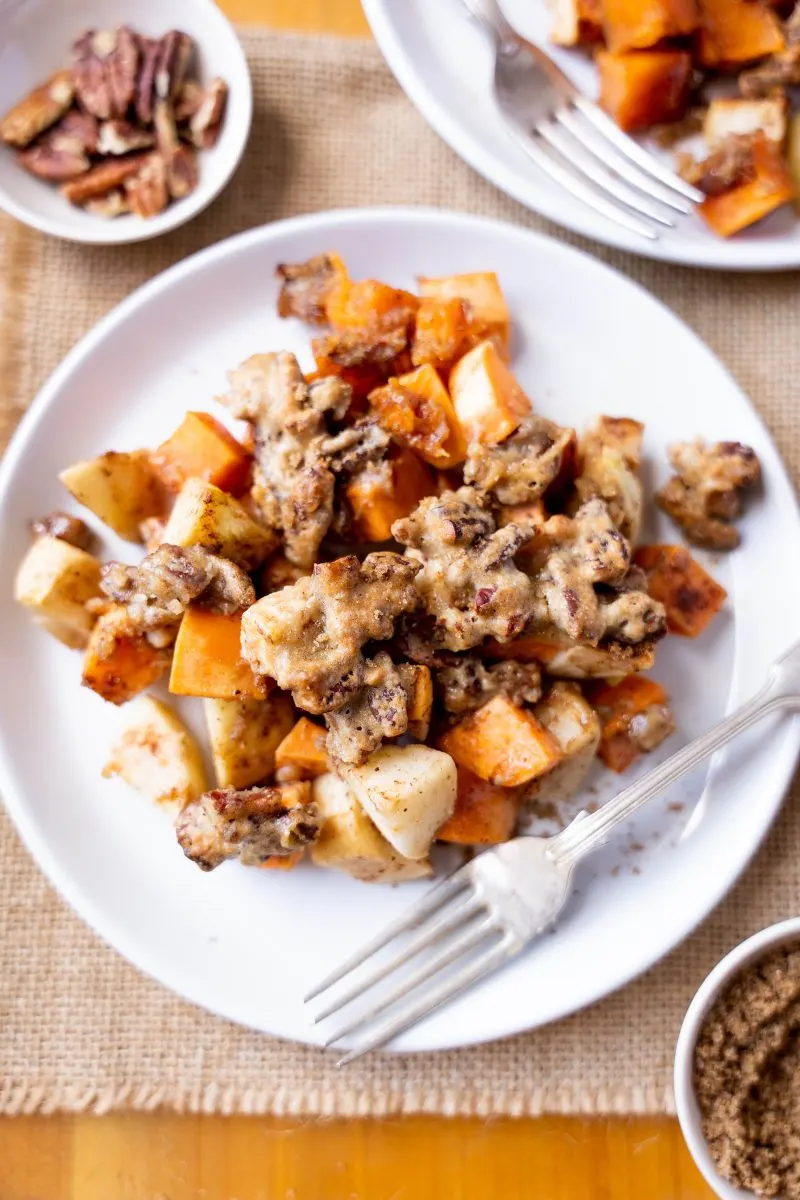 How To Reheat & Store Easy Sweet Potato Casserole
Best Way To Store Sweet Potato Casserole with Pecans
Keep the leftovers in an airtight container for up to three days or until it gets weepy and starts to separate.
Can I Freeze Baked Sweet Potato Casserole
Yes. Freeze the entire casserole to reheat later or freeze individual servings to use as needed. This makes a great treat for a busy workday! Use airtight containers and freeze for up to three months. The texture of the sweet potato casserole may change during the freezing process.
How To Reheat Easy Sweet Potato Casserole
You can eat your leftovers cold or reheat individual servings in the microwave for thirty seconds at a time until it reaches your desired temperature. Stir before eating to remove hot pockets. A whole casserole can be reheated from leftovers in the oven at 350º for 20-25 minutes.
Please note, that the printable recipe card has ingredient quantities, complete instructions, and nutritional information. The following is a quick overview of the recipe.
Baked Sweet Potato Casserole FAQs
What is the difference between sweet potatoes and yams?
What Americans and Canadians refer to as yams are actually sweet potatoes. Yams have rough bark-like skin and the inside is more like a regular potato, starchy and not sweet.
Can I use frozen sweet potatoes to make sweet potato casserole?
Yes, it will save you some prep time when it comes to peeling and chopping. After 20 minutes of baking, check them regularly until fork tender.
Can you make sweet potato casserole ahead of time?
Yes. I'd bake the sweet potatoes and then assemble them. Refrigerate until you're ready to bake. Sprinkle with the topping and bake as instructed.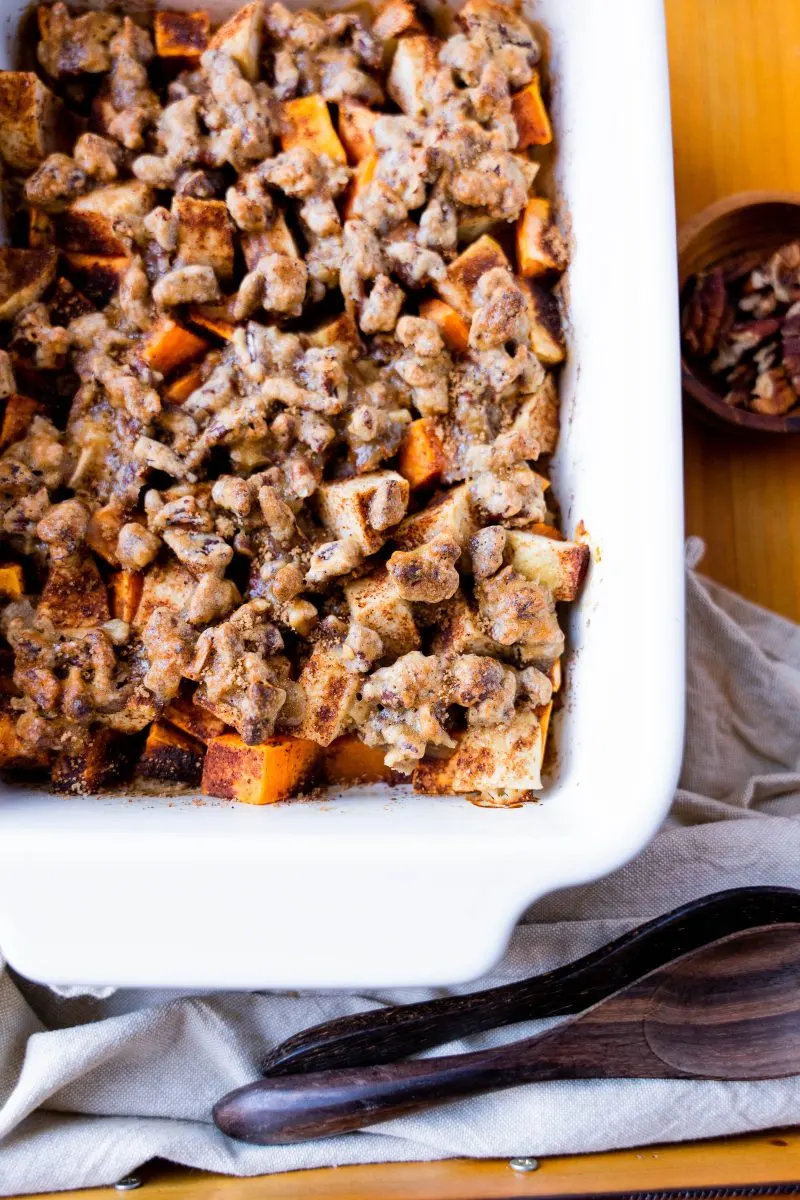 Tips for the Perfect Recipe for Sweet Potato Casserole
This recipe easily scales up or down, as long as you have the right size casserole dish (or multiple dishes).
To mix the topping, it helps to use your hand to rub the ingredients together between your fingers, as the butter may stay clumped up and not mix well with just a spoon. You can also mix the pecan topping with a pastry cutter or two forks.
Other Casserole Recipes You'll Love
Don't Forget To Come Back And Let Me Know How the Easy Sweet Potato Casserole Recipe worked!
Welcome to Holiday Side Dish Week 2022 hosted by Heather from Hezzi-D's Books and Cooks. This year we have over 45 side dishes to help you plan your holiday meals.
Monday Holiday Side Dish Recipes:
Pin It Now