Serve your family this Twice Baked Potatoes Casserole Recipe once and you will find yourself making it over and over again. This delicious, creamy, cheesy, bacon-filled dish is your new family tradition. It will become the most requested side dish you serve!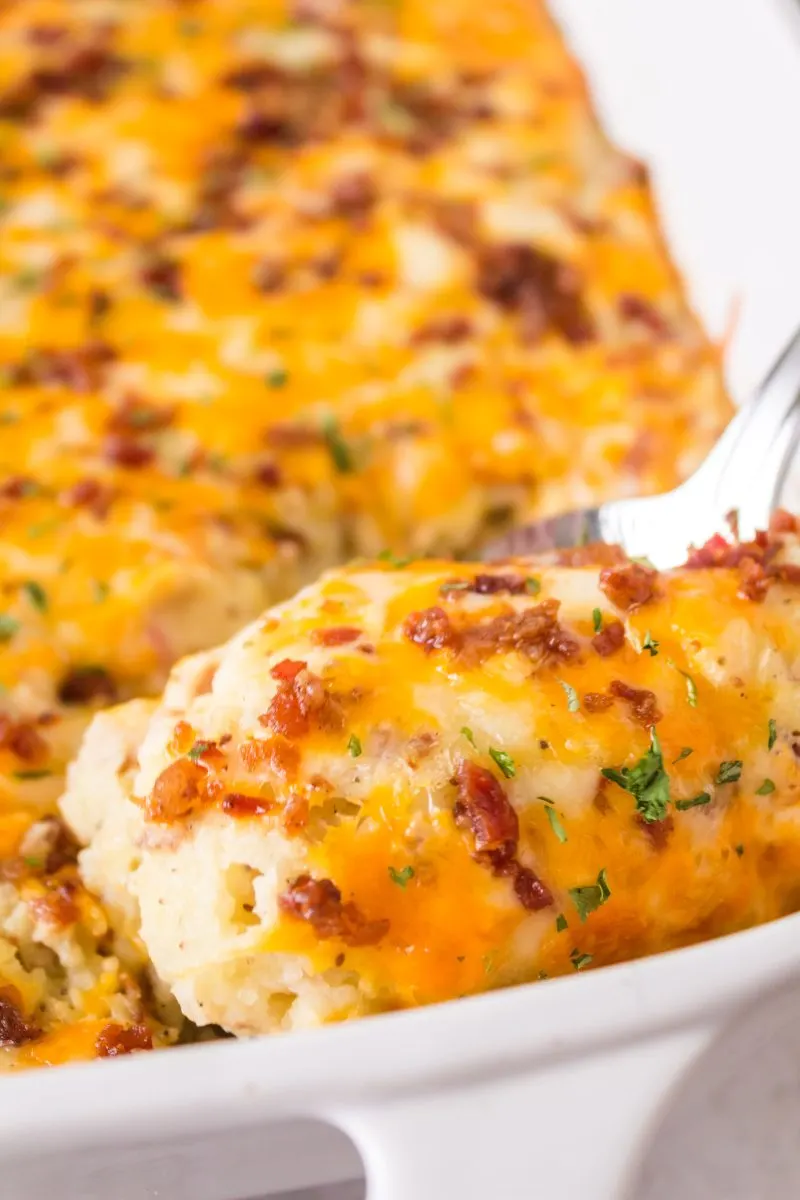 A perfect accompaniment for holiday dinners, grilled meats, and ham sandwiches, our loaded baked potato casserole fills up hearts and bellies.
What You'll Love About Twice Baked Mashed Potatoes
Flavorful and versatile. This twice-baked potato casserole is soft, fluffy, and packed with flavors. With no ingredients overpowering each other, this twice-baked potato casserole can be served with a wide variety of dishes.
Fast and easy. As much as we love individual twice baked potatoes, this casserole comes together quicker and will feed more people.
Ingredients and Substitutions For Your Twice Baked Potato Casserole Recipe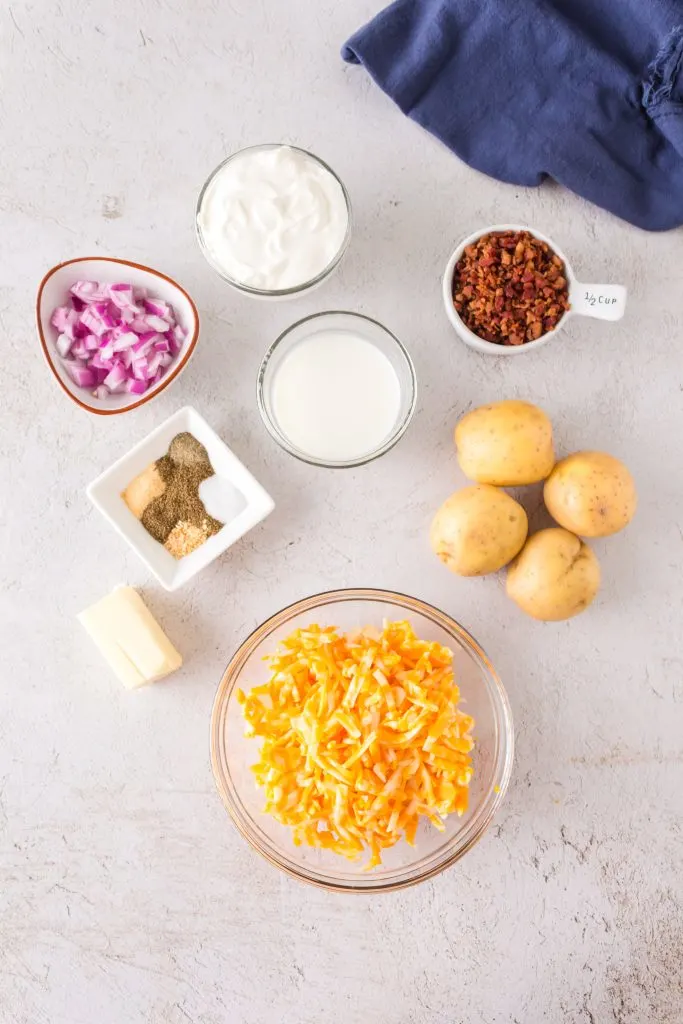 Potatoes. Wash the potatoes but do not peel them. You'll need approximately 8-9 golden potatoes cooked and diced. Boil until tender or throw them in the pressure cooker for 27 minutes.
Butter. Salted or unsalted.
Milk. Any kind of milk will do. Do not substitute with heavy cream. See notes.
Salt and Ground Pepper.
Garlic Powder. The powder form will ensure garlic flavor in every bite.
Minced Garlic. The minced form will amp up the garlic flavor and make it shine.
Ground Celery Seeds. This familiar flavor will add another layer of flavor.
Onion. We used a red onion but your favorite onion will work.
Bacon. You can use bacon bits or cook 3-5 slices in a microwave between paper towels or in a skillet.
Shredded Colby Jack. I love using Colby Jack in a block that I shred at home. It melts very good and has a milder taste than Cheddar. You can substitute with Cheddar — sharp or mild or any of your favorite cheese blends.
Sour Cream. Full fat or reduced fat.
How To Make A Twice Baked Potato Casserole Recipe
Step 1: Cook the potatoes.
If your potatoes are not cooked, wash and dice them, then boil the potatoes.
Step 2: Get everything ready to make loaded baked potato casserole.
Preheat your oven to 375 °F. Butter a 9×13 baking dish and set aside. Place the cooked potatoes into a large mixing bowl.
Step 3: Add ingredients for the Twice Baked Potatoes Casserole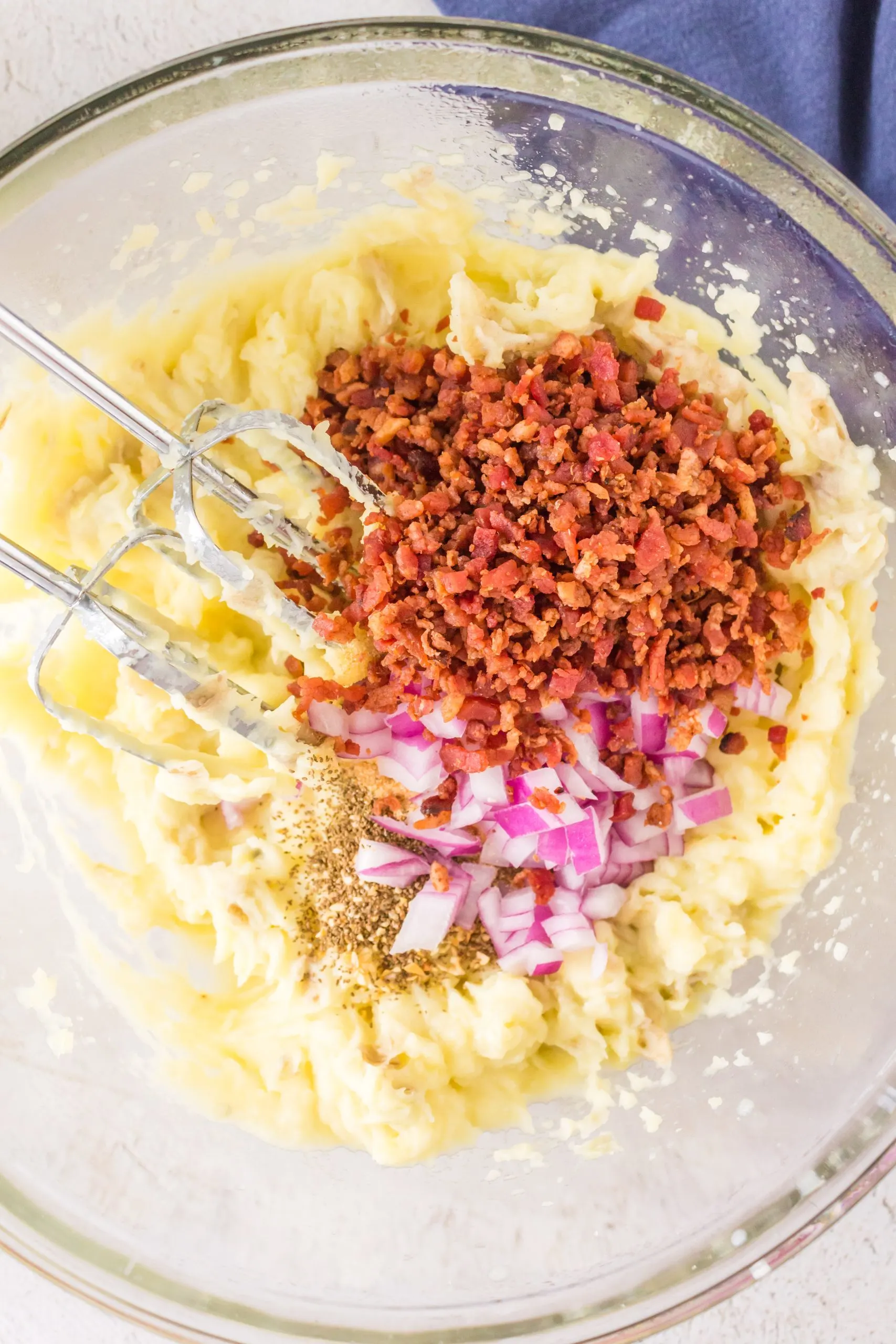 Add the butter and the milk. With a hand mixer or potato masher, mash the potatoes to a thick but smooth consistency.
Add the salt, garlic powder, minced garlic, celery seeds, and ground pepper. Add the chopped onions and bacon bits and mix well.
Combine 1 cup of the shredded Colby jack cheese and the sour cream. Mix until all ingredients are well combined.
Step 4: Put it all together.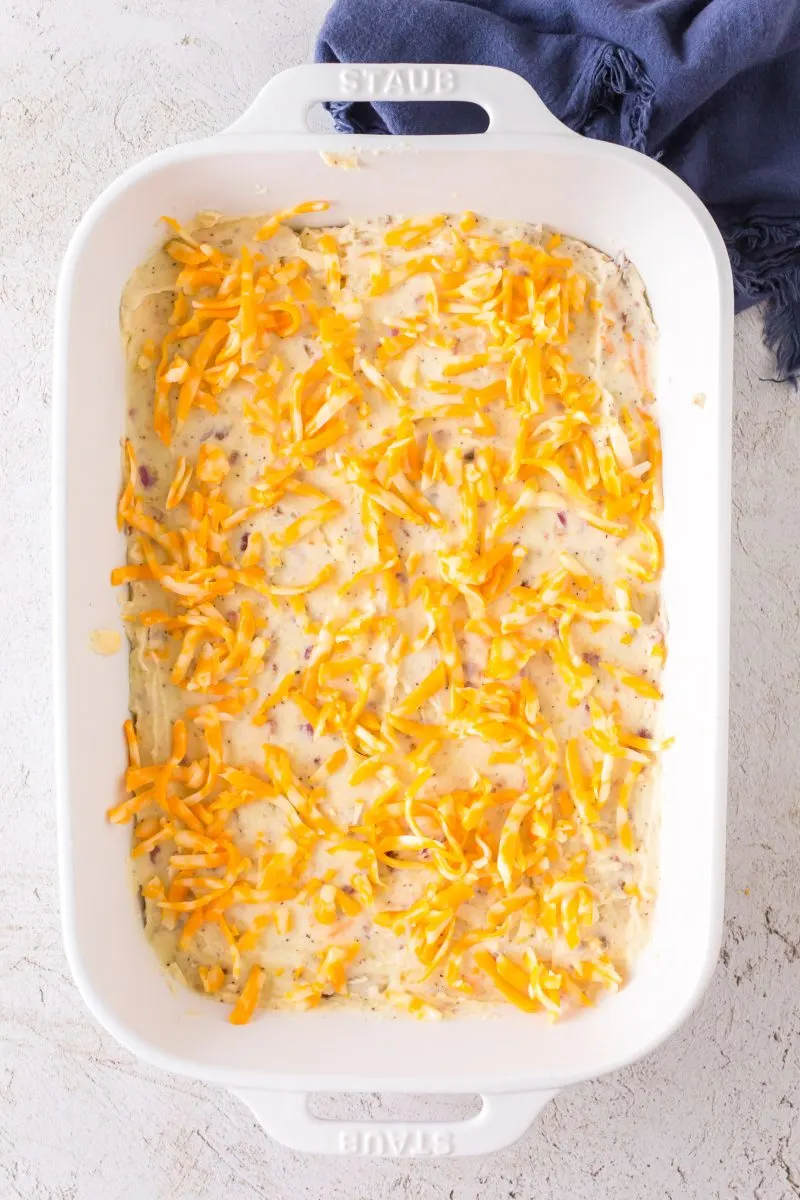 Spread the potato mixture in the prepared 9 x 13 bake dish. Top with the remaining cheese and sprinkle additional bacon bits on top if desired.
Step 5: Bake
Bake in the preheated oven for 25 minutes.
Loaded Baked Potato Casserole FAQs
Can I make Twice Baked Potatoes Casserole Recipe ahead of time?
Yes. You can assemble the casserole two days in advance and bake it the day you need it. Cover it with foil and refrigerate.
Can I cook potatoes ahead of time?
Yes, you can. If you boil the potatoes, remove them from the
water. If you bake them, you can warm them up in the oven for 10 to 15
minutes or put them into the microwave for a couple of minutes.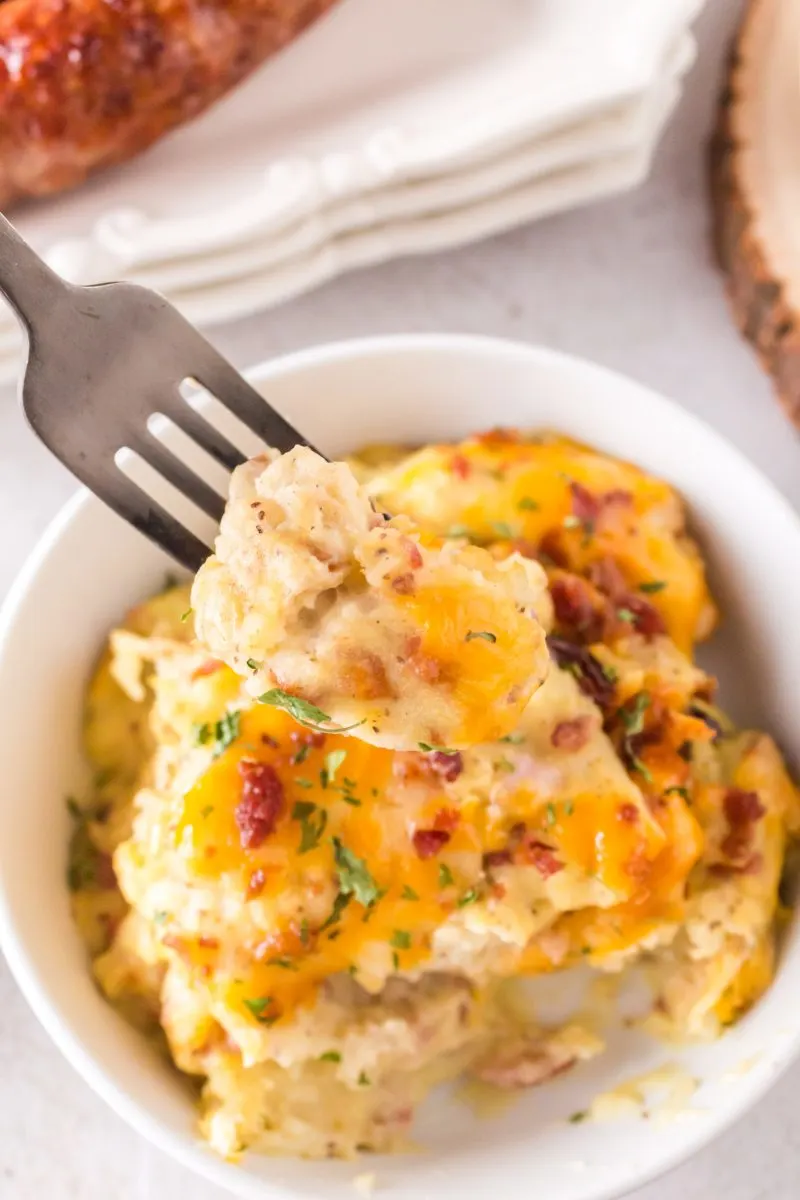 How To Reheat & Store Twice Baked Potato Casserole Recipe
Best Way To Store Twice Baked Mashed Potatoes Leftover
Store your leftover casserole in the refrigerator for 3 days using an airtight container.
Can I Freeze Loaded Baked Potato Casserole?
Yes. Freeze the casserole whole or in individual servings using an airtight container for up to 3 months.
How To Reheat Twice Baked Mashed Potatoes
This dish can be reheated from the frozen state. Preheat the oven. Cover the casserole with foil and bake for 20 to 25 minutes. Can also be microwaved for about 4 to 5 minutes, stirring. Reheating twice baked potatoes casserole might get a little watery. You can drain the liquid off or stir it in.
Tips for the Perfect Twice Baked Potato Casserole Recipe
Don't over-mash the potatoes or your casserole will be gummy and you will lose the texture.
This recipe can be doubled. Just use a larger pan. I use my lasagna pan. You can also make half the amount. Again just use an appropriately-sized pan.
You may need to adjust the milk in the mixture if you are doing more potatoes. Just make sure when you are mixing the milk and the butter you don't want it too soupy. Your mixture is soft but still has a potato structure.
I did not peel the potatoes. The peeling of Golden potatoes is very thin. They add an extra texture that we enjoy.
Time may vary when boiling the potatoes as every potato is different. They are cooked when you can insert a fork easily into the potato.
When serving the potato casserole you can sprinkle fresh green onions on top if desired.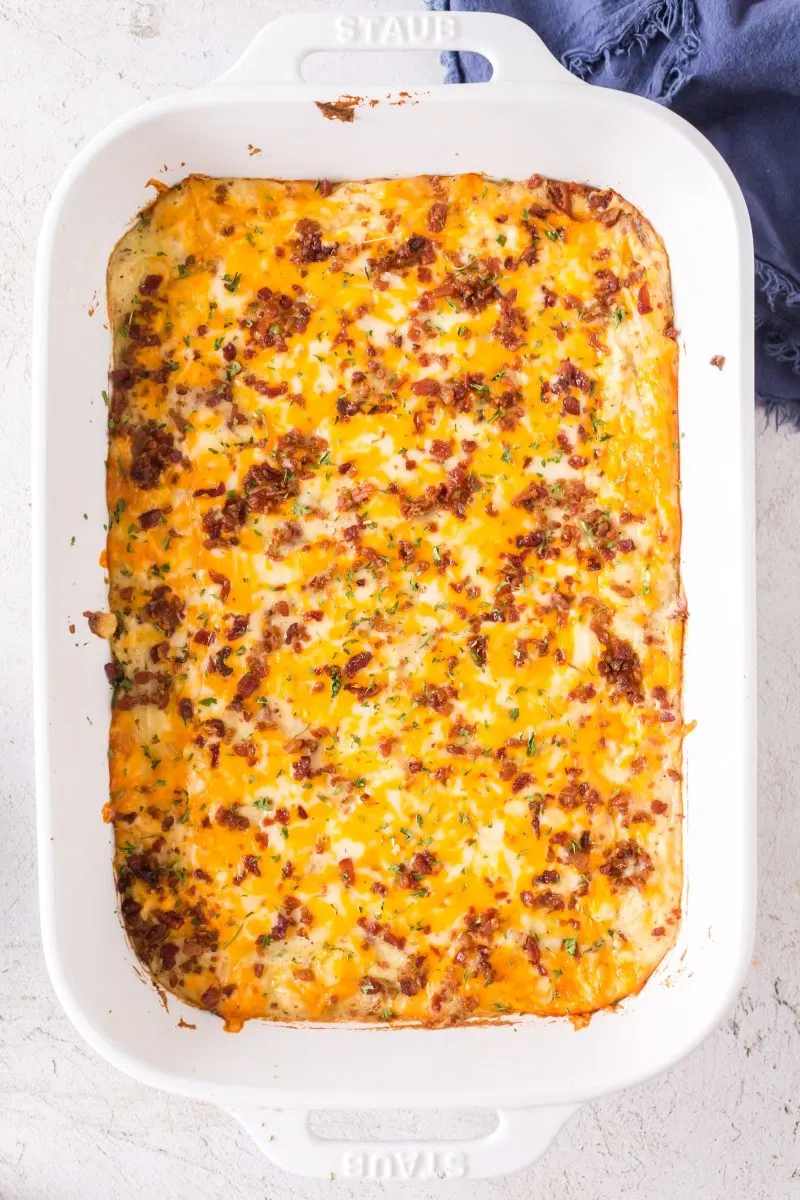 Popular Variations & Additions
We used Golden potatoes, but you can use Russet or red potatoes as well.
You can substitute the milk with chicken broth if desired. I found out that if I substitute with cream the mixture is not as nice and fluffy.
Have fun changing the flavors, add more or less of your favorite seasoning, and spice it up a bit with a few drops of hot sauce.
Change the cheese to Cheddar, Pepper Jack, or Smoked Gouda.
What to Serve to serve with Your Loaded Baked Potato Casserole
You can serve the twice-baked potato with a hearty protein such as Brisket, Pork Chops, or Meatloaf.
If you liked this recipe, check these out!
Don't Forget To Come Back And Let Me Know How the Twice Baked Potatoes Casserole Recipe Turned Out!
Welcome to Holiday Side Dish Week 2022 hosted by Heather from Hezzi-D's Books and Cooks. This year we have over 45 side dishes to help you plan your holiday meals.
Wednesday Holiday Side Dish Recipes:
Pin It Now