When you need a delicious side dish, nothing is better than my easy twice-baked potatoes. This easy twice-baked potatoes recipe goes with just about any meal and can even stand alone as a light lunch.
These tasty potatoes are a family favorite, perfect for company, and will even work well for parties. You can prepare them ahead and wait to bake the second time until right before they are served.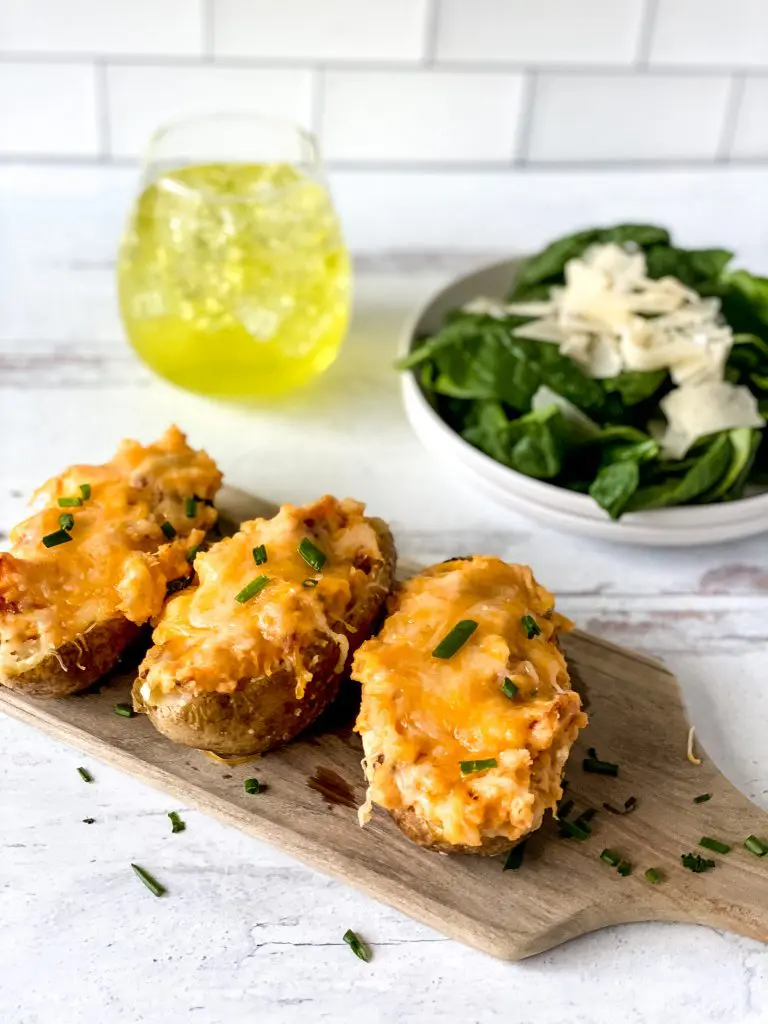 How to make Twice Baked Potatoes
You are going to love making these Twice Baked Potatoes with Cream Cheese because the filling is smooth, delicious, over-the-top cheesiness and it takes very little work!
Ingredients for Easy Twice Baked Potatoes
Russet Potatoes. This particular potato is the best texture, size, and shape for this recipe.
Canola or Vegetable oil. Your choice.
Kosher Salt. This coarse kosher salt is actually saltier than table salt so you don't need as much.
Bacon. Cooked and chopped.
Cheddar cheese Blend. Shredded and separated into two different amounts per the recipe,
Sour Cream. Use an actual brand. Store brands tend to be mixed with fillers and thickeners.
Cream Cheese. I don't recommend the low-fat version.
Unsalted Butter. Melted.
Paprika. There are different varieties of paprika. Use what you prefer.
Salt and pepper to taste.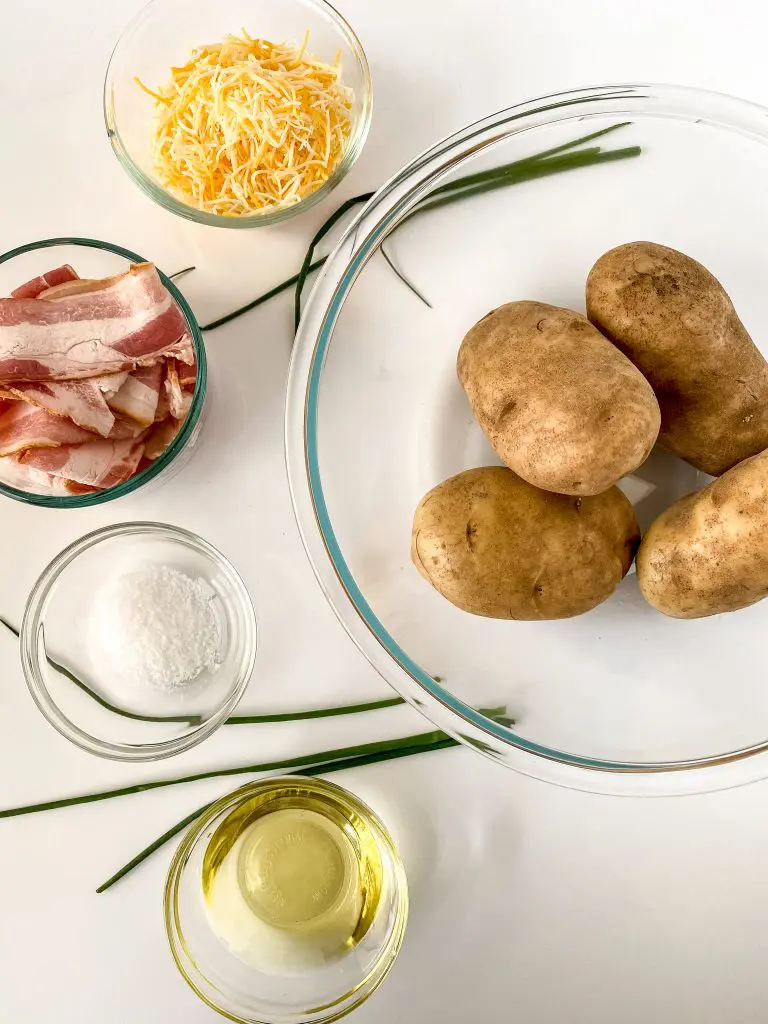 Equipment Needed for this Recipe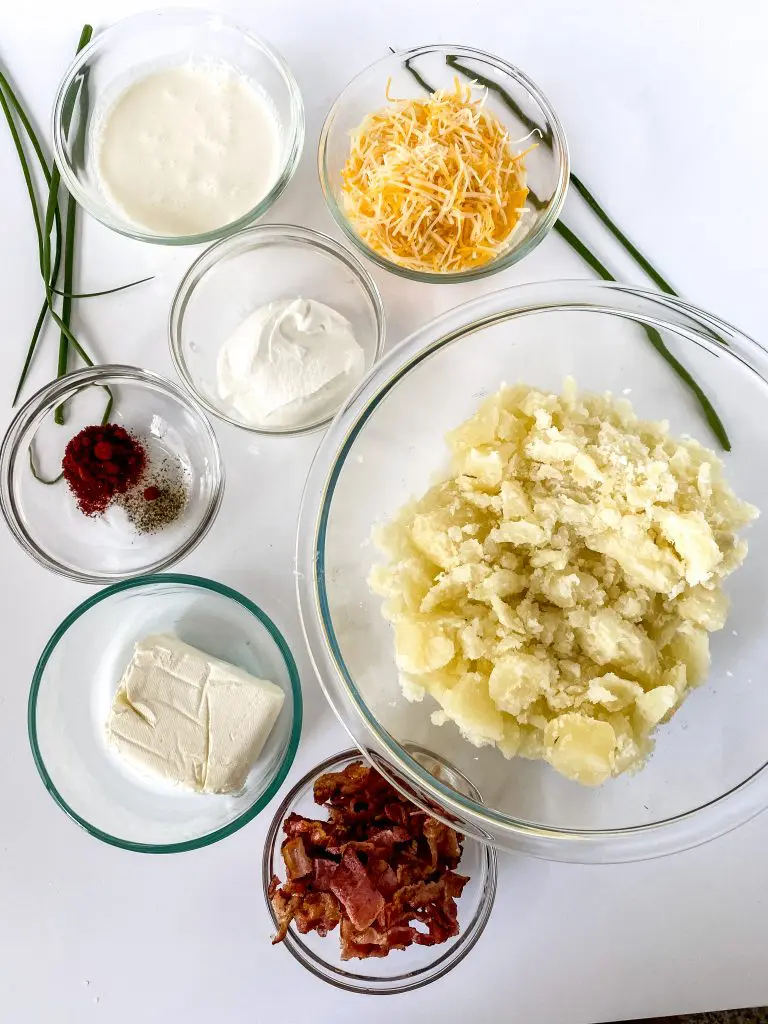 Step-By-Step Instructions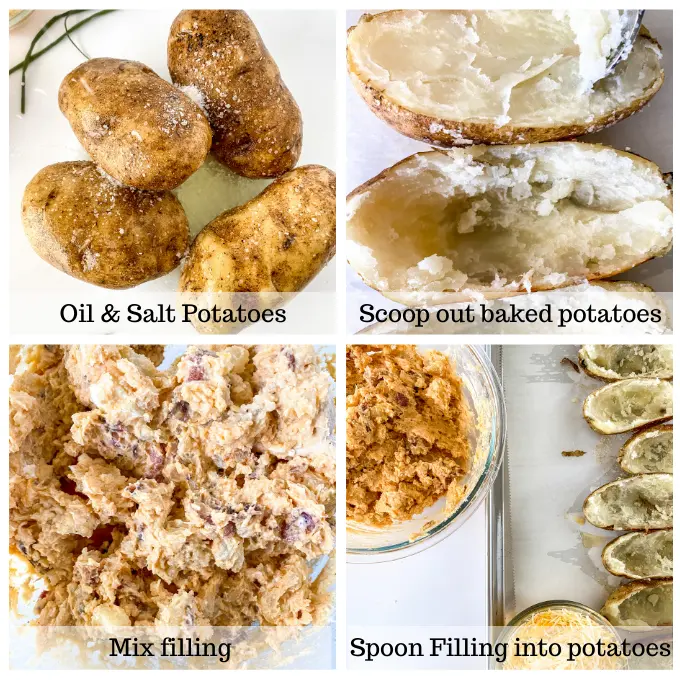 Start by preheating your oven. It can heat up while you prepare your ingredients and ensure even baking.
Wash the potatoes and place them in a bowl.
Toss with the oil and salt.
Spread the potatoes out on the parchment-lined baking sheet and bake for 60 minutes. A baked potato is ready when a fork or dinner knife pierces it smoothly and easily.
Reduce the oven temperature.
Slice the potatoes in half lengthwise and scoop out the insides.
Mix the insides of the potatoes with the remaining ingredients, topping with the set-aside cheese.
Fill the potato shells with the potato mixture.
Bake for ten more minutes.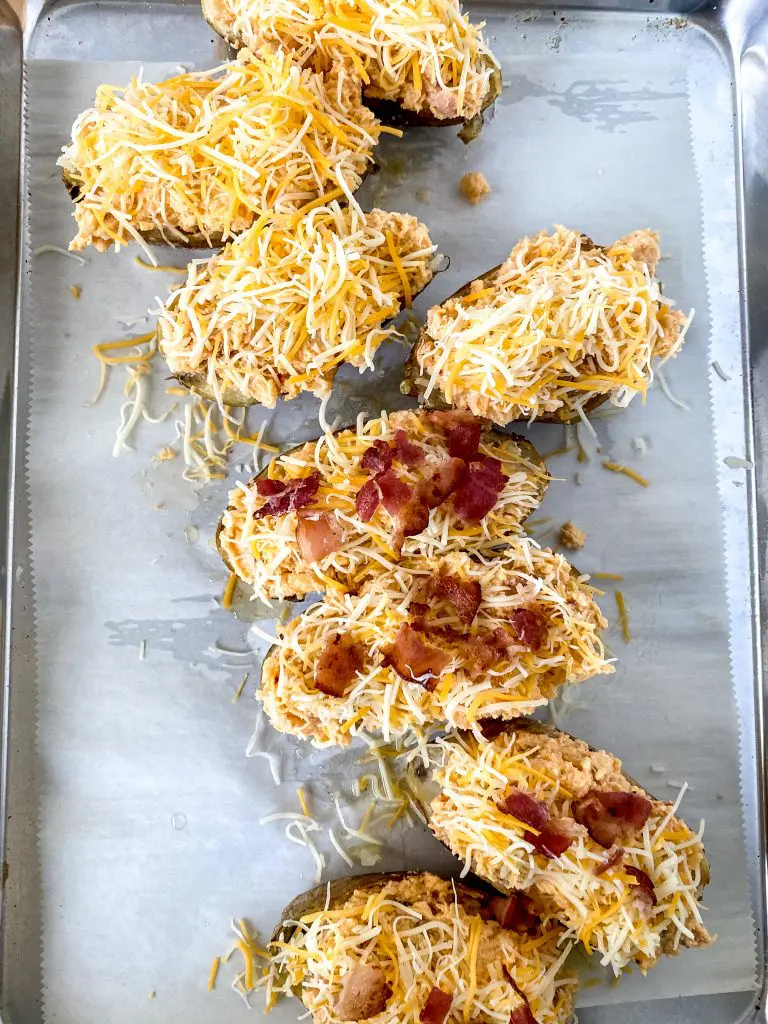 Make sure to get the specific details from our recipe card found at the end of this post.
What to Do With Leftovers
How long do twice-baked potatoes last in the fridge?
Leftovers can be kept in the fridge in an airtight container for up to four days. You can also freeze them. Freeze them individually by spreading them out on a sheet pan and once they are fully frozen, you can transfer them to a freezer-safe plastic zipper bag. Frozen baked potatoes will take up to twenty-five minutes extra to reheat.
How to Reheat Twice Baked Potatoes
I highly recommend you reheat these in the oven since microwaving them can make them soggy and change the texture. Here's how to do that.
Preheat your oven to 400º F.
Place the potatoes on a lightly greased baking sheet.
Bake for 20-25 minutes or thoroughly hot. Add extra time if reheating from frozen.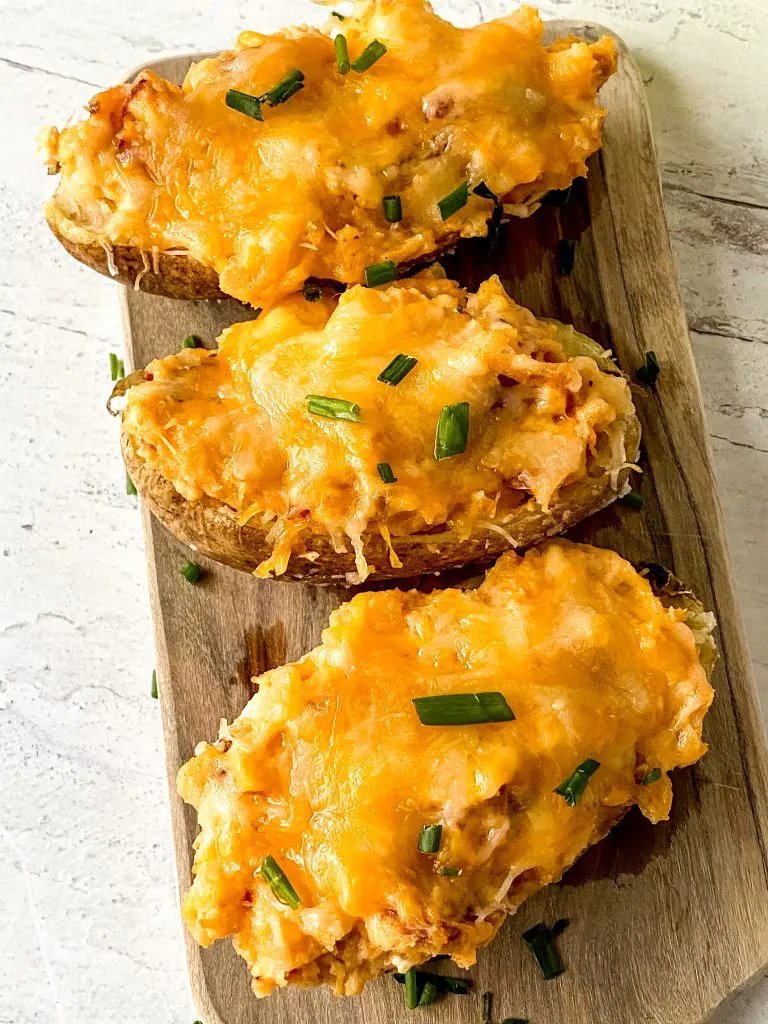 FAQ
Should you poke holes in potatoes before baking?
Poking holes in the skin of the potato allow steam to escape. This prevents the occasional potato explosion that can occur because they are full of water and it turns to steam as the potatoes are baked. It doesn't really help them bake faster.
Should you bake potatoes in foil?
Potatoes should not be wrapped in aluminum when you bake them. The foil will keep in the moisture and actually steam the potatoes instead of baking them. This results in a curious flavor and texture more similar to boiled potatoes.
The potato skins also take on a delicious sturdiness when baked without wrapping them in foil which helps hold all of that delicious filling.
Can twice-baked potatoes be made ahead?
These can be frozen or refrigerated to use later on. Freeze the potatoes individually on a sheet pan and once each one is solid you can move it to a freezer-quality plastic baggy. On the day of, you can also make them ahead but stop before baking them the second time and keep them in the refrigerator until shortly before they will be served so that you can serve guests hot potatoes.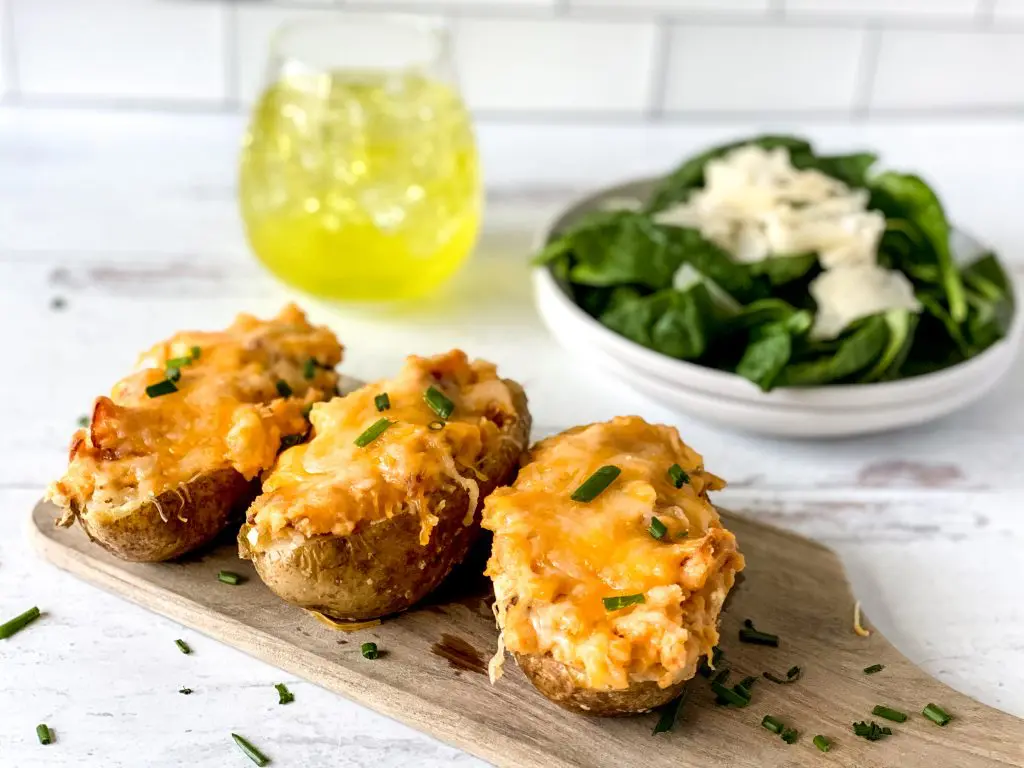 Tips for Making Twice Baked Potatoes
You can use any potato, but we prefer russet potatoes. They are sturdy enough to hold all of the goodies and won't turn to mush. Plus they tend to be uniform in size and shaped like a boat. Which is perfect.
Mix up the potato filling while the potatoes are warm for smoother blending. You can use a mixer for fluffy filling, but be careful. Don't over mix or your filling will become gummy. Mixing activates the starch.
Don't overbake or the cheese will become stiff and unappetizing.
Bake the potatoes in the microwave and then finish them in the oven
Use small potatoes and serve them as an appetizer.
Leave out the bacon for a vegetarian option.
Garnish with thinly sliced green onions.
What to serve with twice-baked potatoes?
https://hostessatheart.com/stuffed-pork-chops/
https://hostessatheart.com/lamb-loin-chops/
https://hostessatheart.com/hamburger-steak-with-mushroom-onion-gravy/
If you like this recipe, we would appreciate your comment and a 5-star ⭐️⭐️⭐️⭐️⭐️ review!
Still looking for potato recipes? Here are some of our favorites
Stop back and let me know how your Twice Baked Potatoes came out!
Here's more Farmer's Market Week Recipes
Breakfast Recipes
Starters and Sauce Recipes
Side Dishes Recipes
Main Dish Recipes
Dessert Recipes
Farmer's Market Week is always the first week in August. Whether you have a great local farm stand or market, are a member of a CSA or purchase your fruits and vegetables at the supermarket, follow our
Pinterest board
, for great recipes including those for appetizers, drinks, breakfast, lunch, dinner, dessert and more.
Want more delicious recipes? Follow Hostess At Heart on Pinterest!